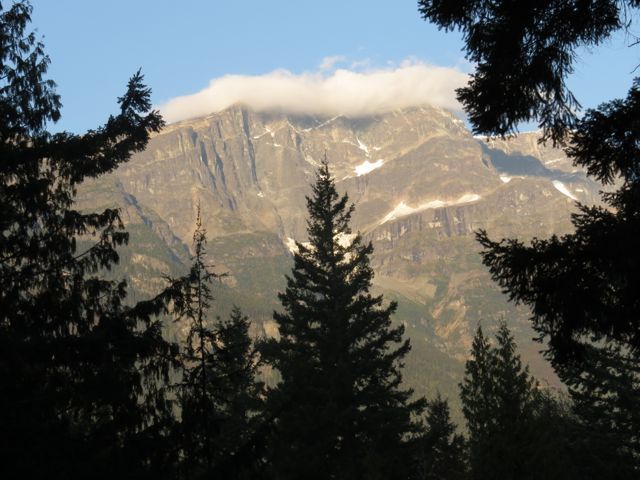 I took my Scottish friends down The Hill to Bella Coola.  Although it was October already, very little fresh snow graced the mountains.  At the top of the Bella Coola Hill, we walked for a while among the burned forest.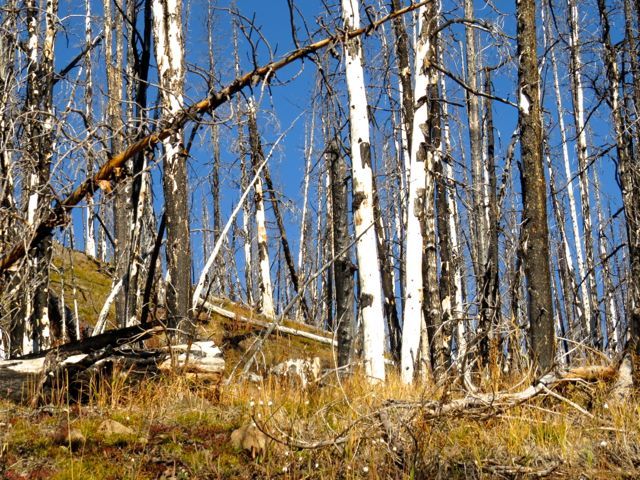 Most flowers had finished, but this creeping juniper had a great display of berries.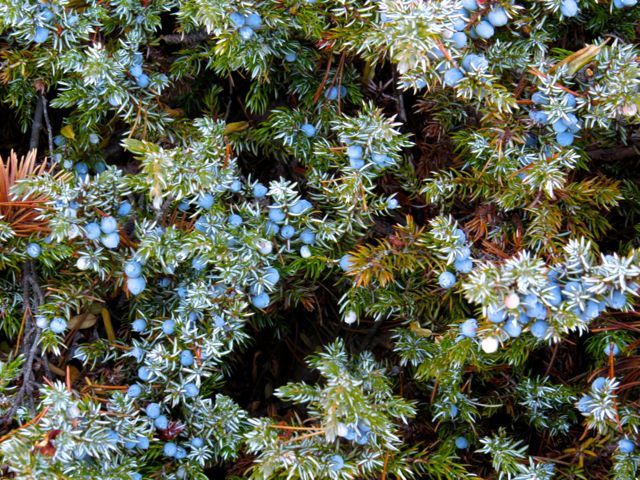 As with the Chilcotin, everything was dulled with the lack of fall colours and a haze of smoke.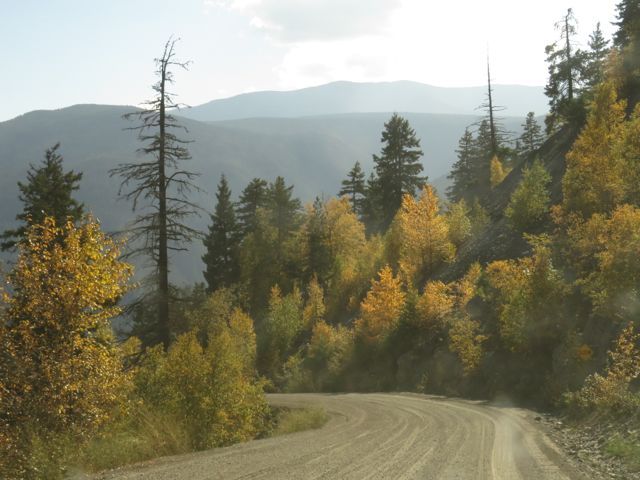 Because the salmon are spawning, most of the river walks and campgrounds near my friends' place were closed, so we had to be content with accessing the river from the bear viewing station, which is just up stream from their house.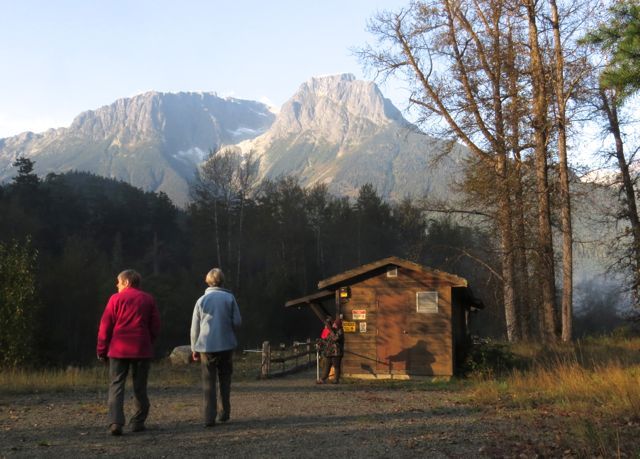 We didn't see much, though.  The viewing station is right next to the boat launch and there was far too much human activity.  We  caught a glimpse of a grizzly, but he disappeared again at once.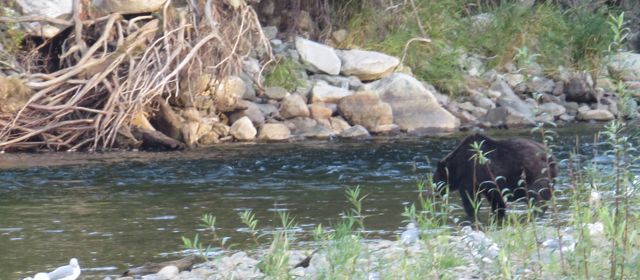 Otherwise, we simply had the empty river to enjoy.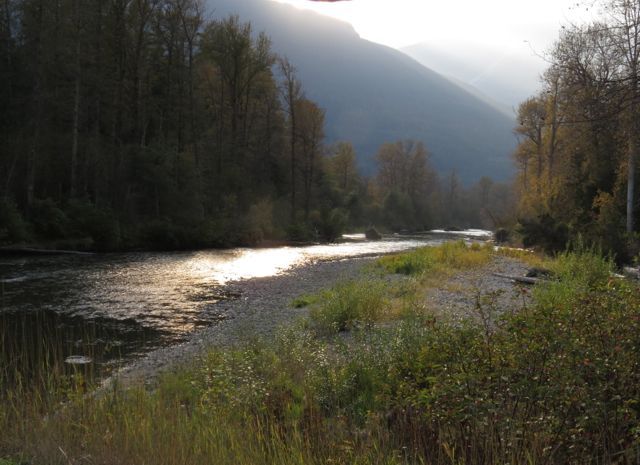 First stop the following morning was the big cedar trail.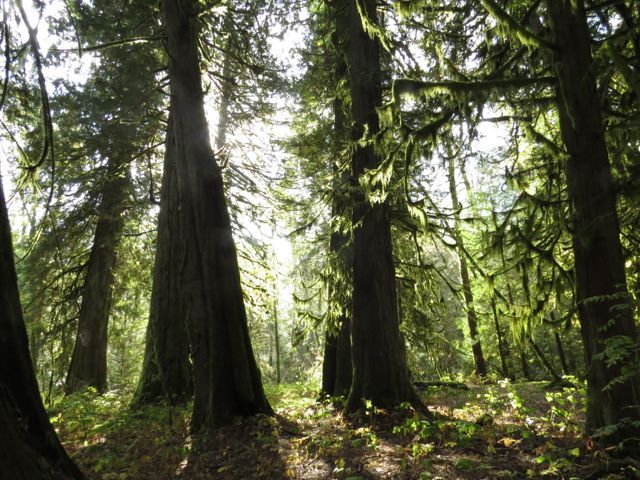 As with my previous visit, a number of spiders hung on large webs – this one must have been 18″ (45cm) across.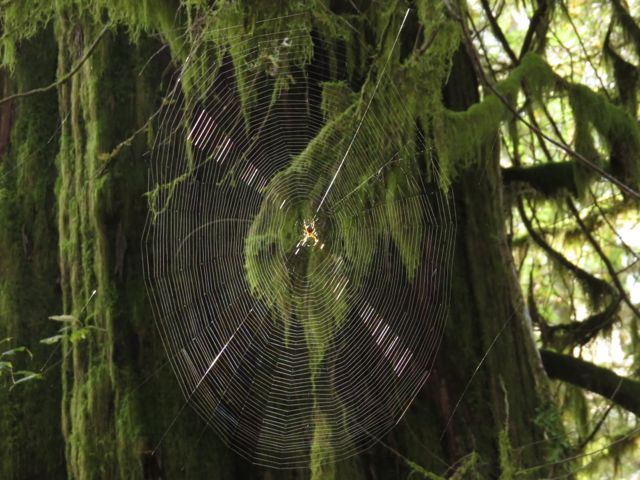 And of course we visited the petroglyphs, where we were lucky enough to encounter Brian, who once again told us the stories associated with the carvings.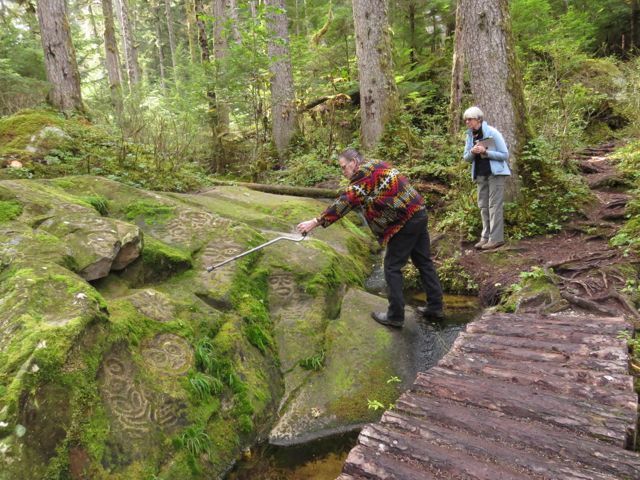 On our way back up the Bella Coola Hill, we saw a fine black bear.  We stopped to photograph, but he suddenly trudged towards us.   I rather fear that people have been feeding him and that will cause him to be shot.  I drove on, but Vida got a great shot of him giving us the eye.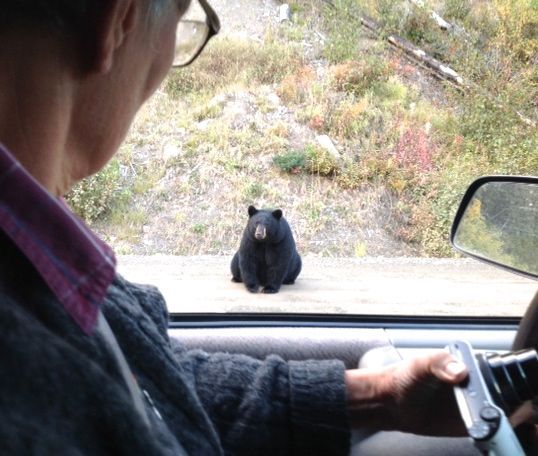 However, these were not the only adventures we had at Bella Coola.  The main event was something totally unexpected.
Vida had come with me down to Bella Coola, but Ruth had felt unwell and stayed with our hosts.  She had a pain in her hip and was unable to sit comfortably in the car.  When we arrived in Bella Coola after seeing the big trees and the petroglyphs, I stopped at the hospital to drop something off for my hosts.  Vida happened to take this photo.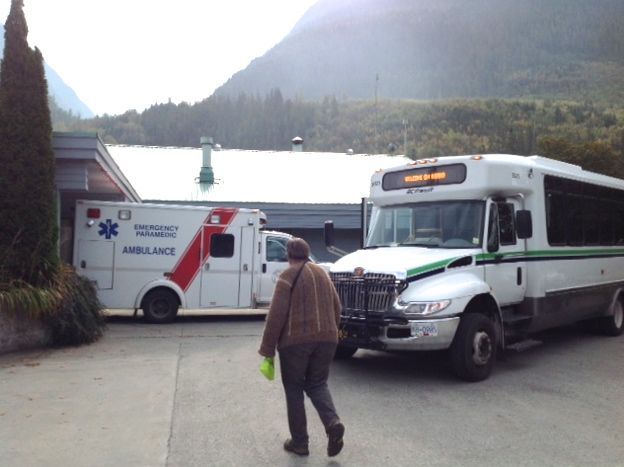 I noticed the ambulance and briefly felt sorry for whichever poor soul had needed it, but otherwise gave it no thought.  Vida and I started heading back up the valley and called in at the Hagensborg store to pick up some groceries.  The manager, who always stops and speaks to me, asked me if I'd spoken to our host.  "Not since this morning," I said cheerfully, thinking she had phoned to ask me to pick up soething from the store.  "She asked if you could phone her," said the manager and handed me his phone.  (No cell phones here of course.) Apparently our host had gone into our cabin to check on Ruth, and found her in terrible agony.  Our host would have taken her to the hospital (a 40-minute drive) but it was impossible to get her into the car.  So they had to call the ambulance – which meant rounding up the driver and paramedic (all voluntary) so it was an hour before the ambulance arrived, and the best part of another hour before Ruth was in the hospital.  It was her ambulance we had seen. So of course we drove back down to the valley and found Ruth in the emergency looking exhausted.  At first the hospital wanted to discharge her as such tests that the Bella Coola hospital could do had shown nothing life-threatening, but she was still in a huge amount of pain, especially if she tried to sit or stand.  In the end they decided to keep her overnight and keep pumping morphine into her.  A kidney stone was suspected but did not show up on any x-ray, and Bella Coola can't do cat scans.  Ruth had never experienced anything like this before.
Vida and I went back up valley to stay.  It was mid afternoon the following day  before we received word that Ruth could be discharged.  Because Ruth was British, Vida had to contact the insurance company.  Naturally, emailing the necessary forms was made difficult as no one was at the computer in the Bella Coola hospital over the weekend.  In the end the forms had to be faxed to our hosts.
Ruth could not sit, so we arranged for her to lie on the back seat.  A cooler helped prop her feet up.  Unfortunately, she easily gets motion sickness so this greatly added to her discomfort.  We would stop at our hosts and make a decision as to whether or not to stay a third night or continue to my place, a further 2 hours.  Ruth felt she would rather keep going.  She and Vida had left their rental SUV at my place, and they would go to Williams Lake the next day.
The drive, for Ruth, was an absolute nightmare.  She asked to stop at one point and we weren't sure if we could get her back into the van.  I drove as gently as I could on the windy, bumpy road, and it was dark when we arrived home.  Ruth was in terrible pain.  The head nurse at the Tatla clinic has been there for donkey's years and knows everything so I phoned her for advice.  "If the morphine is not helping," she said, "she has to go to Williams Lake as soon as possible.  Best get the ambulance."  Would you believe that I didn't even know how to call the ambulance?  (I might have tried from the stores in Anahim Lake or Nimpo Lake, but all were closed as we passed through.)  The nurse told me to dial 911.  So I did this, but the problem is that these central offices haven't a clue where anyone is on the Chilcotin.  I have been given a house number supposedly for emergency services, but the dispatcher couldn't make head nor tail of it.  I knew the only ambulance would be in Anahim Lake – again, voluntary – and the drivers would know where I was, but the dispatcher sounded very confused.  I said we would drive back out to the highway and meet them there.  He noted that we would be waiting in a sandy van.  I told him there would be no one else parked for miles, but sandy van was what he put down.
Poor Ruth.  We didn't even unload her.  Vida got a few things and a change of clothes and out we bumped the 4 km to the highway.  It was by now 10.00:pm.  It was drizzling rain and there was no moon above the clouds so it was very dark.  The drive for the ambulance is 45 minutes, and it can't have taken too long to alert the staff for they were there within half an hour of our arrival by the highway.  I knew both the driver and the very well-qualified and caring paramedic.  One was taking notes.  "I believe the patient is called "Sandy Van," he said.
Ruth had been taking morphine pills but was in an absolute hell of pain and fatigue – she had been suffering various degrees of agony for 36 hours by this time.  It took a while to ease her out of the van and onto the stretcher.  The paramedic put her on a drip at once.  They would not drive all the way to Williams Lake (3 and half hours) for the Williams Lake ambulance would meet them half way.
I phoned the Williams Lake hospital the following morning.  Ruth was apparently sleeping.  That was a first so I figured it was a good sign.  All the tests had been done again and she was ready to be discharged. Uh oh, I have heard that one before.   When I called later, however, I spoke to Ruth and she sounded much more alert.  She was still in a lot of pain, but the site of agony kept moving down, so it would appear that the diagnosis of kidney stone was correct.
I am glad to say that today Ruth is much better.  She is still in pain but she and Vida are slowly heading towards Vancouver: Ruth is supposed to fly back to Scotland in a couple of days.
What a way to spend a vacation.