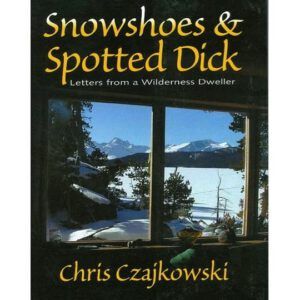 24.95
Soft Cover, 304 pages
485 grams
20.3  x  16.8  x  2  cm
Harbour Publishing, May 2003
Snowshoes and Spotted Dick is the fourth book about Chris Czajkowski's wilderness life.  In 1988, Chris Czajkowski hiked a day and a half to a high-altitude lake in British Columbia's Coast Mountains, close to the boundary of the Tweedsmuir Provincial Park.  Over the next three years she laboriously built two cabins single-handedly, which formed the basis of a small ecotourism business, the Nuk Tessli Alpine Experience.
Ten years later, she decided she needed another cabin.  Fortuitiously, Nick Bervian from Germany and friends were available to help.  Between them they erected the walls and the heavy ridge pole.
After Nick left, Chris was working alone again.  It took over a year for her to finish the cabin, and she wrote letters to Nick describing her progress.  These are the basis of this book.
Nick loved Chris's famous desert, Spotted Dick, hence the title.  A recipe is given in the back of the book.
Illustrated with Chris's drawings.