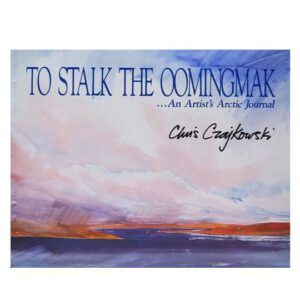 To Stalk the Oomingmak: an Artist's Arctic Journal by Chris Czajkowski
24.95
Hardcover
703 grams
28.2  x  21.8  x  2  cm
Aquarelle Press, 1990
To Stalk the Oomingmak: an Artist's Arctic Journal is a product of Chris Czajkowski's only summer 'off' in nearly thirty years as a wilderness dweller.  She spent a summer near Cambridge Bay in Canada's central arctic.  Sometimes staying in friends' neighbours' houses, she more often camped on the tundra.
Arriving in late June when the snow was only just leaving, she stayed spring, summer and fall, departing early September.
Always a naturalist and an artist, she spent the endless daylight hours drawing – flowers, muskox, dogs, and the life of the settlement and surrounding camps.