END OF YEAR, 2016
2016 was,
In a word:
WET!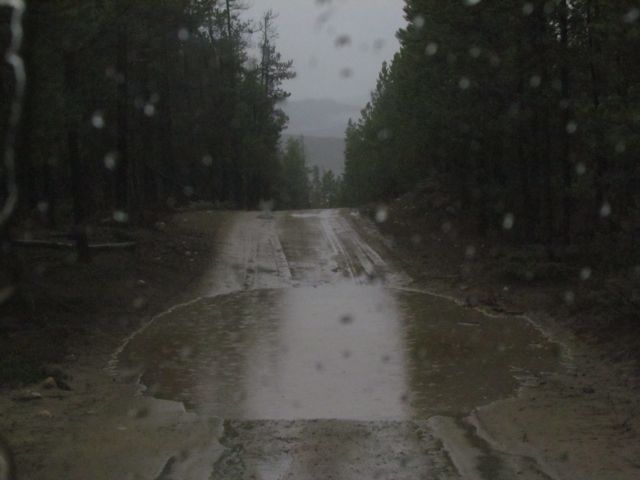 We've never had such a dreary, wet year.  Dreary started early January although there was very little precipitation then, and late March it was dry and hot.  In April we were already concerned about forest fires, and in the north of the province terrible ones consumed whole towns.  But in the middle of that month, it rained.  The newly-planted seeds (too early, really) simply sat there.  It remained cold and wet all summer right through to November – indeed this month of December has seen more sun than almost the whole of the year put together.
There were occasionally sunny days; sometimes we had three of them in a row – and it was during these bouts of sunshine that I snatched days in the mountains.  My new alpine playground is Perkins Peak. The summit is visible from my yard.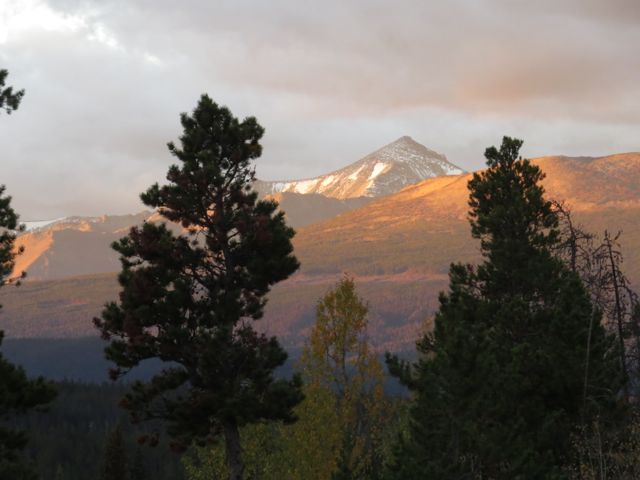 I had known that people drive and ATV up to not far below the 9,000+-ft summit, but had never figured out the way to negotiate the maze of logging roads.  However, with instructions from a friend I finally co-erced my pickup up a very bouldery road right to the tree line, which is at an altitude of around 7,000 ft, way higher than Nuk Tessli.  The roads were installed up there to service a couple of gold mines (now defunct). On my first trip, in late June, the flowers were the best.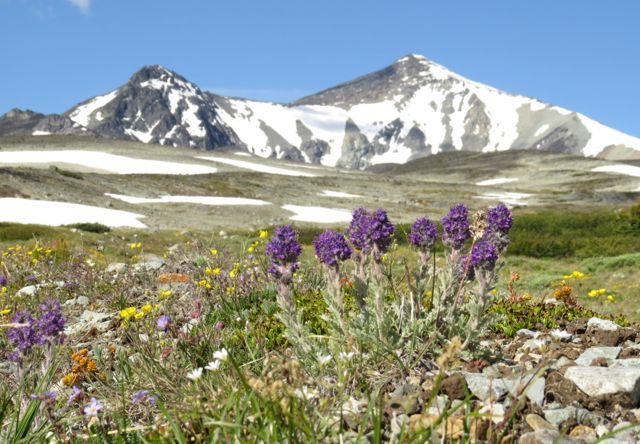 Higher up, there was still a lot of snow about.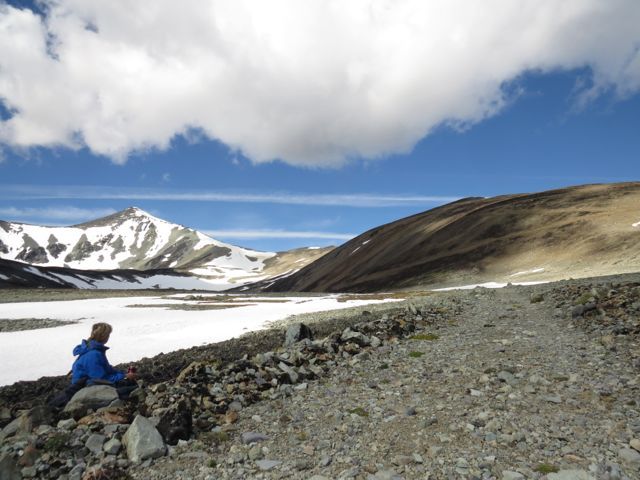 The second trip, I tried for the summit, but my knees would not take the boulders up the last stretch.  (I got to the top of the snow patch on the right.  My volunteer hiked to the summit alone.)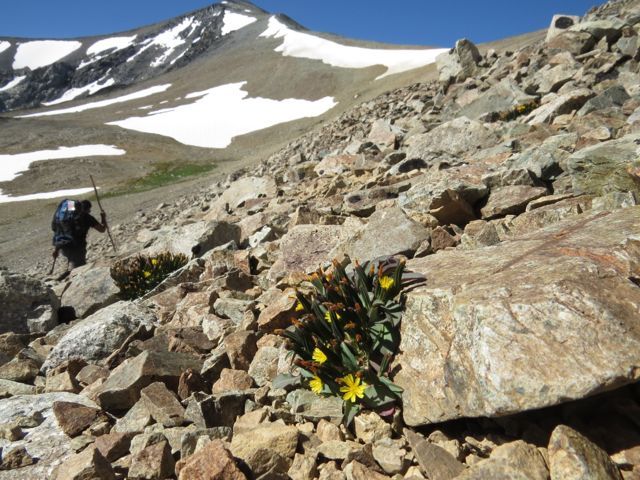 The views were nonetheless spectacular.  Looking north and west I could see many mountains that were familiar with me; those near Lonesome Lake, Nuk Tessli, and my current home.    More than half my life was spread before me.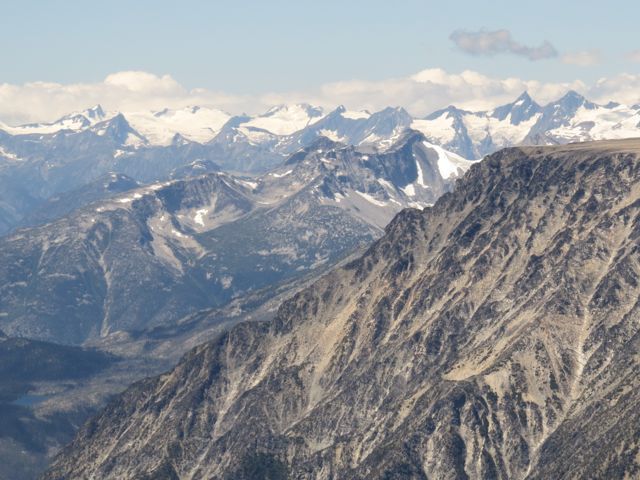 On the third trip, I left the current wwoofers to make their own way to the top and I visited the second, lower mine.  It was a blasted landscape with very little growth, but it had it's own stark beauty.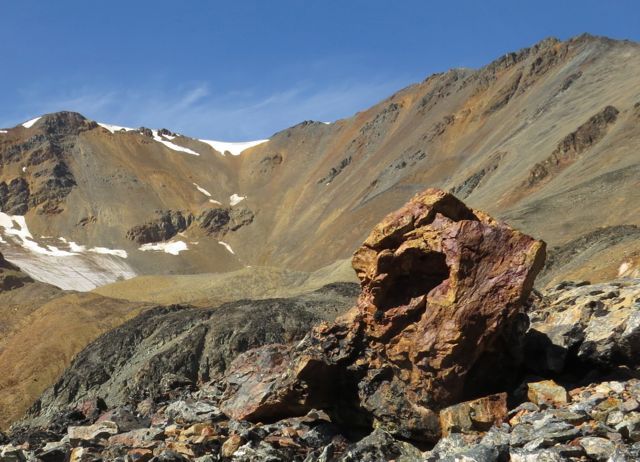 As always, I sought the tiny scraps of flowering vegetation, but they were nowhere near as spectacular as the Nuk Tessli flower meadows.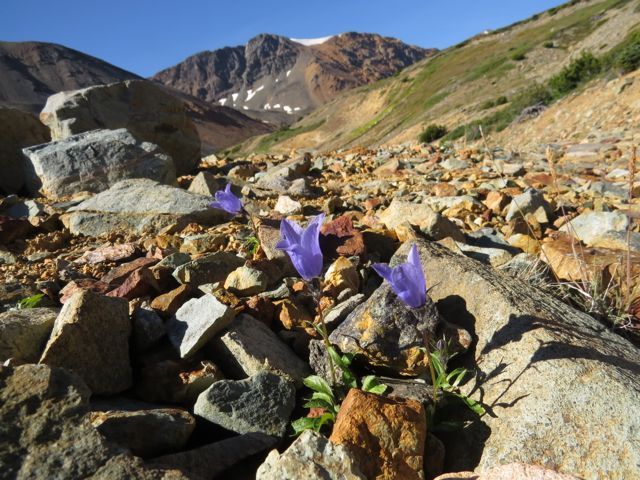 As for the rest of the summer, we worked in the rain.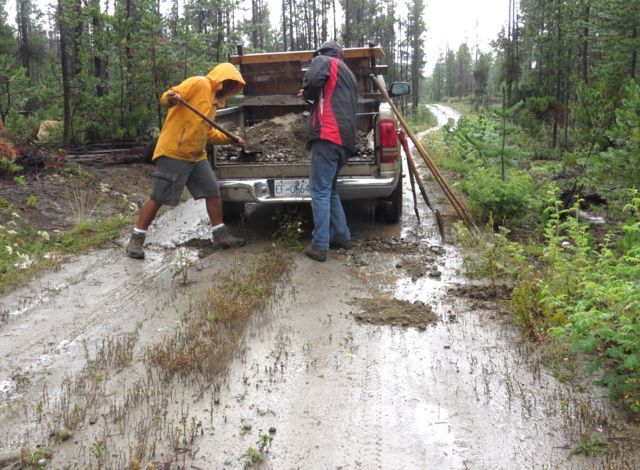 It deluged at the Anahim Lake Stampede.  The arena was flooded.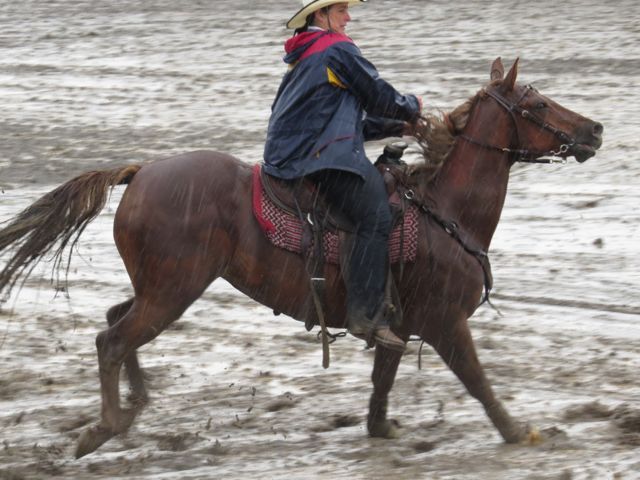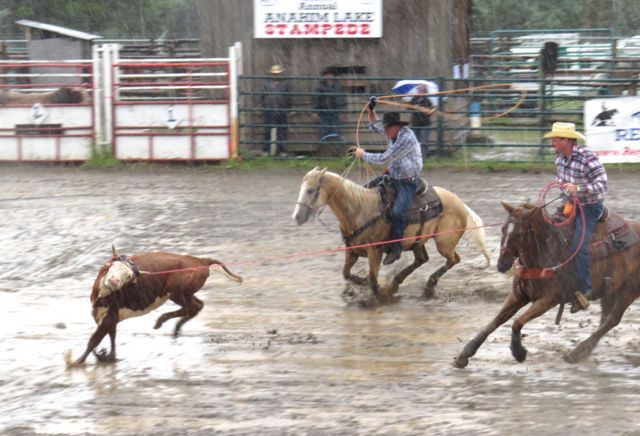 The garden did well, though.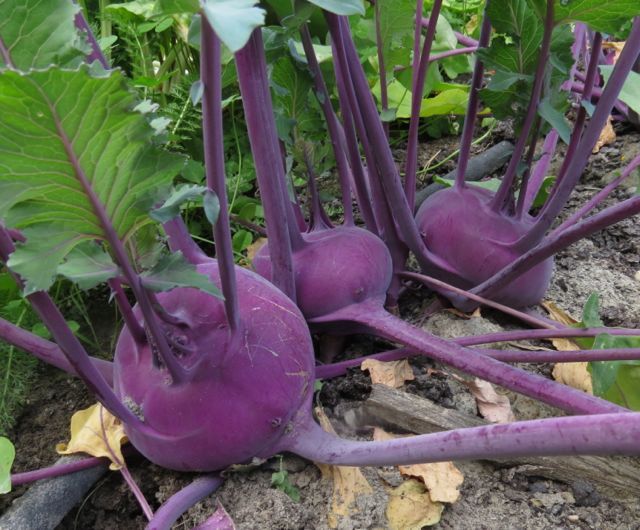 And we had some spectacular rainbows!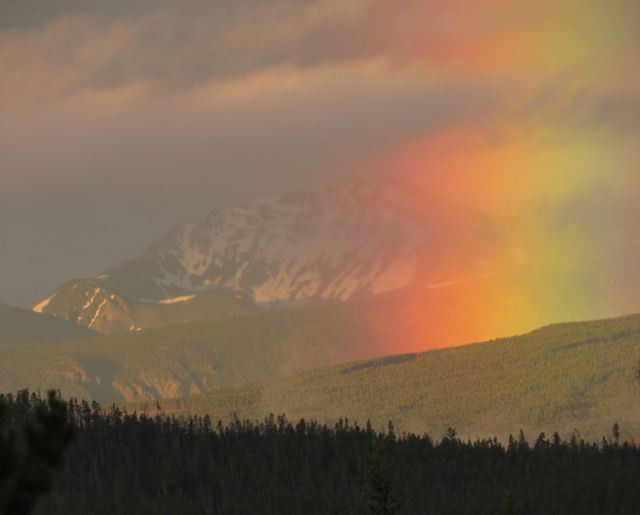 Last year I signed an agreement to sell the lower property to Jade and Ryan.  I did not receive the bulk of the money until this year.  First thing I bought was – a washing machine!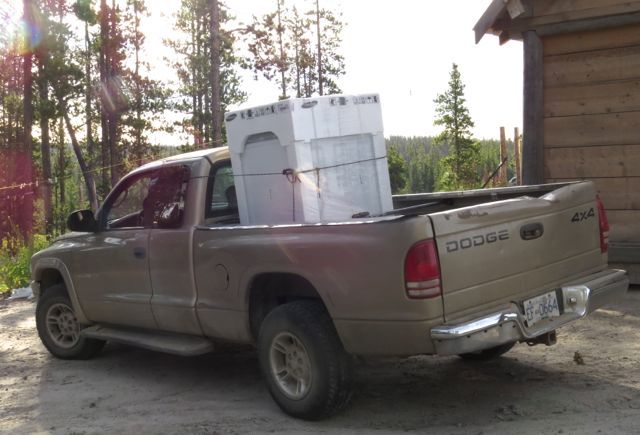 It is installed in my new bathroom.  A friend came and helped with the plumbing and tiling, and I had a couple of excellent volunteers to do the carpentry work.  There is still no running hot water, only cold, and I don't have a flush toilet, but it has a sink and a drain and a tiled area where you stand and throw water over yourself for a shower. (Water heated on the stove.)
But the real spending happened when the main part of the money came through in December.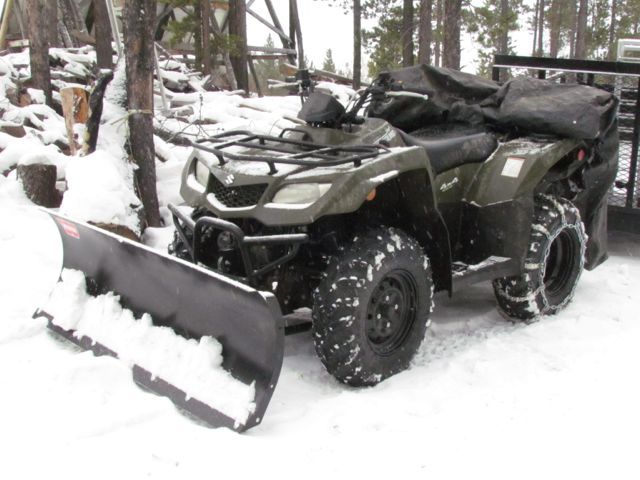 On my second trip to Perkins Peak, we met a couple of ATVers, who saved me a footsore hours' walk on the stoney road back to my truck.  If I had been able to drive to the end of the road I might have been able to reach the summit.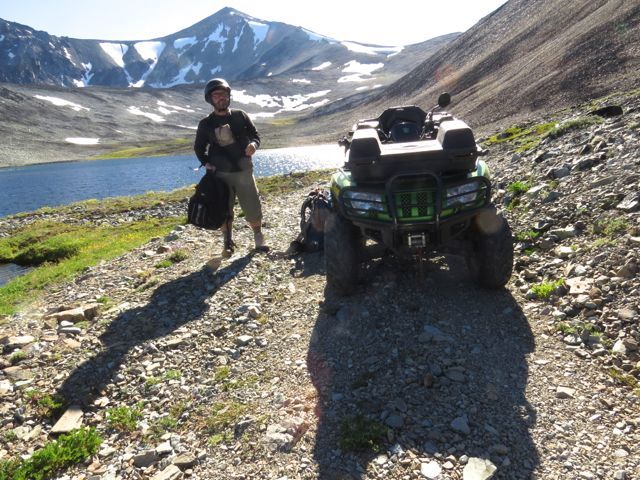 I decided an ATV was now the way to go.  There are a lot of logging roads that my knees would take days to walk, but using the ATV I can get to some spectacular places to hike and also carry camping gear.  It will give me a whole new lease of mountain life.
You will see also that my ATV has a plough.  For years I've had difficulty in organizing the ploughing of my road, and I will still have to hire someone with a big machine if we get a heavy dump, but now I have ploughing independence.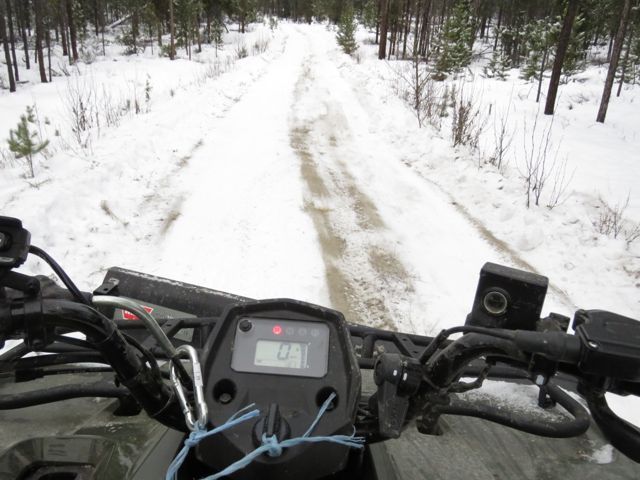 Other news: Likely you will remember the best seller: Lonesome – Memoirs of a Wilderness Dog.  If you liked that book, you will be pleased to hear that a current dog, Harry, plus his sidekick, Badger, have now written: Harry – A Wilderness Dog Saga.  It is the story of all the dogs since Lonesome.  A contract has been signed and Harry has been contacted by an editor – this work will start in the new year and the book will be published September 2017.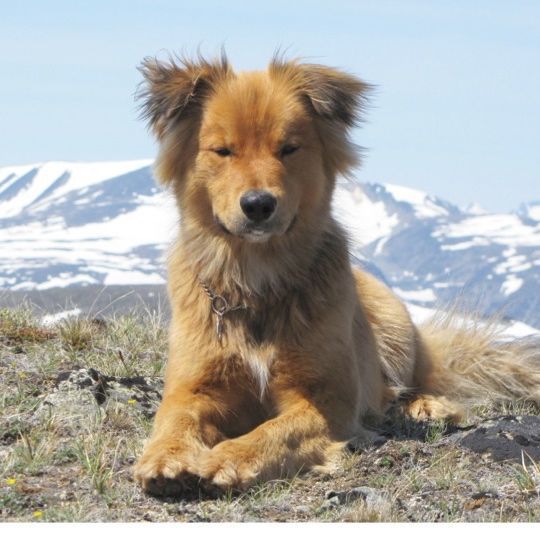 I did not go to Nuk Tessli this year – no one booked and I got too busy anyway – but we have set up the dates for next year: July 14 – 18th.  If you are interested in coming and want to have a preview of what to expect, check out the Nuk Tessli page on my blog.  
All that remains now is to wish you the best health and happiness in the coming year.  May your summers be warm and sunny,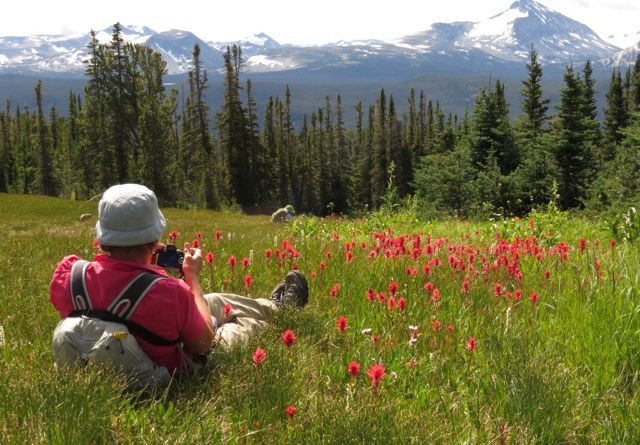 And your winters cold and dry.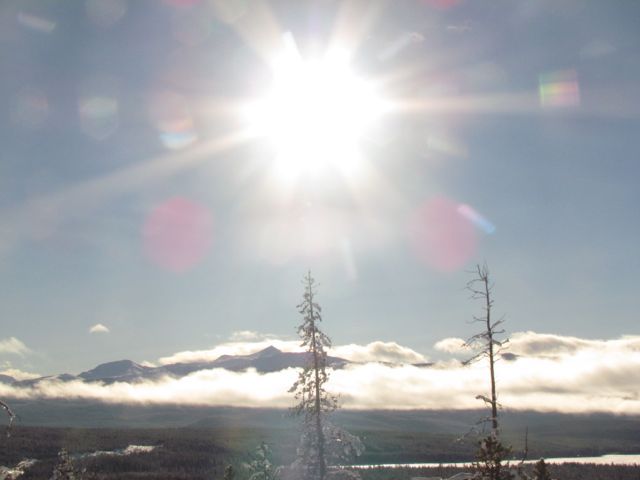 Chris.
SOLSTICE 2015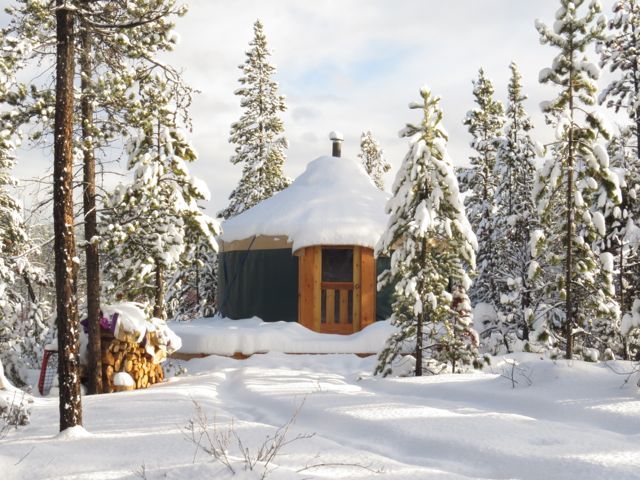 The news that shaped the whole season was the sale of the lower property, the one by the river where I lived when I first came to Ginty Creek in 2006.  In the middle of February of 2015, when the snow was rotting due to the abnormal warm weather, a young couple with two small children stayed for a day or two, slung their kids onto their backs, and wallowed through the knee-deep sloppy snow, tramping around the property and making plans.  The idea of neighbours living so close (half a kilometre away) was not a particularly happy one for me, but my house and my life were stalled through lack of money.  I am also getting older – 68 this year – and, whereas I am perfectly healthy right now, I have some physical limitations, and running my house is still quite labour intensive (wood heating and cooking; no running hot water; no washing machine or shower; having to brush snow off the solar panels etc) and I want to be able to stay here until I am at least 99.  Having reliable people close by might make a big difference.  And, if I have to have neighbours, I don't think I could choose better.  Jade and Ryan, Herb and Wren, will not move in full time until the spring of 2016.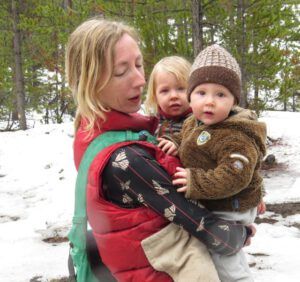 The cabin beside the river being no longer available to me for volunteers and other guests, meant that I needed other accommodation.  Jade and Ryan are good carpenters (before she had babies, Jade made fine furniture for a living) and part of the payment that we agreed upon was for them to provide and erect a yurt.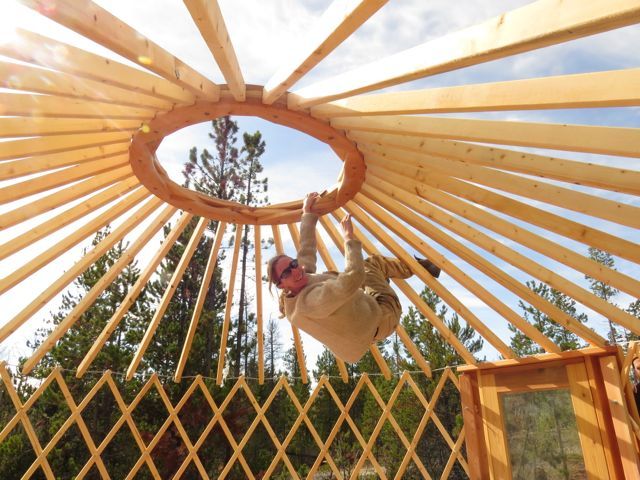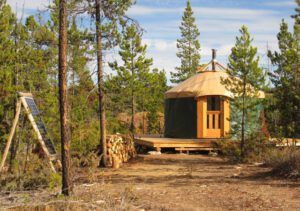 I had to make the deck: now that I had a bit of money, I could spend it on such projects, and I had a whole slew of volunteers helping me to finish them.  Only one batch of three were duds, the rest were pretty good and some were quite talented.  It did mean, however, that I was working very hard myself and also providing meals for all these hungry young people.  But we got a lot done.  We renewed the deck in front of my house. making it wider and higher…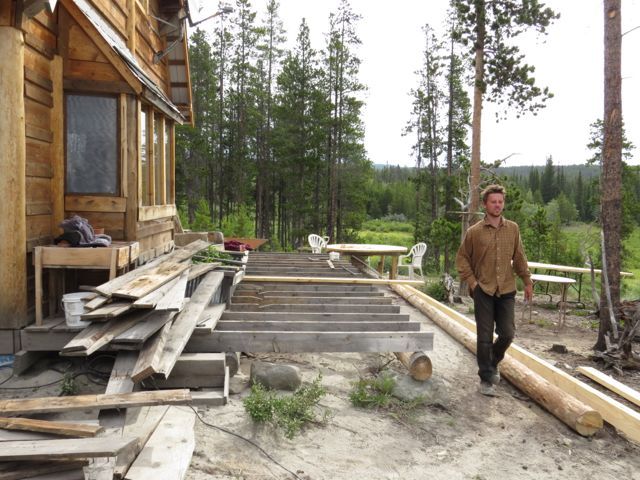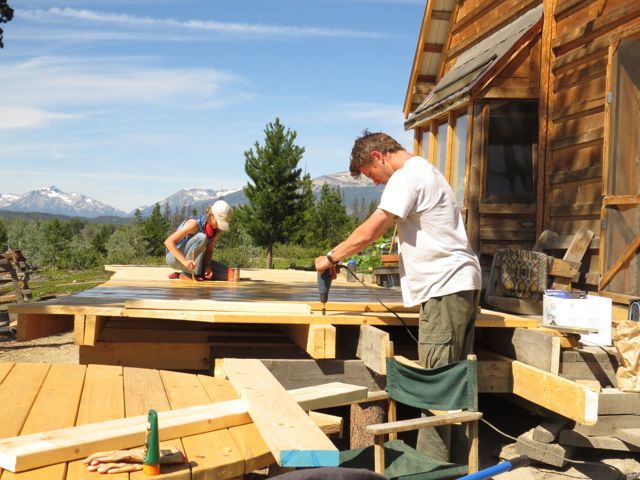 …and I eventually built on it a greenhouse in front of the door.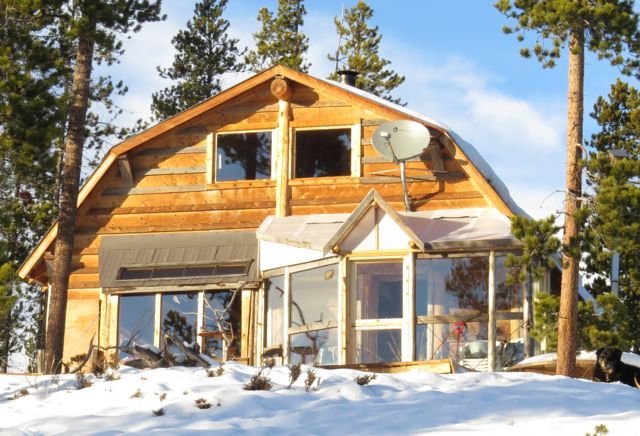 It still gets too cold at night to use it for anything but drying clothes at the moment, but it keeps the snow and winter winds away from the main door and makes a hot place to sit when the sun is shining, even if it is in the -20Cs outside.
Another project that volunteers helped with was my first serious attempt at a garden.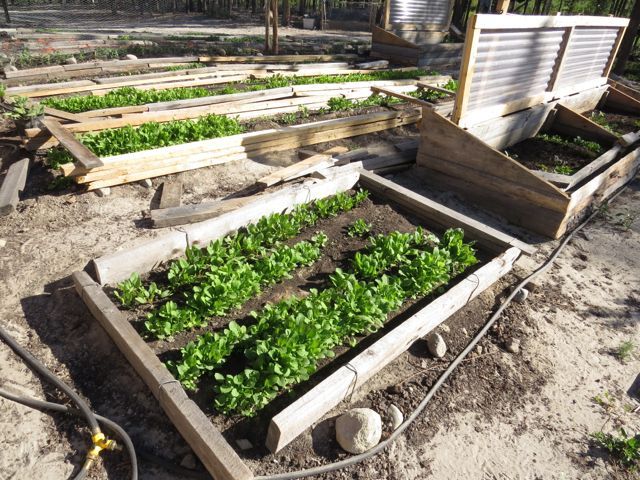 Most of the time I have lived at Ginty Creek I spent the summers at Nuk Tessli: the first summer here I was recovering from a knee replacement so couldn't do much.  (It, by the way, was pretty much a waste of time.  I am just as lame as I was before the operation; can no longer kneel or get in and out of a canoe etc.)  I made a great many mistakes, but the garden, as far as I was concerned, was a  success.  The big problems was getting enough water to it.  Despite a reasonable snow cover last winter, when it melted, the ground underneath was so dry that the runoff disappeared in an instance.  Temperatures in June and early July reached into the mid 30Cs day after day.  My well has only a limited amount of water so I had to ration it carefully.  At first I tried to irrigate an area that blows dust, and grow clover in there, but my water ran out so I had to concentrate on the edible garden.  Only hardy stuff can grow here outside – even with +30C temps, it often froze at night – but I could scrounge greens, even if they were brittle with frost, right until the end of October.
I made several trips down The Hill to Bella Coola, including a memorable very wet boat ride to see the bears,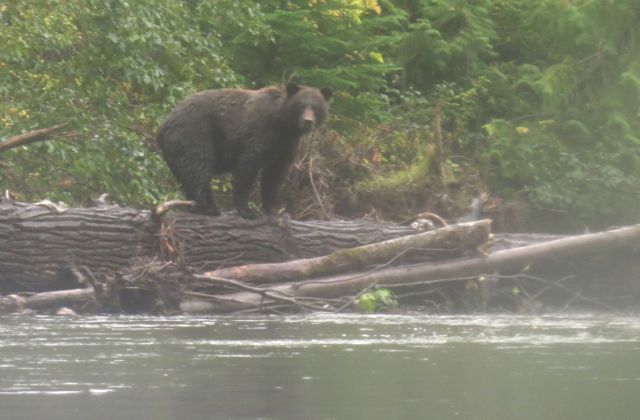 and guided for 10 days at Nuk Tessli.  (We have, by the way, fixed 2016's dates.  20-24th July for the first tour, a second 5-day tour following immediately afterwards if there are enough bookings.)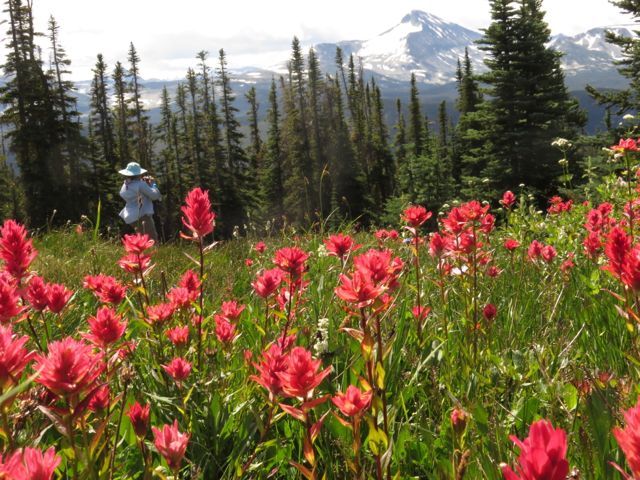 A completely different experience was to witness a First Nations ceremony at Chilco Lake to name a friend's 12-person canoe.  I even managed to get a short and very exhilarating paddle in it.  Not sure if the dogs appreciated the honour!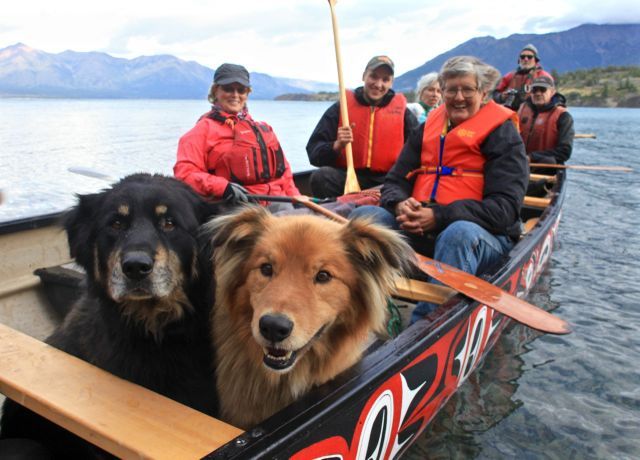 I also hiked up to flower meadows on Potato Mountain, which boast quite a diffferent mix from those at Nuk Tessli.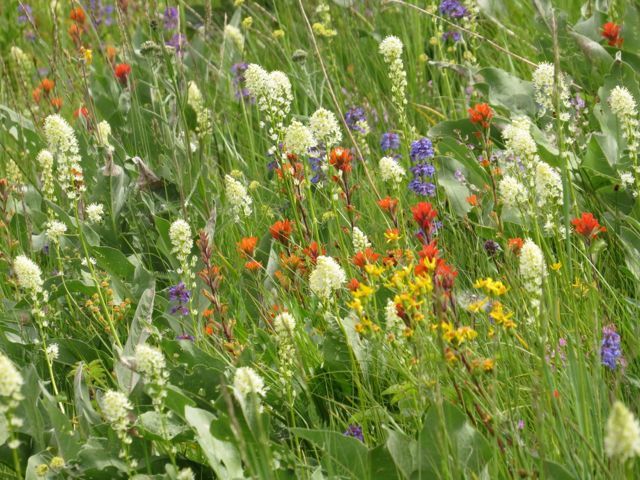 There were the usual year's events: the cattle drive party at the Precipice….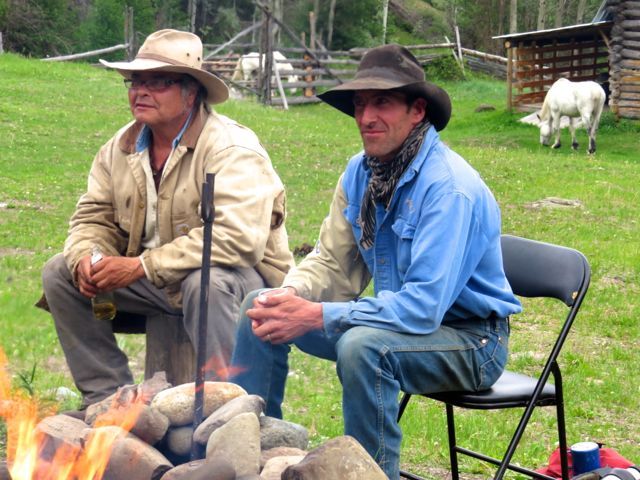 …the Tatla Lake Gymkhana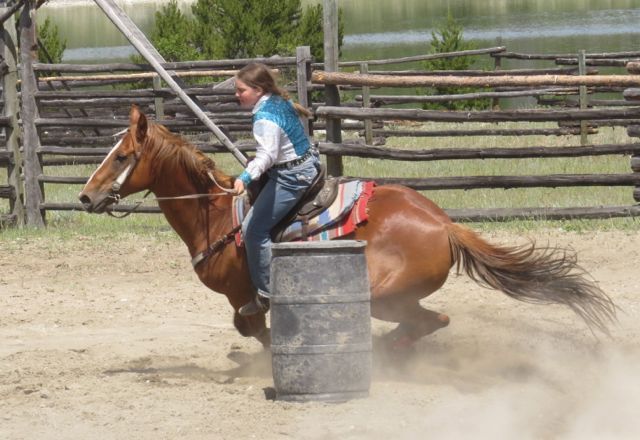 …and the Anahim Lake Rodeo.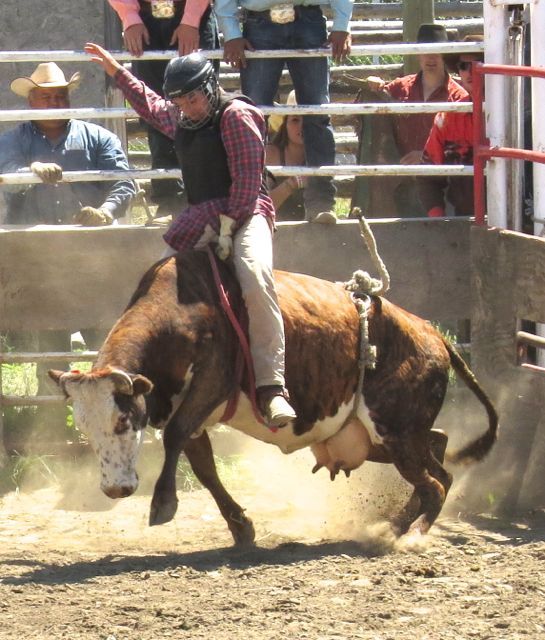 Next year, with money worries out of the way and fewer building projects to pursue (although there is still plenty to do), I should finally have more time to enjoy the area more thoroughly.  All these events are of course detailed in the blog.
As for books – Harry was supposed to be putting together his memoirs as a sequel to Lonesome last winter, but he got kinda lazy and only part of the first draft is done.  Harry will have to seriously buckle down to work this winter, which I promise he will do – right after all the Holiday socializing!
I have, however, put together an ebook of Common Nuk Tessli Wildflowers.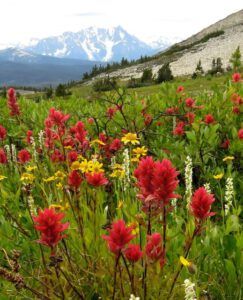 Here is the picture for the cover page.  If you want a virtual tour through Nuk Tessli's alpine ridges and wonderful meadows (90 pages, over 200 photographs), here is your chance – for only $10.95!  And you don't have to swat mosquitos while you are doing it!(If you read this right away, the means for downloading this will not be set up.  I will write a post as soon as it is available.)
Happy 2016.
Chris