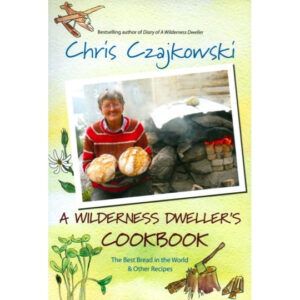 A Wilderness Dweller's Cookbook by Chris Czajkowski
14.95 plus 5% gst = $15.70 CAD
Soft Cover, 96 pages
118 grams
21.5″ x 14″ x 0.7″
Harbour Publishing, October 2010
A Wilderness Dweller's Cookbook is not a how-to-skin-a-moose-and-salt-it-down-and-make-the-offal-into-sausages kind of book.  Instead, it is an account of how a wilderness dweller in a non-growing climate 20 km from a road and 250 km from a town large enough for a supermarket feeds herself and guests that come to her small ecotourism resort.
The food is chosen by its health value, keeping quality, cost, and ability to fit it into a small float plane, which is the principal way both supplies and guests arrive at Nuk Tessli. It is also designed to feed hungry, physically active people.
Pride of place is taken by the "Best Bread in the World' made in Chris's homemade stone oven.  Other recipes include such items as: making yoghurt, growing sprouts, baking Trail Mix Cake and producing Nuk Tessli's speciality, the infamous Spotted Dick.
It is illustrated by Chris's drawings.