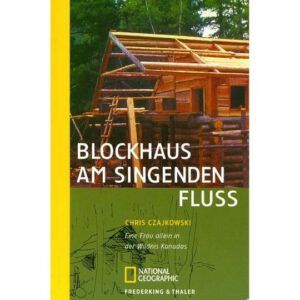 18.95 plus 5% gst = 19.90 CAD
Soft cover.
281 grams
18  x  12.2  x  1.8 cm
National Geographic Adventure Press, May 2006, Reissued Piper Verlag GmbH, January 2010
 Blockhaus am Singended Fluss is the translation, into German, of Cabin at Singing River.
Chris Czajkowski lebt einen Traum: Mitten in der Wildnis Kanadas rodet sie ein Stuck   Land und zimmert sich – ohne besondere Vorkenntnisse – ein Blockhaus, dreiundvierzig Kilometer von der Nächsten Strasse und hundertfünfzig Kilometer vom nächsten Laden entfernt.  Mit beneidenswerter Unerschrockenheit und Lebensfreude meistert die Autorin ihr mühevolles Tagewerk in der Wildnis und fühlt sich reich belohnt durch die Schönheit    der unberührten Natur.  Ein Buch, das Sehnsüchte weckt.