Remote Living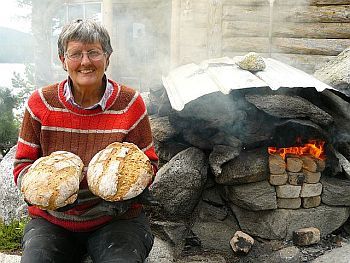 I am a wilderness dweller.  I live off the grid, alone, and have done so for over 30 years. The earlier cabins I built are far from a road in the high mountains of British Columbia's Coast Range. They are accessed by an overnight hike, or a 20-minute float plane ride from Nimpo Lake in the West Chilcotin. They are 150 miles from the nearest banks, traffic lights, supermarkets or cell phone frequencies.
Building in the Wilderness
I did most of the construction alone, falling the trees, dragging them with a comealong, and raising the logs with blocks and tackles. I needed more than one building as the BC government insisted I have a commercial reason to be in the mountains – ecotourism was the only practical way to earn money in this high, lonely and spectacular location. www.nuktessli.com/
I recently sold Nuk Tessli and aquired 40 solitary acres about 30 miles away. I have no close neighbours, gorgeous views of mountains, and a wild river at the foot of the property. City amenities are not much closer although I can now drive to my new home on a rough bush road.  I built yet another home, power it with the sun, and still cook and heat solely with wood.
Keeping Creative
I have written 12 books about my wilderness life.
I operate my blogs using solar-powered satellite internet