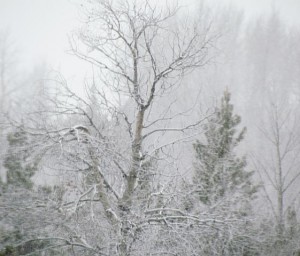 Snowing again.  The forecast was for flurries; it has been snowing all morning.
Yesterday the forecast was the same.  I drove through falling snow to the monthly book club at the Tatla Lake library.  As always, I first went to the church to use the washing machine.  The knitting club meets there for their weekly gossip and lunch.  Some members came from Tatlayoko, which is south of
Tatla; they have had a huge amount of snow down there.
Everyone is complaining of the cost of getting their driveways ploughed this year.  Lynn is a long-time spinner and knitter, and a is Tatlayoko resident.  She said the forecast was so wrong again: there were already three inches on the ground when she left home and it was still coming down.  "Flurries," she added mournfully, "Is the new F word."