Summer is my least favourite season. It is often uncomfortably hot, bugs are bad, and there is a constant threat of fires. The only good things are wildflowers and fresh food from the garden. So it is a bit of a relief when the nights draw in and the bugs go away. Also, although it's not guaranteed, by September the risk of fire is usually lessened.
It didn't stop us getting smoke, though. Once into September proper we finally started getting beautiful weather. A real "Indian summer." This was, however, wind-free – typical inversion weather. In these circumstances, smoke can travel hundreds of kilometres.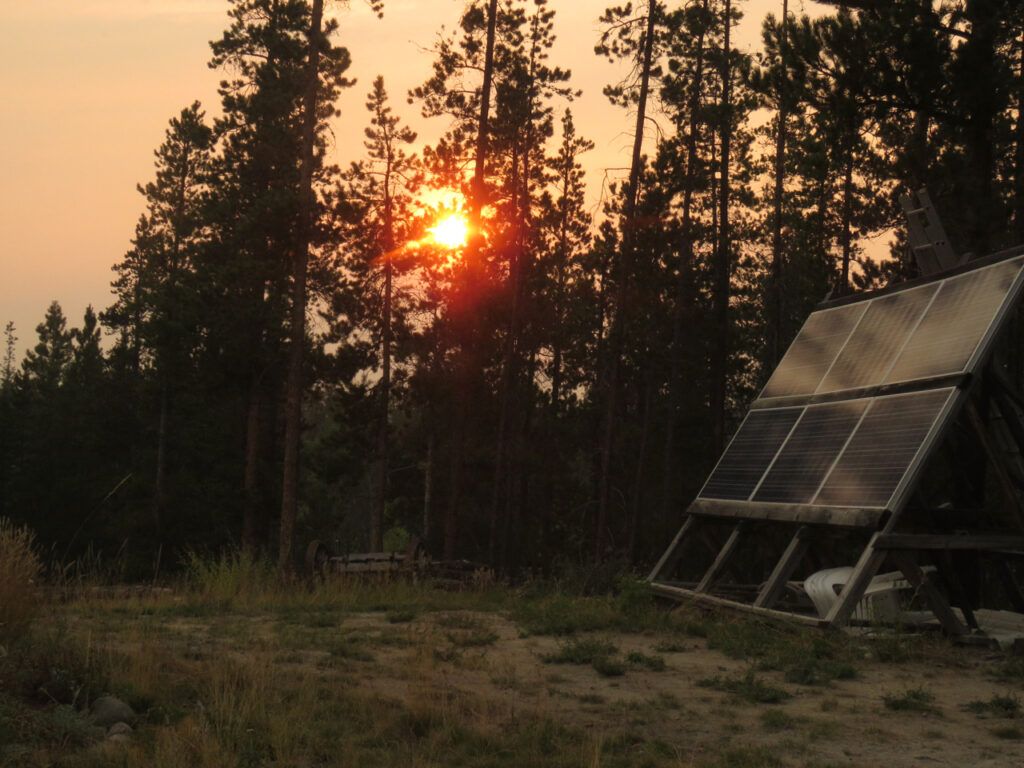 Smoke light can be both eerie and beautiful.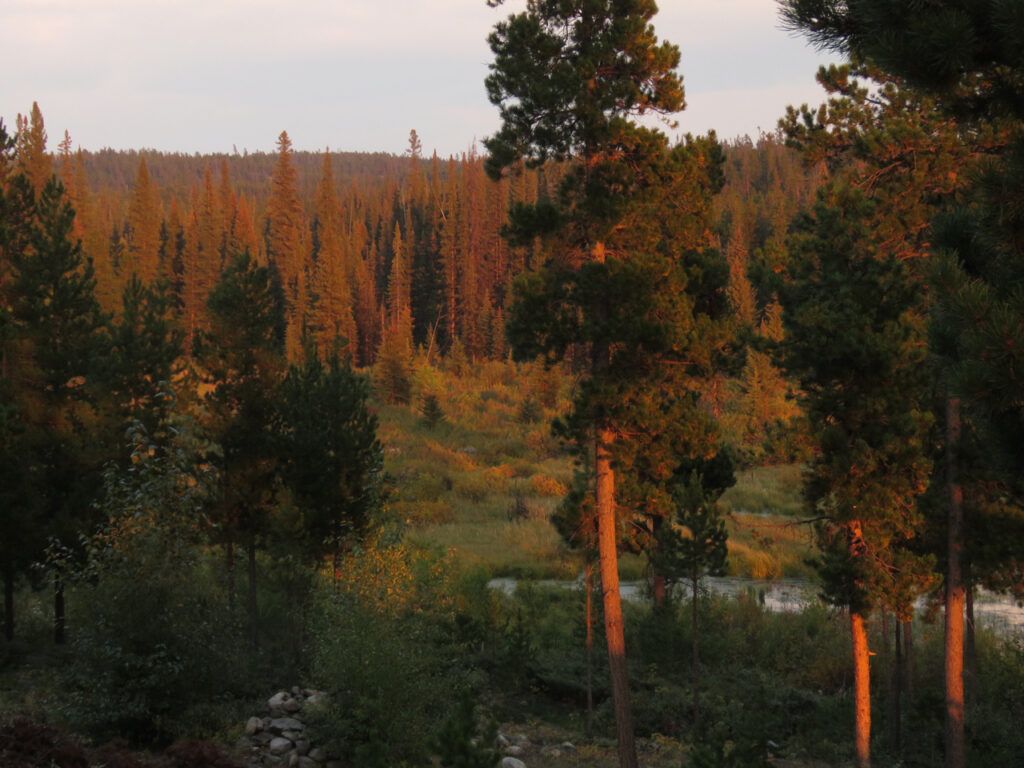 The above picture was taken in the evening. Here is the sunrise: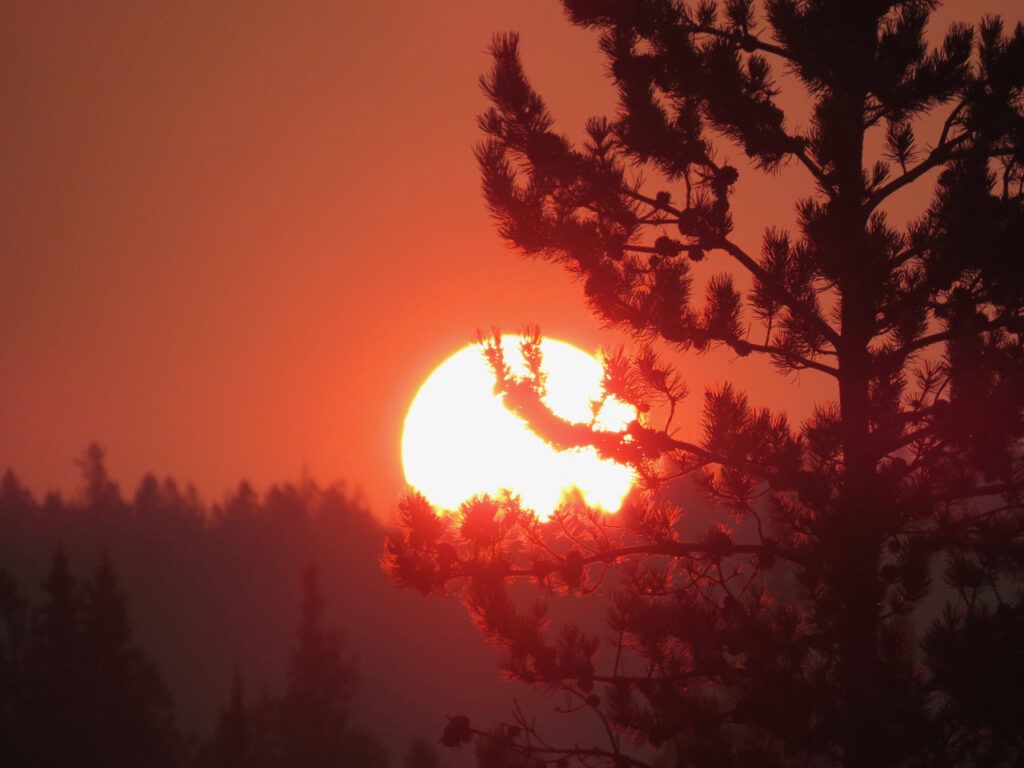 And the way the morning light shone into the house.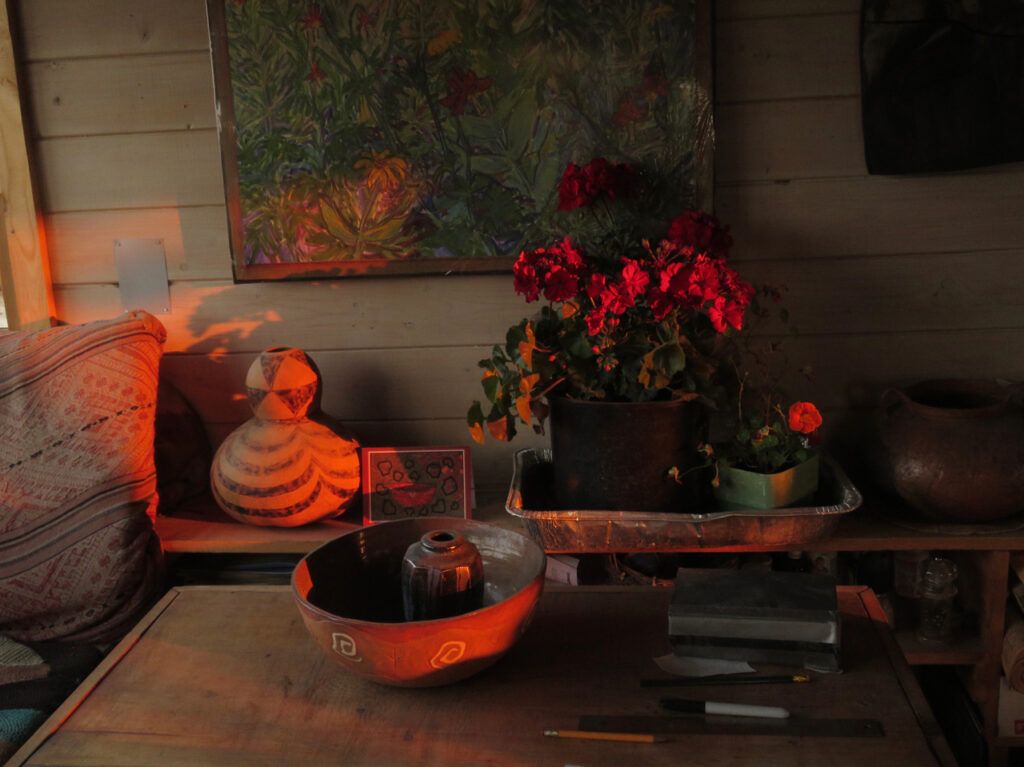 September was an exceedingly busy month for me. A neighbour (an hour's drive away) was selling a cookstove. The one I have been using all these years was in poor shape when I got it and had now become badly burned out in both the firebox and the oven. I had been looking at a replacement for some time, but new ones were colossally expensive, freight would be a huge expense, and I would need help to both move the old stove and install the new one.
Here is the old stove.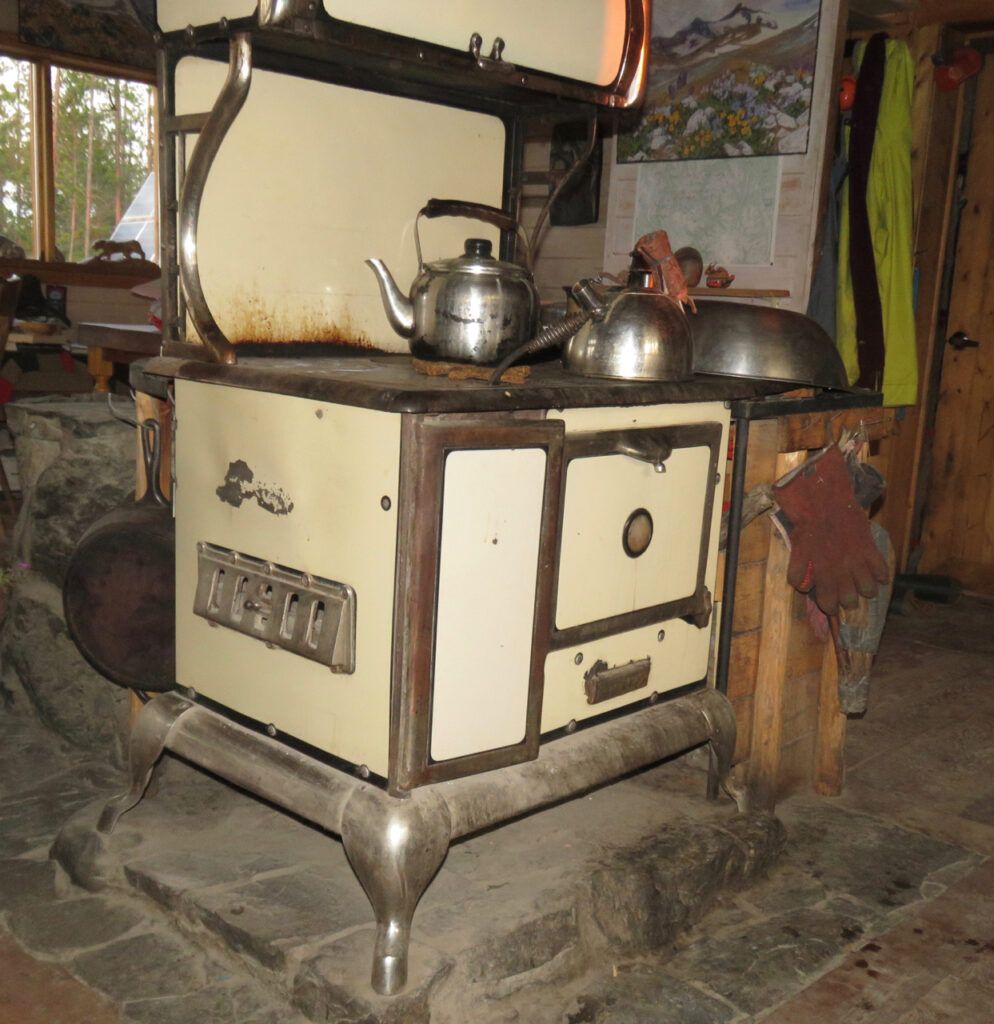 I had extended its usefulness by partially surrounding it with a metal grid.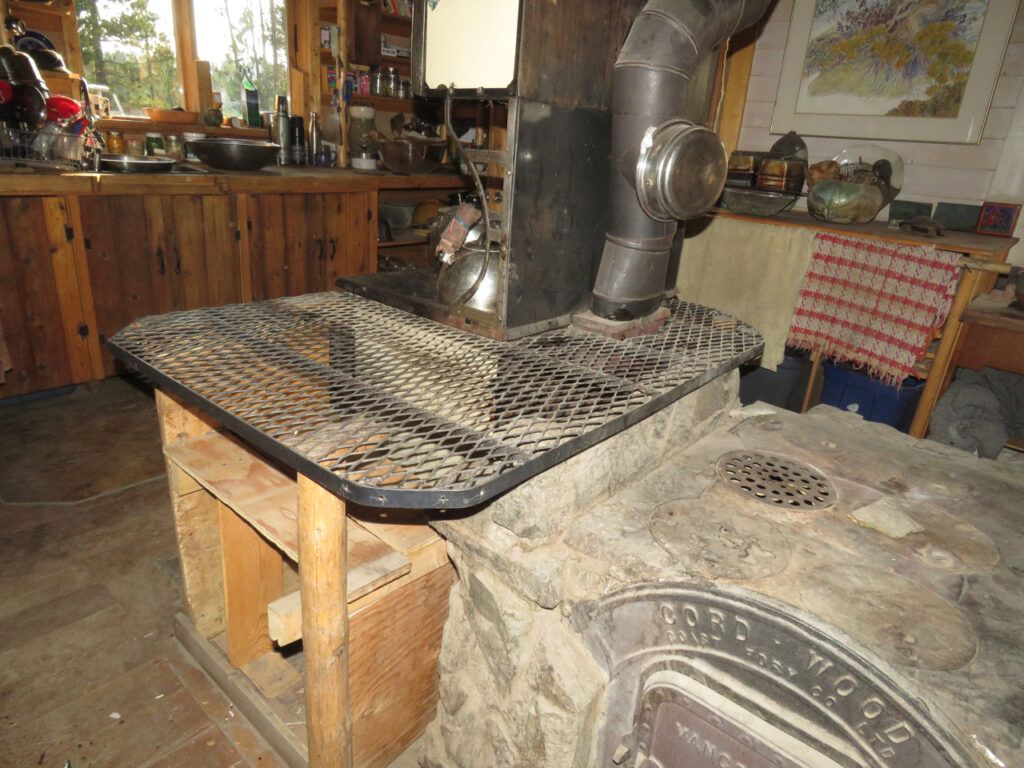 Here is the new stove at the neighbour's. It was stored upstairs in an unfinished log house.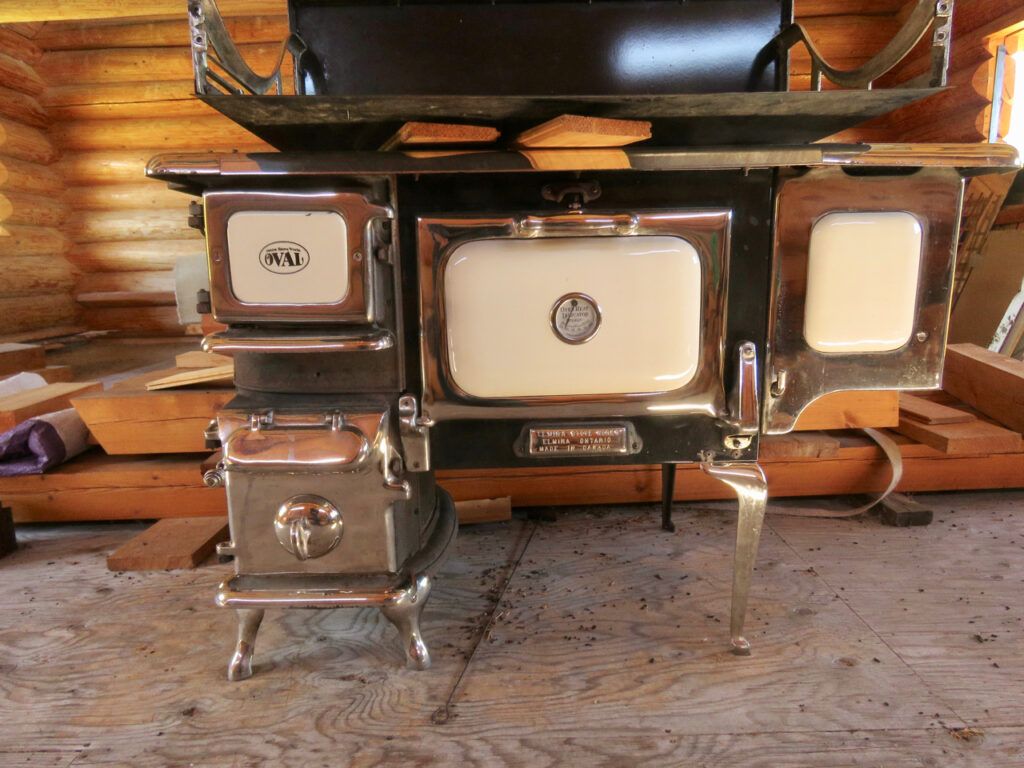 I spent a day taking everything possible apart, but it was still very heavy. It had been lifted up there with a tractor bucket. At the last minute a bunch of people answered the call and here they are lowering it into my truck. (Picture taken by the neighbour.)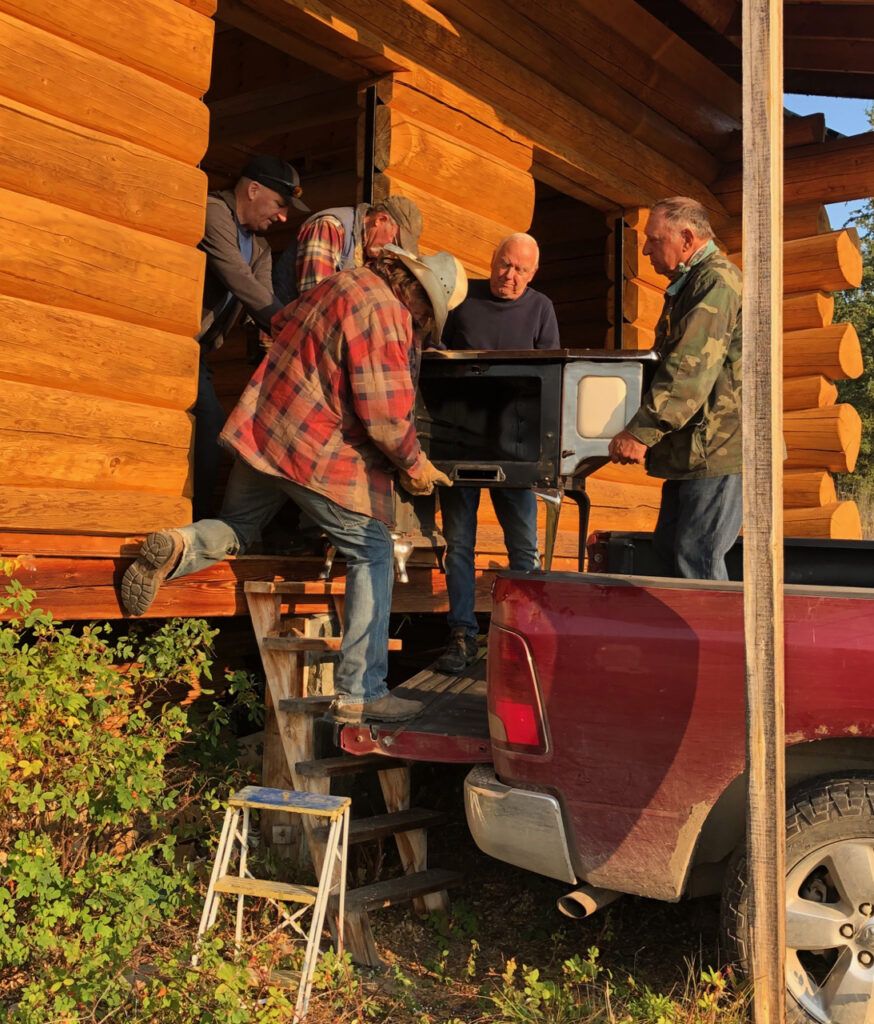 The old stove was sitting in my house and Jade brought her truck to the door to receive it. It was worth nothing. Too burned out to risk using it outside during fire season, so it's destination was the dump.
We'd had to take the doors and stripping off to squeeze the new stove in, but here it is finally in place. It took 2 more days to scrounge through all my pieces of chimney to find bits that fitted. It would take another two weeks to find someone to cut down the grid to fit around it.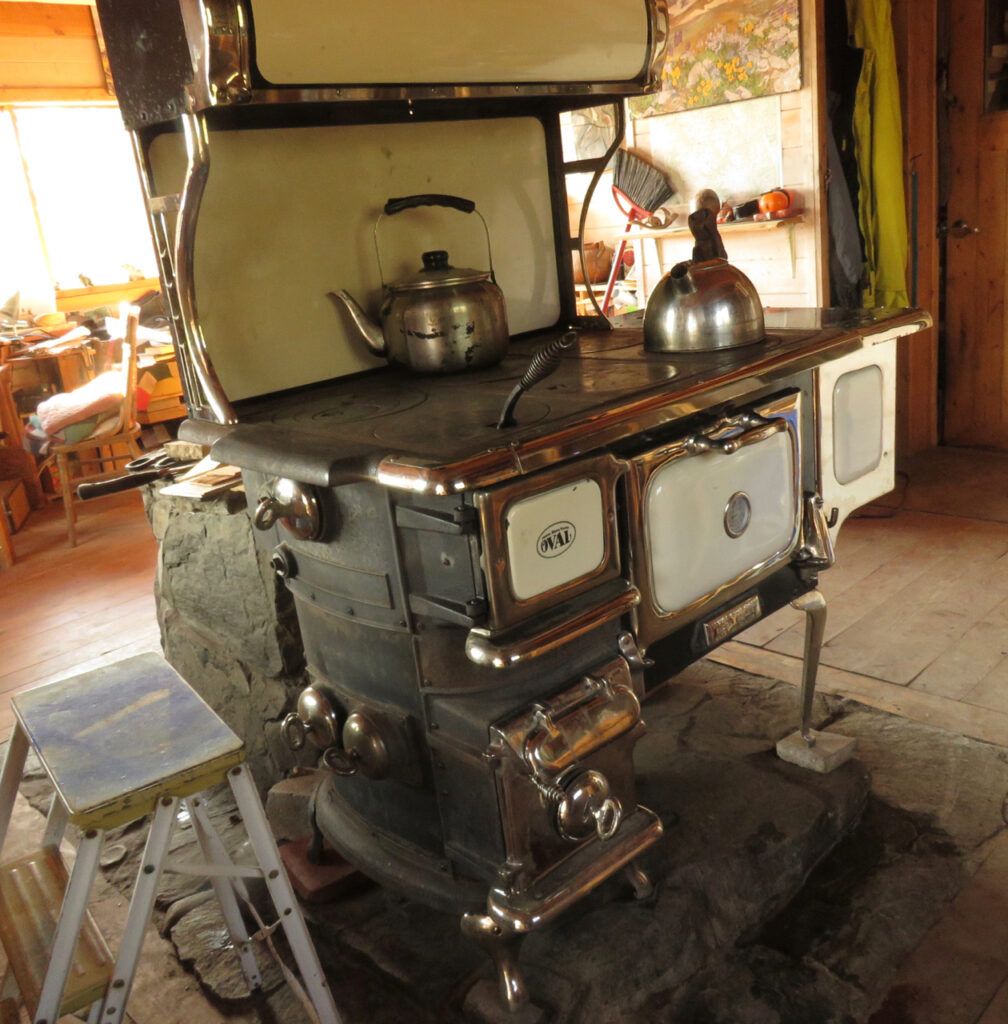 Way back in the spring at the Tatla Lake gymkhana, I won a raffle prize of a cord of firewood. It so happened that three of the people helping with the stoves were involved in that project, so they brought the cord and finished filling my woodshed. They added the excess to an outside pile.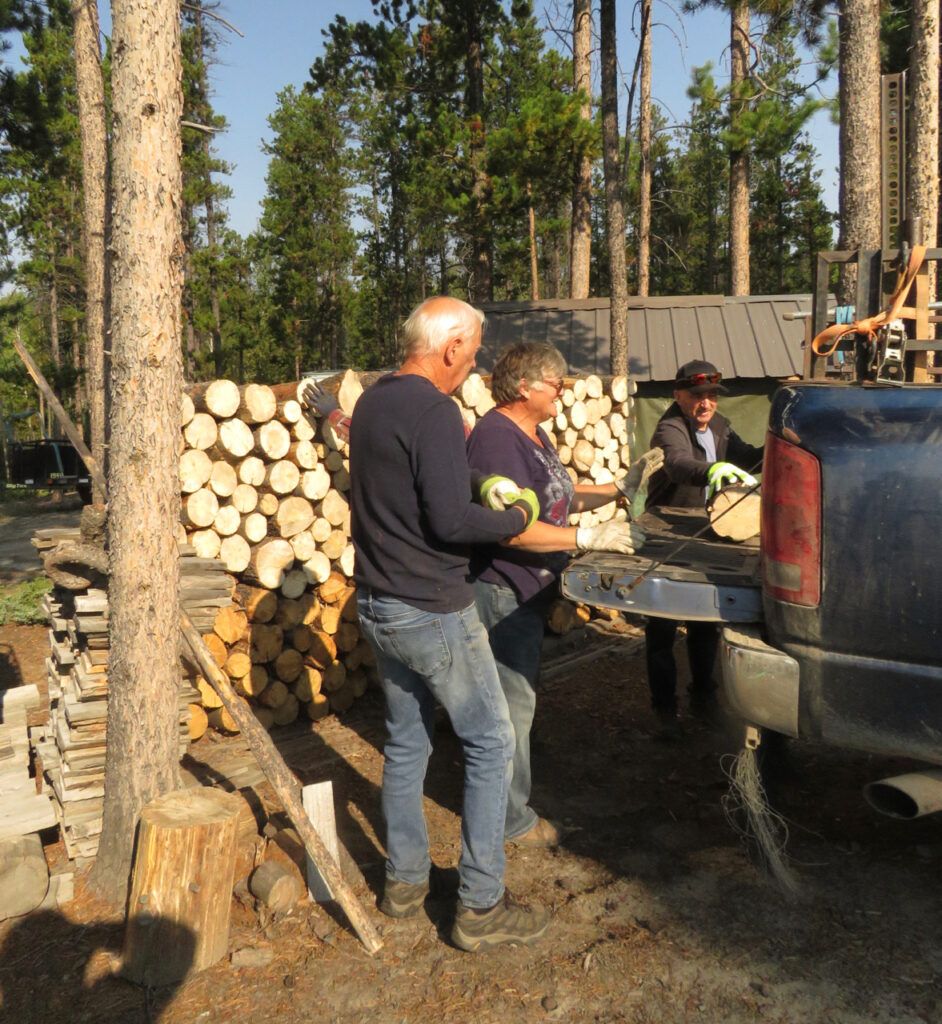 Another major September project was painting a mural on a shed at the Tatla Lake school. I had been asked to do it before covid and then everything got shelved. But now we could go ahead. Time was of the essence as obviously we could not use the paints in wet or frosty weather.
The shed had four walls – suitable for 4 seasons. Fall was coming so we decided to do that first. The teacher begged Rona and Home Hardware in Williams Lake for supplies. I expected some left-over pastel house shades but they sent some beautiful bright primary colours.
The first chore was to decide what should be in the mural, representing Fall in our area. The students listed: moose; cabin; campfire; gold and orange trees; fox; splitting wood; mountains. We measured the shed wall – basically 2 metres by 7 metres. We put together a drawing, and I divided a copy into squares.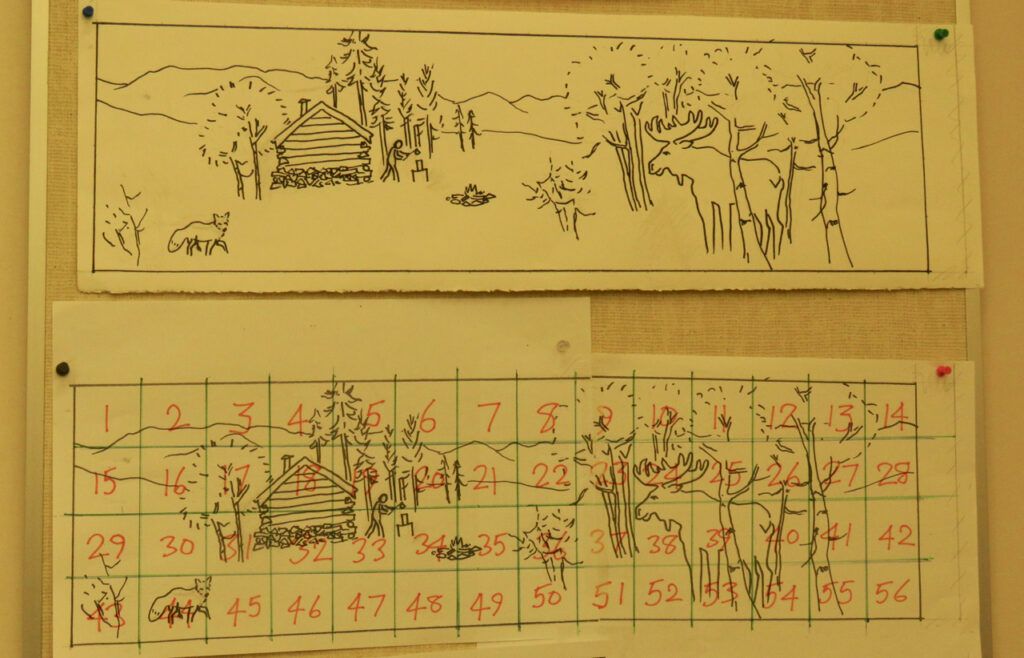 The idea was that the students would pick a square then draw the relevant lines onto a larger version. We first practiced on the board in the classroom.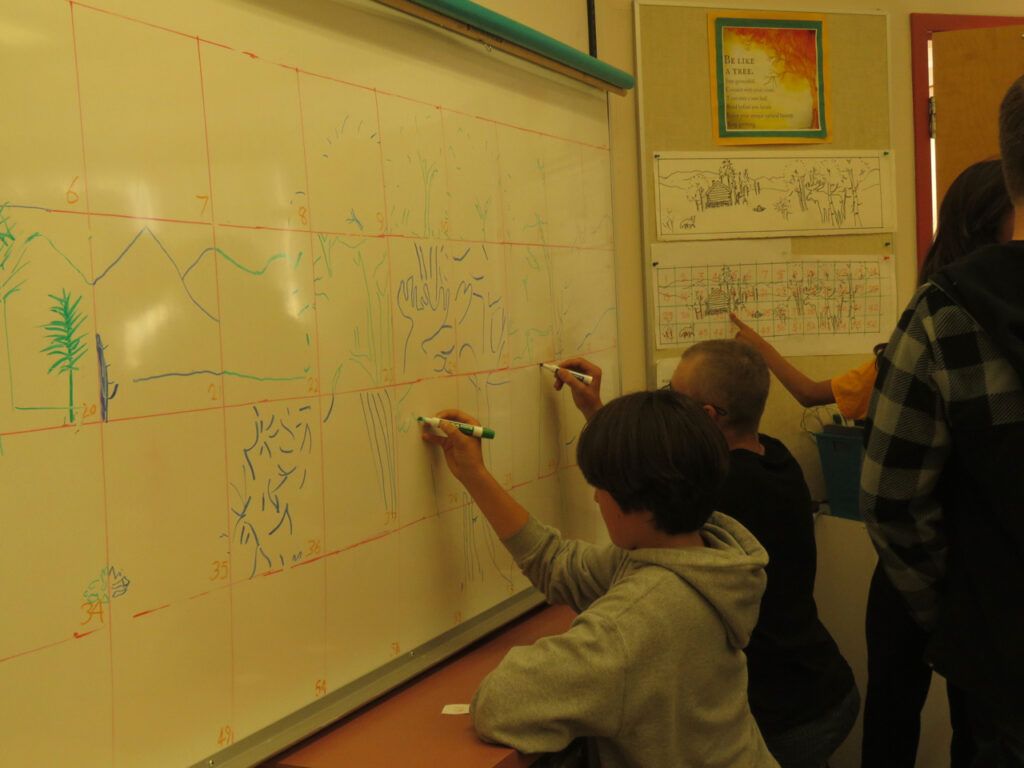 Because of its length, we had to use both white and black boards, which made it a bit confusing.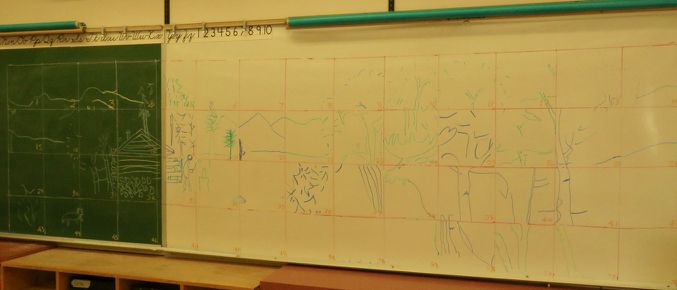 Then we reproduced the drawing onto the shed wall.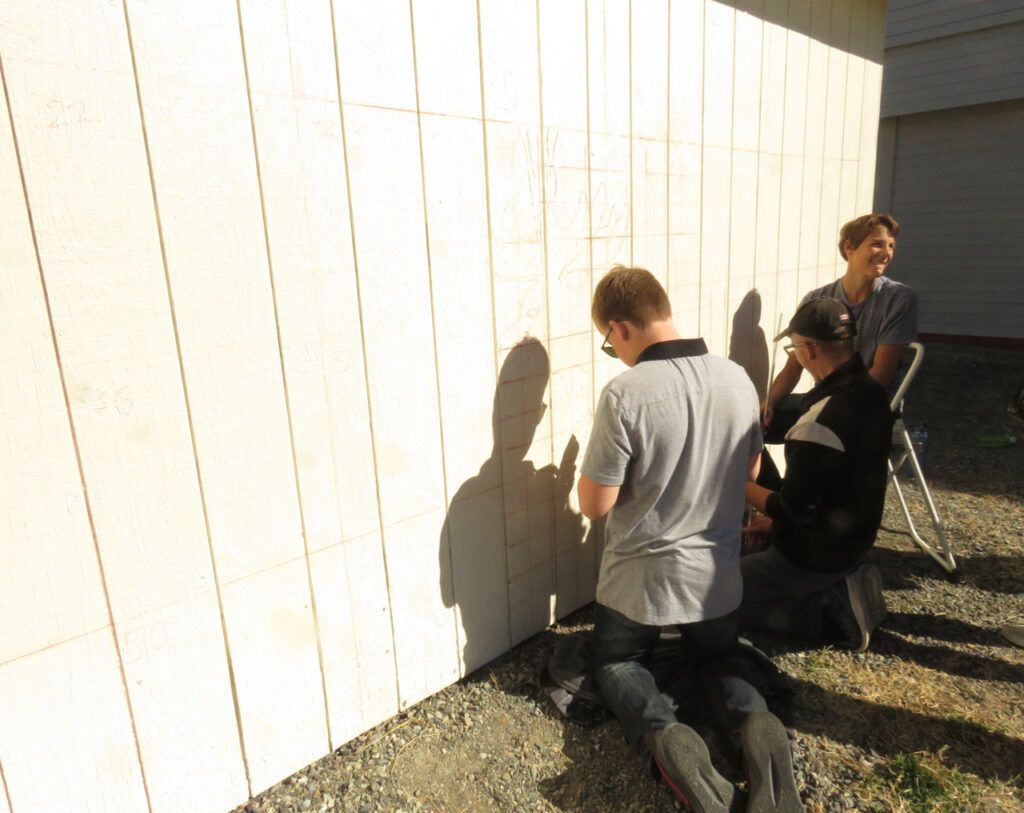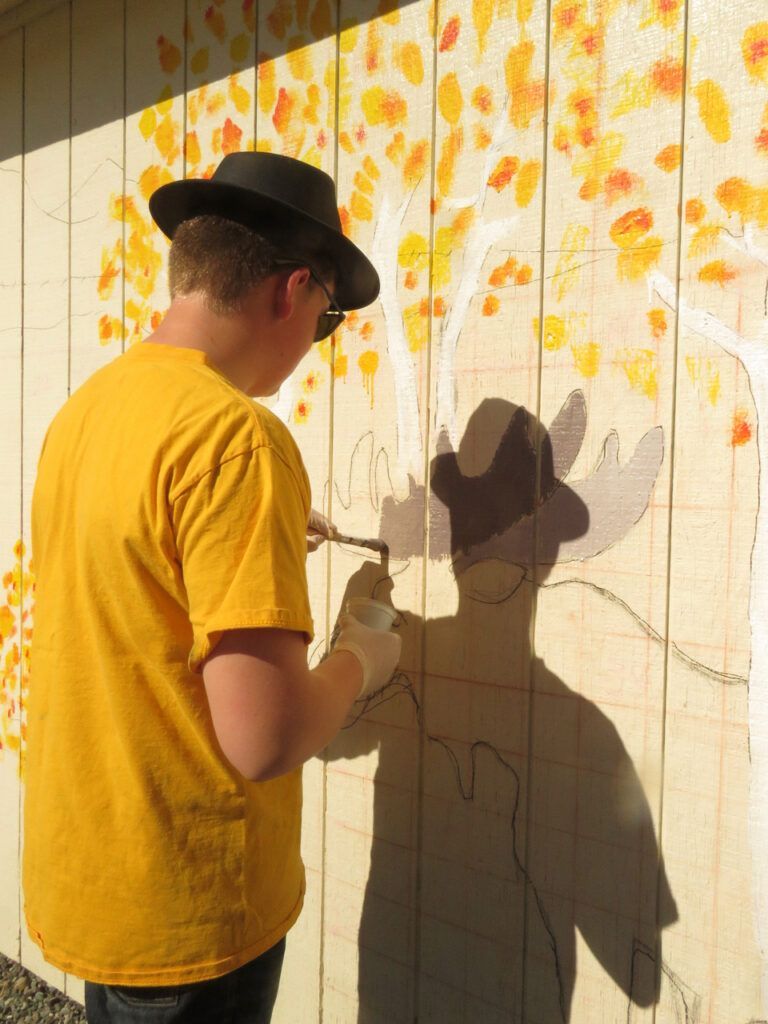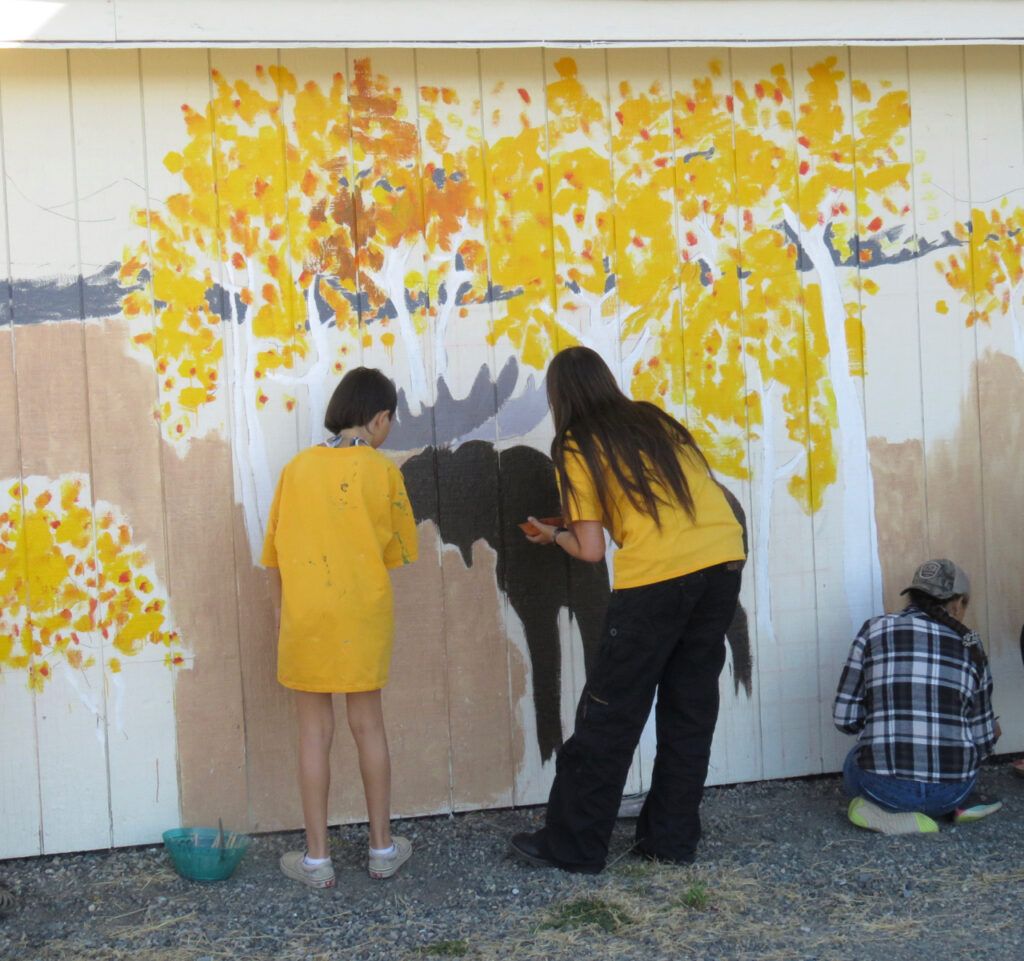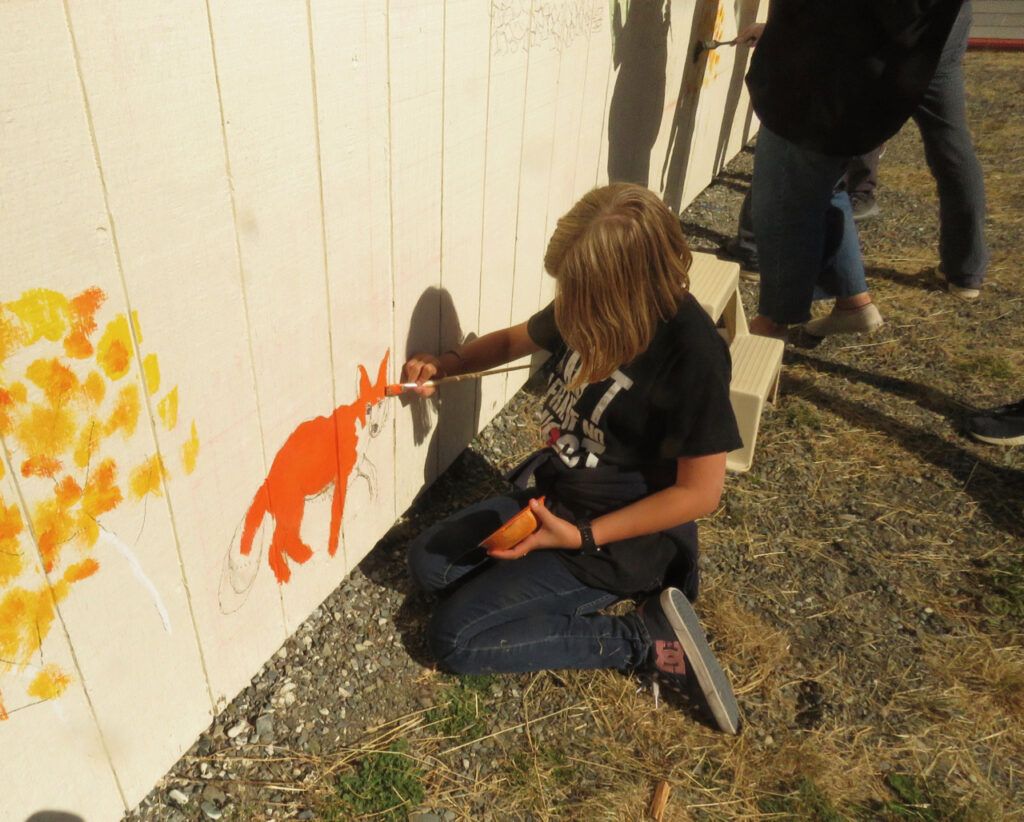 And here is the finished mural. It took six separate sessions to complete it. I think the kids did a great job – they also seemed to have fun.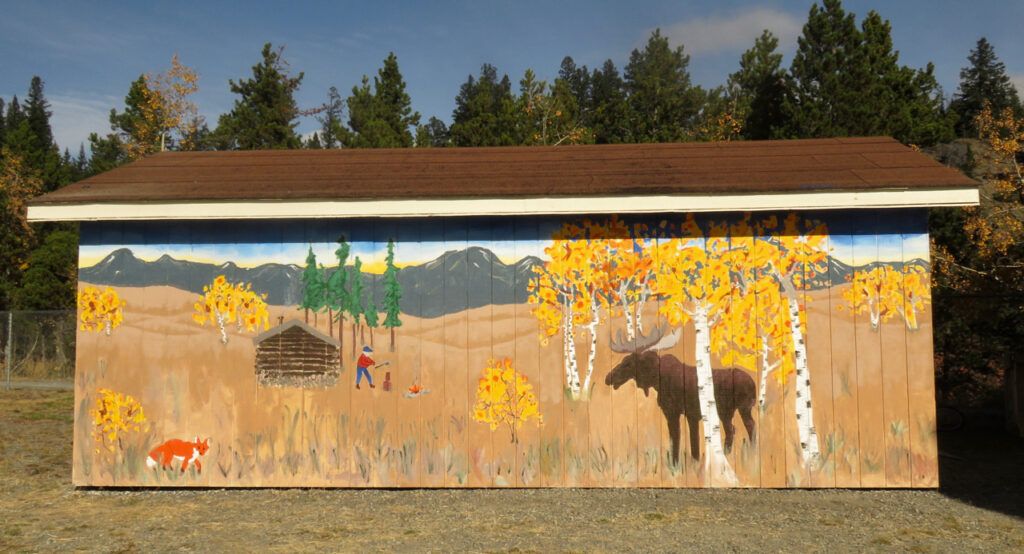 Although I received the cord of firewood, I wanted to take advantage of the burn piles on the fire area before Forestry destroyed them. So Jade and I took both trucks and hacked away at one of the piles.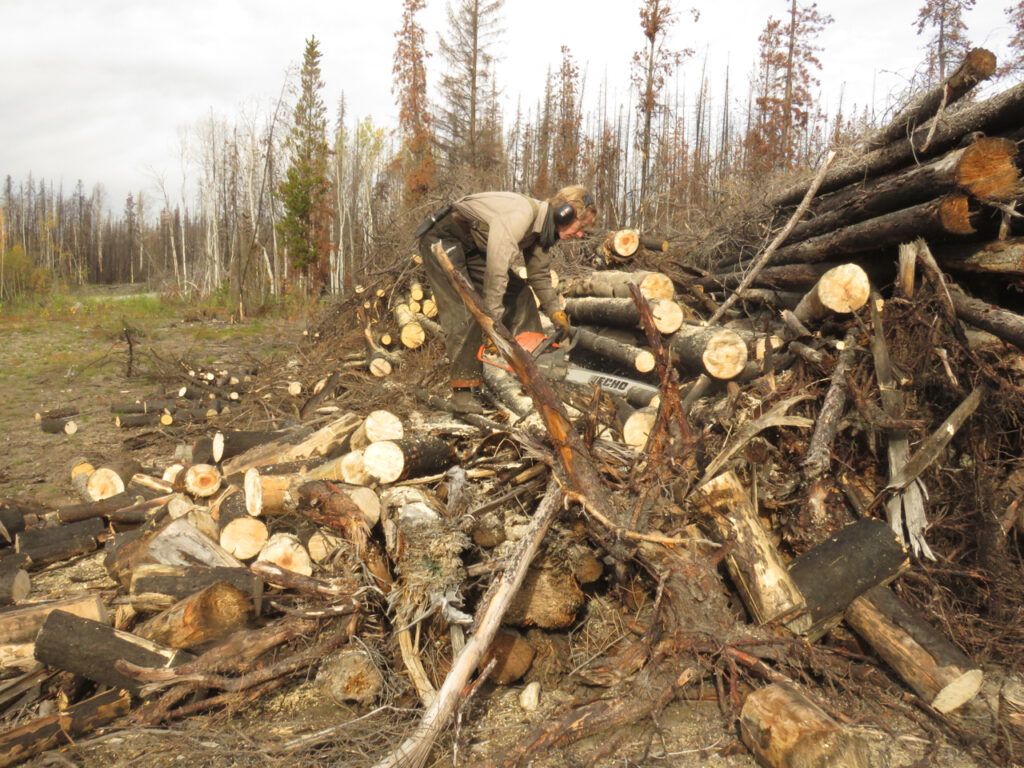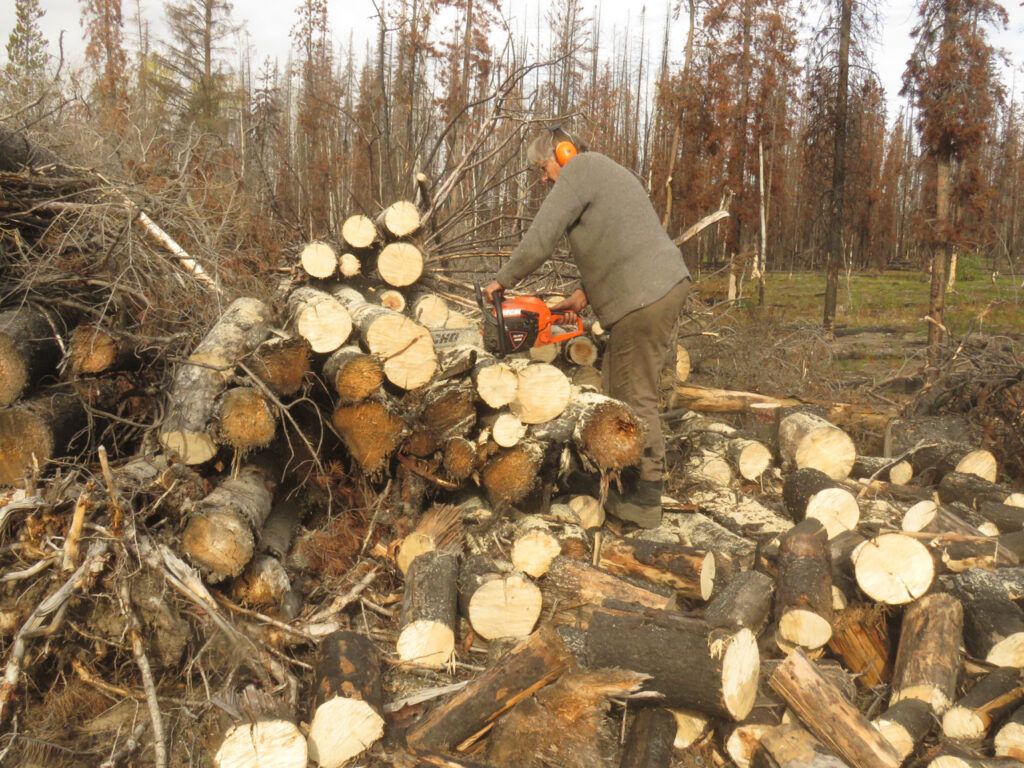 It was super-dirty work! Jade took a selfie after she had loaded her woodshed.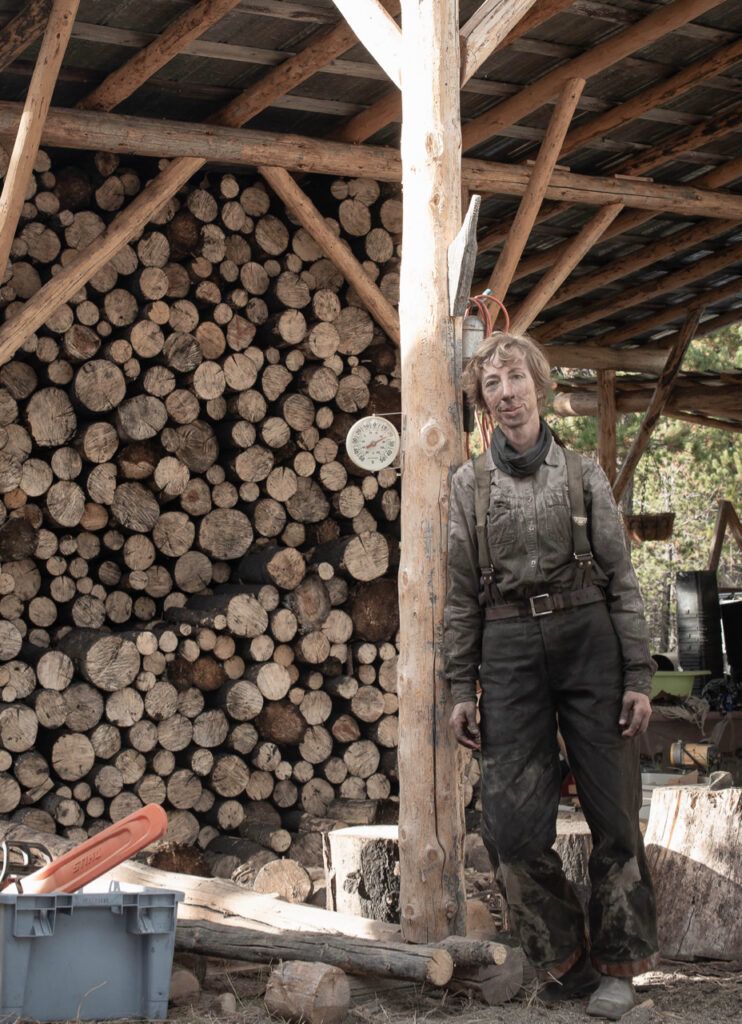 But we are lucky. I have of course been following the Ukraine news and this photo was published.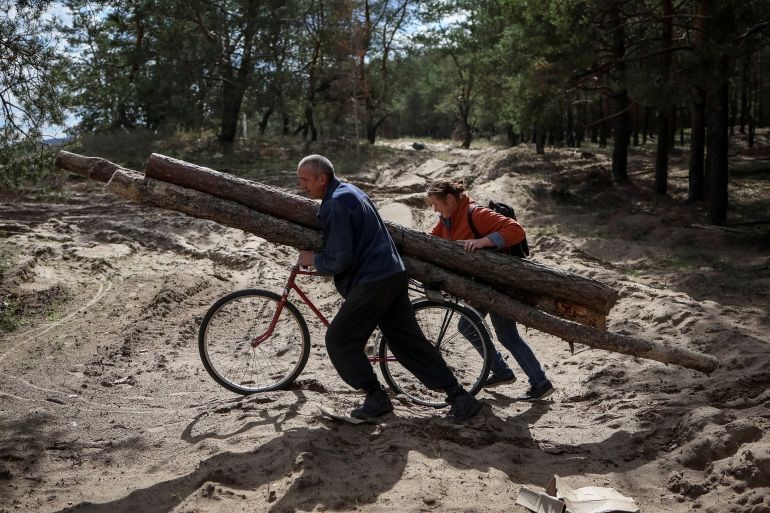 What an immense amount of effort to get the wood home in that sandy soil with an old bicycle. You can see by the tracks that this is not their first trip. Latterly, citizens have been told not to go into the forest to get firewood because of the mines. They have to scrounge from destroyed buildings. Simple box-like wood stoves have been issued – but city people no longer used to this kind of life have been burning down their houses and even killing themselves. And Ukranians have it easy compared with so many other horribly abused people in the world. Yes we are so very lucky in our spacious, peaceful country.