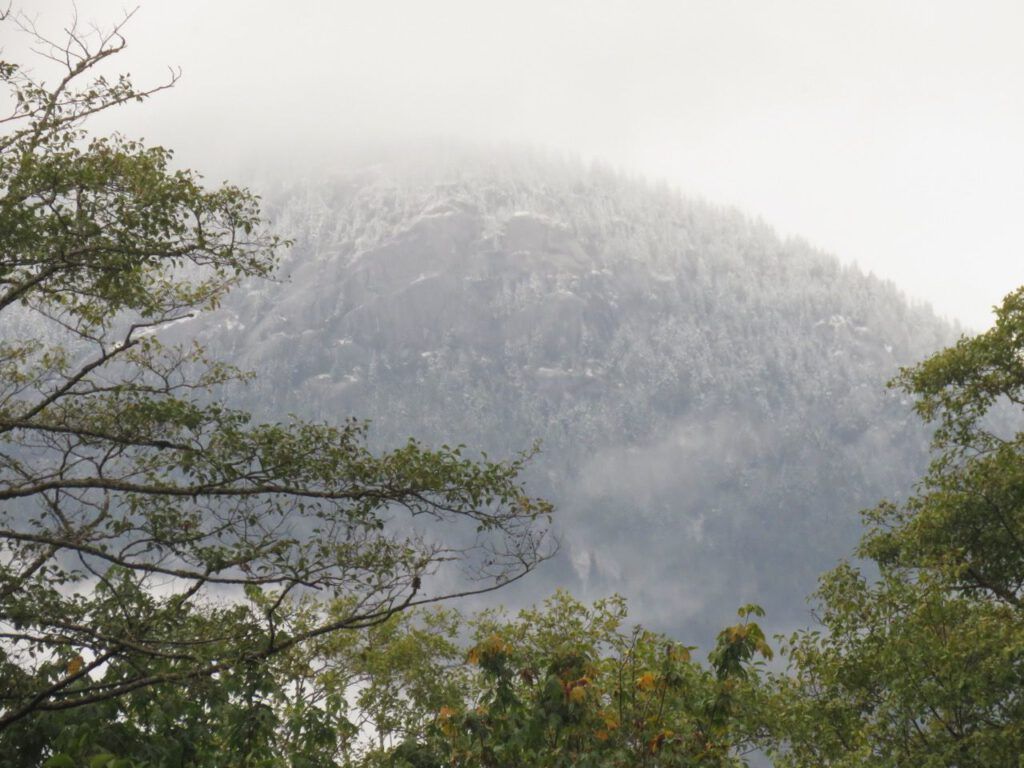 This is part two of my tour as Famous Harry.
Instead of heading back into Vancouver, we drove straight up the coast to Squamish.  Snow was accumulating not far above the highway. Chris could not believe how busy the place had become since she last visited three years ago.  We gave a slide show in the library and actually stayed the night at a condo, where the owner invited us inside.  Previously we had mostly been sleeping in our travel cave, which was a bit cramped to say the least.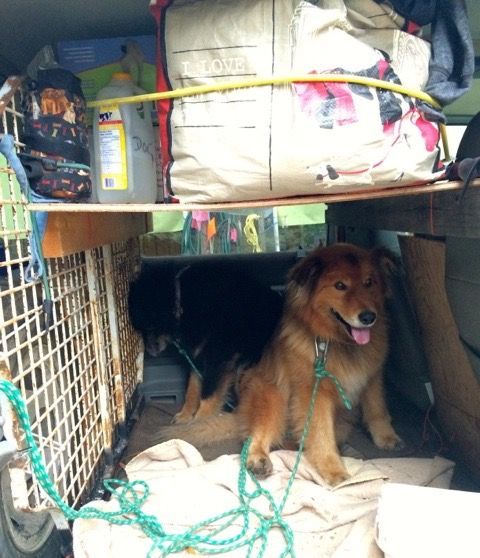 The rain eased off and the next morning was gorgeous with fresh snow well down the mountains.  Chris's friend took us to a place where we could be let off the lead – something that was not always easy to find.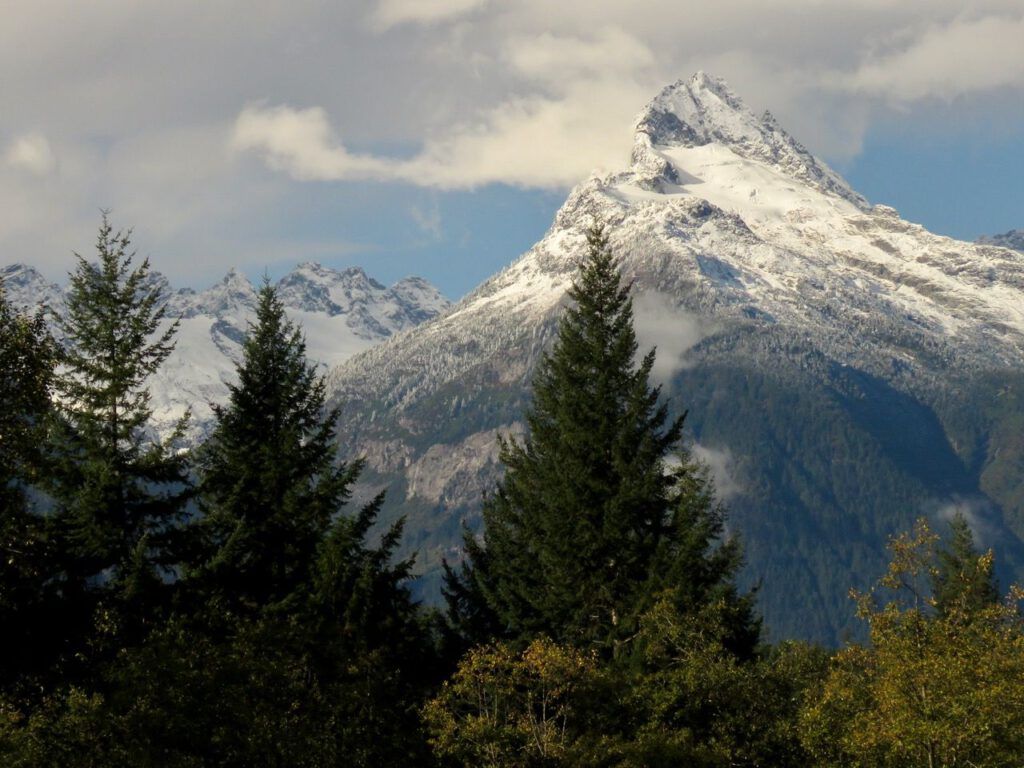 We generally had about 4 walks a day but our afternoon one, near Pemberton, was short.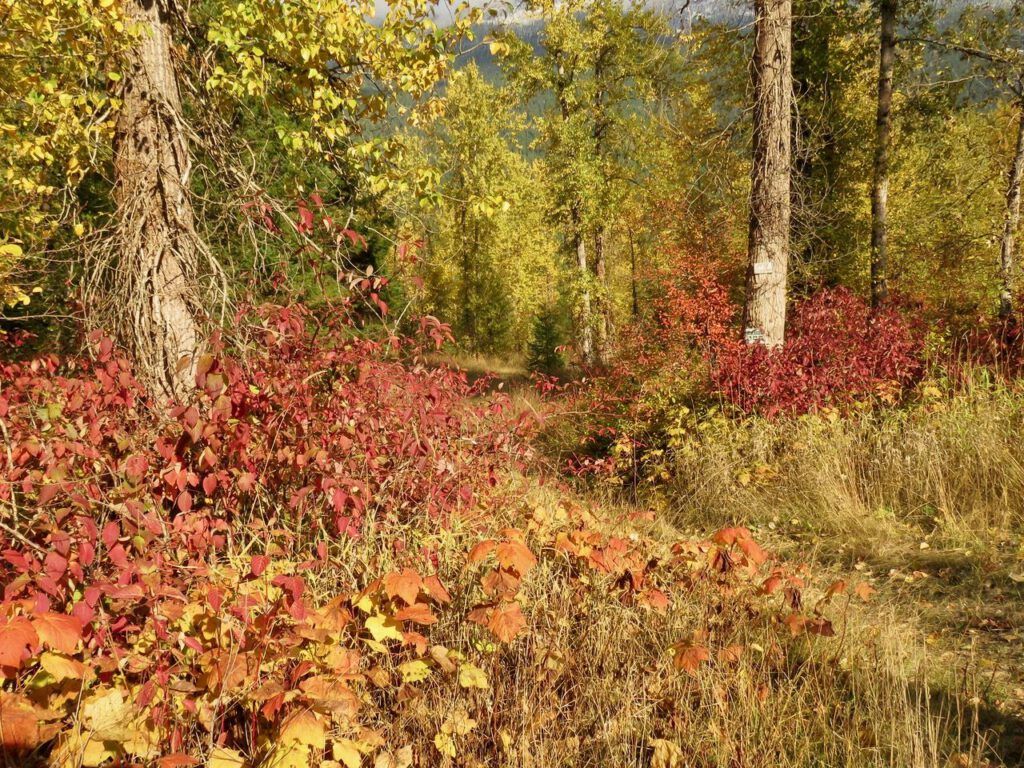 Mount Currie, which rears over Pemberton, was magnificent.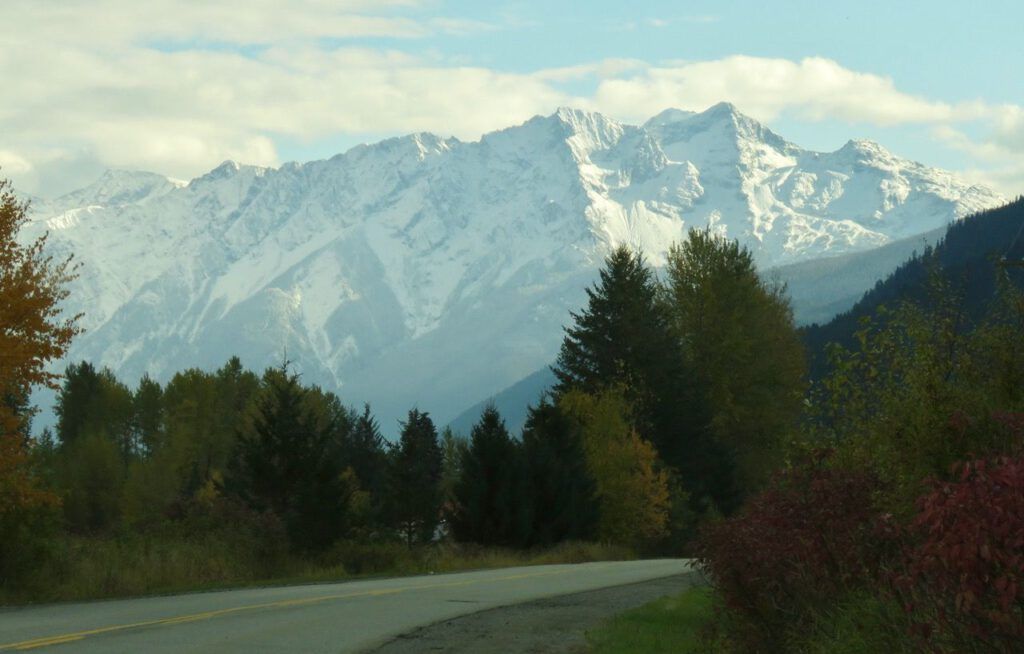 Back down to North Van the following day, and we stayed with our good friends Elizabeth and Alan Bell for a couple of days.  There is a pleasant dog-walking area not far from their home.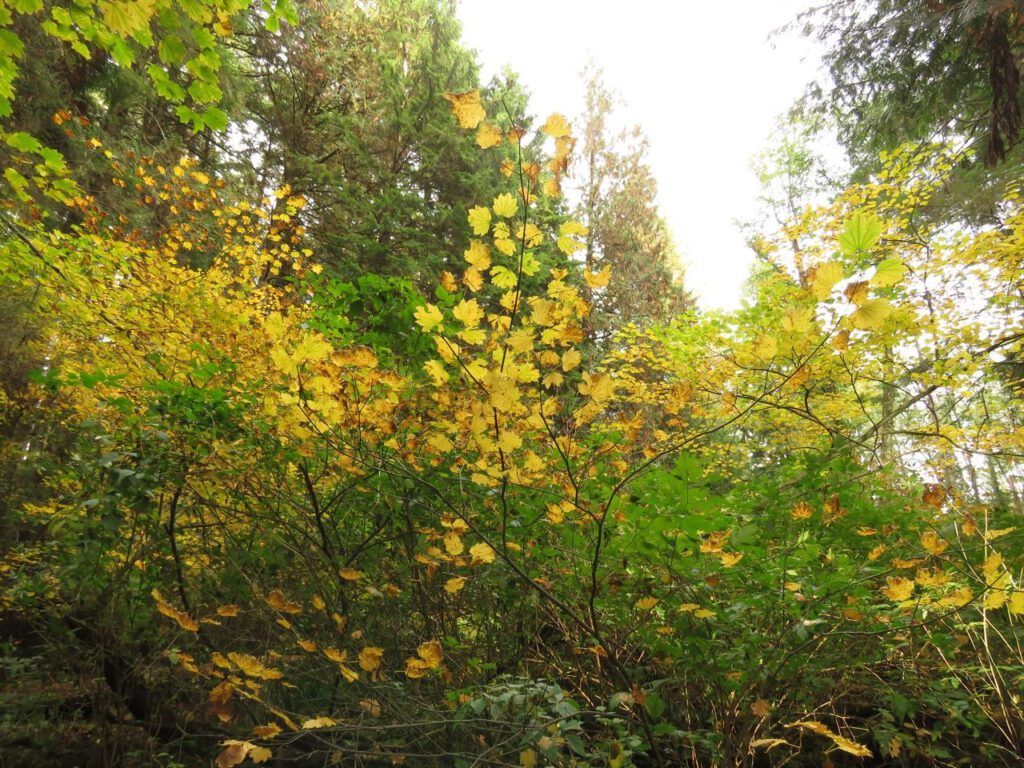 We had three events in the Surrey area, and for these we were very fortunate to be able to stay in a lovely house close to Crescent Beach in Whiterock.  We knew our hosts, Donna and canine Lucy, for they had looked after us a few years ago when Chris was on another book tour.  They were accompanied by a wonderful lady called Sabine who spoiled us rotten!  She bought us fancy leads and little lights for our collars that flashed in the dark.  She also took pity on Chris who found the wild wind and pouring rain very hard to cope with and we went for long walks with our three friends along the stormy beach.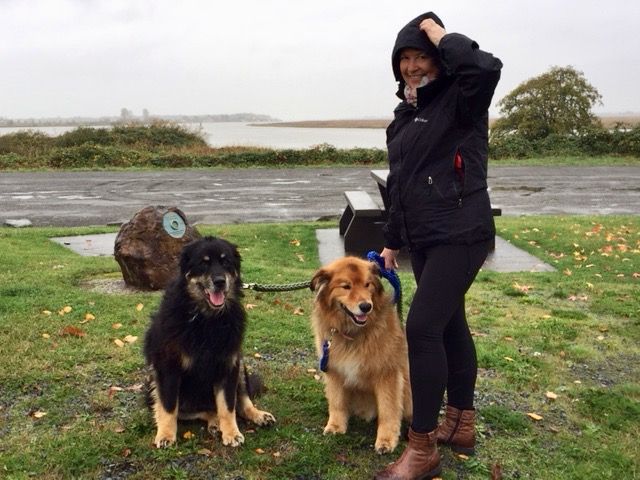 We were allowed in the house – on the carpet, no less!  But we had to have our feet wiped off first.  Donna kept a bunch of towels by the door.
Sabine drove us to Ladner in her jeep – Badger needed extra steps to allow him to get inside.  There we did a book signing in Black Bond Books.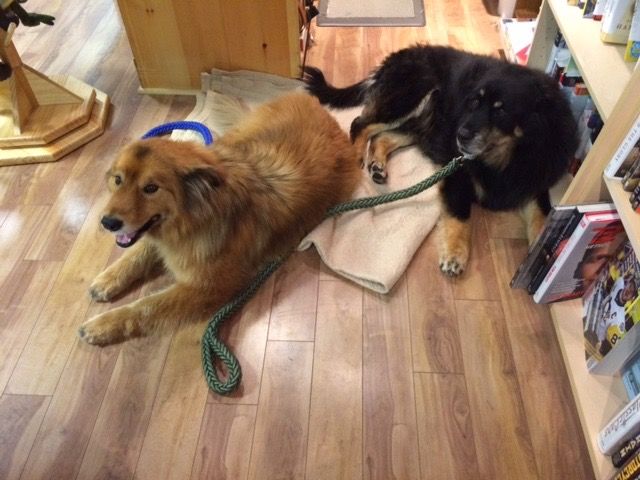 Still terrible weather when we headed east.  Our next stop was to be Peachland with Super Sarah, Wonder Wwoofer, who has been mentioned in Chris's other books.  To get there we drove through more deluges to Hope and onto Highway 3, which took us through Manning Park.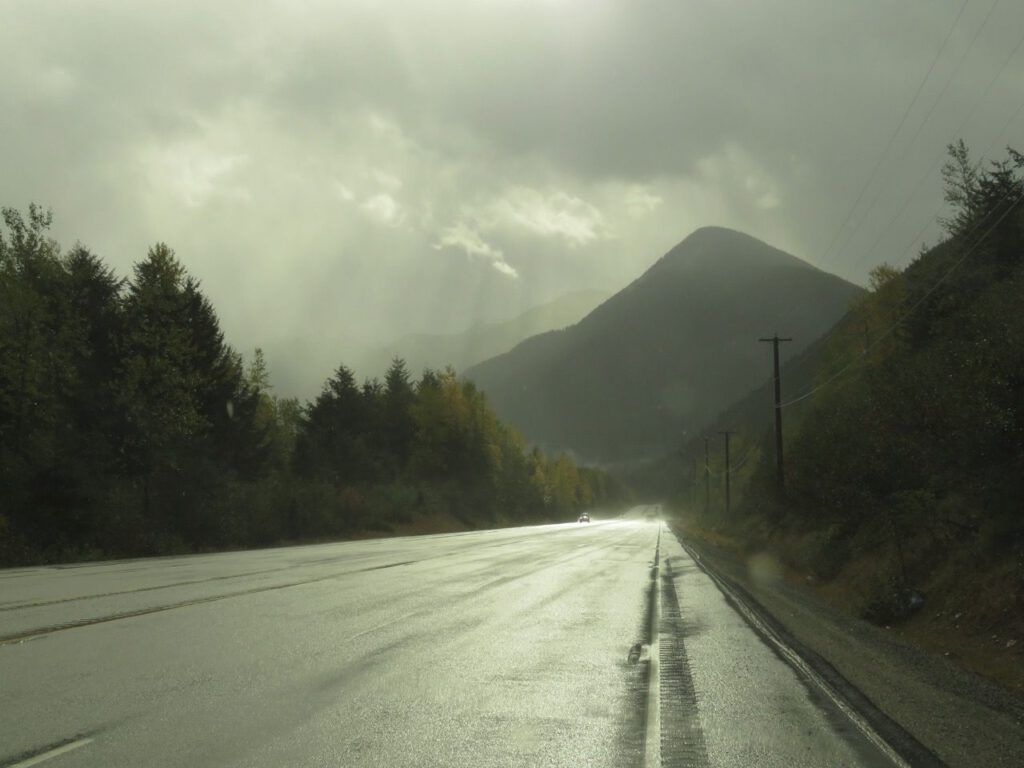 A bonus was that, as we climbed higher through the rain, the fall colours were again spectacular.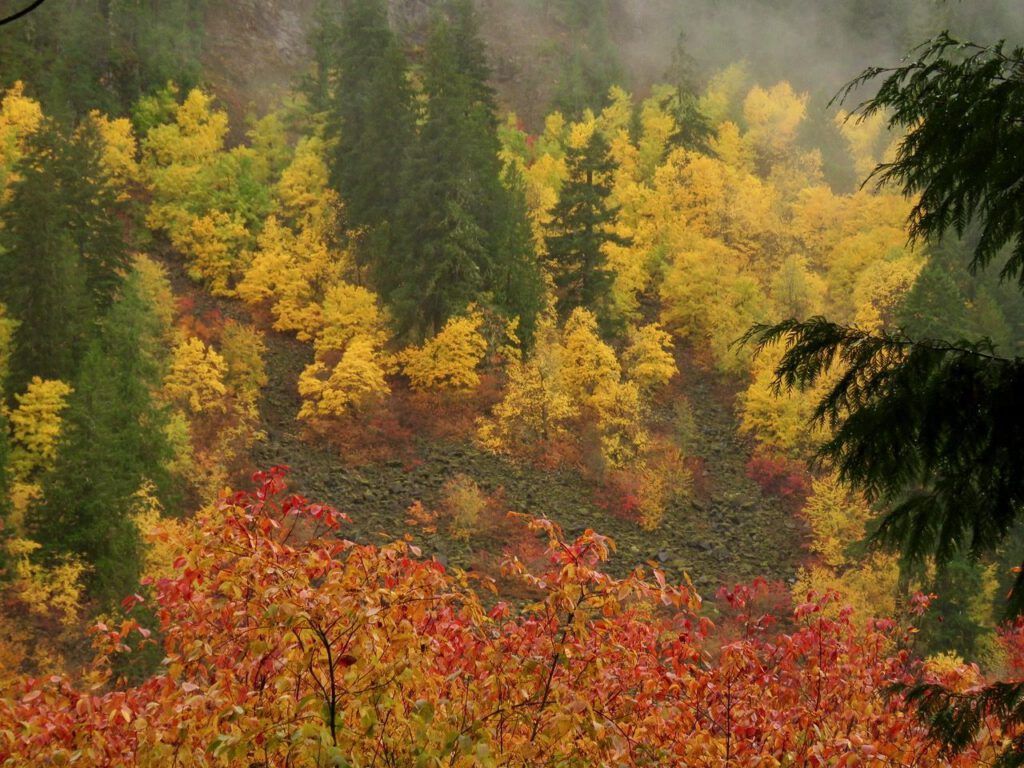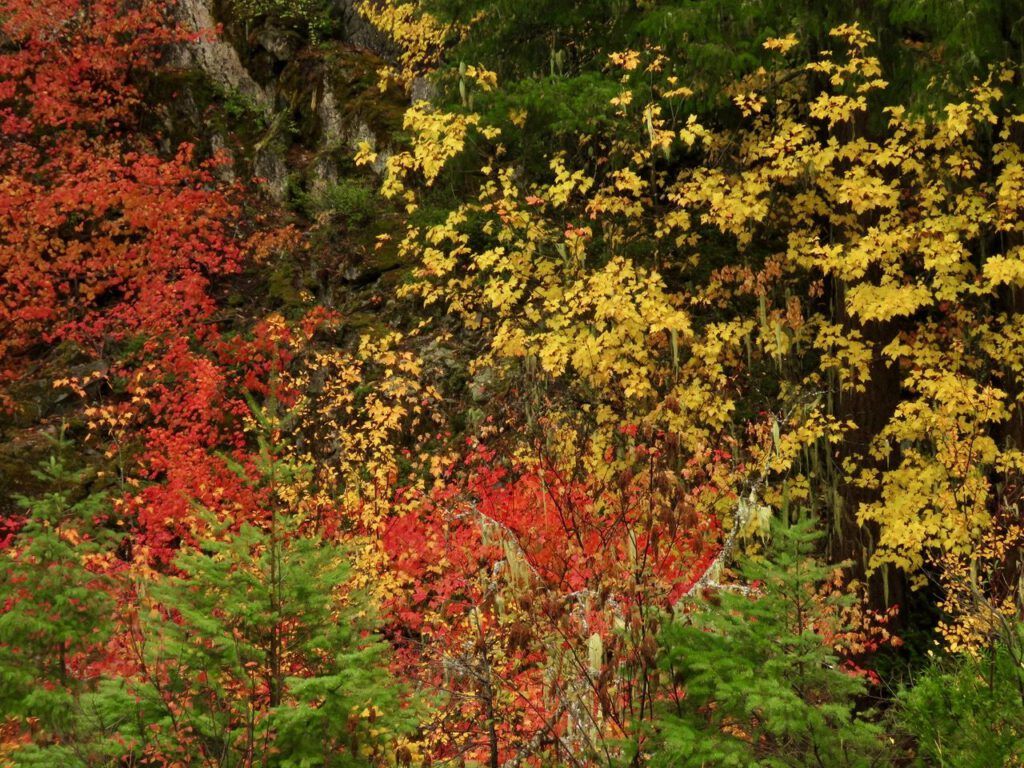 At the top of the pass we encountered snow – the road was slushy and very slippery.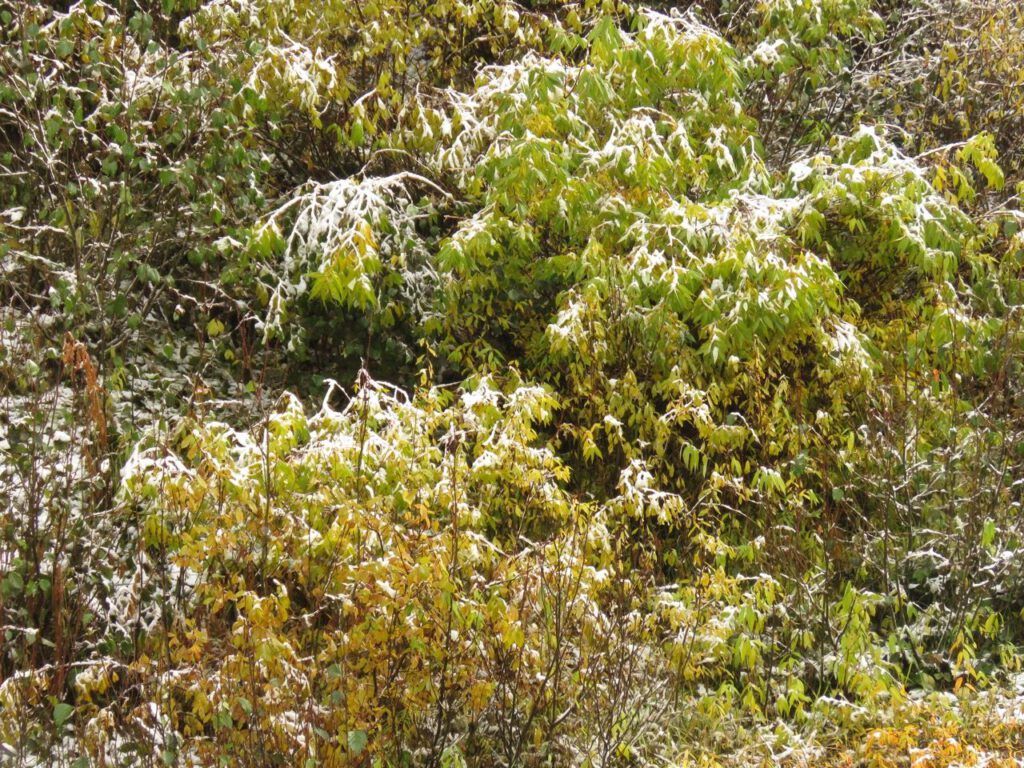 But when we breasted the height of land, we drove slowly down into a completely different world.  The frost-bleached semi-desert of the south Okanagan.  The contrast was spectacular.  (Chris stopped here to buy Newton apples – one of the very few places to get them.  They are tart and keep well and are Chris's favourite.)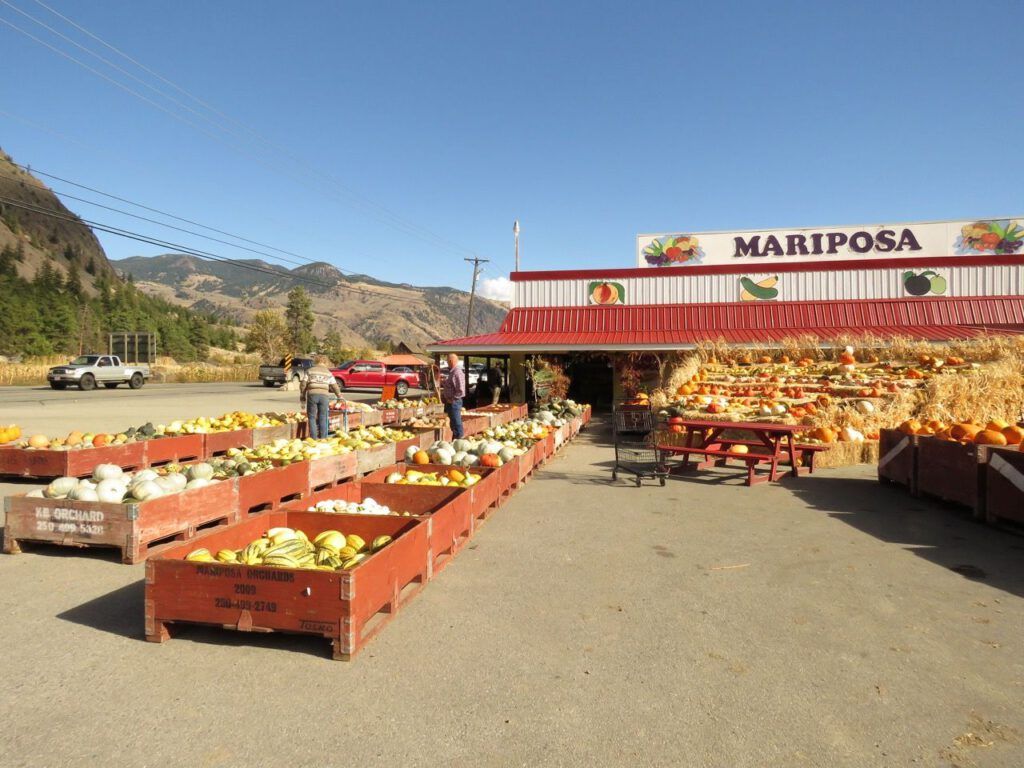 Sarah's house was at the top end of Peachland and we could walk through an undeveloped lot to a pretty creek, which had been burned about five years previously.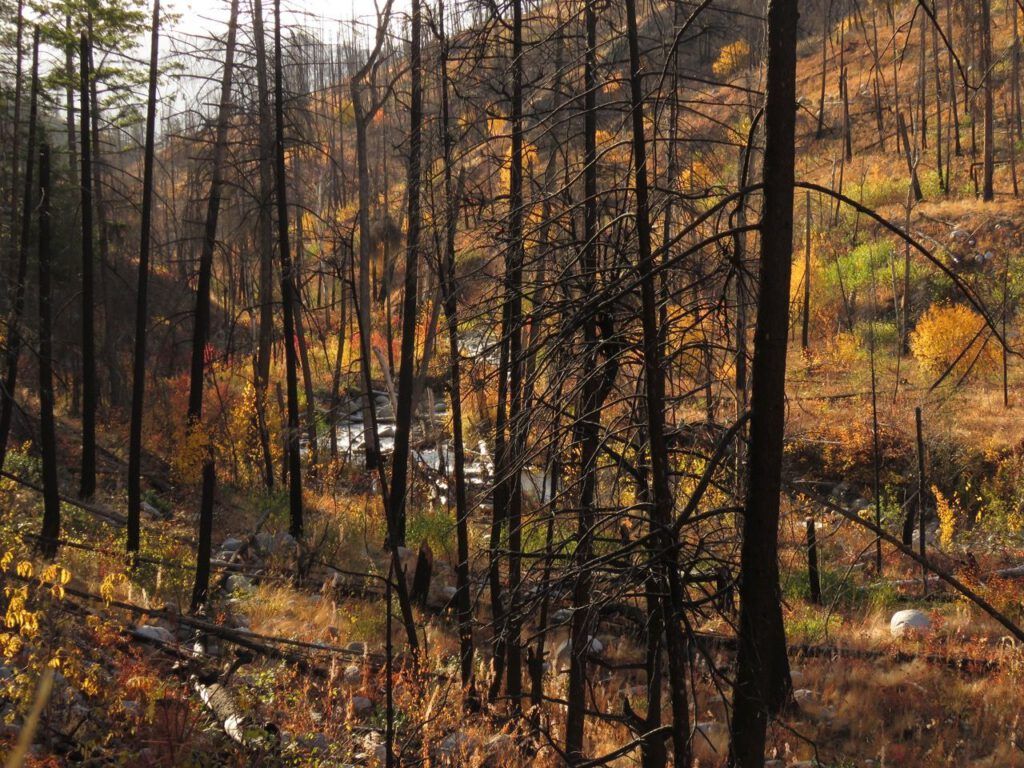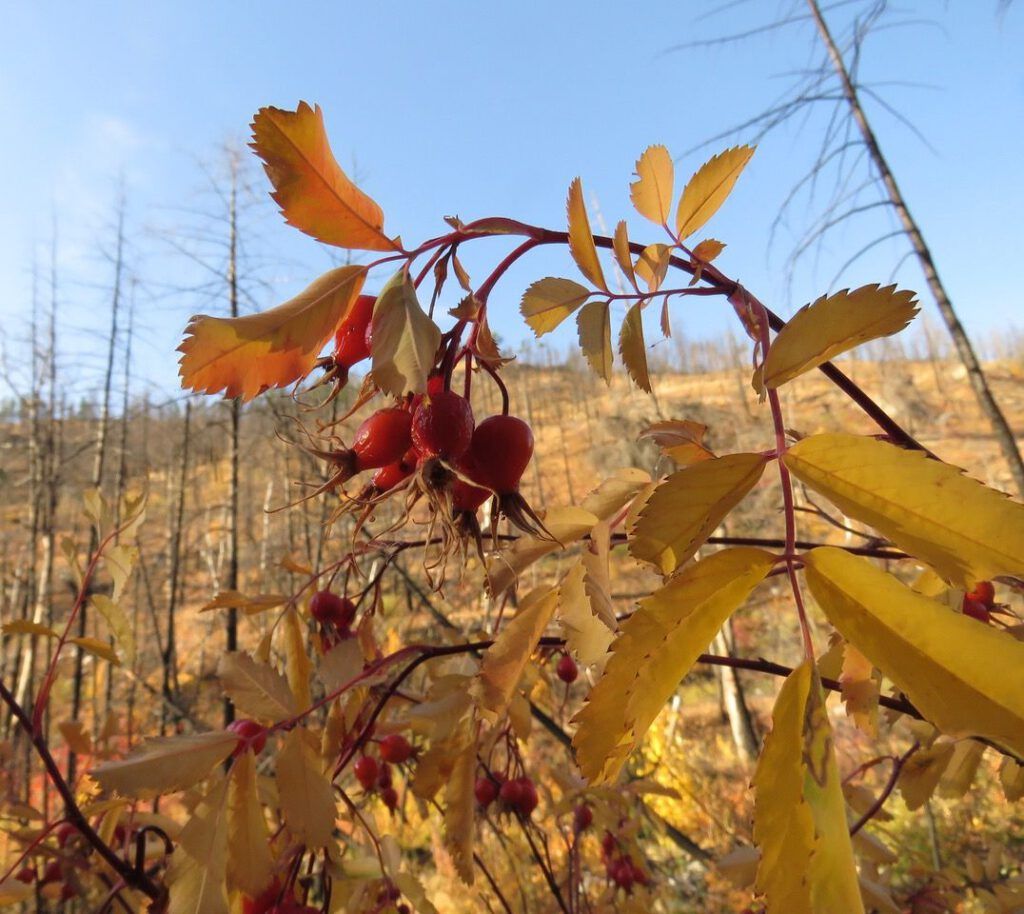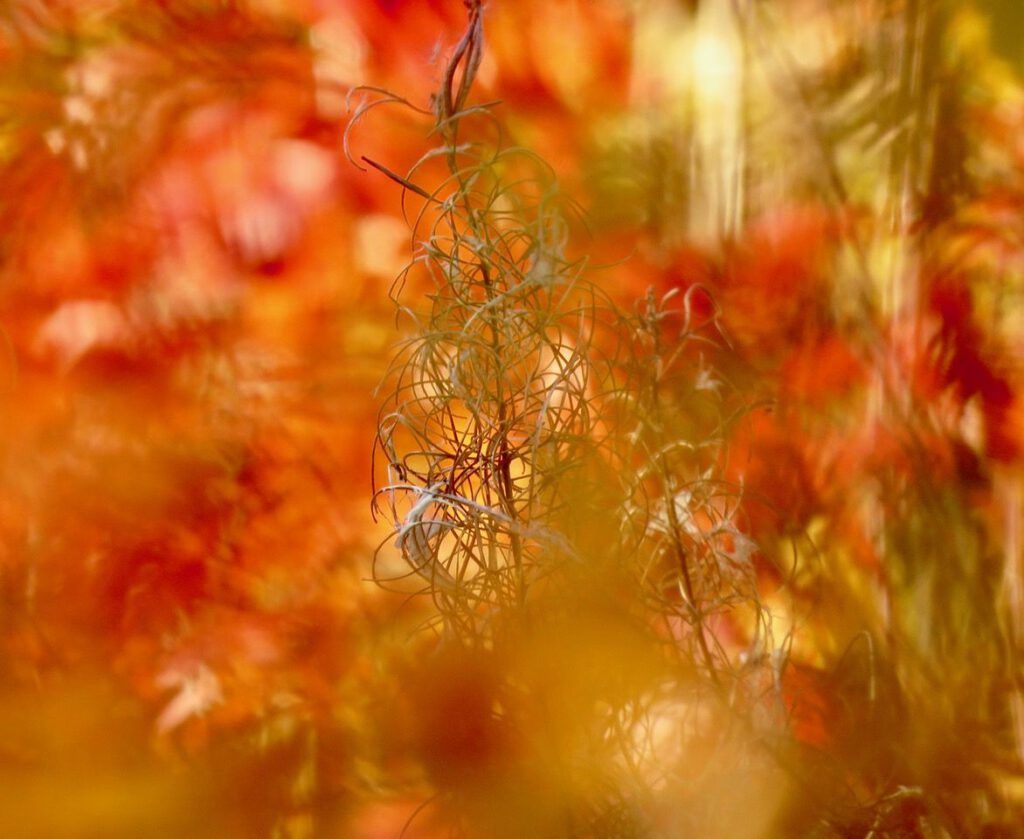 After speaking in West Kelowna, we stayed with Sarah's parents, Bert and Yvonne, who live near Vernon.  They are quite high so have moved out of the dry belt into forest.  The colour here is larch. It is the only deciduous conifer in North America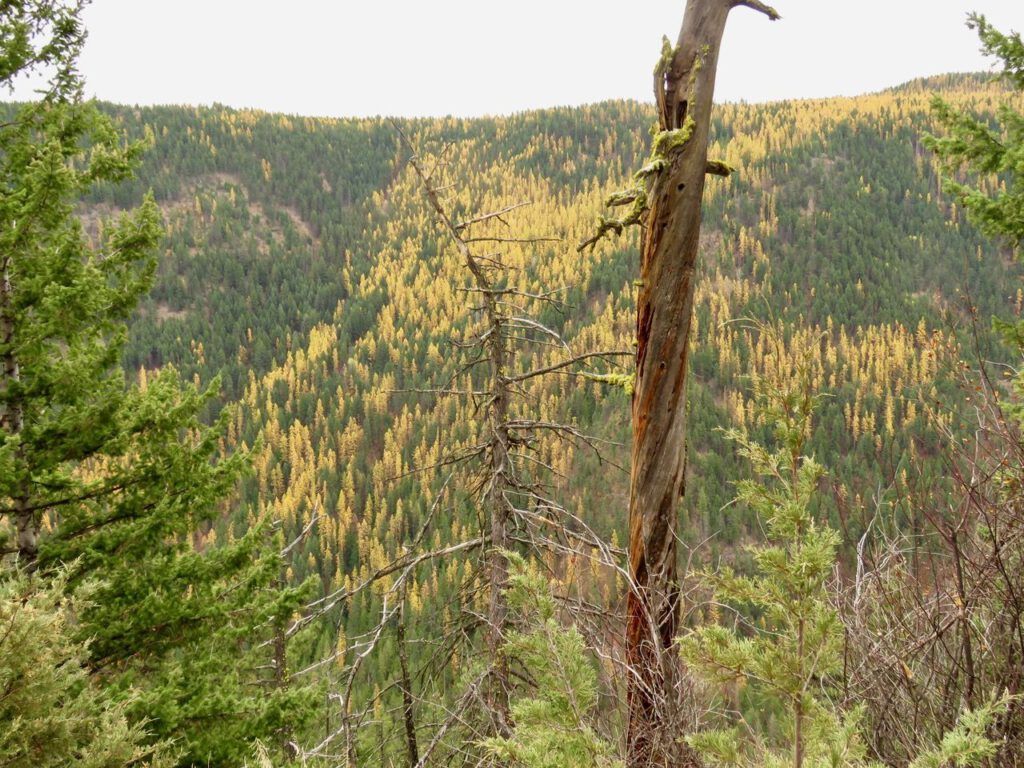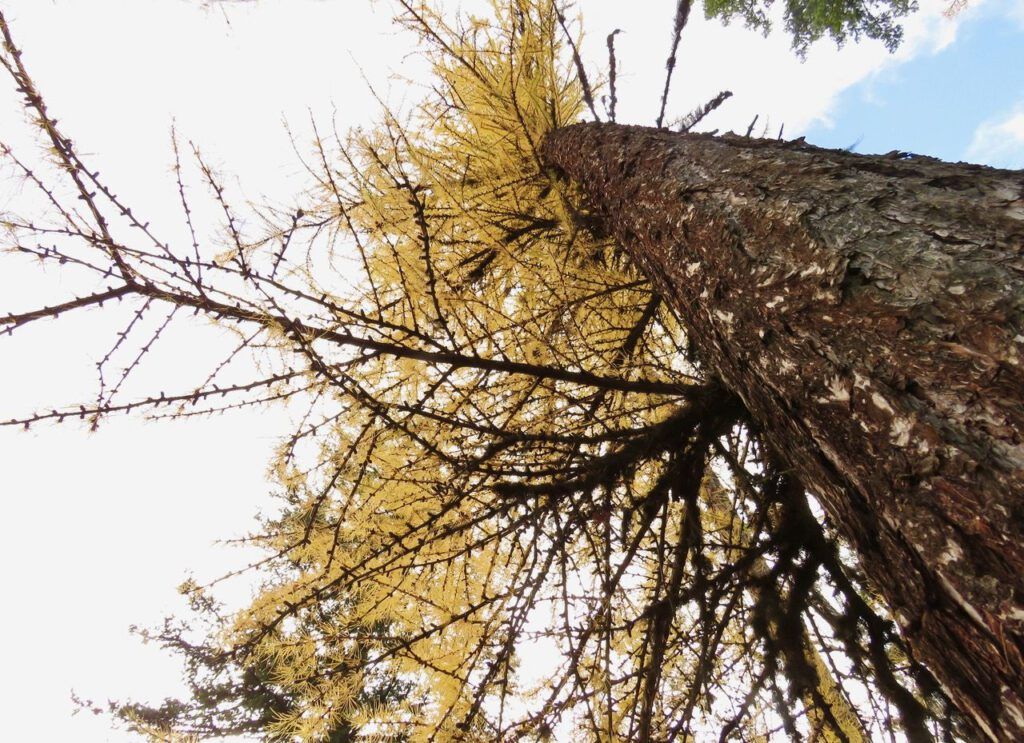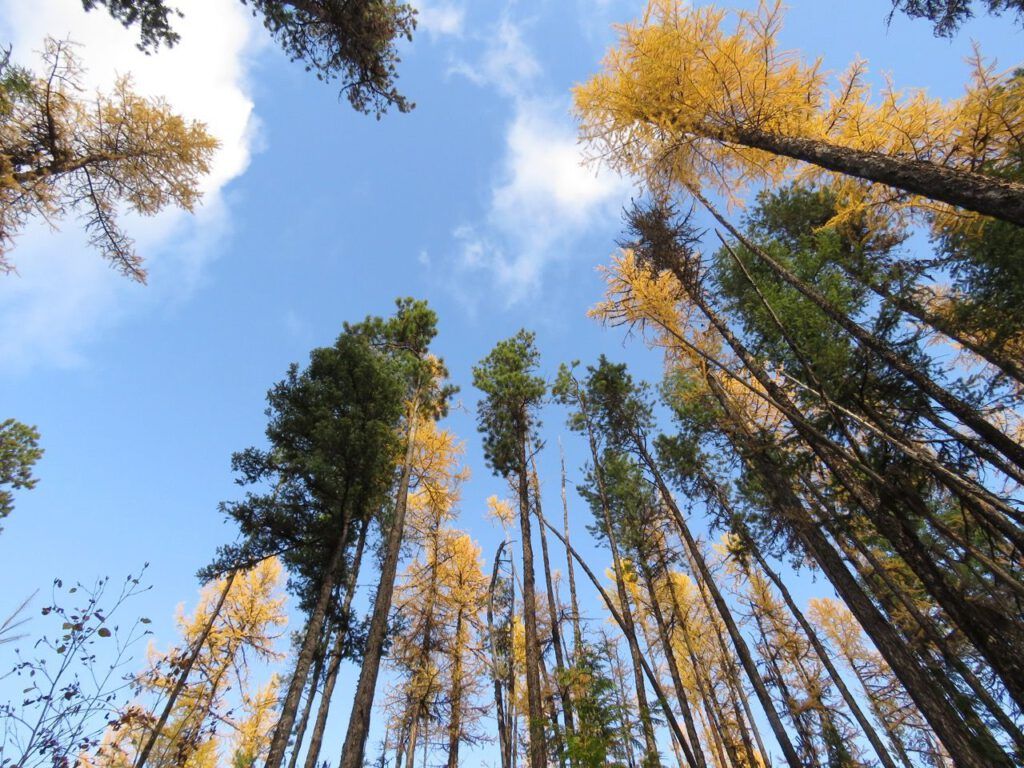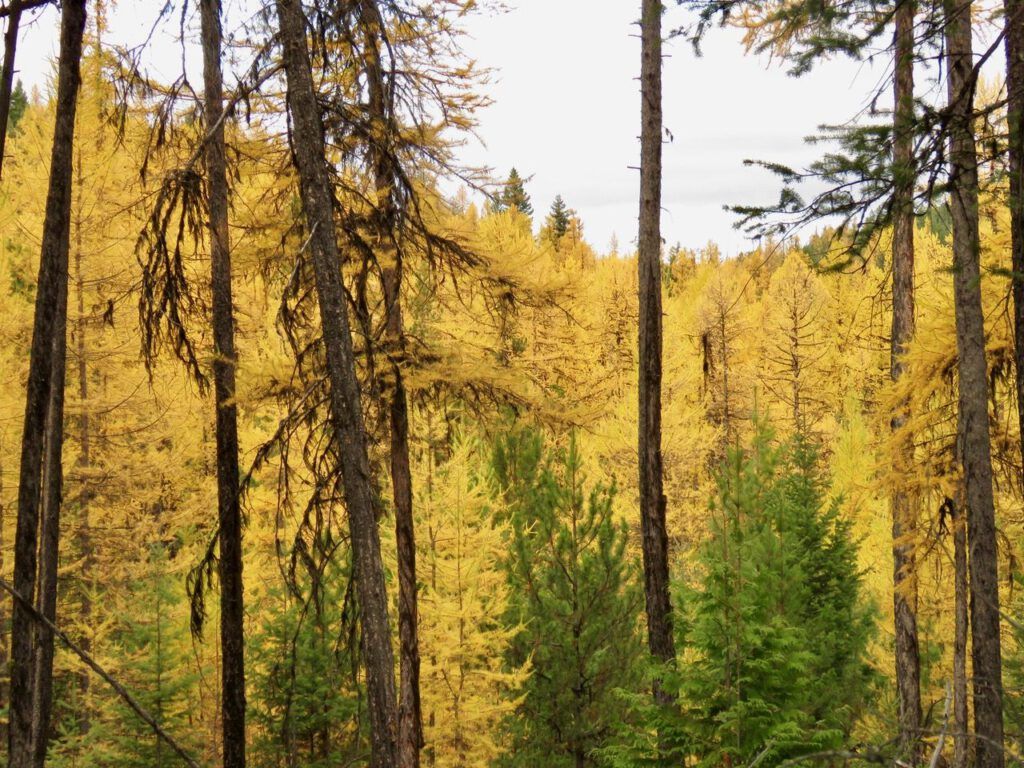 The Vernon slide show was our best!  We had over 80 people jammed among the exhibits, and our booksales were phenomenal.  From there we had to rush to Revelstoke for another talk and more visits with friends.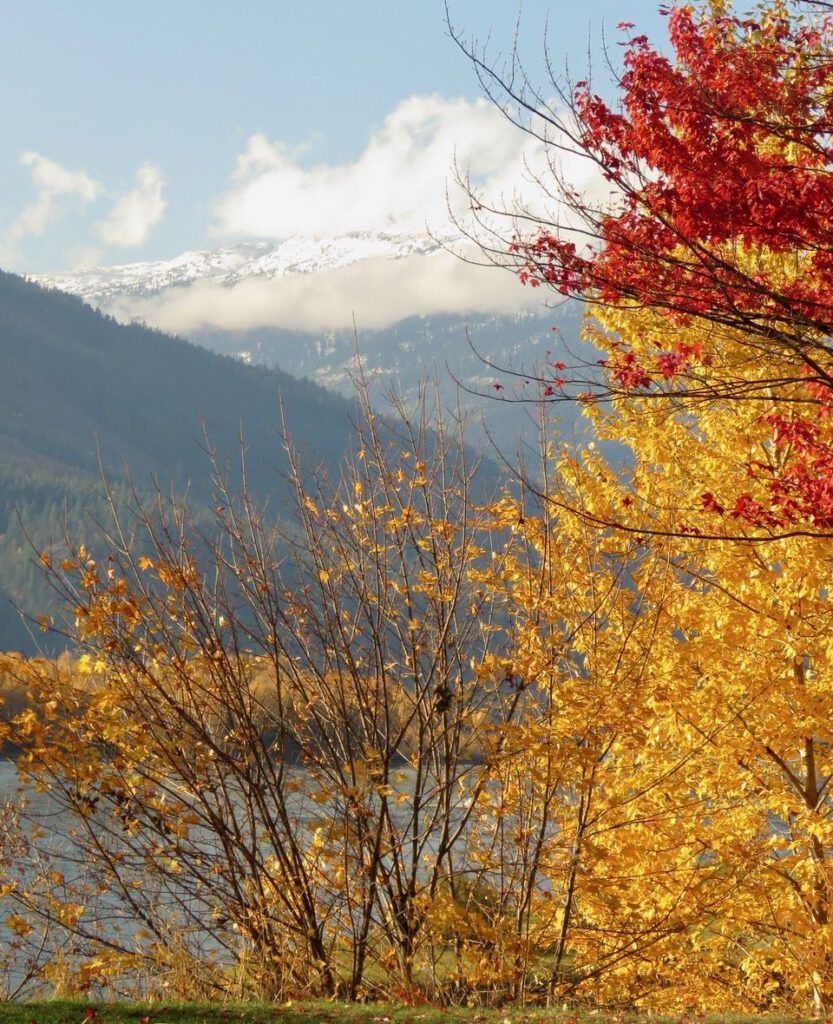 Another rush trip to Blind Bay near Salmon Arm, and for the two slide shows and the weekend we could stay with our good friend Gudie.  Actually we had never met Gudie before, but Chris used to live next door when she first had Lonesome so they have known each other for a very long time.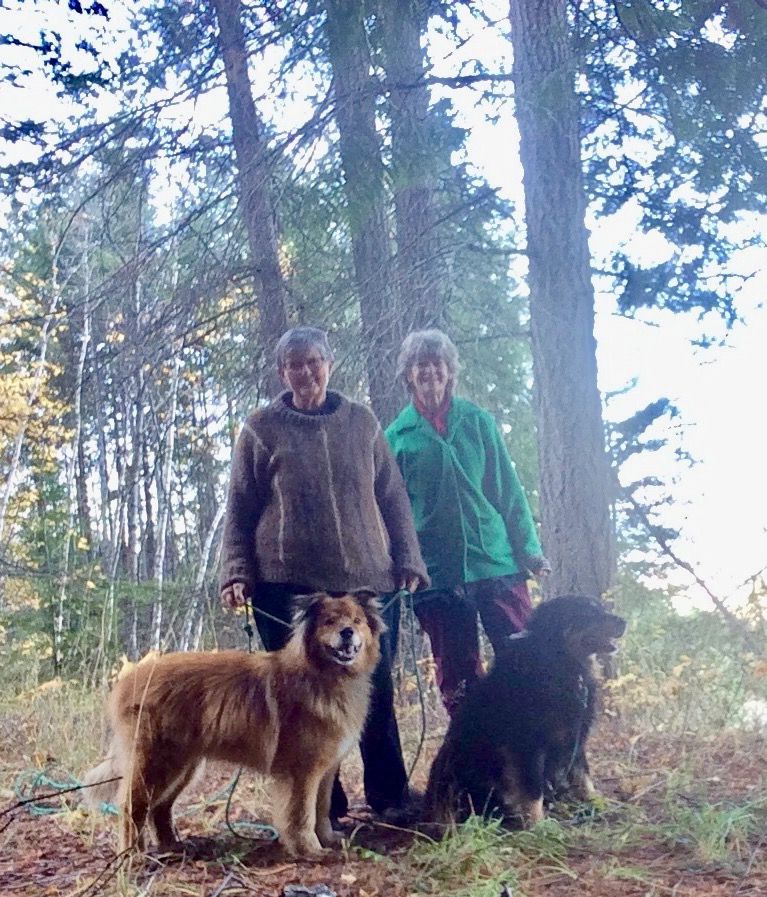 The fall colours were muted here, and, as we headed north, it was the last ones we would see.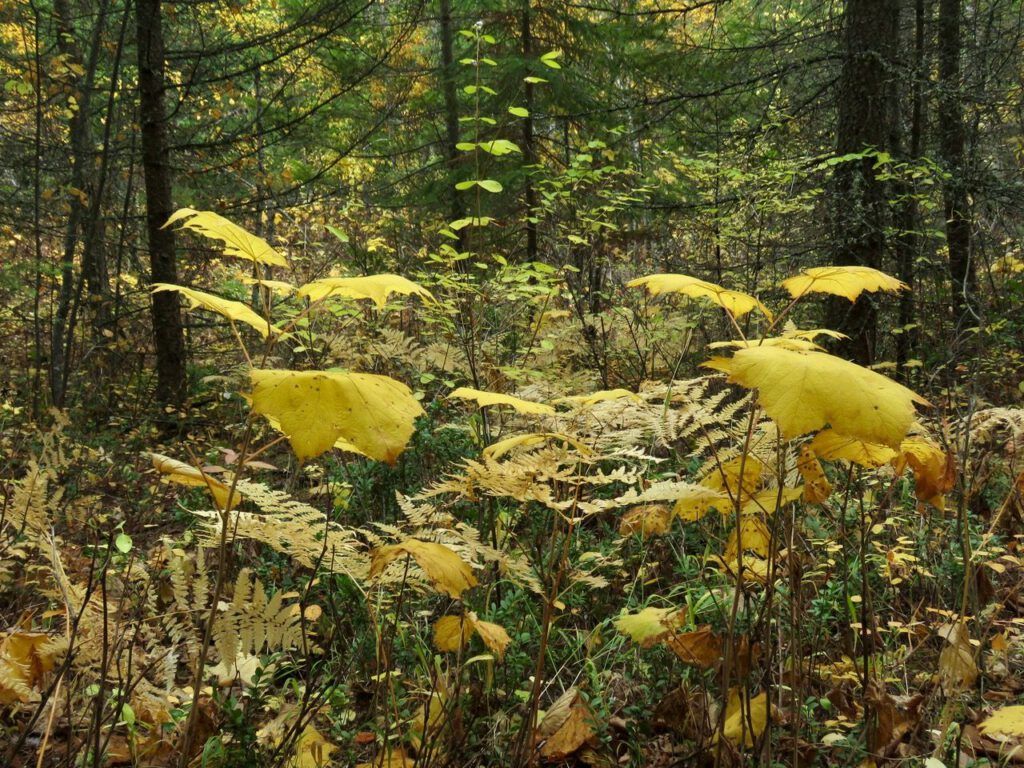 It was foggy for much of the day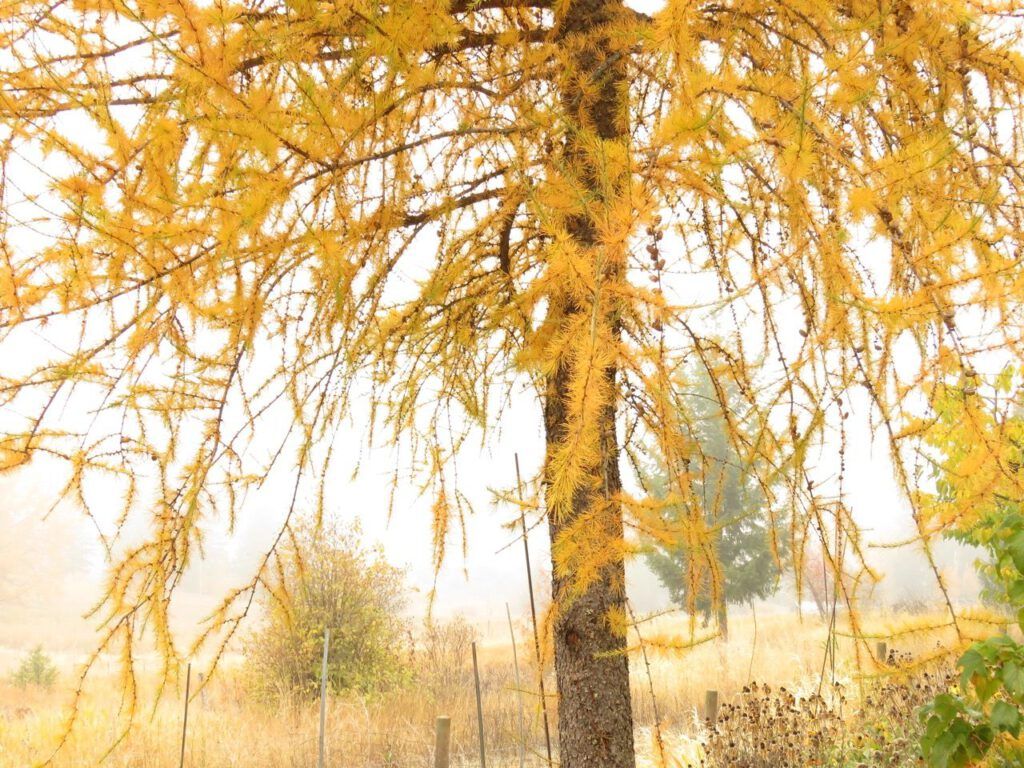 And when that cleared, an alarming amount of smoke filled the valley.  This was from slash burning on the logging blocks but we still cannot look at smoke without a gut reaction of fear.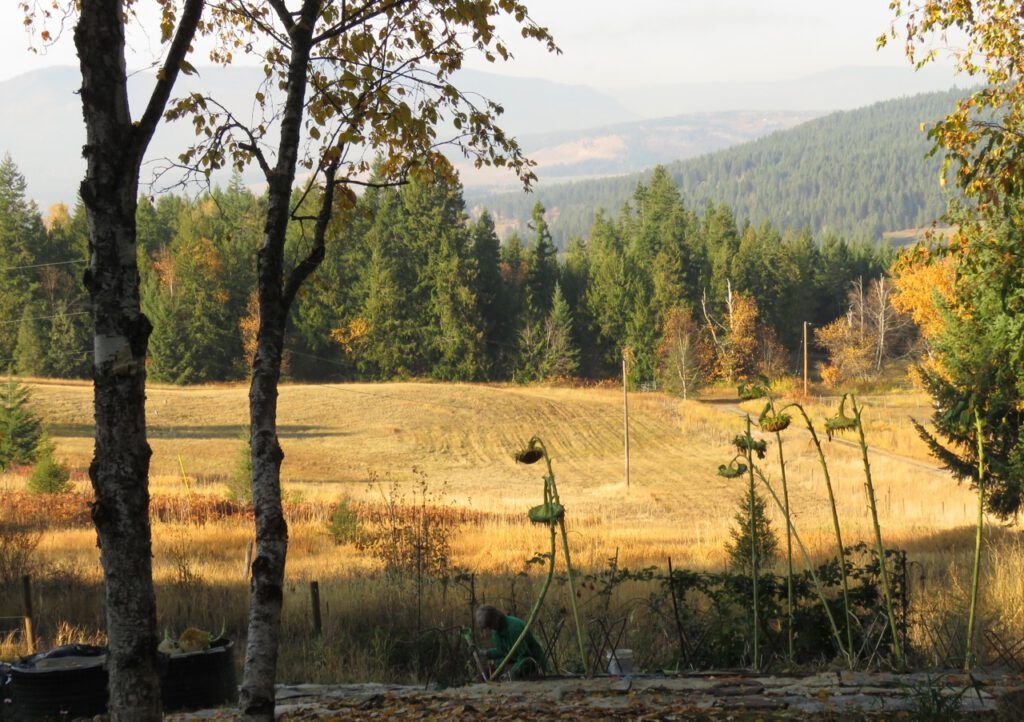 Gudie still had asters blooming.  An amazing colour.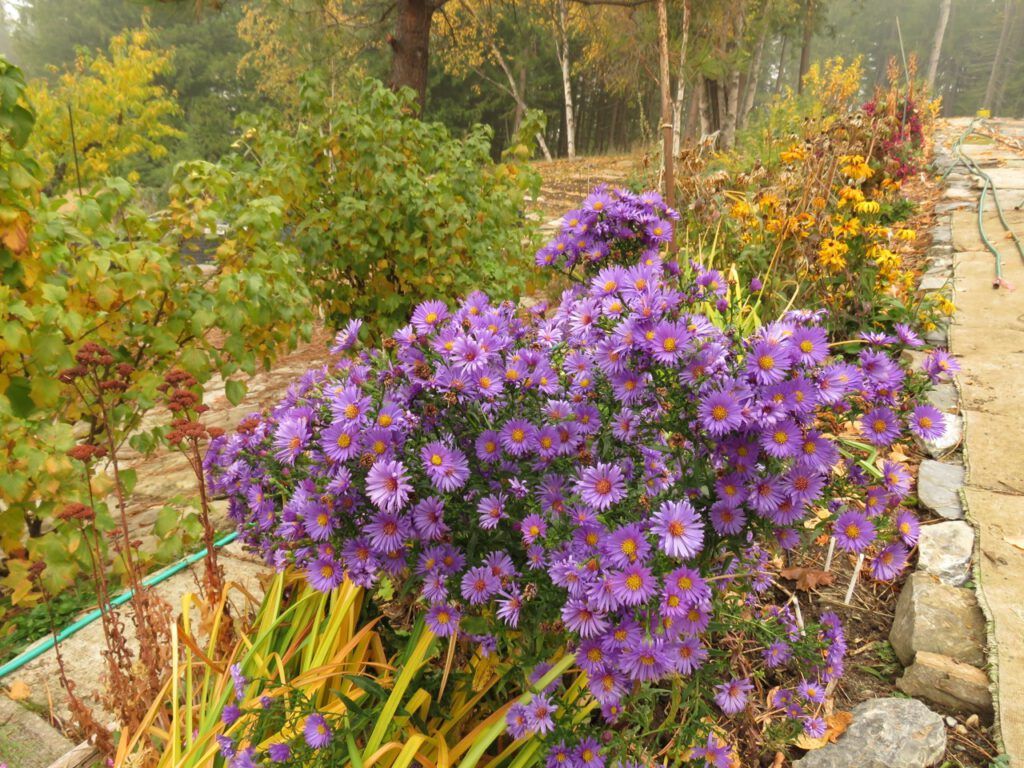 Rain once again as we headed north to speak at Barriere library in the afternoon.  Temperature was only 1C and Chris voiced concern that the increased altitude of Hwy 24 might be difficult, but in fact the higher we drove the warmer it got, and when we arrived at the 108, after nearly 5 weeks on the road, it was plus 5C.  100 Mile library was slated for the following evening, but after that the forecast cold front came in and it started to snow.  We left for Williams Lake in the dark so the van could have a service after its long journey, and Chris found the Hwy 97 incredibly slippery.  She had originally planned to start home after the Williams Lake slide show that afternoon, but the conditions were so bad and dangerous she decided we should go back to 108 for the night.
The temperature was still dropping as we finally climbed out of the Fraser canyon onto the Chilcotin.  And what a different world greeted us. (The red sign was put up during the fires to warn people of smoke and roaming cattle.  No smoke danger now but I don't suppose all the cows have been accounted for yet.)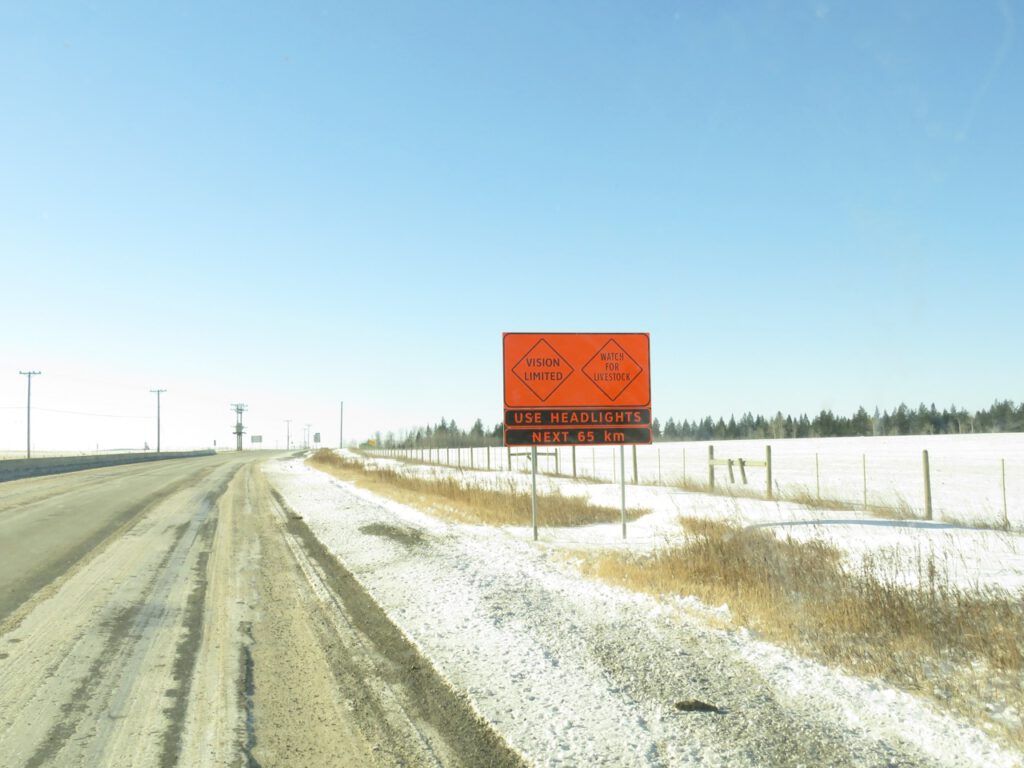 Pictures of the fire now have a new dynamic.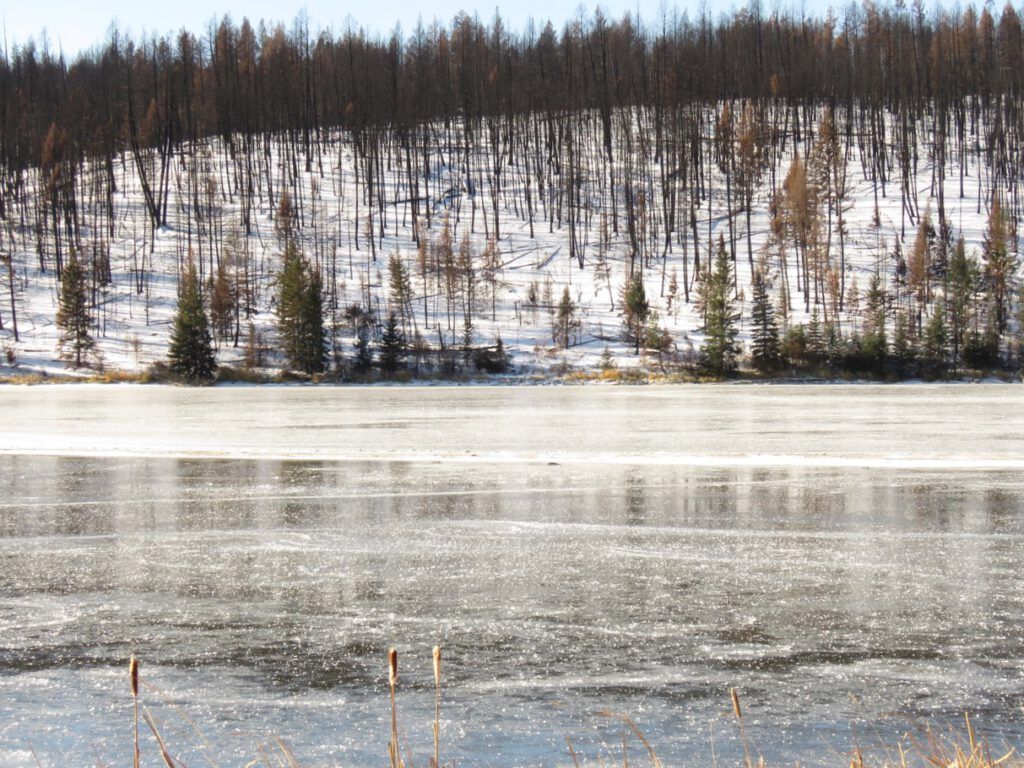 (This is an area where the fences and power poles have all been replaced.)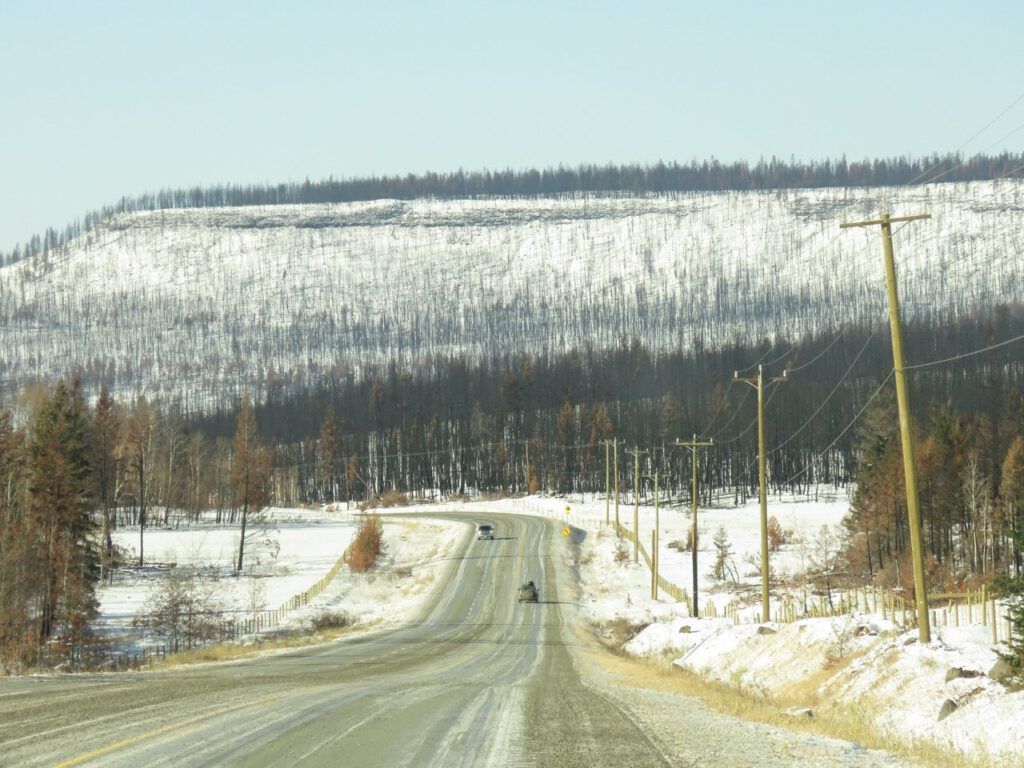 The snow level increased as we went further west, and the road became very icy.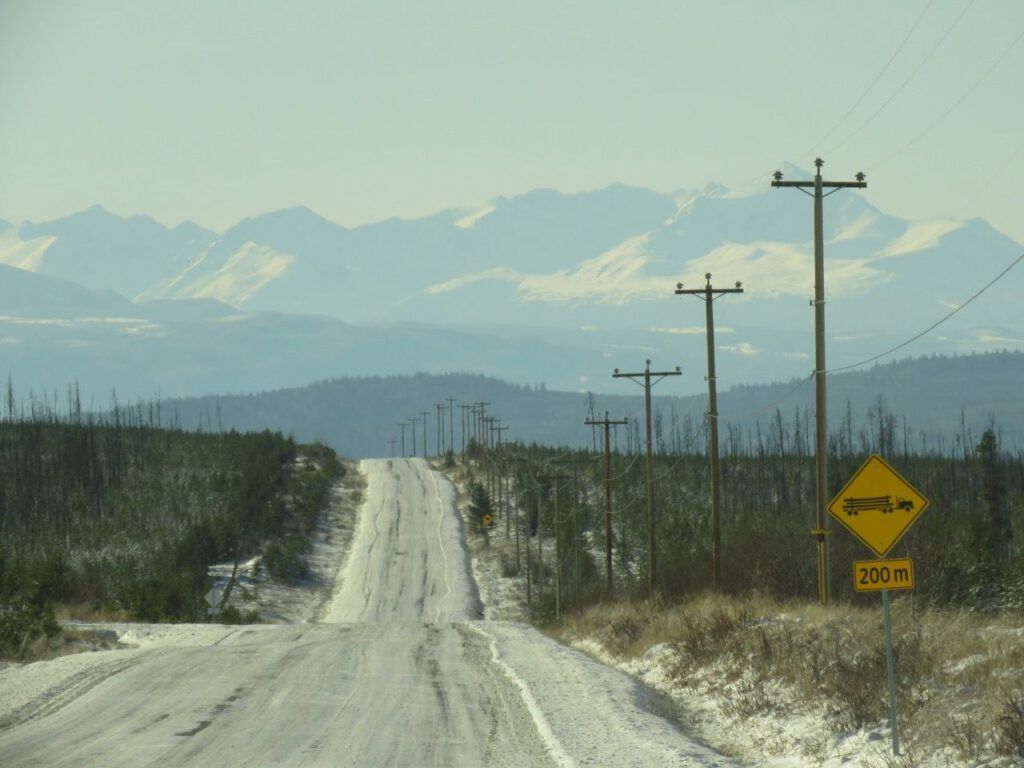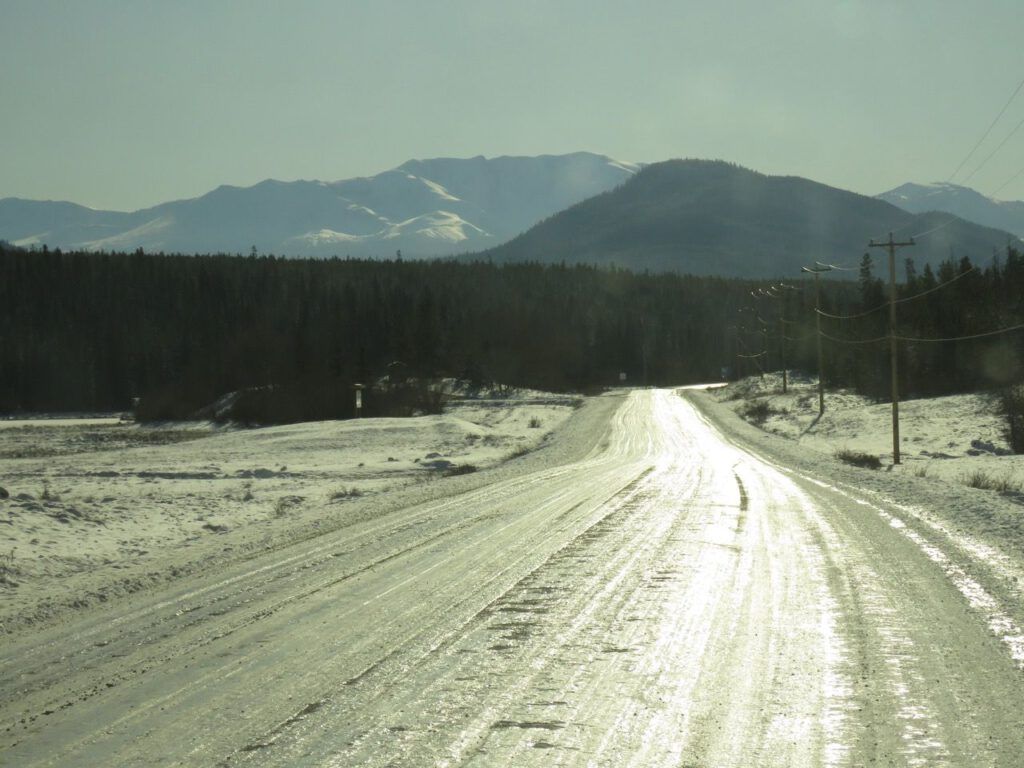 Chris was now driving very slowly.  She was very pleased, however, as we were still going to get home before dark.
The fires in downtown Kleene Kleene were still puffing.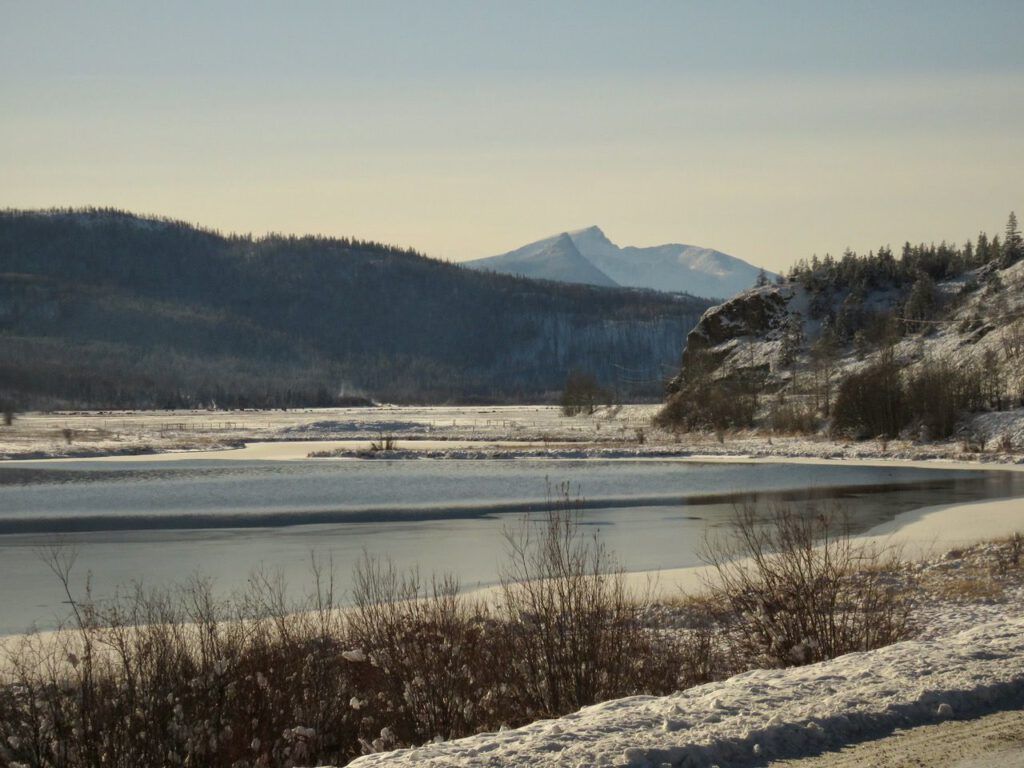 Here is a close-up of the little plume of smoke in the centre of the last picture.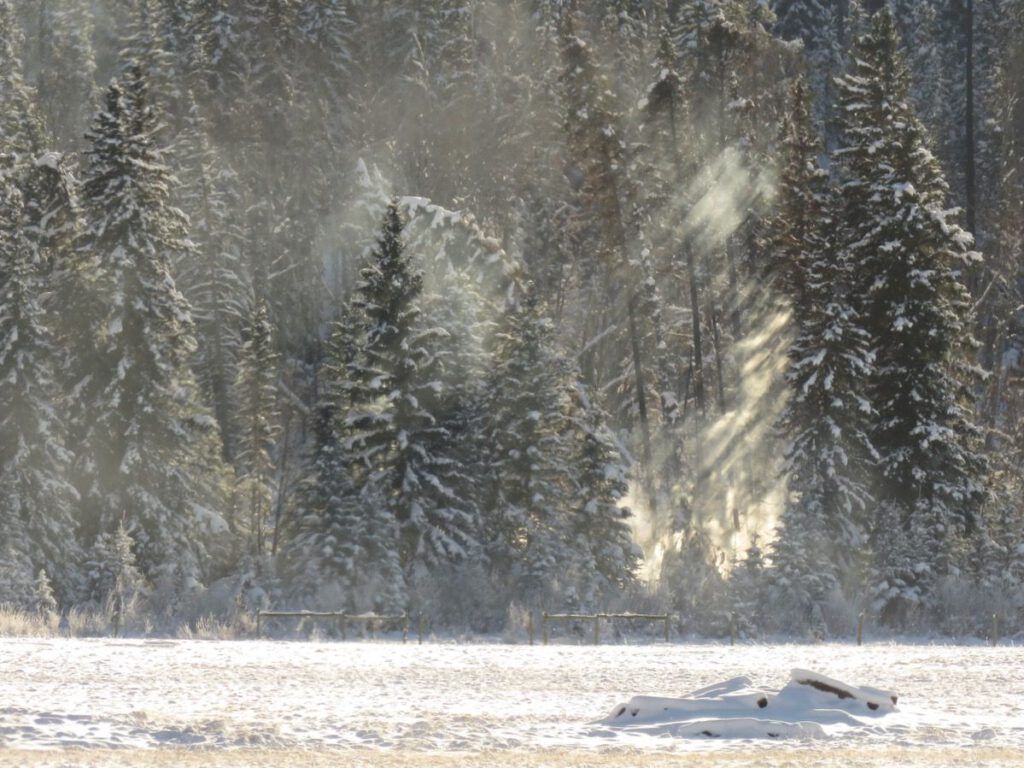 Almost home – and then we came across a woman spectacularly in the ditch.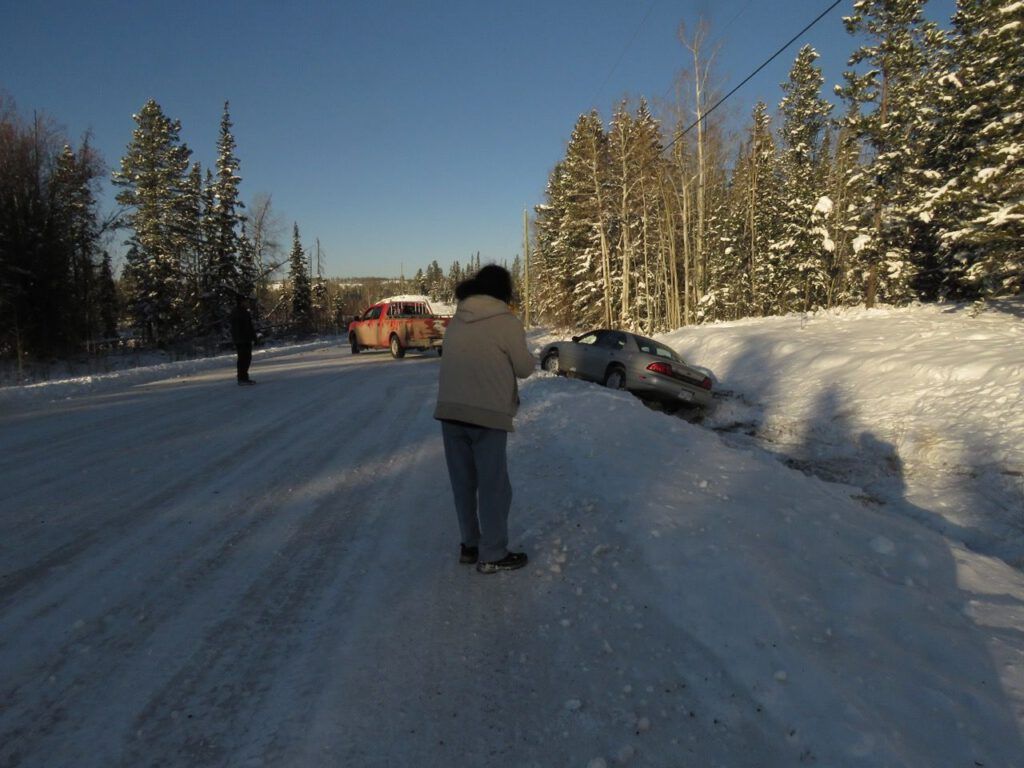 She was from the coast and "did not realize it was icy." She had no good tires, and her driver's window would not close.  She came round the corner at the bottom of the hill below the red truck and spun out, ending up unhurt in the bottom of the ditch but facing the wrong way.  "I don't have the money for a tow," she said.  Little did she know that the nearest tow truck was in Williams Lake and would take hours to come.
Chris knew that a rancher lived around the corner so we went to see if he could bring his tractor.  But when we drove back to the woman it was to find two good Samaritans with trucks and chains hauling her car out.  She had planned on reaching Williams Lake that night but Chris suggested she go only as far as the motel in Tatla.  It was already -14C and would get a lot colder that night.  With no glass in the driver's side and the extremely icy road she was a disaster waiting to happen.  Chris phoned and checked that she had arrived.
It was so wonderful to be let off the leads for good at last!  Badger and I ran around and peed on the snow in all directions, and barked at a bear smell in the forest.  A friend had been to the house and lit the stove so the place was not icy cold, even when the temperature dropped to -28C on our second night home.
What a trip we had!  Really good sales, lots of great visits, many new friends and dozens of wonderful compliments.  But oh how wonderful it is to be home!