Here are the covers of the two new books.
During the last couple of months, while I have been working with the volunteers, struggling with my income tax, entertaining visitors, running around to Williams Lake and Bella Coola,I have also spent a lot of time with the manuscripts and editors, particularly of the new book.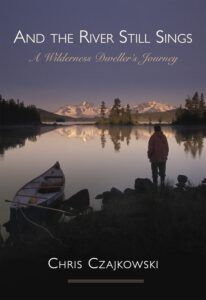 And the River Still Sings, book # 11,  is a review of all my wilderness adventures, starting with my childhood in England (where I would sneak out before sunrise to hear the nightingales sing, much to the horror of my mother who felt lack of sleep meant I would not be awake enough for school – and she was right!) and going through my decade of pack-packing and working around the world.  I was always a loner and gravitated to wild country wherever I went: I travelled to 36 different countries and, including Canada, have lived in six.
I arrived in Canada in 1979 as a cow milker, but after 2 years in the east Okanagan, I high-tailed it to the Chilcotin where I have lived these last 33 years.  I have built 6 dwellings in all, the first at Lonesome Lake not far from Bella Coola, about which period of my life I wrote Cabin at Singing River. Then I moved to Nuk Tessli, and finally Ginty Creek.
I'm not going to tell you the end of the book, you will have to read it yourself!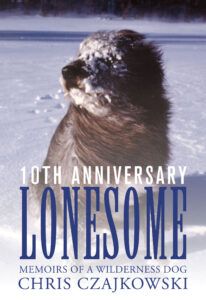 Lonesome: Memoirs of a Wilderness Dog is 10 years old and the publisher decided that, as it was such a popular book, they should issue a special anniversary edition.  (And this after it was rejected by the first three publishers I sent it to!)  Lonesome wrote this book.  She was with me at the beginning of my wilderness career at Lonesome Lake then moved with me to Nuk Tessli.  She was never a wilderness-lover and always found my choice of lifestyle bewildering as well as uncomfortable and frightening.  She was a very smart little dog and very loyal.  She tells her story with a dry sense of humour.
2013 Slide Show Tour
Here is a rough outline of the 2013 slide show tour.  I have gaps in the Okanagan so if anyone has ideas as to how to fill them, please let me know.  I will be fleshing out this itinerary with more details later.
October 2nd.  Burnaby McGill Library (Greater Vancouver), slide show
October 6th.  Squamish Library, slide show
October 9th, Union Bay Art Studio (Near Courtenay, Vancouver Island) Meet and Greet
October 10th  Nanaimo Library, slide show
October 11th Gabriola Island library, slide show
October 14th, New West library (Greater Vancouver), slide show
October 15th, Ocean Park Library (Surrey), slide show
October 16th, Kamloops Naturalists, slide show
October 18th Summerland Naturalists, slide show
October 22nd, Vernon museum and naturalists, slide show
October 28th, 100 Mile library, slide show
October 30th, Prince George Naturalists, slide show
October 31 – Nov 2nd, Studio Fair, Prince George, big craft fair.