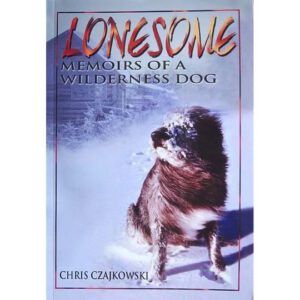 Lonesome: Memoirs of a Wilderness Dog is Ten years old!  Since I last posted, the publisher of Lonesome (a different one is doing Book #11) phoned me and said that to celebrate they are going to produce a special anniversary edition.  Lonesome has always been my best seller.  Apparently the new edition may be hard cover and may have one or two more photos in it.  It will also be out in the fall so I will be travelling with 2 new books.
Since I last wrote, it has been cold.  -30C at night was common, and day temperatures were never above -12C.  The sun shone most of the time, and that was great, but there was a cold wind with it so chill temperatures were several degrees colder.
The morning star rose in a clear sky with the last of the waning moon.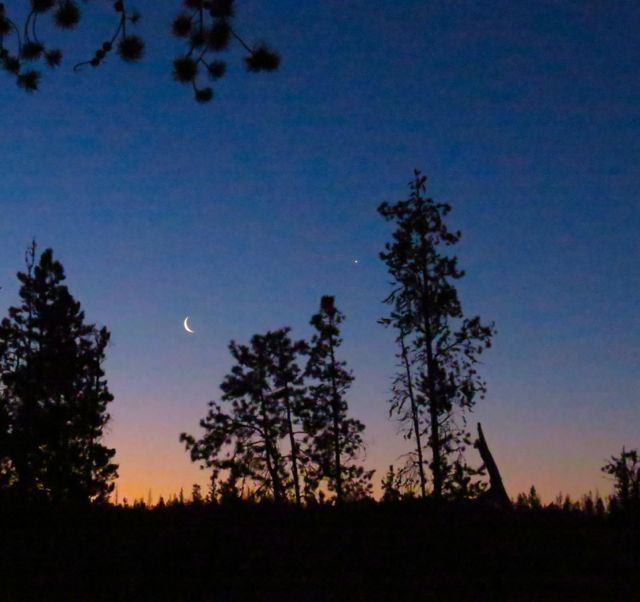 A friend came by from the Coast.  She brought all sorts of Forsythia.  So it was winter outside, but spring inside.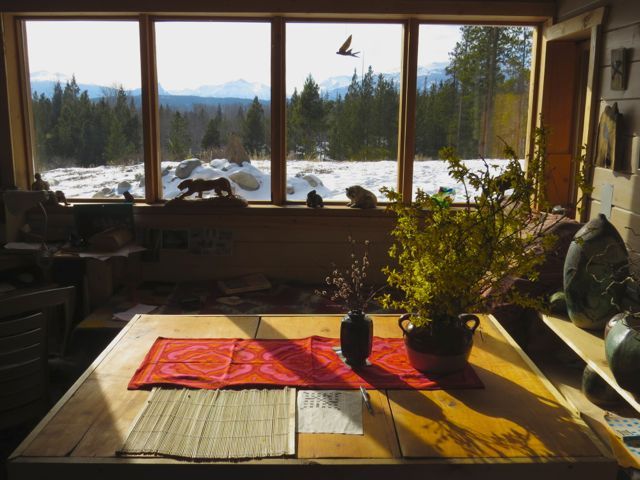 Despite the cold, the spring twigs are beginning to show rich colour.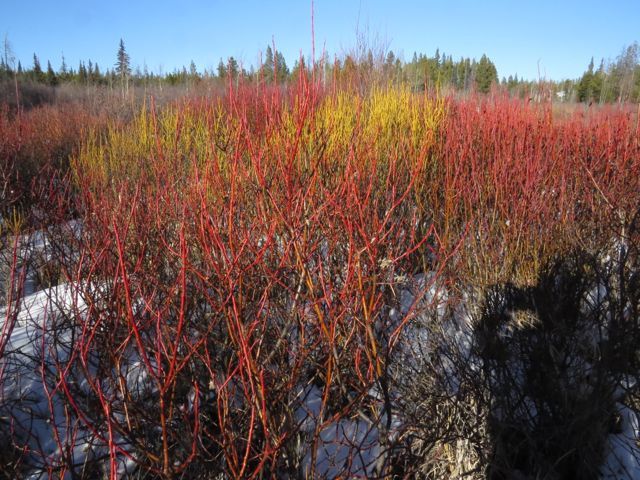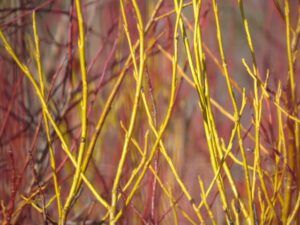 During our first really cold spell (10 days of -36C overnight), I was unable to start my van.  It had worked fine before.  I sometimes feel guilty at having 2 vehicles but in an emergency it saves my neighbours a lot of time.  I couldn't even get the hood of the van open.  I waited until it warmed a little then jumped the van with the truck.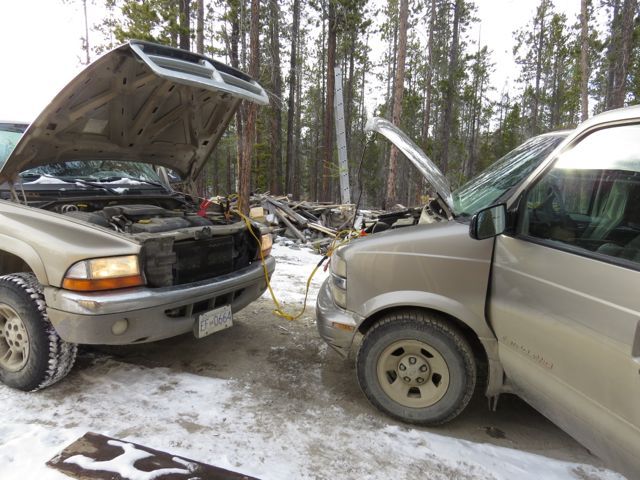 It ran fine and started again after I switched it off.  But half an hour later, the battery was dead again.  It is an old one.  Nothing for it but to take it to town and replace it.  Trouble is, with that van, it is a pain to get the battery out.  You have to remove the fuse box and to do that you have to take out some of the fuses.  I sure hope I can remember how everything goes together again.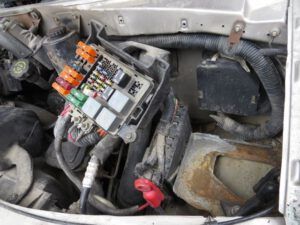 Two days ago, I went to Williams Lake for the first time since early December.  I dropped the dogs off with a friends, but I was a bit worried about the cat.  If it was -30C the house – and her water – would freeze.  But the forecast promised warmer weather and in fact it was only -18C when I set off.  What luxury to leave when it is already getting light in the morning (about 6.00:AM, but the clocks change this weekend so it will be 7 before it is light tomorrow.)  It was snowing.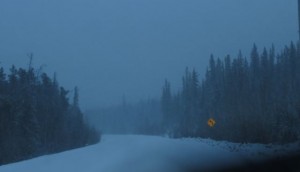 I soon drove out of the falling snow, but the traffic threw up a fog of snow dust.  It was impossible to see if anything was coming the other way.  It took me about half an hour to pass this logging truck.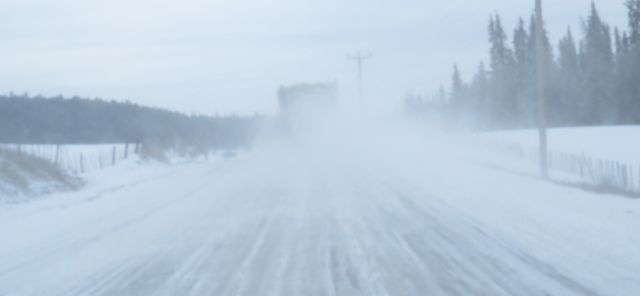 Because it has been cold but with very little snow, the logging trucks have been hauling like mad.  It is not unusual to meet 20 or 30 trucks on each trip.  Williams Lake is surrounded by millions of logs.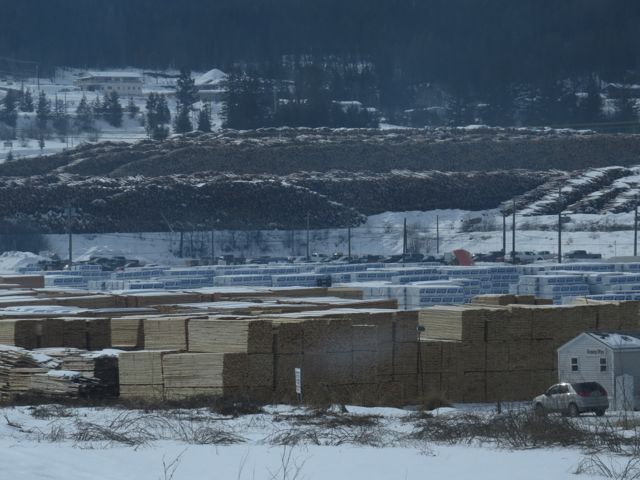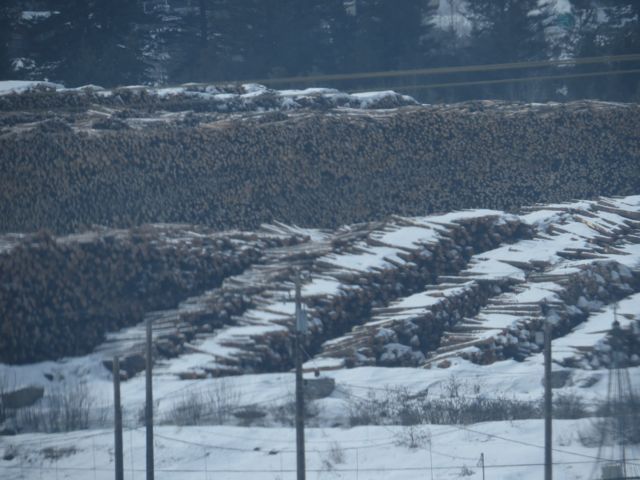 Not all of them make it to town, however….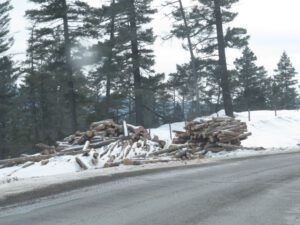 It was cold all day in town and I spent the night an hour south of Williams Lake with a friend at 108 Mile.  In the morning it was -14C (it is always a bit warmer there than at my place) and it was cold for most of the time I was shopping.  But suddenly the temperature rose.  By the time I was half way home, it was PLUS 9 C !!  It was like being on a different planet.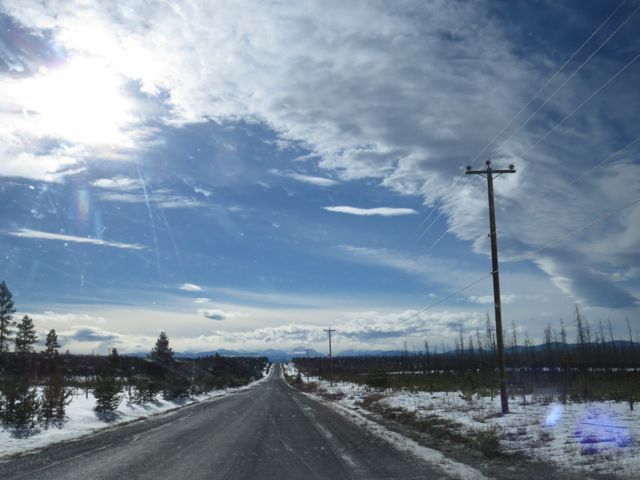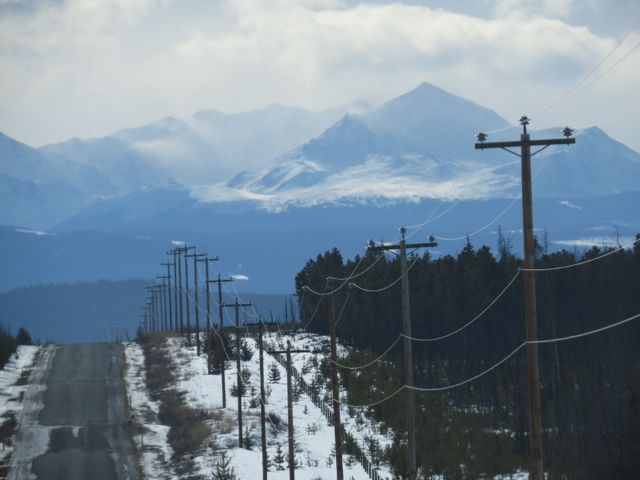 Further east, there has been a fair amount of snow.  It is only out west that it is so thin on the ground.  The two major heli-skiing outfits have had to cancel clients as the crevasses and rocks are showing in the glaciers.
This morning it was 0C and windless – I did my tai chi on the deck!  But soon it started to dribble a bit with rain.
It is supposed to be really warm these next few days.  Already the ground around my house is bare.  The rivers and lakes, however, have tons of ice and it will take them a while to thaw.
Should you wish to be put on the mailing list to be informed when there is a new post, please contact me by clicking on this title and scrolling to the bottom of the new page.