We first heard about the LeGesse family (pronounced Leg-us-say) in January of this year.  We thought of them at that point as our "refugees."  We were told they were from Sudan/Eritrea and that they would arrive in about 3 weeks.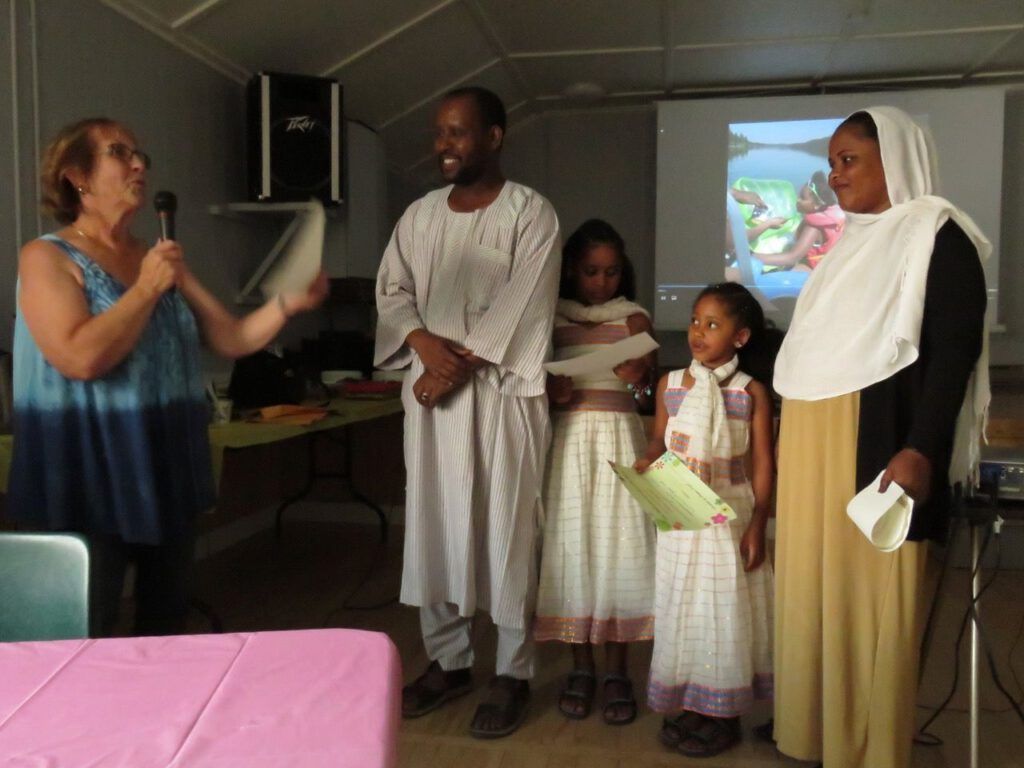 This was quite a shock as the community's initial application for a refugee family had been made two and half years before; on other occasions families had been promised but they had come to nothing.  Now we were galvanized into action, cleaning the little cabin we were already paying rent on in case we got someone.  This time, the refugees were not diverted, and in the middle of February, two couples drove to Kamloops (an 8-hour drive) and met the family at the airport.  I'm not sure who was more apprehensive – the family (who had been travelling for days) or us.  Poor things.  It was snowing when they arrived, then they were driven through more snowstorms to their new home – and on the second night the temperature dropped to -32C.
Catherine (on the left in the above picture) lives in the lower Mainland but owns the property where the cabin is situated – she has also spend over 20 years teaching English as a Second Language (ESL). So she rounded up a group of volunteers and presented us with a teaching program.  Within days of their arrival, we gathered to teach the adults while the children took the bus to the Tatla School.  We rapidly found the family to be very decent, intelligent, and with a great sense of humour.
Hussien (it is spelt that way on his passport) had received a bit of English education but the rest of his family had not.  Hussien grew up in Eritrea, speaking Tigrinia, but 20 years ago his tailor father dispatched him to Sudan and arranged his marriage to Hussna.  His job was to make the kind of clothing he is wearing in the above picture.  Hussna has Eritrean forebears but was born in Sudan, as were the children, and the family language is Arabic.  Sabrin is 11, Sara is 7.
I have had the most to do with Hussien.  Every Monday morning I taught him English and, when the ice and mud went off the roads, I took him up onto an old airstrip near Tatla Lake and taught him the rudiments of driving my van.  Neither parent had ever driven; another teacher worked with Hussna in her car.
Hussna and the children are dedicated academics and determined to speak English well.  After six months the children are jabbering non-stop in English and Arabic and understanding everything.  According to Catherine, Hussna has made the greatest advance of any ESL student she has had dealings with.  Hussien will never be a fluent English speaker.  He has great difficulty in distinguishing sounds, but he reads and writes well.  He was particularly motivated to study when presented with the driver's learners' manual – he learned all sorts of complicated words like "pedestrian,", "fatigue" and "collision" and was soon introduced to the practice tests, which he has done over and over, often gaining 100% marks.  He should be able to take his knowledge test any time.
Hussien has a great sense of humour and has loved experiencing everything from ice-fishing to atv-ing to flight-seeing.  I have frequently driven the 35 minutes to his place and brought him home to work for me.  He masters tools very quickly and loves to build.  He is immensely strong and will work steadily at a boring task all day – even in temperatures that are hot for him!
However, Hussna and the children were not so happy.  They really appreciated the fact that they lived in an English Immersion situation (which would not have happened in a city community) and the kindness of the Tatla community, but they were used to having friends in and out of the house all day.  When they originally arrived in Kamloops, they met an Eritrean man, Ibrahim, who had been in Canada for three years, and who was a store manager and studying advanced English.  His company has since sent him to Lethbridge, Alberta, where there is apparently quite a large Eritrean community.  Ibrahim has committed himself and his family to help the LeGesse family relocate there.
Monday 6th August was my last teaching day.  On the Wednesday, I took my two female volunteers to the LeGesse house, and Hussna gave us henna paintings on our hands.  She is expert at this and half the population of the Tatla and Nimpo areas have been adorned at one time or another.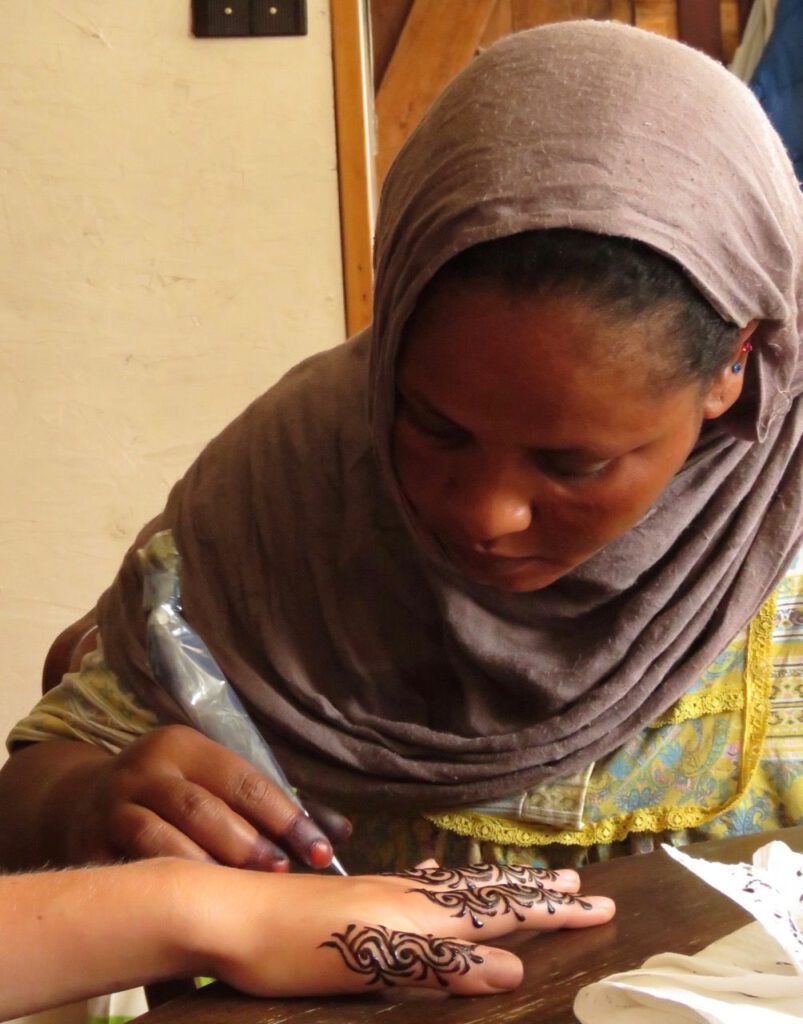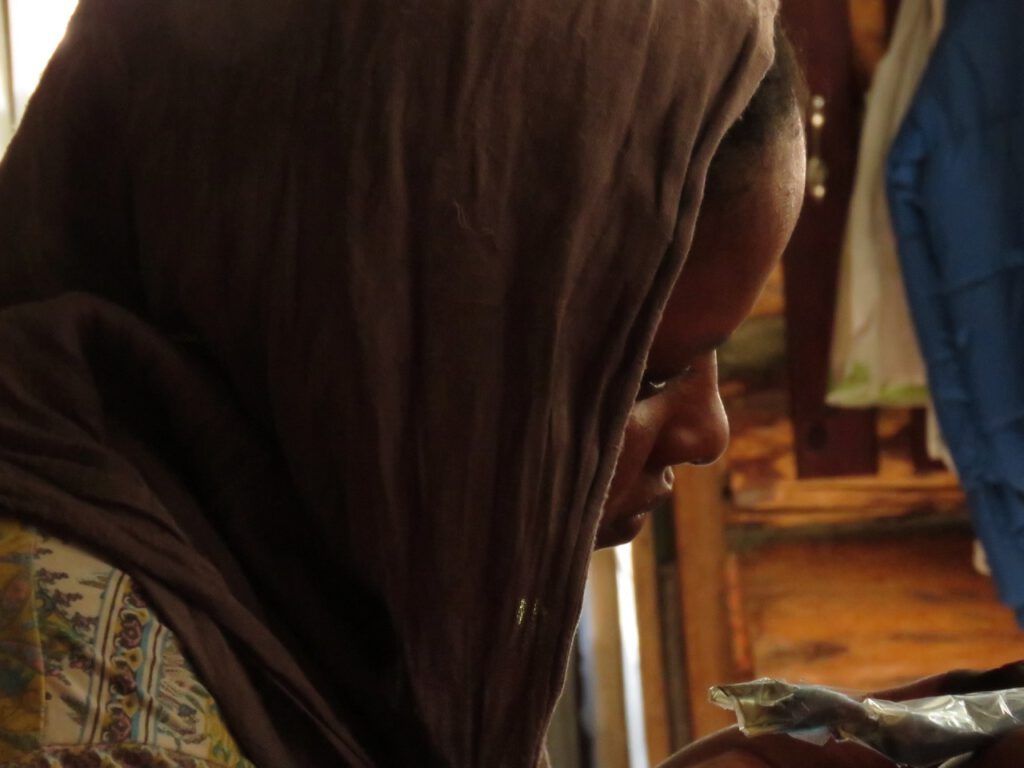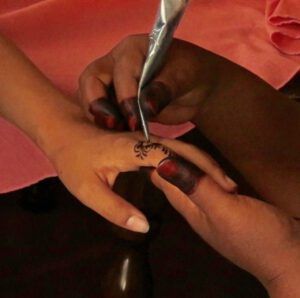 and finally, my hand.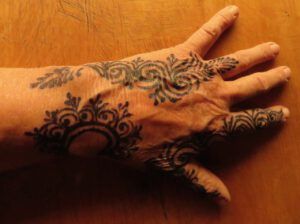 On Friday 10th, I took the four volunteers to the bus station in Williams Lake.  (Note the hands!)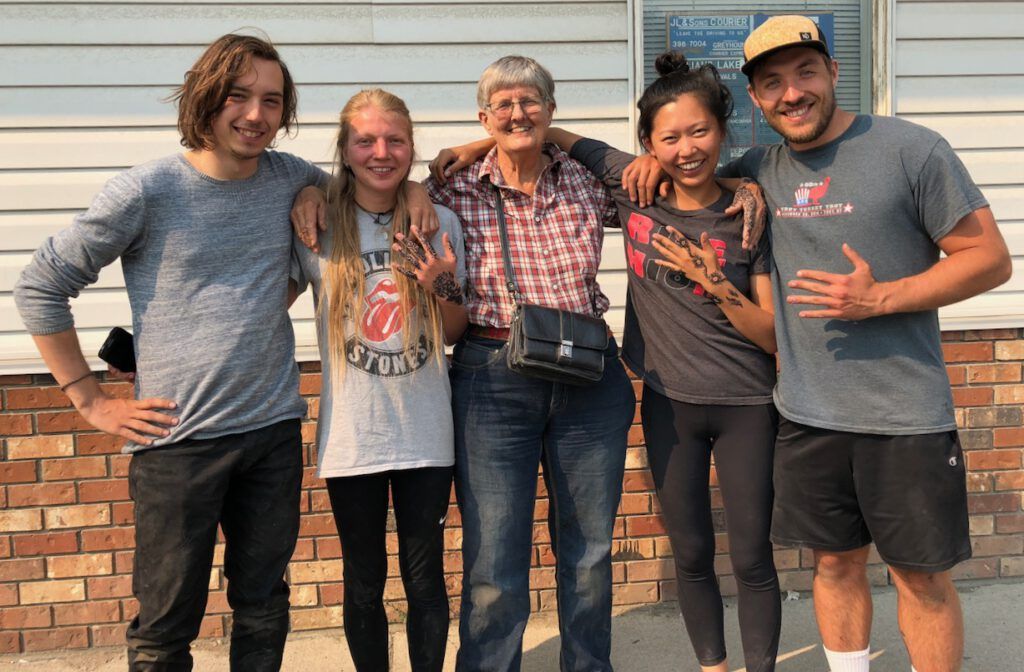 It was pretty smoky all the way.  Even Williams Lake boasted smoke-filtered sunlight.  On the way home – the first time in a while, I had a passenger-less vehicle. Half way home I ran into a clear patch.  How blue was the sky; how sharp the mountains.  But close to Tatla a wall of smoke enclosed the way I was going.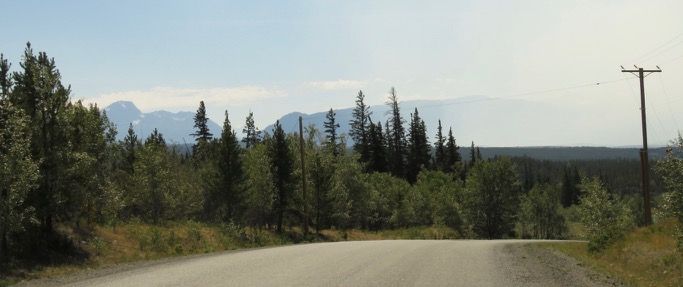 I had to be back at Tatla Lake in time for the Legesse family's farewell party.  About 60 people were there – the members of the community who had been most instrumental in helping the family.  (I should add here that, although I spent a great deal of time teaching, I was not at all involved with the truly horrible paperwork – organizing their finances; their health cards; their immigration status etc.  It was a nightmare for the people who took on this job.  Bureaucracy at its best.  But now the LeGesses are no longer refugees: they are Canadians.)
After a fantastic pot luck supper (Hussna makes the most marvellous samosas) we had a little graduation ceremony.  Here is Sara receiving her certificate from one of the school teachers.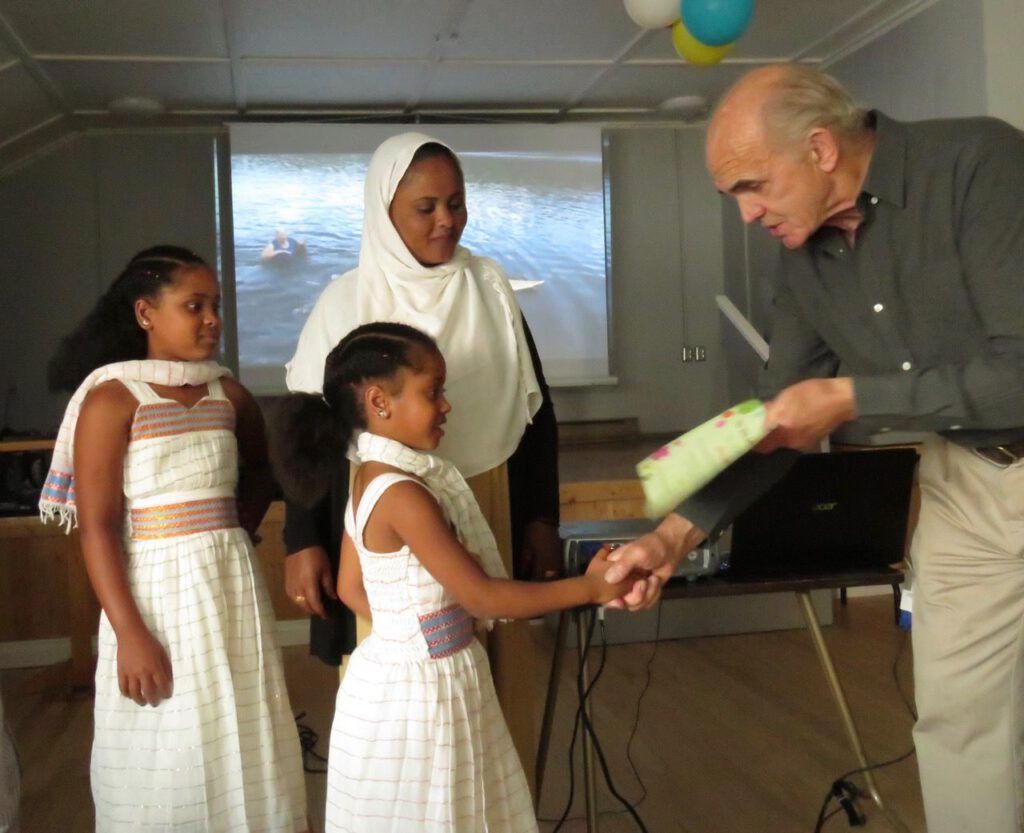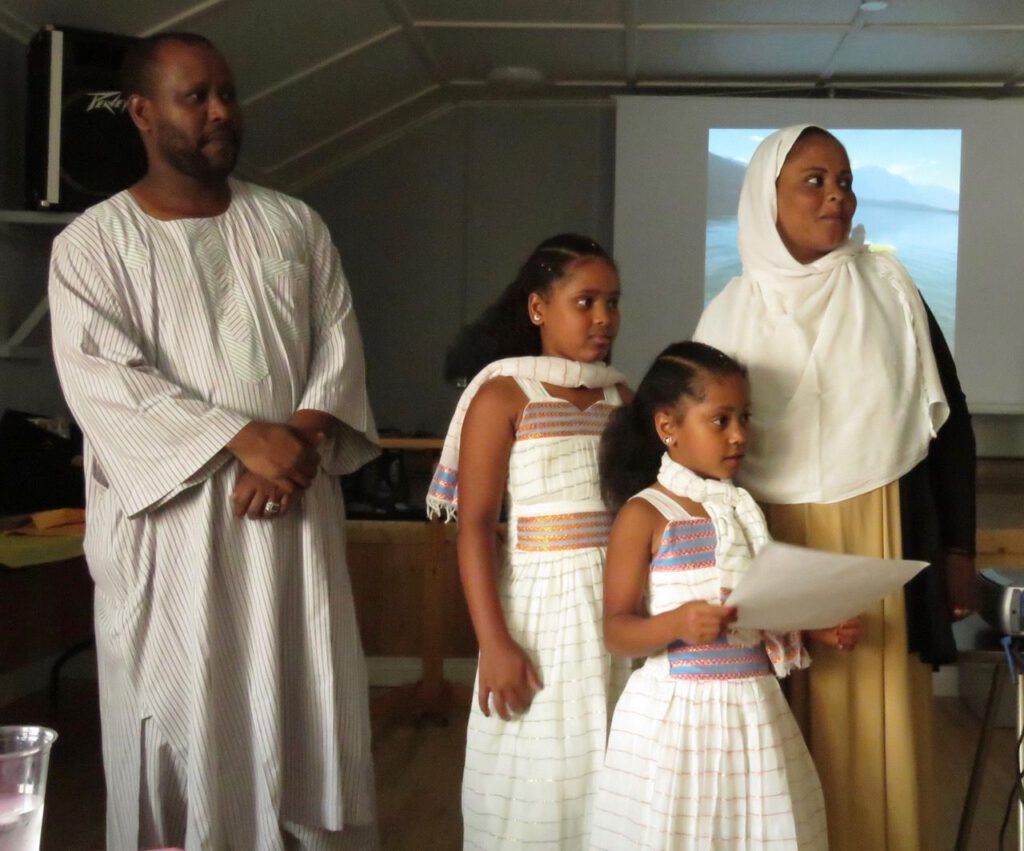 It has been a real privilege to work with this family.  It was not something I ever ever expected to be doing, and I realize that we were extraordinarily lucky to have such an industrious and charming family to work with.  As I write, they are already in Lethbridge.  They will soon find new friends and a life that will suit them better.  But our community feels that we have given them a really good start to their Canadian life.  We shall miss them.
The sun was setting as I came home.  Yet another smoke effect.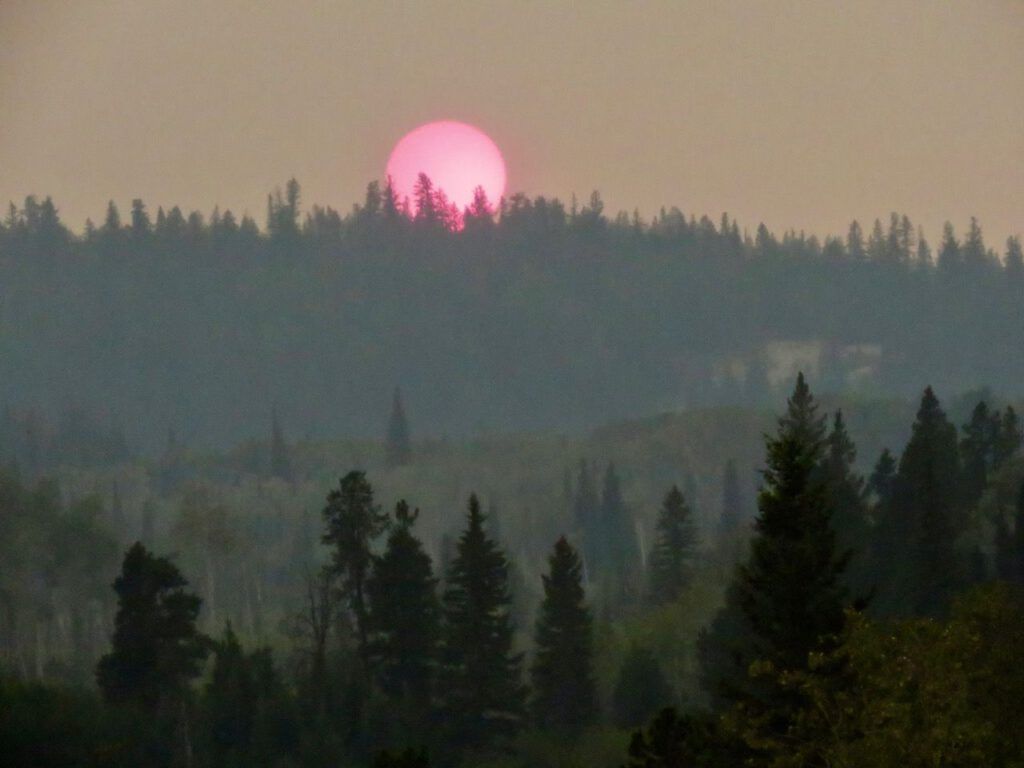 And suddenly I had nobody else to think about.  No volunteers, no Legesses – even the hummingbirds had gone.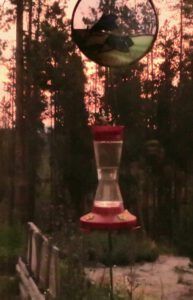 So during these last twilight days of excessive smoke I have started to catch up on everything I had to let go, including these blog posts.