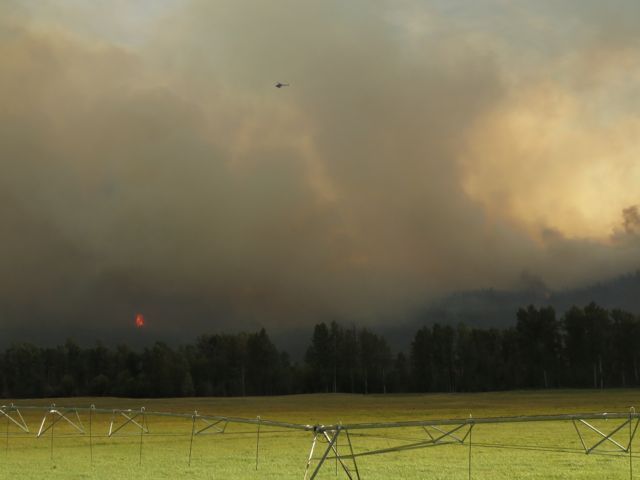 This is downtown Kleena Kleene – just before I was evacuated from the fire.
Thanks you so much all of you who have written concerned about me and the dogs.  I am safe and comfortable, staying with very good friends in the Bella Coola Valley.  I have my own cabin and internet access so can find out what is going on as best I can.  The stores are short of supplies, but there is plenty of garden food around and no smoke.  If it weren't for helicopters flying overhead several times a day you would never know there was a disaster.  My property also, although it is very close to the Kleena Kleene Complex of fires, is in a good position, well protected by two rivers and some open fields and wet areas.  Although we are under evacuation order, many of my neighbours who have ranches have stayed.  Compared with many of the thousands of evacuees, I am in very good shape.
It started July 7th.  I drove the 3 and half hours to Williams Lake to pick up a friend; we were going to fly in to Nuk Tessli and do some hiking.  My friend's bus was delayed because of fires that had erupted south of Williams Lake near 100 Mile and Ashcroft.  No thunder had been forecast, but it was very hot and while I waited thunder rolled and I saw lightning smash into some small hills east of town.  Within an hour huge clouds of smoke were roiling up.  I picked up Miriam and we got out of town as fast as we could.  Across the Fraser river (half an hour out of town) we could see the steam towers from the fires.  Smoke often rolls along the ground but steam rises into white cauliflower shapes.  Steam towers happen only when the fire is very fierce.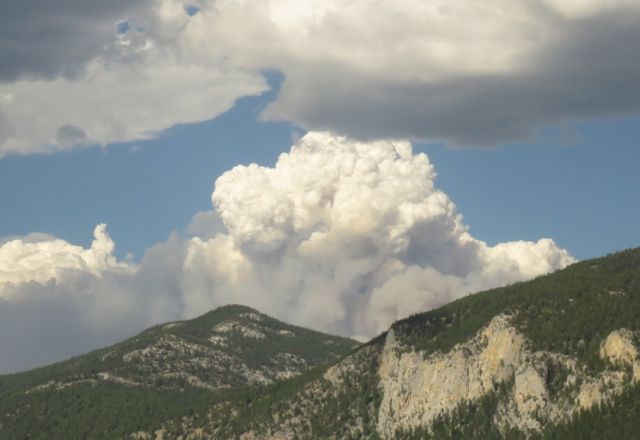 It was a relief to climb out of the Fraser valley but as soon as we got onto the plateau we could see what looked like possible trouble ahead.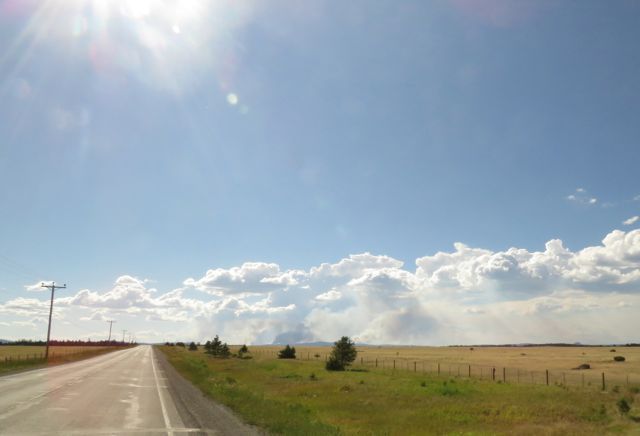 As the road twisted and turned, one moment we seemed to head straight for the fire, next moment it looked as though we would miss it. (Excuse my fly-spotted windshield.)

About an hour out of town is a road junction south to Chilco Lake.  Known as Hanceville or Lee's corner, it comprises 3 residents, two of whom own a restaurant.  I often stop there to pick up the best carrot cake ever.  Just before you get there you reach outhouses at the top of a hill.  That is where the cops stopped us.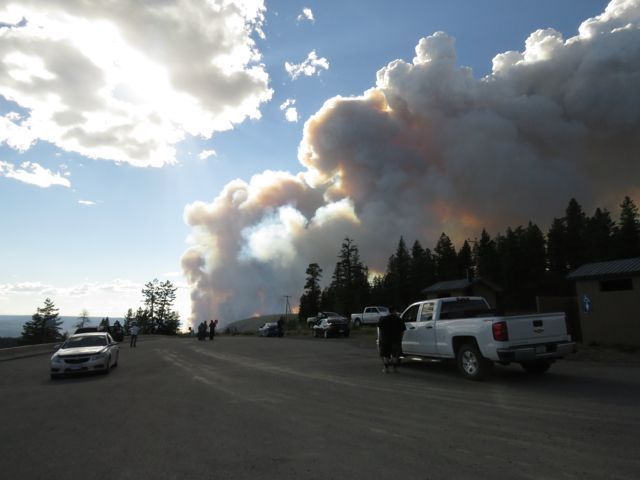 There were apparently a string of fires; only one was south of the highway (in the Stone Indian Reserve) but this is what had blocked the road.  We were told to go back and regroup a few kilometres east.  It was a hot dry evening and Miriam and I were equipped for camping but we had very little water.  We all milled around not knowing what to do.  The restaurant owner and his wife (maker of the famous carrot cake) were also detained there.  They had been shopping in Williams Lake and were hoping the wind would die down so they could get back home.  The other resident of Hanceville told us he was going to be arrested if hadn't moved.  He had found his two dogs and one cat but not the other cat.
We were all parked in a rancher's field.  One guy said he used to work for forestry and he knew some logging roads we could use to get around the fire.  It would be very dusty and rough.  We jumped at the chance and hurtled after him in his dust cloud.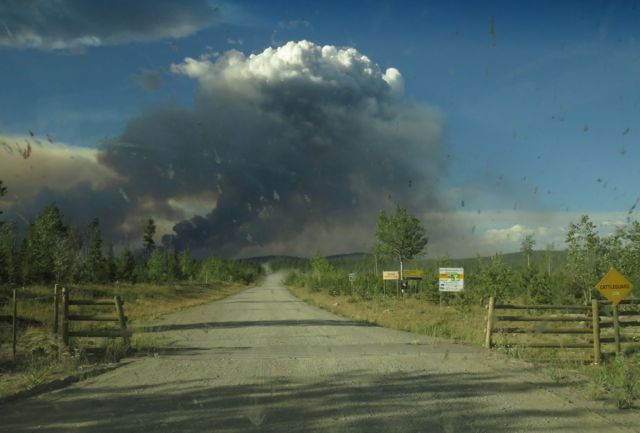 There appeared to be a string of 4 or 5 fires, and our route took us between them.  (Some of these pictures were taken by Miriam.)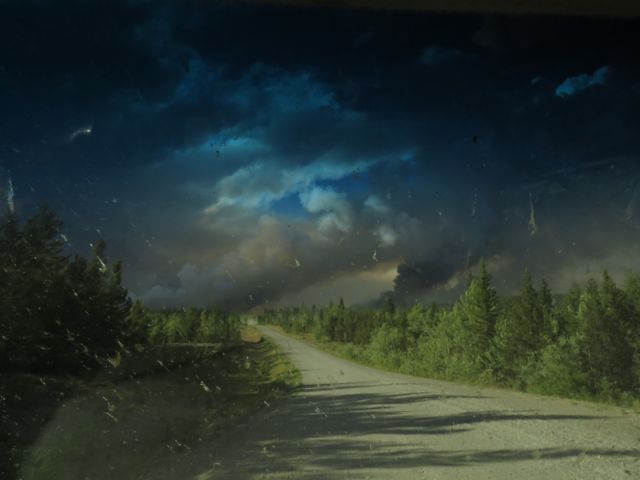 Other traffic was on the road – the route was known by locals.  We also encountered cows.  (The blue cast is the tinted top part of my windshield.)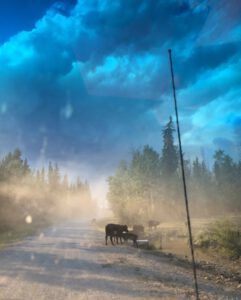 At last the air cleared somewhat.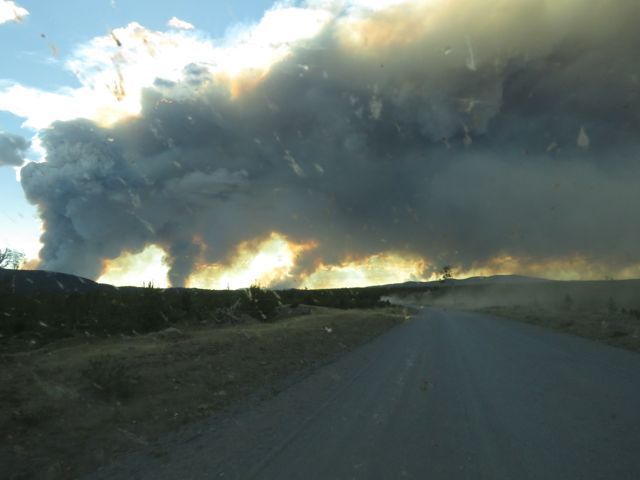 And soon we rounded the last fire.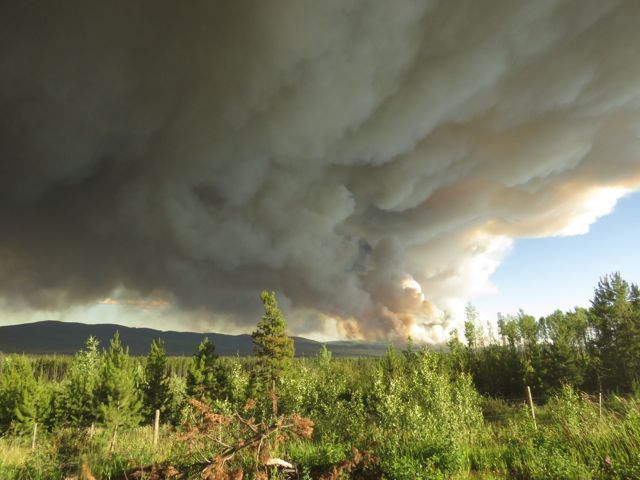 We could then look back at the steam towers from the benign safety of the other side.  A normally 20 minute drive had taken us more than an hour longer.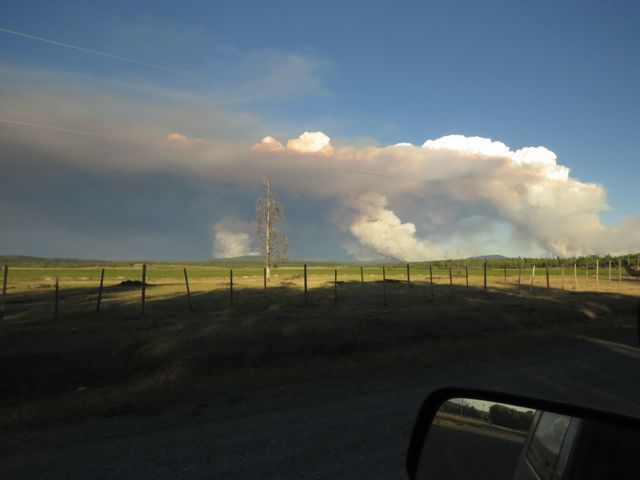 From there it was about 2 and half hours home.  The logging trucks had been stopped that very day and there was very little traffic on the road. Because it was so late, it was dusk before we got to the Kleena Kleene area.  It had been a beautiful evening, but half an hour before home we smelled smoke.  Fire smoke smells like a bonfire, full of green material.  Downtown Kleena Kleene is just a ranch with hay fields now and the fire was beginning to flare on the hillside behind it.  There seemed to have been quite a heavy shower.  There were puddles on my road.
The following morning was calm and sunny, and Miriam and I walked up on the dunes to see what was going on.  The BC Wildfire website (link later) showed a few red dots in my area – the most disturbing was one 2 km north.   But up on the dunes we could see nothing there.  The KK one was smouldering, though.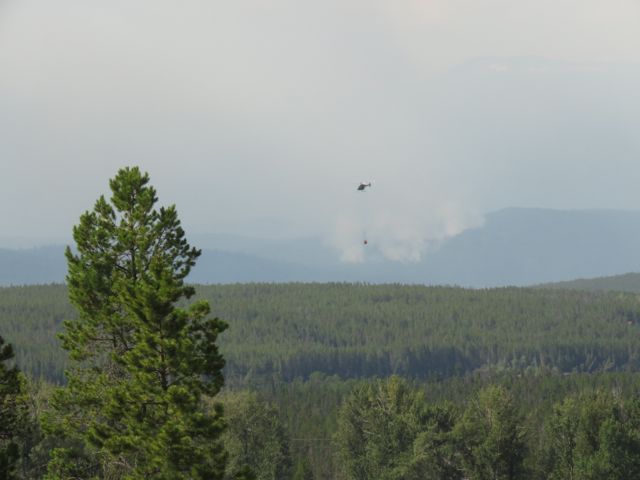 And as we watched, a chopper flew by with a bucket of water.  You could see the water trailing behind it.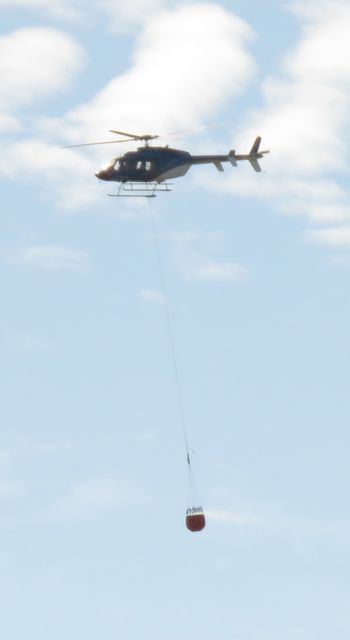 He flew right to the northern fire and dumped several buckets on it.  We couldn't even see that fire until steam rose from it.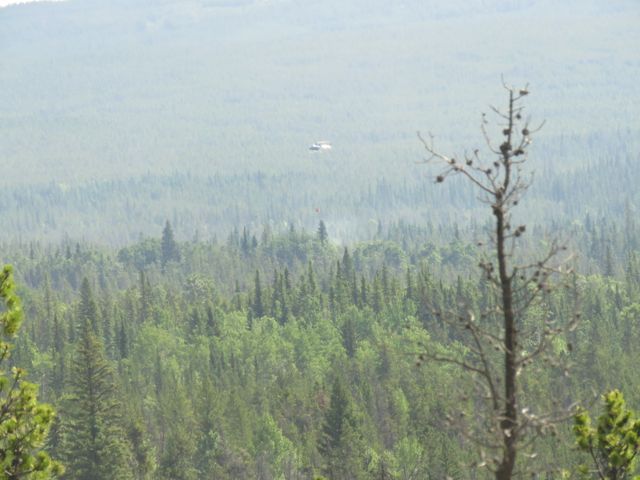 And although the wind got up severely the next day, we never saw any problem with that fire again.
Miriam is no stranger to fire.  She lives in northern Saskatchewan and two years ago her cabin, which was on an island 2 km into a lake, was burned.  Also her husband works as an aircraft mechanic for water bombers so they know a lot about the procedures (and the appalling red tape that prevents firefighters from working.)  Miriam said it would be a good idea to skirt the decks with tarps to stop stray sparks being blown underneath and this is what we did.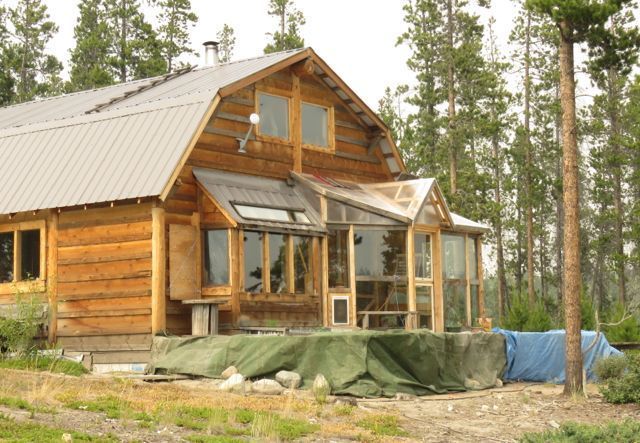 The tarps won't stop a fire of course, just stray sparks.  Note also the lovely new greenhouse roof put up by the wonderful caretakers I had while I was in the Yukon!
We suddenly had no phone or Internet.  The power and phone lines had been burned through at Hanceville.  The restaurant that had been such a feature of the country for years was gone.  (This photo fr0m the Vancouver Sun article about fires of note – link later.)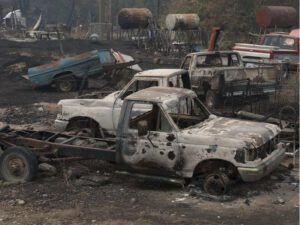 The next day we walked up onto the dunes again.  The wind was beginning to get up.  (How gorgeous the weather is away fro the fires!)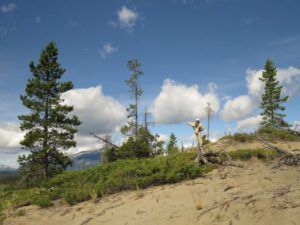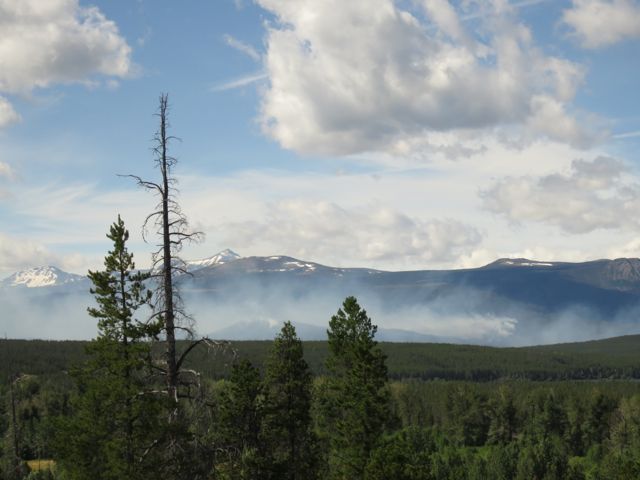 With no phone or internet, we decided to drive west half an hour to Nimpo Lake – they had a different power and phone system so we were able to get some news.  Highway 20 was closed at Hanceville (unsurprisingly) and other fires had started around the province.  The KK fire was still a reasonable distance from the road.
But by the time we had driven back, the KK fire suddenly erupted.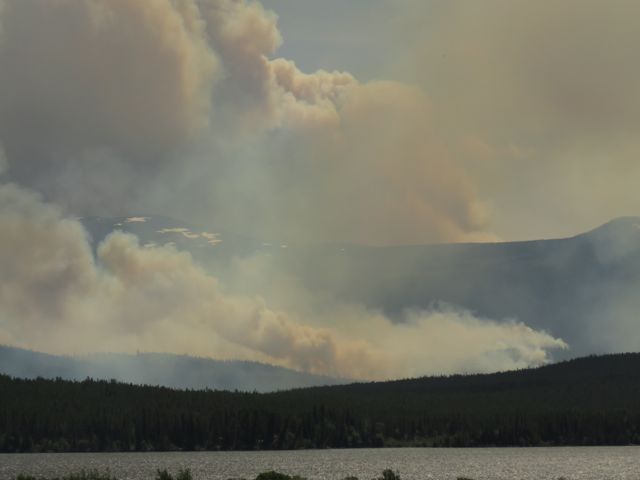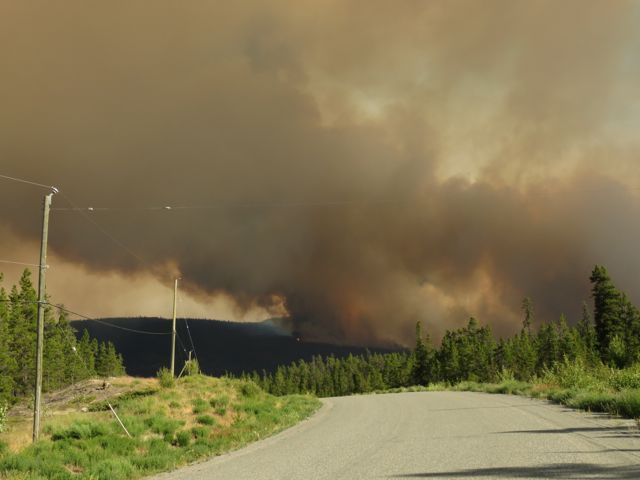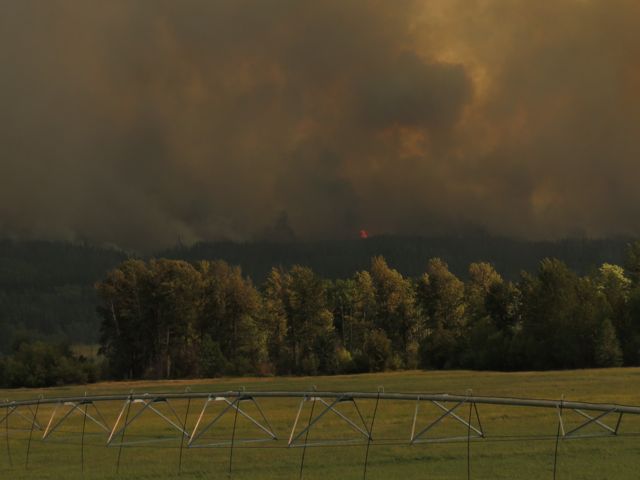 This is what it looked like from home.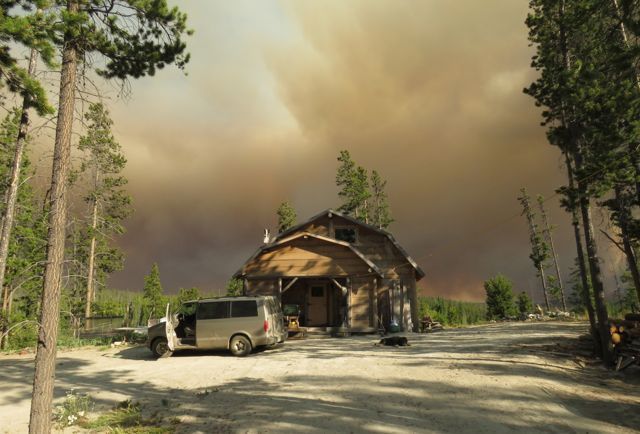 That evening, the wind died right down and it seemed so calm we decided to stay.  We continued preparing to leave the following day.  That evening I heard a vehicle drive into the yard.  It was a cop car.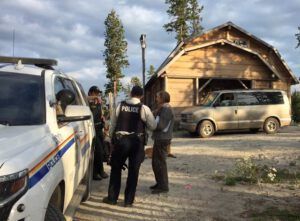 I knew what they were going to say.  They handed us an evacuation order.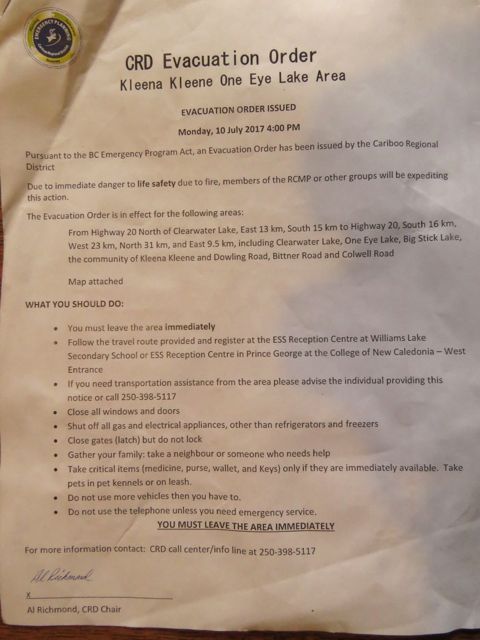 We knew this was a likelihood, and were almost ready to go.  The cop was a bit put out that we were heading west as they wanted everyone out of there.  Highway 20 had been opened for eastbound traffic but you couldn't go south, only north to Prince George.  But I knew that my friends in the Bella Coola Valley would have garden veg.  No guarantee they might not have fires in the future – as they often have in the past – but there was always the ferry and flights to get out.  We put the last touches to the porch.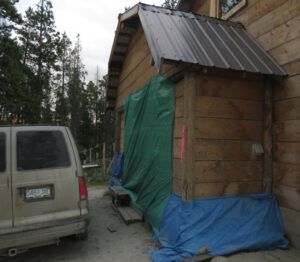 Note the pick ribbon.  The cops had a code.  There was an array of colour at the end of the road. Pink for evacuated, blue for not at home, and red for staying.  Really good news for looters.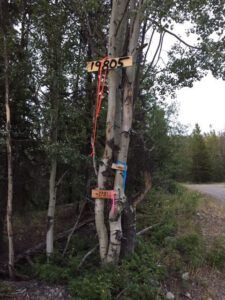 It was nearly dark.  I drove the van loaded with food – because I have sensitivities I cannot buy stuff anywhere – and in any case neither food nor gas could get through the closure at Hanceville.  Miriam drove my truck and trailer loaded with the atv and various other items.  They were not priorities to take out but they were expensive and I had the room and an extra driver so why not?  Once more it was a calm and very beautiful evening.  Only a hint of smoke from the fire.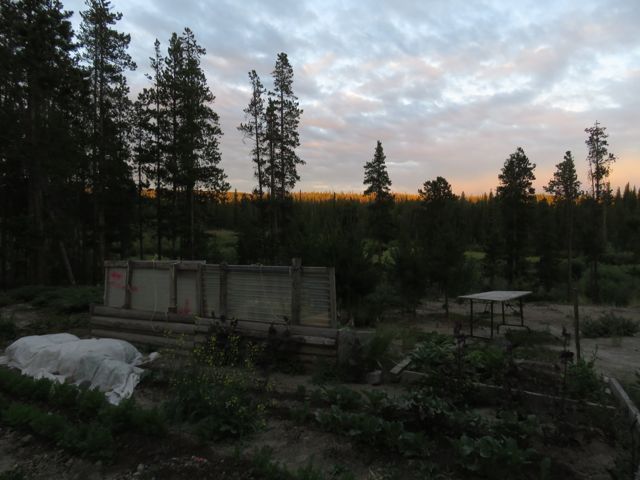 It was dark when we arrived at Nimpo.  We slept in the vehicles.  We left the truck and trailer with a friend and drove down the Bella Coola Hill early in the morning.  The smoke there was from the Precipice Fire.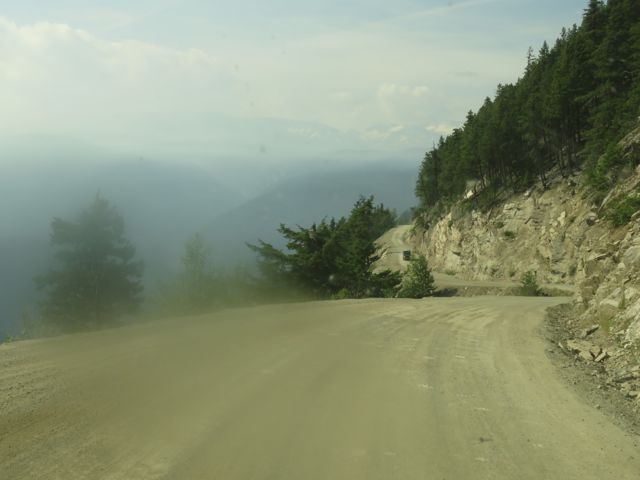 Miriam was due back in Saskatoon in a few days.  Although Hwy 20 was open to the east, if I'd taken her to Williams Lake I would not have been allowed back.  Also there was no bus now from Williams Lake.  So she managed to plan a route by ferry to Bella Bella, another ferry to Prince Rupert, train to Prince George, then on the bus.  She left on the 12th, 5 very full days since I had picked her up.
The Precipice fire managed to snag 22 firefighters, 3 sprinkler experts, and 3 helicopters.  It was a fire that was no longer very active and it seemed a bit over the top when the KK fire had nobody. Helicopters roared back and forth over my friends' Bella Coola place all day carrying slings of equipment.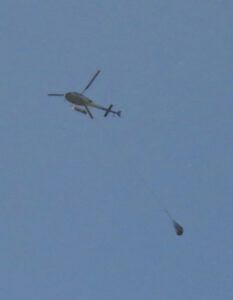 All sorts of rumours abounded – such as there were 3 inactive waterbombers at Port Alberni but they were not allowed to use them until August.
After a couple of days regrouping, I decided to try and go home.  My garden would die without water.  The wind was gentle but from the south – not good news as it would blow the smoke directly to my place.  Which proved to be the case.  Here is the view of the mountains.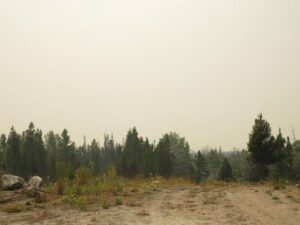 I could barely see the Internet Hill.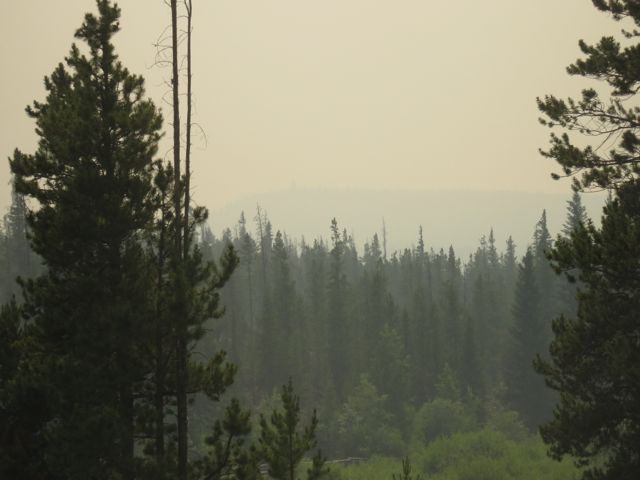 The garden was parched.  With the drought and the earlier heat, a lot of the plants have bolted.
I don't have a lot of water in my well so must be very careful with it.  I stayed about 5 hours and did the best I could, but the smoke was disconcerting and strong winds were forecast so I decided to head back to the Bella Coola Valley.
I am monitoring the fires with various sites.  Here is the BC Active Wildfires one.  When you open it, you get this: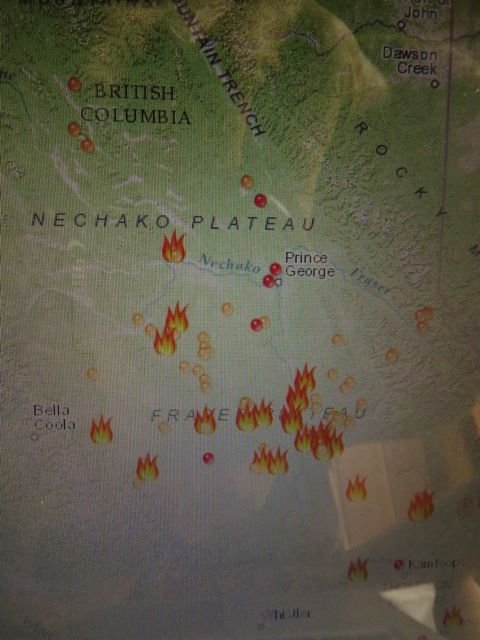 New fires are red dots, old, smaller ones are orange dots, dangerous ones are the ones with flames.  The one closest to Bella Coola on the left is the Precipice fire. The one south east of it is the Kleena Kleene fire complex.  The mess on the right is the Williams Lake area.  If you click on one of these flame patches, you will see another link to the page of the wildfire and that will give you more information.
Another more useful site is the American Modis site which tracks heat from a satellite.  Click on Canada, Click on BC, then click on JPeg on the right.  Yellow is calm, orange is busier, red is very active.  Here is what it looked like earlier today.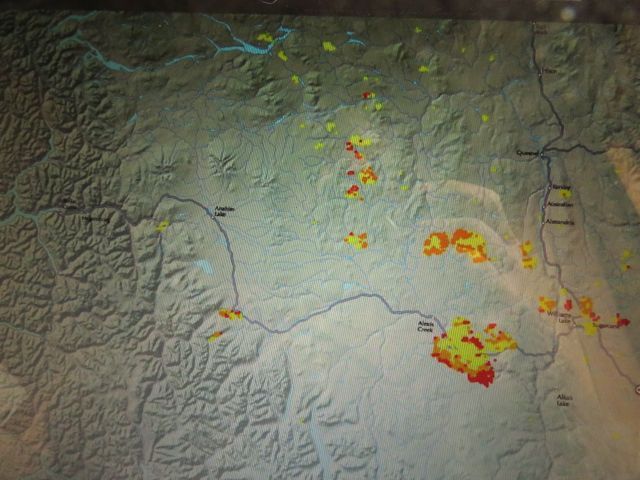 Williams lake is on the right, the Hanceville mess is the big area near it. The Kleena Kleene fire is much smaller – it hasn't yet crossed the road but the red dots are awfully close.  (No official crew, but some local people are out there digging a fire break.)  The Precipice fire is barely noticeable.
My place is about 5 km north of the KK fire, on the other side of the road.
Last night Williams Lake was evacuated.  The town is probably safe but the road to the north has now become too dangerous because of a fire.  So evacuees are being asked to get to Kamloops.
Here are a couple of good articles.  CBC.  Vancouver Sun.
Thing is, the fire season goes right through August.  Unless we get good rain, we are stuck with all this uncertainty until then.