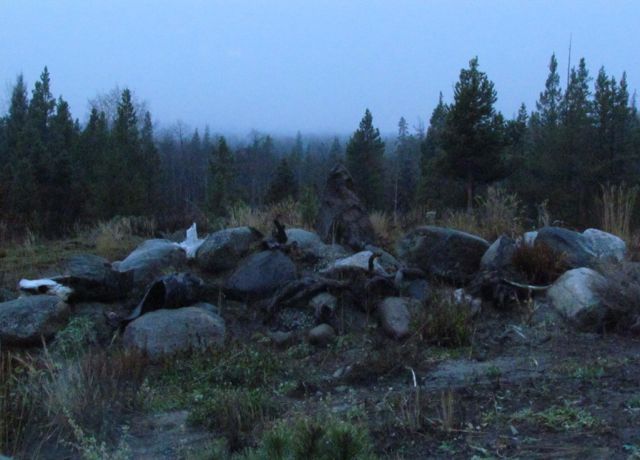 Apologies to Edgar Allen Poe.  One can expect dreary in November, but, with the exception of three weeks at the end of March and the first half of April, and a few odd days here and there, we have had dreary since last January.  If it's not raining, it's foggy.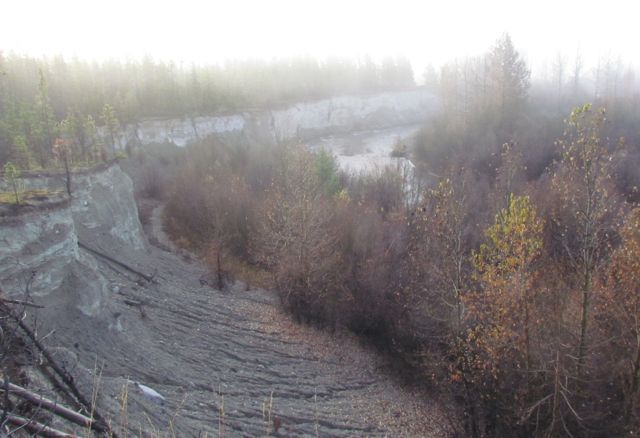 At first, at the beginning of October, there were small bits of colour left in the vegetation.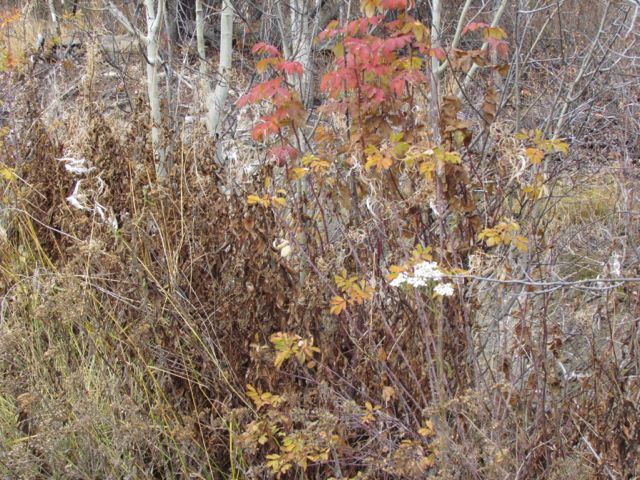 But the rain soon beat them away.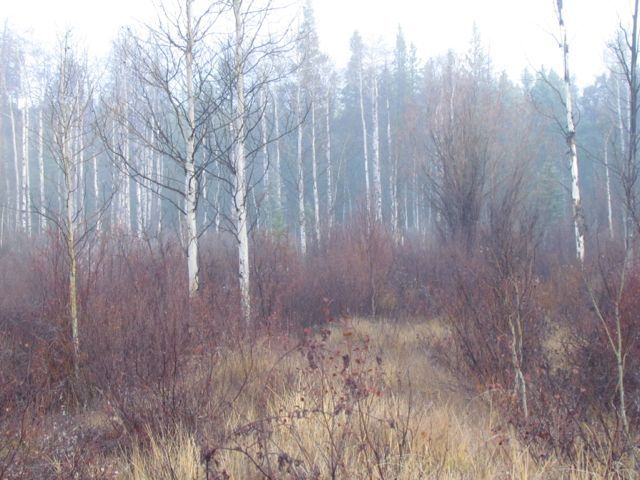 The temperature has stayed mostly above freezing, but one morning it was a degree or two below and the water drops from the night's rain had frozen onto everything.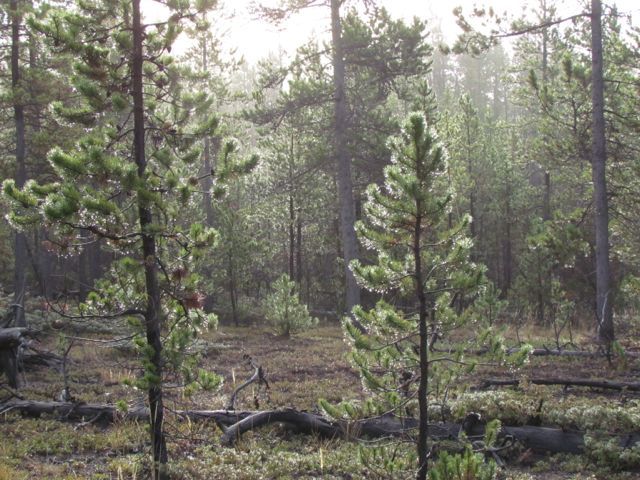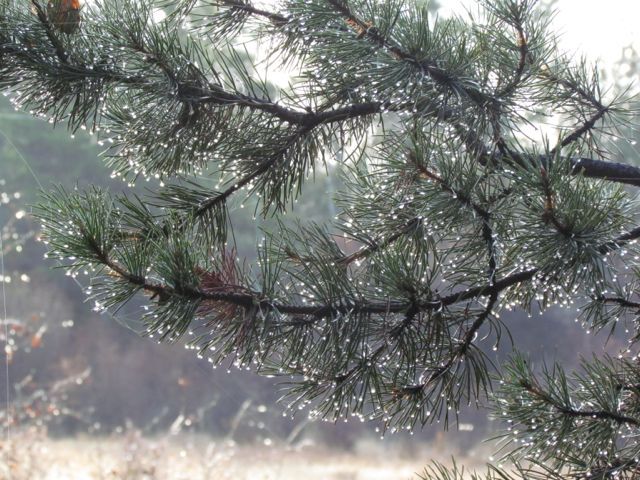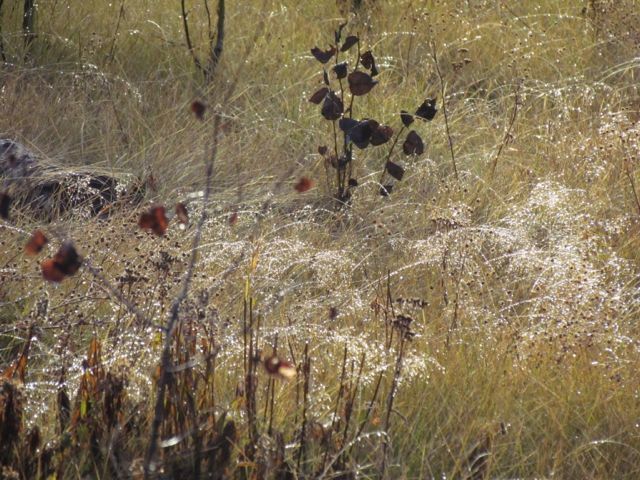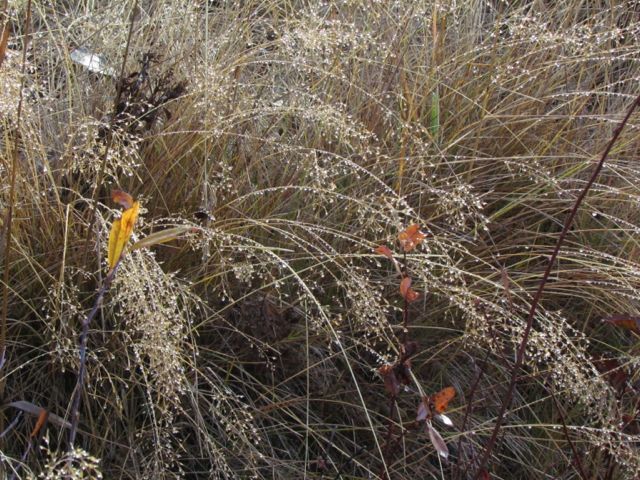 One morning we had a colourful sunrise.  (Seen through my kitchen window.)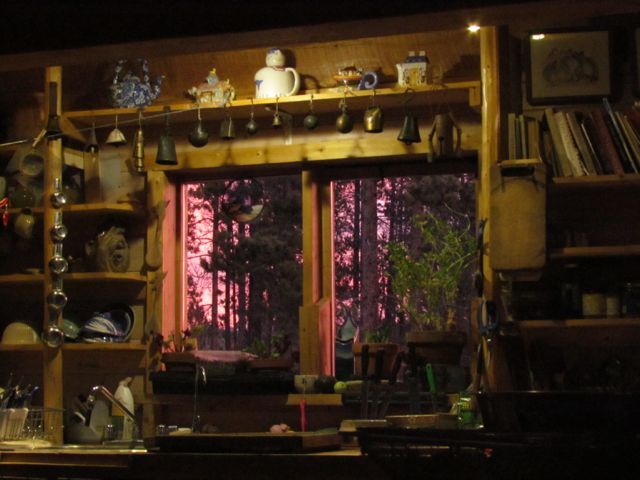 Another day, the fog was pink.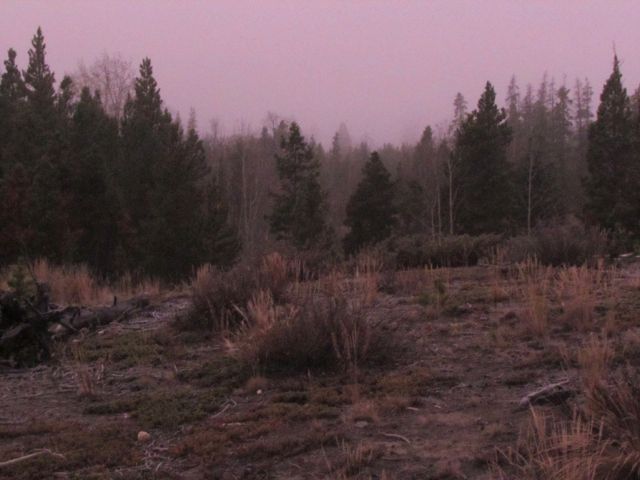 Once we had a gleam of sun just before it went behind Nogwon.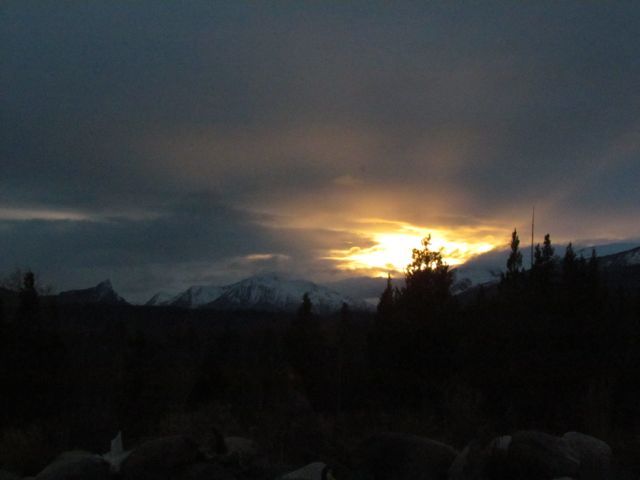 Mostly, however, it has been raining.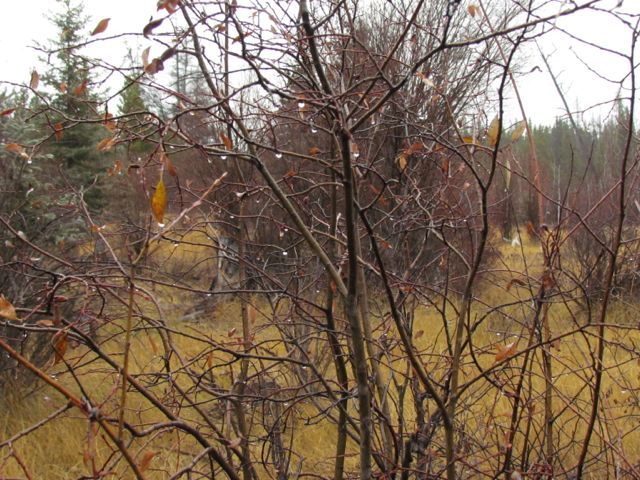 Very occasionally, we had glimpses of the mountains.  This was near Tatla Lake.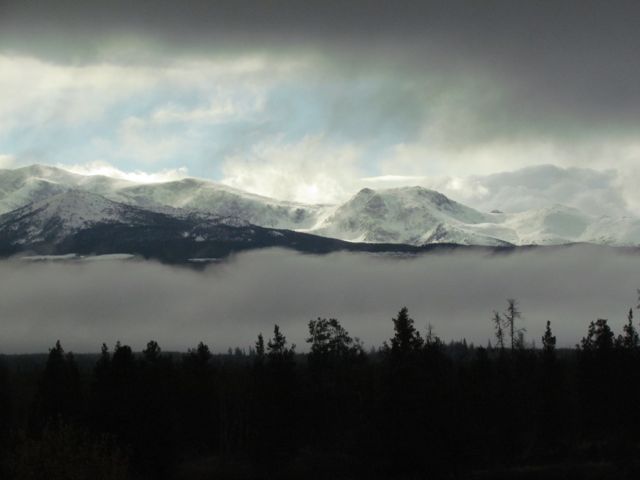 From my window.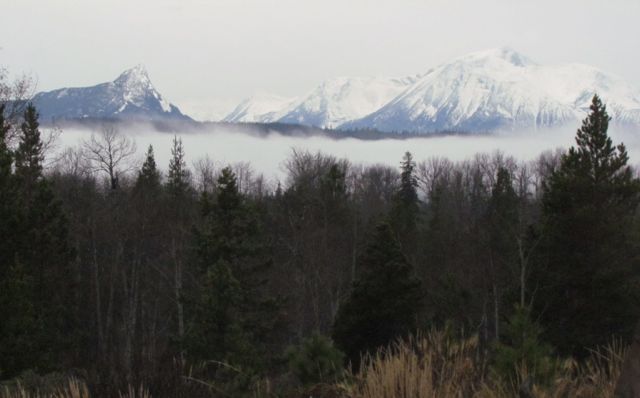 The pond has stayed full all summer, which I have seen only once before, and this fall there has been a lot of duck activity. Usually, the pond fills just before it freezes so bird life is rarely seen on it at this time of year.  At first, there were the teals (with their bums in the air) and either lesser scaups or ringnecks, or both, which are very similar divers.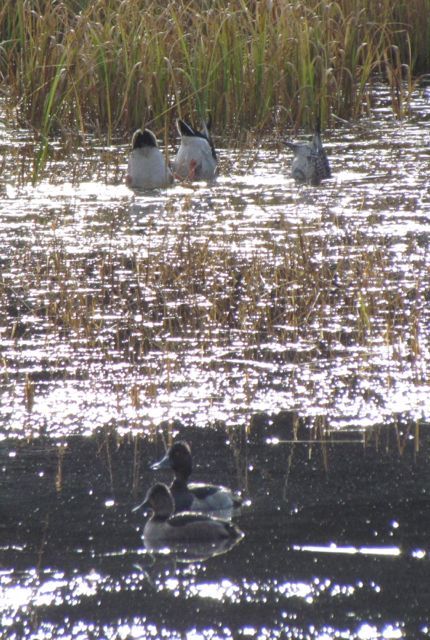 Then the pond froze.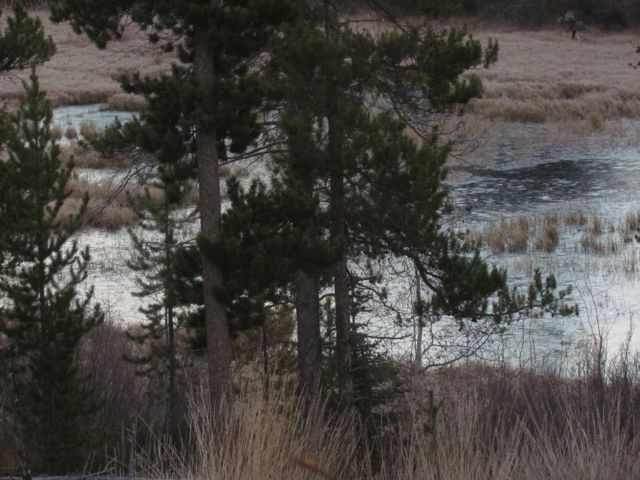 Two days later, it had thawed again, and the ducks came back.  This time  mallards and two hooded mergansers.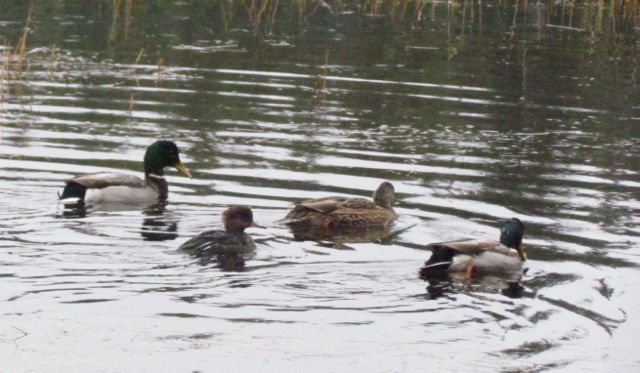 Just before I took this picture, my camera of 3 years (Canon SX50) gave up the ghost.  It no longer focussed.  So I am using an old SX35, which has a much poorer zoom and is particularly hard to focus in dim light.  So I apologize for the quality of some of these pictures.  I'm not sure when I'll get another.  The two stores that sell cameras in Williams Lake – Staples and Walmart – do not have batteries in their demo models, and refuse to put them in.  I liked the SX50, but find the SX35 inadequate (even when I first had it.)  I'm reluctant to buy the next Canon upgrade without trying it.  The nearest place I could do that would be either Prince George or Kamloops, both 7 hours' drive away.
I set up the bird table at the end of September in anticipation for a frozen ground (which of course we have not had.)  The birds aren't usually interested in food until the snow flies, but they came at once, looking for it.  So far I have 3 grey jays (aka camp robbers, aka whiskeyjacks)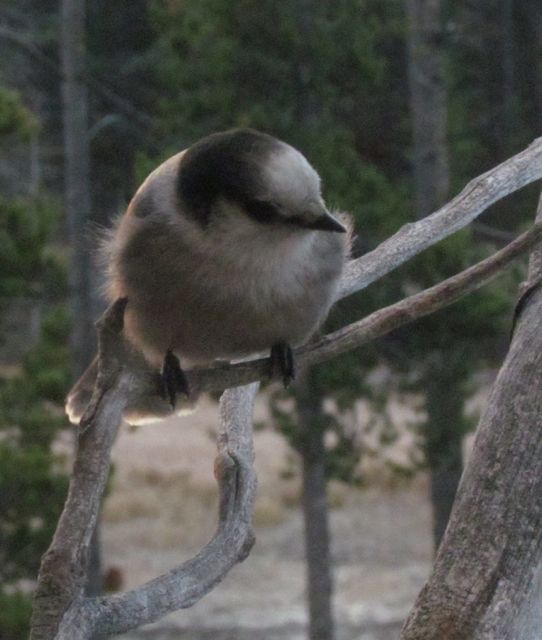 and the usual 10 chickadees, a few black-capped,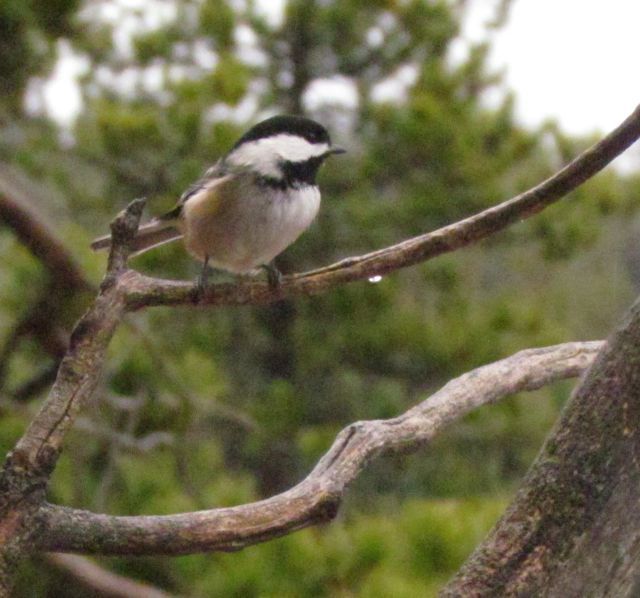 And the majority mountain chickadees, recognizable by their drabber colour and white "eyebrow."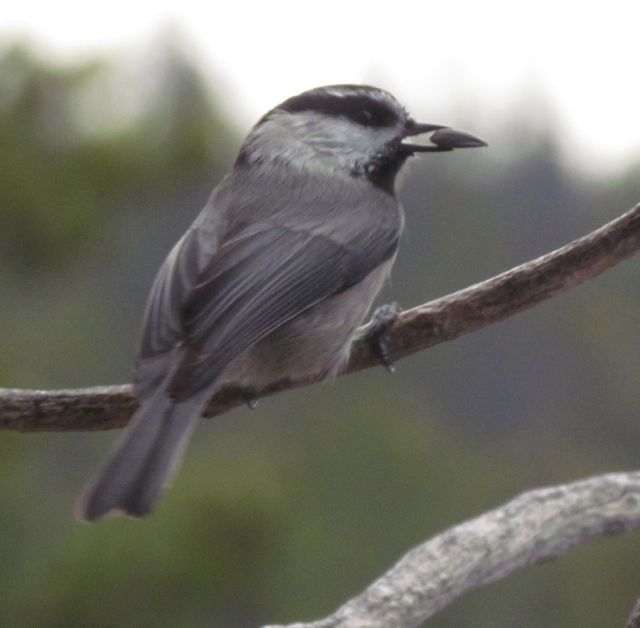 Needless to say, with all this unbelievable dreariness, I have had power problems.  I hauled out the generator to charge my batteries.  I hadn't used the generator for 18 months, but two pulls and it started no problem.  However, a couple of days later, when I wanted to use it again, it would not start.  I bought it second hand, so it is quite old, but supposed to be a good one.
No one locally (within a radius of an hour and a half's drive) either wanted to or was available to fix it.  In the meantime, the battery level was inexoribly dropping.  Once it gets below 23V, it takes a long time to recharge.  Once it gets to 20V, the whole system shuts down.  Apart from the Internet, I also have a freezer and a water pump in the well to worry about.  I switched everything off and lived with candle-power for a couple of days.  I used to do this all the time but now find it a real drag.  Let me tell you, it is really hard to scrub purple potatoes by candlelight.
The nearest electrician is in Williams Lake (3 and half hours' drive away), and few know anything about solar power or even want to come this far west.  Travel time shoots up the cost enormously.  However, one man, Randy of Little Eagle Electrical, does a lot of work out here, including on solar power systems; he has a cabin at Eagle Lake, not far from Tatla Lake, and will "retire" there in a couple of years.  By great good fortune he was planning to be within an hour's drive from me for a job.  He came to me first.  It was raining, of course, bordering on sleeting.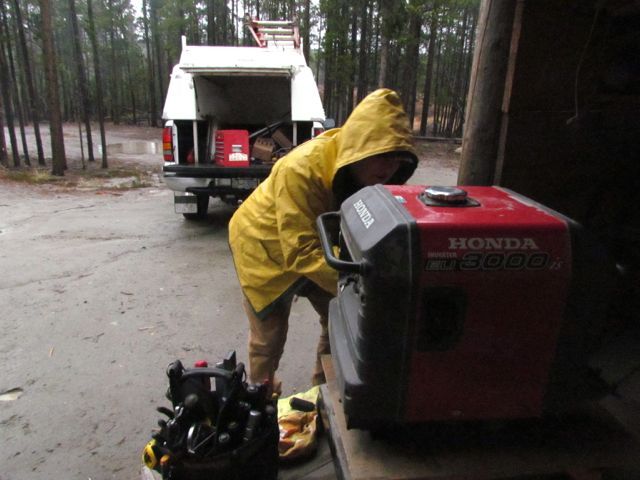 The main problem was the carburetta – he took it apart and found nuts missing and a shredded gasket.  It took a couple of hours, but he got it going.  Then he tweaked the computer on my solar system for maximum charge efficiency (the generator is 3,000W and it really should be 4,000W) and told me I should be charging  for 5 hours, not just a couple at a time as I have been doing.  Anyway, my batteries are looking much happier now, which is why I have the power to write this post.
It was snowing wetly when I drove to Nimpo Lake the other day to get gas.  (I keep several cans at home, but unless the weather smartens up, I will need those in reserve for the generator.) There are still a few range cows along the road – most have gone home by themselves and they are all supposed to be off the road by the end of November.  The bulls, having no interest in the cows at this time of year, tend to lag behind.  This one seemed to be sleeping beside the road.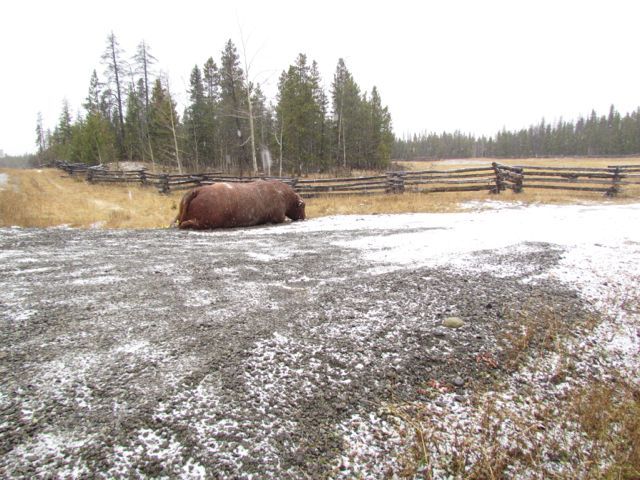 Close up, it was obviously dead.  There was no real evidence of injury but it must have been hit by a pretty heavy vehicle. Being an avid reader of detective fiction, I was amused to see police tape with "crime scene, do not cross" tied to the bull's leg.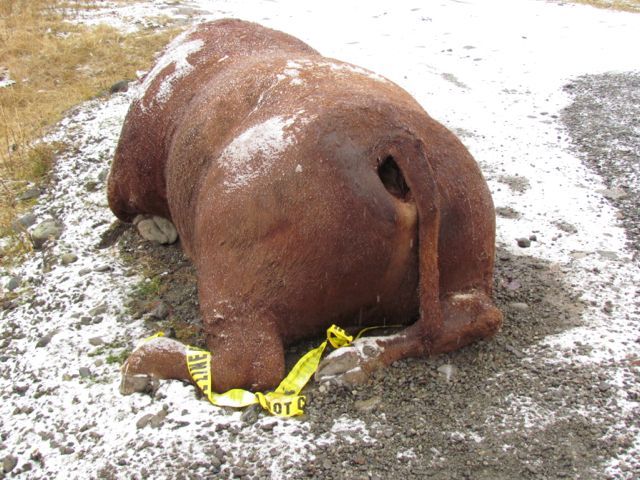 The bull has been dead a couple of days as it is bloated up, and creatures have started to eat it.  I wonder how long the cops will keep it there before they have gleaned all the necessary forensic evidence for the crime?  (And where will they take it.  The dump?)
The bull is a red angus, a popular breed for the ranchers around here.  This brings to mind a restaurant in Williams Lake whose menu was printed in the phone book a few years ago, therefore on display for two years.  The restaurant was offering "Shredded Angus Beef."  However, there was a misprint in the phone book.  The "g" had been omitted.