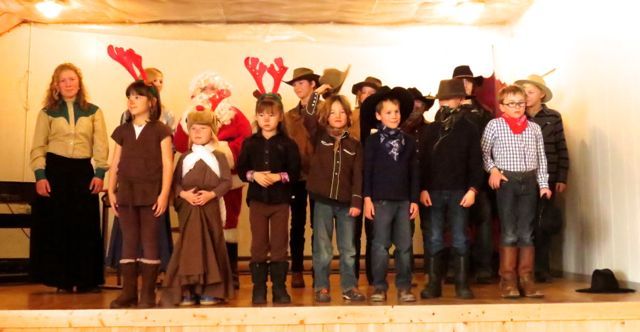 Last Saturday I went to the Tatla Lake Santa Breakfast, it was combined with the school Christmas concert.  This is the whole school.   The school would have been closed long ago but it is at least 2 hours' drive to the nearest one – too far for these little kids.  After grade 8, they have to either be home-schooled or go to Williams Lake.
A week after the big snowfall (see previous post), I was still waiting to get ploughed out.  The day it quit snowing, I was supposed to go down to Bella Coola and give a slide show and attend the Christmas craft fair there.  My neighbour's ploughing truck had broken; he was trying to get a cat home, but the man borrowing the cat had walked the track off it so it was stuck as well.  No one wanted to tackle that heavy job in such cold weather.  Daily, my neighbour assured me that he would get me ploughed out within the next day or two.  A week later I was in the same boat.
The Bella Coola event came and went, so did the Tatla Lake Christmas Market.  I had a final book-selling engagement, a  signing at an art gallery in Williams Lake on 3rd December.  I started phoning round others who normally ploughed people out.  Everyone of course was very busy.  I mentioned to one guy that I was trying to get to Williams Lake, and after a moment's pause, he said if he ploughed me out would I be able to pick up parts for him.  Of course I would.  So he arrived at about 8.00:pm.  He had a big tractor with a blade on and made short work of my road and yard.  It was still around -20C during the day and colder at night.  I hoped I would be able to start my vehicle at 3.30:am.
I had prepared for the trip.  Into the van went: chainsaw, axe, come-along, ropes, chains, shovel, sleeping bag, pot, candle, matches, food, water, and the dogs.  (I had to take them in case I got stranded – the old dog especially would suffer if left overnight.)  I also put a light under the sink and stapled insulation over the area.  I can drain most of the plumbing with ease, but a pressure tank for the reverse osmosis filter is too awkward to get at.  I put a couple of plants and all other freezable stuff in the basement.  Preparations took most of the afternoon.  All this just for a day trip.  But there are long stretches without sign of a human being so one must be prepared.
The moon was not yet full so it set just as I was starting off.  The road was snow-packed at first, and very rough and corriguated for a while.  Then it turned icy, and finally there was bare pavement.  I arrived in Williams Lake 4 hours later a little before the sun rose. I left after it was dark, and drove home by moonlight.  That is why I have no pictures.  But it was the last trip I expect to make to town for a while – unless something crops up I may not go out again until February.
Saturday, my road ploughed out and the weather a bit warmer, I could enjoy the scenery away from home and socialize.  My ploughed road looked beautiful.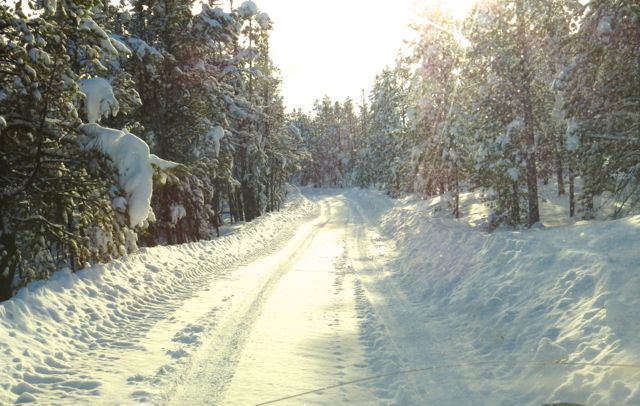 Highway 20 was well-maintained.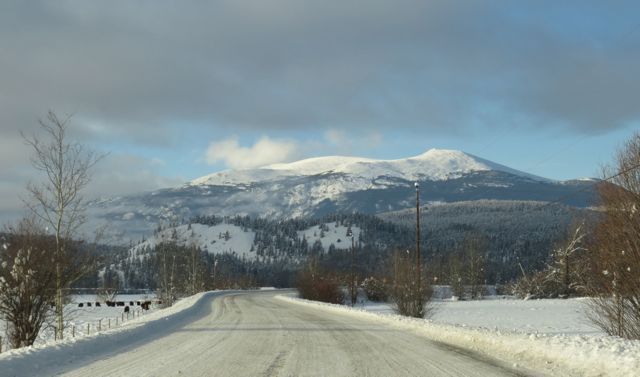 The hall was packed.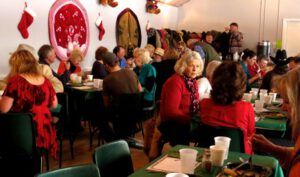 We had a great feast, then the kids got on stage and sang holiday songs.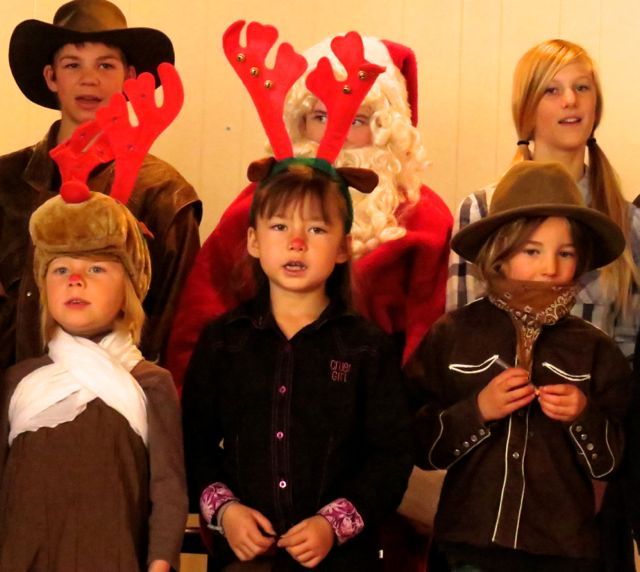 They are dressed in their costumes for the play.  Guess who the reindeers are.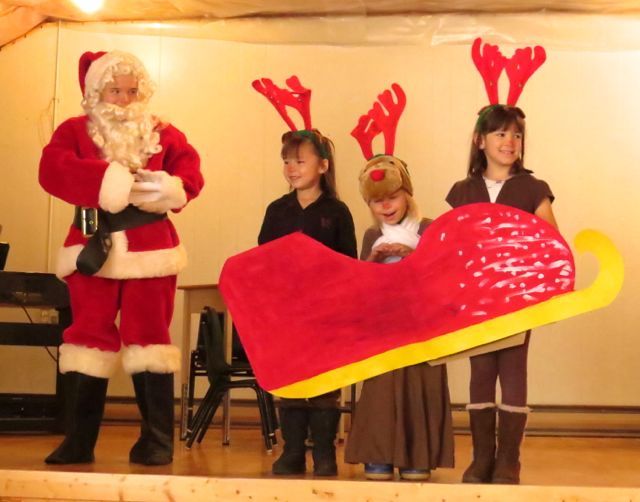 Afterwards, some of the kids played a bit of music.  These three boys are all brothers (yes, there is a third one, almost hidden by the keyboard!)  They played excellently.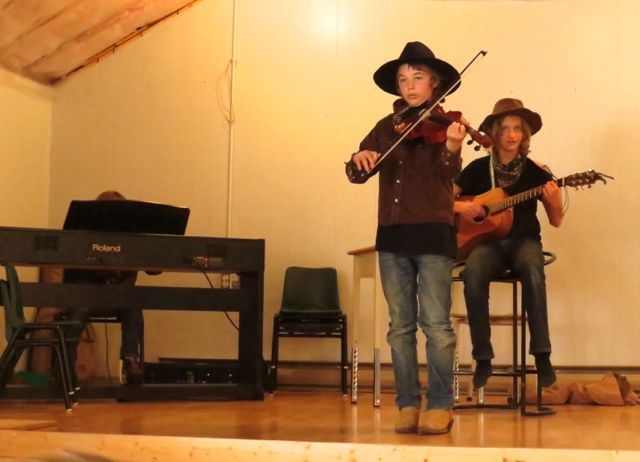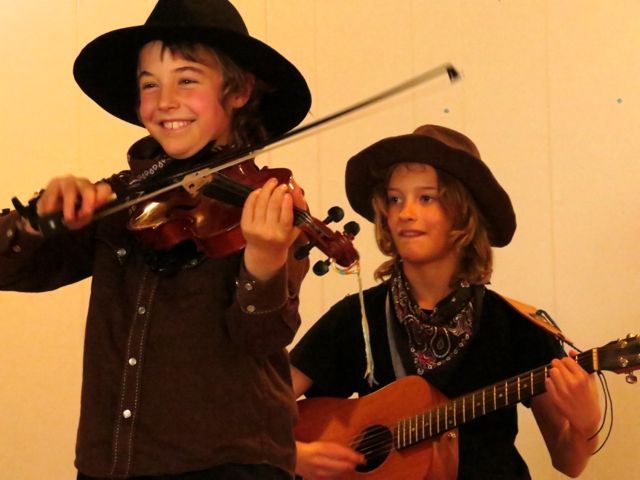 I was at the wrong end of the hall and could not get out quickly enough to see Santa arriving in his sleigh.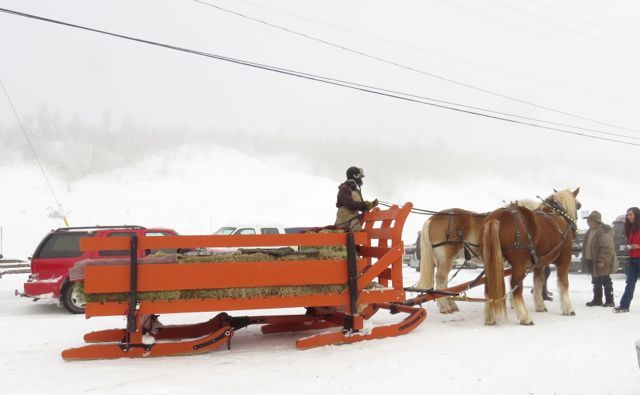 What gorgeous horses.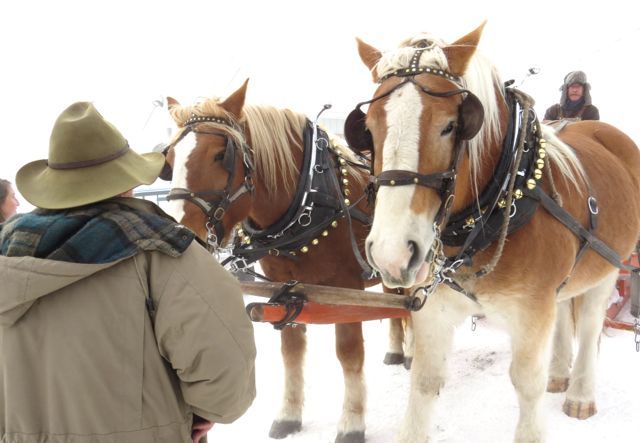 All this while, it had been slowly getting warmer.  Fog hung around Tatla during the event, although the air temperature was still way below freezing.
The next morning, fog socked in around my house.  But suddenly, the sun broke through, and the world was absolutely magical.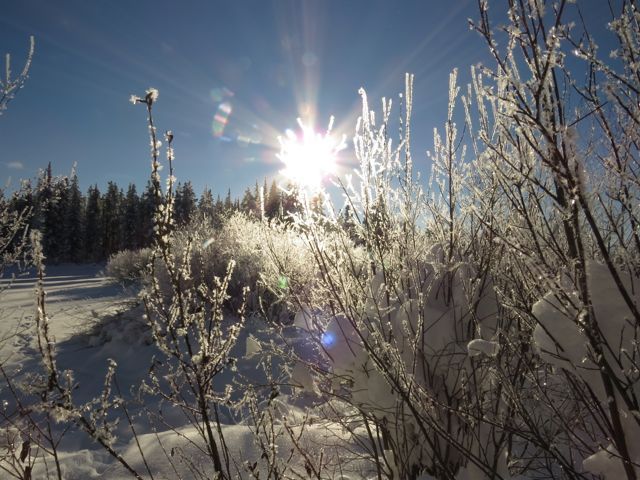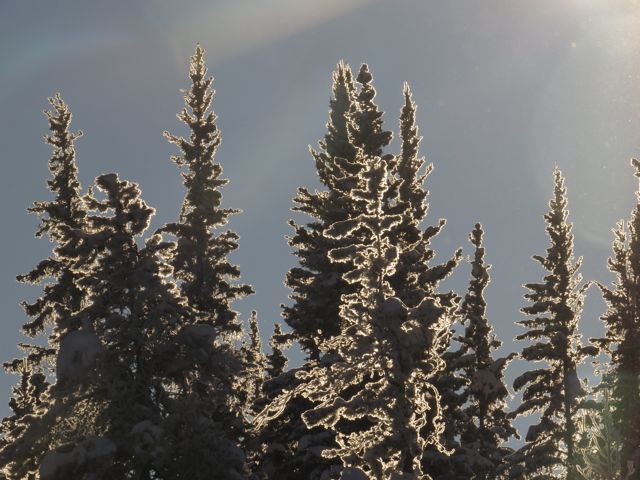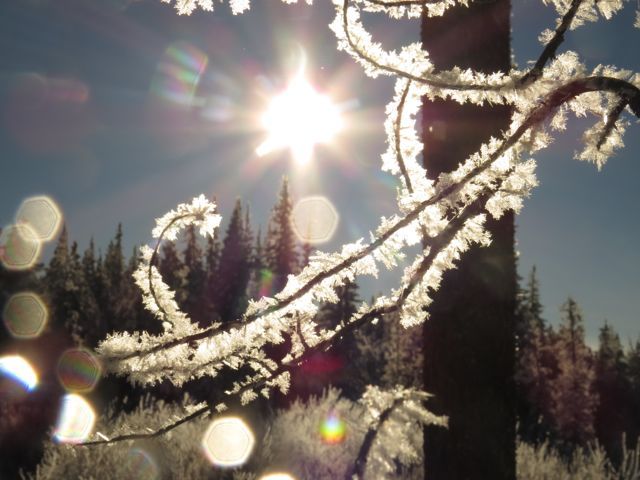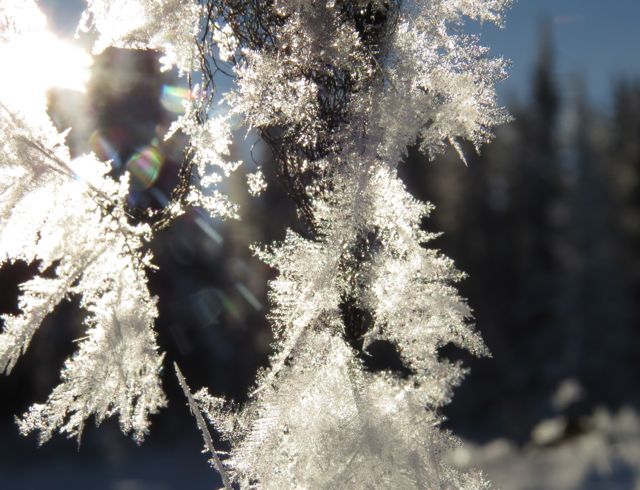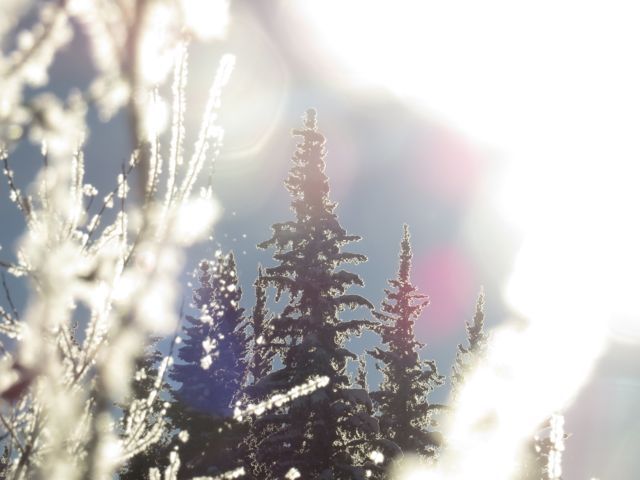 The effect was over soon.  When the sun hit the hoar frost, it started to fall in glittering flakes.  Within 30 minutes, it was gone.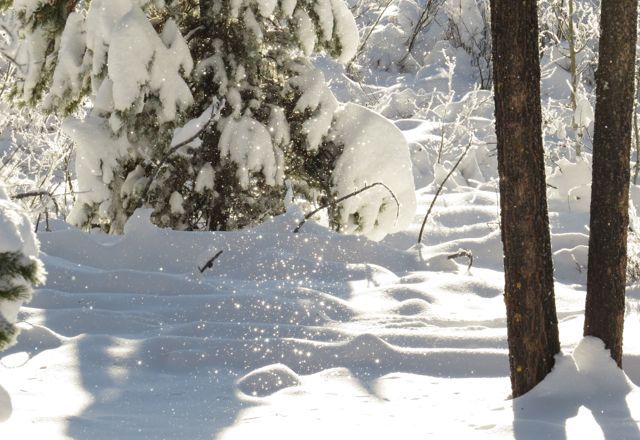 And now, would you believe it, three days later, it's raining!