Thank you so much everyone who has asked me about my new knee.  As far as I know I am doing fine, but it is so hard to find answers to questions here in the big city.  One gets pushed from one answering machine to another.  Yesterday I found I was overdosing hugely on the pain meds.  They gave me two prescriptions with ardent instructions that I must take the pain meds in order to do the exercises required to rehabilitate the leg.  (Knee replacements are very painful.)  I read the instructions on the bottles and kept to the dosage on the labels – but should have taken one or the other – not both.  Misinformation abounds.  Every day it seems as though there is a new crisis to deal with and it takes hours on the phone to get nowhere.  And people wonder why I don't want to live in a city!
Of course, living in the bush has its problems.  I will be driving north 2nd and 3rd May – but I have had to organize 4 drivers and interim dog-sitters for this time – my current dog-sitter needs to leave before I get home.  I have also arranged a baby-sitter for me as I need a gofer to fetch and carry – I am still on crutches – and will not be able to drive for a while.
I left Ginty Creek with new snow on the ground and encountered two lovely sandhill cranes beside the road.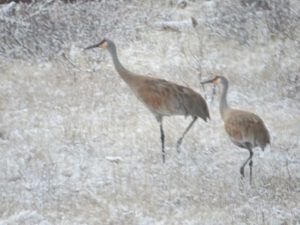 At 108 Mile, the aspen catkins were showing.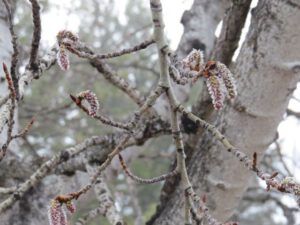 Down in the canyon, spring was burgeoning.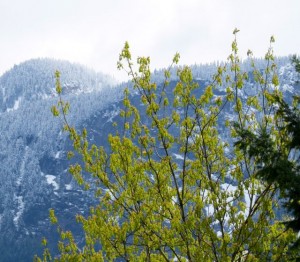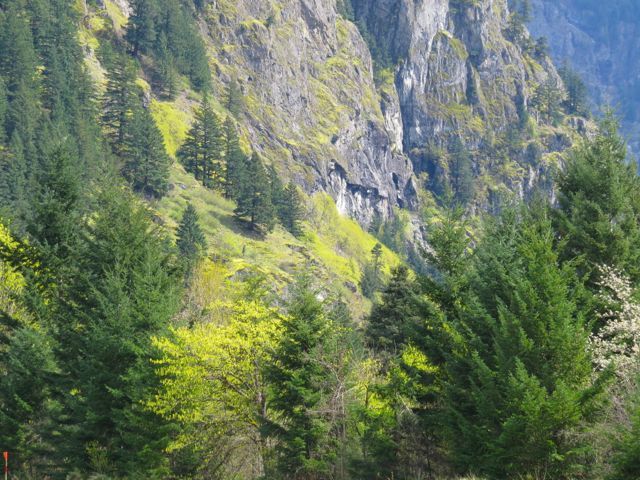 At first, the weather was gorgeous.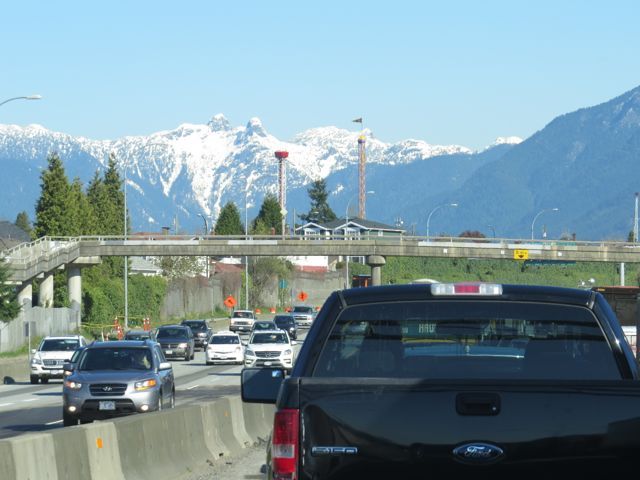 (I could take this photo as there is massive construction on the freeway and the traffic was stopped!)
I have several friends in greater Vancouver, but Doreen's condo was my choice due to the lack of stairs!  Doreen, like so many of my current friends, was originally a hiking client at Nuk Tessli.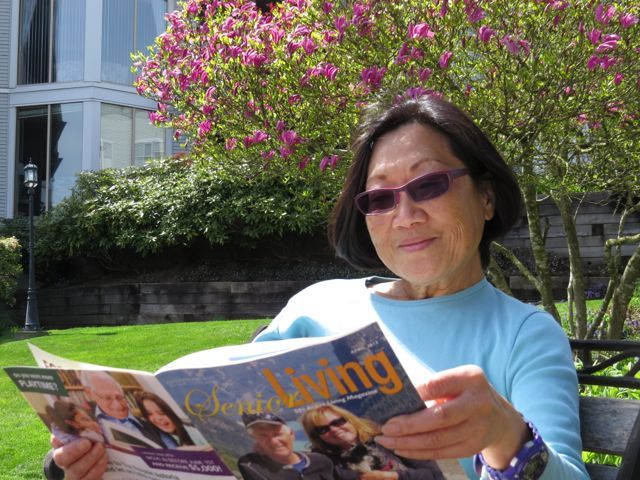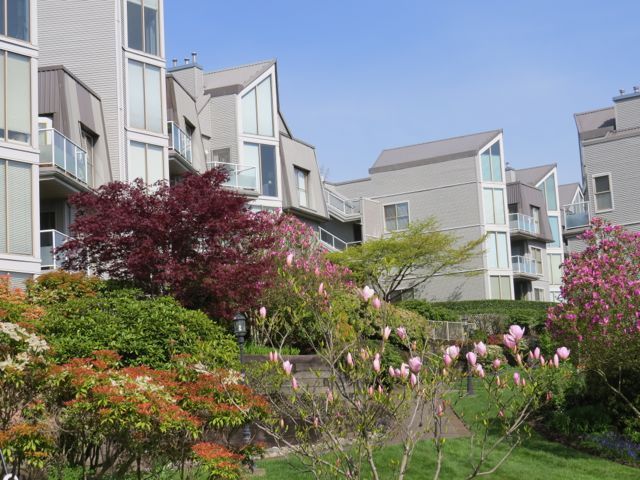 Some of the grounds are communally groomed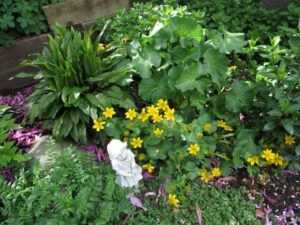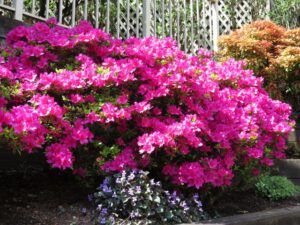 The cherry blossoms were at their prime.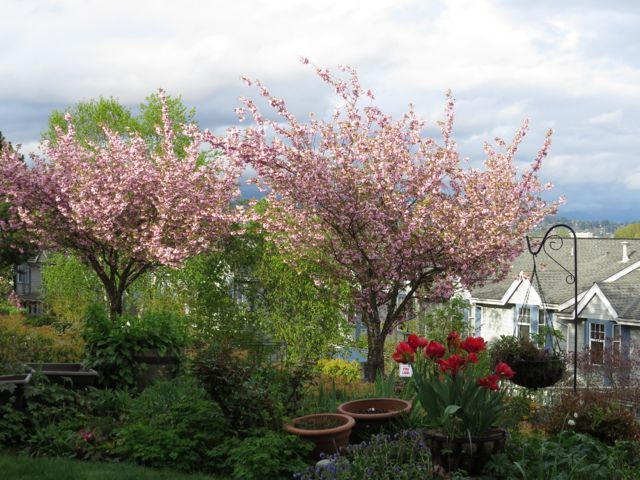 Doreen does the garden at her end and had a great display of tulips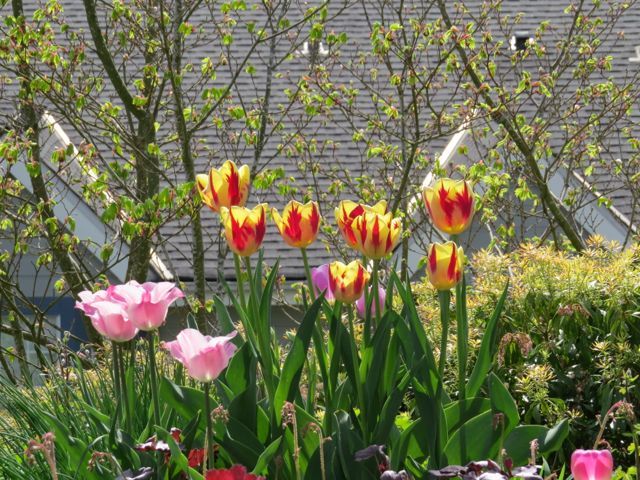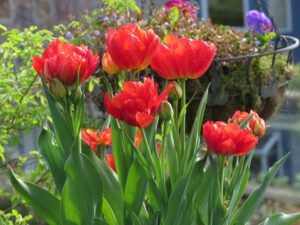 Then some wind and rain came and blew all the petals to the ground.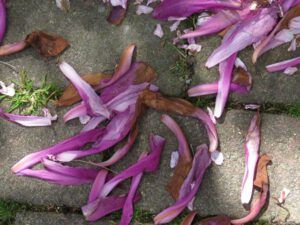 The garden is not all that is nice about the condo.  It has a great view of the Port Mann Bridge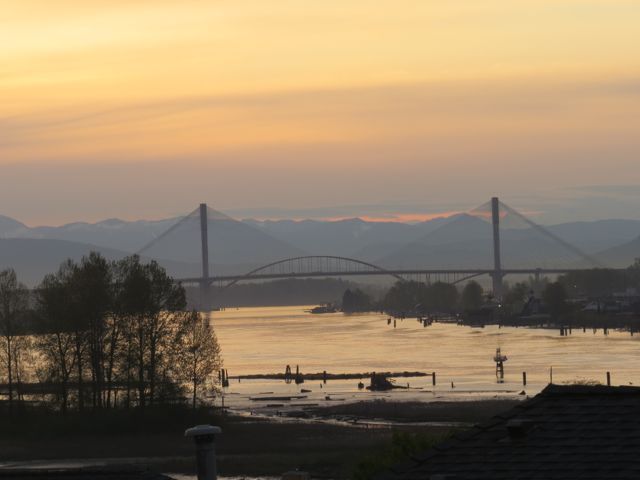 And also the north shore mountains.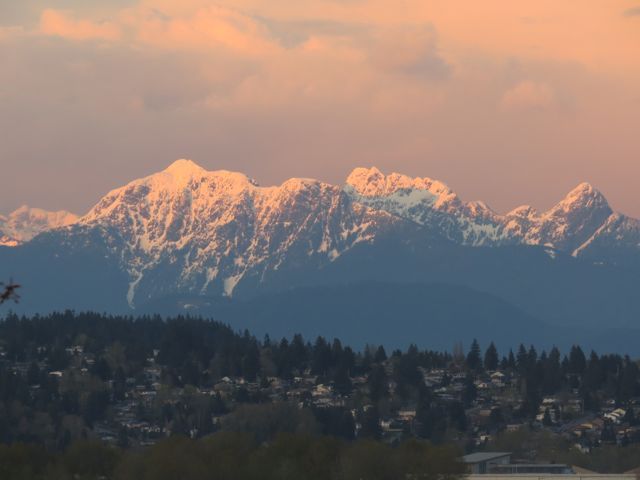 And I am doing physiotherapy in a jail!  Many of the buildings along here are part of the penitentiary.  This one is a restaurant now, but the physio building is similar.  We get our exercises in the basement so it has a real dungeon feel…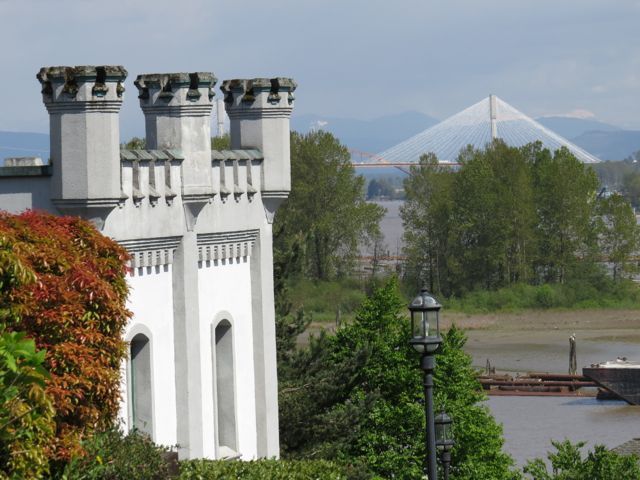 Almost all previous trips to Vancouver have been in November to promote books.  It has been a bonus to be able to enjoy the spring.  But oh so noisy!  Song sparrows and robins sing in the garden, but a junk yard across the river bangs and crashes heavy metals, trains go by endlessly, planes stack overhead when waiting for space at the airport, and the freeway has a constant roar.
I could not have wished for a better (and very long-suffering) host – she has been absolutely marvellous! – or a better place to stay – but I can't wait to get home!