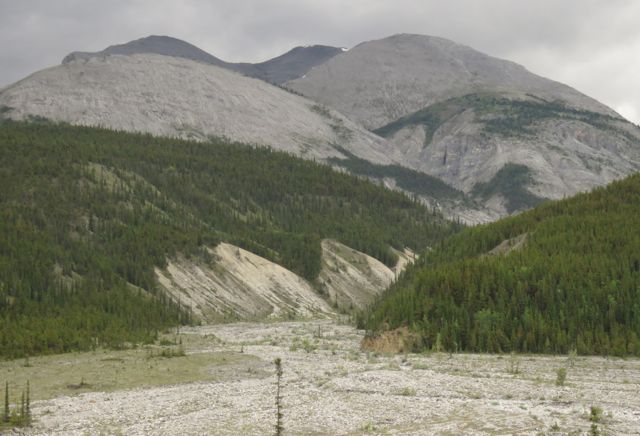 I left The Tombstone Provincial Park in the early afternoon and had 5 and half days to get home in time for my caretaker (who looked after dogs and watered the garden) to leave on schedule.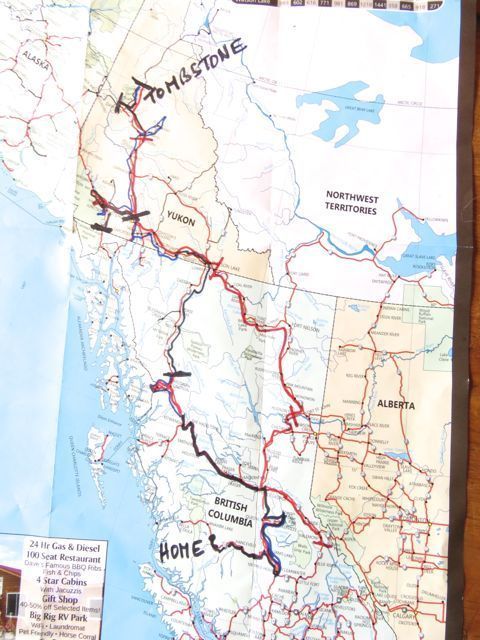 The first night was spent in a sandy pull-off south of Stewart Crossing, and the second just past Watson Lake on the border of British Columbia.  The nights that were dry enough to be comfortable but the days presented intermittent rain.
The road to St John and south had at first a very different aspect to those of the Yukon.  Fast and wide, it had enormous mowed verges – a blessing I am sure to the motorists behind me  who so far had had to put up with my sudden screeches to a halt and rapid reversing to check out the roadside flowers. However, there was an advantage to these wide, domesticated verges.  Not long past Watson Lake grazed an enormous bull buffalo.  They are HUGE.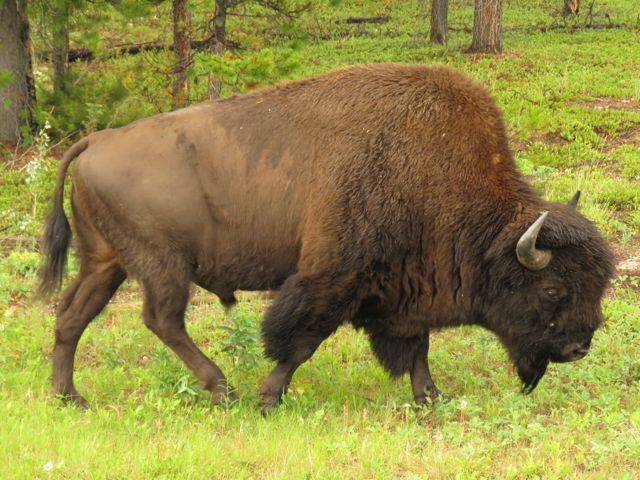 I had seen multiple warning signs,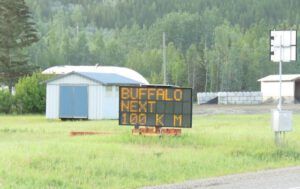 but the highways had been full of wildlife posters – for moose, bears, cariboo, etc, most of which had preceded blank stretches as far as the advertised animals were concerned.  Everyone who has driven this stretch of highway, however, tells me that the bison are always there.  Within a few kilometres I had seen 7 lone bulls and wondered where the mums and babies were.  Next thing there they lay, the calves gambolling like lambs.  In one spot there must have been 50 scattered over the road.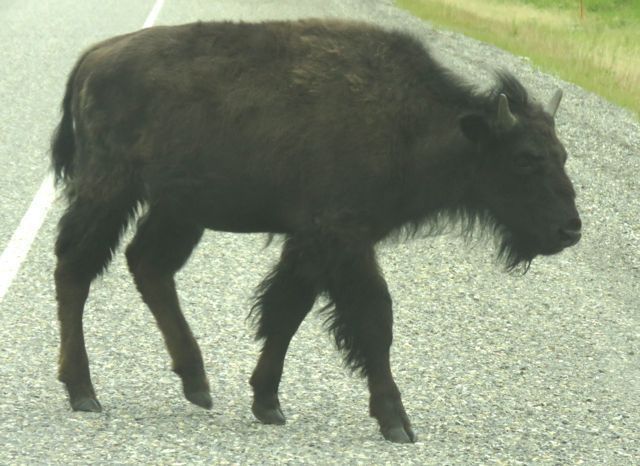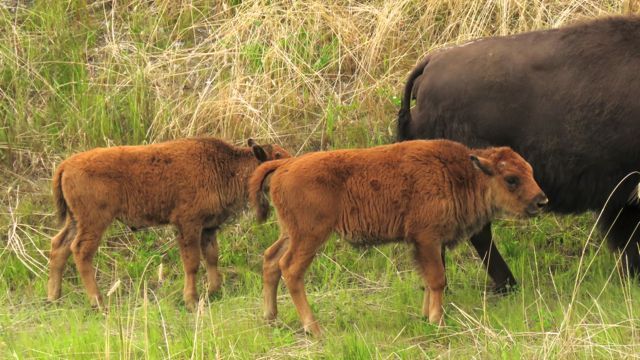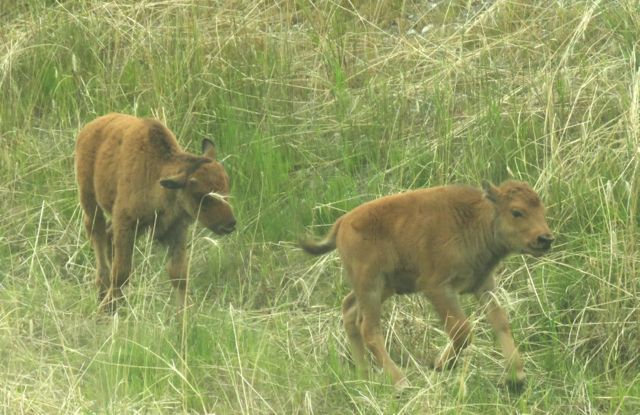 While I was watching these, a stone ram  strutted by on the other side of the road.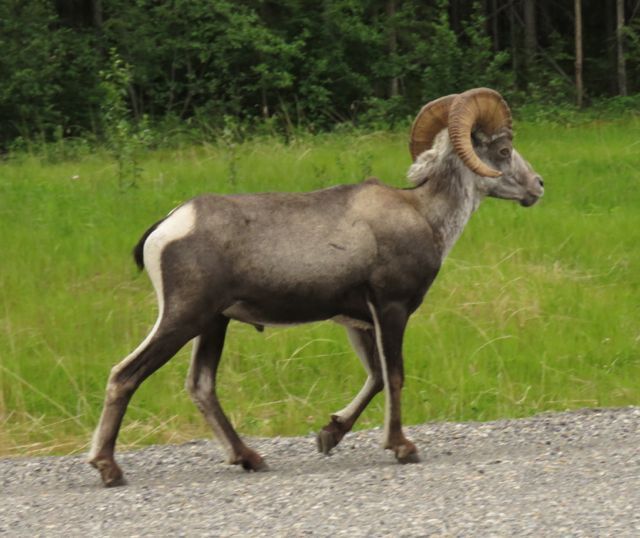 and soon I saw several moose,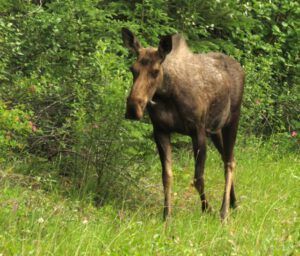 and even an elk.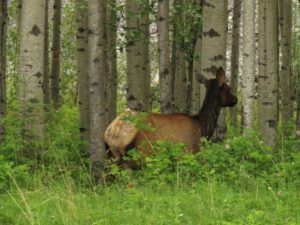 This naturally slowed my speed somewhat, and by this time the highway surface was pretty bad as well.  I was approaching the Northern Rockies Provincial Park at Mungo, BC .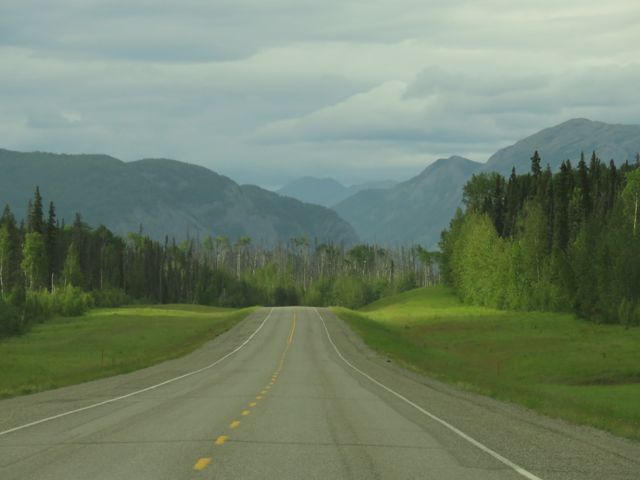 The scenery was very different to anywhere else I had been.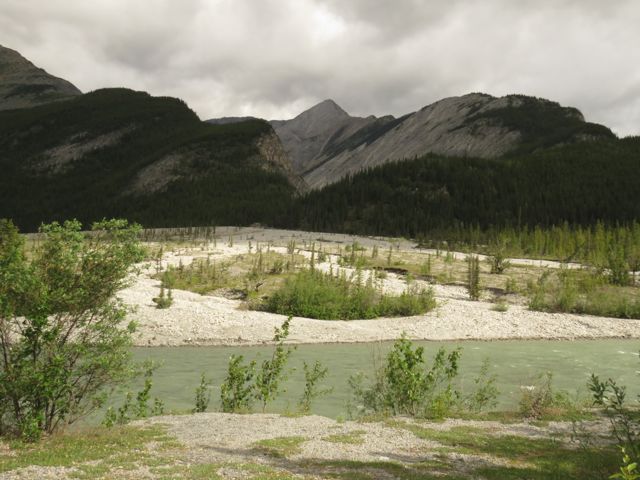 The wide gravel fans held a number of interesting species, a wine-coloured paintbrush,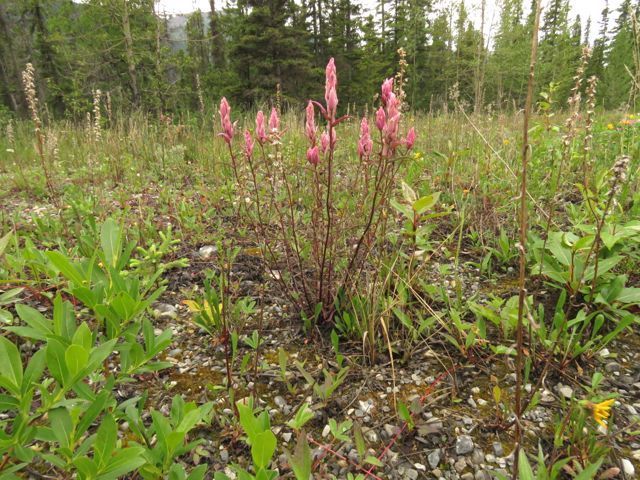 and a tall, small-flowered butterwort among others.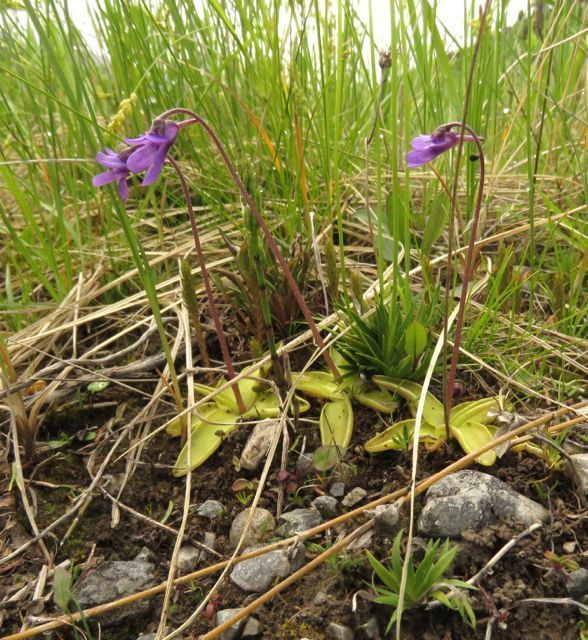 I also found what was probably an arctic aster.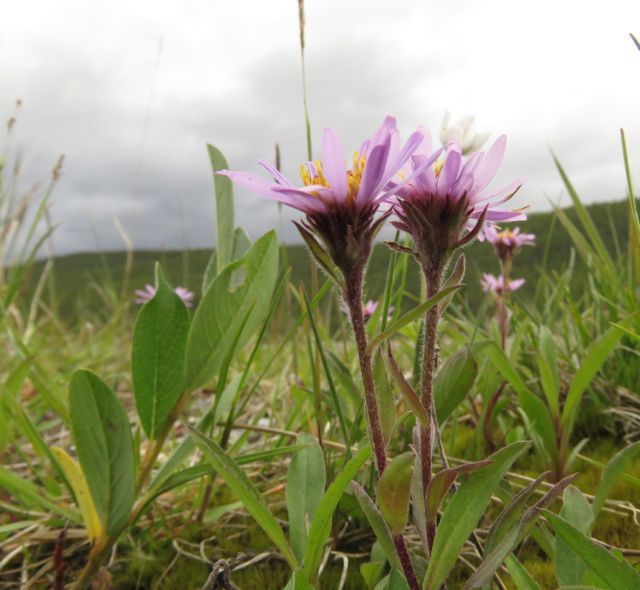 I did not have time to stay – it is definitely an area I will have to revisit.  But this is not a user-friendly part of the world.  Since I had entered British Columbia, there were plenty of pull-offs with litter barrels, labelled as rest stops – but with no outhouses.  There were no signs telling you the distance to the next gas station – as a result, one panics when one sees a resort with gas pumps in the park and ends up paying an exorbitant price.  I have never forked out so much money for gas in my life. The whole small community was geared to extracting ridiculous amounts of money from anyone who wanted to attempt to enjoy the place.  When I come back, I will be well prepared.
South of "Fort Neslon, the Alaska Highway – becomes monotonous. Fairly flat and fairly rainy, the only relief was clumps of utilitarian trailers used for oil camps.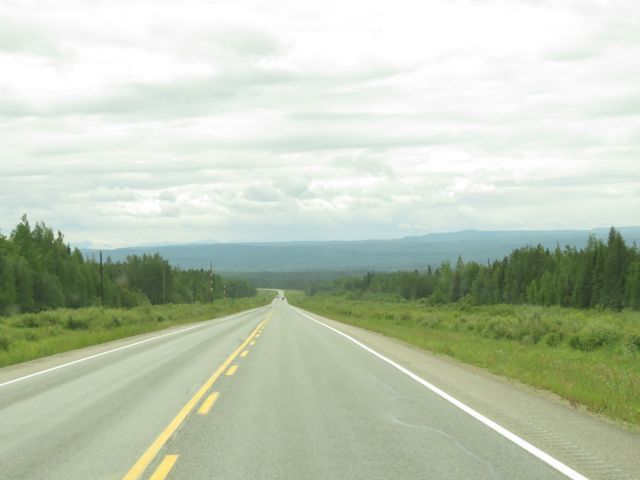 Still no outhouses, but now there was more indication of where the next fuel stop might be.  However, one could not always believe the signs.  Many of the gas stations were abandoned.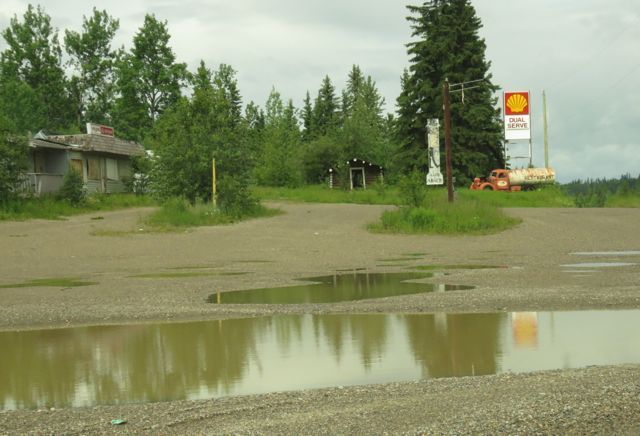 It has been a while since anyone used this pump.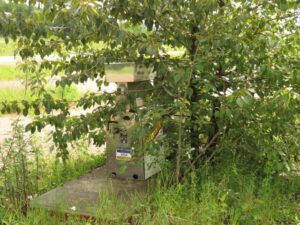 There was a lot of noisy traffic.  It was fast, and to me it was no different than driving on a freeway.  Hour after hour after hour. I found it exhausting and was vastly relieved to turn off just north of Fort St John and enter the beautiful Peace river valley, which apparently is going to soon disappear under a major reservoir of water.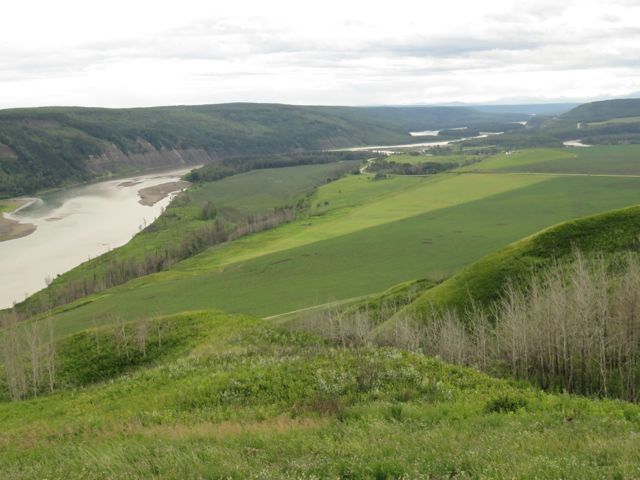 I eventually found a place to pull off – and no sooner had I parked when thunder rumbled and I was pounded by another violent storm.  It was still raining in the morning.  It was quite dark at night at this latitude and business hours reflected this.  Instead of "24-hour breakfasts," I had to drive as far as Chetwynd to find a place open.  The town would repay a longer visit in the future, for it boasts the most astounding collection of chainsaw sculptures.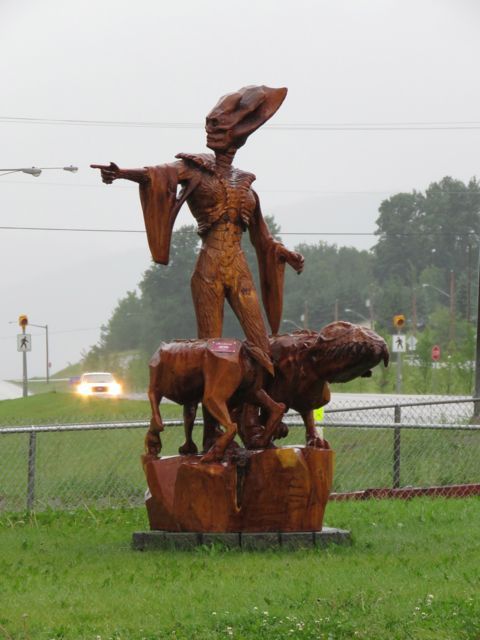 Soon I was approaching Prince George.  It is only 7 hours' drive home from there, and I could have made it the same day, but I had made better time than I had expected and decided to go east on Highway 16.  Just before Prince George, the roadsides displayed a lovely colourscape of flowers.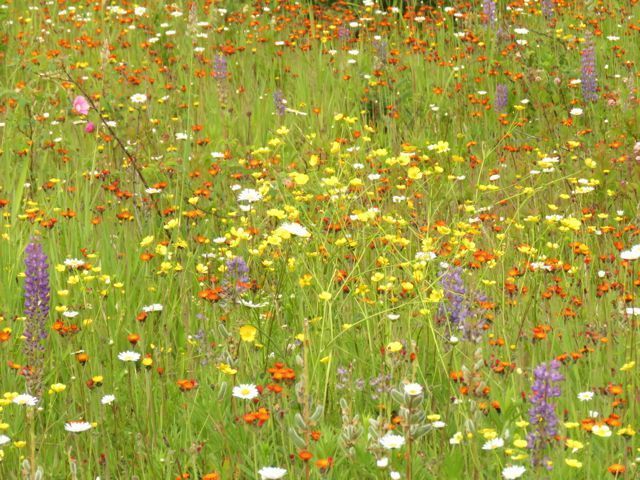 Unfortunately, almost all of these are introduced weeds, the orange hawkweed being considered a real pest.  This spiraea was a native, though.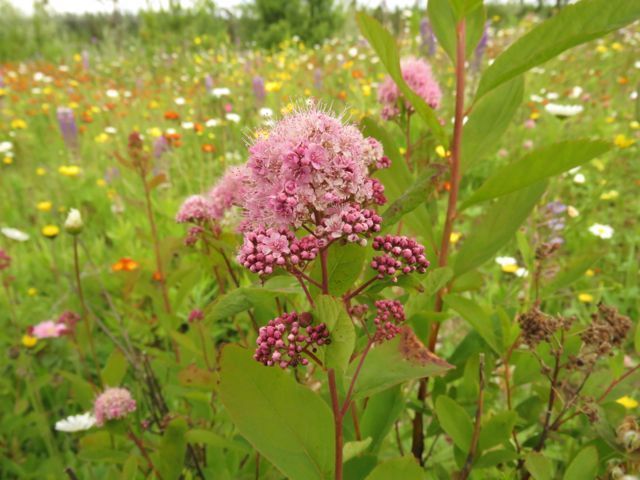 Going towards the Rockies meant entering a wet zone again and no doubt most of the mountains were hidden.  Valemount turned out to be on a par with Banff and Whistler – trying to attract a rich and hip class of tourist.  I had to drive quite a way south on Highway 5 to find a place where I could pull off the road and camp.
This is the seventh of 8 Yukon Journey posts.  I screwed up when loading them.  To access #8, press the left-had arrow saying "previous."