Actually, it was more like a winter shopping trip as I am not involved a great deal with Christmas.  Something might come up, but otherwise I do not plan to go to town until late February when I receive a much-needed royalty cheque.  I timed the trip to co-oincide with a small craft fair at 108 Mile House – and picked the worst driving of the year.
The weather had turned mild with thaws during the day.  At this time of year that means excessive gloom.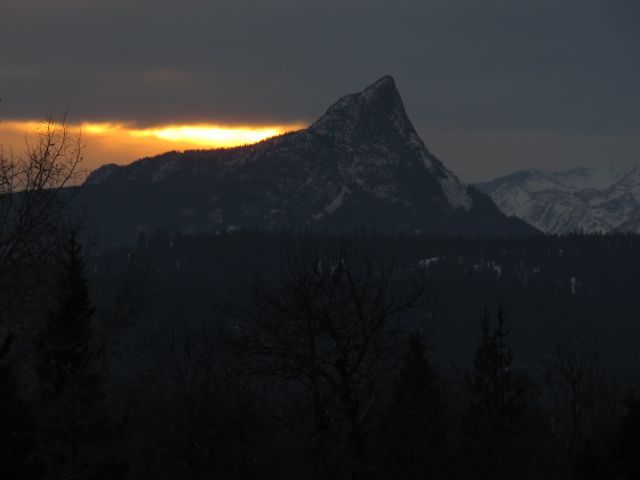 The forecast was for rain overnight with a sharp drop in temperature by morning.  Classic black ice conditions.  By Monday, the day I was due to return, it was supposed to snow and get much colder.
I left in the dark on the Saturday morning shortly after 4.30 am and kept my speed to 50 klicks (instead of 100).  It was about minus 4C.  For two and a half hours I saw no moving creature except a fox.  The Chilcotin is a long and lonely road in the foggy winter dark.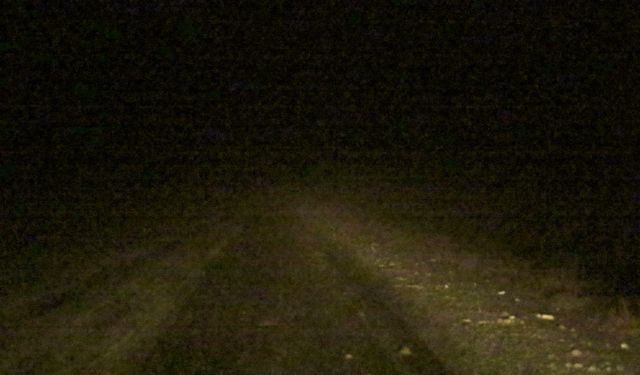 When daylight eased reluctantly into the world it was hardly any better – still icy, and still foggy.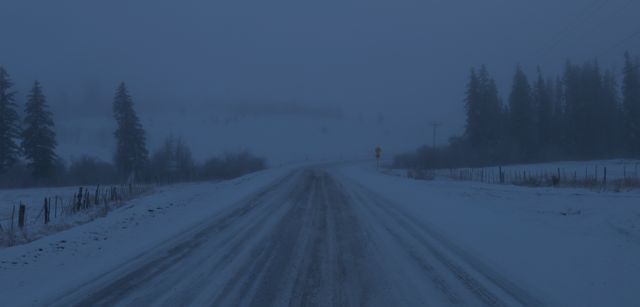 Then I had an amazing bonus.  During the Yukon gold rush, a man called Lee decided he would drive a bunch of cows to the miners and make a fortune that way.  He started from Salmon Arm about 300 km south, and the last cow died at what is now known as "Lee's Corner."  One climbs a long hill to get there, and I arrived right at sunrise.  I had also driven out of the fog.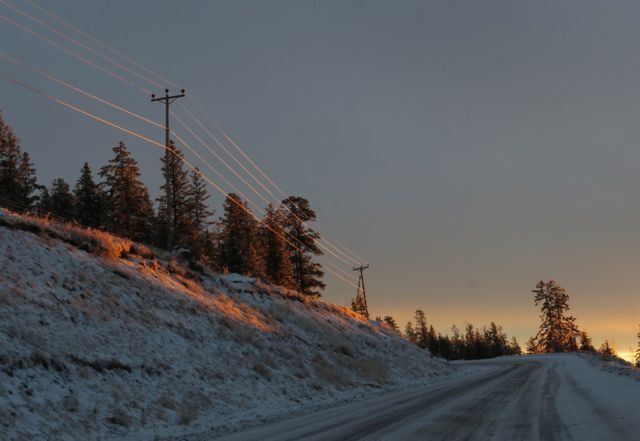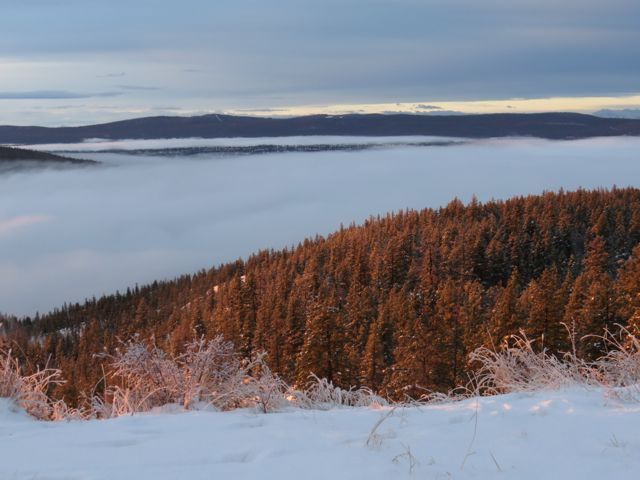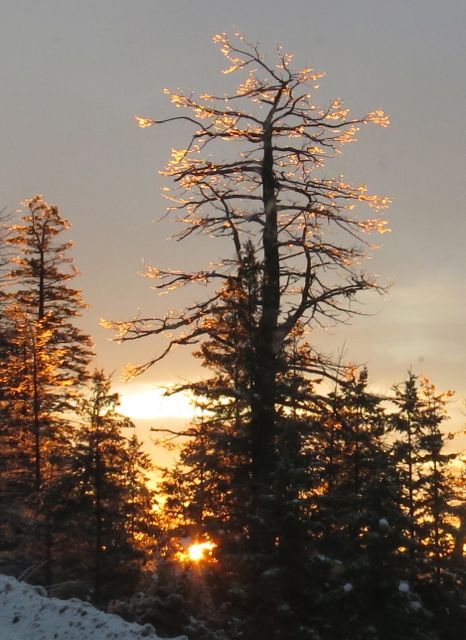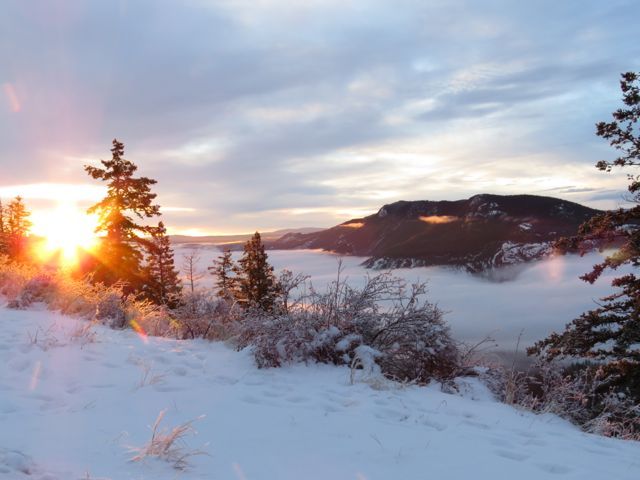 What an unexpected treat!  The slot between the clouds was narrow, and I was soon plunged into fog again.  Instead of about three and a half hours, the journey took nearly five.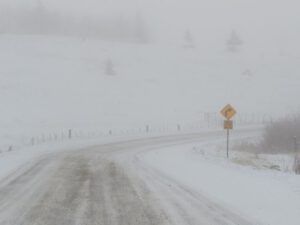 I believe Sunday was sunny and very warm, but I was inside at the fair all day (where I sold reasonably well.)  Monday, I had to leave at 6.30am, in the dark again.  Now the temperature was minus 15C – and it was snowing and blowing a gale.  Both windblown and falling snow united to form a complete swirling, shifting carpet of snow over the road hiding any tracks, lines, or edge of the road.  Big trucks were thundering by.  It was very disorienting and scary.  However, daylight came soon and visibility improved.  I was only about 10 minutes late for my appointment at the garage but that did not matter as most of the employees were late, too.
The rest of the shopping went well enough.  The wind was bitter, though, and when I drove back onto Highway 20, the snow was still blowing, although the road was now dry, thanks to Sunday's thaw, and visible.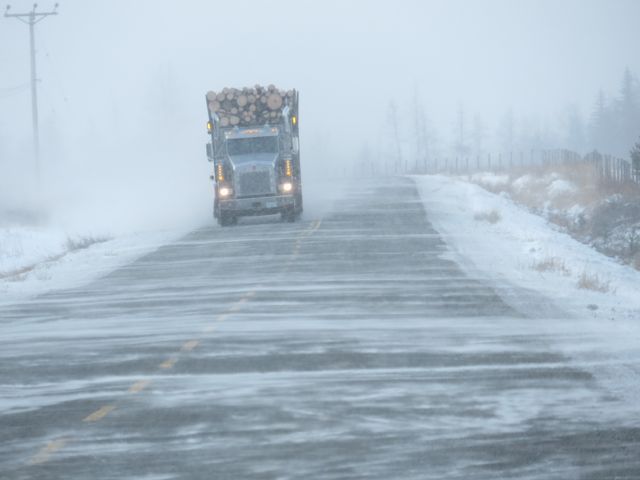 About an hour and a half out of Williams Lake, I drove out of the wind so conditions were not too bad although the temperature dropped a little.  Near Tatla Lake, a bull lumbered beside the road.  The cows should have been rounded up long ago but at this time of year, bulls get off on their own and are hard to drive.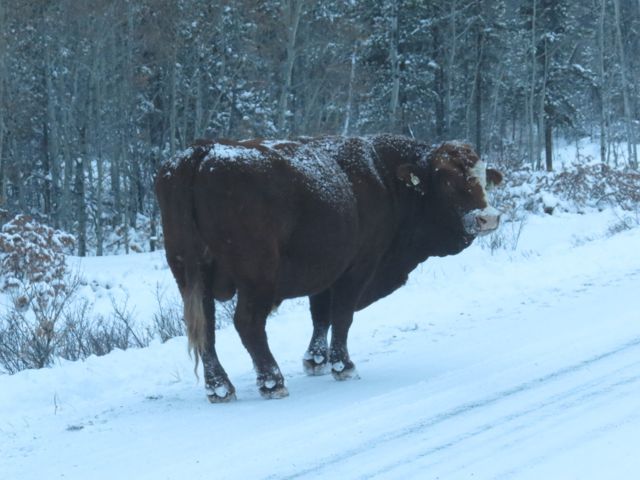 This sign means I have 40 km to go!  Looks like I will make it home before nightfall.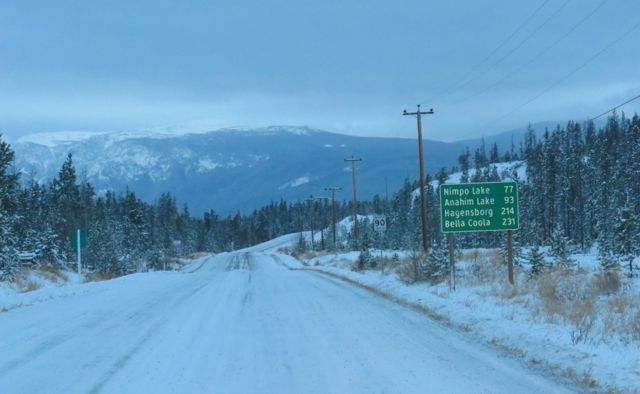 It was deep dusk when I drove into the yard.  I love my stone heater during the winter, but it takes a long time to warm up when it has been left for a couple of days.  It was now about minus 15C  Fortunately it was still plus 5C inside and I could turn the plumbing back on right away.  (I had left a couple of big bowls of water on the counter, figuring if they did freeze, the flaring sides of the containers would prevent the ice breaking or buckling the shell.)
The next morning looked like this.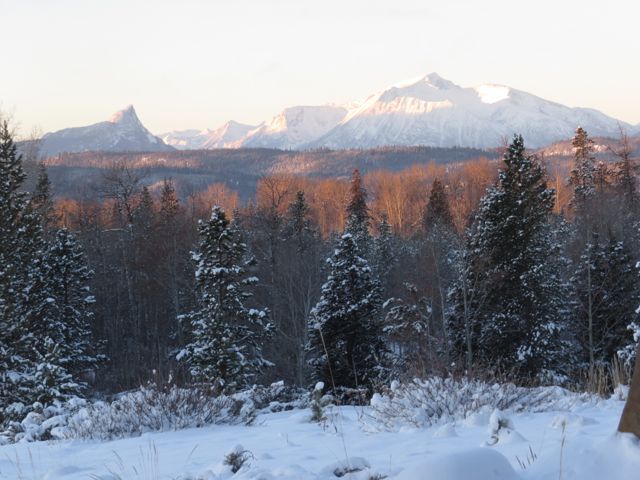 And the one after (which was yesterday), looked like this!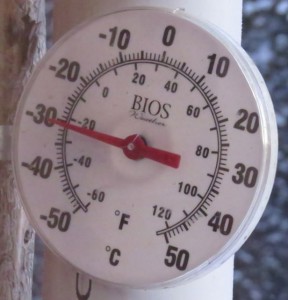 And it is supposed to get even colder before we are done.
Should you wish to comment, click on the title and scroll to the bottom of the new page.