A week before the housewarming party, my new neighbours, Jade and Ryan, arrived with the yurt.  the whole thing fitted into the back of a short-box pickup truck.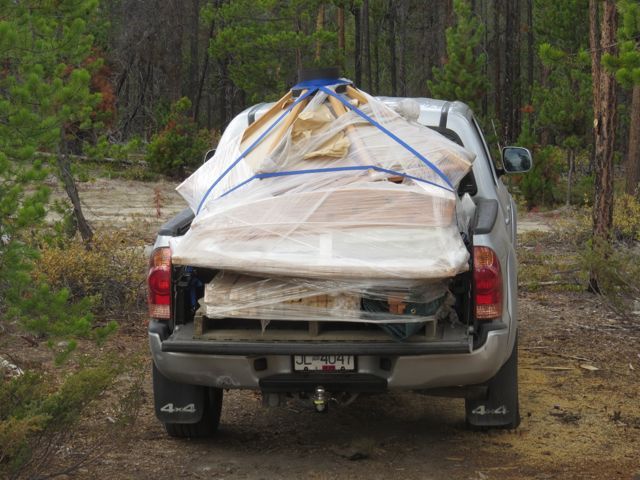 They might have started to put it together earlier, but we had an unexpected day of heavy rain.  More rain fell in 12 hours than has come down all year. That evening it cleared enough to start work.  (Like my greenhouse, the structure started with the doorway!)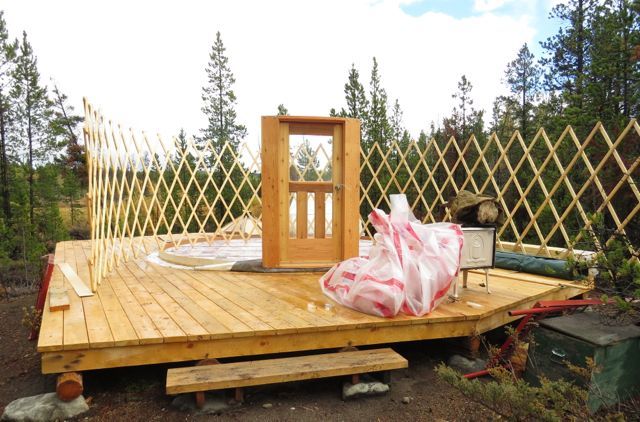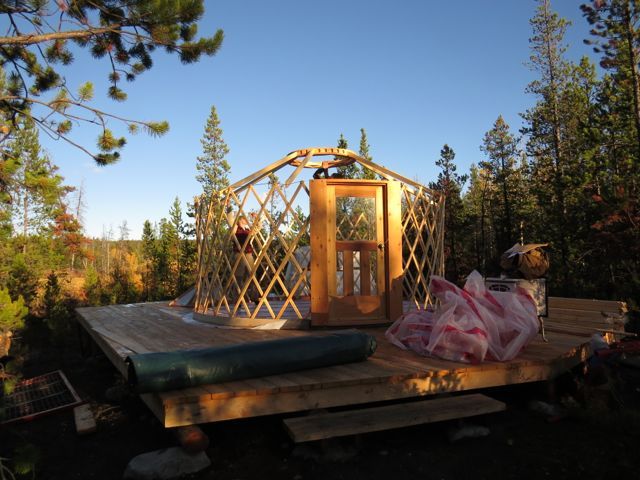 It was very cool the way it all fitted together.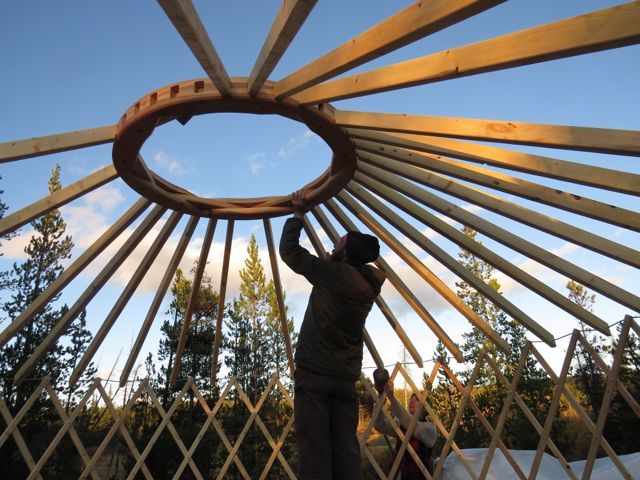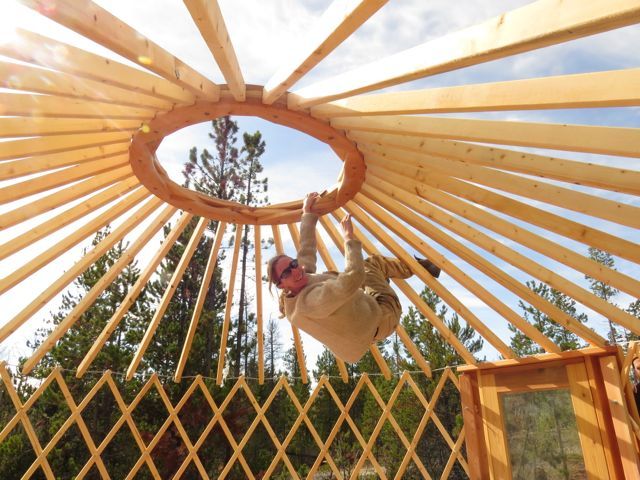 The following day, they started on the cover.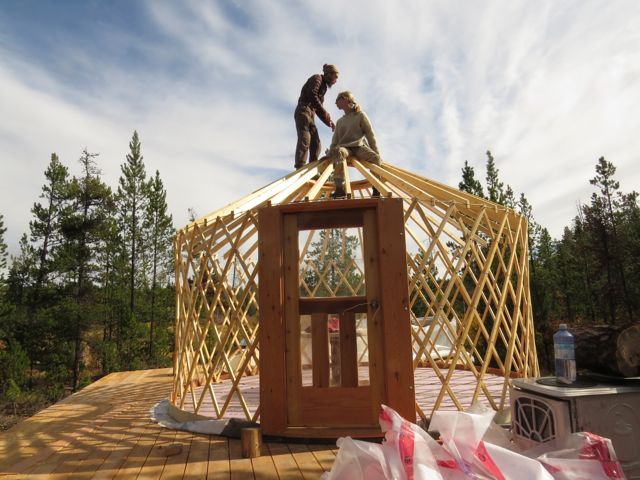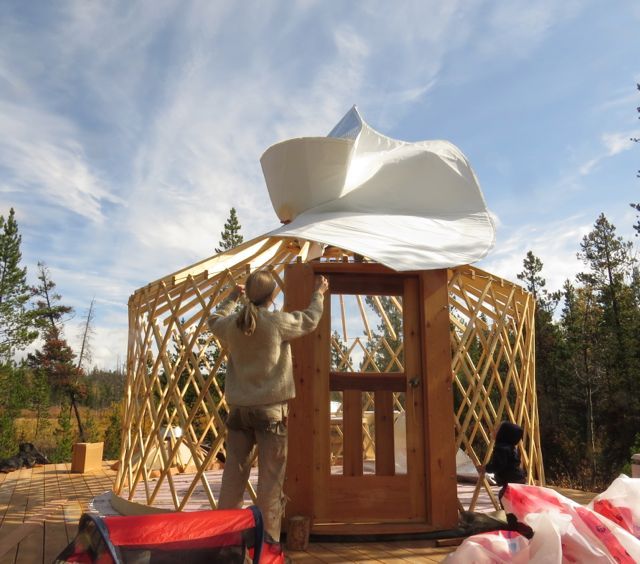 I had ordered a 3-season yurt.  It came with a white lining attached to a silver insulation layer.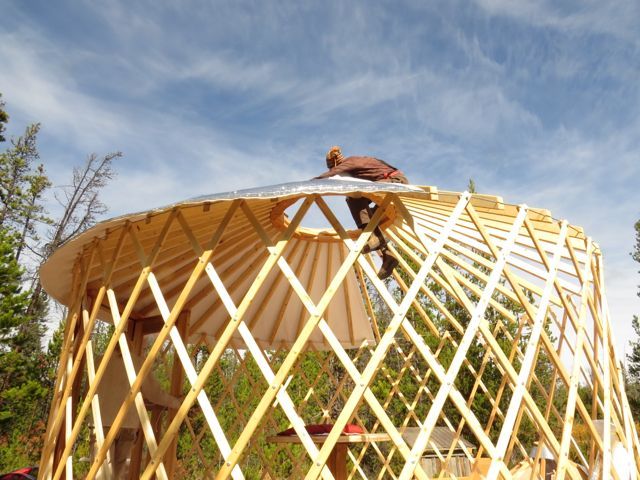 The outer cover was then placed on top.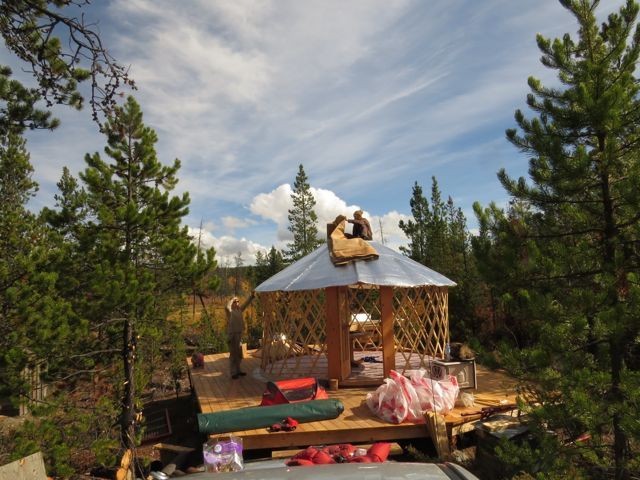 Everything was tied or slotted into place.  No nails or screws were used except around the doorway.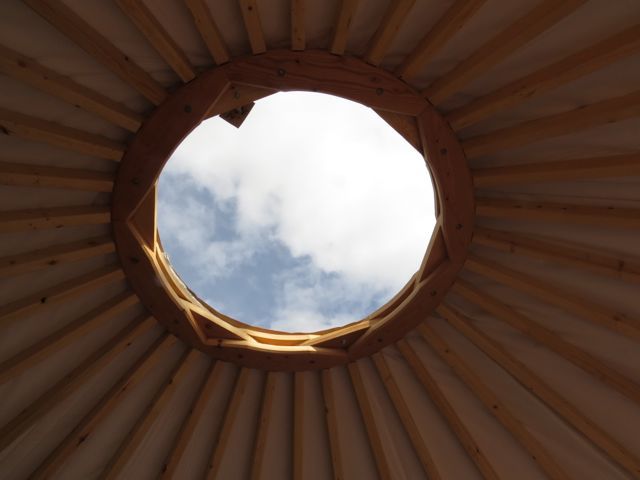 I then went away for a couple of days (more of that in the next post) and arrived home in time for the housewarming party.  A recently received an email stating that the writer was sure I would put my party guests to work – and I did.
First to arrive was Betty.  She helped Jade install the stove and the chimney.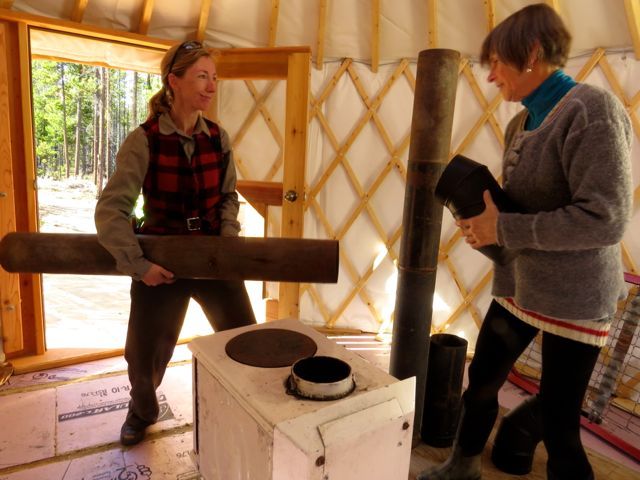 Unfortunately, I had been told that the hole in the cupola that sat on the roof was for a 6″ chimney, and that is what I had.  However, it was 8″ wide, so we had to adapt the 8″ cover to provide a support.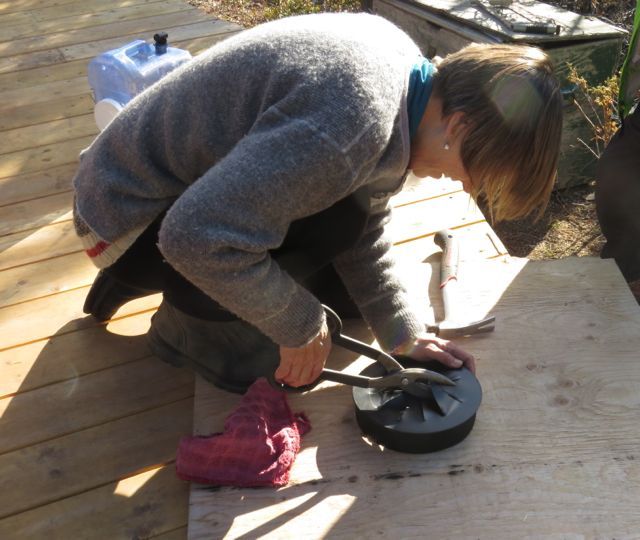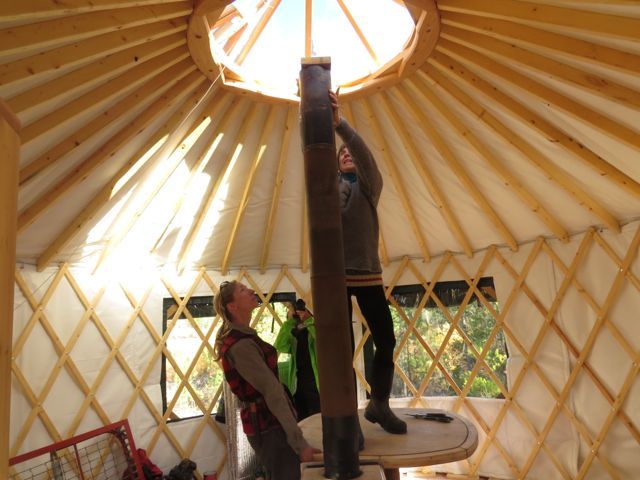 It was tricky getting the pipe through the top of the roof. Jade has her feet hooked in the straps that rope the yurt down in case of wind.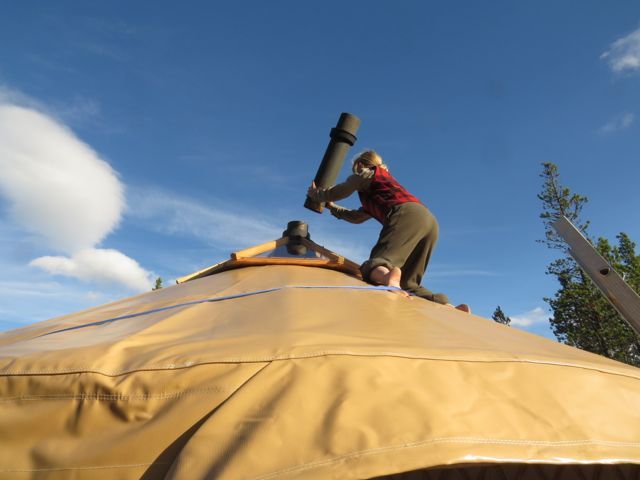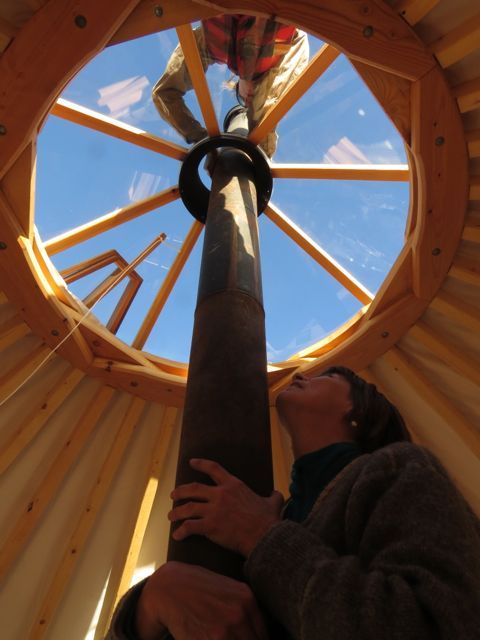 And there it is.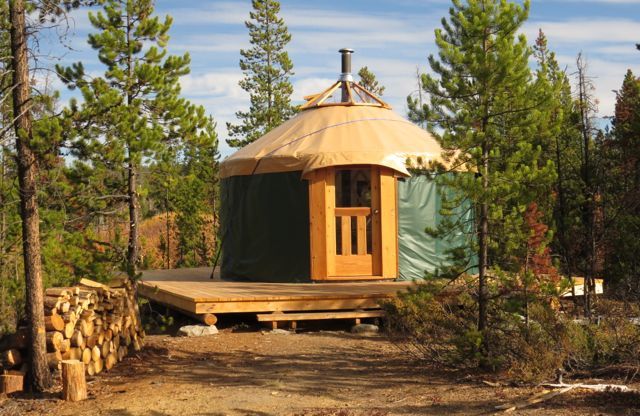 Betty was, very deservedly, the first person to sleep in it!  (The floor still has to be finished.)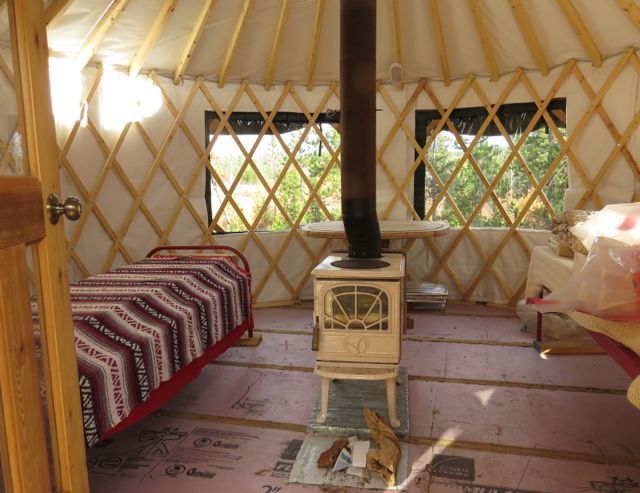 However, Betty was not the only worker/guest. Regular readers of the blog and my books may remember the post: Super Sarah, Wonder Woofer.  She has worked with me several times, right from the age of 19, and her father, Bert Gregersen, did the original wiring of my house.  Who better to hook up the solar panel that Jimmy and I erected, and install lights in the yurt?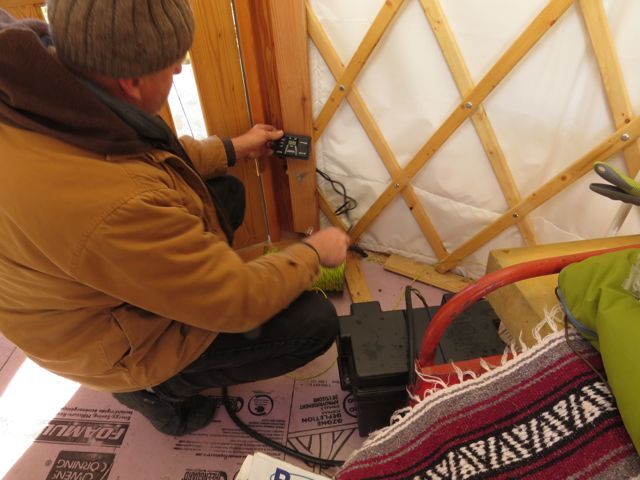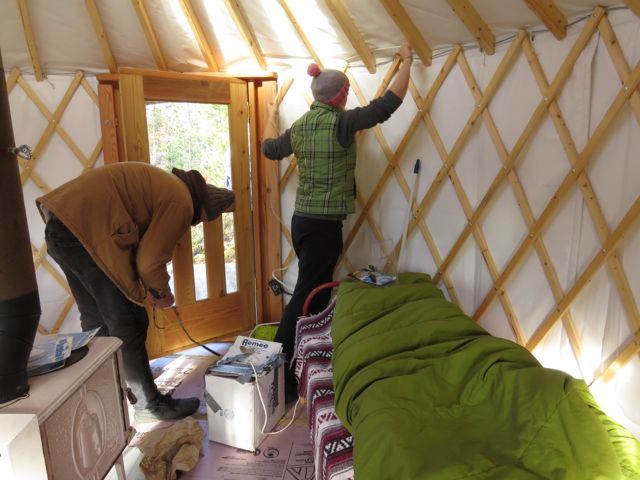 Thank you, everyone!