I took Caitlin to the Anahim Lake Rodeo.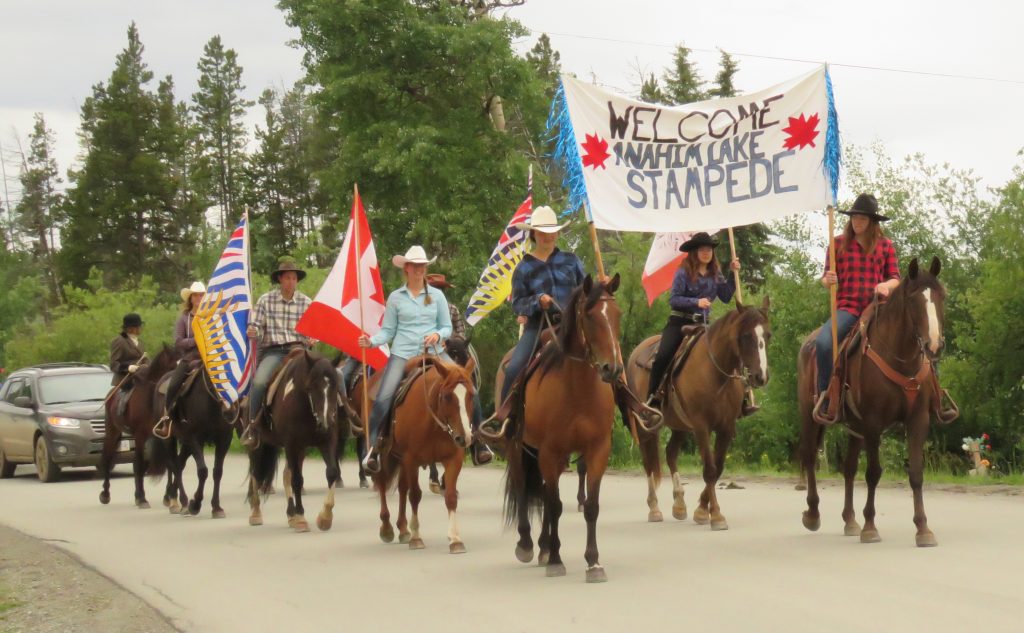 The parade had quite a few floats this year.  Here is Tolamy Acres, the people who operate the fantastic greenhouse near Anahim Lake airport.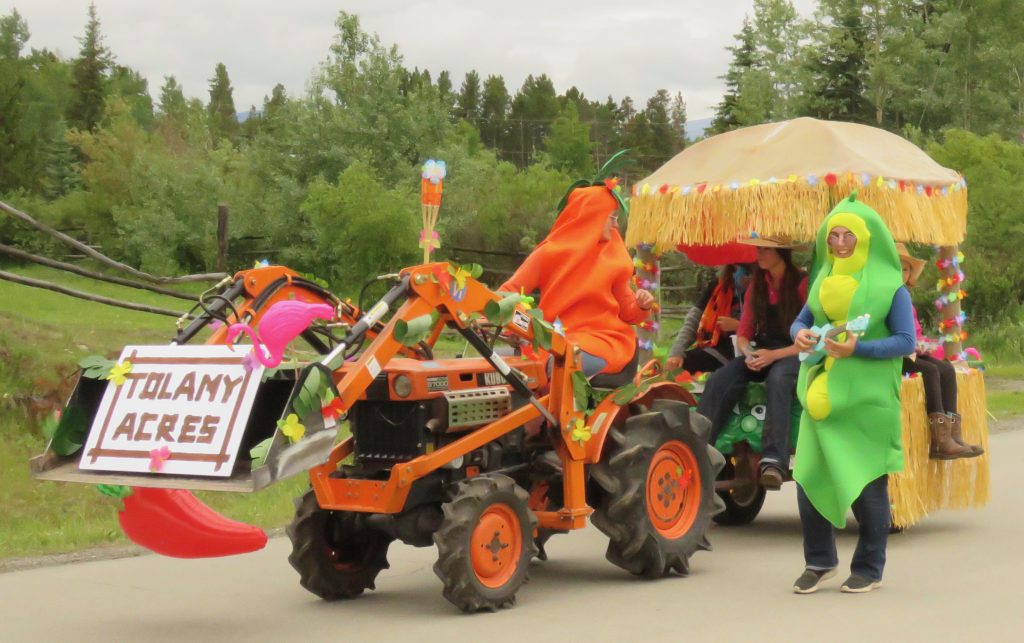 And, for a contrast,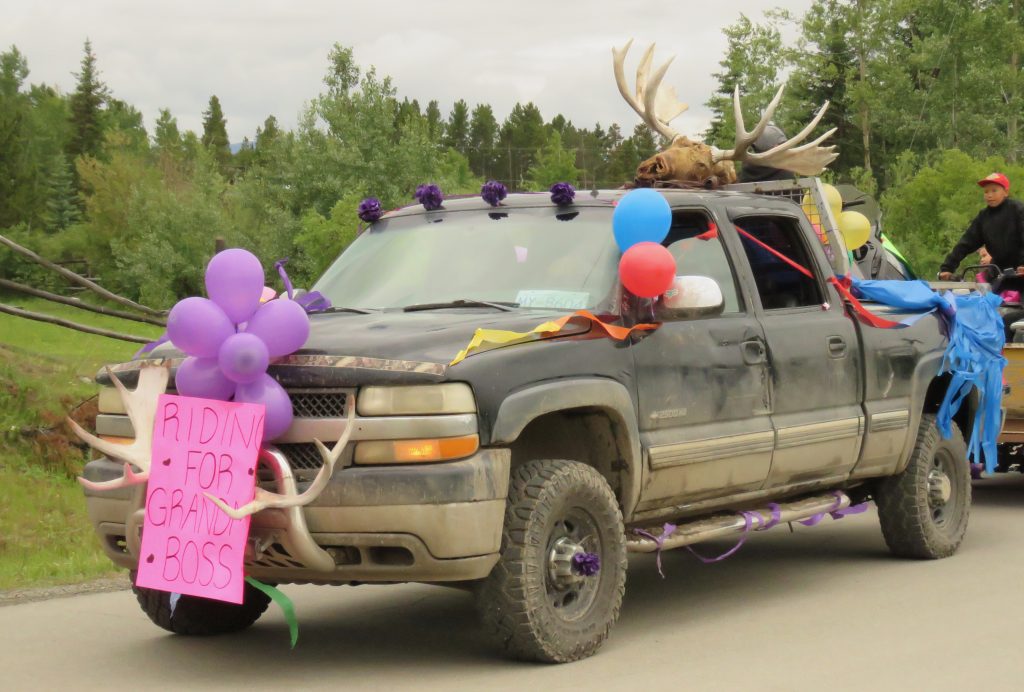 Kids' fancy dress was also represented.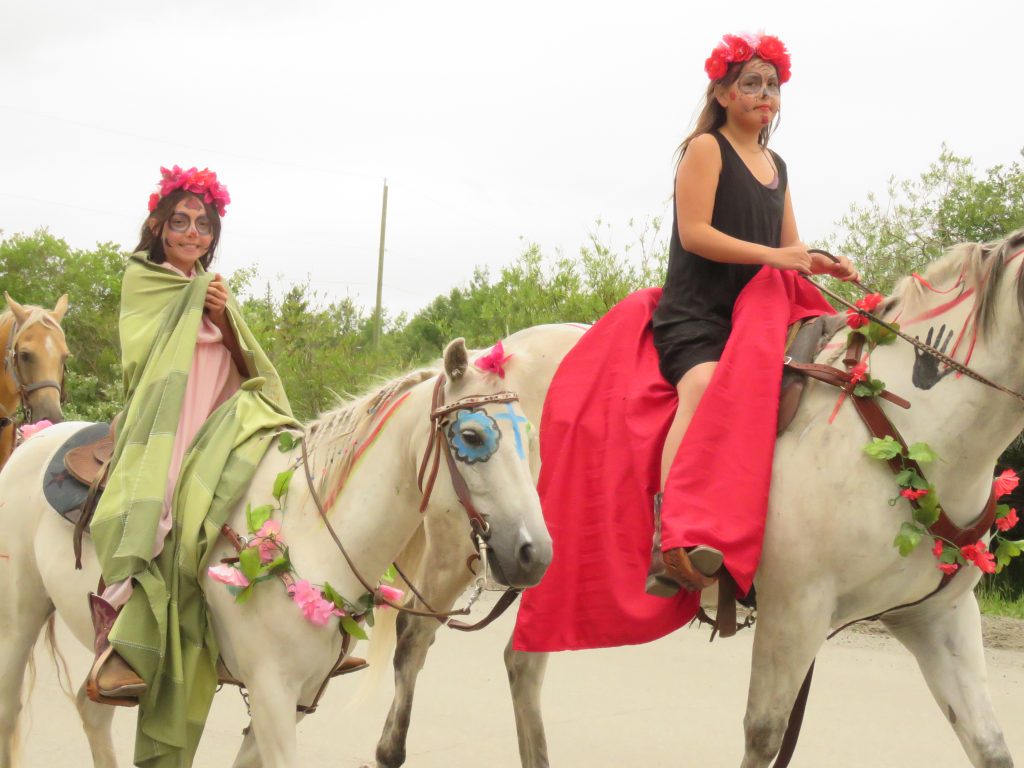 The first event was bareback riding.  Quite a few entries this year and many stayed the full course.  Riders are marked on their riding skills (they must use one hand only), but also on how well the horse bucks.  A placid horse will lose them points.  Their points are accumulated throughout the summer at various rodeos.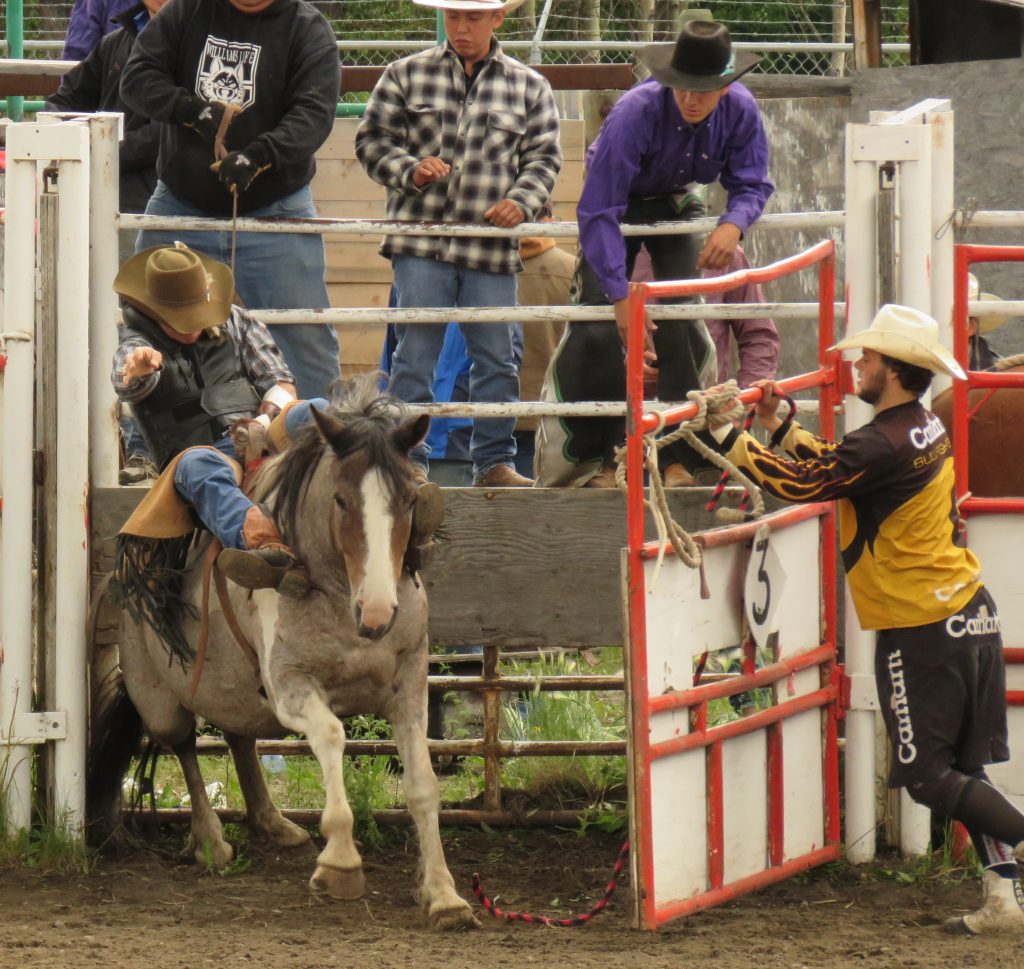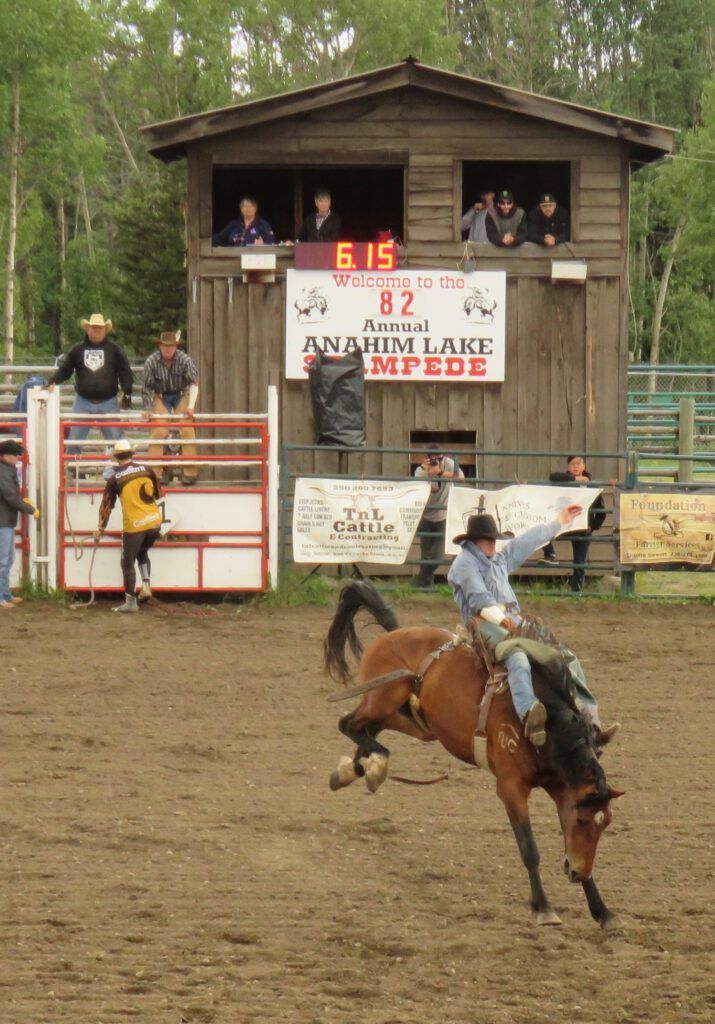 Saddle bronc was next.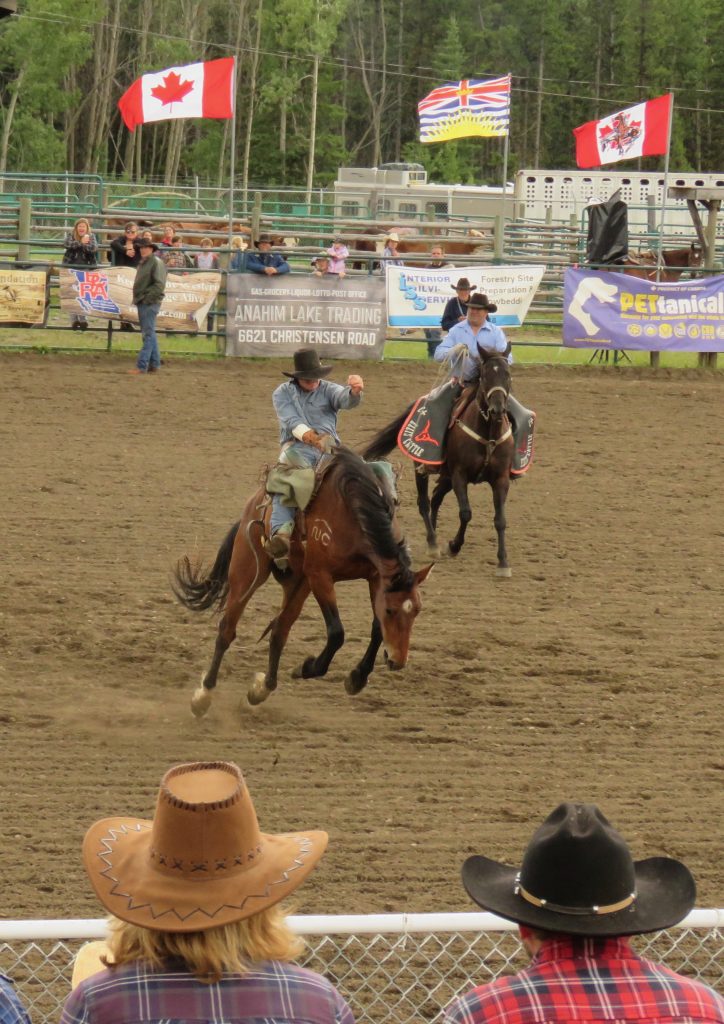 Whether you last the course or not, you still have to get off.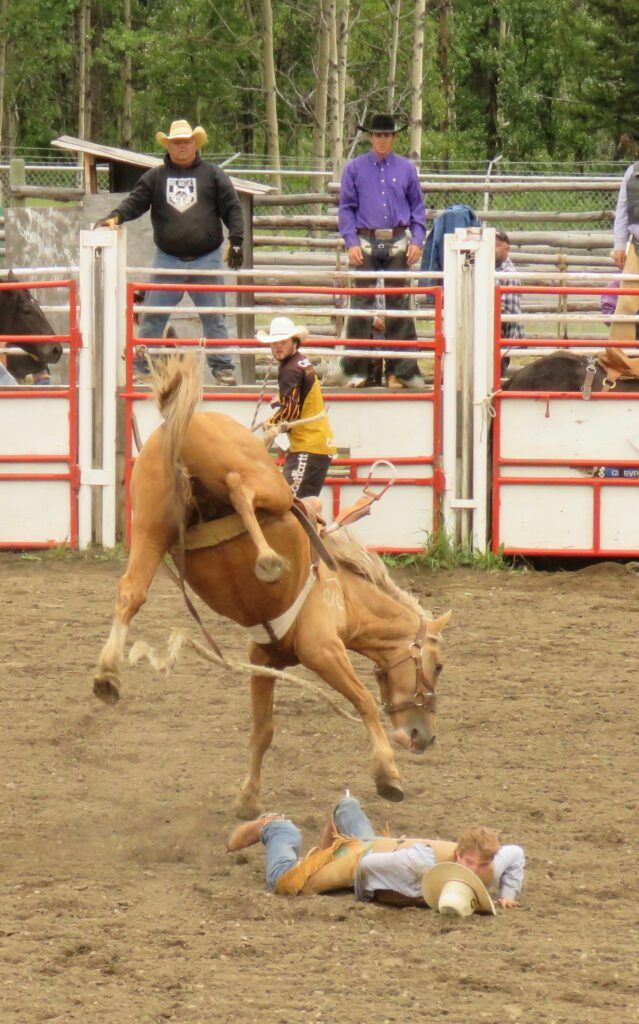 When you are up there, it is a long way down!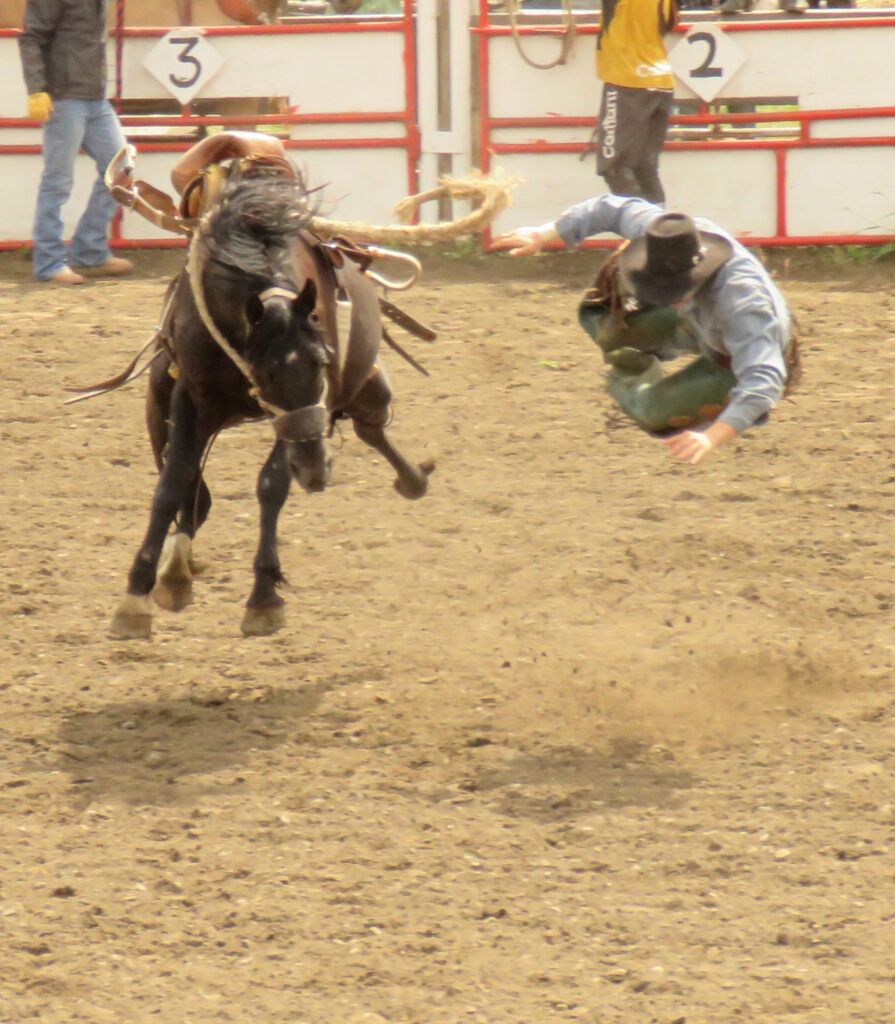 Lady's goat tying was next.  It is necessary for the horse to run past the goat.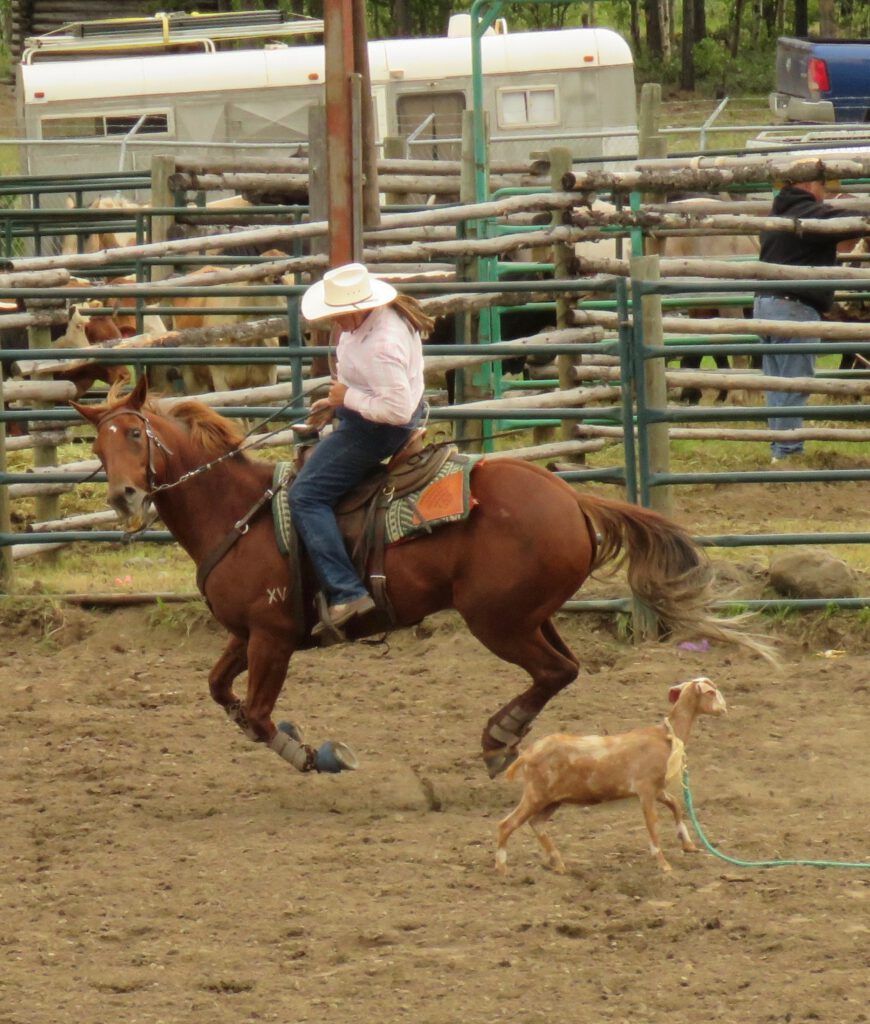 The rider has to secure 3 legs and the goat must stay tied for 6 seconds.  This poor goat looks resigned.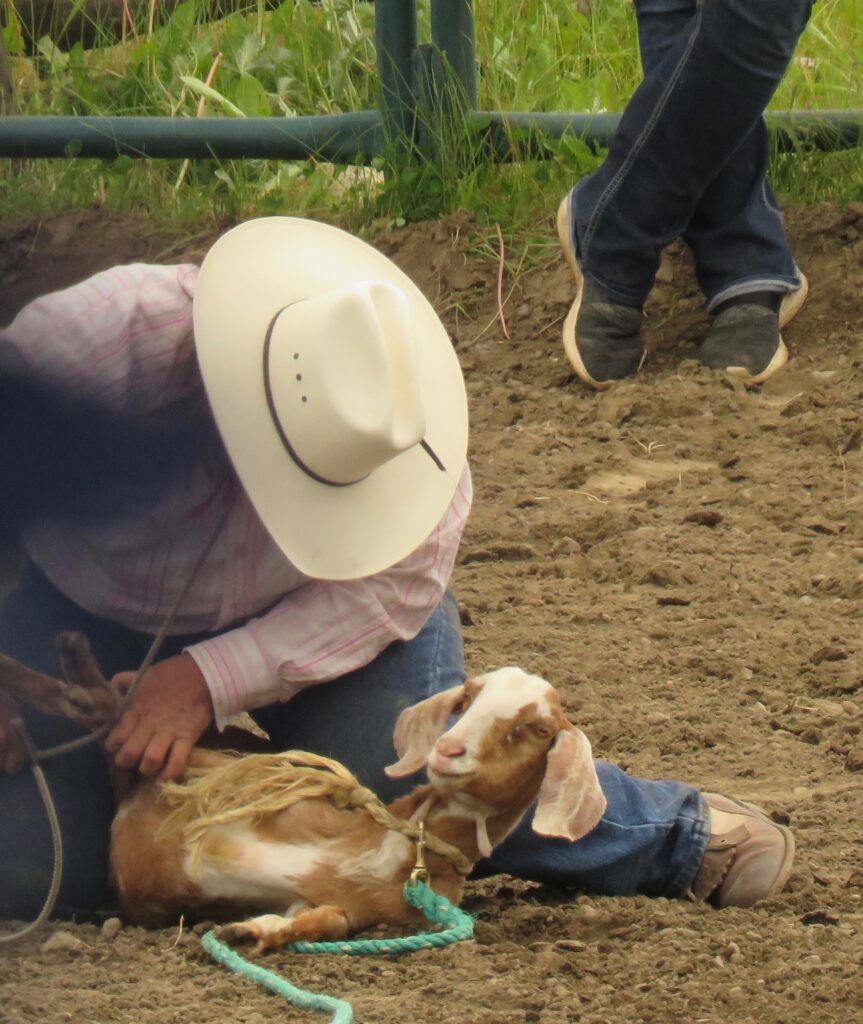 The little kids have to tie a ribbon on the goat's tail.  Mum is pointing the kid in the right direction.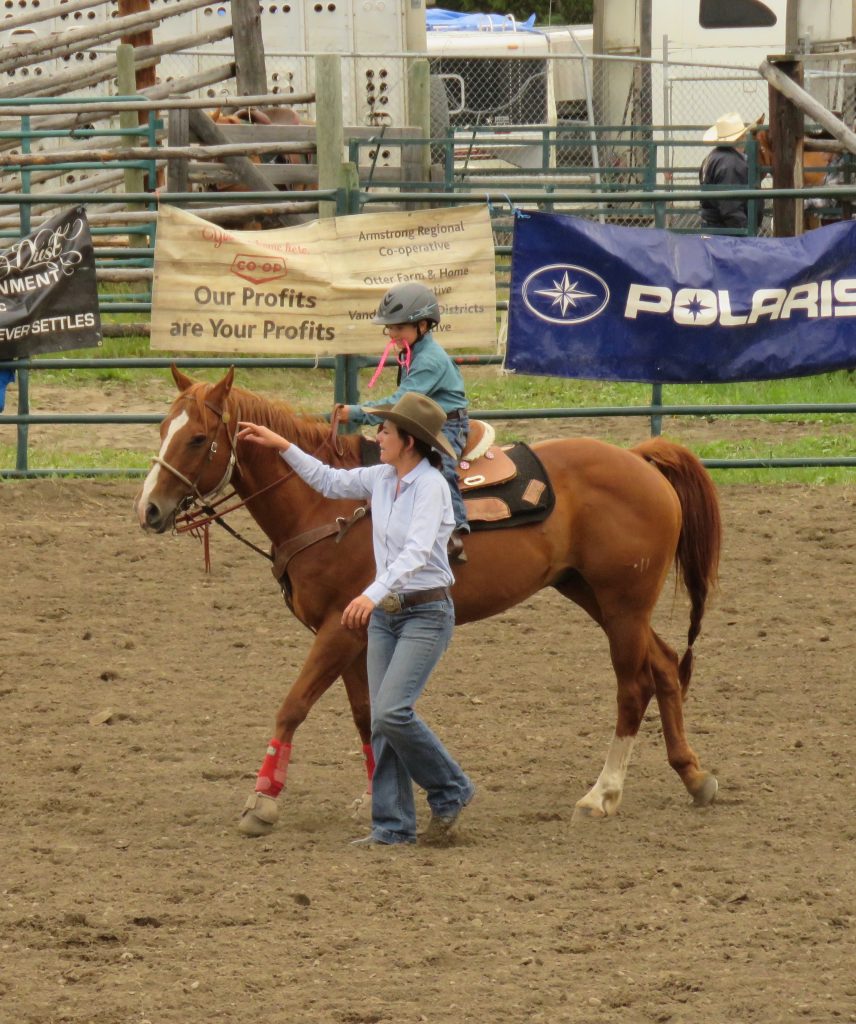 He has to slide off his horse, straddle the goat …  And success!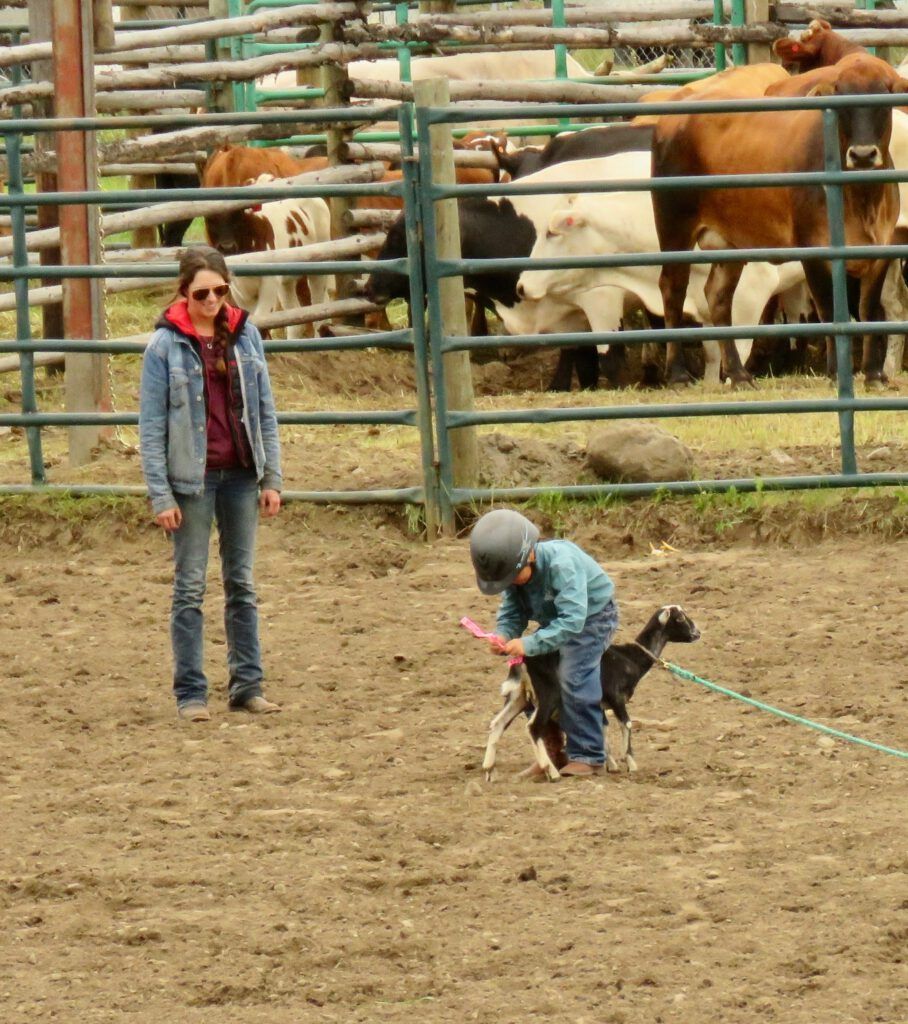 Cow riding is for the less experienced competitors – often teenagers.  They are obliged to wear helmets, and are allowed to hang on with two hands if they wish.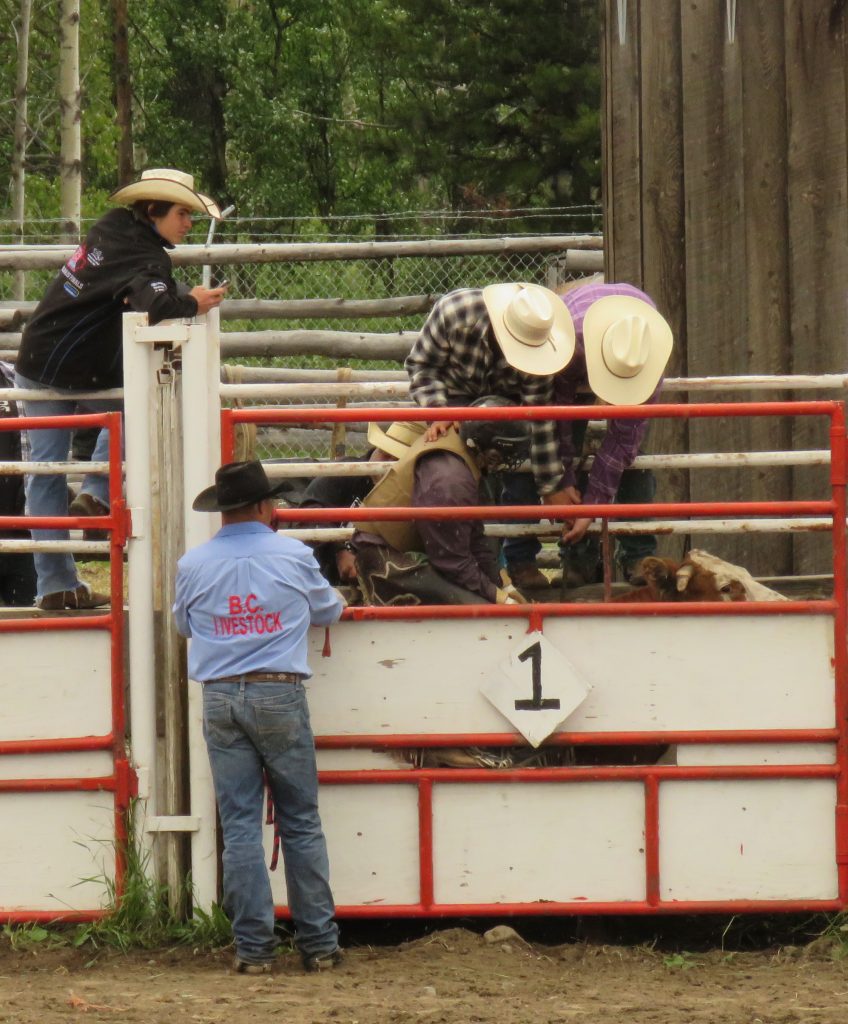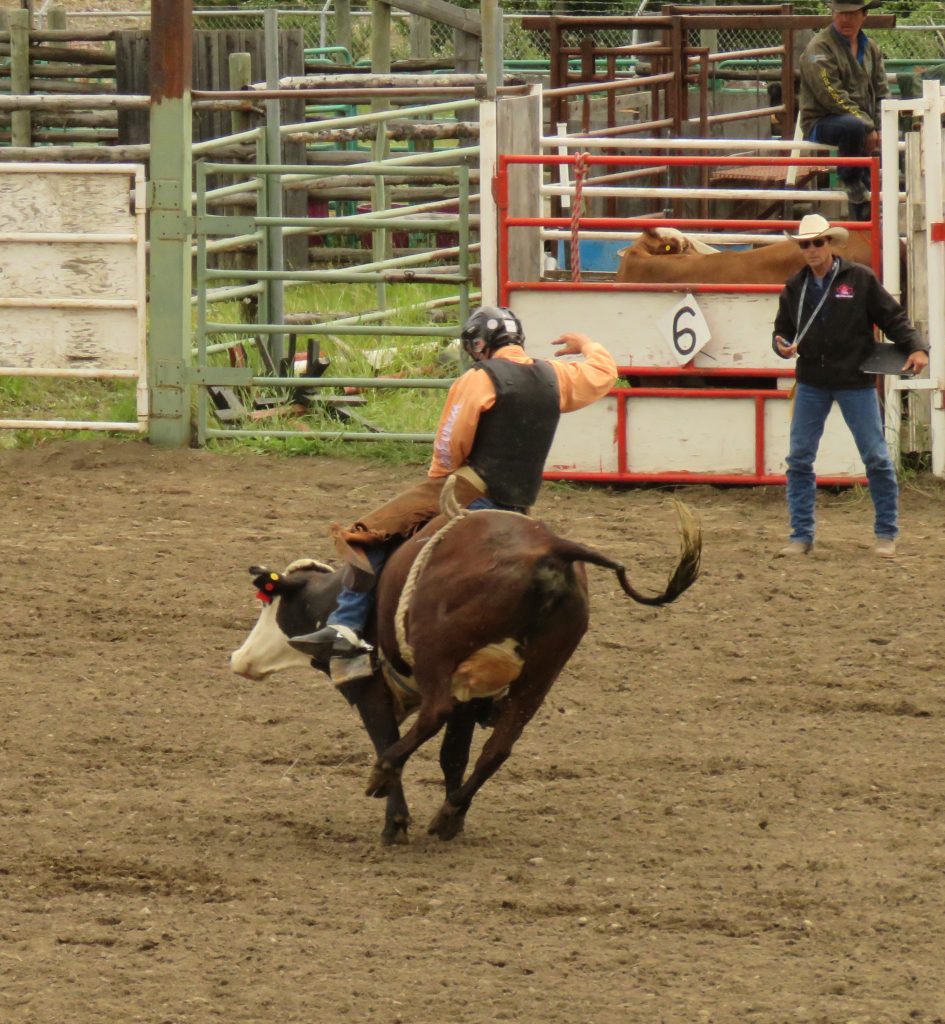 Wild cow milking is always a good laugh for the audience.  The teams (of three.)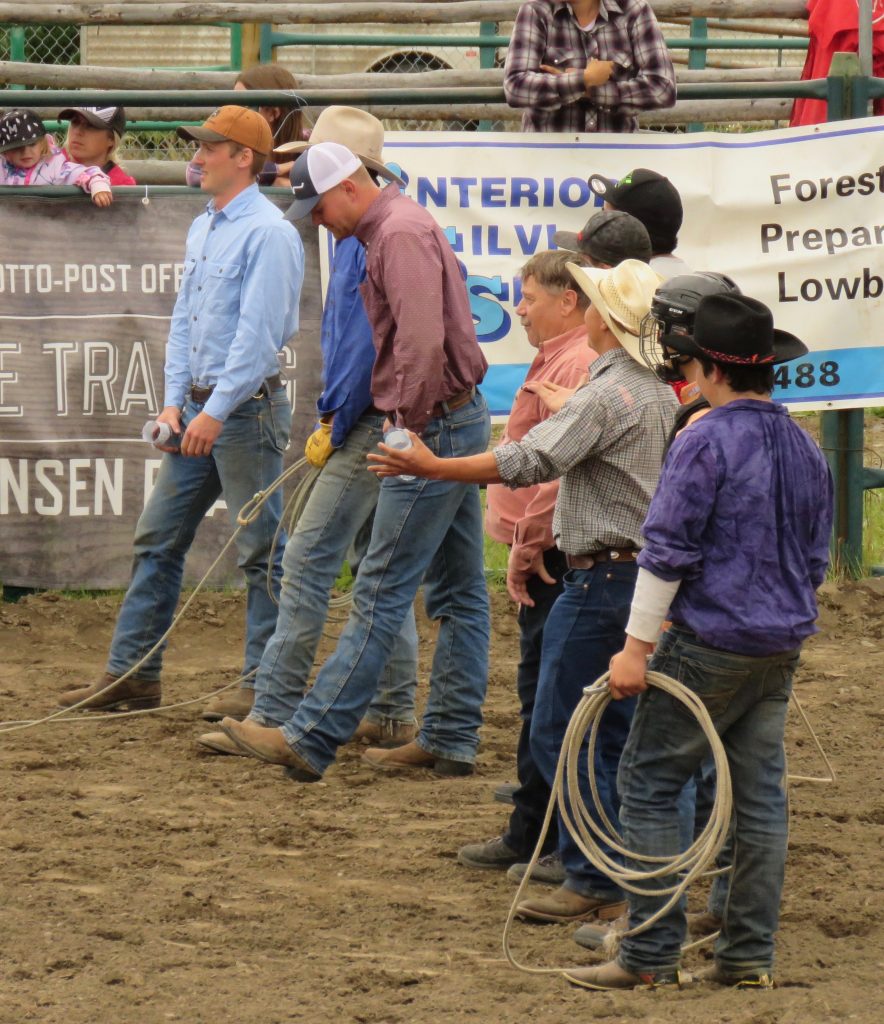 The cows.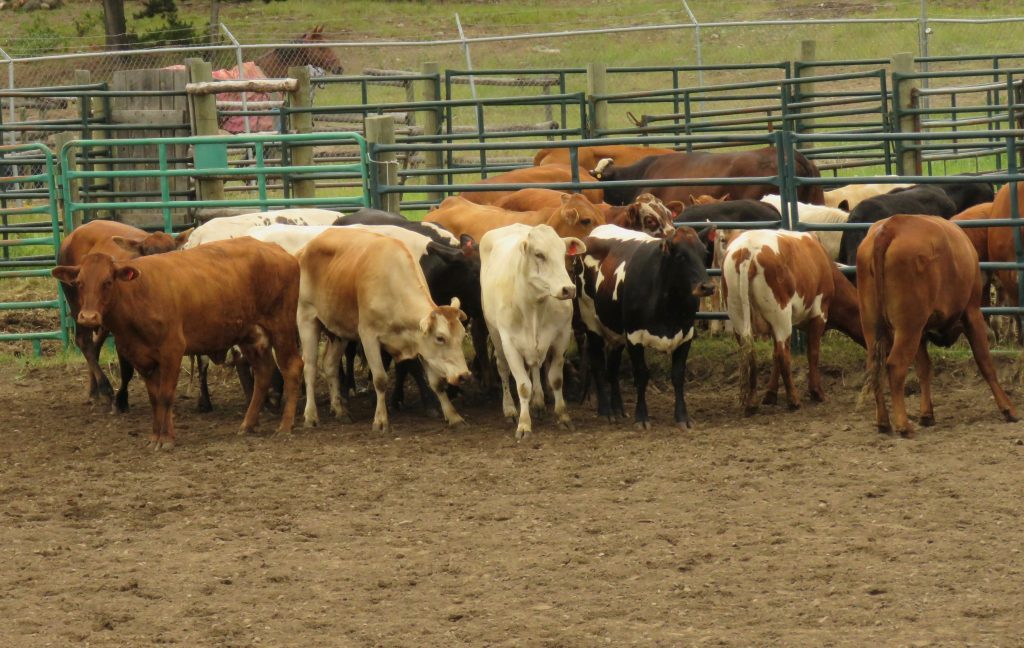 None of the contestants could run very fast so the cows outwitted them for a while.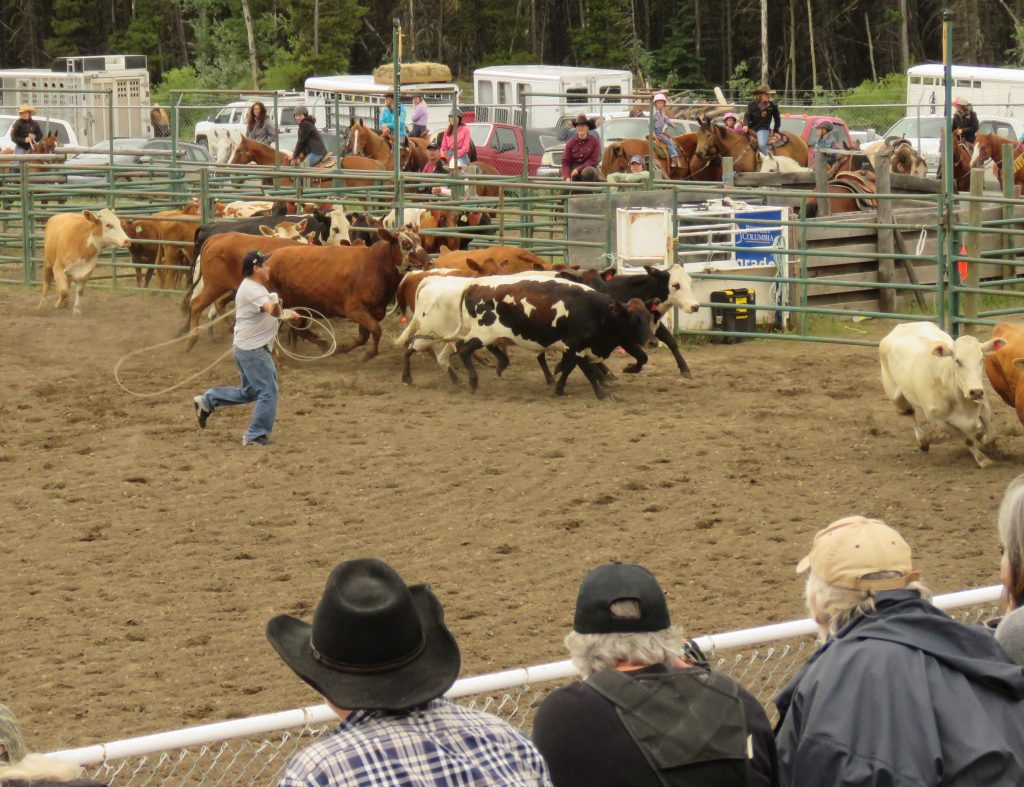 Finally…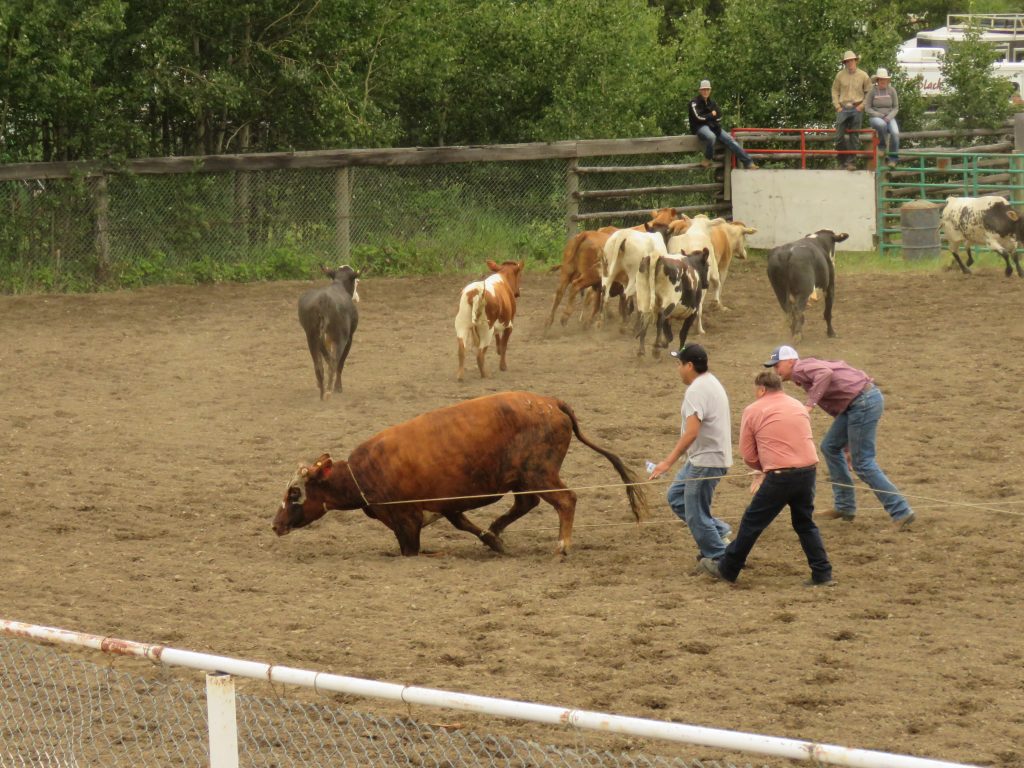 But that did not mean it was going to be easy….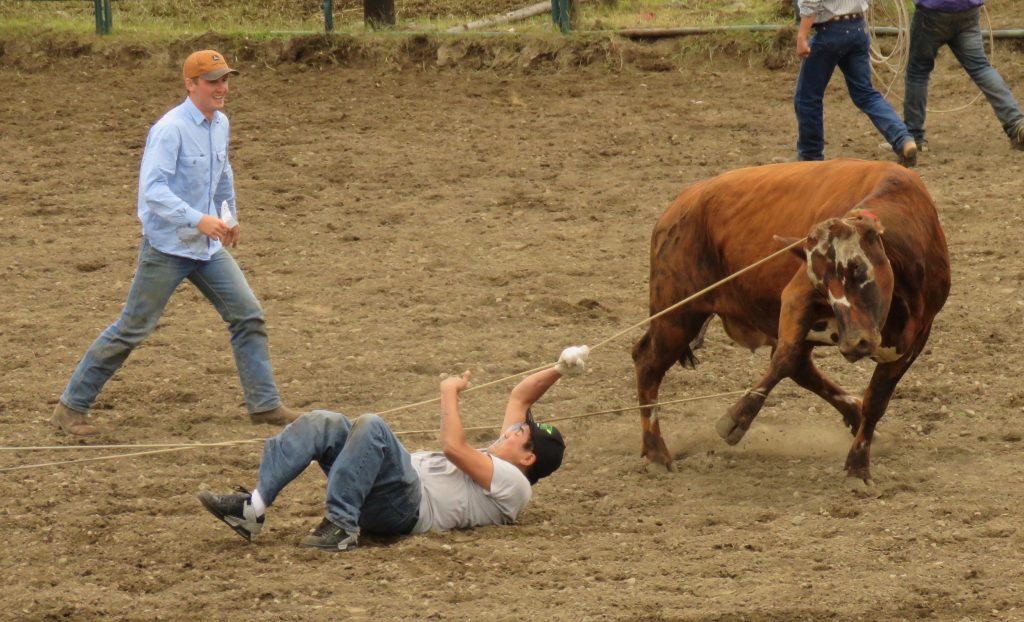 But at last a squirt or two of milk was obtained!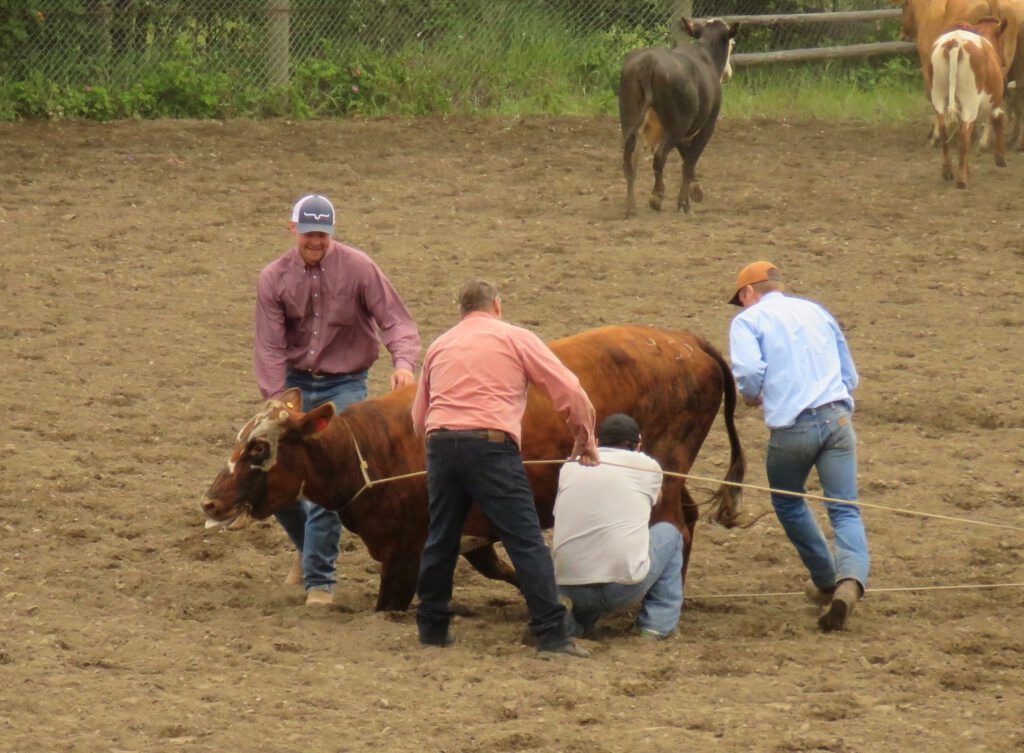 Barrel racing was next, but before it they raked the arena.  The patterns were very Zen.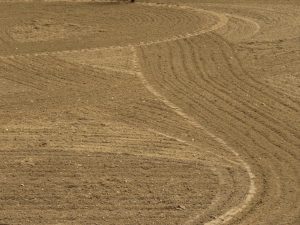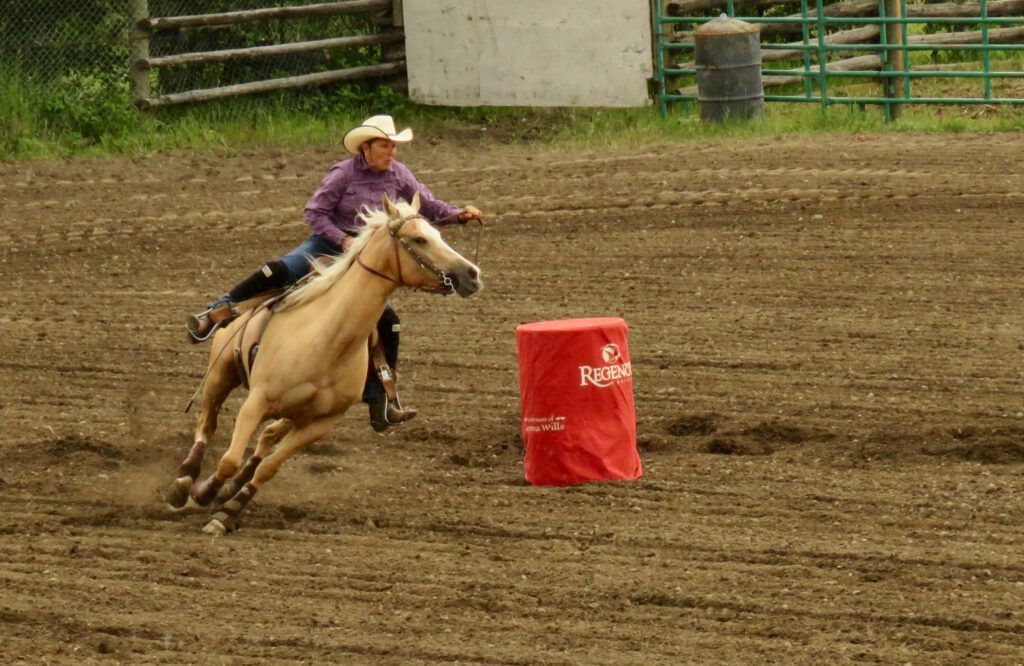 That was when it started to rain.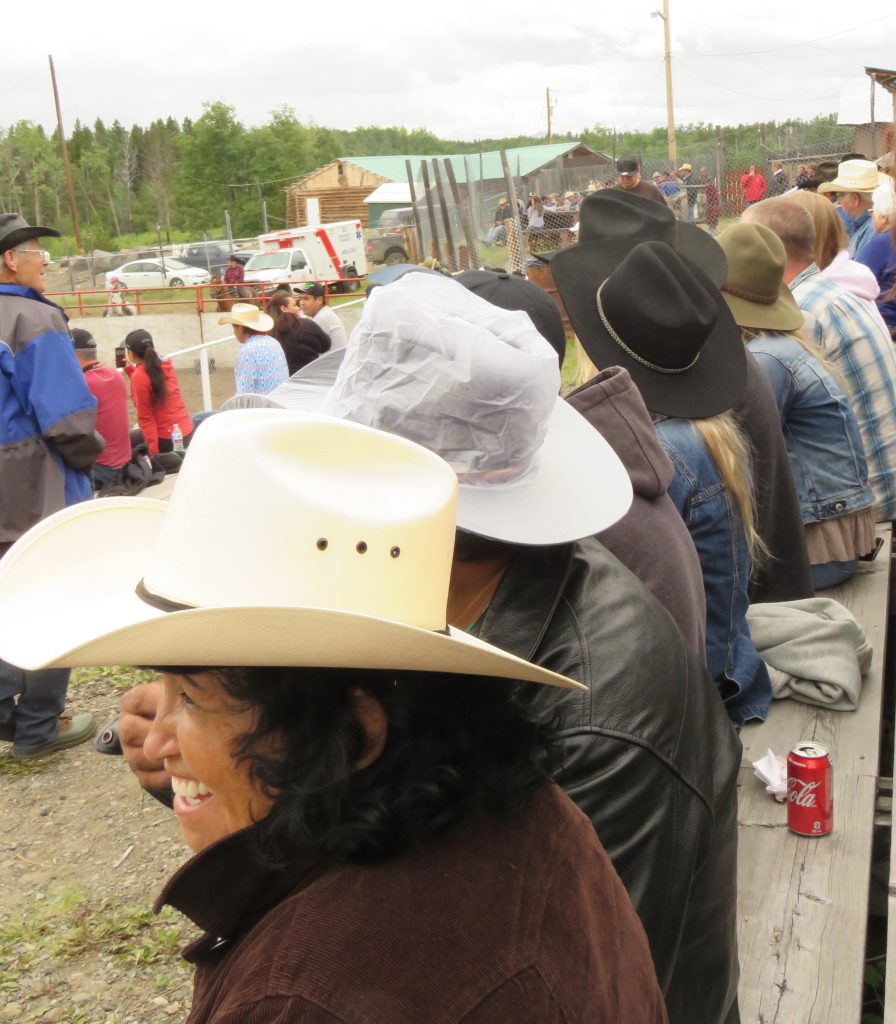 Thundershowers had threatened all afternoon (and I found out later that at home, one hour south, it had poured all day.). The riders kept going.  Was it going to be like the dreadful year of 2016?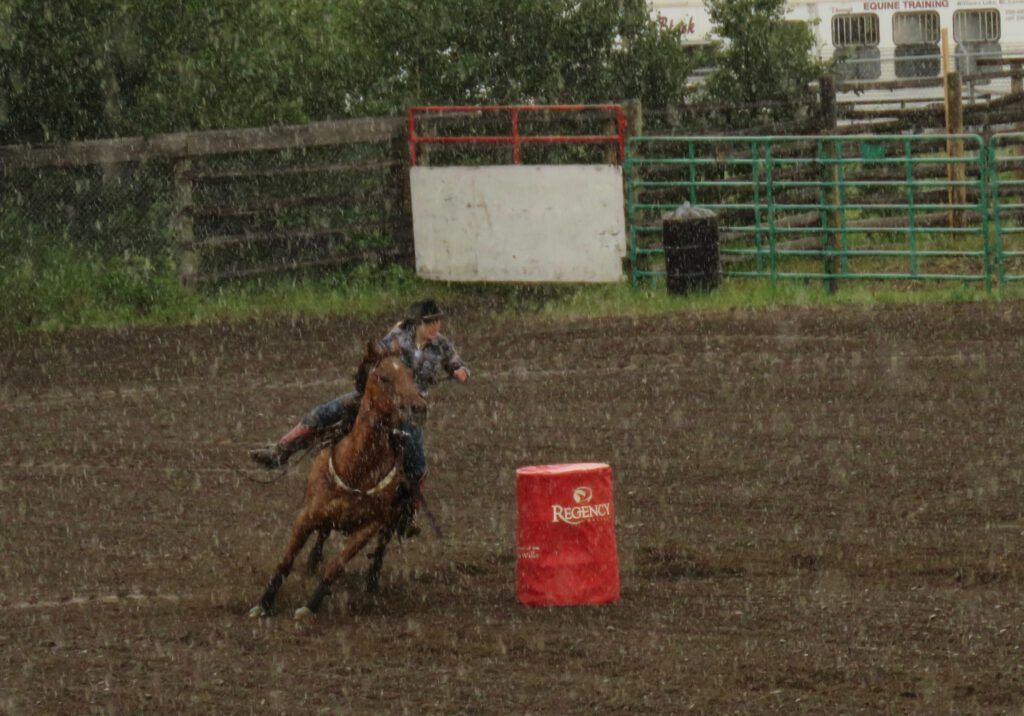 But the rain soon stopped.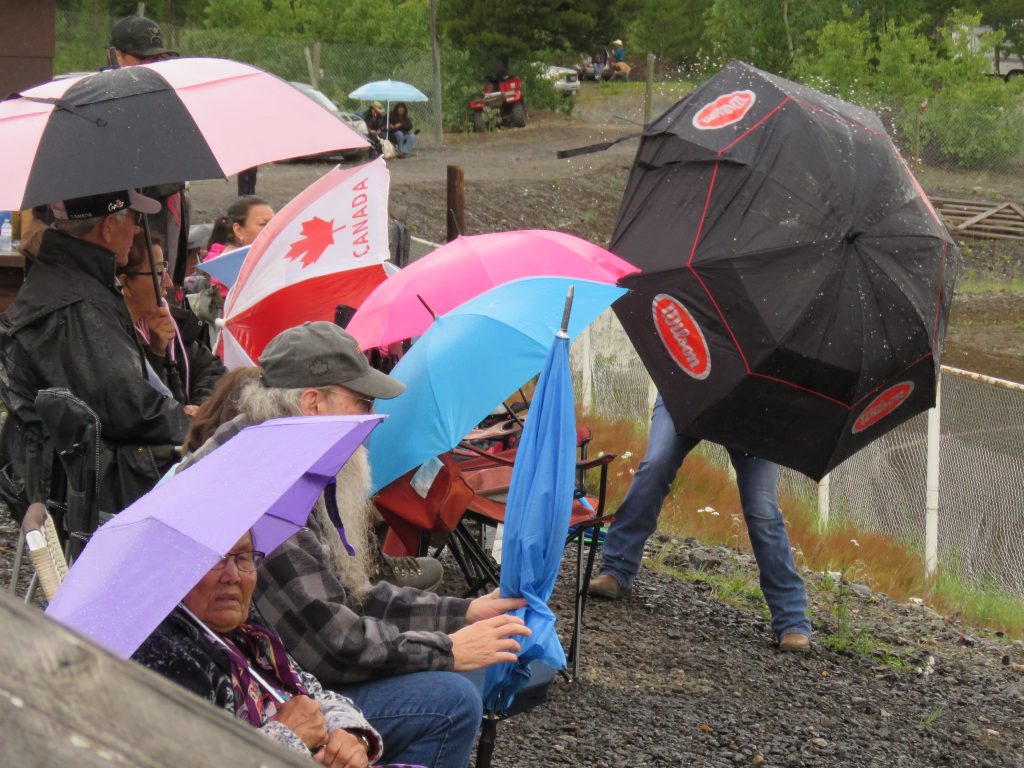 And the kids completed their barrel racing.  How some of these small people can ride!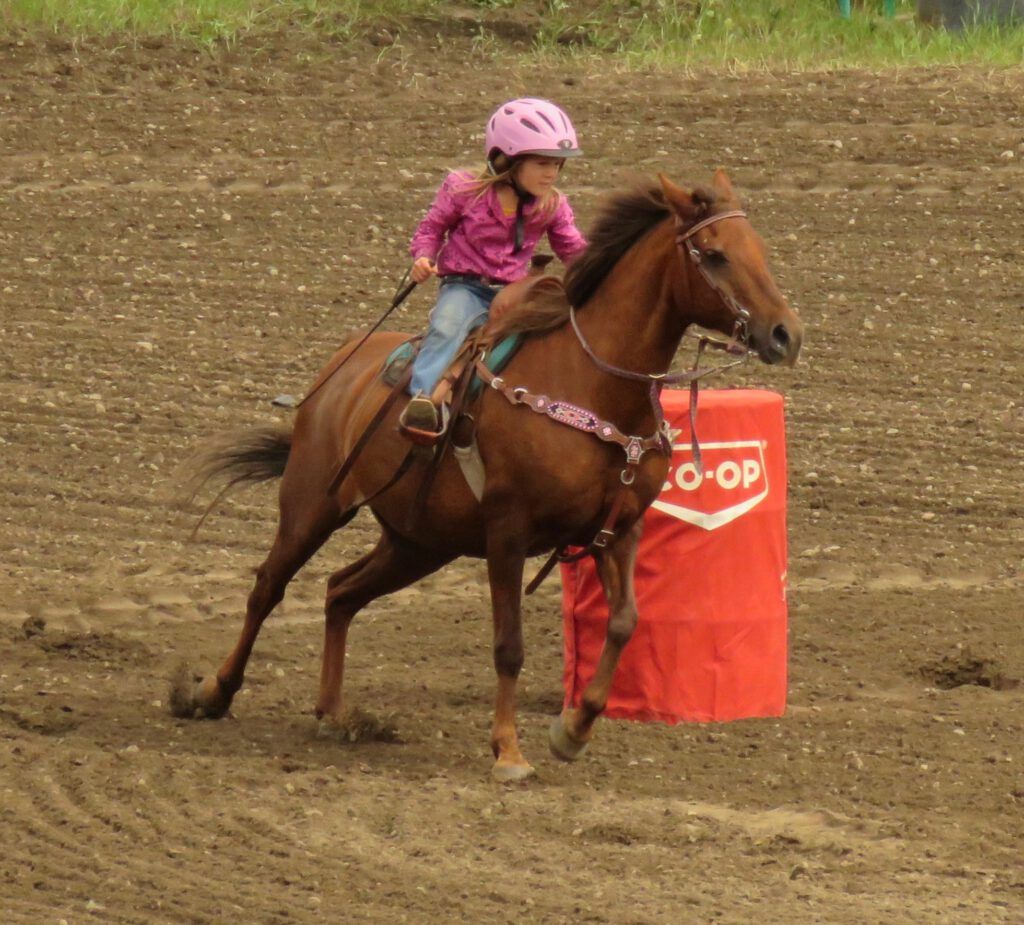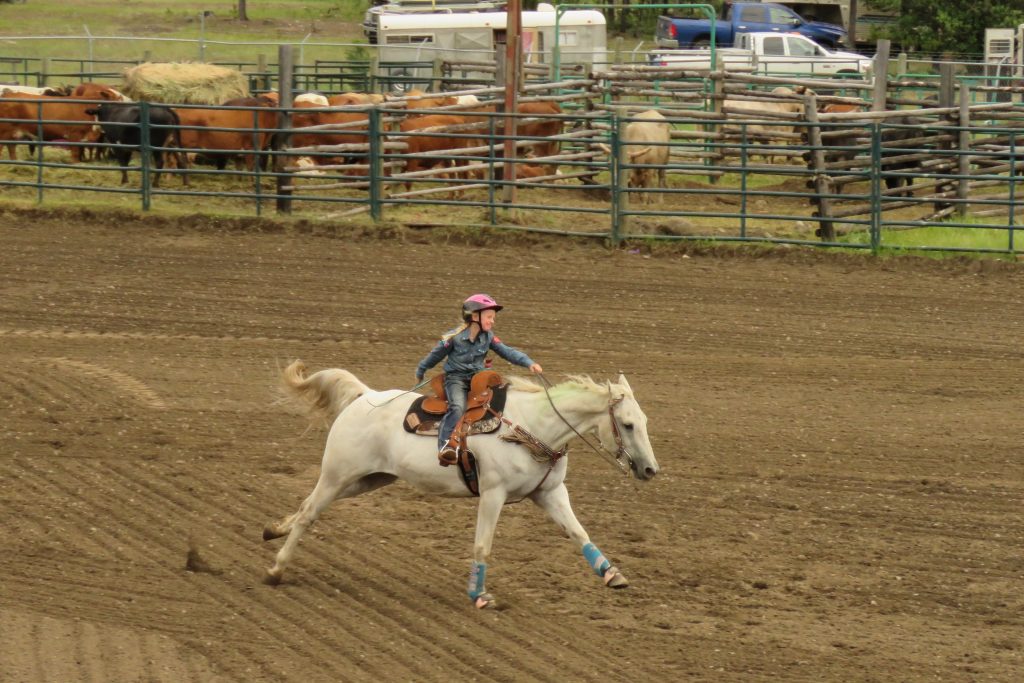 Team roping requires that one person snags the calf's horns, the other loops his rope around both back feet.  This is extremely difficult.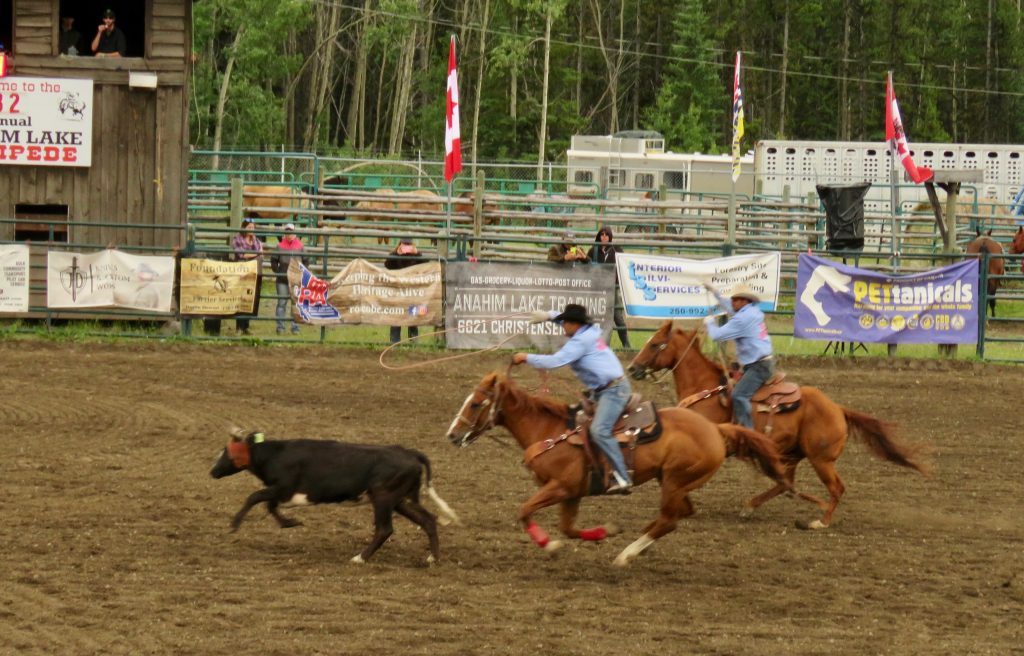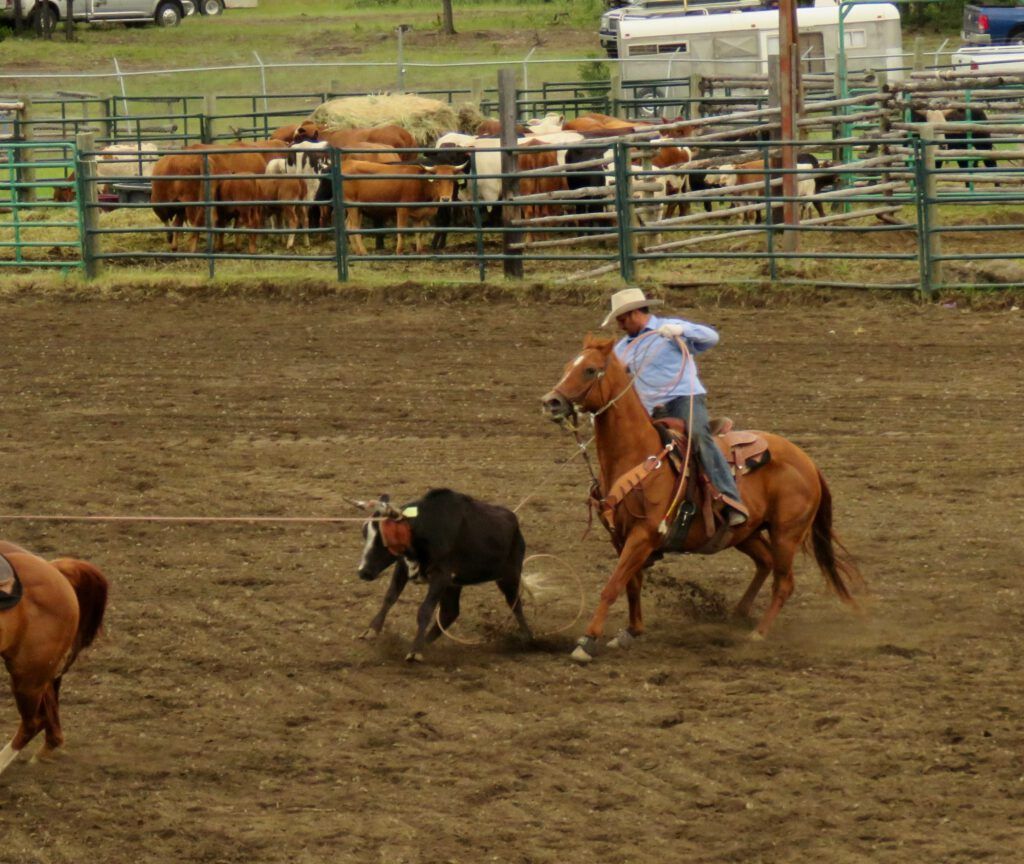 These riders were the only successful team.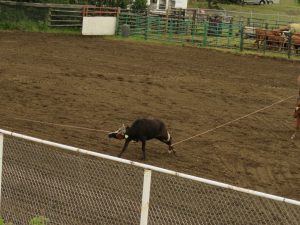 And finally the bull riding.  Earlier, I had taken pictures of these animals happily enjoying a quiet time in their pens.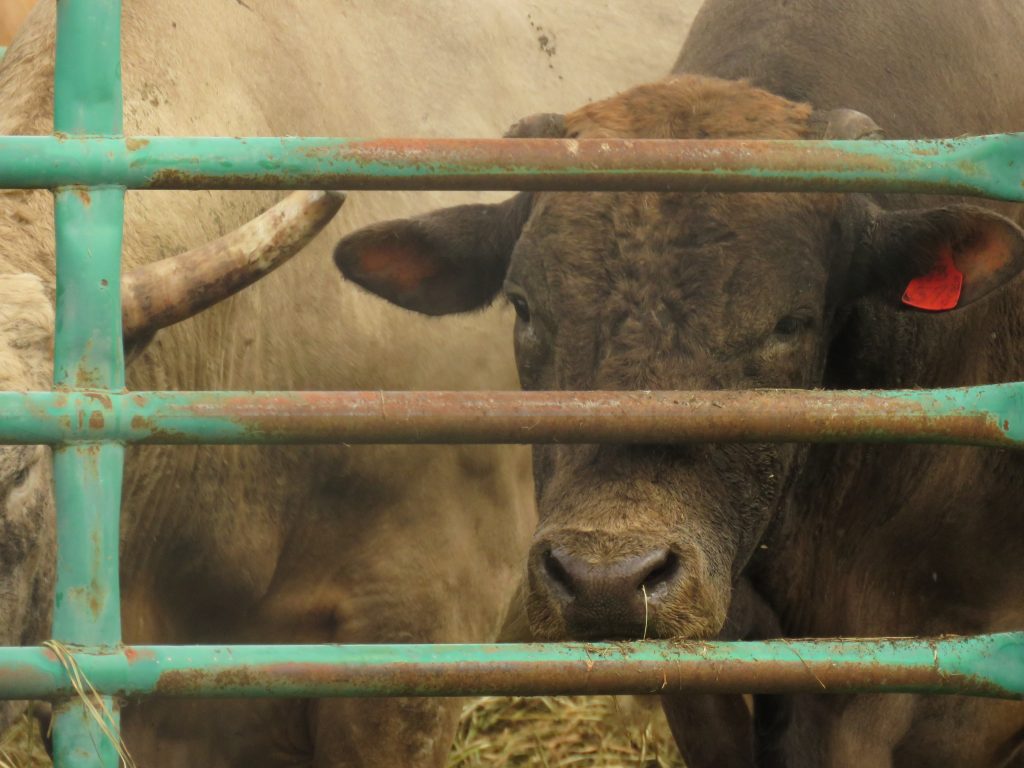 Once in the chutes they were doing what they were trained for.  None of the riders stayed aboard – few got very far beyond the chutes.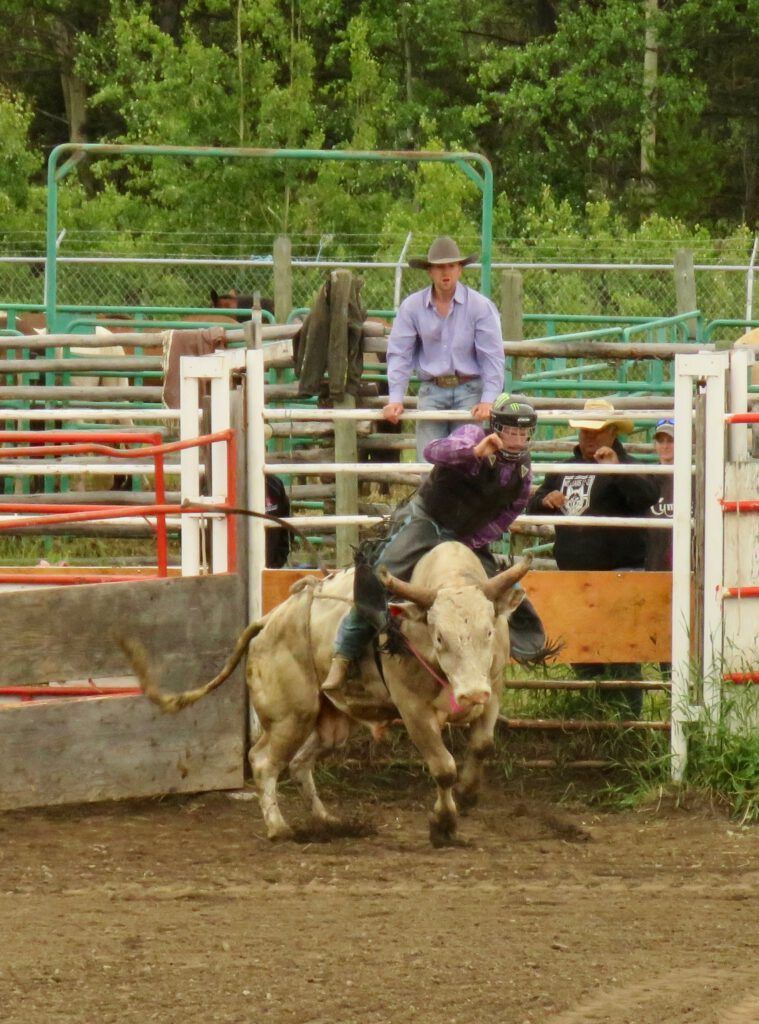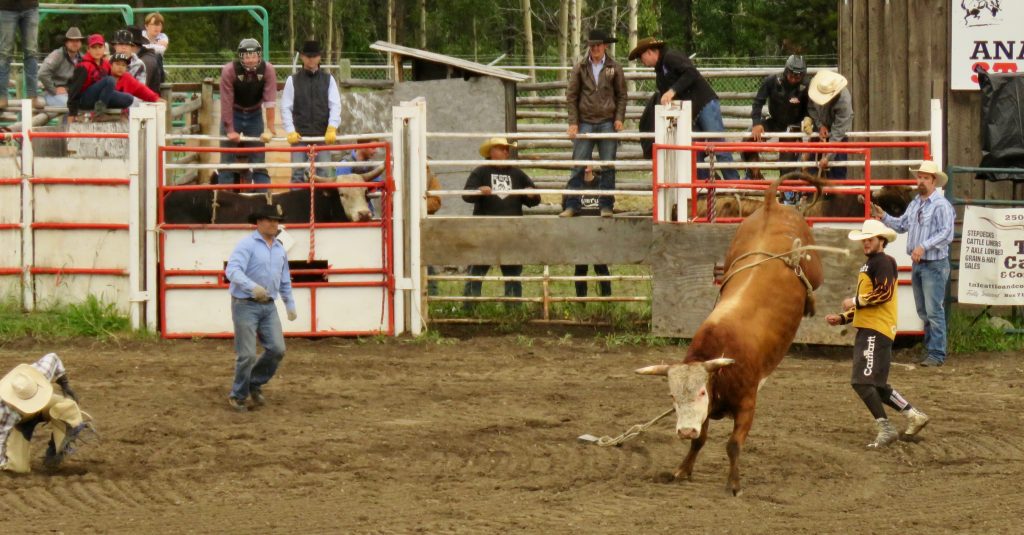 And thus another Anahim Lake Rodeo was done.