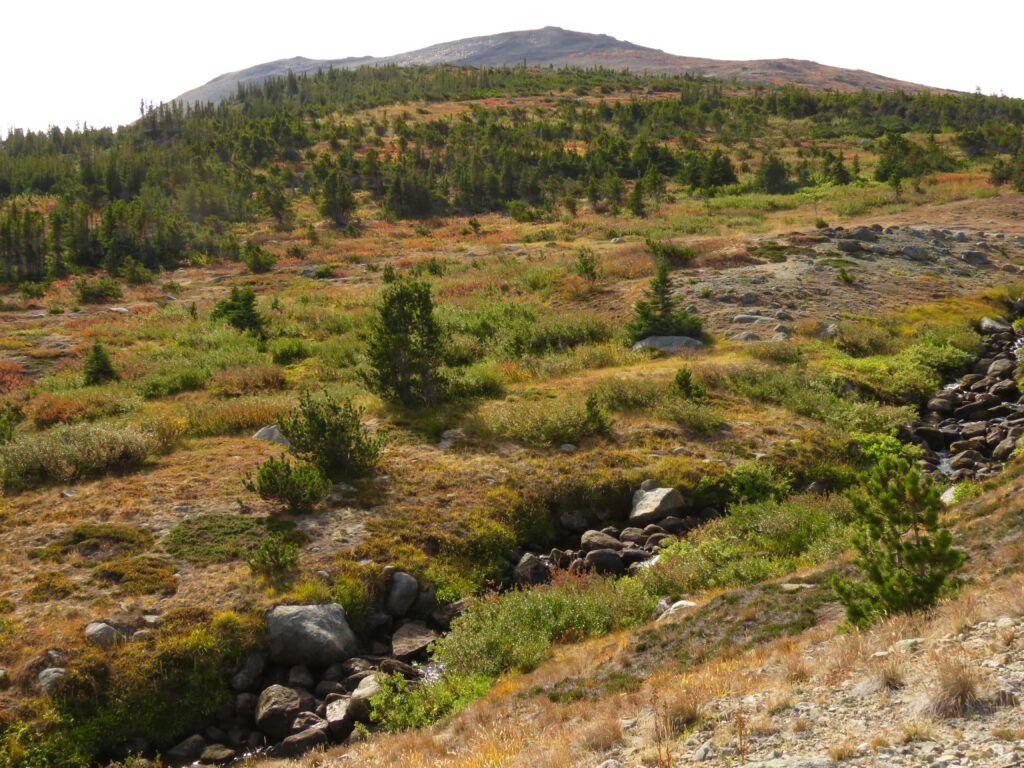 The Plateau
(sorry the text got screwed up and I don't know how to make it small again.)
Ten days ago I hiked onto what one of my neighbours calls The Plateau.  It is a flat subalpine area half way between Perkins Peak and Finger Peak.  We had to drive towards Perkins Peak at first.  The area has been heavily logged, and you can see bits of burned forest ahead.
To get there we had to drive through some more dramatic devastation.The forest on the right is severely burned but the logging road would act as a fireguard.  It's possible that the fire on the left had been a controlled one, burning the forest gently so that the ground litter was consumed.  But maybe not.  The black areas were very stark.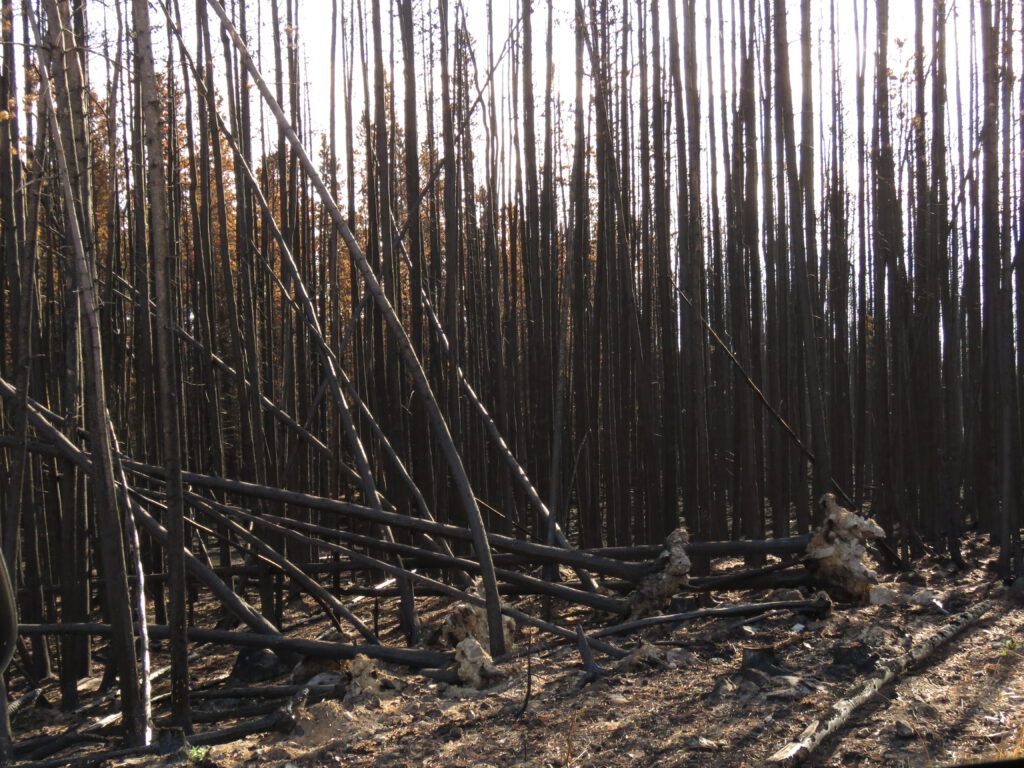 I actually don't think we were allowed to be in there yet.  A lot of it was still pretty hot, but we met no one – it was a Saturday and I guess they decided to either work elsewhere or take a much-earned rest.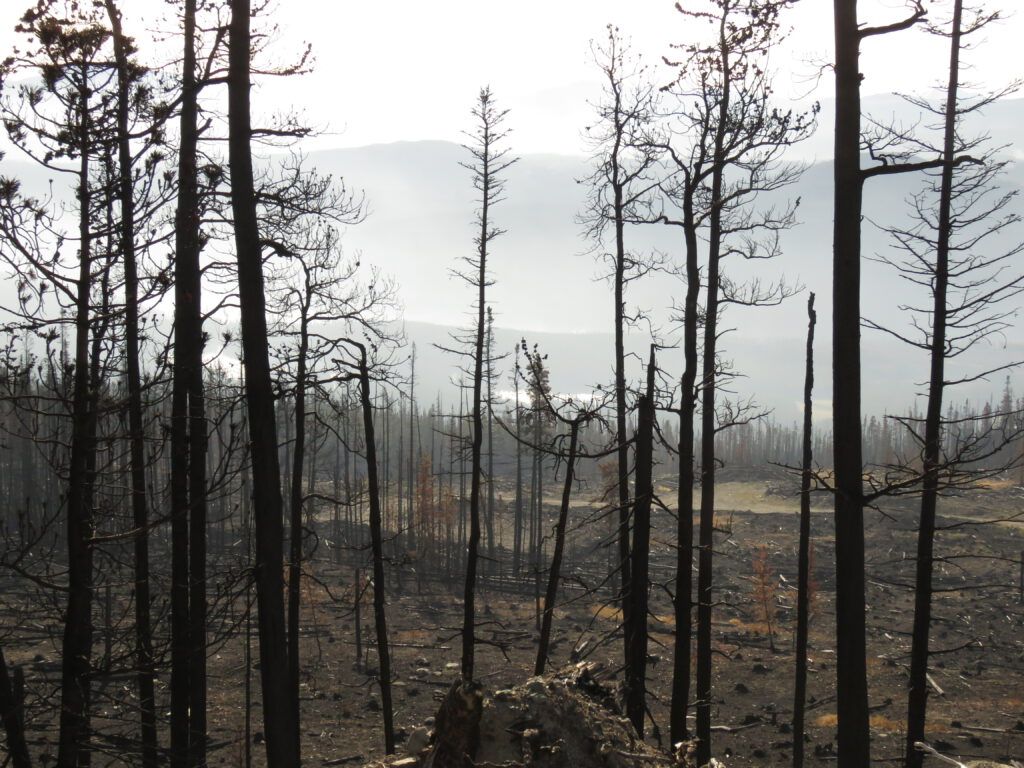 The trees below have a pinkish look, not because they are burned, but because they have been sprayed with retardant.  There is some controversy about the use of this material – some say it is harmful, and some say it is mostly fertilizer.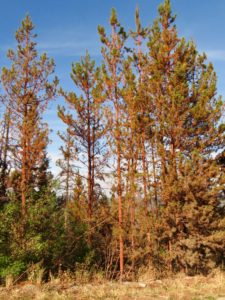 Retardant doesn't put a fire out, any m0re than water does.  It just slows it so ground crews have an edge in fighting it.  I never saw it being used, although the Precipice people observed it happening some times.
The rest of my companions decided to climb Perkins Peak but I headed towards the Plateau.  I was now upwind of the fire and it was incredible to finally find myself in an unburned and smoke-free area.  The logging road I had used took me to a fairly high altitude and when I started hiking I was at once in a Nuk Tessli forest.  It was just like going home!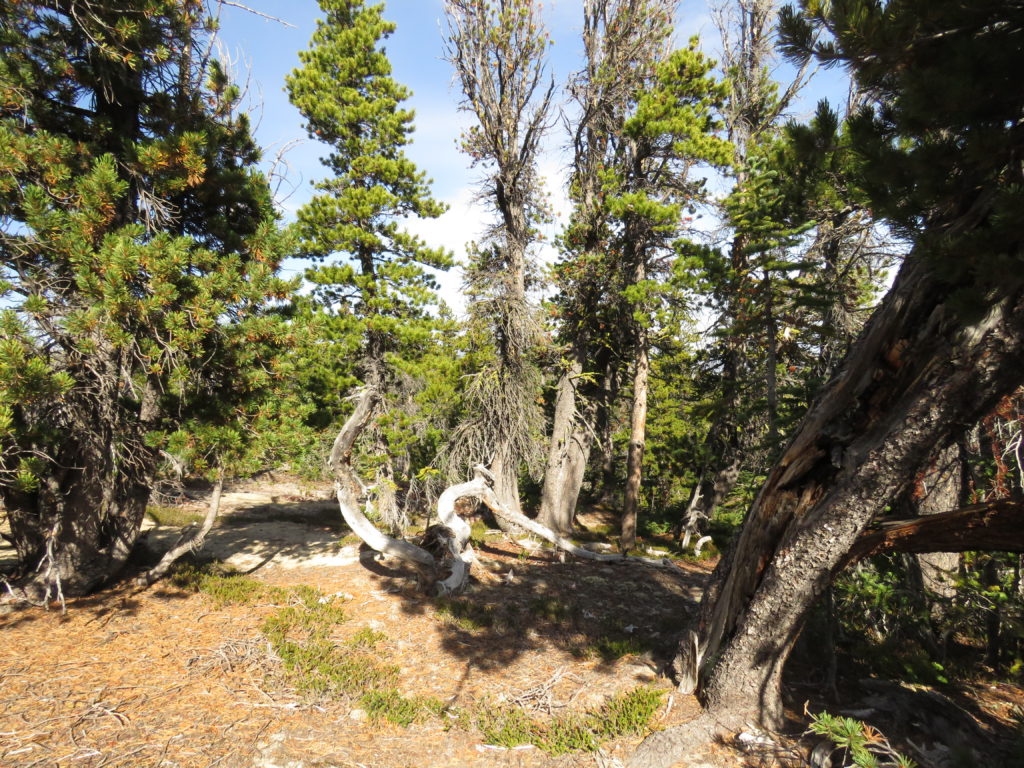 These were mostly white bark pines, and they had all the wonderful twists and distortions that had surrounded my cabins at Nuk Tessli.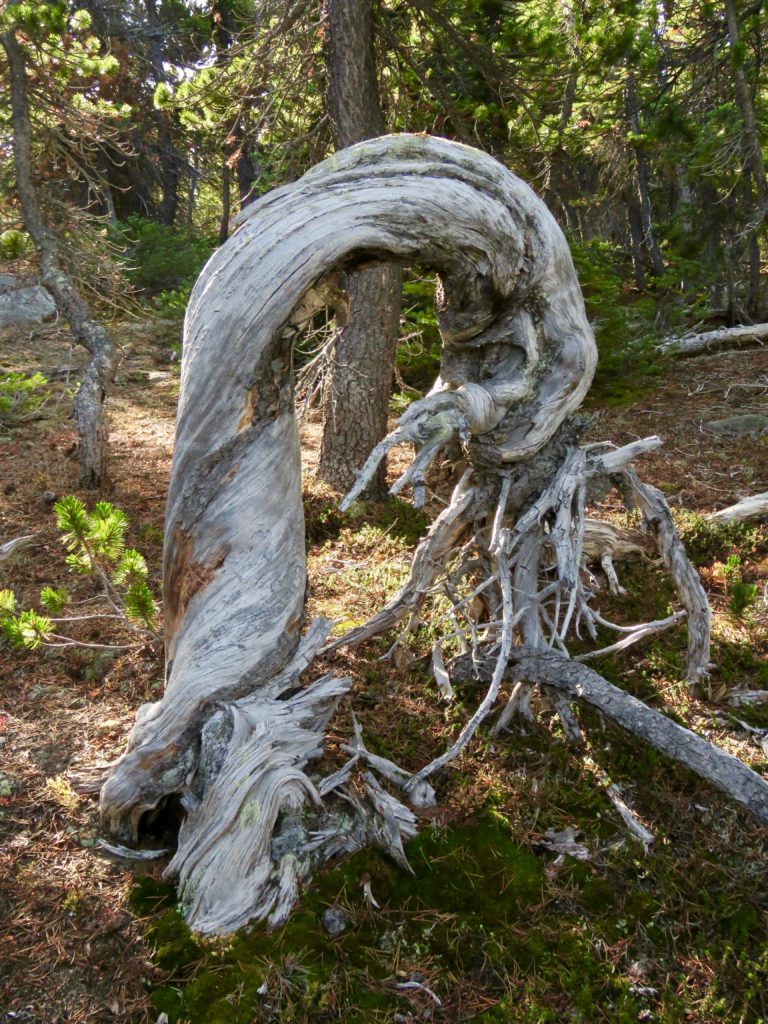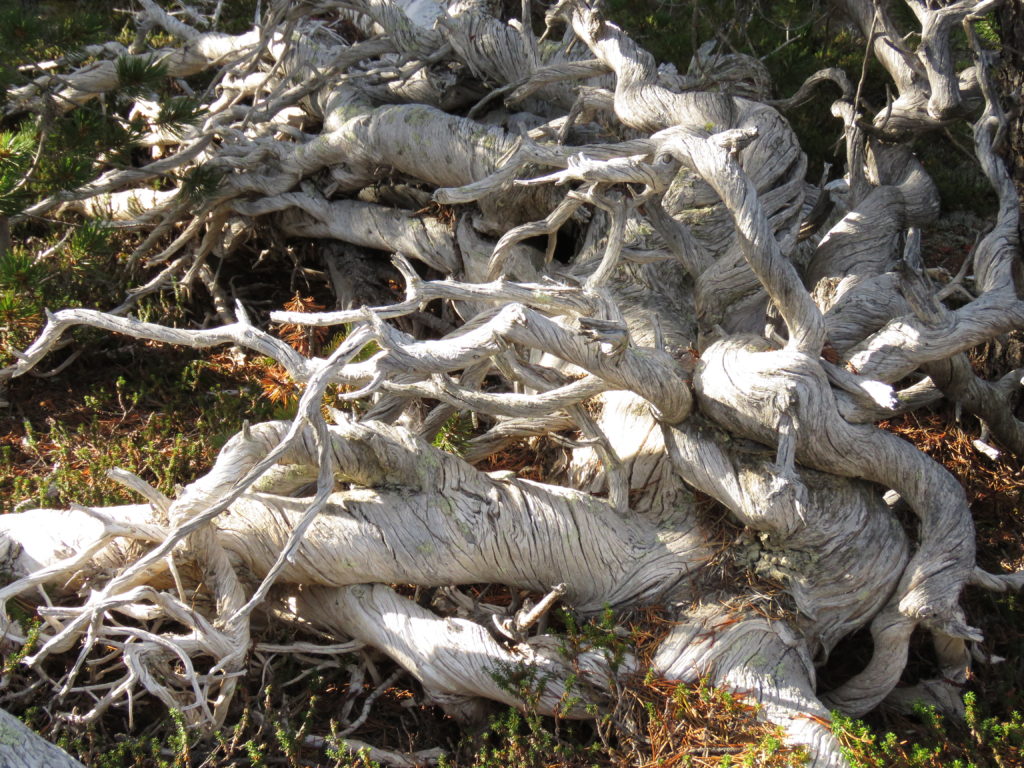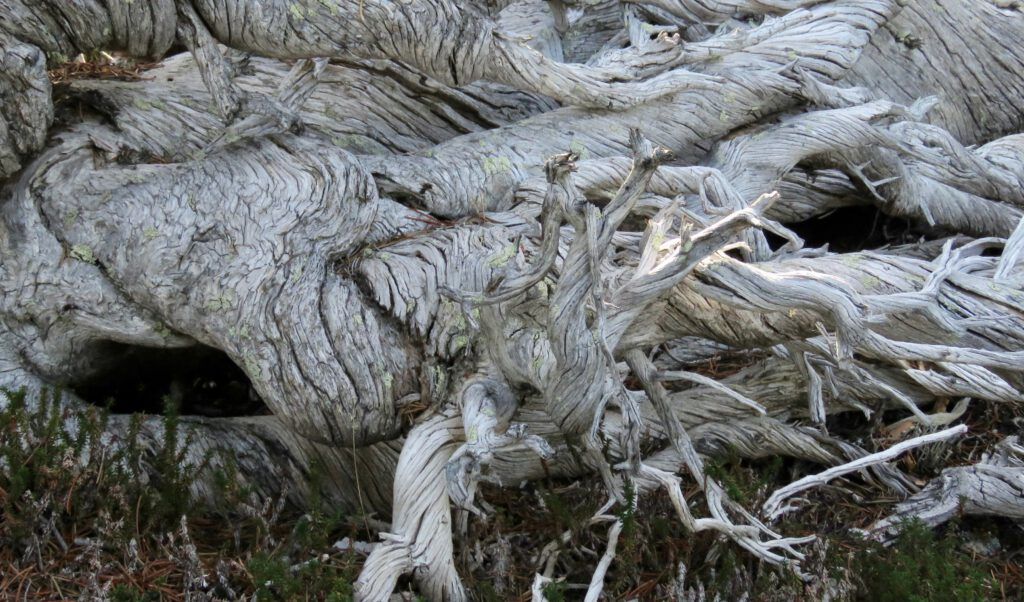 And within half an hour, I was above the tree line.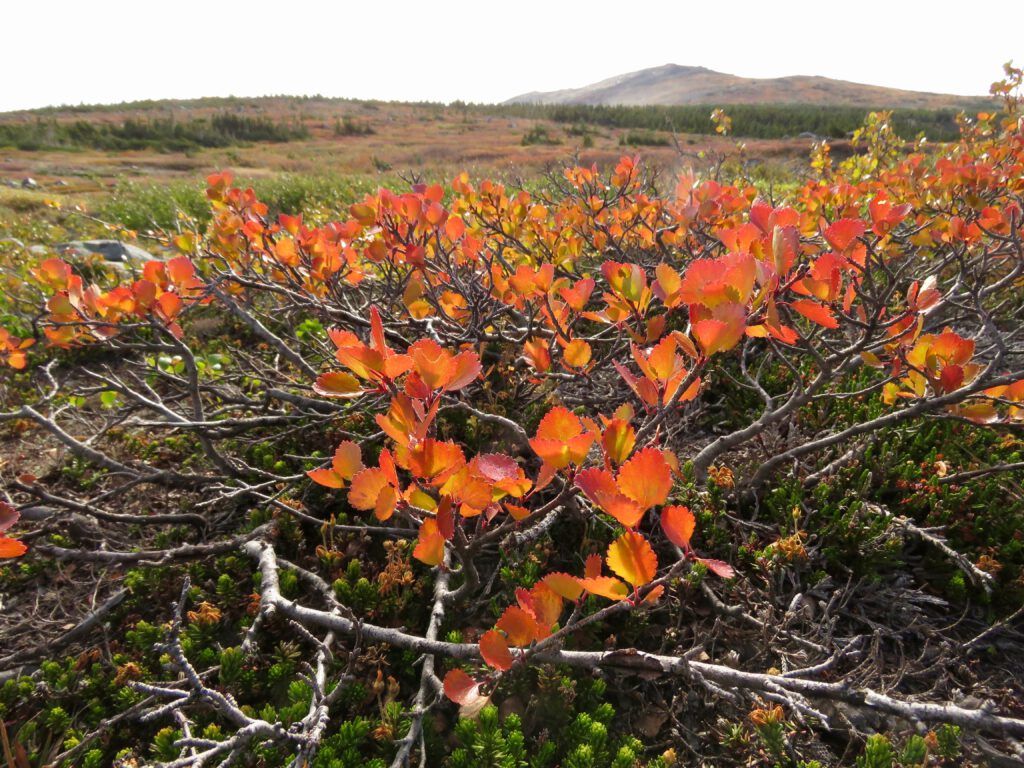 There were twisted trees up here, too.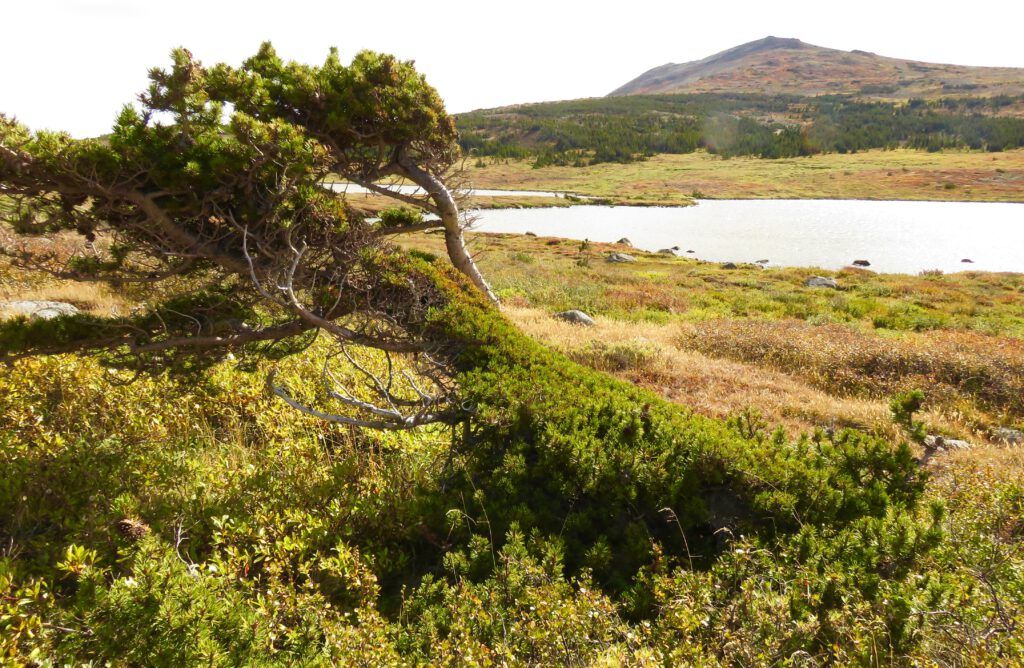 Harry was with me, but Badger can't do the tougher hikes any more, so he stayed at home.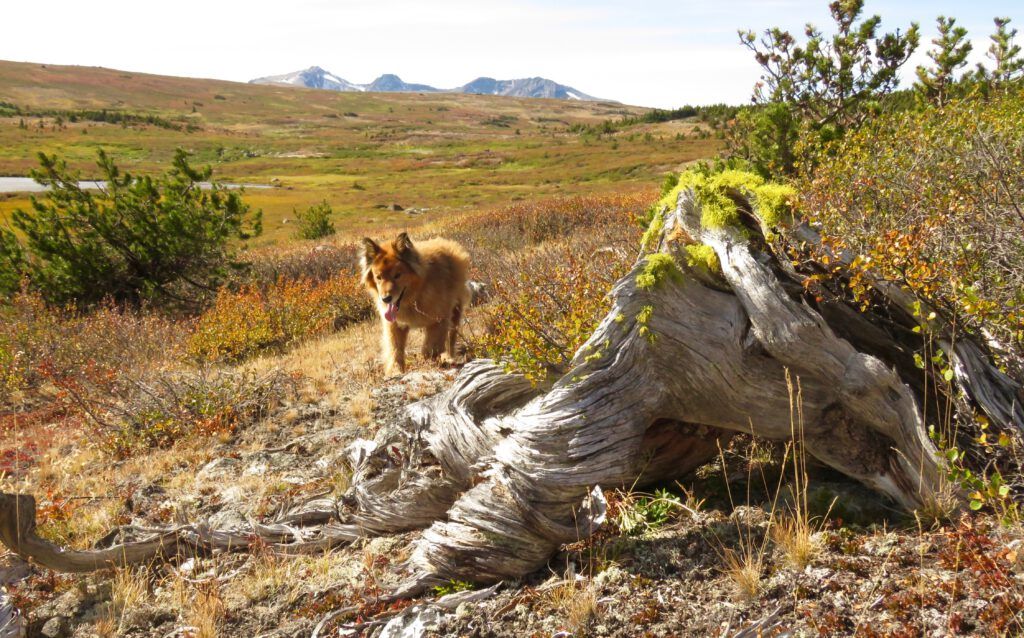 The leaves were starting to turn colour so I was surprised to find flowers still blooming.  Cotton grass (actually a kind of sedge.). (That is Perkins Peak behind, already dusted with snow.)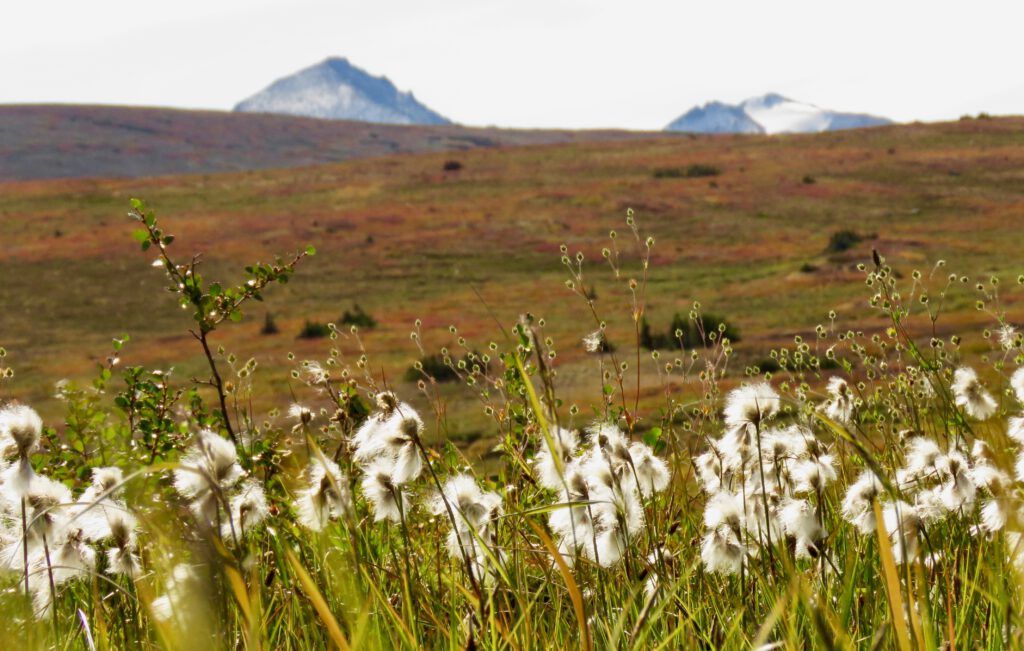 A late aster – complete with bumble bee (how often I saw that at Nuk Tessli!)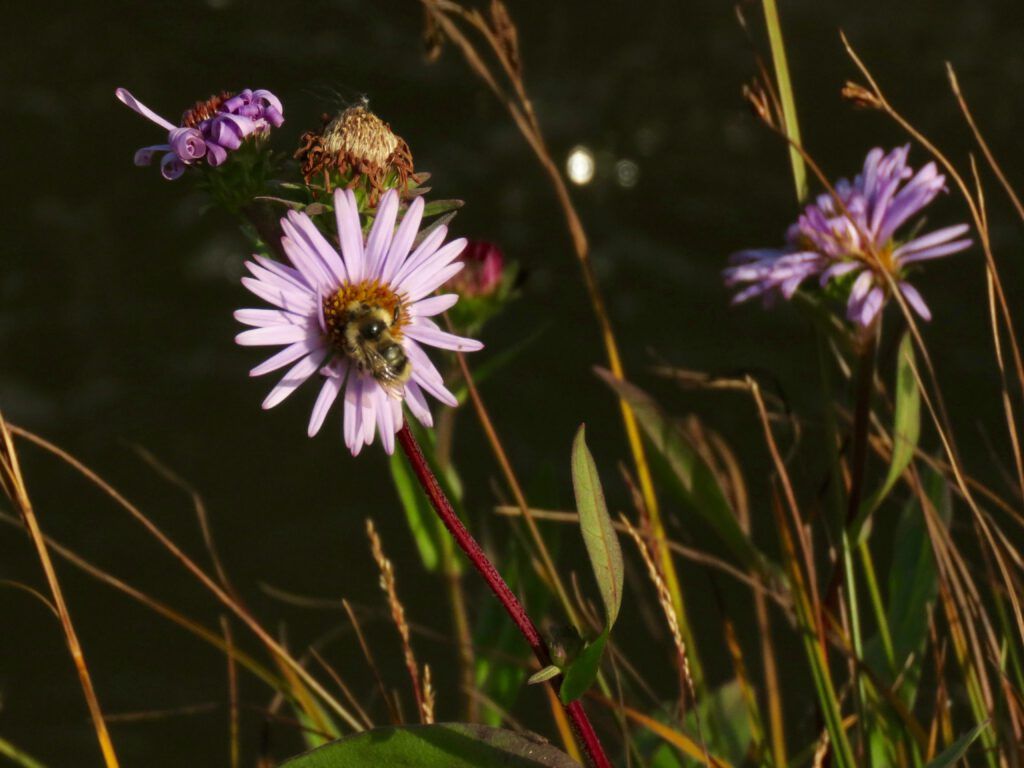 and, most amazing, two alpine hairbells.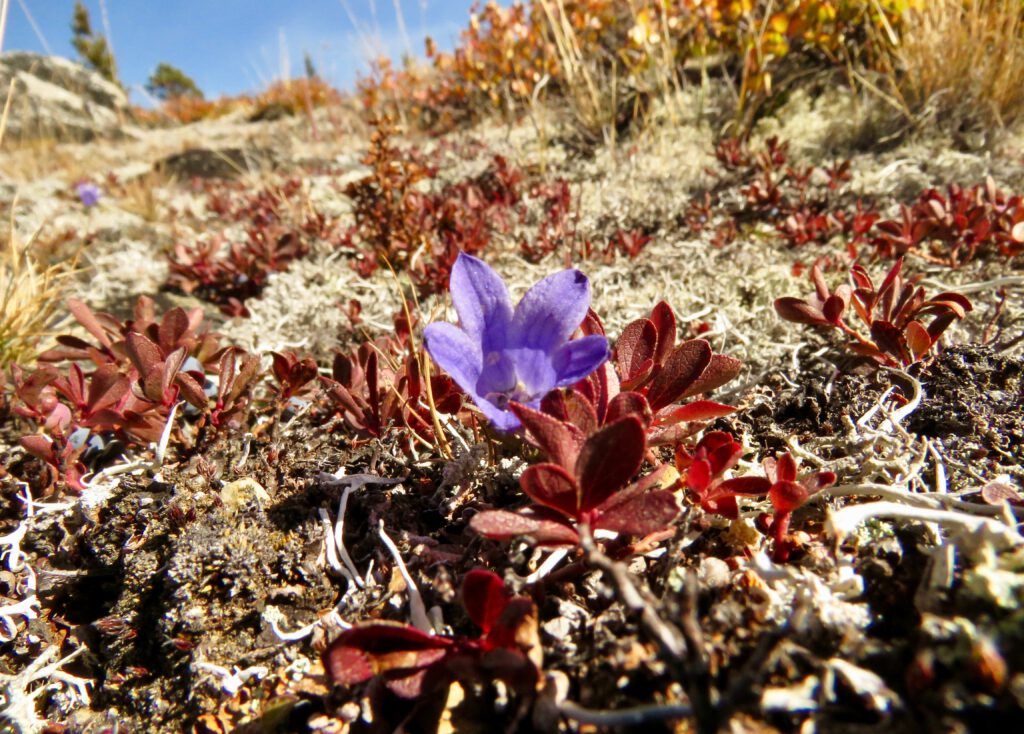 And then there were the alpine blueberries – millions of them – and absolutely delicious!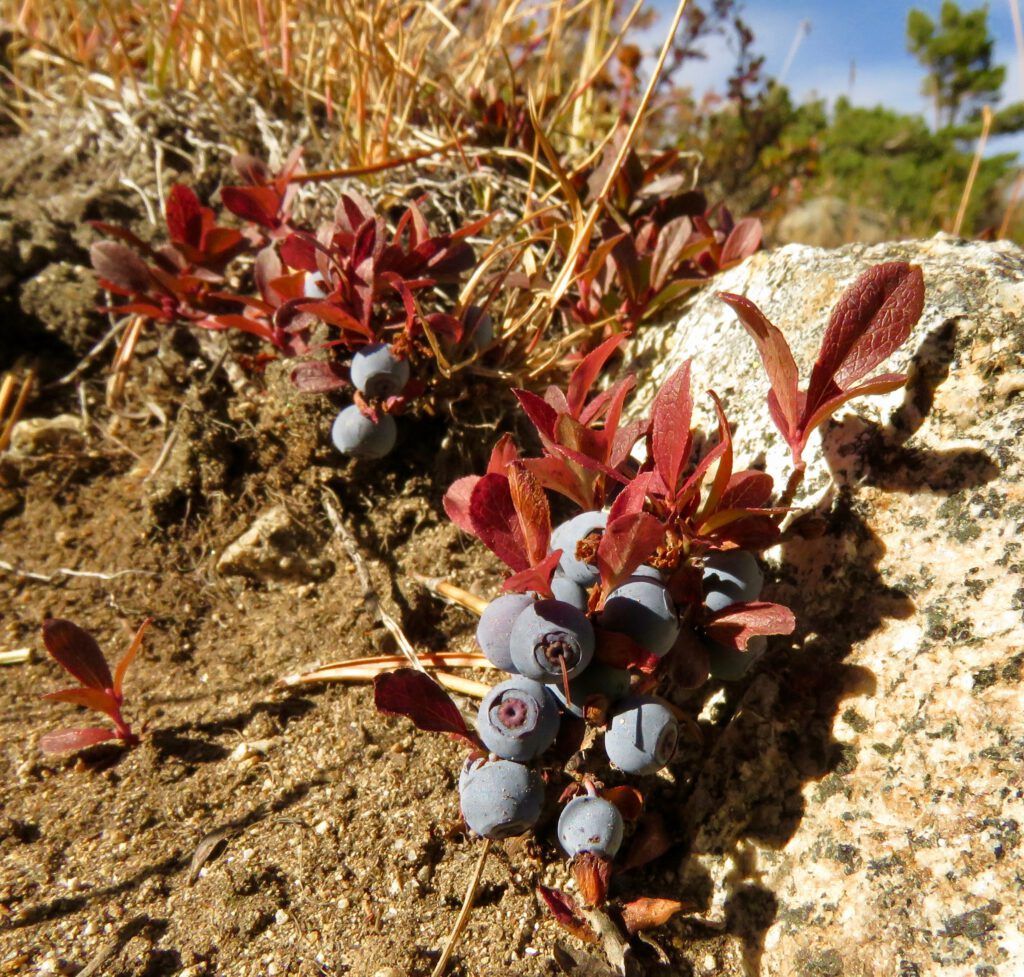 I walked along The Plateau for a while but the scrub birch made hiking slow.  I don't know the names of these mountains.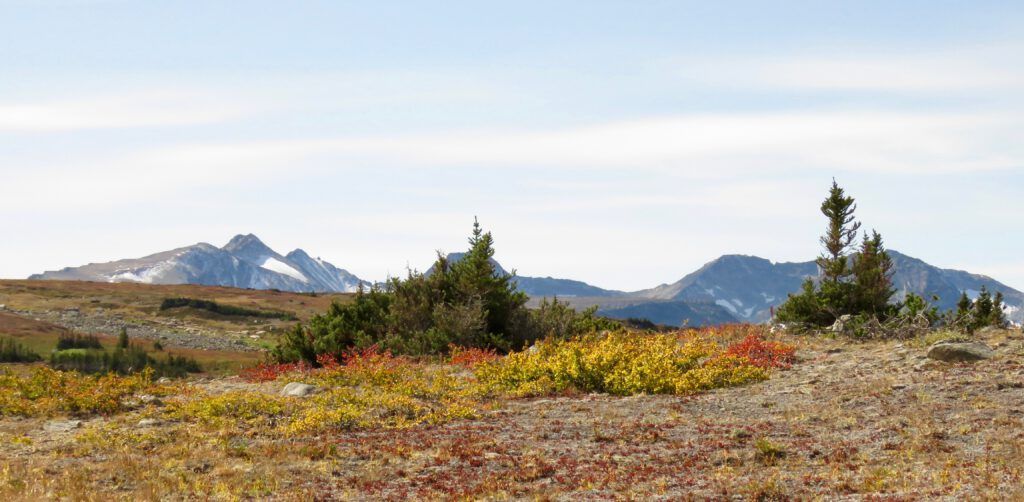 There were a few outcrops nearby.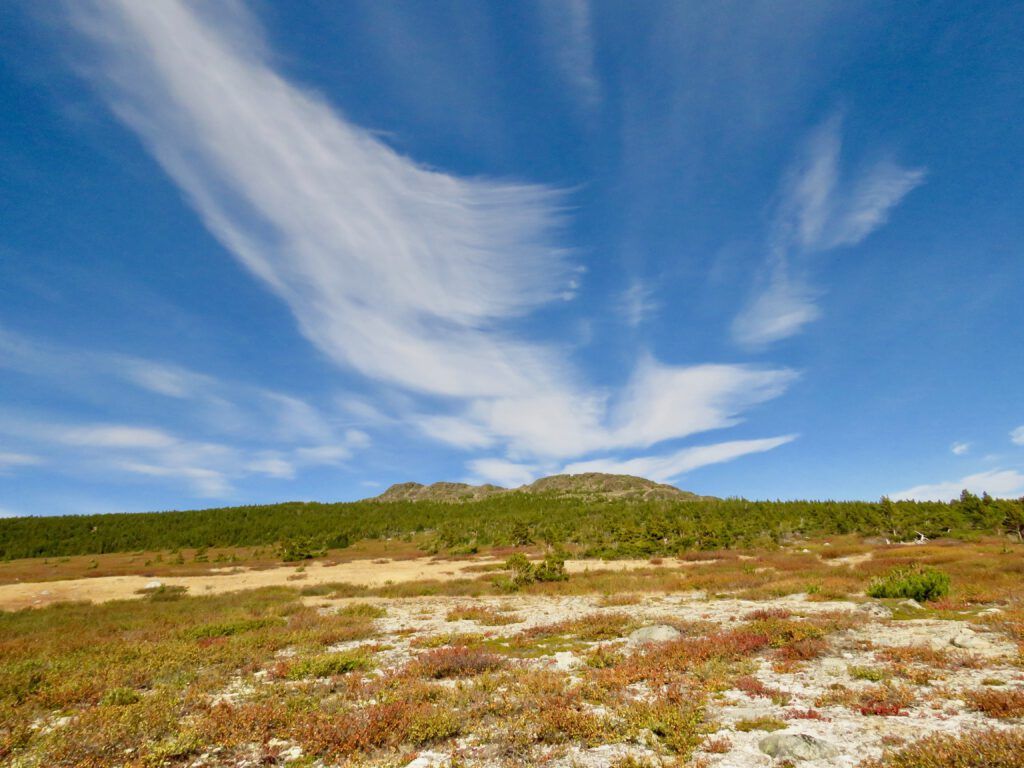 I debated climbing this one, but knew the view to the north would be  smoky so I thought I'd leave it for another day.  When I turned for home and came to the edge of the plateau I could make out the sandy bluffs behind the lake.  This is where I hike onto the dunes.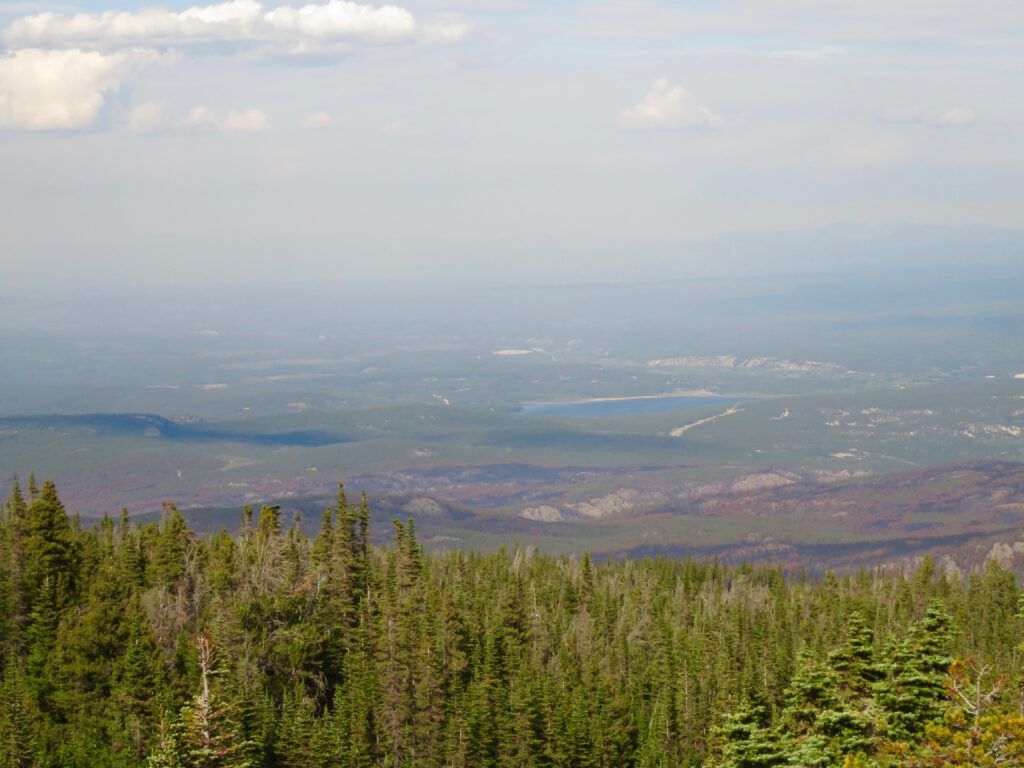 The above picture shows a mosaic of burned areas, but even the green parts are puffing away still.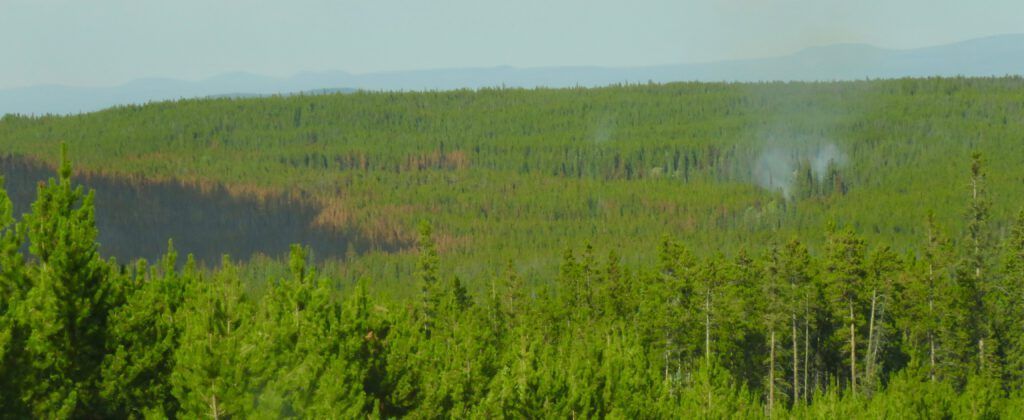 And some of the areas are pretty active.  After a few hours of afternoon wind, the fires had stirred up quite a bit.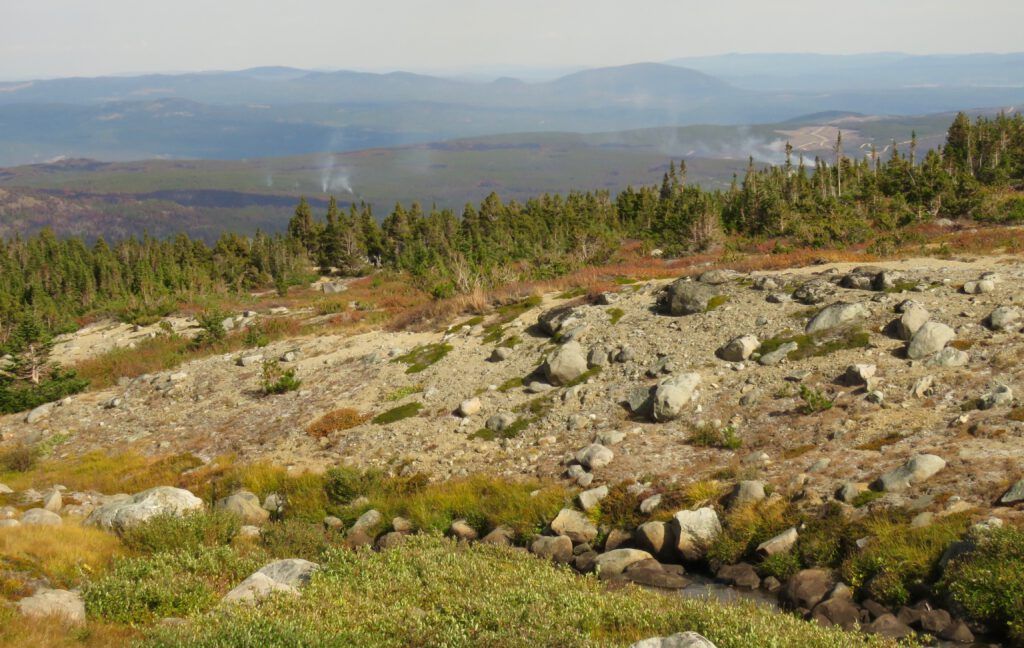 I had to drive beside the one on the right.  (More are smoking beyond the ridge.)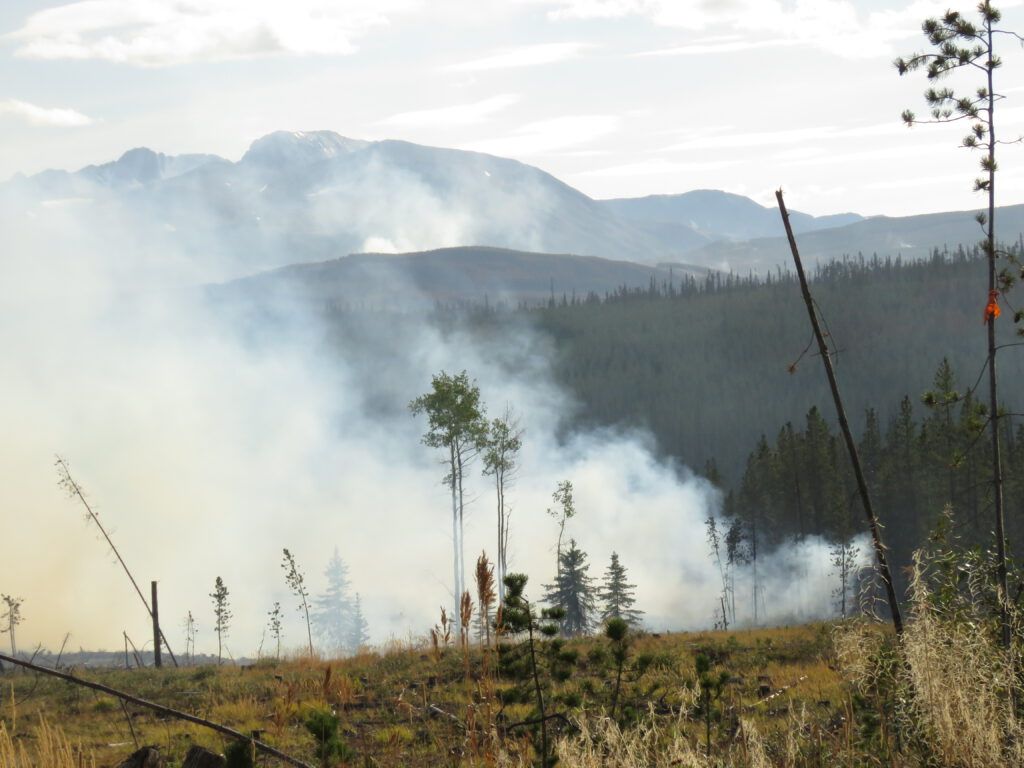 At downtown Kleena Kleene one has a good view of the fires behind Nogwon.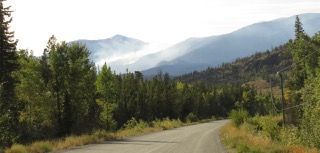 As I dropped down to the hay fields I was surprised to see a helicopter working.  It didn't have a bucket, instead it trailed a long hose and squatted onto the pond to fill its tank.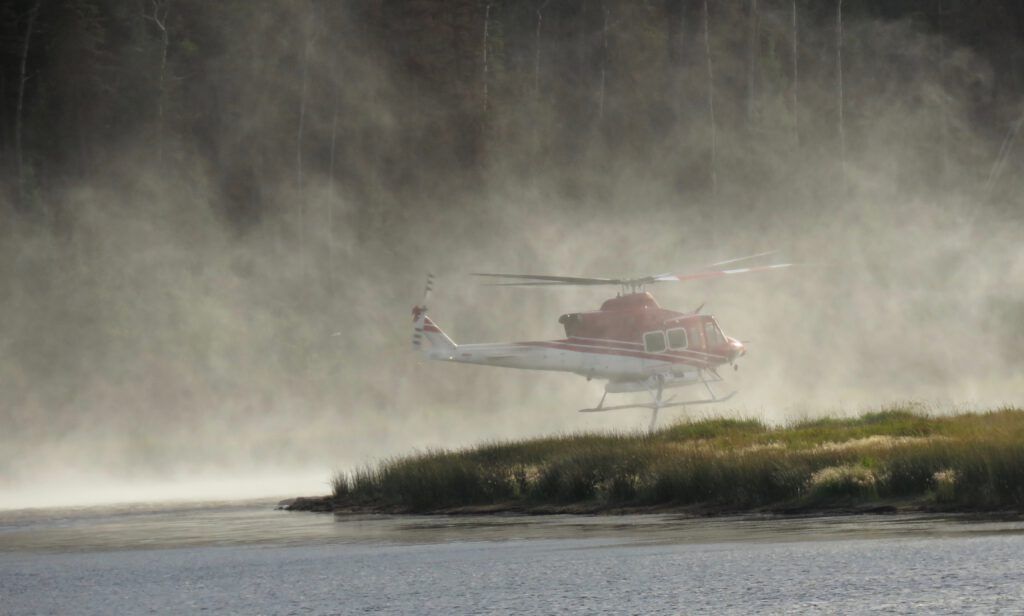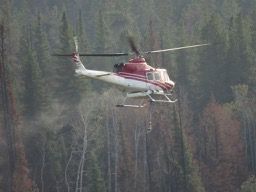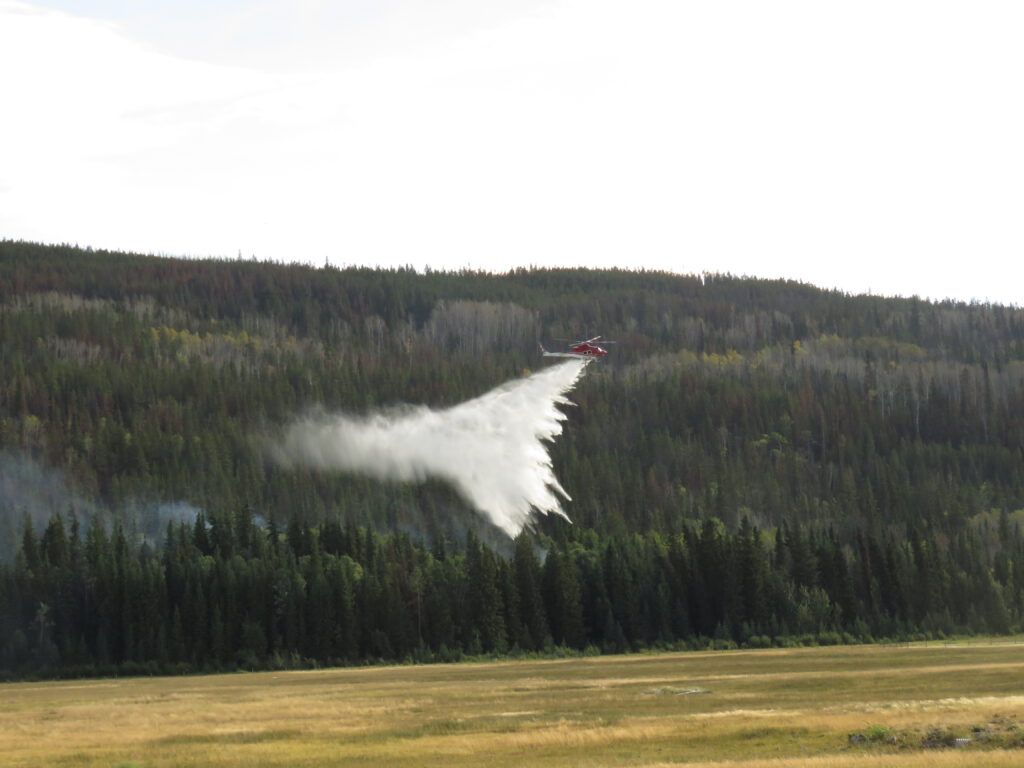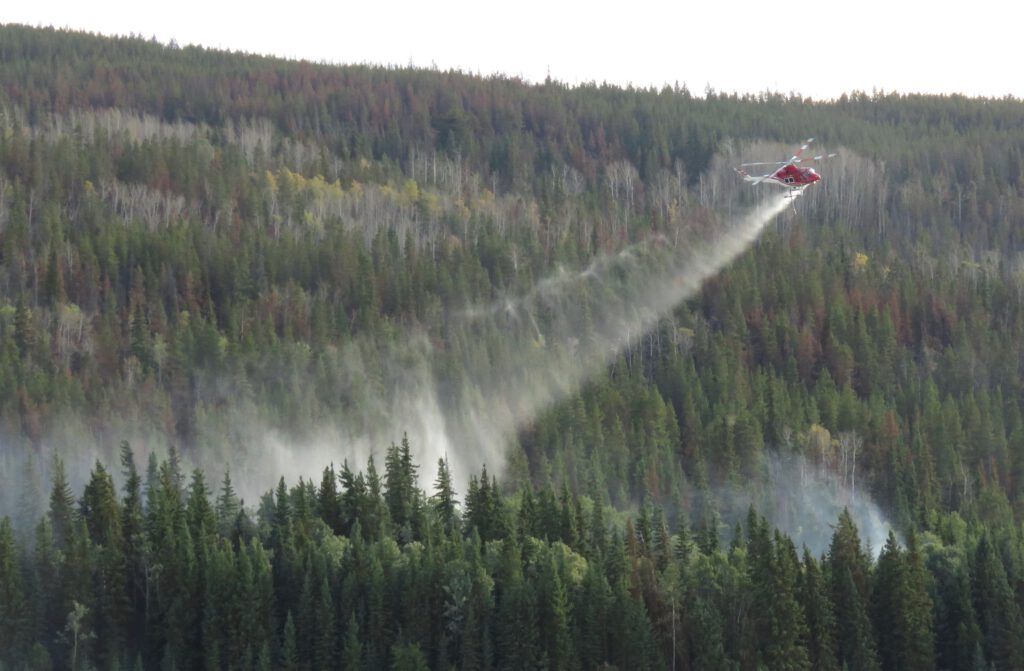 Round and round it went.  In the mean time, geese were trying to get into their fall feeding grounds in the hay fields.  They came along in placid Vees,

Bit when the heli got too close they scattered everywhere.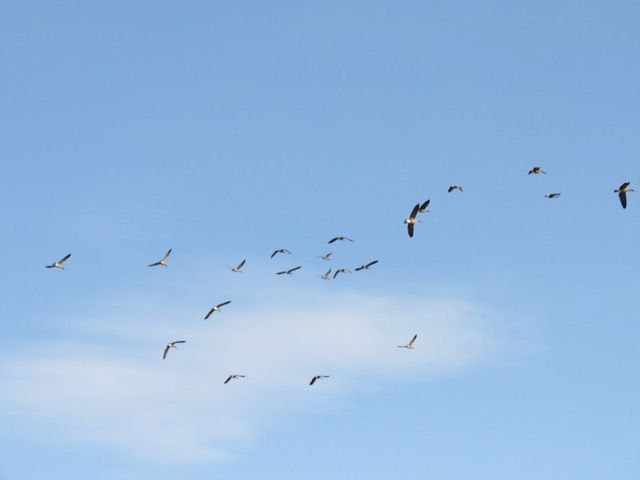 You can just see them as tiny dots above Nogwon's left shoulder.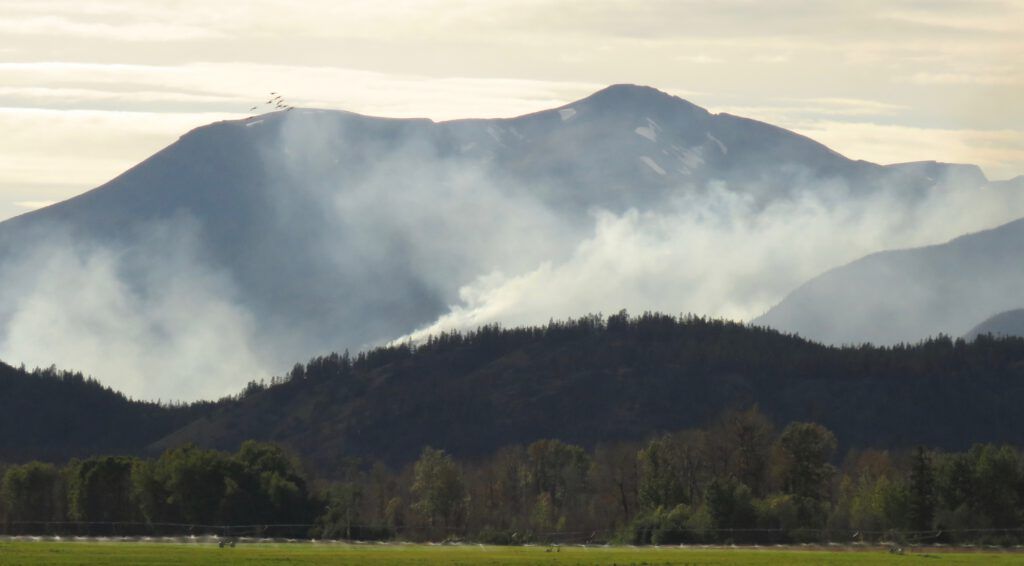 It was so precious to spend that small time in a landscape untouched by both logging and the fire.  And it was so easy to get to!  Another visit will be on the agenda for sure.