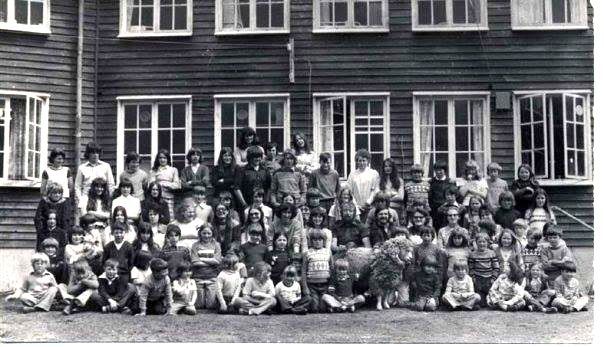 In 1978 and part of 1979 I was a teacher at the Darwin School on the Falkland Islands.  Half the kids were from the nearby settlement of Goose Green; the rest were flown in by Beaver float planes from outlying islands.  There were 7 teachers, one of whom was the principal. I was just filling in while the principal's wife had a baby.  I had no qualifications as a teacher – the government did not want that as they would have had to pay me more.  I was not a good teacher in the classroom but we would hike over the tundra and explore shipwrecks, sksate on the peat bogs, and collect penguin eggs in spring, a welcome change from endless mutton.
One of my students was a boy I will call James.   Like all the boarders, he was 8 years old when he came to the school.  Like many of the outlying students, he had probably never been off his island before, and had had little contact with anyone outside his family.  A deliberately unqualified travelling teacher had visited once a month.
I have no idea of the type of learning disability he had, but the poor little soul lived in a world of his own.  On Monday morning, it was the students' practice to write about their weekend.  Without fail, no matter what the weather, James' total essay, written very neatly in pencil was: It Is A Snu Day.
And we have had four, glorious Snu Days in the last two weeks!  None of them were completely Snu – usually they started with fog.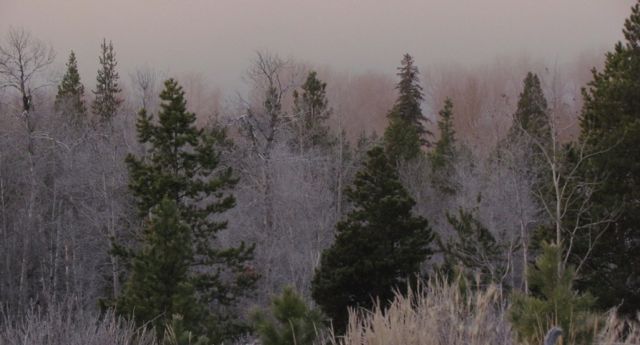 We had two spectacular sunrises.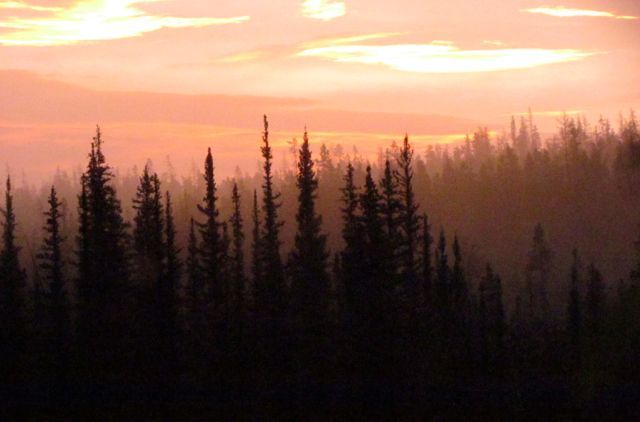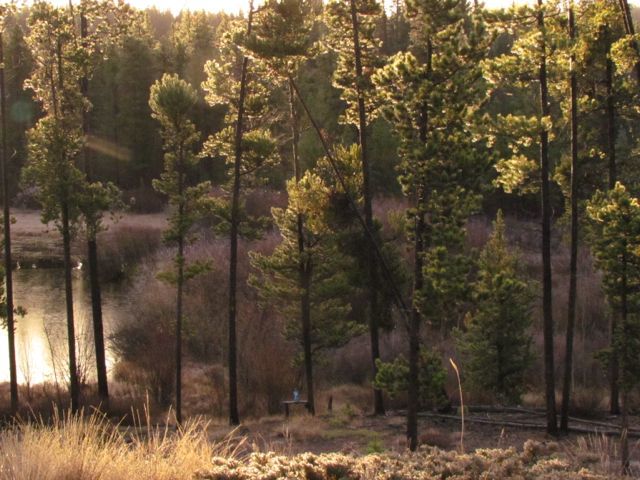 How fantastic it was to see the sun.  How beautiful the world suddenly looks.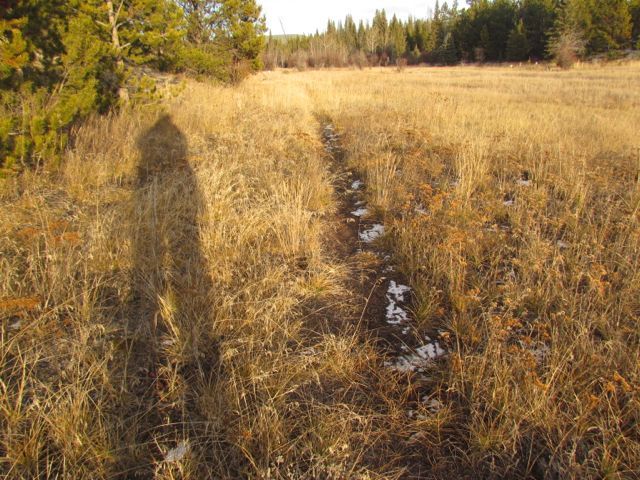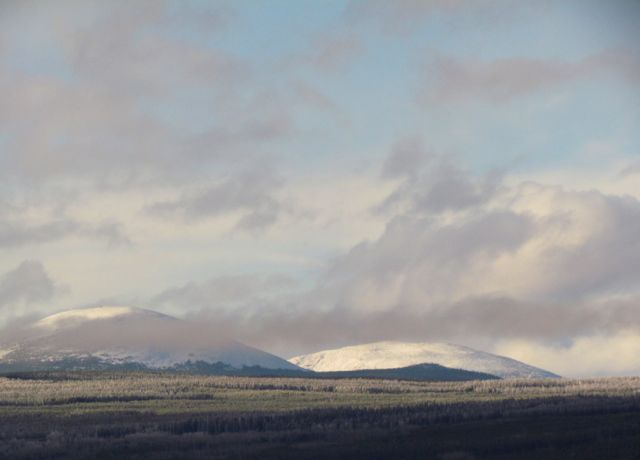 Perkins Peak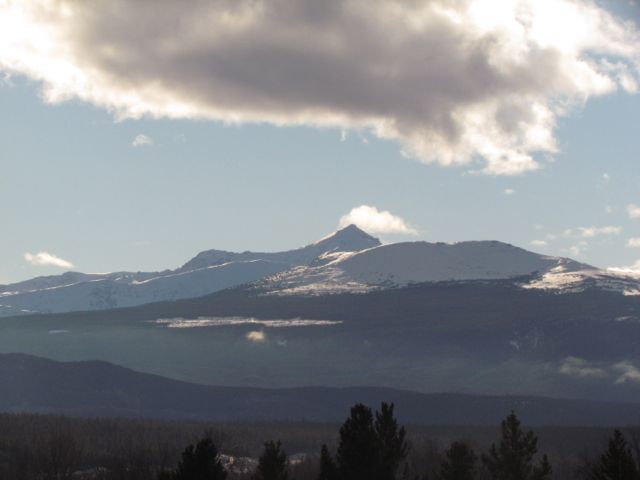 Nogwon almost visible.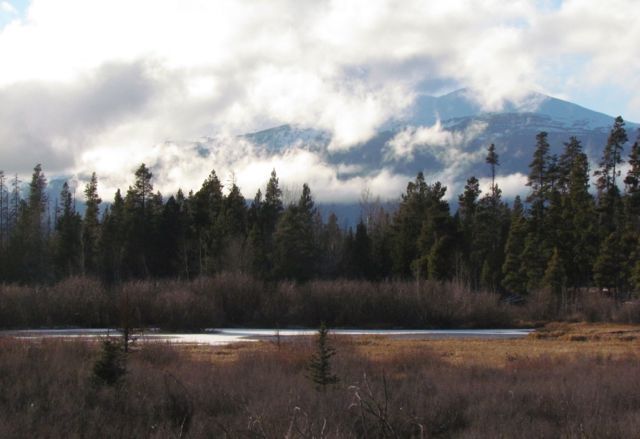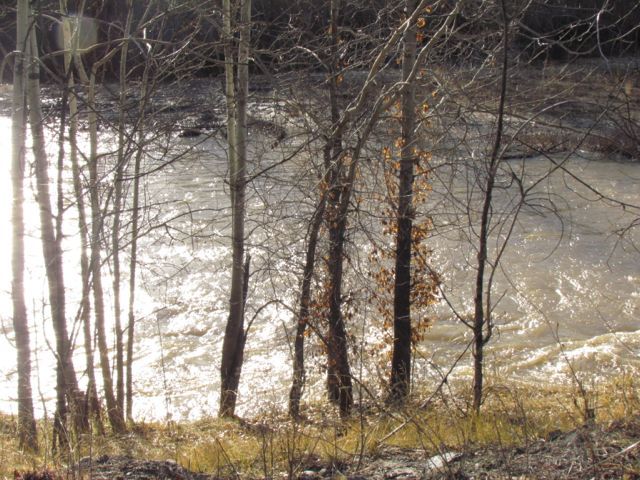 One day I drove to Tatla Lake.  This is downtown Kleena Kleene.  Is the fog going to lift?  On so many days it looked promising, but never cleared.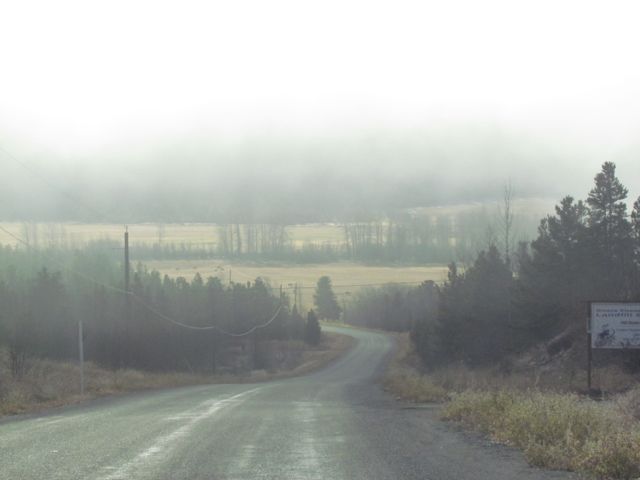 Just past the ranch, I drove out of the fog.  Finger Peak was incredible.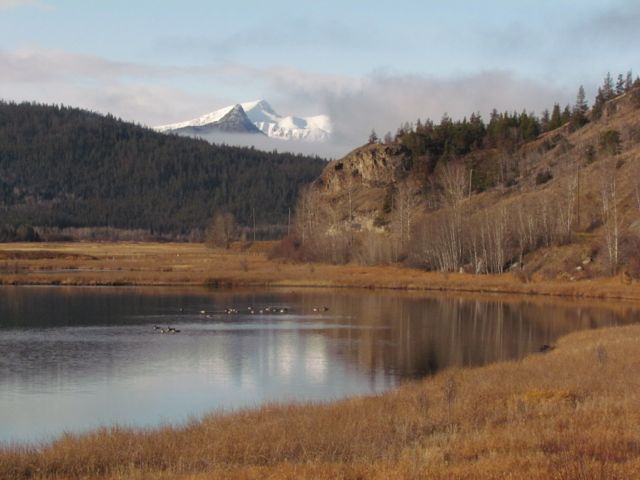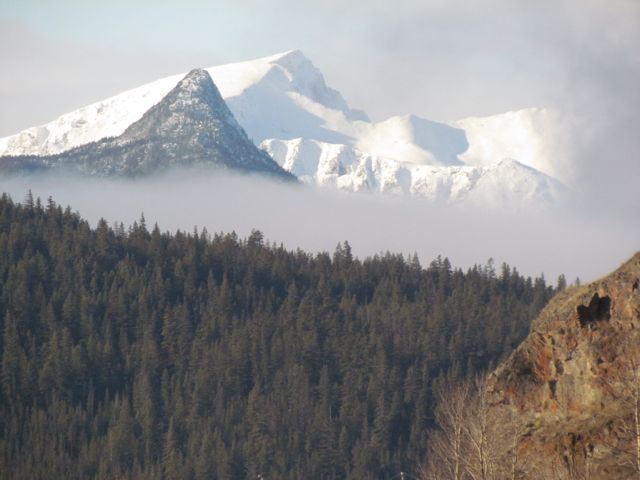 At Tatla Lake, trumpeter swans had joined the geese and ducks on the water.  It is just starting to freeze.  The birds will then move on.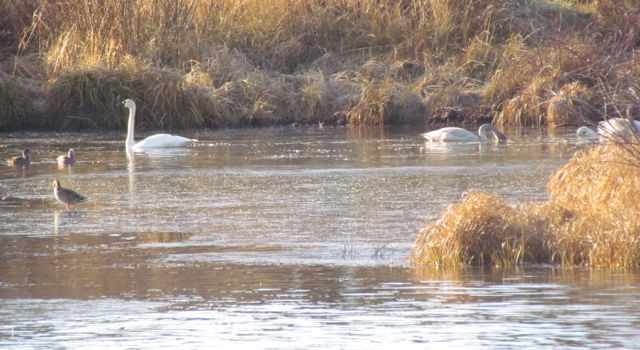 Then we got a little Sno with the Snu.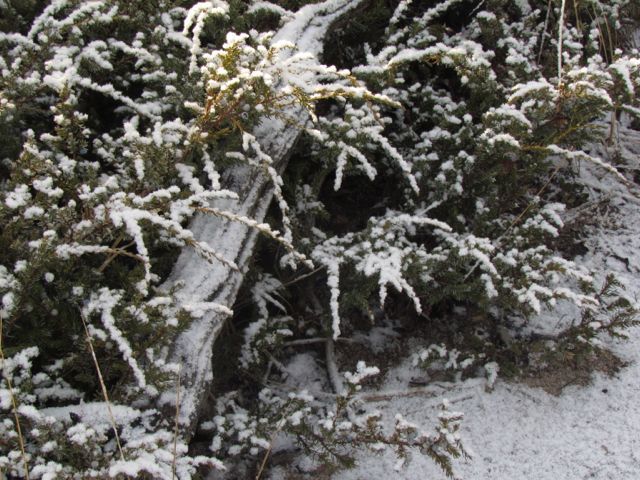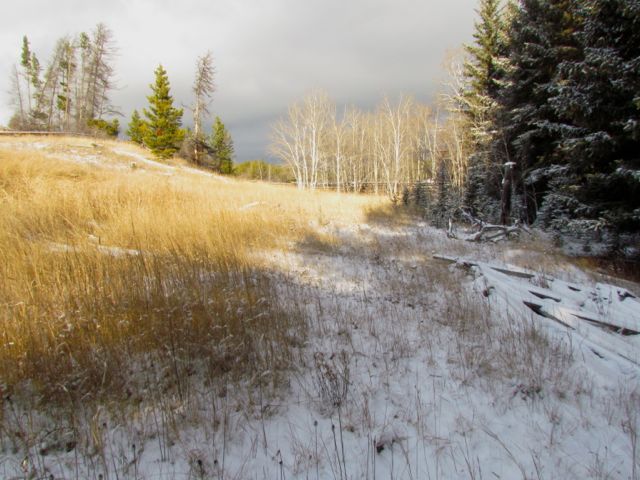 A bit of a wind came up and blew great streamers off the mountains.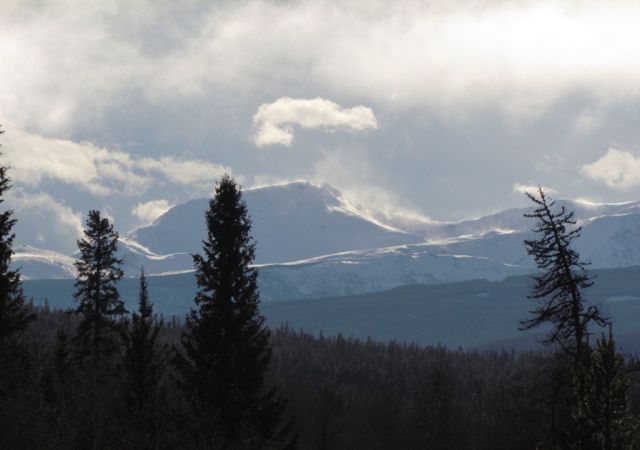 The ponds had frozen a little, but fresh water flowed on top of the ice.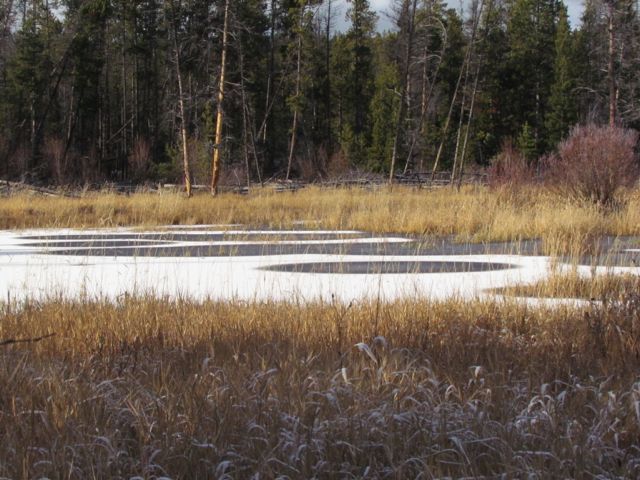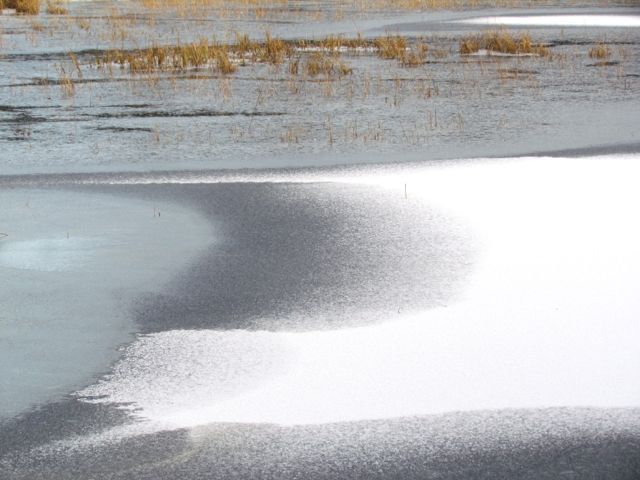 Badger enjoying the view – and the warmth – from the south bluffs.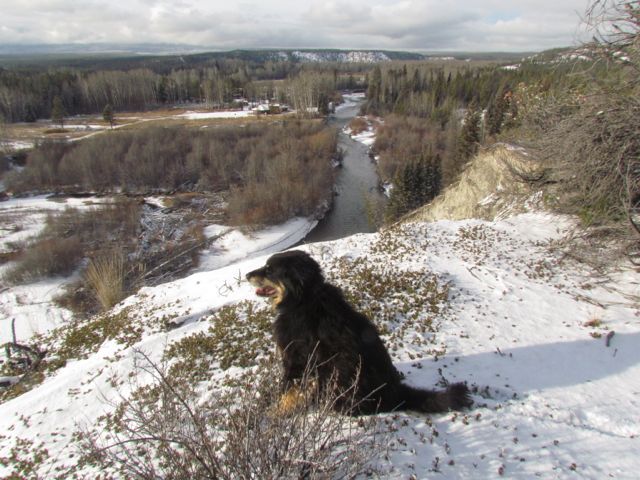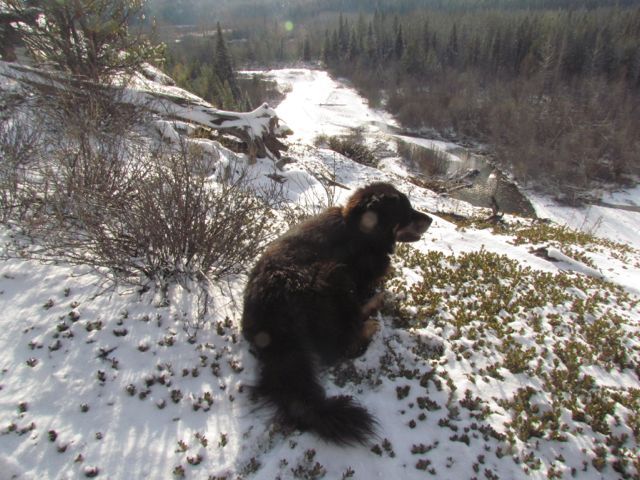 Back at the river property.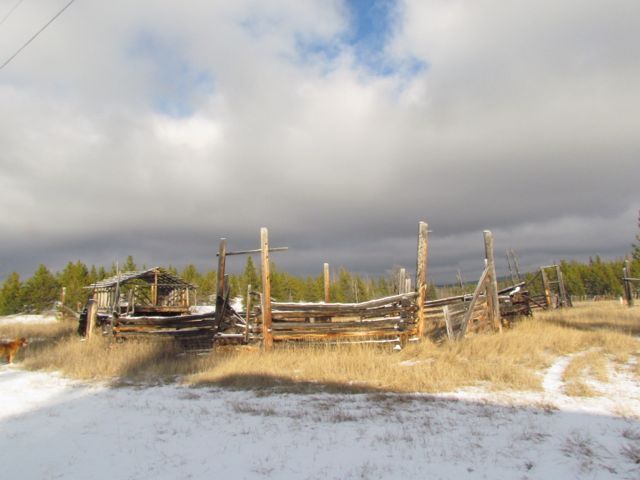 And finally I got to see where the sun went down.  The last time this was visible, the sun just cleared Nogwon (off the picture to the right) – that would have been at the Equinox, nearly two months ago.  On the shortest day it will sink at the edge of the picture to the left of Finger Peak.