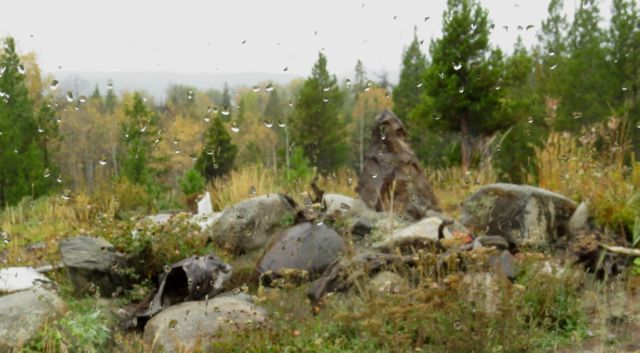 I anticipated good weather by the time the fall equinox came round, as September is often a beautiful month, but the rain keeps falling.  We were promised a week or more of sunshine,  We had 3 absolutely gorgeous day, then one mediocre day, and that was it.
One oddity about the summer (did I say summer?) weather, is that we have had no frosts since mid May.  This is very unusual.  But of course, as soon as the sky cleared we got zapped.  Not just a touch of frost, but an immediate -6C.  Before that, my veg garden looked quite pretty.
Potato flowers.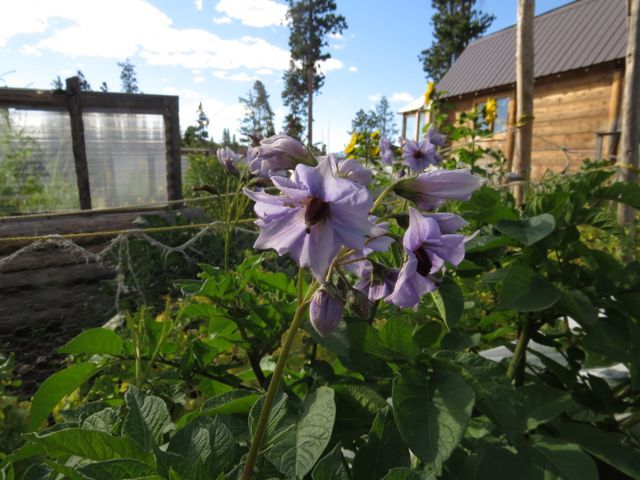 Behind are the sunflowers that the birds planted.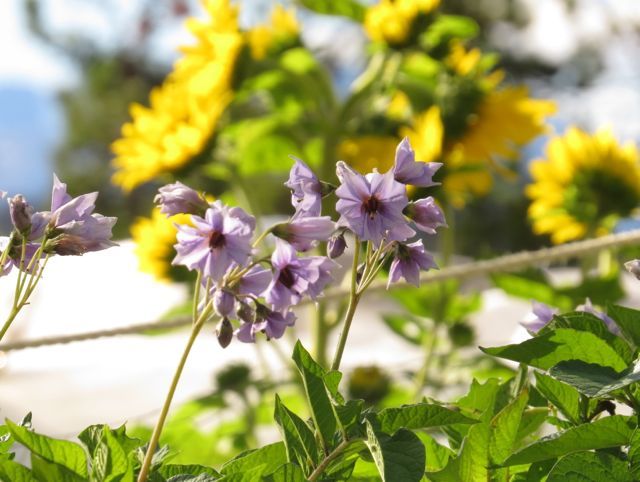 After the frost, they looked like this: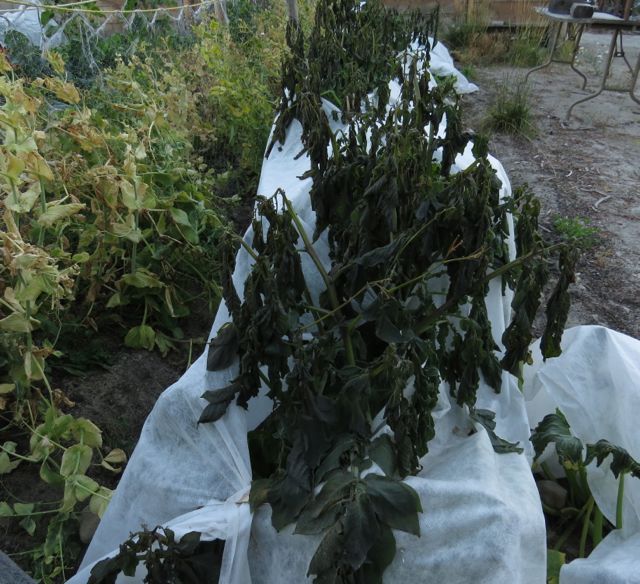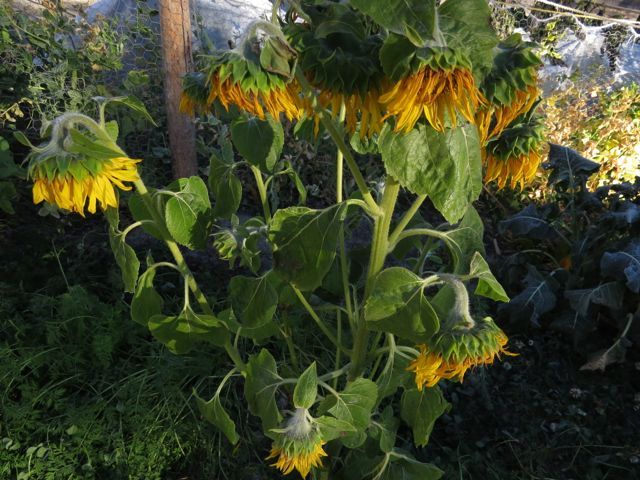 The potatoes won't be hurt – part of the plants were protected by row cover and the tubers will be safe underground, although I will have to dig them soon.
Kale can take a lot of freezing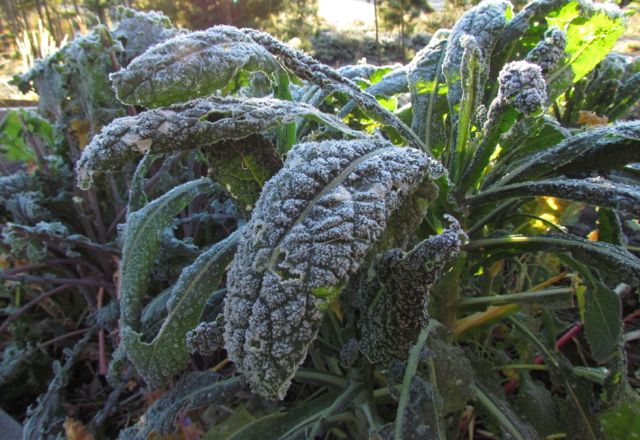 Unfortunately, I spent most of the good weather wrestling with my greenhouse roof (scroll two posts down.)  But at last I was able to sneak a hike or two in reasonable weather.  It was the first time I have been able to hike around the place for months.
The dwarf birch is turning red.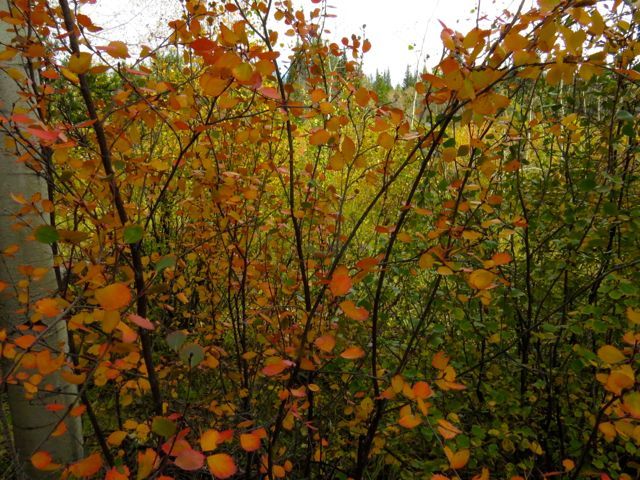 Strawberry Bights have been amazing this year.  The one in the foreground is very untypical – pretty, though.  I will have to see if it grown there next year.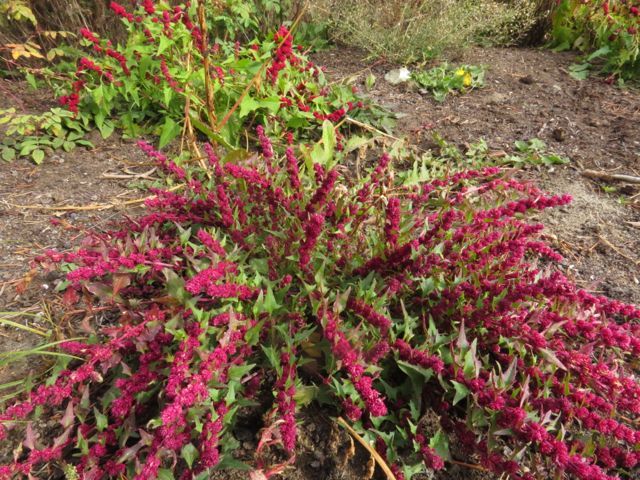 I'm not sure what kind of a fall display we will get.  The aspens never even turned yellow before most of the leaves were blown off.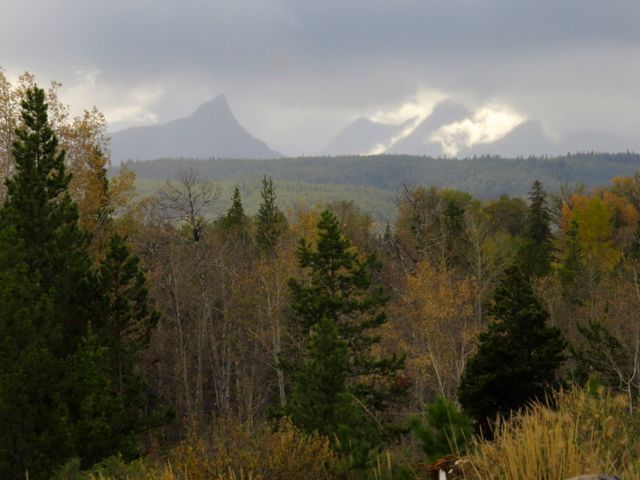 The cottonwoods are still half green, though – here's hoping we will still get some colour. The fine evenings have given us a beautiful light.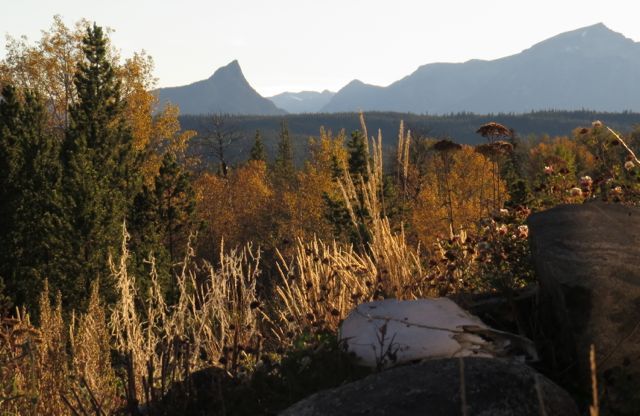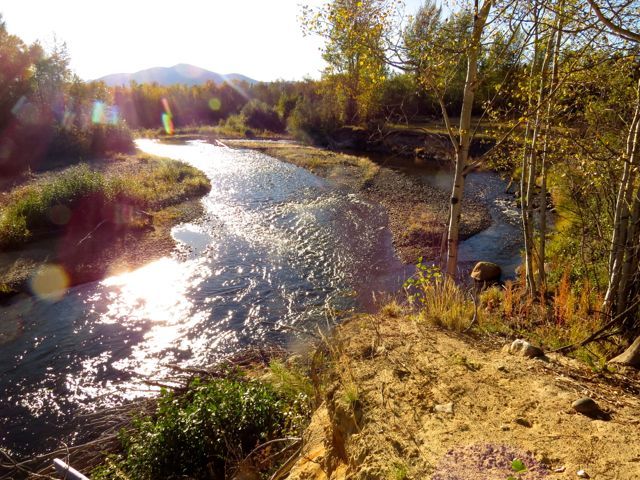 Walking through the meadow, the seed heads were selectively backlit by the low sun.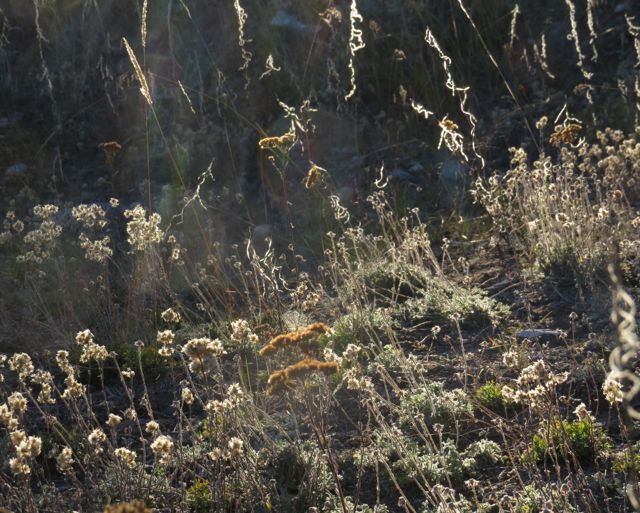 Rock cress alway makes interesting scribbles.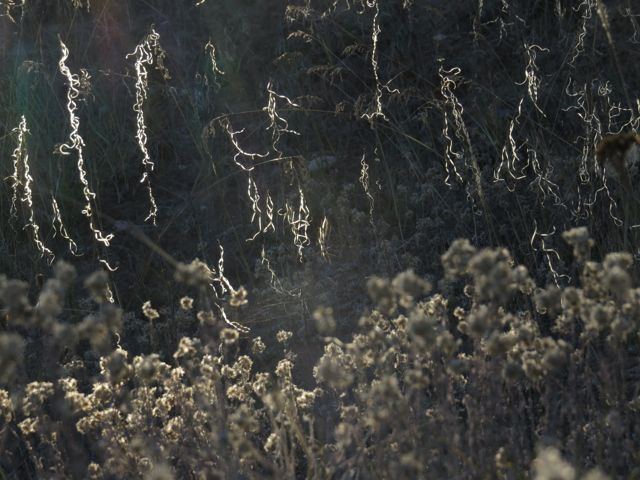 At last my greenhouse roof was finished (scroll down 2 posts.)  I had one glorious day before the wind and rain started once more.  Needless to say, because the night was clear, it froze quite hard again.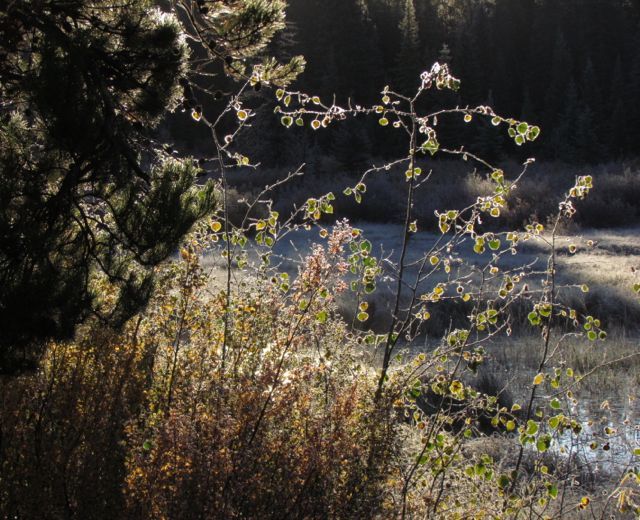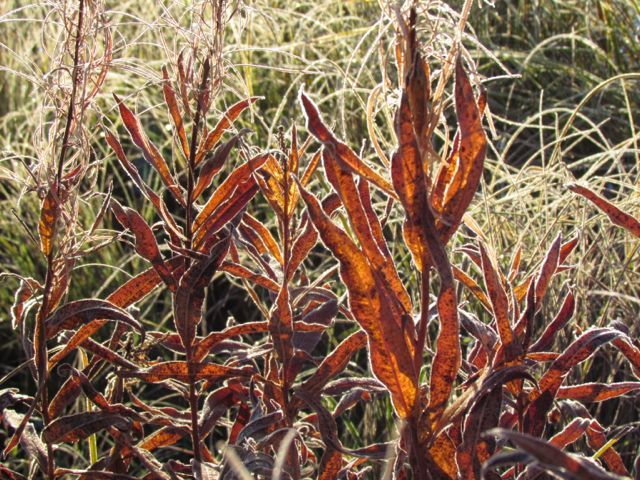 Another anomoly: the pond has stayed full all summer.  And the ducks have stayed in residence.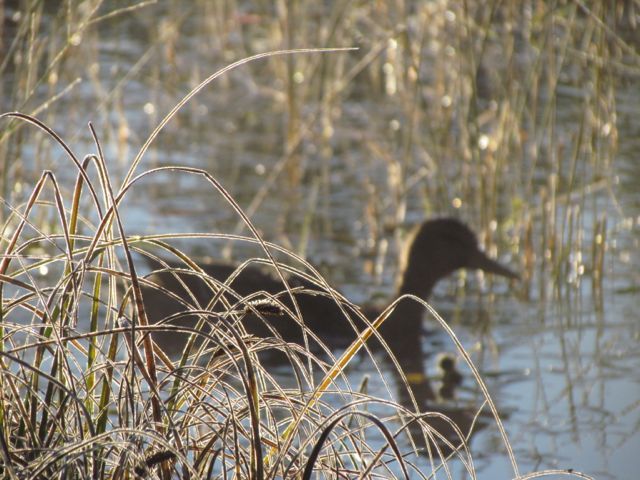 So, for some inexplicit reason, has a female hummingbird.  They usually leave mid August: the adults go first, and the young, with no parental training, follow soon afterwards.  This one seems to have missed the bus.  I quit feeding for a while, but she was always around so I made up some more sugar water.    She will likely not survive the colder weather.  I think it is amazing that she is surviving at all.  She visits the feeder only a few times a day and there is absolutely nothing else for her to eat.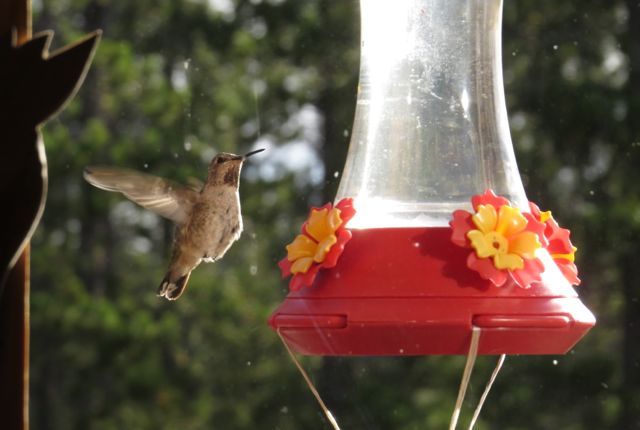 The sun highlighted the fluffy willow seeds in the wetland.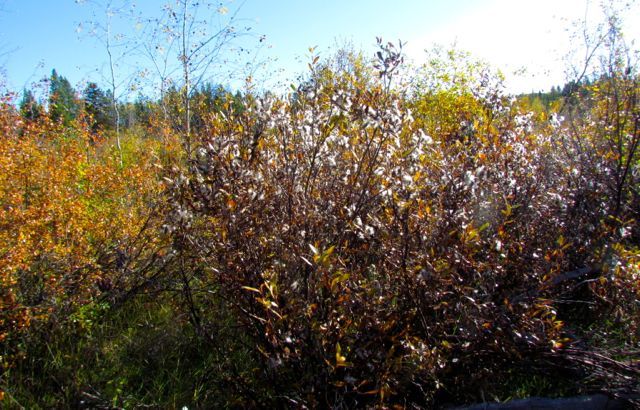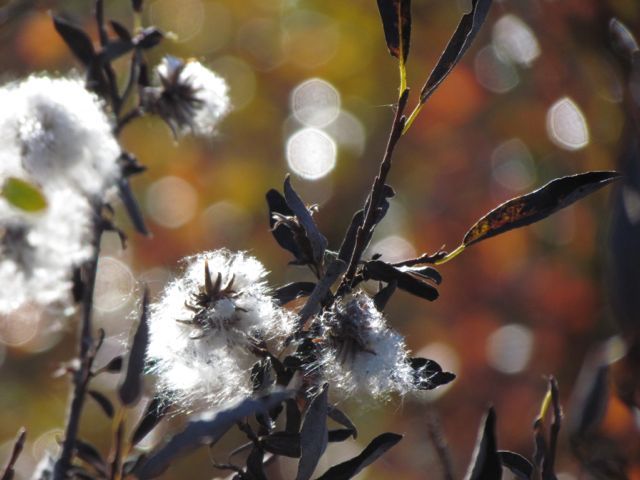 The constant cold rain is putting new snow on the mountains.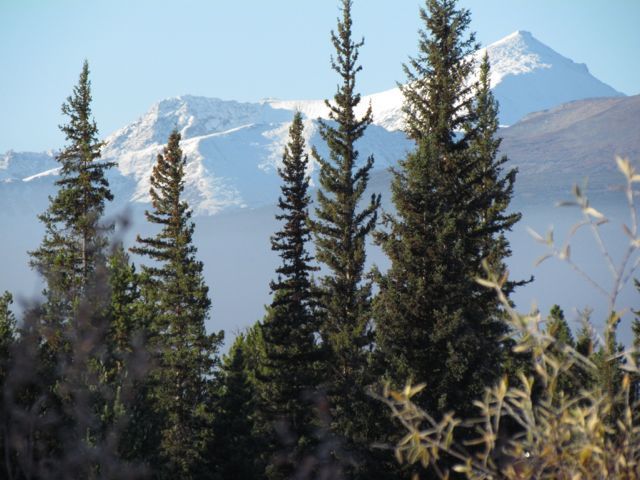 It is also giving us occasional dramatic sunrises.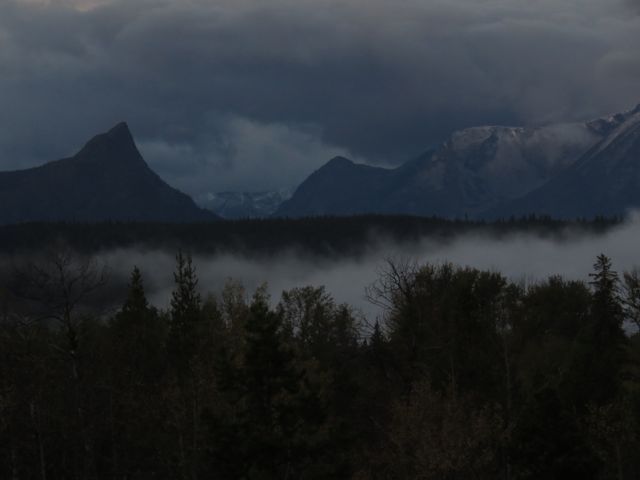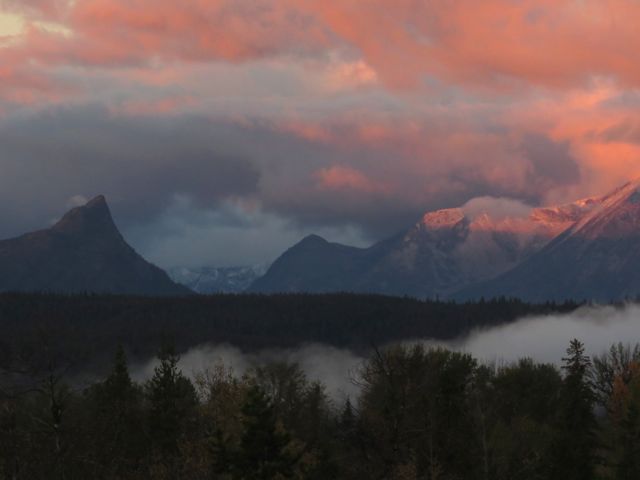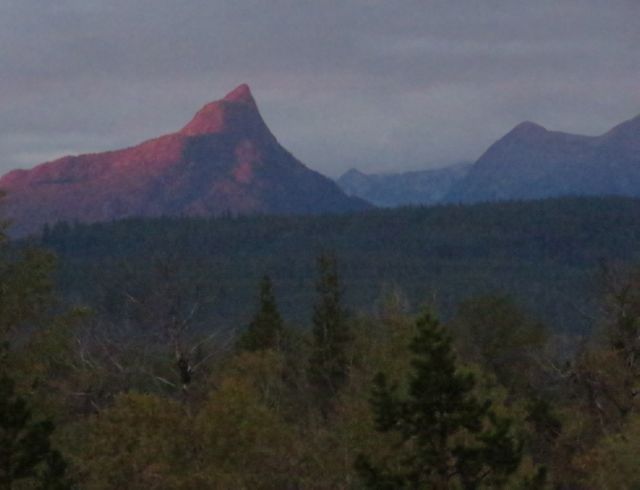 And we are still getting rainbows.