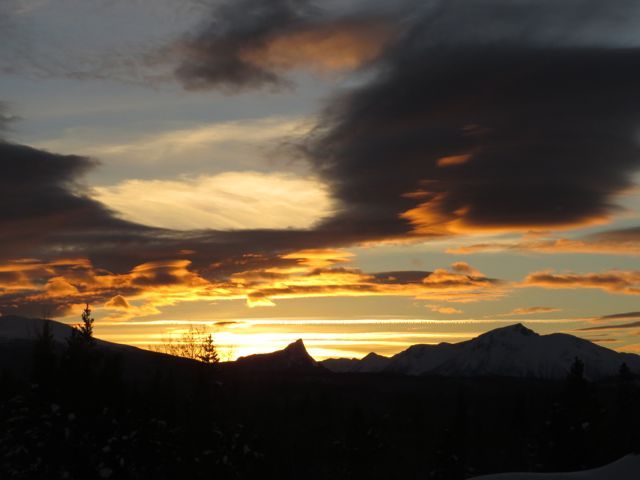 We had 3 gorgeous days before I got snowed in again.  The third day was so warm and windless, I did a whole hike without wearing a coat.  However, despite the warmth and the sun, the snow stayed cool and fluffy.  It was a fabulous afternoon. I decided to tackle the north bluff. (The treeless patch in the middle distance, above the solid cliff, is what I call the south bluff.)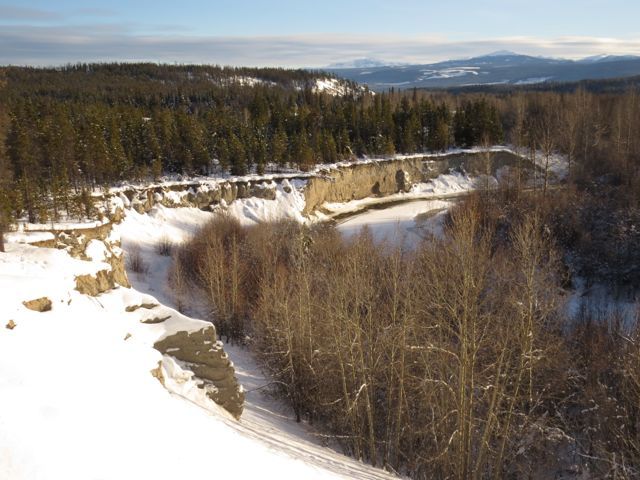 I broke trail up onto where the sand dunes occur – now below the snow.  I followed the tracks of some kind of wild dog – my own dogs sink much deeper in the snow.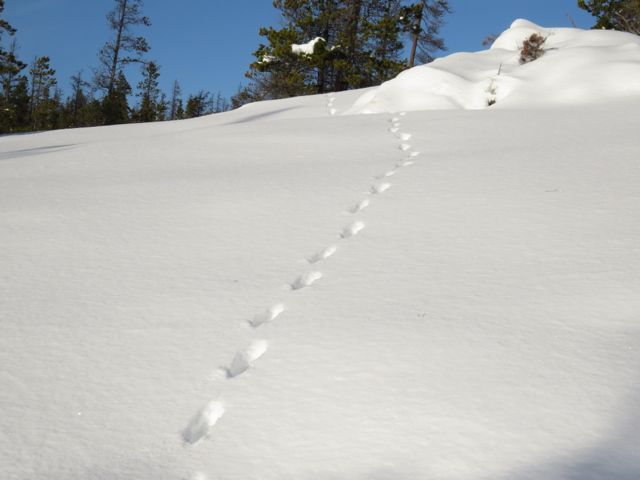 Most of the fallen trees were covered in snow, but this root was displayed well.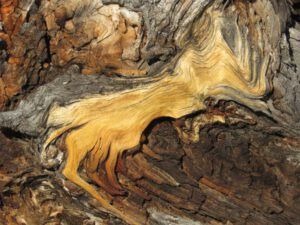 The dogs found it hot up there, and preferred to rest in the shade.
The waxing moon welcomed me on the way home.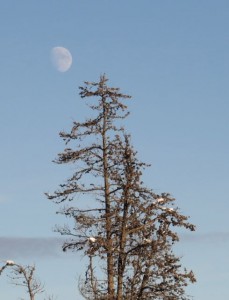 But the cloud came in at sundown.  I have not witnessed a full moon for 4 months.  It has always been cloudy.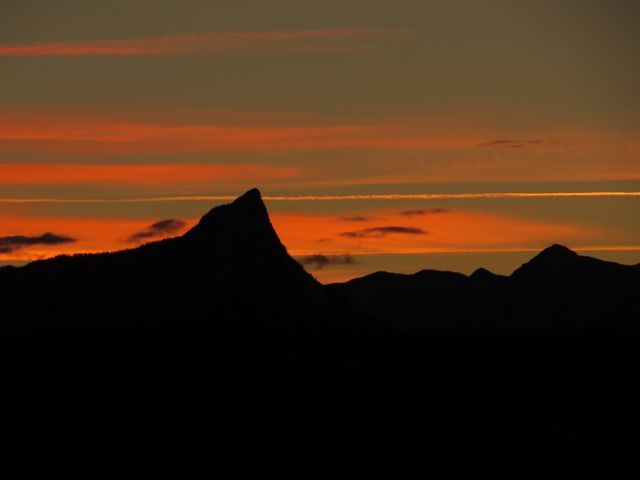 And after that, it was gloom, gloom, gloom again.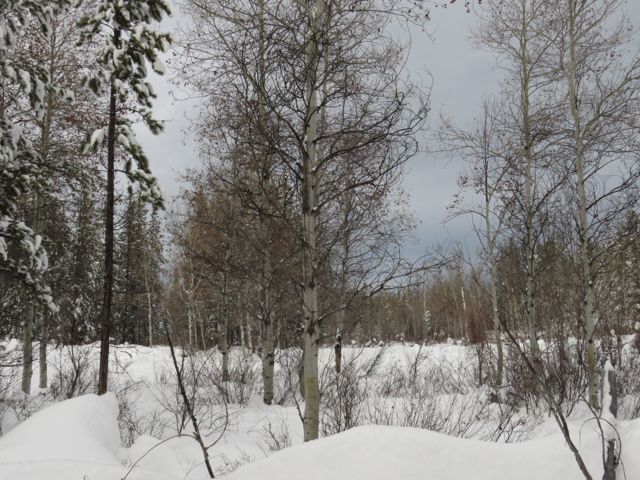 Then, it started to snow.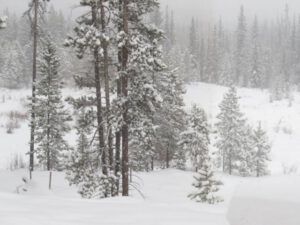 Once more I was reduced to continuously sweeping snow off the solar panels.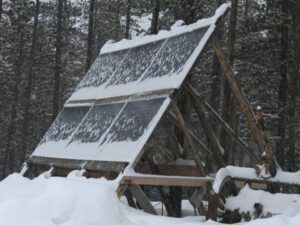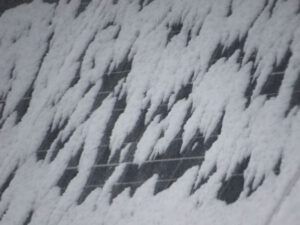 The pine grossbeaks flocked to the feeder. (The dull-coloured one behind is a female.)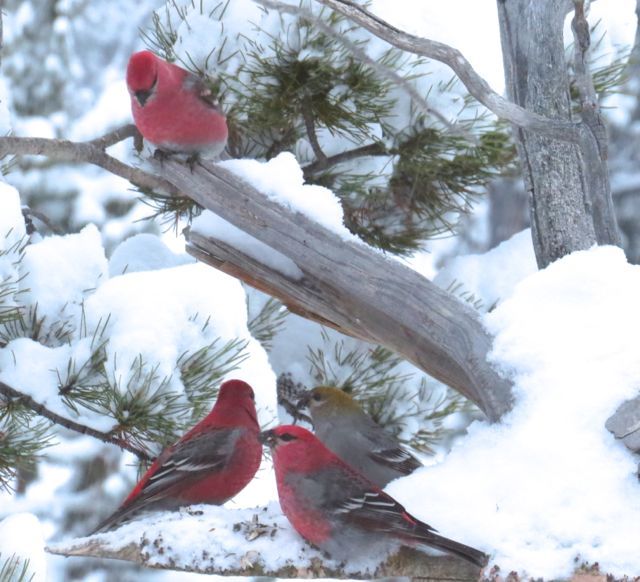 After 3 days, it quit.  There was not quite so much as our big dump at the end of November, but it was still pretty deep.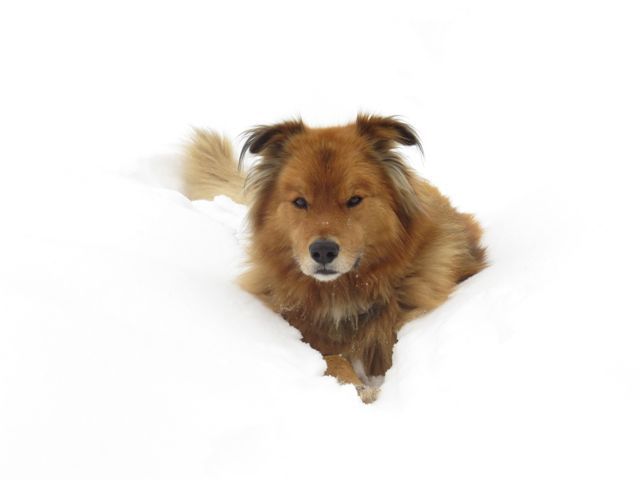 Once again I had to dig out my trails and the vehicles.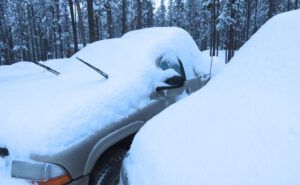 And once again I tried to find someone to plough me out.  The neighbour who usually does it had not yet got his cat home – the track had finally been replaced, but now the motor wasn't running well.  The man with the big tractor who ended up ploughing me out last time, was not answering his phone or emails.  I tried Interior roads, but they will not plough anyone out until their grader is in the area – and it would be over a week before that happened.
Trouble was, I had arranged for friends to pick up a couple of boxes of vegetables from town. Local vegetables are pathetic (and totally chemically-laden.) I really miss fresh greens and, because of this dull weather, my microgreen gardens have been doing very poorly. I am lucky if I get a small mouthful every other day. My friends expected to pass through Saturday, or maybe Sunday.
Finally, the tractor man replied.  He had had to make an emergency trip to Williams Lake and as a result was well behind with his ploughing schedule.  However, he would try and come by Saturday morning.  Then his wife phoned me and told me his tractor had broken and he would have to try and weld it.  If welding did not solve the problem, he would have to order a part and that would take time.  So everything was up in the air again.
In the mean time, the weather stayed dull.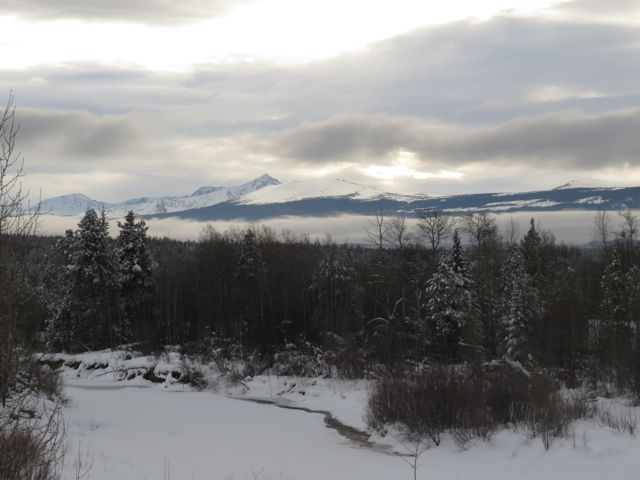 Then, one afternoon, without much warning, I suddenly saw a mountain emerge from the fog.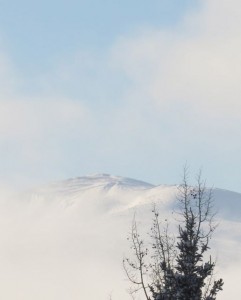 Forget the tasks I had planned to do – I was going outside!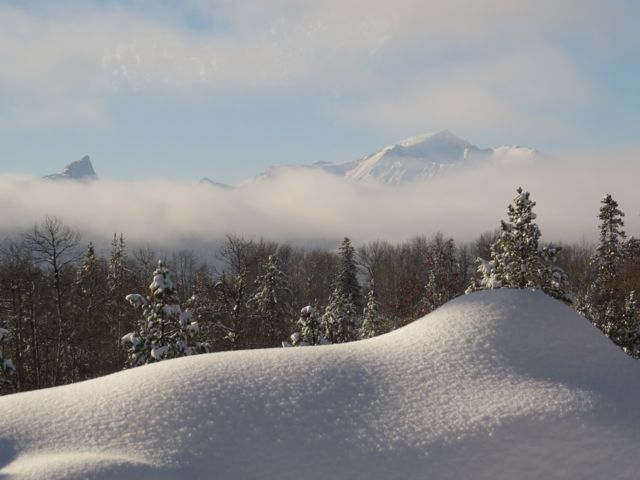 The fresh snow was a foot deep.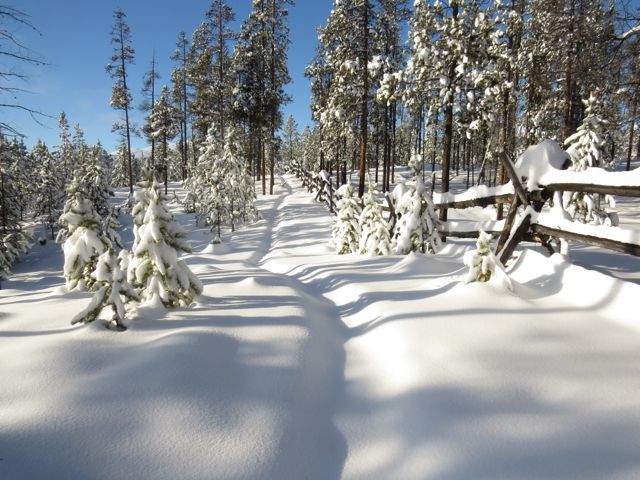 In unbroken snow, I sank to my knees, even with snowshoes on.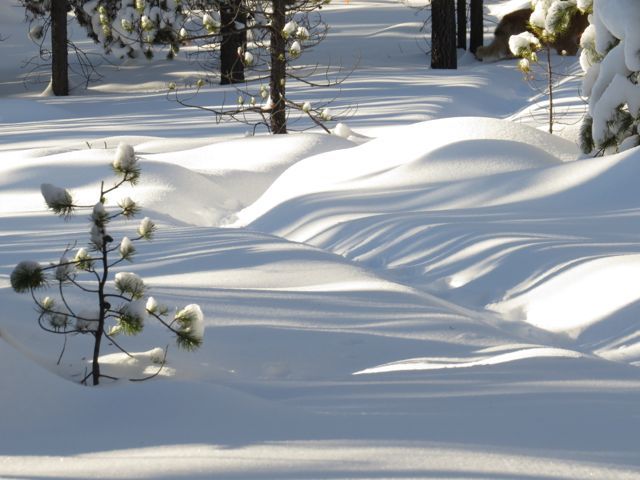 I am always fascinated by the abstract patterns created by snow shadows.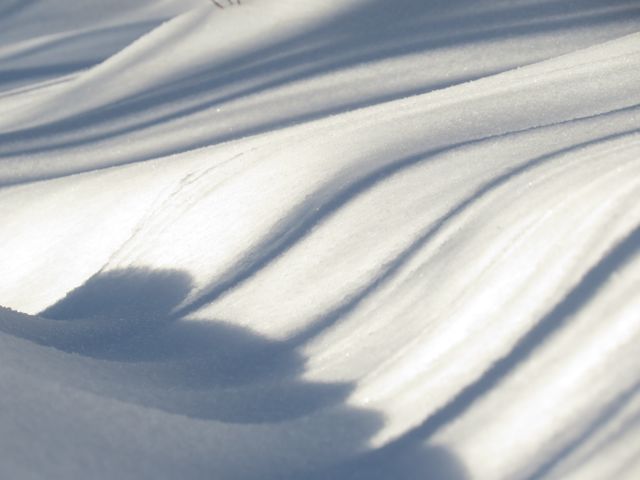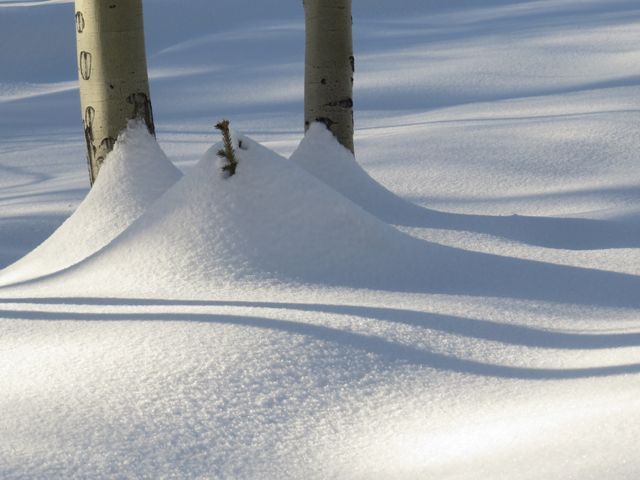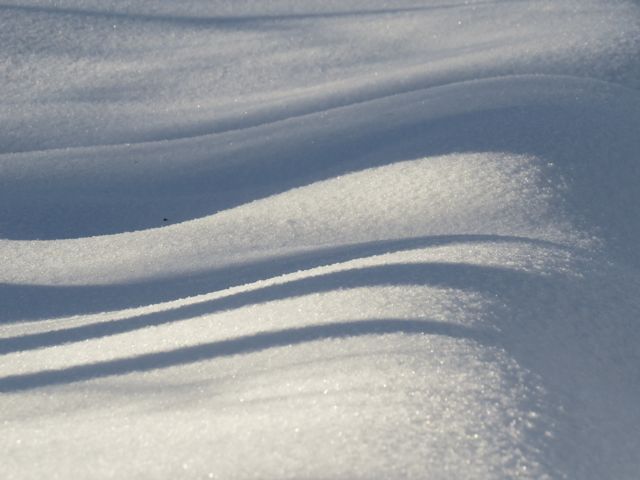 When the sun set, it backlit the snow-covered branches.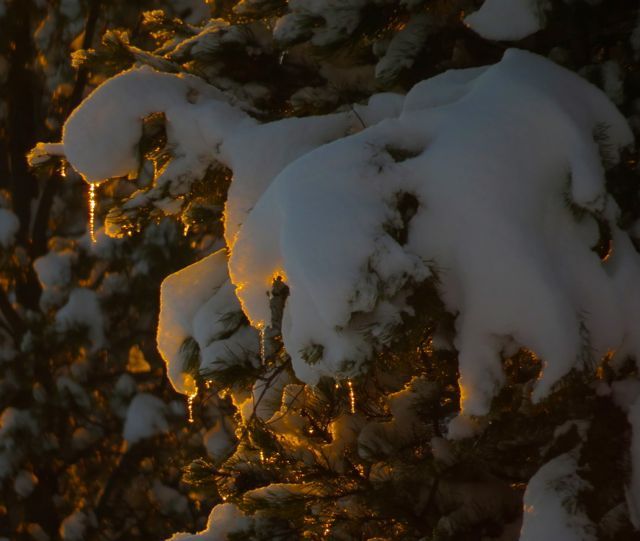 But the sun did not last long.  Two more dull days, then, Friday evening, there was a hint of clearing again.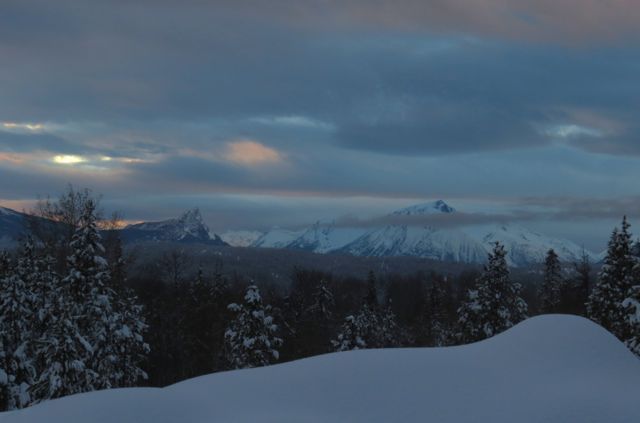 I also got word that the plough should be along some time Saturday, all being well.
It was very frustrating, for once again it was a beautiful day, but I couldn't go anywhere.  I couldn't even walk along the road without a huge effort.  It started with the morning moon.  It is now waning – you can see that it is just over a week since the last moon shot when the snow began.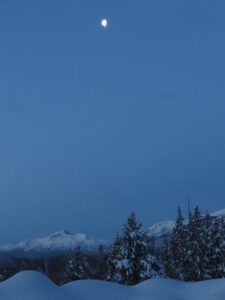 The sun rose with yellow glow.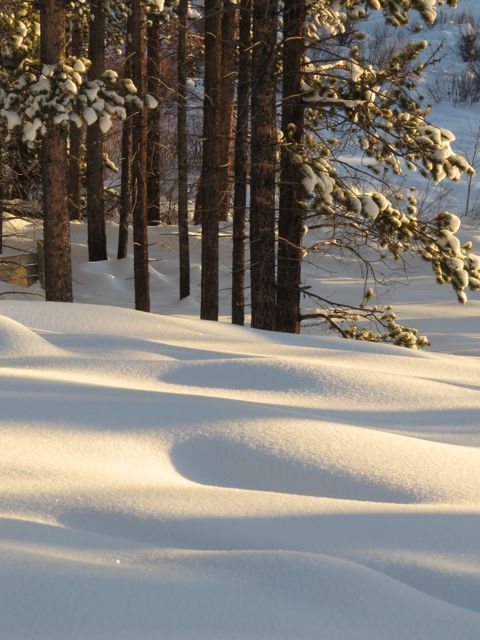 And early afternoon, Badger barked.  Sure enough, here came the plough.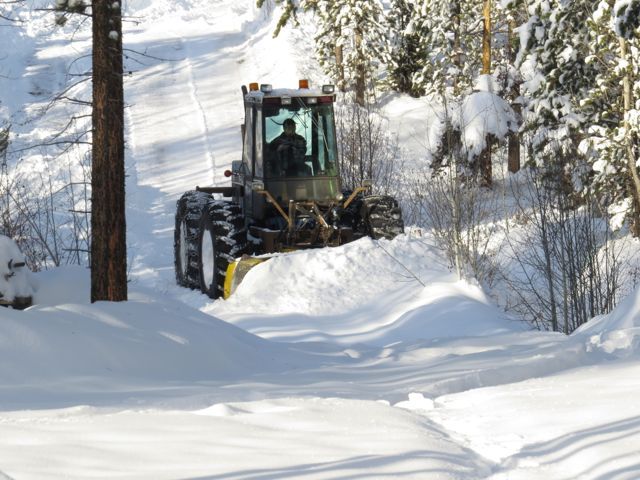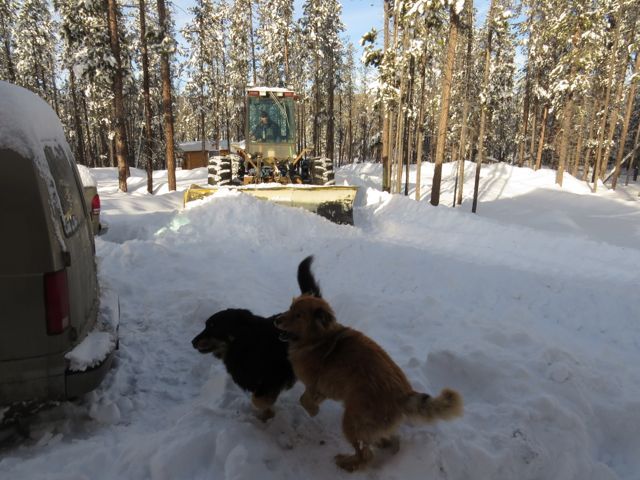 So now my yard is graced with large piles of snow.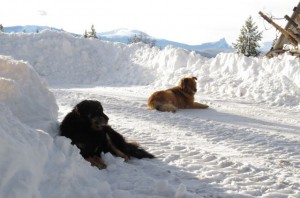 The one west of the main window was so big I had to dig some of it away before I could watch the sun go down.