Since Craig left about ten days ago, I have been alone.  This is the first time (apart from an occasional day or two) that I have been alone since three weeks before my operation.  I need alone-time to stay sane so it has been marvelous not to conform to a schedule that accommodates someone else.
I have not, however, been idle.  First, the floor had to be finished.  When Lily was here, I coated it with linseed oil.  Even though it appeared to be dry, every footprint, in boot or sock or bare, marked it and it could not be swept or even washed off.  Double-boiled linseed oil worked better, but it was still a problem.  So when Craig left, I got on my bum – I still cannot kneel – and shuffled around re-sanding it (by hand: the machine gave up and in fact hand sanding is more effective.)  Then I coated it (by hand of course) with stuff called paste wax.  There is a warning on the label stating that in California it contains cancer-causing components, but my pendulum said it was safe for me (because I do not live in California, I suppose.)  I expected the paste wax to put a shine on the floor, but it didn't.  However, now, when it gets dusty, it is easy to mop clean. (the area to the side and under the bed still has to be finished.)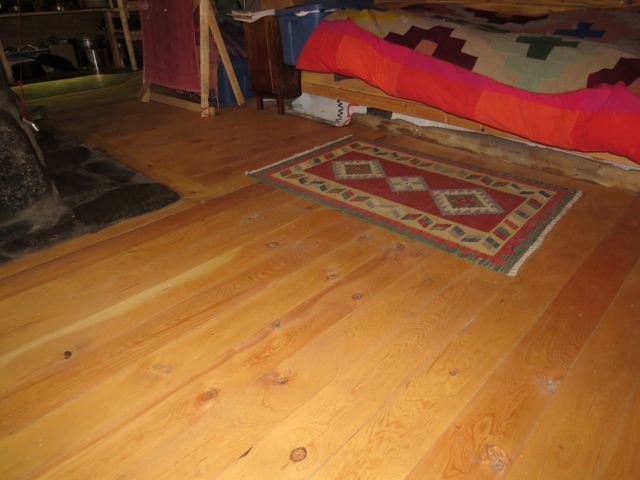 Then I went into the bush for some thin, dead trees and peeled some poles,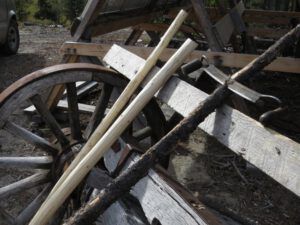 with which I constructed a drying rack.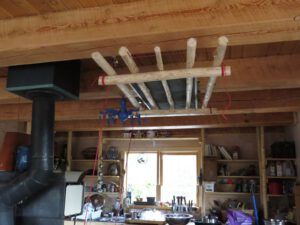 Now I could dry some kale.  We have had some pretty frosty mornings again.  This is what kale looks like at minus 11C…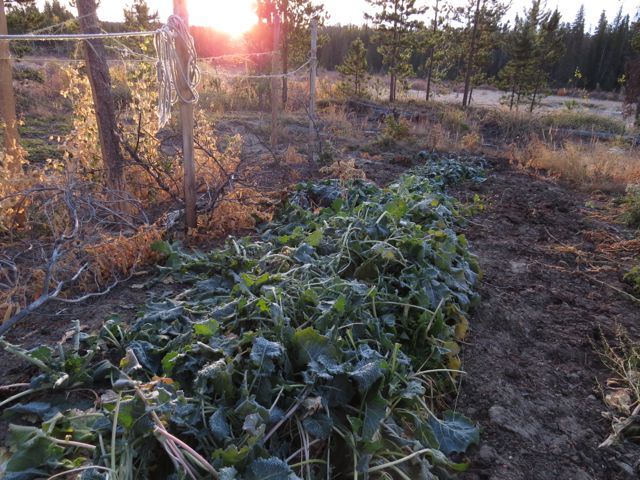 so I thought I'd warm it up!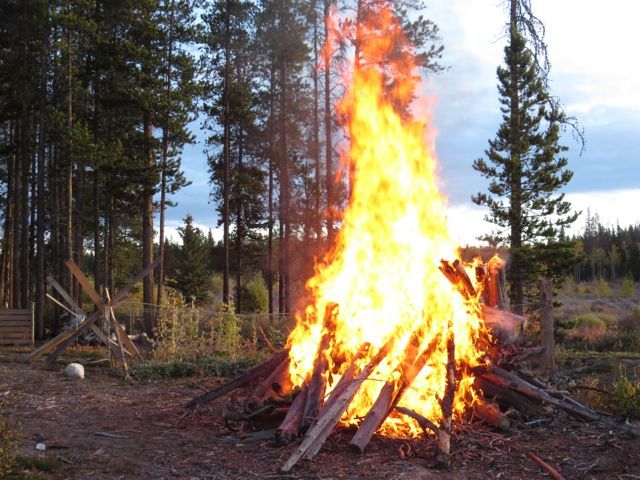 Some of the kale went onto the new rack, and some went into the oven.  The kale tolerates a considerable degree of frost and now, every day, I do another batch. Dried kale is excellent to nibble on and great for soups or salads.  Unfortunately, it cannot be simply dried.  If so, it would taste too bitter.  So it has to be boiled or steamed briefly first – and before that, every leaf must be minutely inspected for aphids, which are abundant on some leaves and scattered on others, and little green caterpillars, most of which have spun themselves into silk cocoons plastered to the leaf's surface.  So the whole business is quite a process.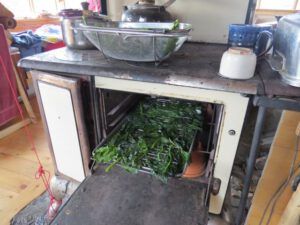 I've been doing some other careful burning of logging slash – it is still exceptionally dry.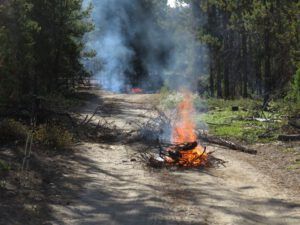 And cutting yet more 12″ firewood for my friends at Stuie.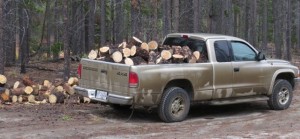 I needed some more 2 x 4s.  So I went to the mill at Anahim.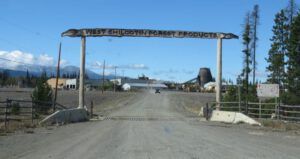 The mill is a very on again, off again affair, but a year or two back, all the machinery was changed to metric measurements to conform with Asian and European demands.  So now "2 by 4s" (which were never 2″ by 4″ anyway) are 3.7cm by 8.7 cm x 2.95m.  They are almost two feet longer than the old ones.  This means, they do not fit into my van and I had to tie the door shut around them.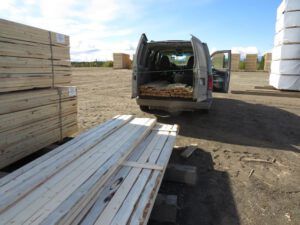 With them, I framed a coat cupboard.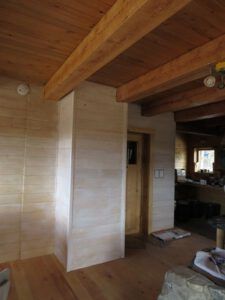 It has a sliding rack for the coats.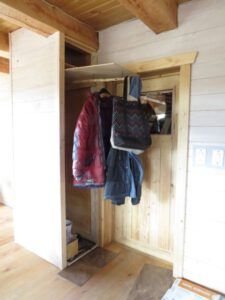 (I have only one coat hanger so far – obviously something that must be rectified!)
I have never been good at making table legs.  On a trip to town several weeks ago, I found parts of a table in a junk store and fastened them on to some boards I already owned.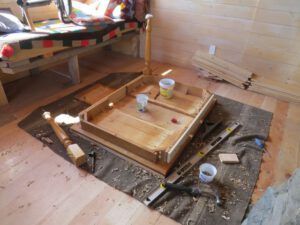 I already had a top that I liked made of three wide whitebark pine boards I made with a chainsaw at Nuk Tessli.  The ship's varnish I originally coated them with had been assiduously sanded off by Lily, and now I put linseed oil and paste wax on them.  I also built a shelf behind the table.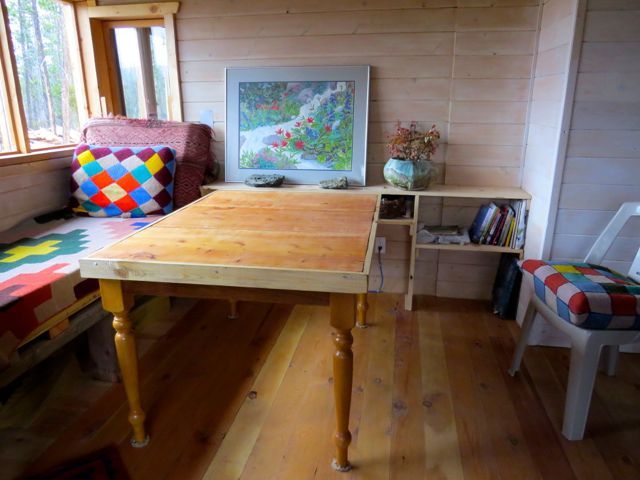 The house is finally beginning to look more like a home.  The painting is not yet hanging as I have an enormous amount of artwork still hidden in boxes and I want to get it all out before I decide where things should go.  That will have to wait until I finish other storage spaces upstairs and outside.
In two weeks I will pick up another volunteer.  In the mean time, I have a lot of work still to do.
Should you wish to comment, click on the title and scroll to the bottom of the new page.