At last I have a few hours to catch up with this blog.
About two and a half weeks ago, I drove to Williams Lake to pick up a volunteer.  I left early and dropped the dogs off with a neighbour (one hour away.)  Right at her driveway were 3 great horned owls, two of them young.  (The picture is dark because the sun had not yet risen.)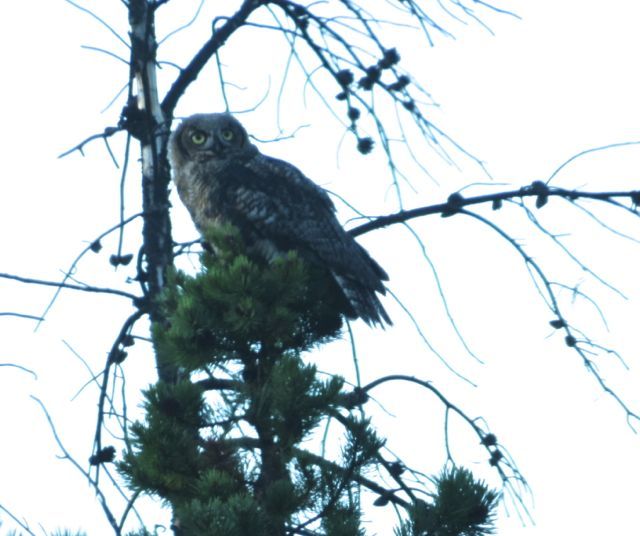 When you live in the west Chilcotin and drive to town for the day, you have the sun in your face in the morning, and again in the afternoon when you return home.  Fortunately, there was a bit of cloud at first that helped block the glare.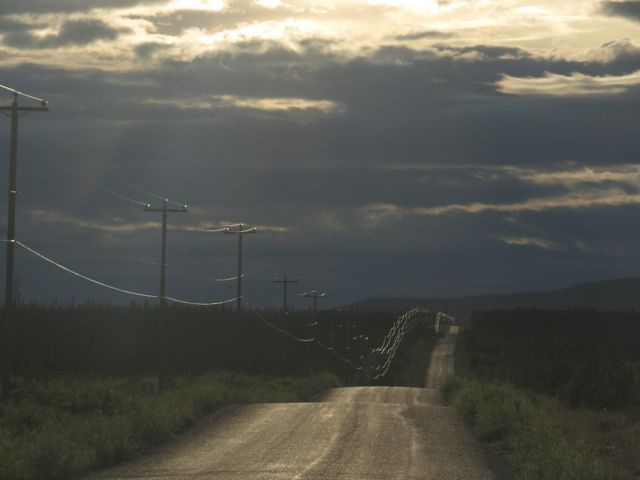 Patrick is a Workawayer from Switzerland.  From reading his profile I did not know how tall he was.  (Six foot 7″)  Which was opportune, because the first job was to put a coat of finish on the ceiling!  I stood on the kitchen steps- Patrick didn't need anything!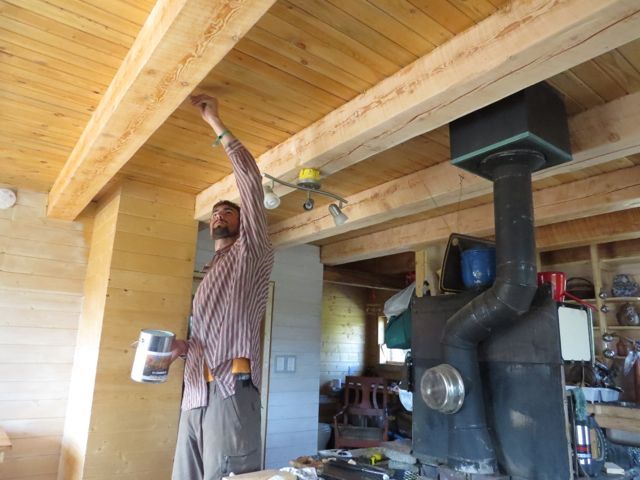 We also lightened the walls with milk paint and put a trim around the windows.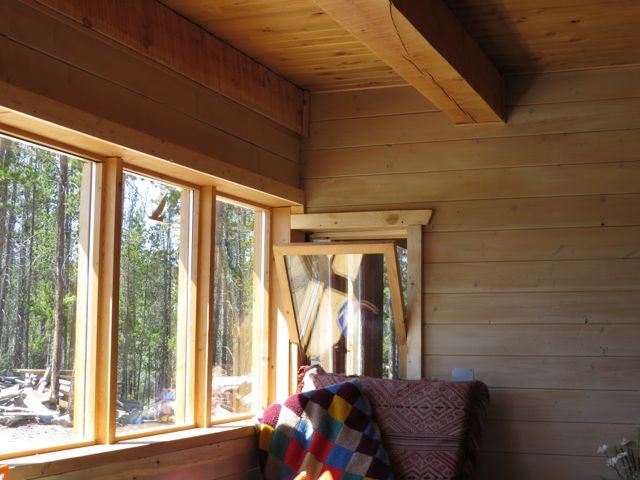 At last I was getting some work done about the house.
The next big task was to finish laying the stones around the cookstove.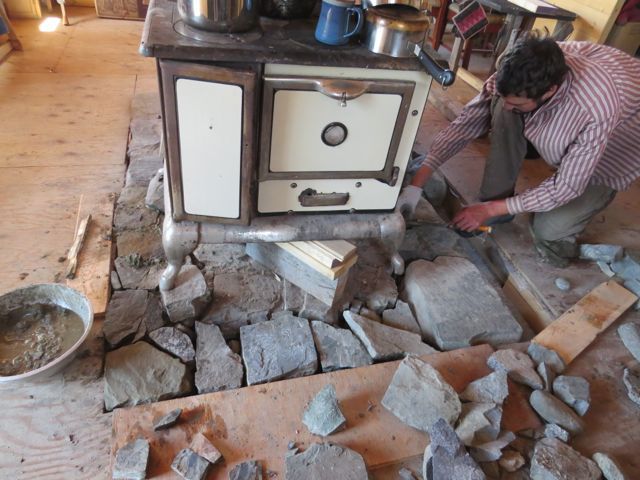 We mixed cement in the wheelbarrow.  I cannot kneel or squat so sat on the wet, cementy floor to do my share. I was cooking and sleeping amongst this mess!  It looks beautiful.  Now I can't wait to get the floor laid.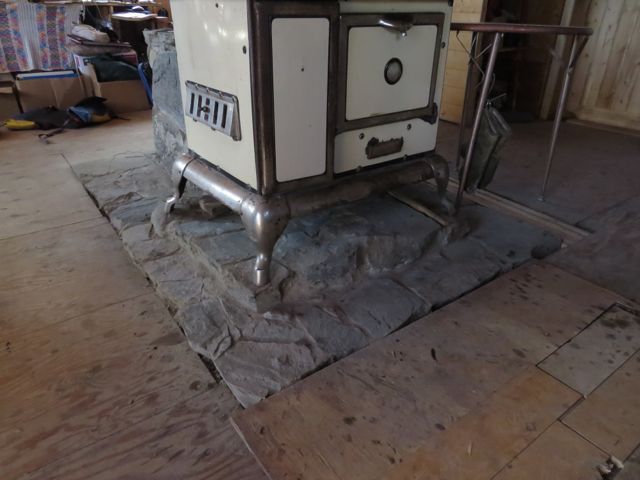 The stone oven I built two springs ago needed trimming around the edge.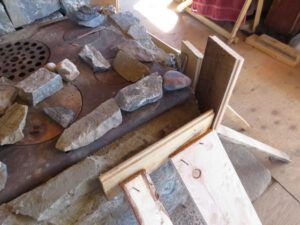 I had to build quite a framework to hold everything in place.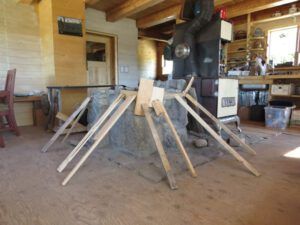 Patrick has also been doing a lot of work on a cabin.  I built the original roof to cover a leaky trailer, and with the help of other volunteers, put in a subfloor last fall.  Patrick put up the rafters and walls of the extension, and made straight edges on the original round poles.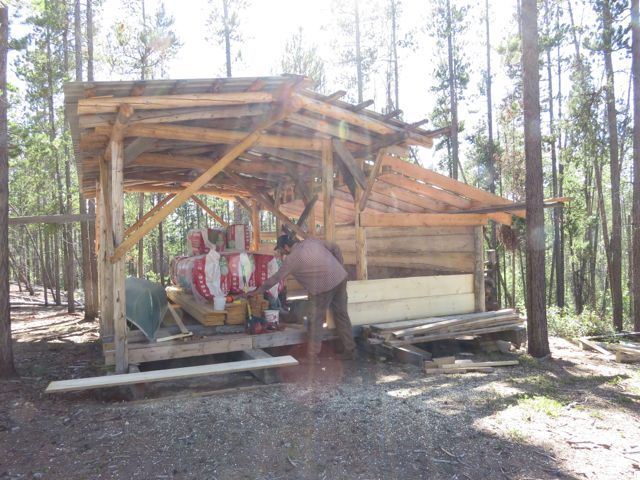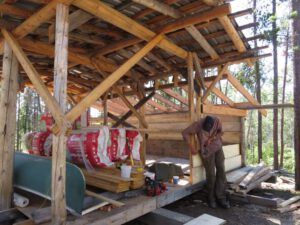 It is very unfortunate (for me) that Patrick will be leaving in a couple of days.  He has been a fantastic worker, good with tools and willing to work long hours.  Despite being plagued by bugs!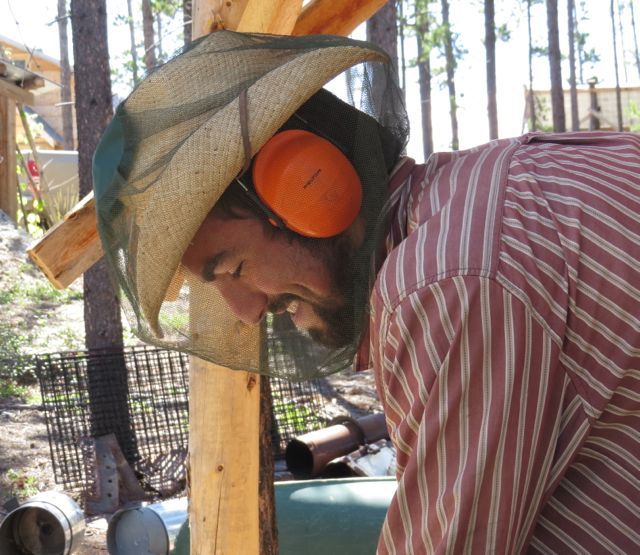 If you wish to comment, click on the title and scroll to the bottom of the new page.