It was pouring when I left the Lower Mainland.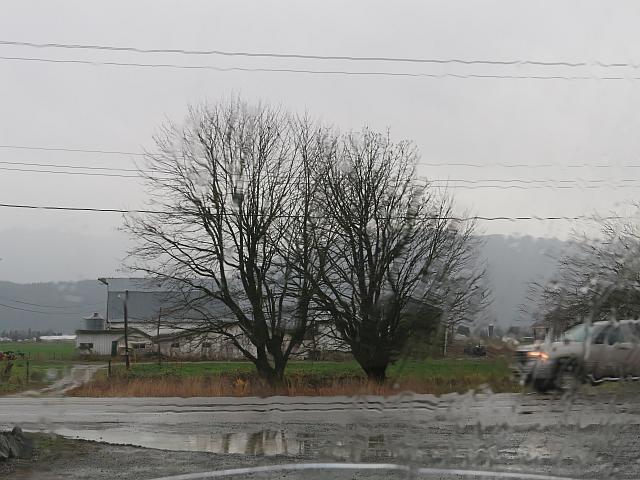 The high mountain highway I had used on the way south had been closed for several hours due to heavy snow the day before, and more snow was forecast.  So although the digital info signs said the road was open (with slippery and slushy sections)  I elected to follow the Fraser River up the canyon.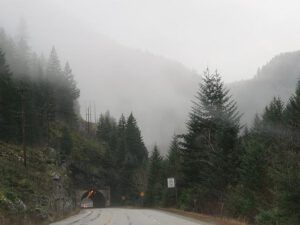 I stopped at Boston Bar for gas.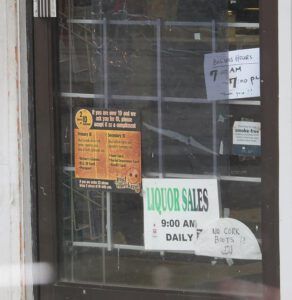 As so often happens, once I had crossed the mountains the weather perked right up.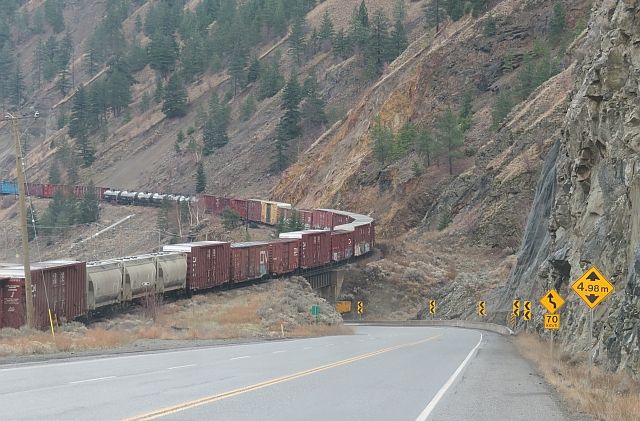 I wanted to go to Vernon so at Spences Bridges I took a minor road to Merrit.  It was narrow and twisty, faithfully following the convoluted turns of the Nicola River.  It was also beautifully sunny.  These sagebrush and rabbit bush grasslands are what passes for a desert in Canada.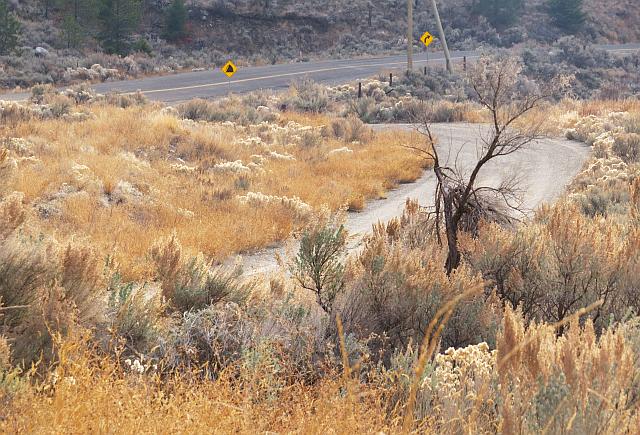 Although I had avoided the Coquihalla, I still had another high mountain pass to go over, but it was no problem.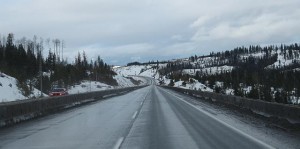 The following day, travelling through Kamloops was gorgeous.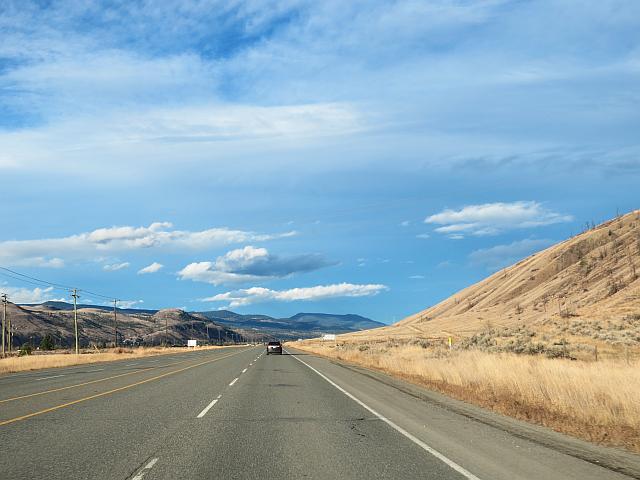 Then at last, the junction with Hwy 24….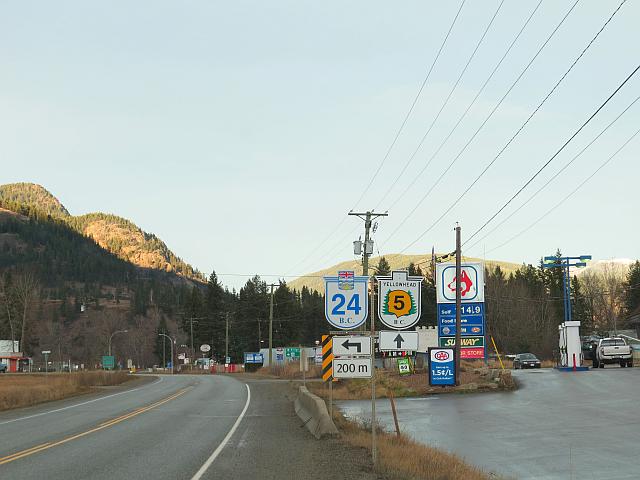 I stayed overnight at 108 Mile House, and the following morning had most peculiar weather.  I left in snow-splotched rain with the temperature +3C.  Soon it was sleeting thickly.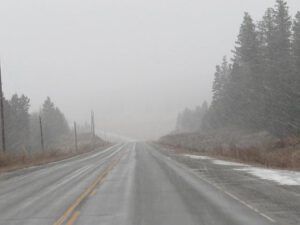 All of a sudden, the road was white and the temperature was -2C.  I slowed right down figuring it was probably very slick, and on top of a rise there was a pickup truck completely upside down right on the pavement.  Several people were standing around and there did not appear to be anyone in the cab so I assumed everyone was OK.  But as I continued I was met by a number of wailing vehicles: police, ambulances, firetrucks, rescue trucks.  I can only assume that there must have been another vehicle involved that had gone off the road with much more serious consequences.
And now it was snowing a real blizzard – and the temperature was -6C.  At least the surface of the road was now less slippery.  Shopping in Williams Lake was miserable.  But as soon as I climbed out of the river valley, I broke through the clouds – and the temperature was +4C.  There had been a cold front across northern BC, but a small tongue of chilled air must have pushed down along the Fraser river.  At the higher altitude on the Chilcotin, one might have been on a different planet.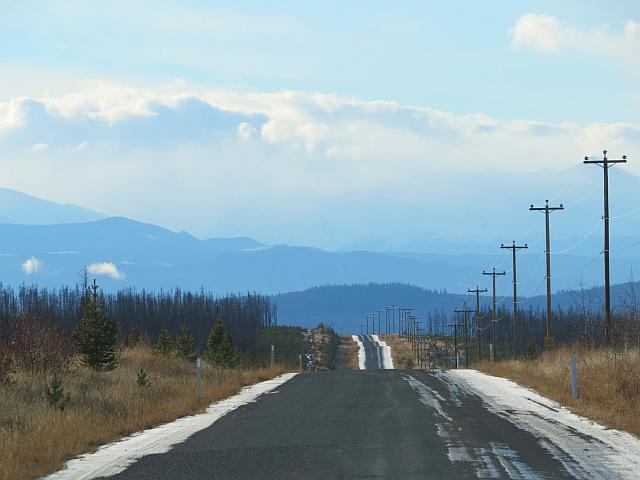 Shortly before I arrived home, the snow was more evident.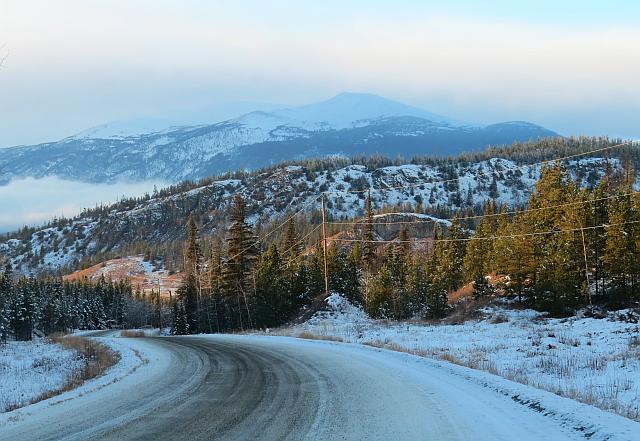 That is Noghwhon, one of the mountains I see from my window.
The dogs and the two volunteers were pleased to see me.  How lovely to come home to a warm cabin and supper already cooked!
On the whole it was a good book tour.  I had great audiences – thank you everyone who managed to come – met a lot of old friends and made new ones.  But it is exhausting being on the road for all that time.  Everywhere is so busy and noisy. At Ginty Creek it is gloriously quiet.  And at night I cannot see one human light.
The volunteers who looked after Ginty Creek got a ride to Williams Lake today, and I am, after many many weeks, finally alone.