Just before I left home, I went to Williams Lake to pick up a Belgian couple who will help Hugo house-sit while I am away.  The first thing was to have a bread-making session.  Hugo is already a competent bread-maker but it was a first experience for the other two.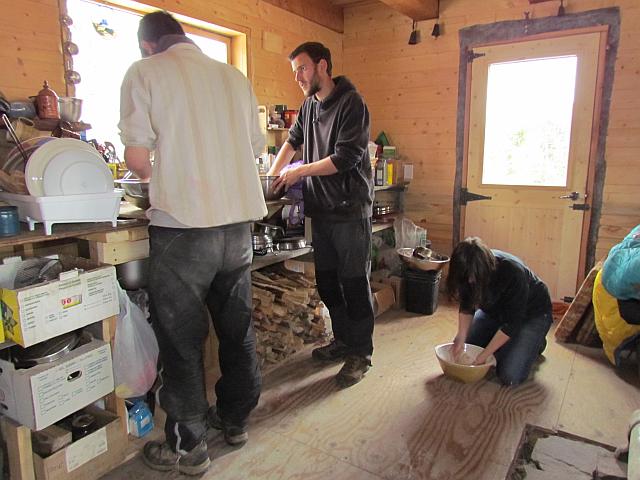 Another treat I have allowed myself at Ginty Creek is a vaccum cleaner.  It is impossible to sweep the rough plywood floor clean (I will be putting a nice floor on top so do not want to try and paint it).  Here is Laetitia assembling the vacuum cleaner.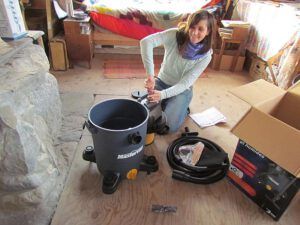 The van got a real clean-out before the start of the tour for a change.  The solar power system can't really handle a powerful vacuum cleaner so we ran it on the generator.  You have no idea what a big step having a vacuum cleaner is!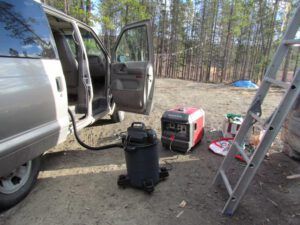 I needed winter tires: it would benefit me to be in Ws Lk at 7.00am so I left at 3.30 am.  Despite a horrible forecast, at Ginty Creek it was mild (-2C) and dry.  Forty minutes later at Tatla Lake, it was -4C and snowing a little.  It was dry snow, and when I met the night-driving logging trucks (the only traffic on the road), great billows of blizzardy clouds swirled up.
An hour later, it was -6C – and raining!  I slowed right down (my tires were very poor) and got to Williams Lake an hour later than I hoped, but I was fitted right away.
Two hours later I was on the road to Prince George.  It was now -9C – and STILL raining.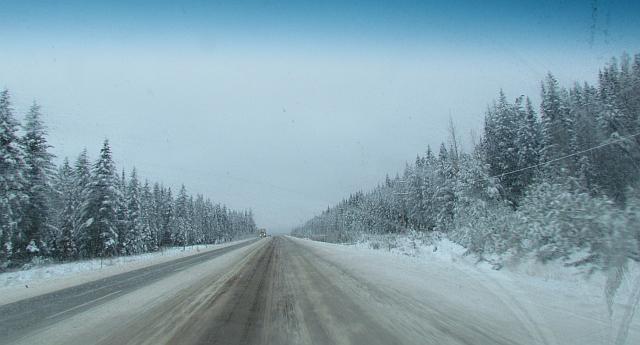 It was bizarre.  The roads were not too bad, but even with the windshield wipers going full speed, it was impossible to keep the windshield clear.  Everyone had to keep stopping and scrape off the ice.  I had four hours of this. There had been a couple of fatalities the day before and the road had been well gravelled – but with huge rocks instead of sand so that passing vehicles threw up stones and put three stars on my pristine windshield, one of which immediately developed into a crack all the way along the bottom.  Later I talked to a couple of people who drove up the same day and also received windshield cracks.  There were no doubt many more.  Still, it is better than being dead.
I stayed with friends half an hour west of PG.  There was about a foot of snow at their place, and it was still -9C and raining.  The following morning I went into town.  Oh what a muddy mess – still well below freezing, still raining, and add fog and mud thrown up by the traffic, plus huge dirty heaps of snow everywhere.  I was late for my radio interview and did not have time to finish setting up my booth at the fair before I was due at the University of Northern BC to give my slide show.
UNBC is at the top of a long and gloomy hill densely forested.  PG is known for its moose population.  I give slide shows at the university every time I go to PG.  One year, at about 10.00pm in a freezing foggy dark, I drove down to highway 16 and turned west.  It is at the point when the streetlights suddenly get fewer and the speed limit increases to 80 kph.  Just as I was putting my foot down, a huge bull moose reared out of the ditch straight at me.  I saw his big antlers and bulging eyes framed by the passenger door.  Being icy, sudden braking was not an option and I looked ahead to make sure I was not going to hit anything if I swerved, then back at the moose.  He was gone.  I told my friends: they said that moose had been causing a lot of trouble around the university.  The following year a wonderful road sign had been erected depicting an angry moose facing a car with its hood buckled up and crumpled.  I cannot seem to find this picture.  If I come across it, I will put it in here.
Friday I was at the |Prince George Civic Centre at 8.00am to finish setting up. The new book, Ginty's Ghost, is on the round table at the front, my other 9 books behind.  (The tryptich hanging on the back wall is one of my paintings – done when I still had time to paint!)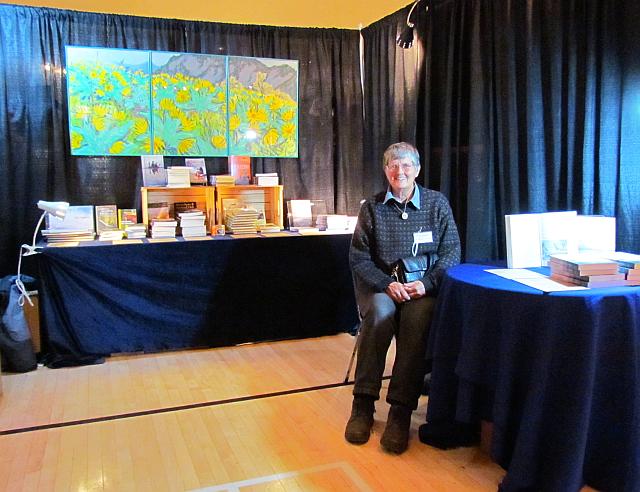 We closed at 8.00pm, so a long day – particularly as it was still well below freezing, with thick fog, and icy drizzle settling on the windshield.  Saturday we sold from 10 – 6, and Sunday 10 – 4, but we also had the fair to take down.  A bonus was that the weather had finally cleared.  It warmed up Saturday and was plus 10 C when I left the fair a little after sundown at about 5.00pm last evening.
Today I drive to Vanderhoof to give a slide show tonight – only an hour and the weather is clear and not too cold – then 100 Mile on Tuesday, Kamloops Wednesday, Vernon Thursday, and Salmon Arm Friday.  Then I crash!!!!  It will be 4 days before I speak again in the Lower Mainland.  For details of this tour, check out the slide show page on this blog.