Before I went across to Vancouver Island I spent a few days in both North Vancouver and Burnaby.  The weather was mostly very wet and gloomy.  However, one day it was like spring.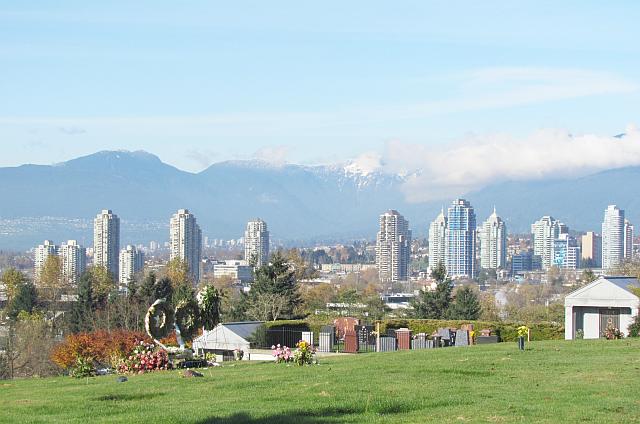 My Burnaby friends live close to a huge cemetery so I often walk there.  In one place there is a pond choked with water plants.  The ducks were quite surprised to see me….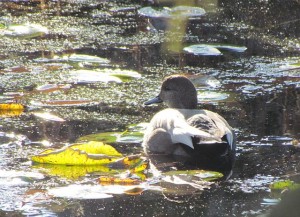 One of the graves has a life-sized statue.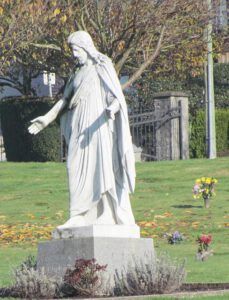 Several years ago I was walking my dogs there in the foggy dark and this figure, lit vaguely orange by distant streetlights, loomed out of the mist.  One of my dogs at that time took exception to it.  Normally a silent dog, he started to bark and growl and bark and growl and I had a terrible time to get him anywhere near it.  When we did get close, he suddenly ignored it.
One evening I spoke at Vandusen Gardens.  I went early to enjoy the last of the daylight.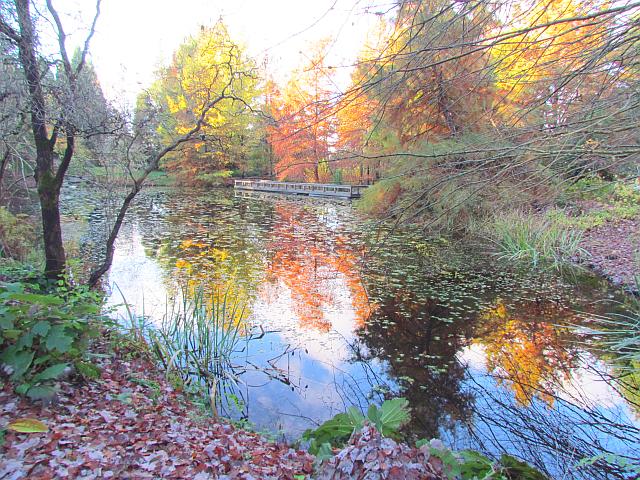 Soon it was raining again.  When I went to catch the ferry at Tsawassen to go to Victoria it was pouring.  The road signs going to the ferry are ridiculous.  I got lost twice.  I should have taken the turn to the airport but did not know that so ended up going round in circles.  Everyone complains about the poor signage – you would think that the city of Vancouver could afford a few bucks for  decent signs.  Finally I got on the right road and went through the long, narrow, dripping tunnel under the Fraser River.  On the far side is a choice of roads.  A sign pointing towards the ferry is at an angle and I thought I had to go left to the ferry.  But no, it was a turn to go back through the tunnel.  I could not get off the road so had to go back towards Vancouver.  Then, frantically, in the pouring rain, I had to find a way south through the tunnel again.  I made the ferry with 5 minutes to spare.  Driving in ice rain to Prince George was not half so scarey as trying to drive around Vancouver.  My host in Victoria said it was the first time she had heard of anyone going through the tunnel three times.
But then my luck changed.  The rain still poured but the violent winds that had been forecast did not materialize and it was one of the calmest ferry rides I have known.  The route goes through a narrow straight between islands.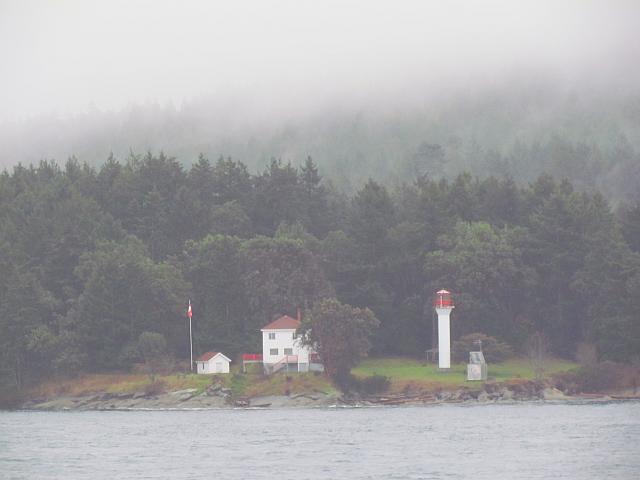 The two ferries meet right in the narrowest part.  There is much huffing and puffing of fog horns.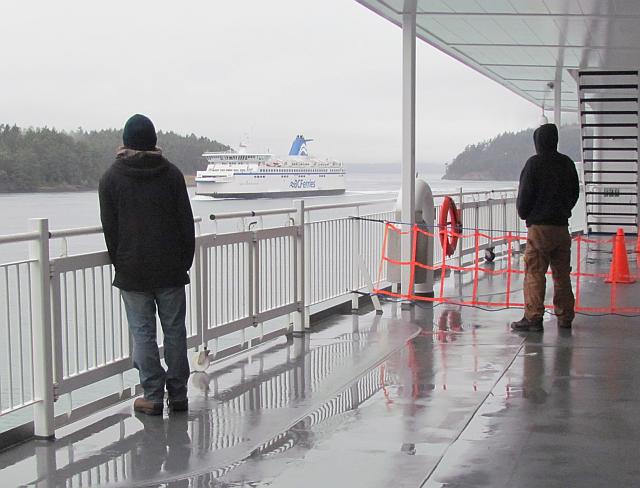 I am already collecting a bunch of stories for the next book from people who knew Ginty Paul.  In Victoria I met an amazing lady who had hitch-hiked around Europe with Ginty in 1949.  We will be in touch so she can send me future info.
Raining but only sporadically when I drove north over the Malahat, a steep stretch of narrow highway subject to nasty weather at times.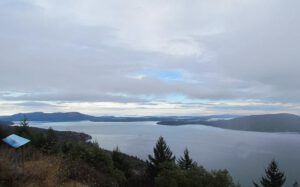 Three hours later I was in Union Bay, which is 6 miles south of Courtenay (see previous post.)  When it is cold in the interior of BC, the sea is warmer so the sea air rises and the interior air flows down to replace it.  There are not many gaps through the mountains and the winds gain speed until when they hit the east coast of Vancouver Island they are gale force.  For the first two days storms pounded my friends' place at Union Bay.