99% of my 4 km of road to Highway 20 is dry.  But in one shady spot there are two horrendous bogholes.  So far, the new truck has managed to drag itself through them.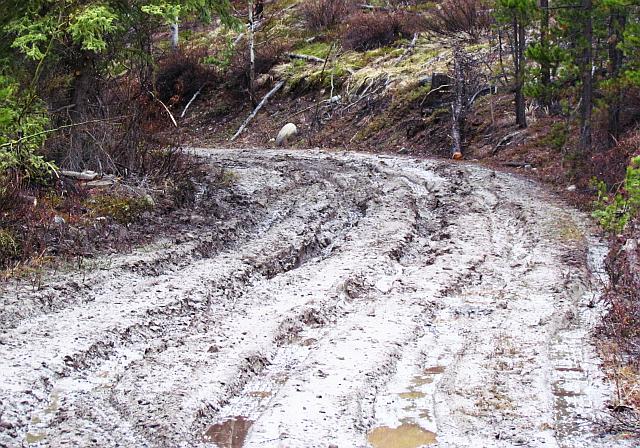 This is what it looked like after a neighbour (who lives an hour to the east) got stuck.  He drove to my house in the morning on a hard frost.  But he left around 2:00pm.  About an hour later, he was walking back into my yard.
I drove down with the truck and tried to pull him out backwards, but his suburban was too heavy.  The engine block was sitting right on the mud.  There looked to be room to squeeze past – which I managed after several tries, but as my visitor said, I was so close I managed to scrape some of the mud off the side of the Suburban.  But I couldn't pull him out from the front either.  We tried my trusty come-along, did lots of digging, and cut trees to try and lever the vehicle up, but the Suburban would not budge.  In the end I drove to the nearest neighbour about 20 minutes drive away and fortunately found him working in his yard.  He had a bigger truck and we loaded the back with concrete blocks to give it weight.  After about two hours, my visitor was pulled out.
We drove back home through the boghole with trepidation but no problem.  Wolf took the truck for a day trip and once again went out and back.
Yesterday, we went to Tatla.  The mud was much sloppier at the edge where I had gone before.  I gunned the motor and slithered through: unfortunately I was driving with the window half open.  Mud flew inside all over my town clothes and the truck interior but I did not dare stop. (You can see the contrast between the mud on the window and the part that was protected by the door.)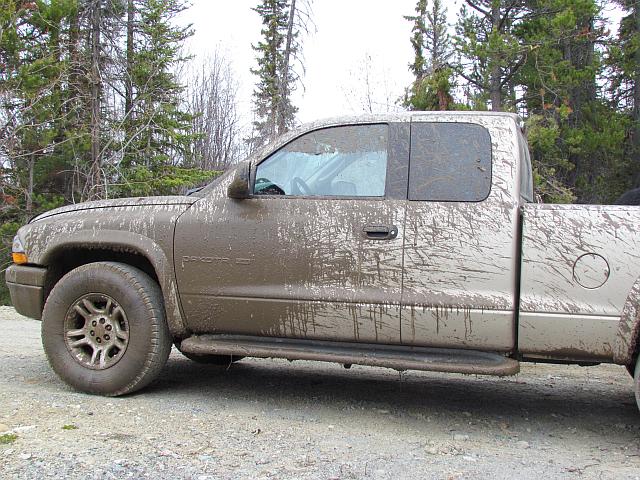 Near the highway we found a puddle and slung buckets of water to clear the windshield and mirrors so that I could drive.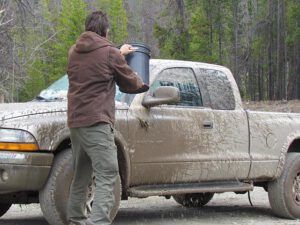 We went to Nimpo and then to Tatla and returned home about 8.00pm.  A few yards into the boghole, the truck sank.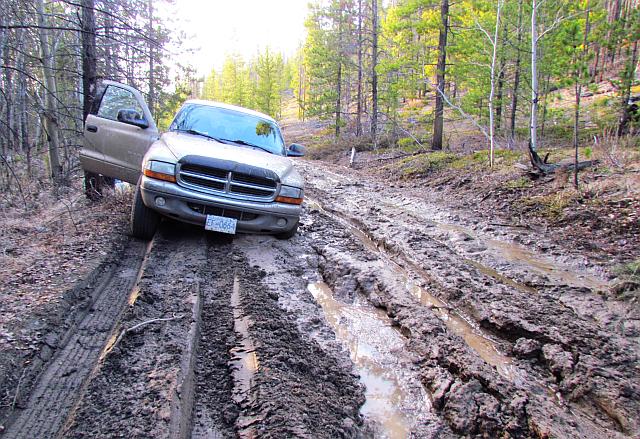 I could not open the drivers door so had to crawl out on the passenger side.
We tried the come-along once without success, but I didn't want to spend too much time on it as it was an hour's walk home and I wanted to try and phone for help before it was too late.  (A call after 9:00pm in this part of the world is not good manners.)
Fortunately, I got hold of Len Lamothe, who pulled my van out of the ice puddle about 5 weeks ago.  He arrived in his (very clean!) truck at 8.00:am this morning.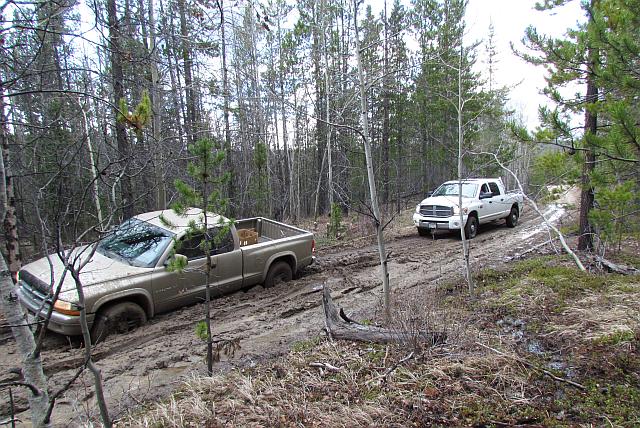 Fortunately, he had a firm place for his vehicle.  Unfortunately, my truck is now stranded on the highway side of the boghole.  We had loaded it with drinking water: the pond is not fit to drink: even when boiled long enough to make it safe, it tastes of swamp.  The river is not too bad at the moment, although it also needs boiling, but it almost a kilometre away and the only way to carry it from there is by backpack or hand.  On the dusty road to the boghole, we can at least use the wheelbarrow and take two 5-gallon jugs at once.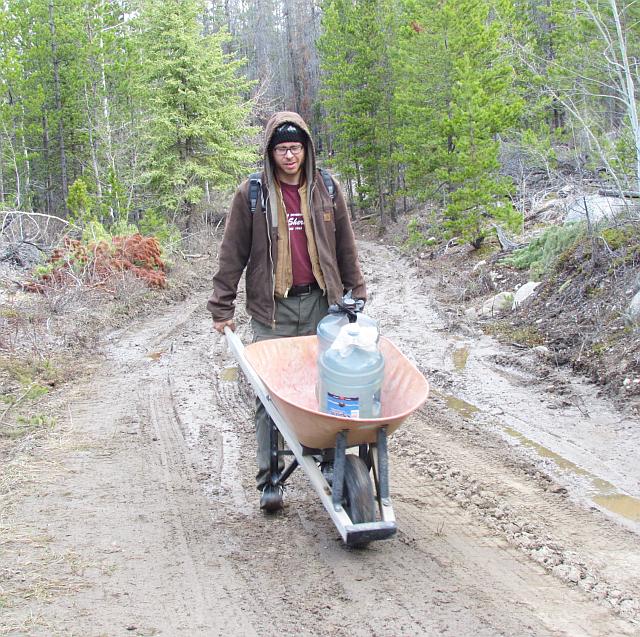 If only we could have got the truck home last night!  This morning I learned that the van is fixed.  Friends will be bringing it out from town in a couple of days.  It would have been great to have a vehicle on both sides of the hole.  But now I will have two vehicles stranded an hour's walk from home.  Who knows when the boghole will be fit to drive through again?  People at a small community at the north end of Nimpo Lake have been cut off with a similar situation for  weeks.