I missed the time change.  It was well into the week before I realized that my computer and the cheap watch I keep for occasional reference were an hour apart!  As I live most of my life by the sun it means little to my daily life but I do need to coordinate with other people once in a while.
The equinox and the full moon also passed me by as it has been so unremittingly dull these last days.  More "flurries" (the new F-word!) were forecast, and 4″ snow fell.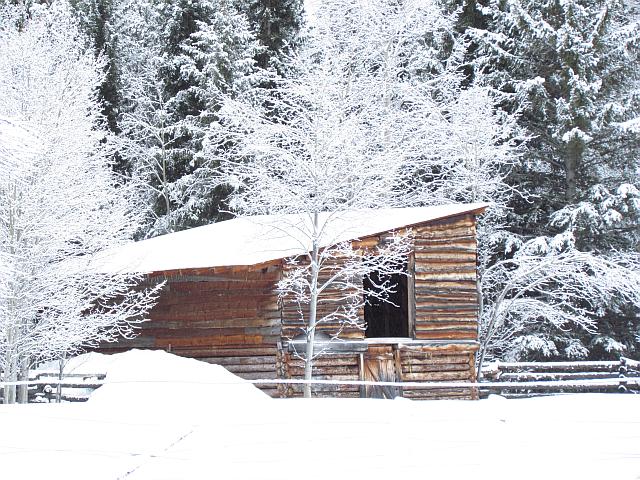 The yard was treaterous:  the packed snow left by the plough had turned to glare ice.  Before it snowed it was easy to avoid these patches but the new snow covered them and walking to the outhouse had to be done with great care.
The birds, however, are determined that spring is just around the corner.  There are now about 8 juncos gobbling up the bird food.  They are scrapping with each other.  When they face off, each tries to stand taller than its opponent and if that doesn't scare them off, there is a furious flying battle straight up in the air.  They are starting to mark their territories by singing.  (This pic was taken last year when the sun shone!)  To hear their song, click this link. (Also known as the dark-eyed junco.  The picture on the link site is of a drabber female.)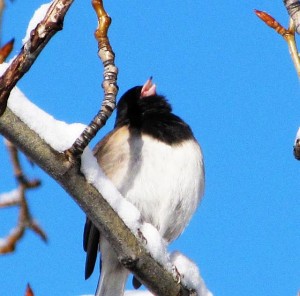 The first redwing blackbirds have also arrived.  Five of them were accompanied by a starling.  Here they are arguing on the suet cage.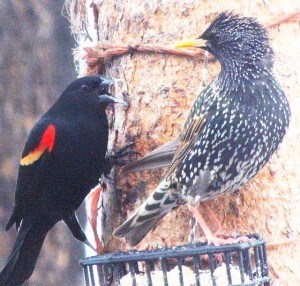 The forecast is for sunnier weather for the next few days.  Let us keep our fingers crossed.