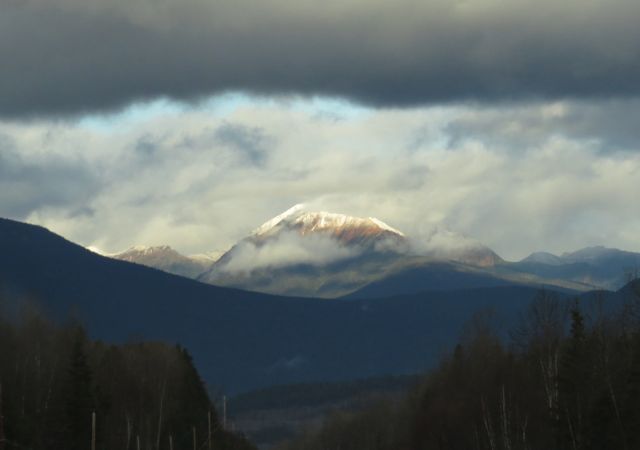 At last, there were a few breaks in the clouds.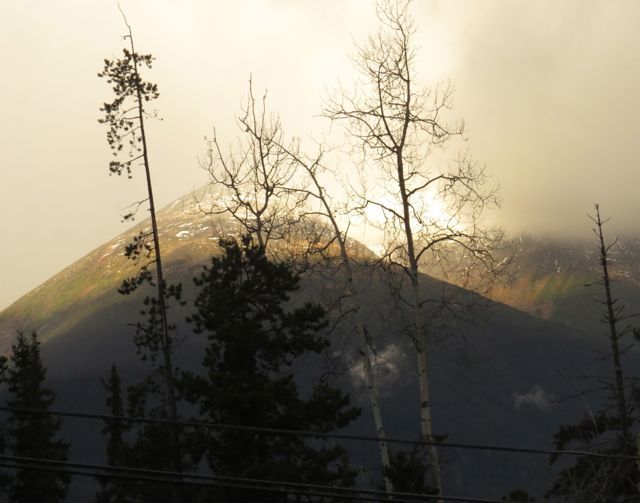 I backtracked a little to Hazelton, then drove north to visit friends along the Kispiox River. When seeing this sign, one can feel one's teeth rattling!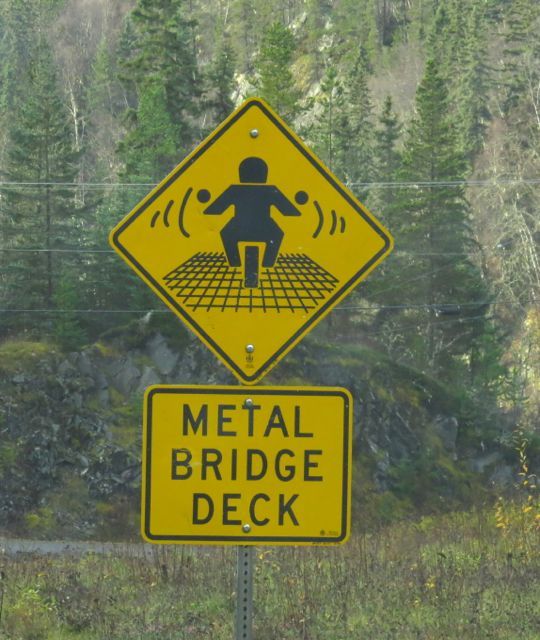 My hosts took me for a walk along the river.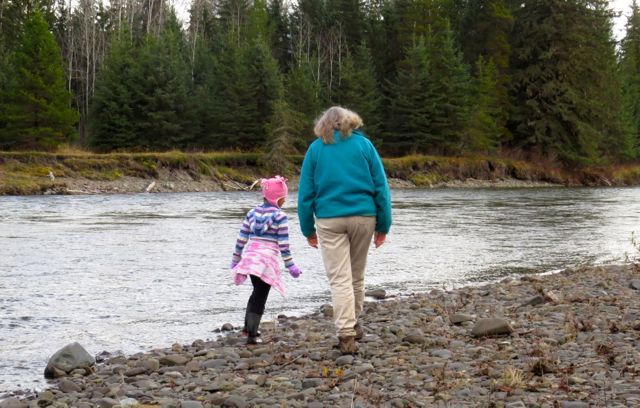 Everything was very damp.  The contents of my wallet, left overnight in the van, were completely soaked.  But we did get a gleam or two of sun.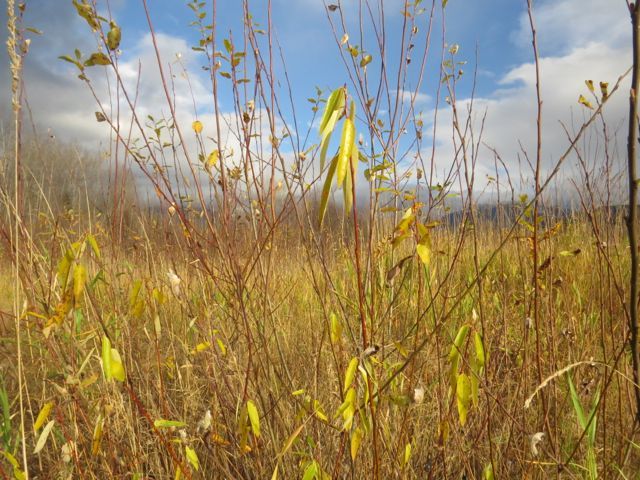 The following day, the gloom was back, although the mountains near Smithers were at least visible.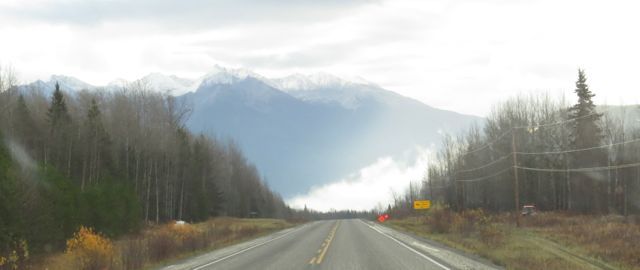 I spoke at the Burns Lake and Vanderhoof libraries.  For a break on the road between them, I pulled off on a farm road across the railway.  I know clay artists who would die for the crackle effect on this sign.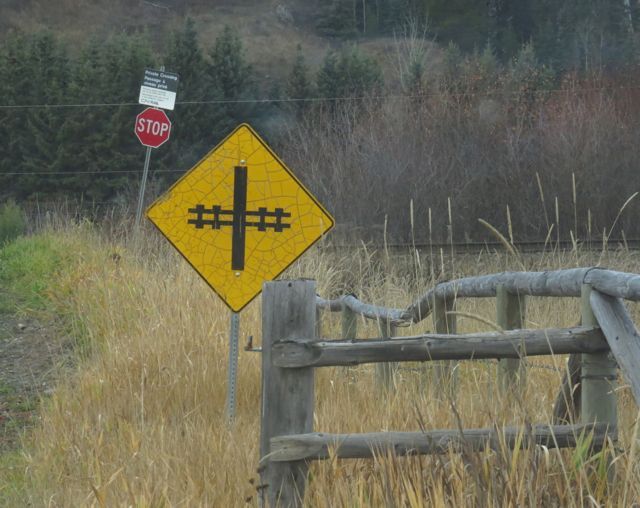 Vanderhoof Library put me up at quite a nice motel.  Because I no longer eat sweeteners or grains and a variety of other no-nos, it is almost impossible for me to eat in restaurants so I always asked for somewhere to cook. The grain-free bread substitute I make is made mostly with nut flours and eggs, and it doesn't keep well, especially while travelling in such a wet climate.  So I must cook every other day.
This motel had a microwave (useless to me), a coffee maker (also useless), a toaster, and a 2-ring electric burner.  There was no fan.  As soon as I started cooking or using the toaster, the fire alarm went off.  As the first time was about 9.00:pm, I was mortified at causing a disturbance.  I stood under the alarm and flapped, but the minute I left, to open the door, the alarm went off again.  The temperature was freezing – the only frost I had so far had on the trip.  The following morning, I tried cooking a sort of grain-free pancake I could eat on the road.  By now I realized I could open the window above the burners.  But with door and window wide open, the alarm still went off.  This was around 6.00:am, so once again I was worried.  (In neither instance, though, did anyone come to investigate.)
Standing under the fire alarm and flapping, I noticed that, not far away, was an air conditioner.  I am not familiar with these things, but I switched it on – and was rewarded with a noisy fan.  It was blowing gusts of chilly air across the ceiling – and it turned off the fire alarm.  So there I was, cooking for an hour, with door and window wide open and the air conditioning on just so that I had something to eat!
In Prince George, I did a book signing at that great book store, Books and Company.  I did not stop in town, but headed south and east to Wells, an old gold-mining town close to the famous historic living museum, Barkerville.  Stupidly, I forgot to take pictures of Wells's colourful front street.  The only snap I got was of this building not yet recently painted.  You will have to look at the links to get a real idea of the vibrant community in this place.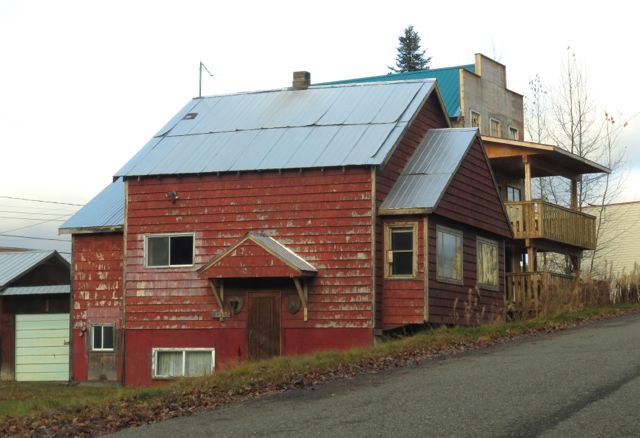 I stayed in the Mountain Thyme Guest House, owned by friends who also own the Bear's Paw Cafe and the Frog In The Bog gift store.  Clsed for the season now, but all very well worth visiting.
On my way to Wells, I saw a bull cariboo beside the road.  For whatever reason, he had only one antler.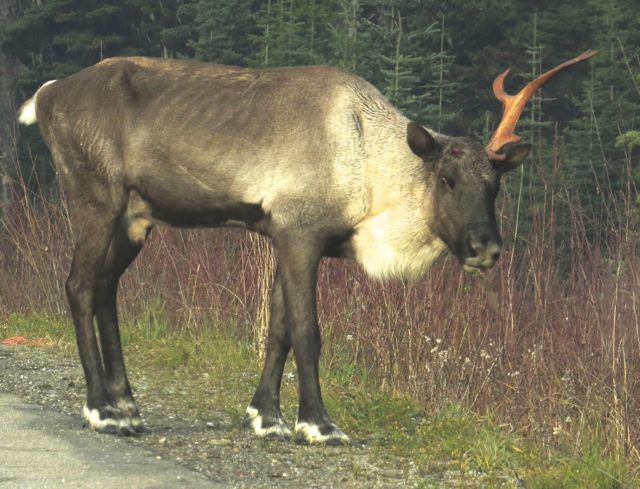 I then drove for about 25 kms along the road towards Bowron Lakes, the famous canoe circuit.  Not far out of Wells, this sign graced the road.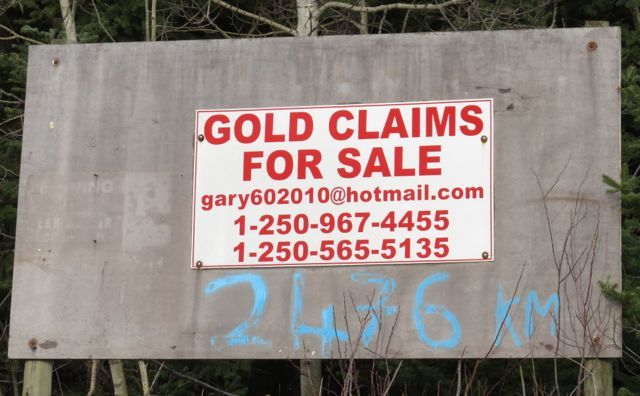 I was not going canoeing, however, but wanted to visit  another friend's place. Birch and Leila have recently built this house.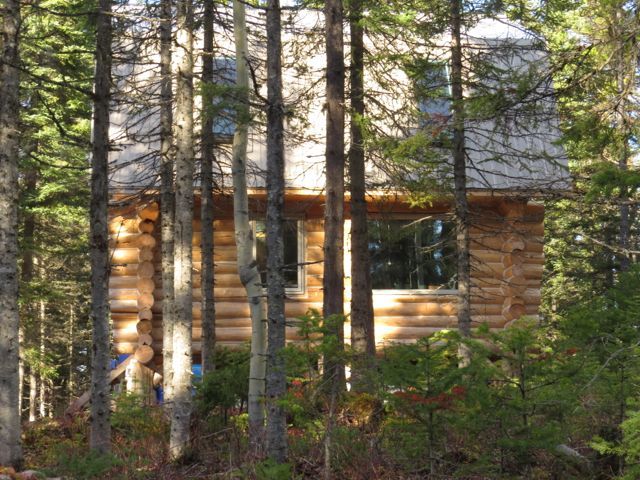 Wells is on the interior wet belt and has a huge amount of precipitation, which falls as heavy snow in winter.  Now, it was green and wet.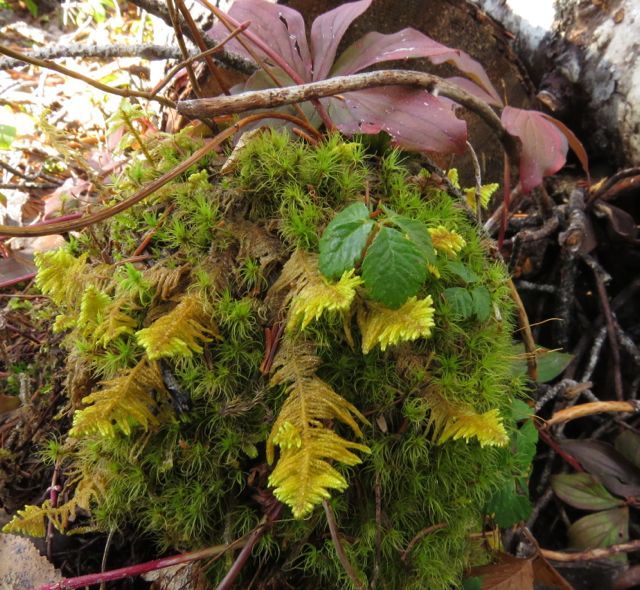 My last day on the road started in the dark, with sloppy falling snow.  I drove out of it a bit heading south, but while shopping in Williams Lake, it caught up with me.  Not much settled on the road, fortunately, but it was pretty gloomy heading out of town.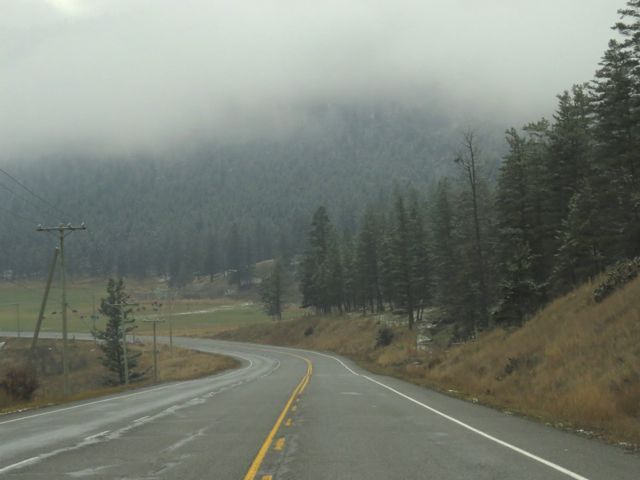 I was hopeful, though, because most of the time I had been away, the forecast at home had been for sun.  Sure enough, less than an hour west, I drove at last into real, dry sunshine.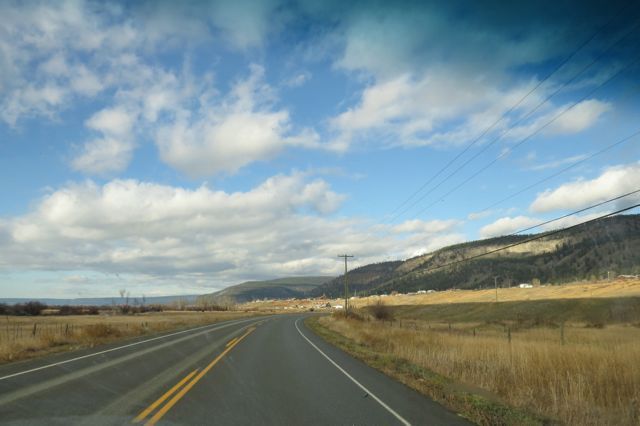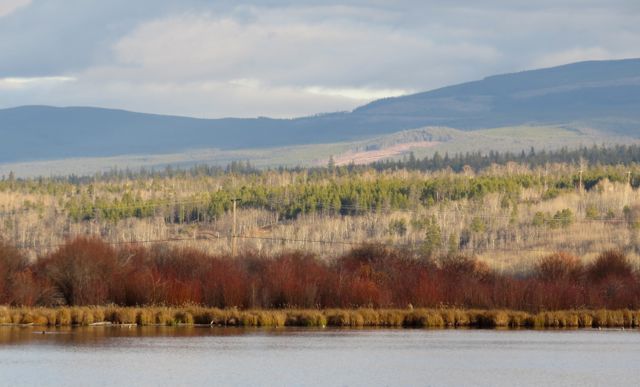 The wet forests are interesting to visit, but give me clear  skies and frosty mornings to live with.  And sunsets where you can see the mountains.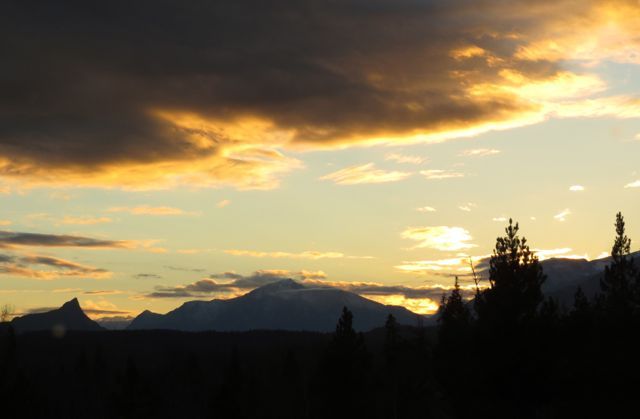 Thank you very much all the librarians and hosts who made this such an interesting trip.  I saw little of the spectacular scenery because of the rain – but I will certainly come again in the future.