We've all learned a lot about viruses in this last while than we ever wanted to know. Handwashing. It's supposed to last 20 seconds – or two "Happy Birthdays", but did you know why? We have all seen pictures of this pretty little organism. The sticking out bits are what attaches it to cells. But the innards are enclosed in a fatty sphere. Soap dissolves fat – but it takes about 20 seconds to annihilate this coating. Then the virus simply disintegrates. Vox.com explains this very well. Then there are the world figures, the relentless statistics that seem to presage doom. I have been following Worldometre, Conovirus Dashboard, and, for British Columbia, Dr Bonnie Henry's announcement on Global News every mid afternoon.
Self-isolation seems to be a big help in slowing the spread of the virus. Although there is some indication that this is not 100% sure, the figure "Fourteen Days" is touted as a safety measure. My two British volunteers arrived at my place exactly fourteen days ago. They briefly shouted across a distance to my neighbour once, but otherwise we have seen no one at all and barely gone off the property. Of course the property is expansive – and on all but one side is surrounded by crown land, so we have had a huge amount of the great outdoors to isolate in.
I thought that fourteen days would be easy for me to deal with. After all, I have done this often. The longest I have spent alone without seeing another human being is in fact seven weeks. And that was before the internet. But I found the two weeks dragged on even for me. How people in city apartments are coping with this I can't imagine. I would go nuts trying to live in a city apartment anyway, and to be incarcerated there for an indefinite time is mind-bogglingly horrific. Many have to be restricted for far longer than fourteen days. People are dying in large numbers every day all around them. Italy, France – andNew York is a disaster. But China is slowing down. And China is 93% recovered.
Imagine, then, London of 1665 to 1666. According to Wikipedia, 68,000 died in London alone in a bit over a year. A few rich, including the very corrupt monarchy, fled, but most people did not have the means to do that. Most voluntarily self-isolated there, too. But that usually meant a death sentence for the whole family. A wonderful account is written in Pepys Diary.
During this waiting time, the natural world around me went on. Before Clair and Oli arrived, there was another sizeable dump of snow. There had been a small patch of bare ground in front of the deck; without it, the juncos were frantic for food.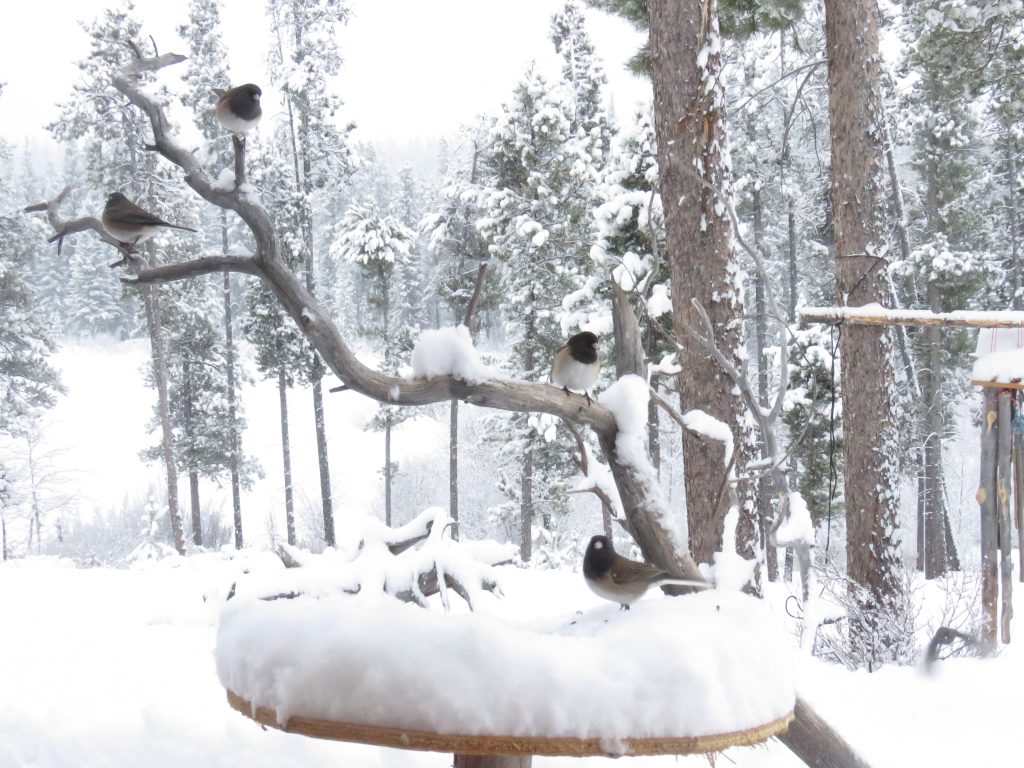 I now had several squirrels visiting. Here's Fluffy.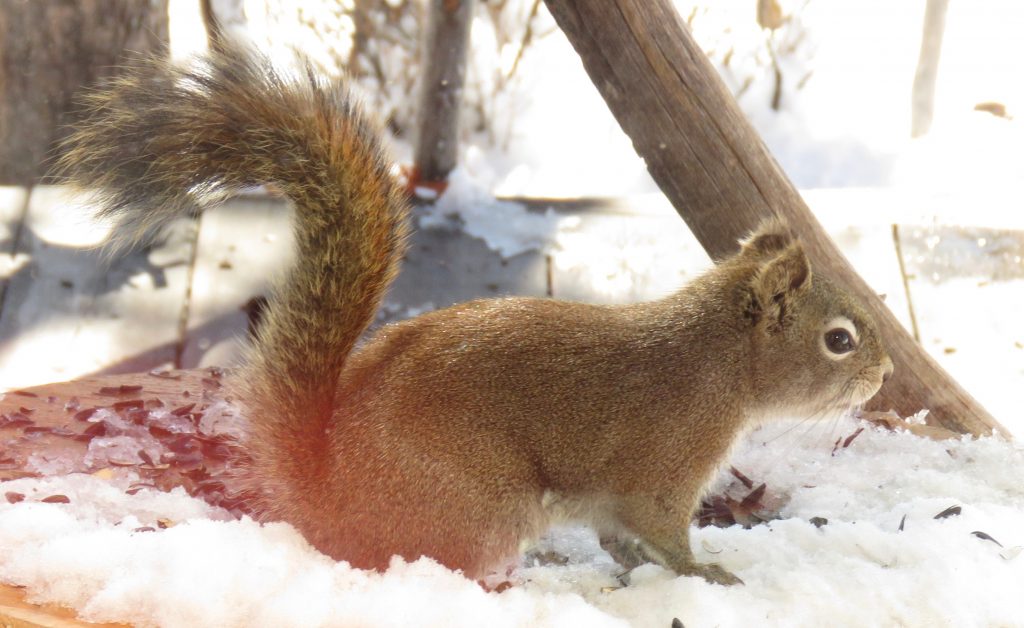 and Bob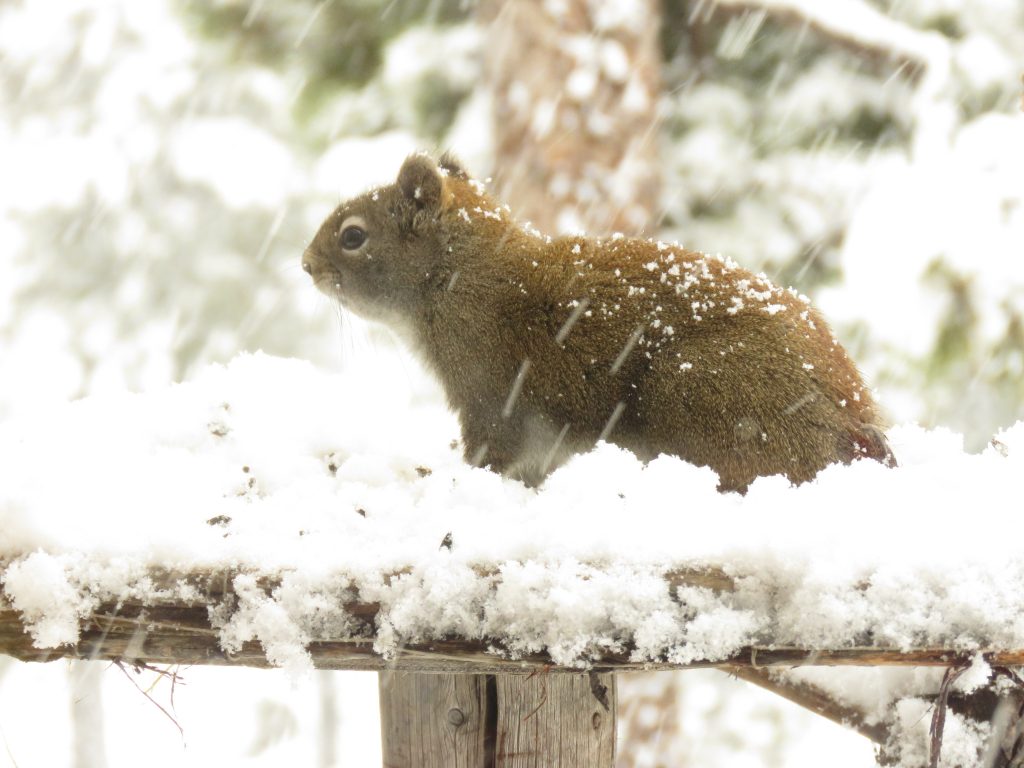 and then another squirrel arrived – Half Tail. What's with these squirrels here this winter?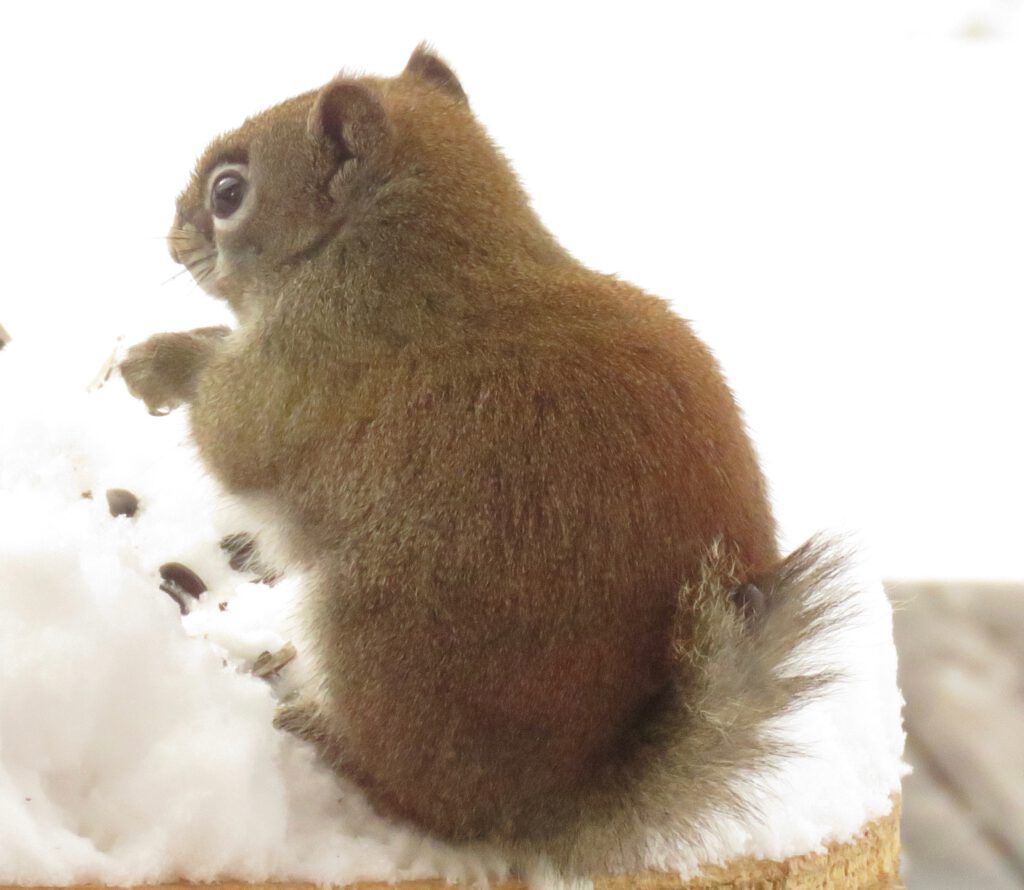 During the snowstorm I had a very unusual visitor, a grey-headed rosy finch. I've seen them in the mountains way above the treeline among the rockslides where they nest, and once saw a small group at Nimpo Lake. He did not stop long – heading north or higher no doubt.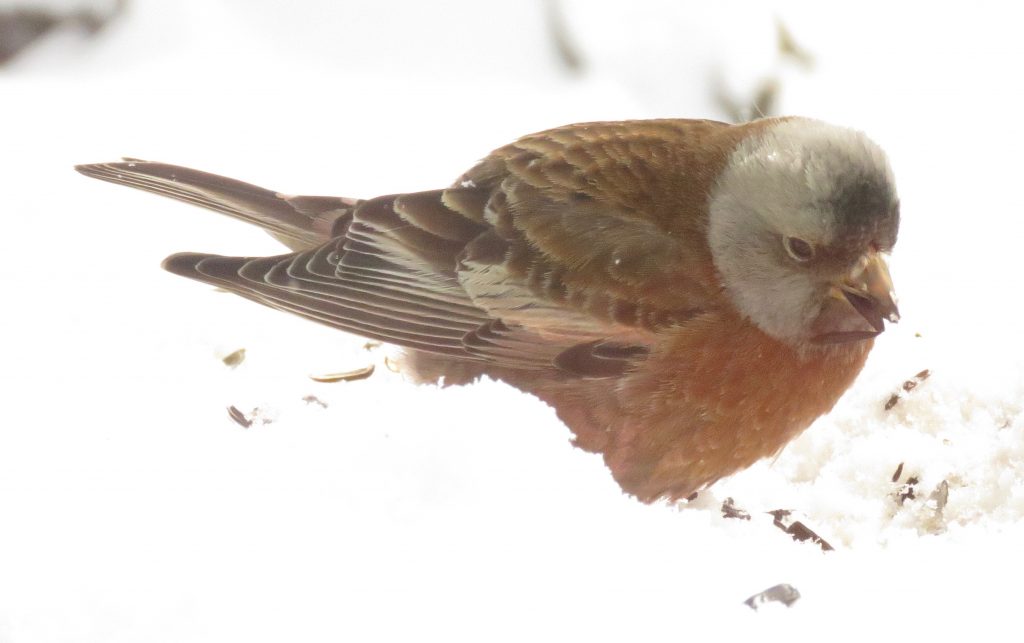 The juncos gave him space.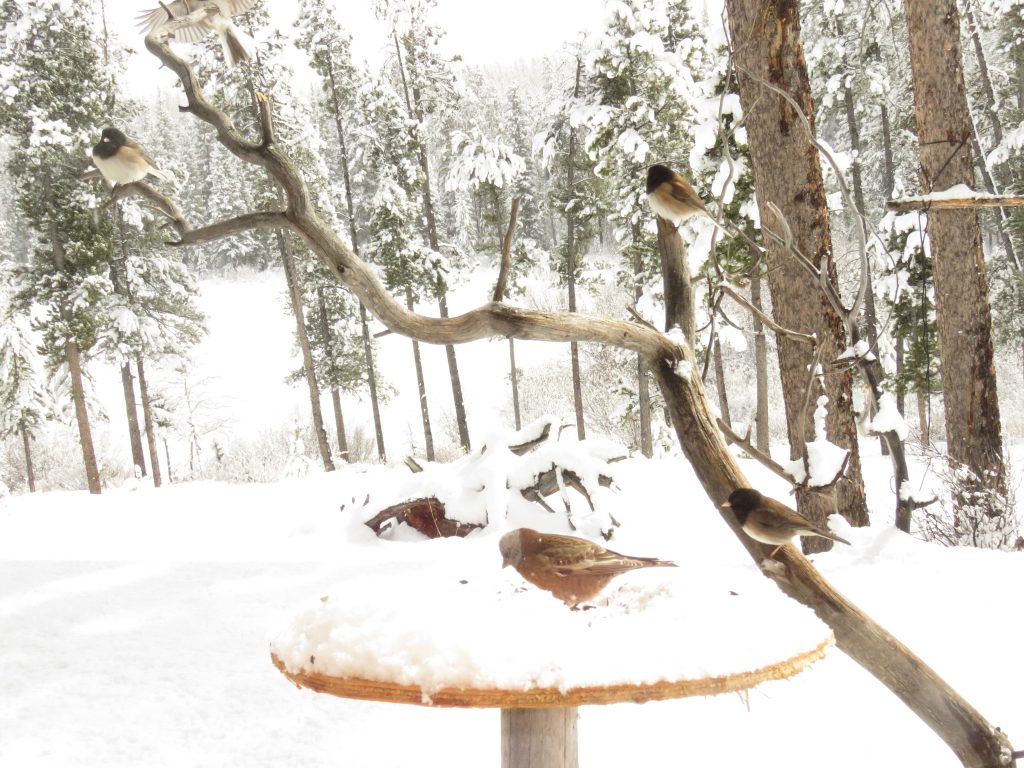 Although Clair and Oli had their own vehicle, I drove to Williams Lake to meet them. This hill was burned in 2017 and the bare bones show through.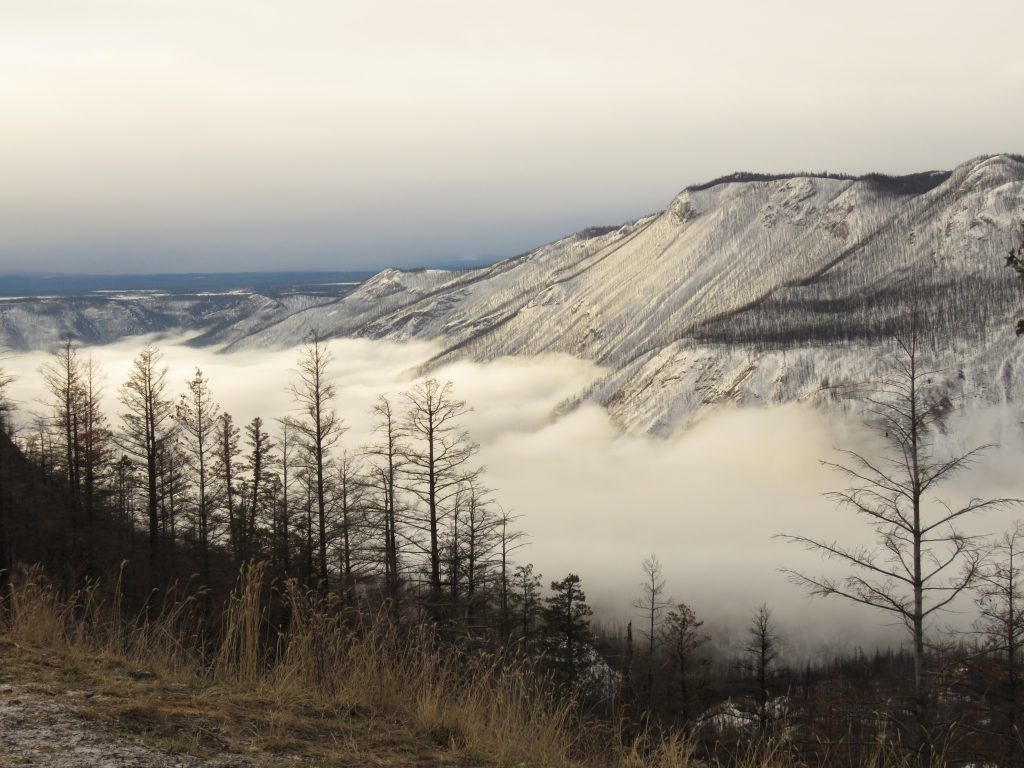 I was surprised how busy Williams Lake was. Most stores had most things – some, like toilet paper, were rationed. Some stores rigidly allowed only a certain number in at once (a small one had 2 customers only, a box store allowed 50) and put lines on the floor where people had to stand for the checkout, but other stores like Save-onFoods and Canadian Tire were pretty casual. The traffic on Highway 20, also, seemed much the same as usual although with fewer logging trucks – roads were just at the point of breaking up, and Highway 20 allows only partial loads, consequently it is not worth the trucks to drive back and forth at this time. It is an annual 2-month respite from these noisy machines.
There was so much snow it was difficult to find anywhere for Clair and Oli to work. They had to tramp down the snow in the afternoon when it was soft, and could then do some fire-smarting. They were inexperienced, but they learned quickly.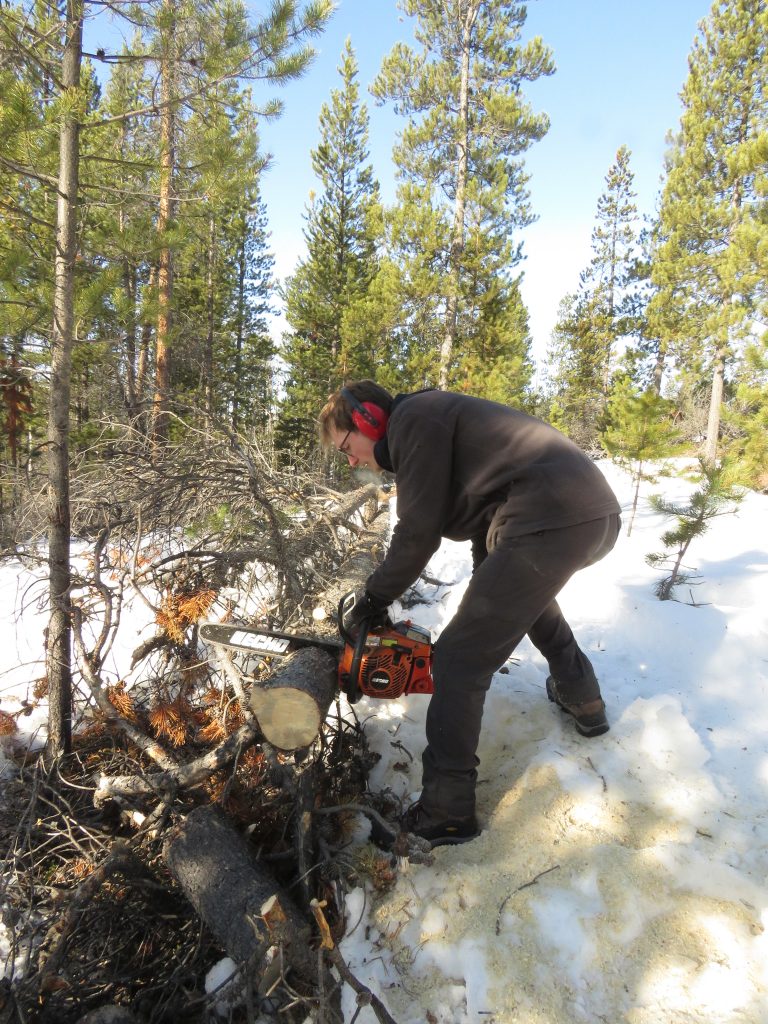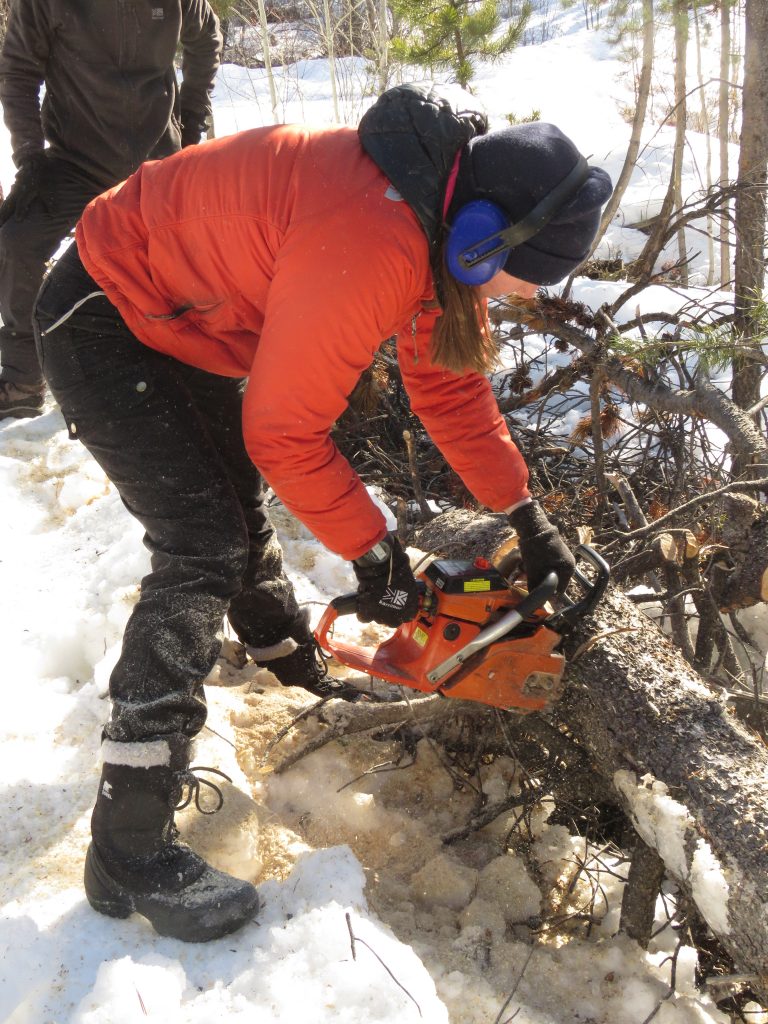 Compare this with the same time last year…..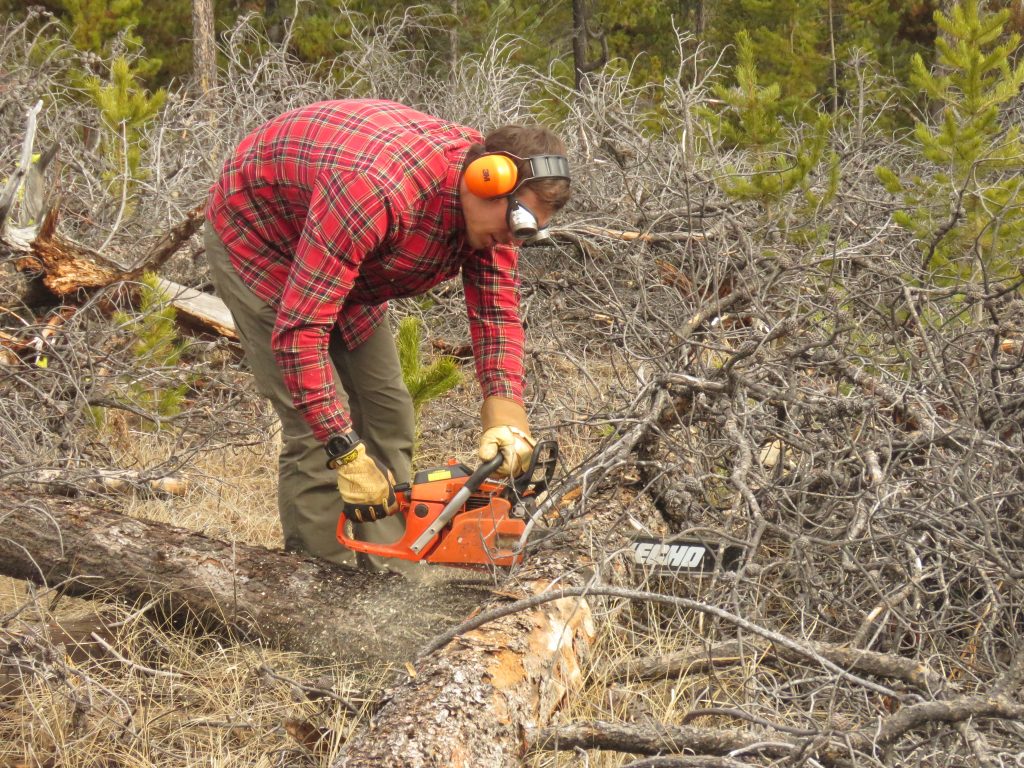 A little thawing, then another snowstorm.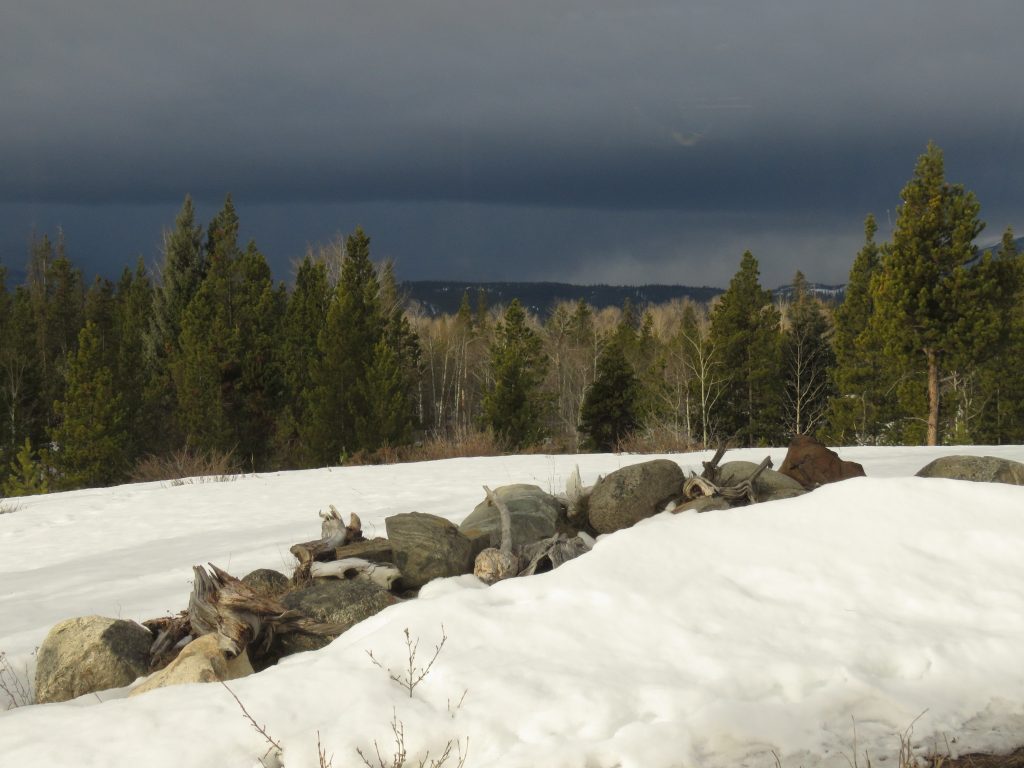 The redwing blackbirds, the "flashers" look fantastic against the snow.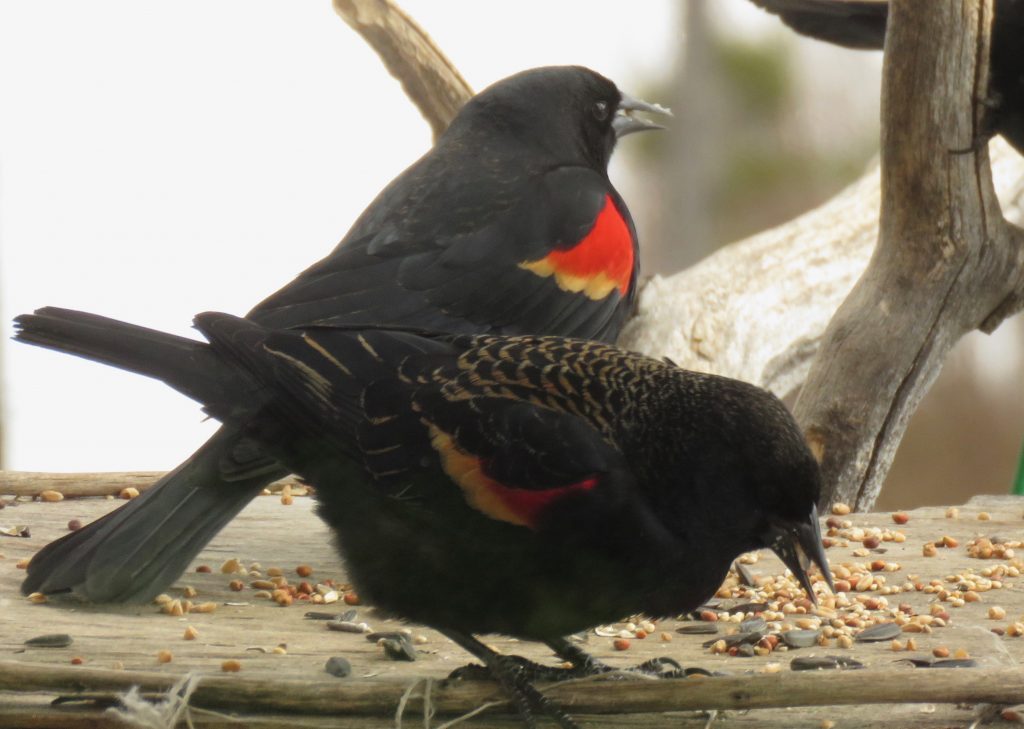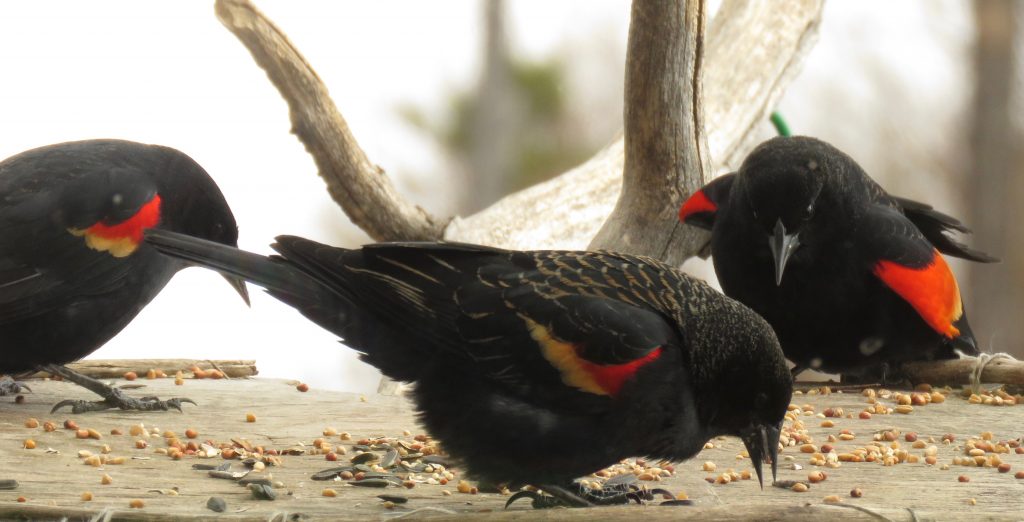 Another unusual bird for here. A red-headed sapsucker.
There are so many woodpeckers around this winter. Now all of them are tapping in various ways around my house.
Between the storms were the inevitable beautiful sunrises – now the sun is in the ENE so lights up the mountains differently than in the dead of winter.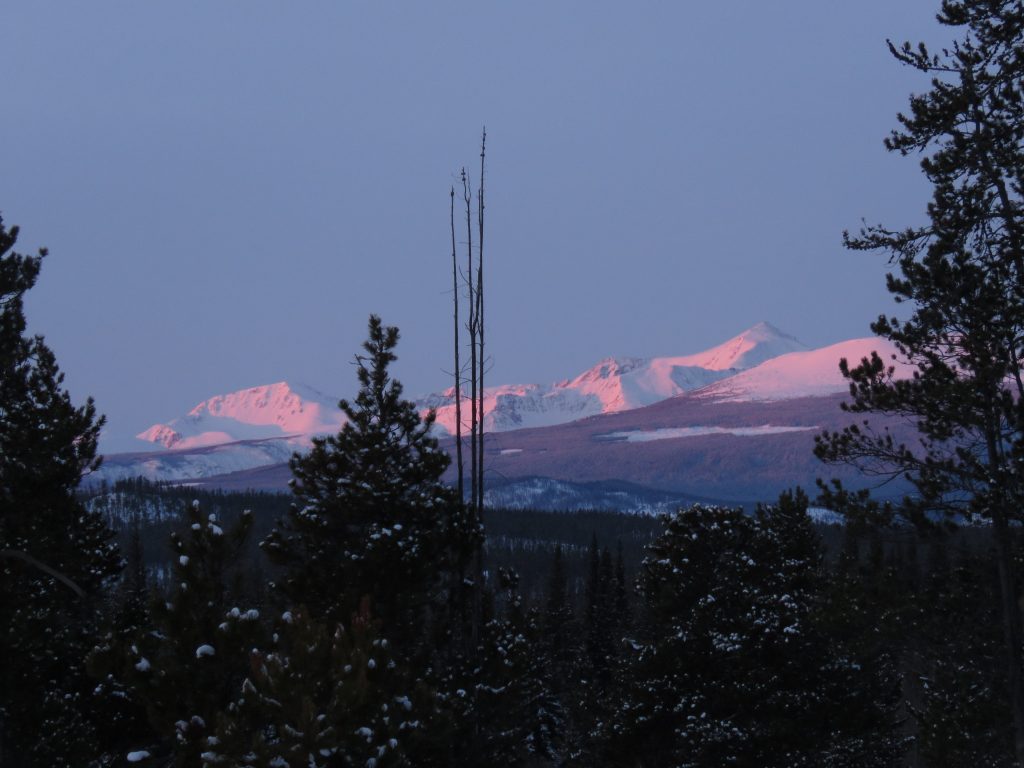 The garden looked a hopeless case.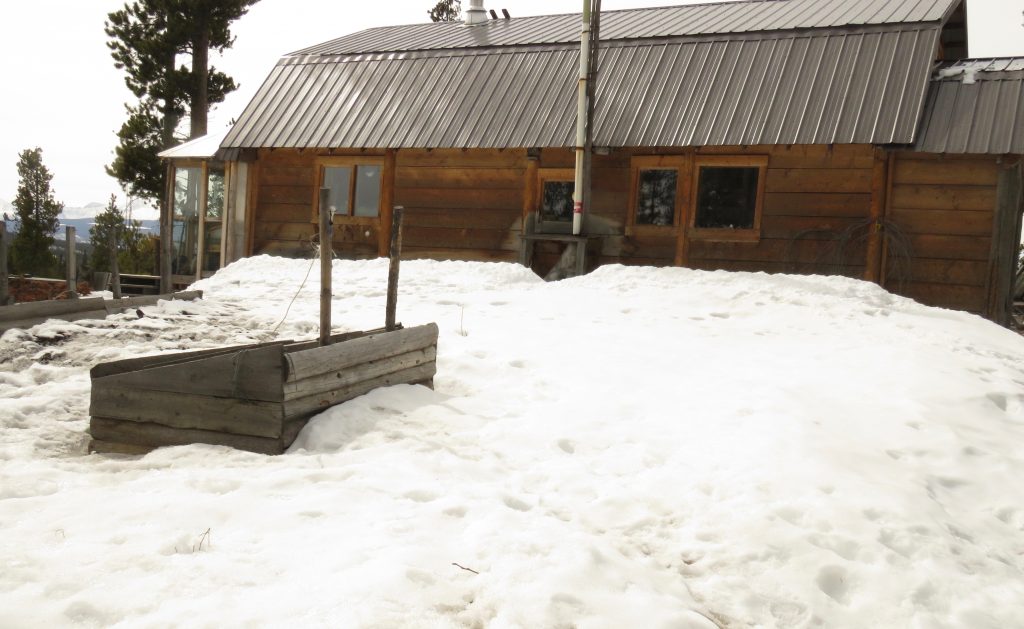 But Clair and Oli shovelled on ashes from their burn piles and we finally got some hot weather. Within days the snow melted.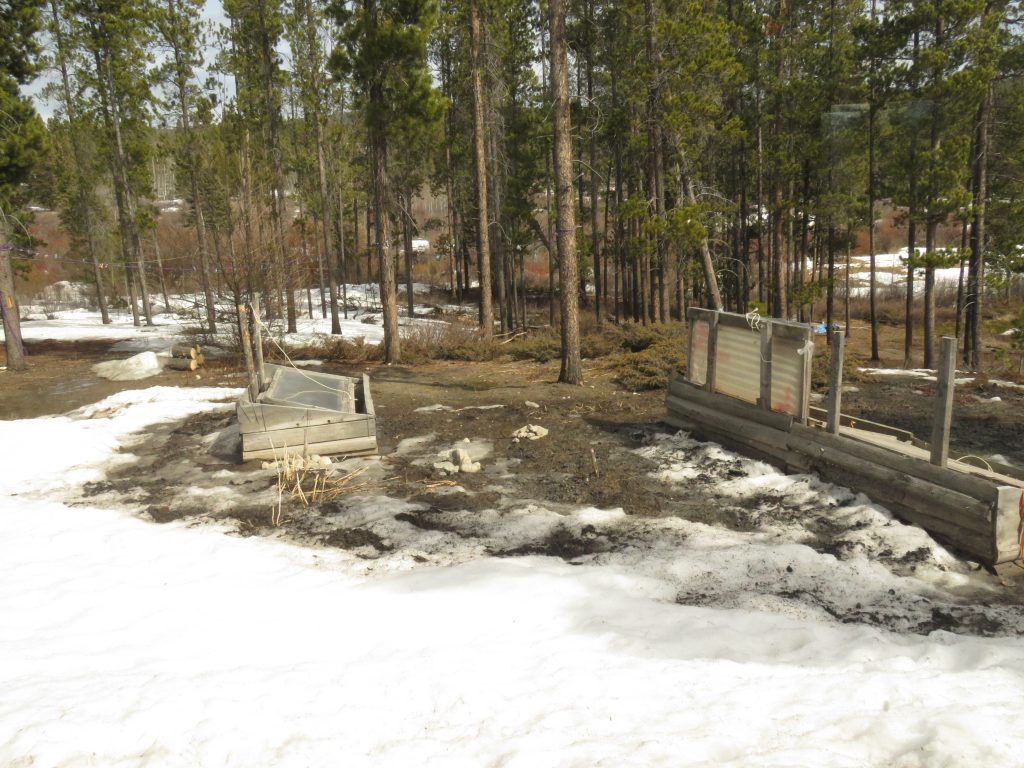 They have now found enough ashes for the whole garden.
Mrs redwing blackbird arrived.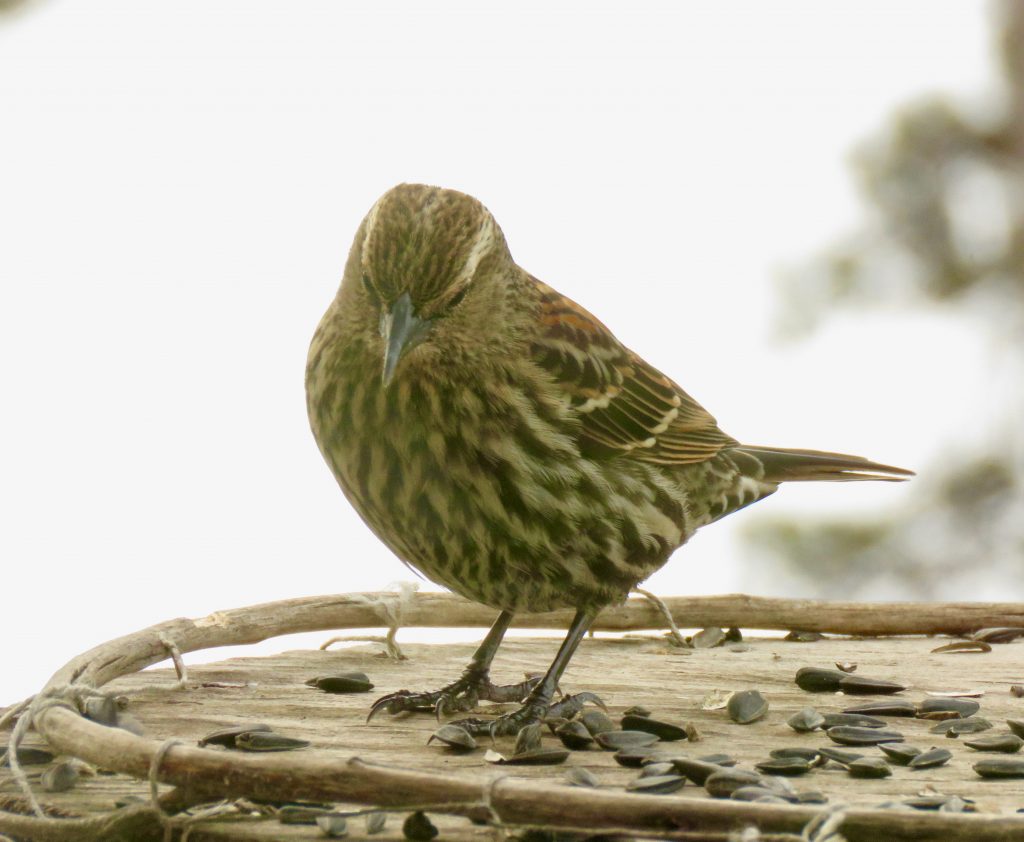 And the same day, the first chipmunk. Unlike squirrels, these are true hibernators, so to see one means spring has arrived.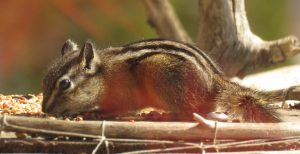 And two days ago was the April full moon. This picture was taken the day before, as the morning of the actual full moon was cloudy.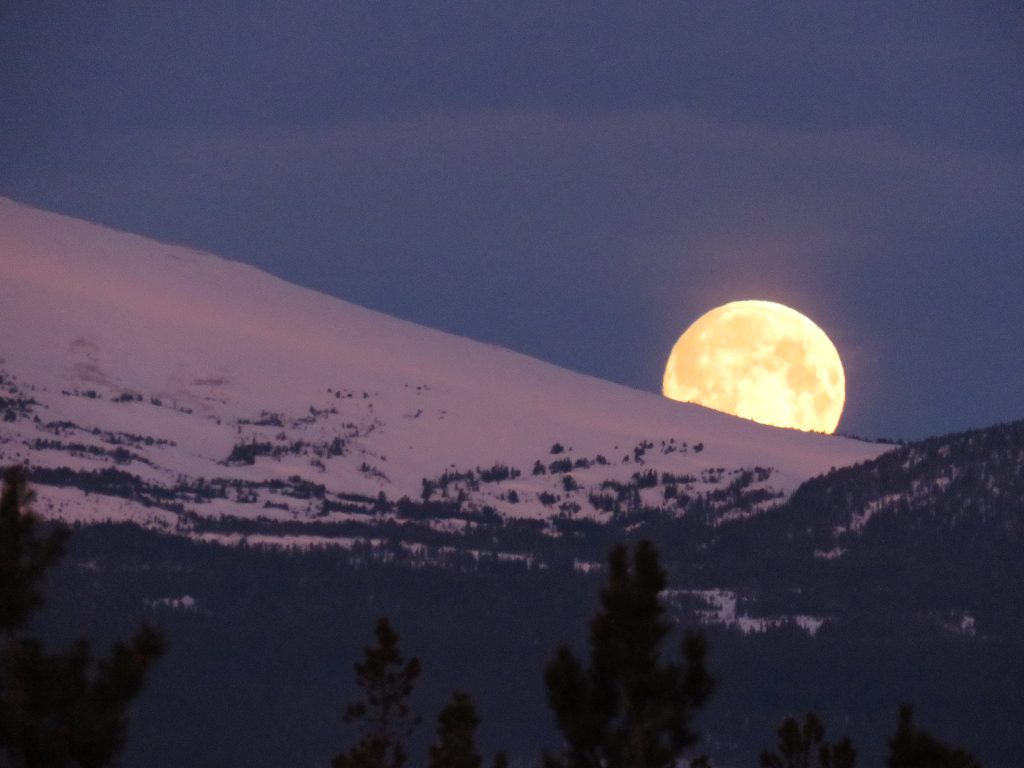 And now our fourteen days is over. Tomorrow we are going to celebrate by going to the post office and dump, and may even go as far as the Nimpo Lake Store. And for the first time I will have Clair and Oli eat in my house.
Clair and Oli have coped very well with our isolation. They have a working visa and had originally been booked to work in a tourist place for the summer. That's all cancelled of course, so they came here, ostensibly for the month of April. I am happy for them to stay here for as long as they like, but they were relying on paid work, and there is some pressure from their British families to have them home. Flights from Canada to the UK are at present twice a week but it is getting more uncertain as to whether these flights will continue. So they have reluctantly decided to leave in a little over a week's time. Everyone's plans are screwed up. They have been very useful here, and I have other volunteers waiting in the wings whose other plans have also fallen through, so now I must negotiate with them and probably go through another isolation period.