We had a white Christmas – just.  But the snow layer was very thin.  Air temperature was extremely mild and had the ground not been well frozen, the snow cover would have disappeared altogether.  Fog persisted, so we had some pretty ice crystal effects.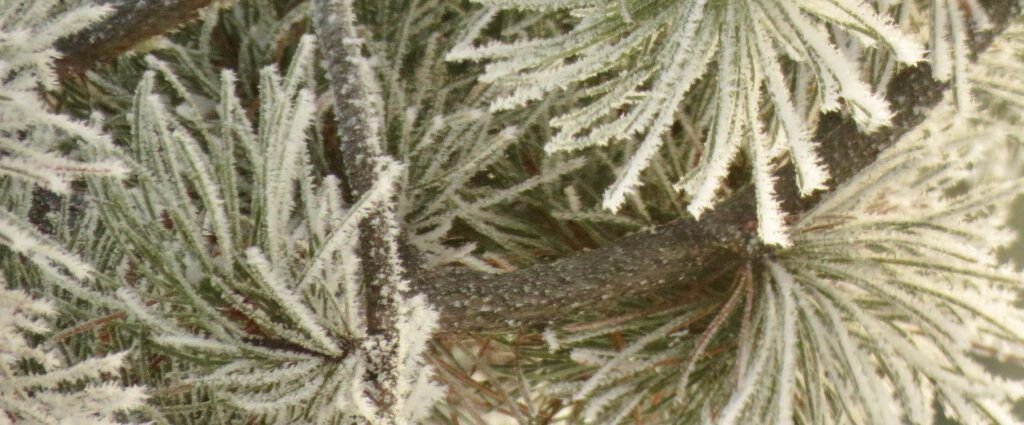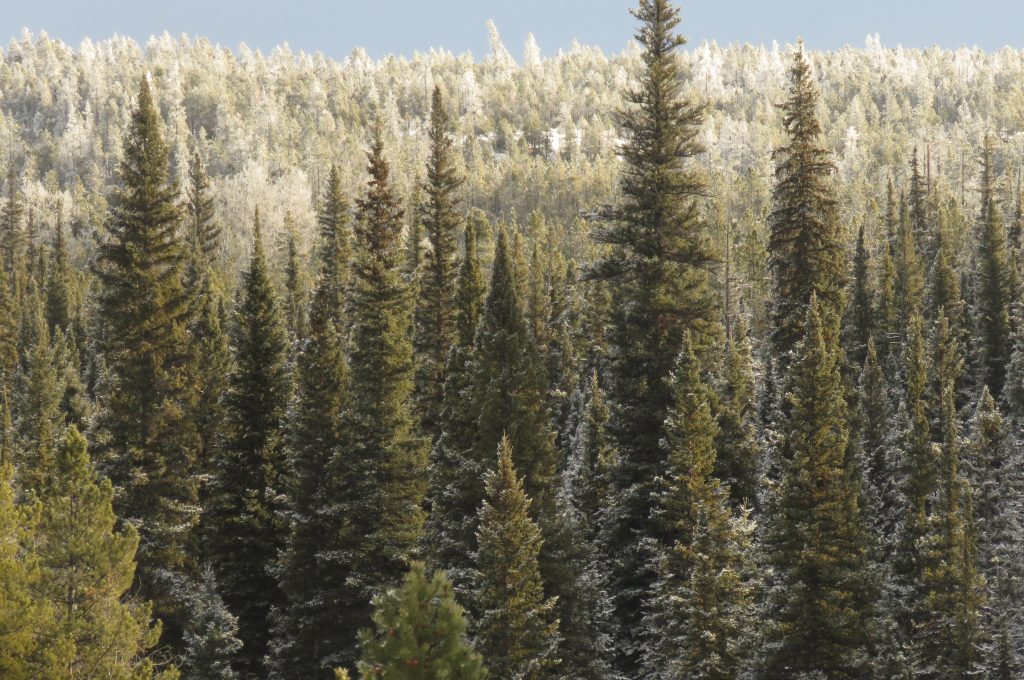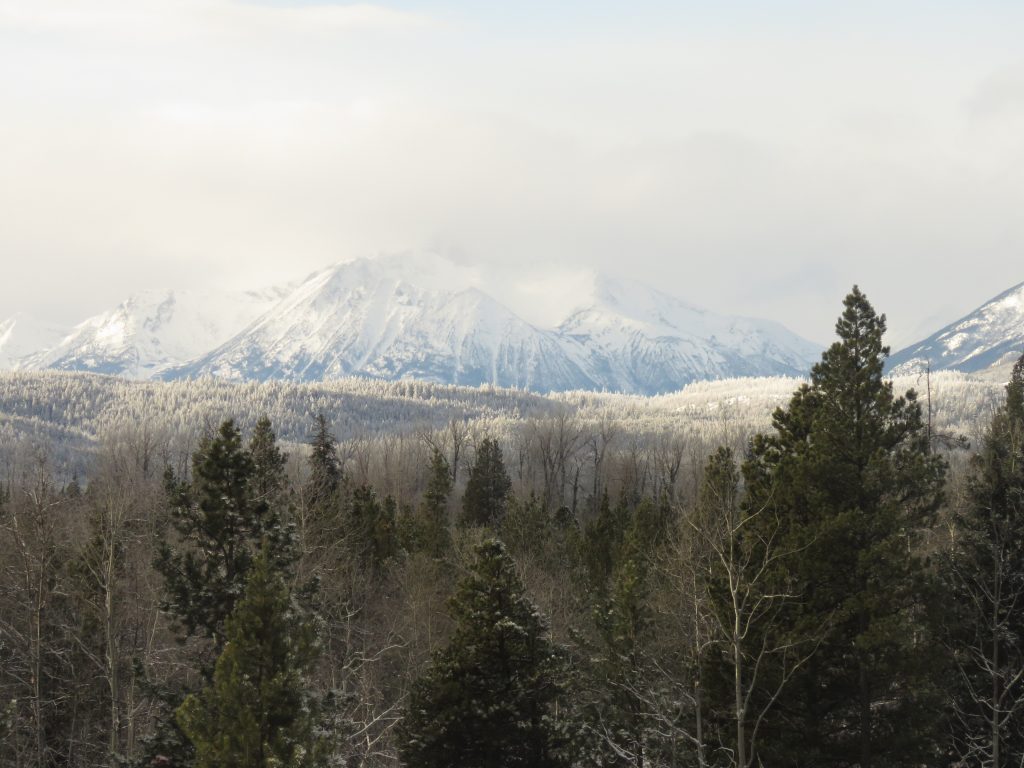 Angie, the woman who came with me to Bella Coola for the Solstice Bird Count, came over on the 23rd, and we hiked up onto the south dunes.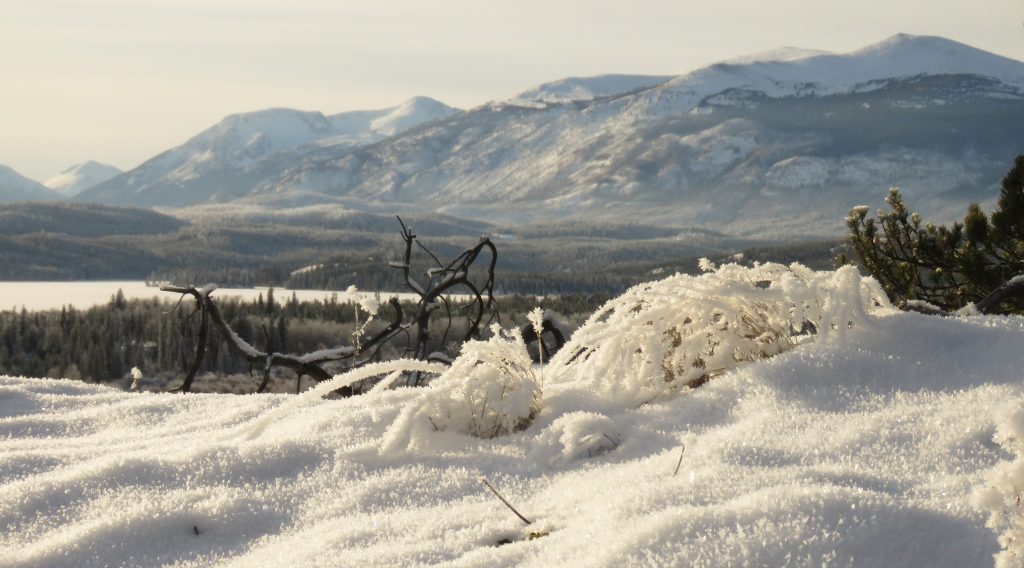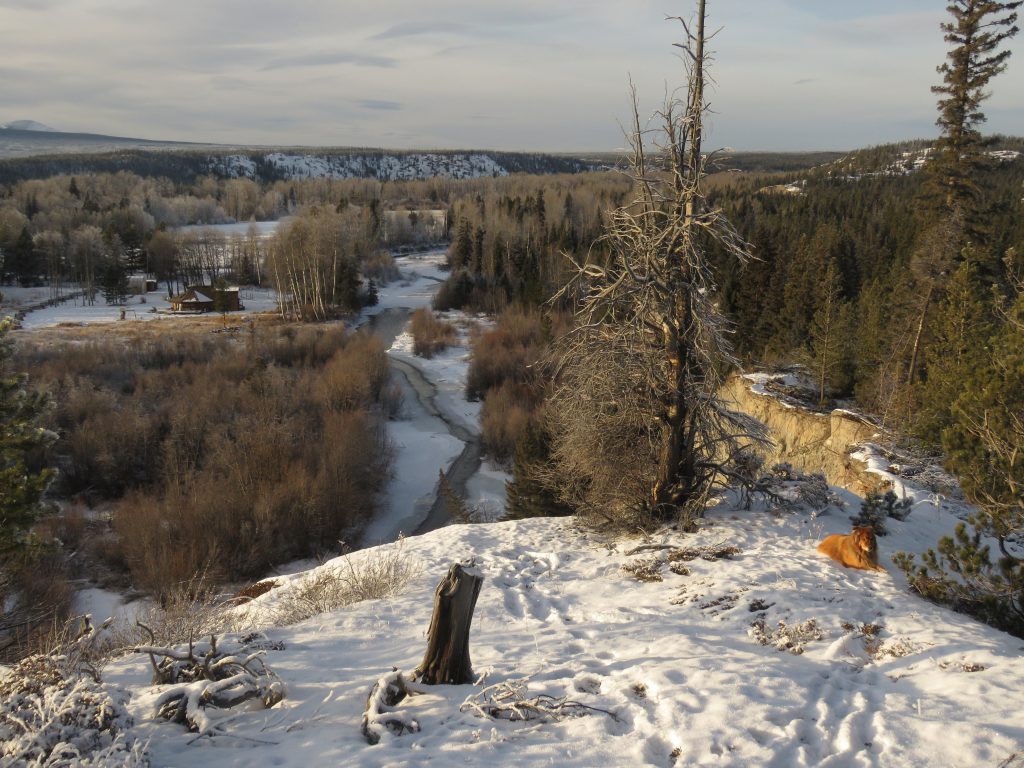 An ice spider.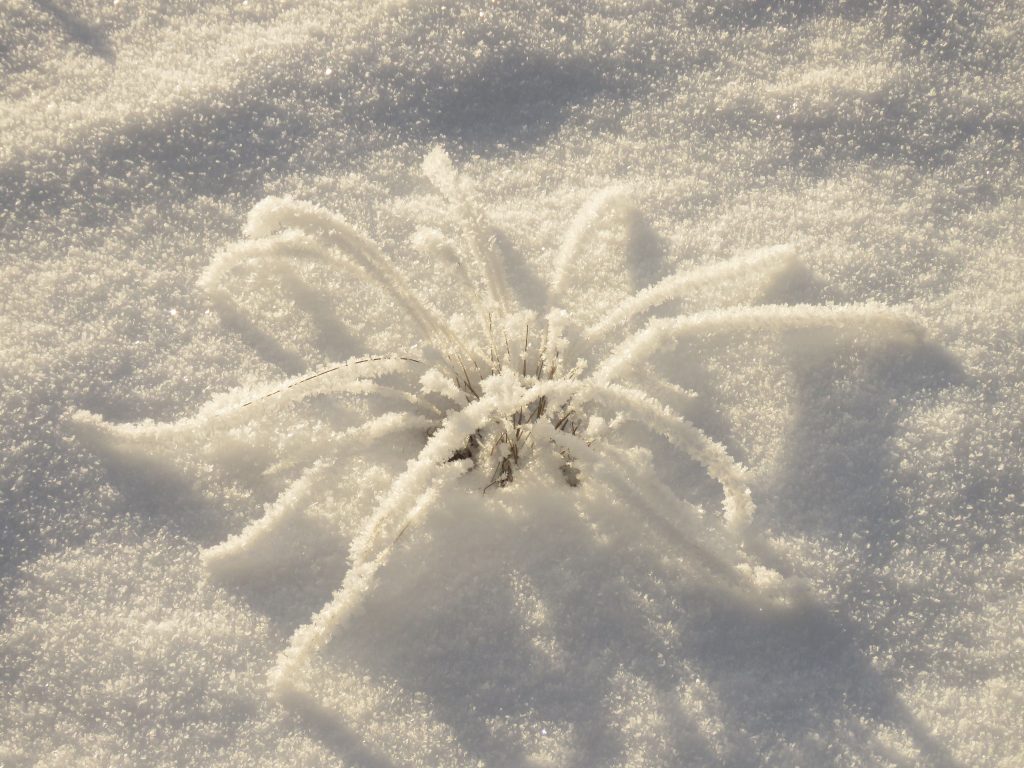 The next day Angie came round and we installed a window.  I broke it when I installed it myself several years ago.  The cracks were at the bottom and not too serious, but over the wet summer we had it kept fogging up and left a murky residue between the panes.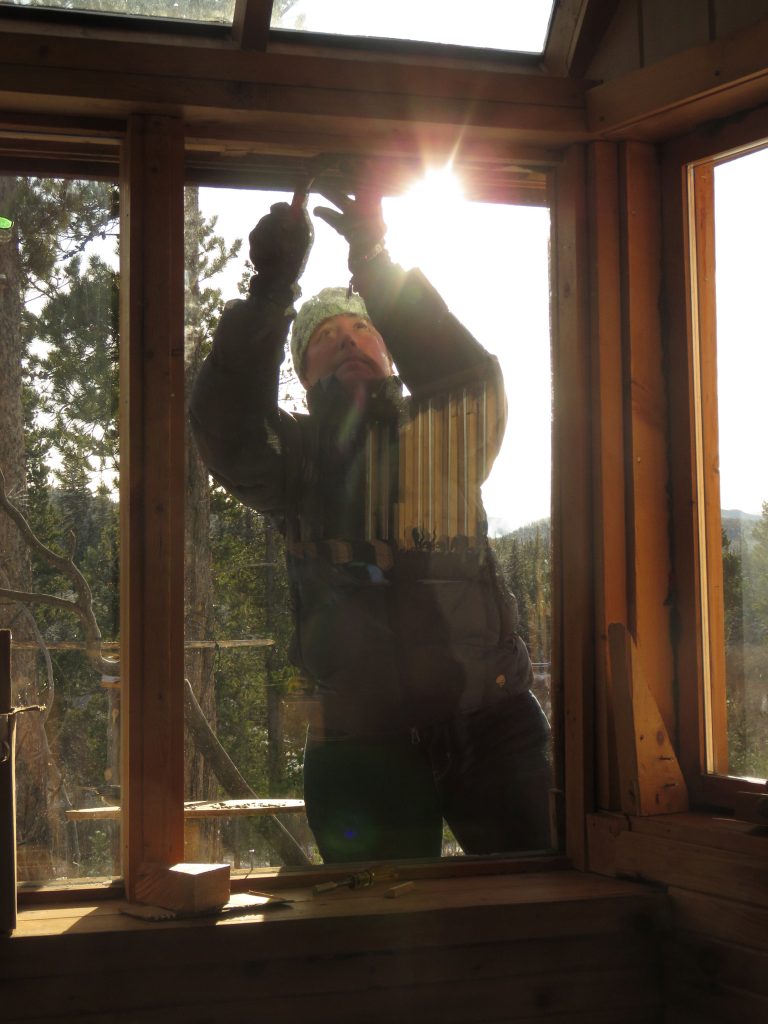 The new window is so clear!  I can now take sharp pictures of the birds through it.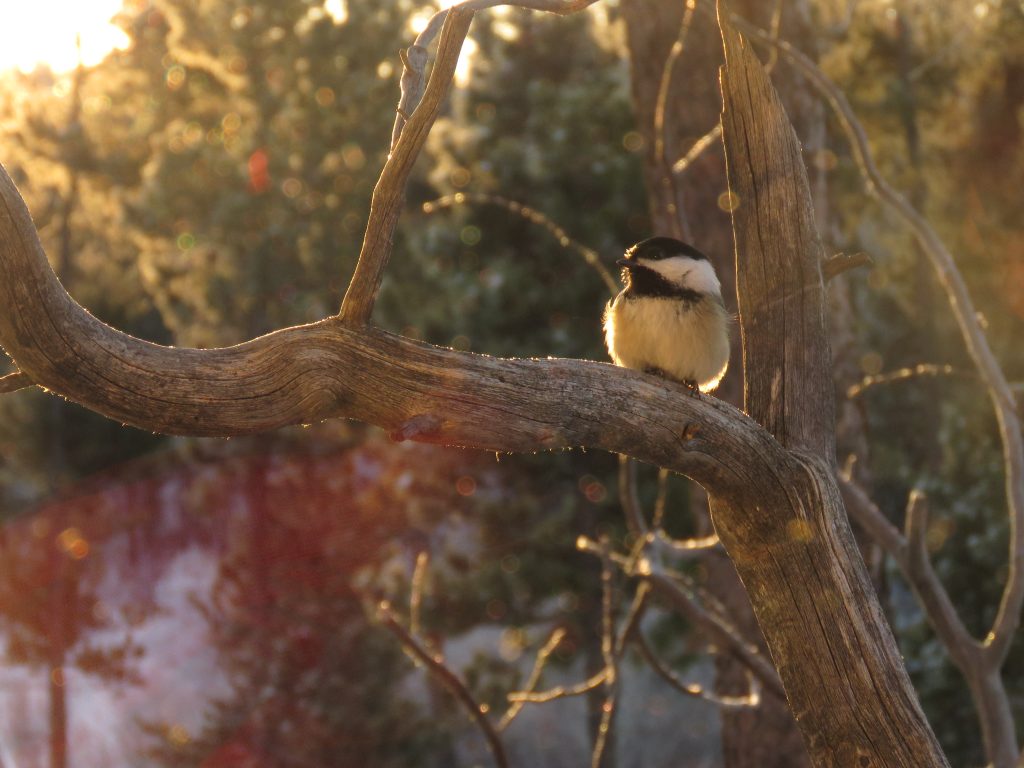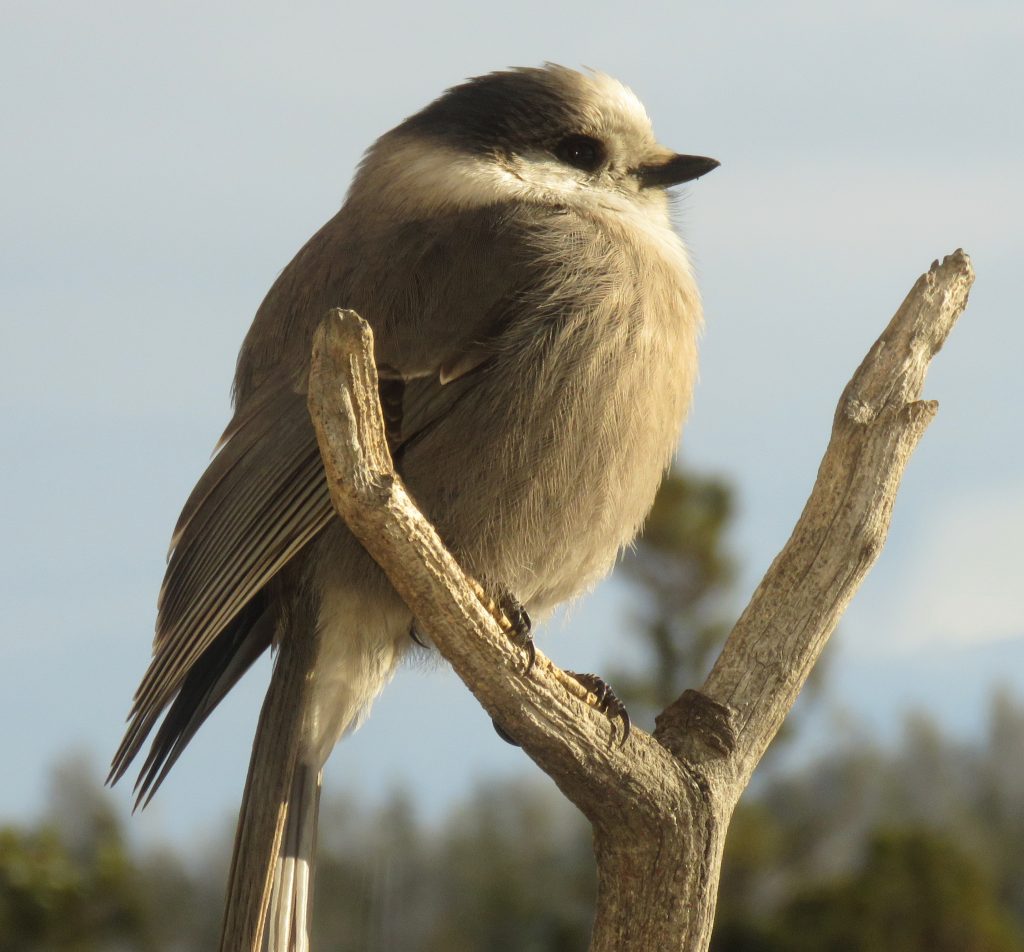 One day there was a tremendous whack on my skylight.  Damn Clark's Nutcracker.  Three years ago I was held hostage by this bird for 2 months – I had to put up netting and blankets to stop him rapping the window constantly.  It started happening only after 3 nutcrackers arrived – obviously one was hormone driven to fight.  Surely this was not the same one come back.  There are now 2 nutcrackers – so far they have not rapped the windows again.  Those powerful beaks could cause a lot of damage.  (It's -20C so he is fluffed out.)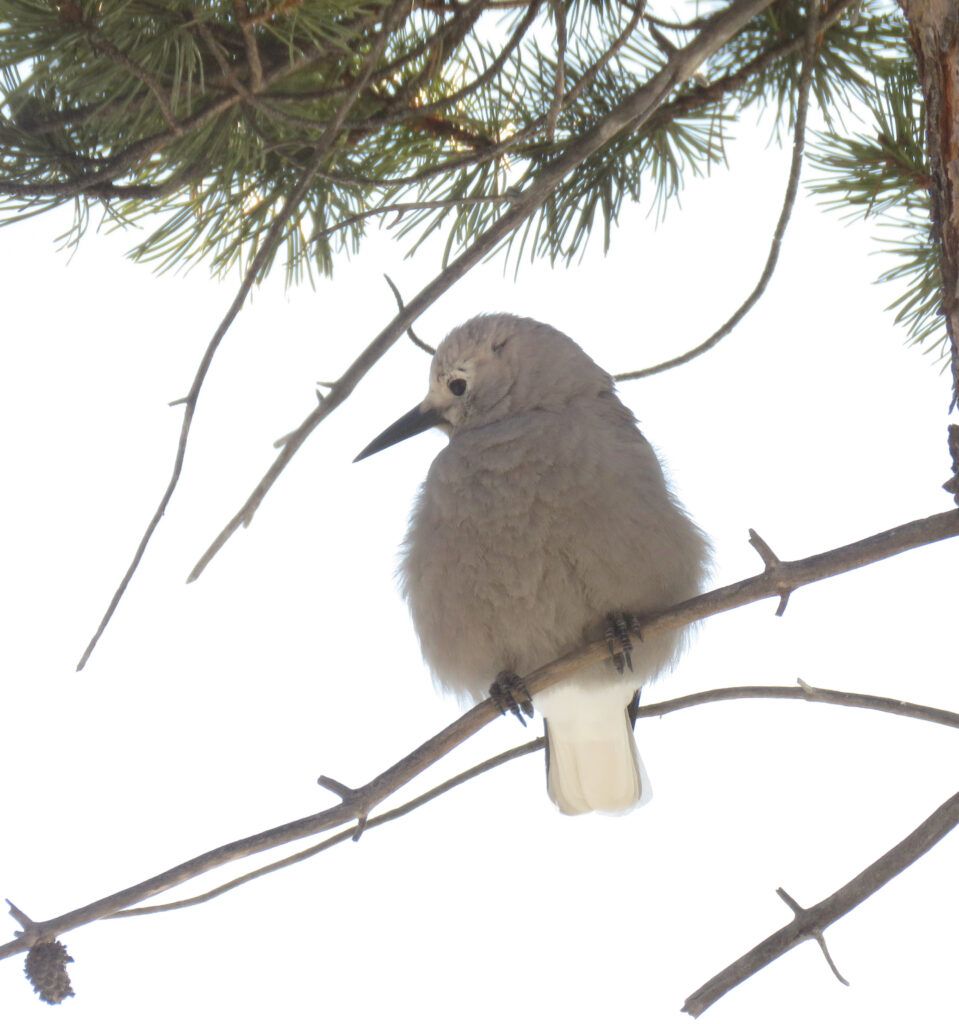 He's not interested in the sunflower seeds.  He likes suet, though.  He can hang on much better than the Stellar's Jay.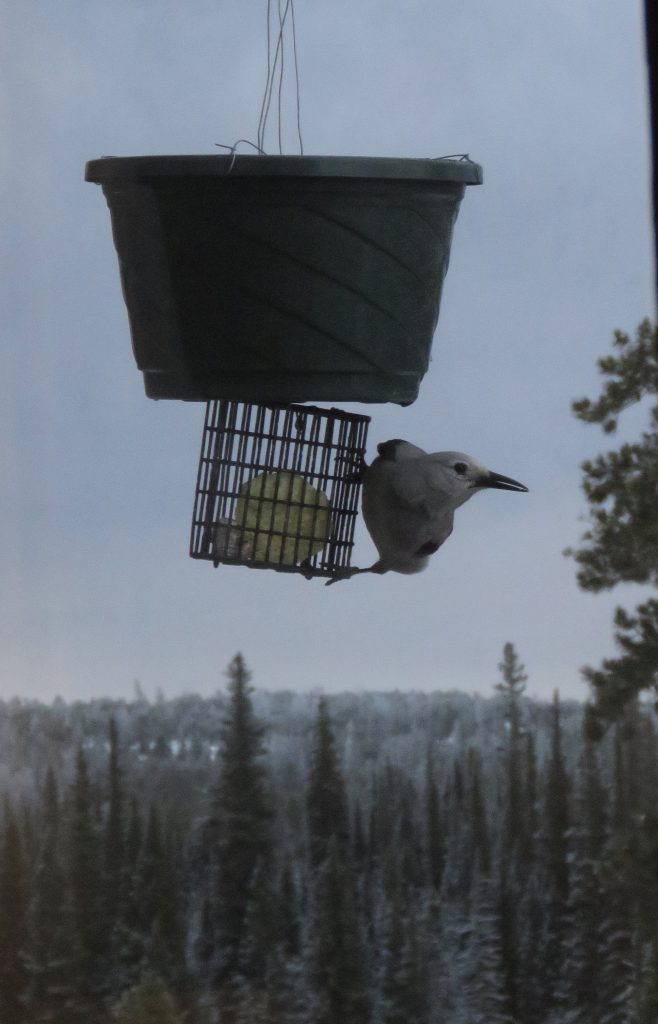 Angie and I drove nearly  1 and half hours' east for a turkey dinner on 25th December.  We had a lovely bird surprise – about 300 Bohemian waxwings.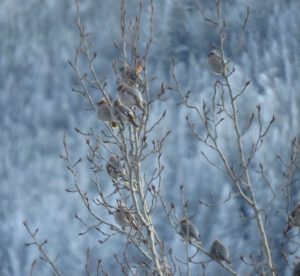 I knew they flocked sometimes, but I have never seen more than 4 or 5 together before and then only rarely, so this was quite a treat.
I hiked to the river lookout on the north dunes, cutting out fallen trees en route.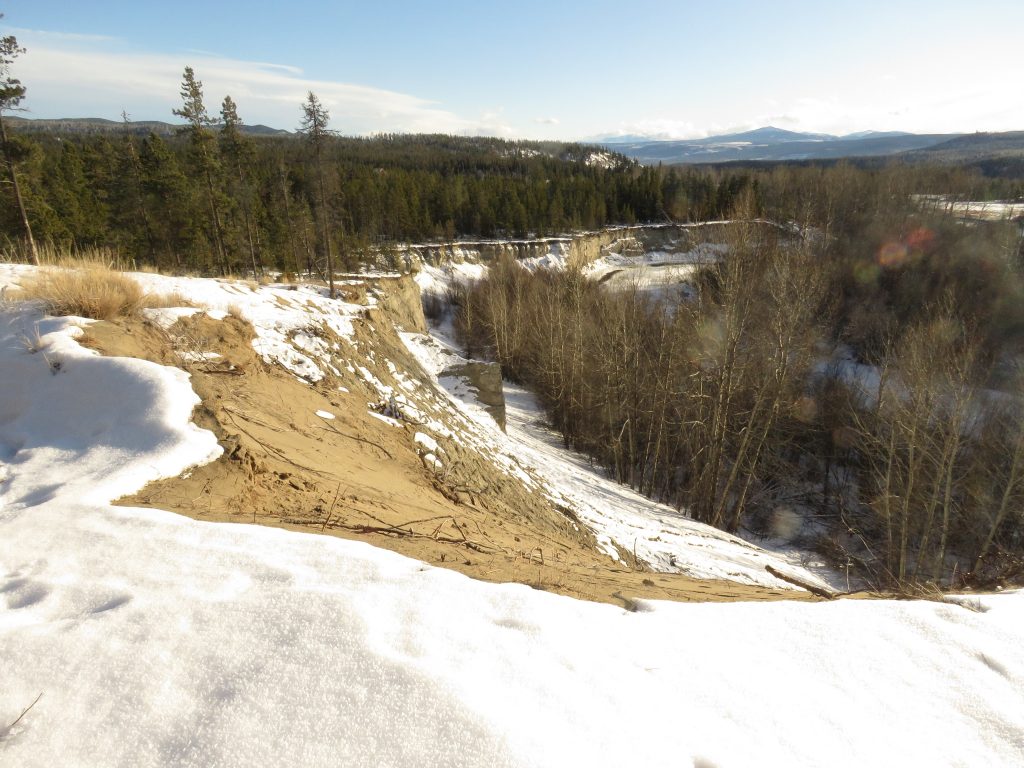 We had bits of sun, but there were constant storms over the mountains.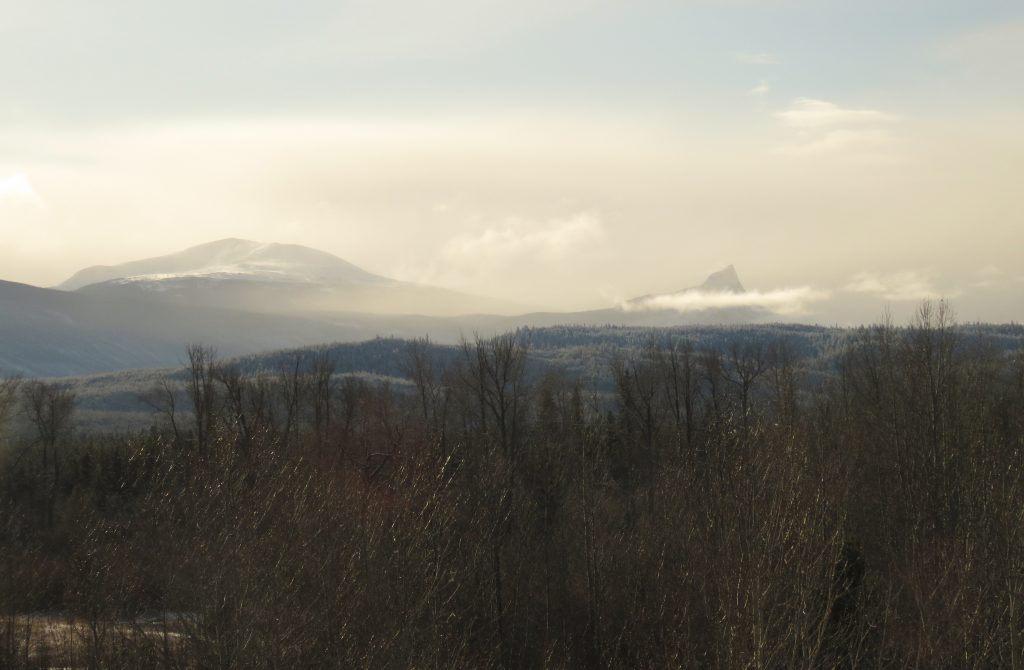 We had one spectacular sunrise,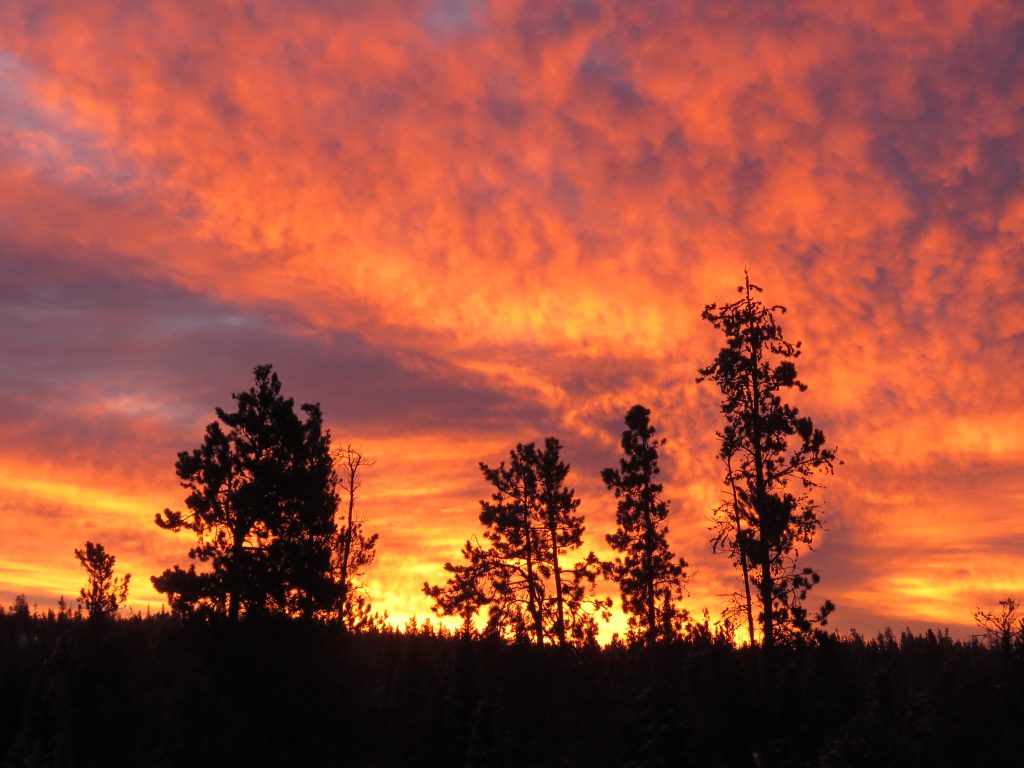 and a moody sunset.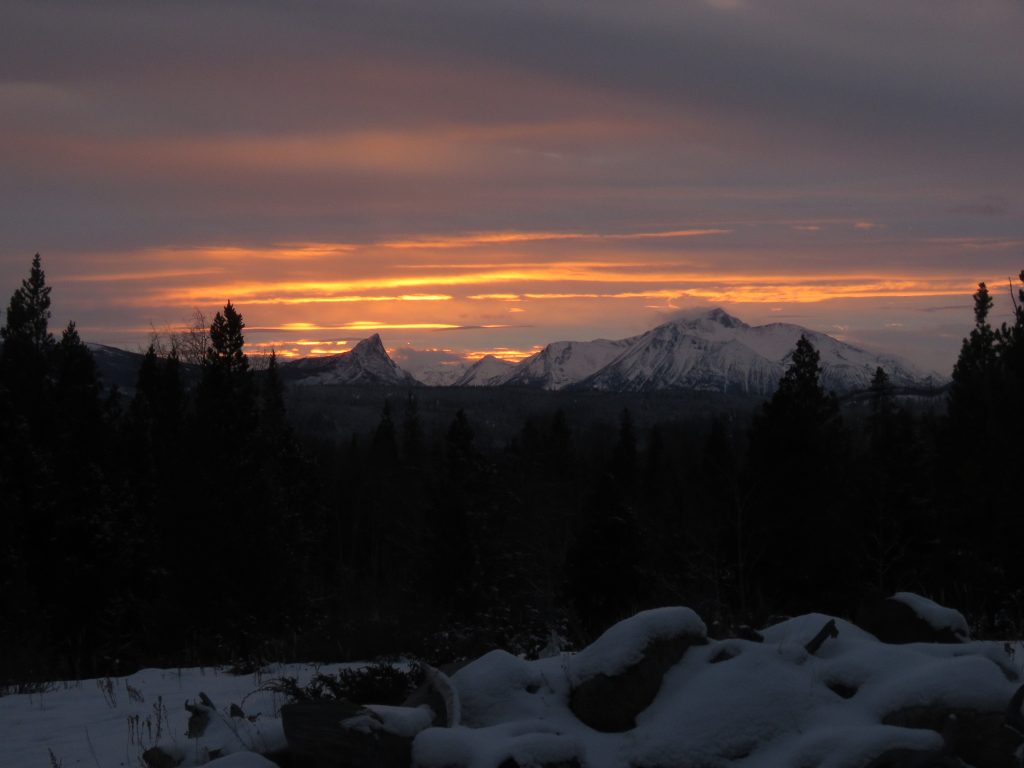 By New Year's Eve there was barely any snow at all.  I wondered if it was going to be like2010, when all we had all winter was a thin skin of ice.  I never wore snowshoes once.  We count on our snow to help with fire protection.  Already I was worrying about next summer's fire season. You get what you wish for – well, I wanted snow.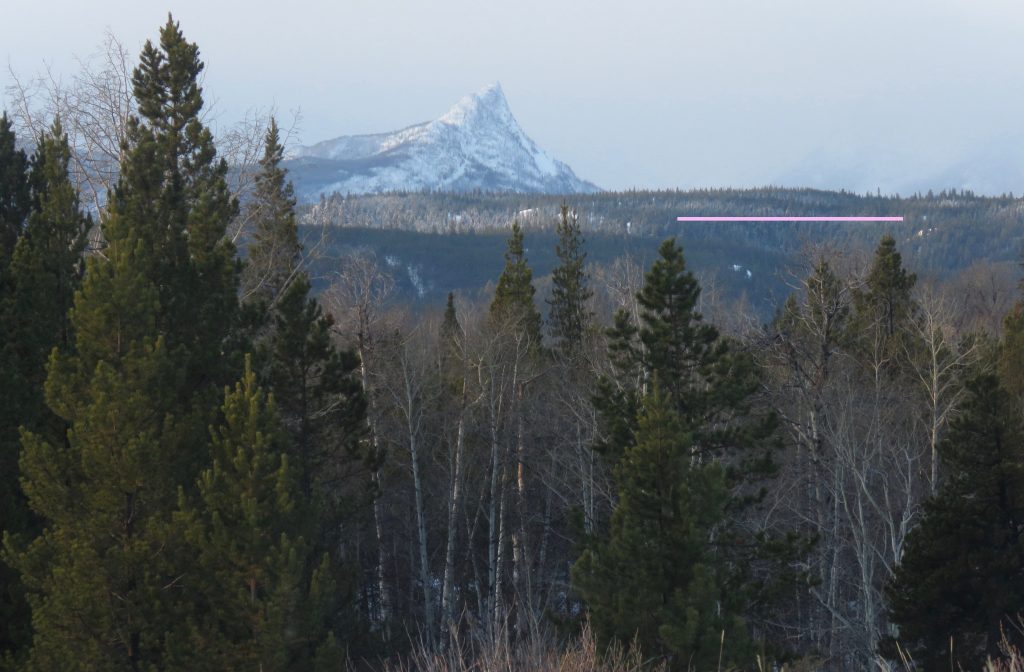 Snow was forecast – the usual 2 to 4 cm – but the weather stations are 90 km away both east and west, and in very different climates, and anything can happen in between.  However, on Jan 2nd, fine mist snow started in the afternoon.  By nightfall the flakes were fatter and they were coming down fast. At first light the birds were waiting beside their feeder trays.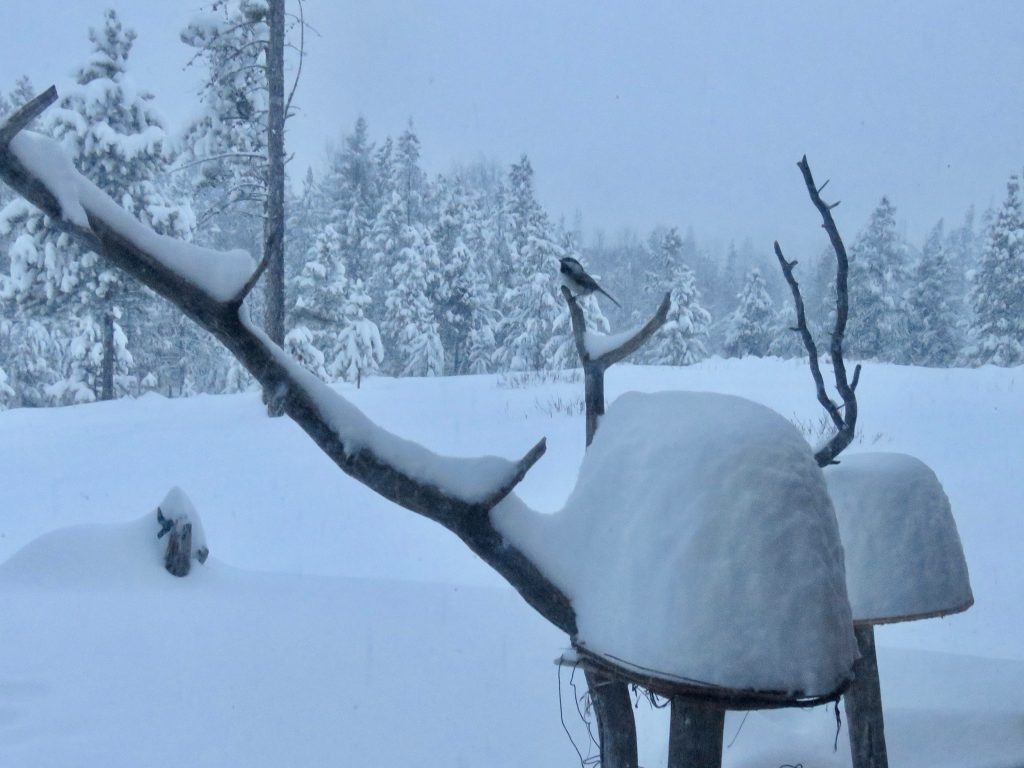 It was still coming down fast.  My little atv snow plough would have a hard time dealing with this volume.  Still, it was cool enough to be fluffy, and undoubtedly pretty.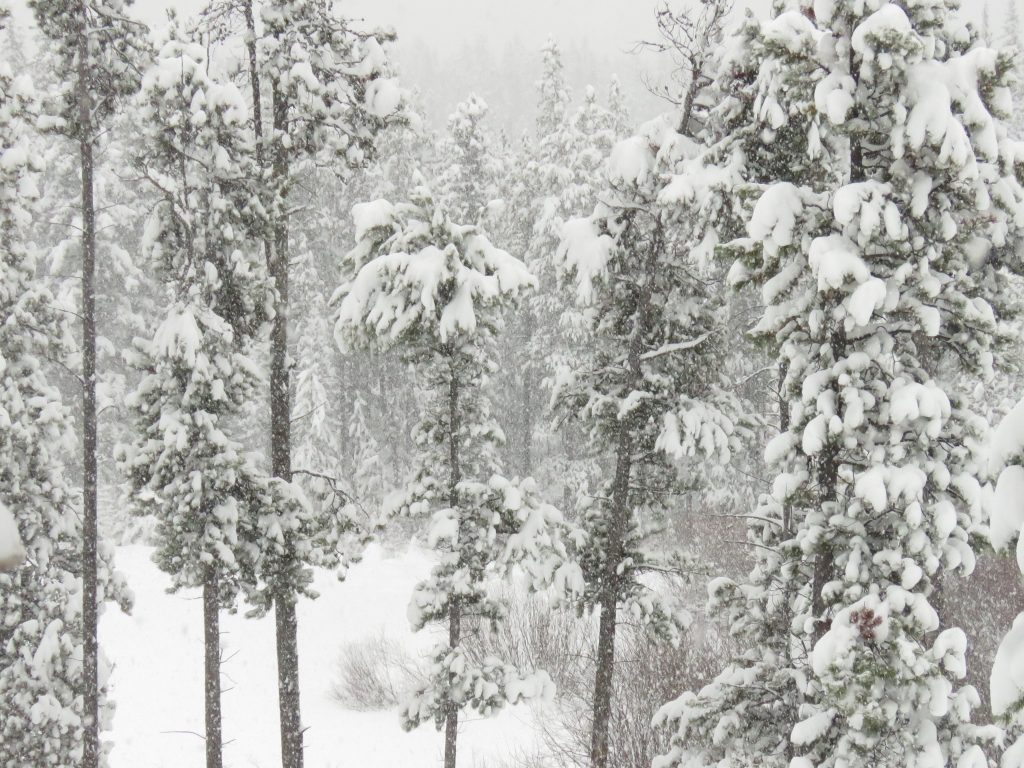 I cleared part of the yard (by going over everything three times) and by the time I got ready to move the truck, the snow had pretty much stopped.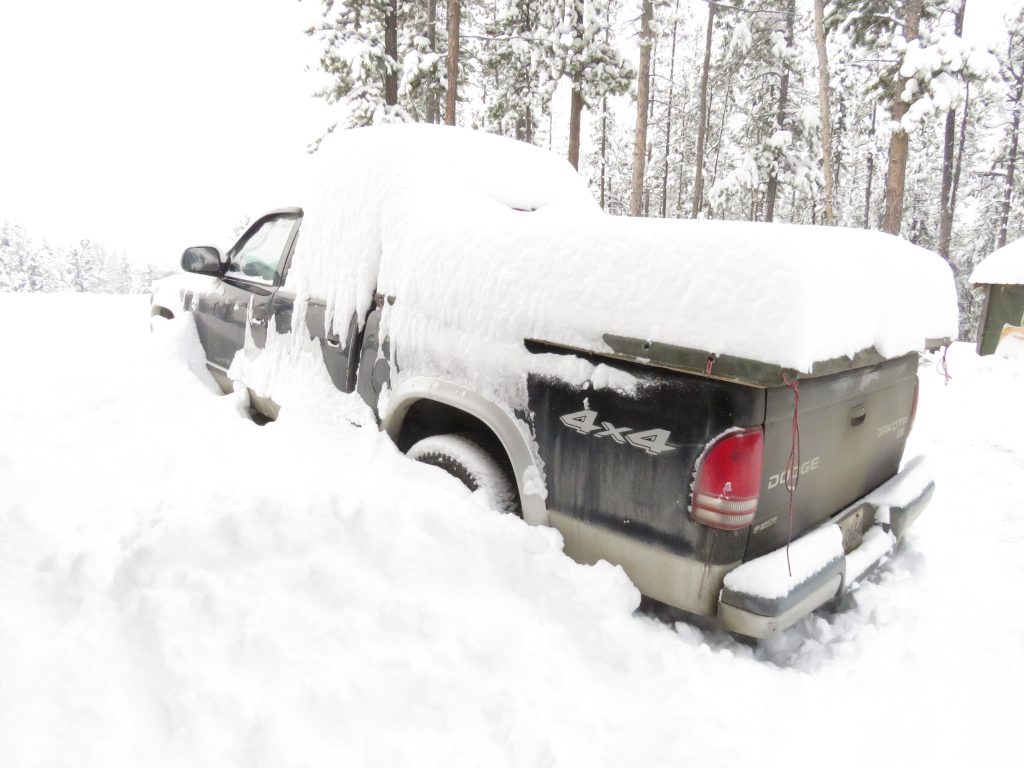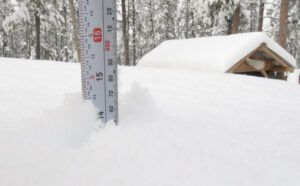 However, it was now thawing so the snow became much heavier to move.  After 6 hours on the atv, I got the yard beaten into submission.
It seems that most of the province (where it hasn't poured rain) has had big dumps of snow.  The friends I often stay with in the Bella Coola Valley were at their other place near Bowron Lakes, east of Quesnel.  It is a heavy snow area at the best of times.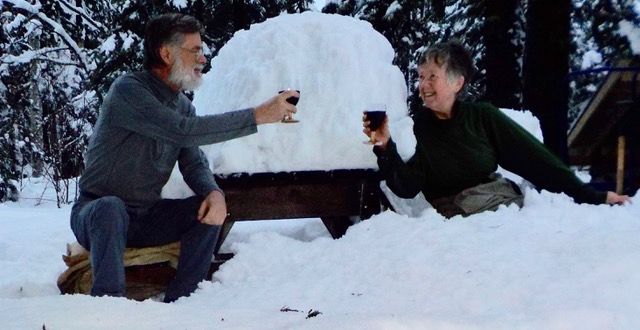 They had, however, planned to return to the valley soon.  But the Bella Coola Hill was closed because of avalanche danger.  It has since opened again, but their neighbour has told them there is a huge dump on their place.  They already spent 2 days digging themselves out after the big snowfall before the Solstice, but at least they were in their house.  Now they would have to drag everything in along their driveway before they could even begin to dig themselves out again.
It poured rain here overnight on the 3rd.  Snow fell off the metal roof with loud, grating crashes, waking me several times.  Only those with heavy snow falls and metal roofs will understand what that sounds like.  The rain turned to snow in the end – now we have a deceptive white cover over sheets of glare ice.  I still had a kilometre of road I wanted to plough.  The ice and the denseness of the soaked snow made it very difficult.  I managed the first section (as far as the yurt) then started off up the hill to the corner.  Up and down, up and down, gradually putting the blade deeper.  But to get it wide enough I had to keep pushing the snow to the side, into the ditch.  And of course at one point I went too far – and with the snow above freezing and extremely slick, into the ditch I went as well.  (I found out afterwards that one of the chains had come off, adding to the lack of control.)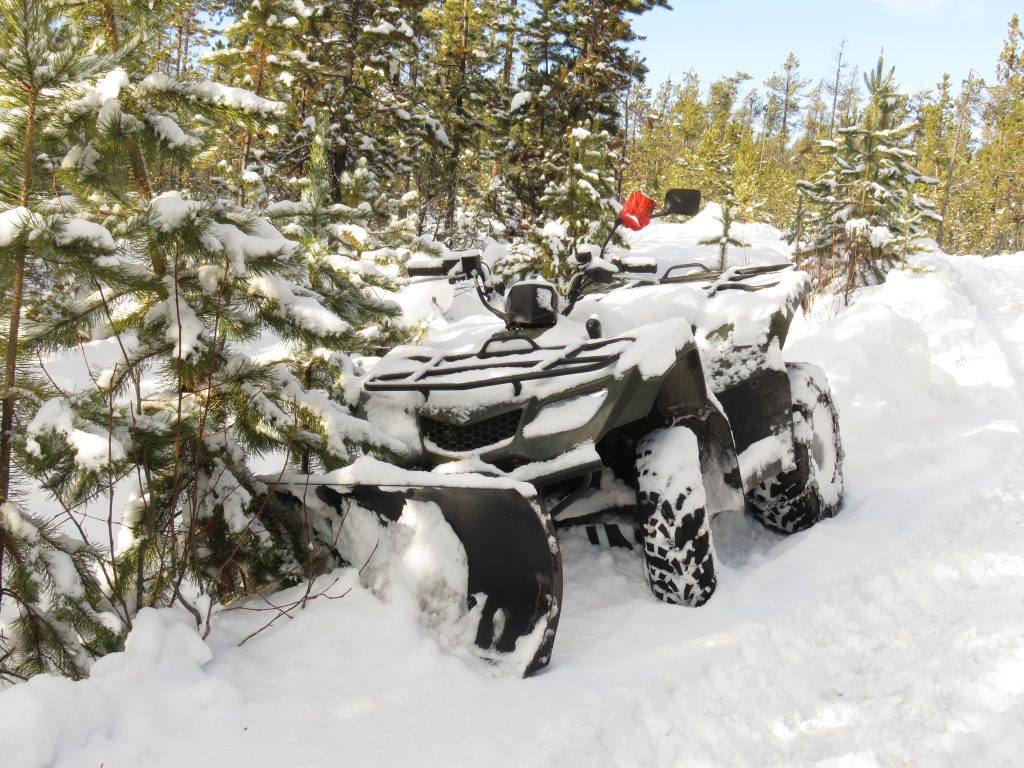 I walked back home to get the truck to pull the ATV out.  I should have waited until the morning when cooler temperatures would have made driving easier. The truck slid into the ditch as well.  Now I was really stuck.
There was an hour of daylight left; the sky was clearing, and a breeze was blowing.  The top of Perkins Peak looked like Mount Everest, half drowned in blowing snow.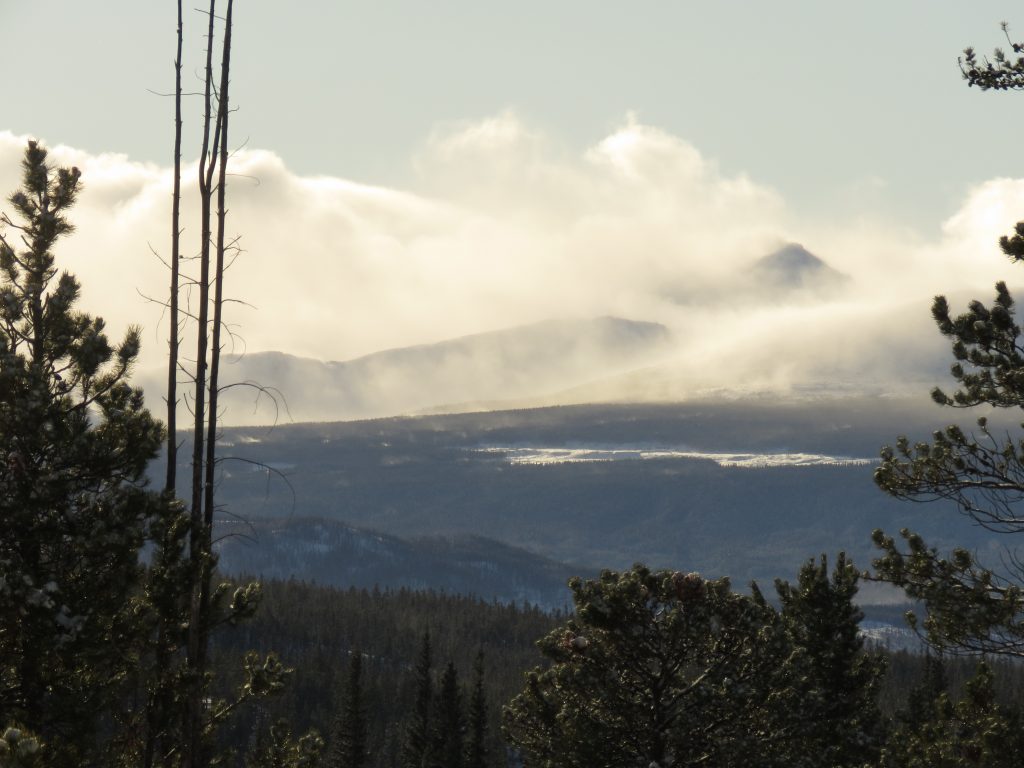 It's hard to find people who want to bring big machines for ploughing to our remote road.  My neighbour Ryan has no plough at all; besides he is spending very long hours driving for the highway maintenance company.  I used to hire them to bring in their grader; however, a few years ago they refused to do private property.  Christoph of the Terra Nostra Guest Ranch has ploughed me out before, but I wasn't sure if he would be available.  I emailed him, but no reply.
So I planned on taking a shovel and the come-along to see if I could at least get the atv out.  I had loaded up the backpack with tools and just stepped out the door when I heard a machine.  Along came Christoph like a night in shining armour on his blue charger (tractor). On the back was mounted a powerful winch.  He hauled the truck out first.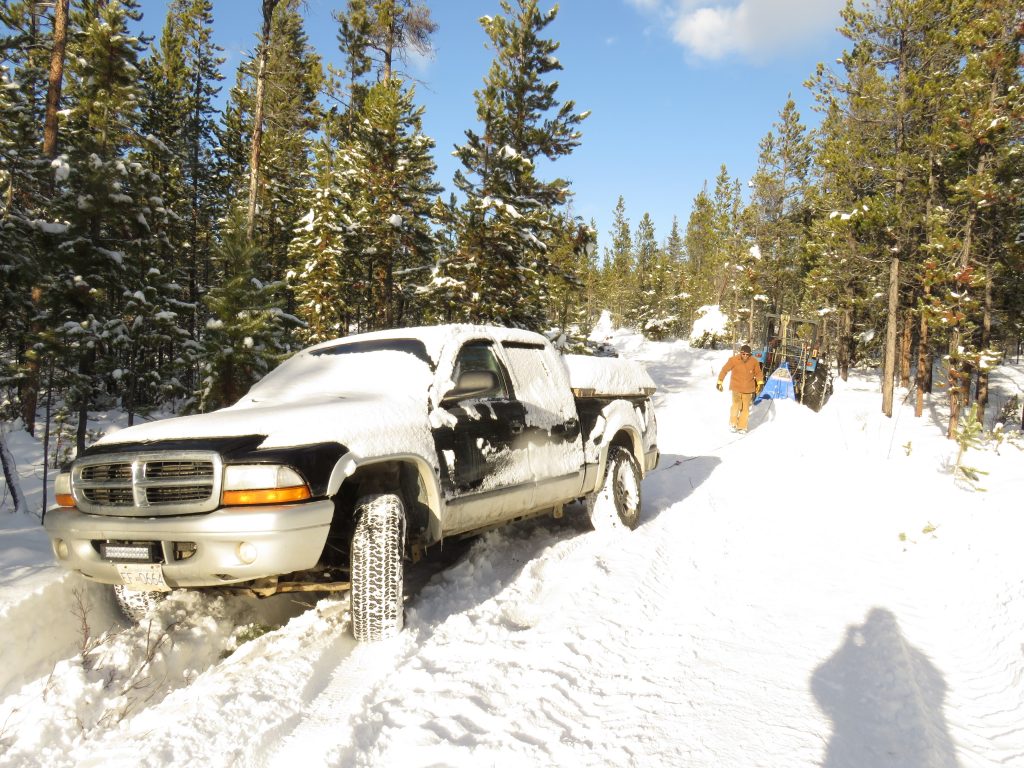 And then the atv, like a fish on a hook.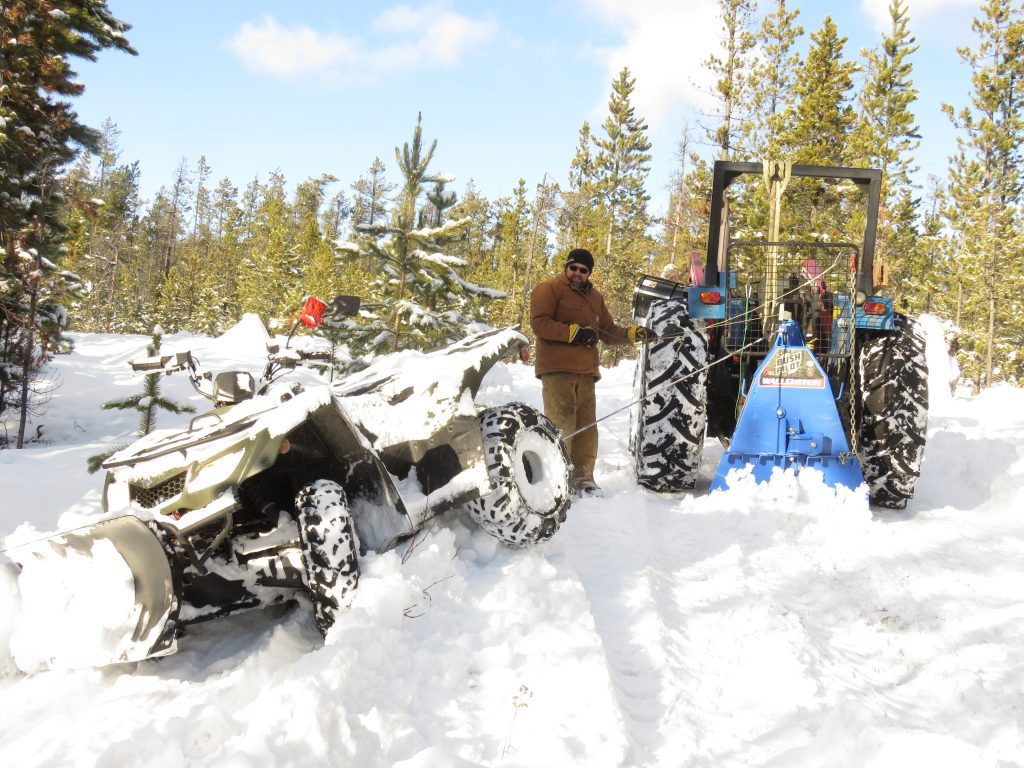 They say you get what you wish for.  I wanted snow, and got it!
Thank goodness I have good neighbours as well.