I've been home a week but have been running around doing last-minute winterizing so only just found time to put this blog post together.  I didn't take many pictures but here are a few of the book tour highlights for Captured By Fire.  These pictures show nothing of the slide show itself, only what I saw along the road.
The first is a community art installation at Salmon Arm based on Monet's Garden.  The bridge is wooden, the path leading up to it is knitted, and the rest is made from felt.  Yes, even the cattails, waterlilies – and the heron.  I have made felt in the past, but only flat pieces.  This was a real eye opener as to what could be done.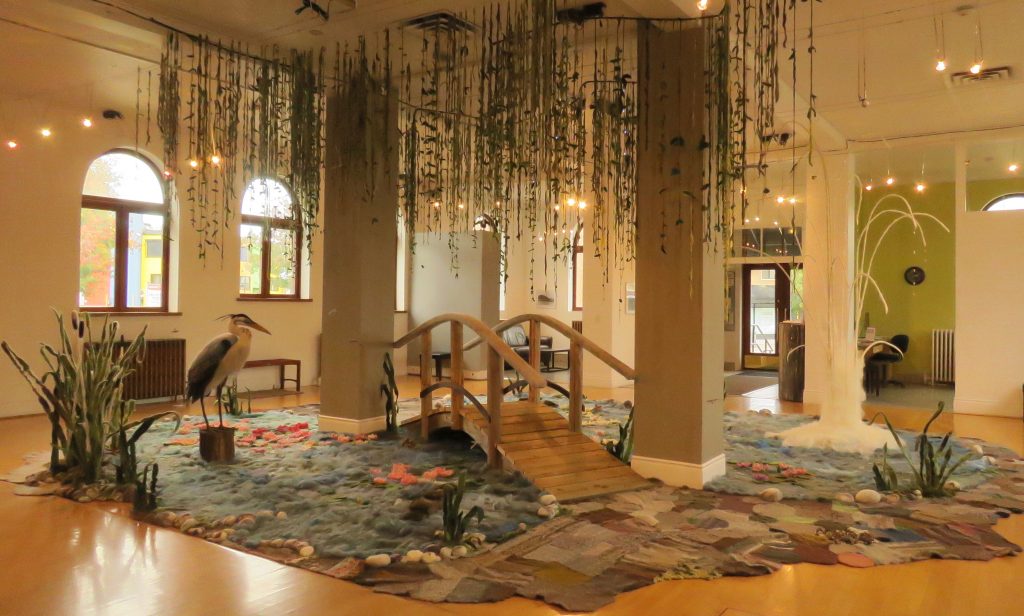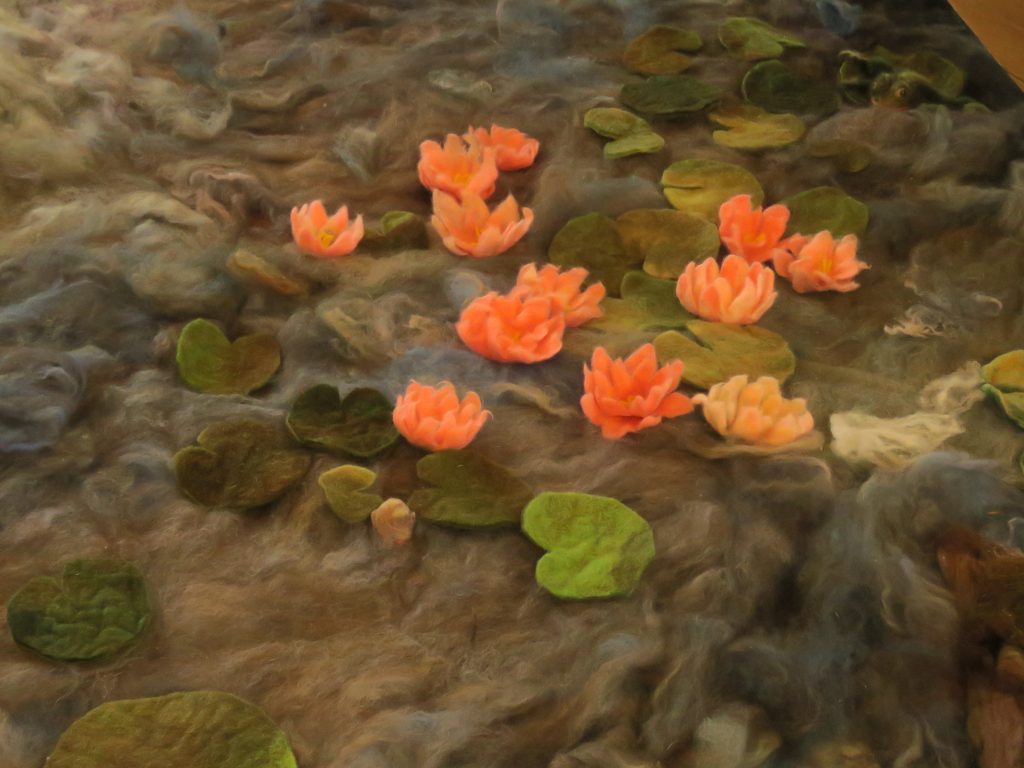 The details were wonderful – a frog on a rock.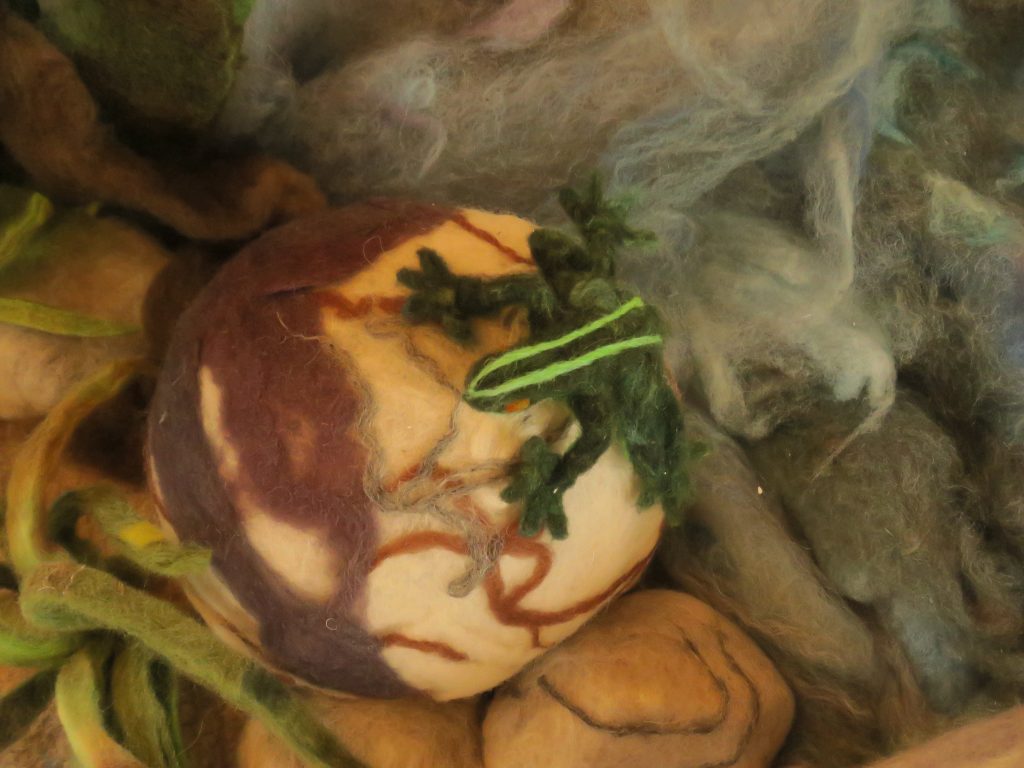 Even a life-sized heron of felt.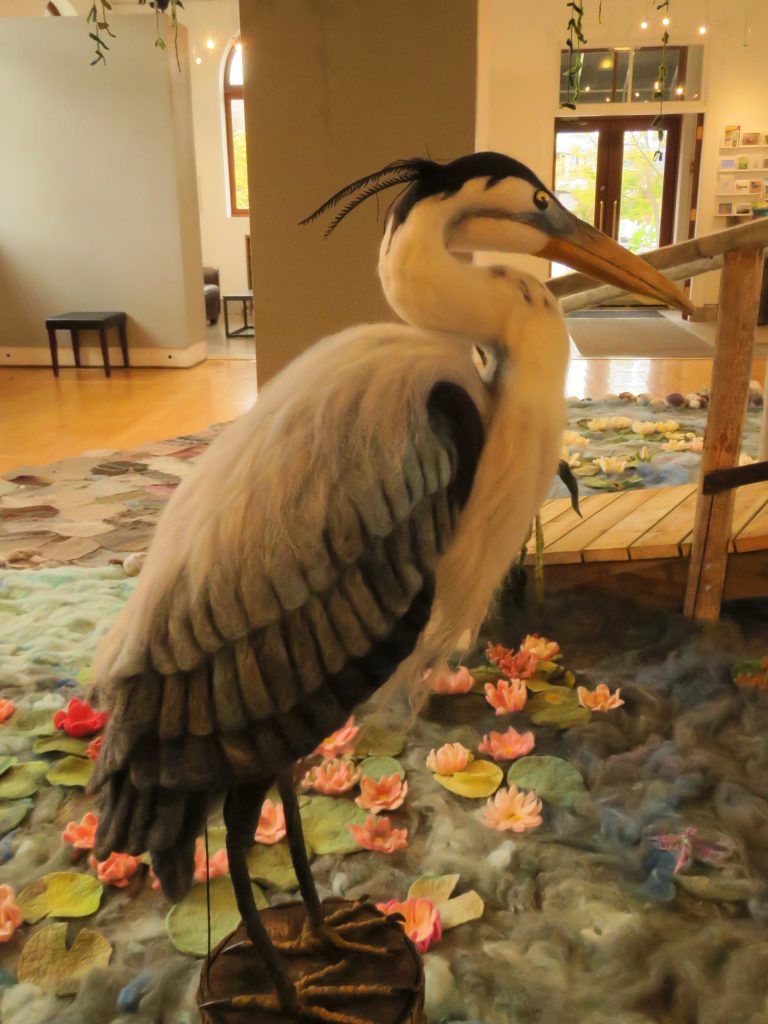 I am always amazed at the climate differences in our province.  Keremeos is not far from theUS border, and after our Okanagan shows I drove to the lower mainland that way specifically to pick up some Newton apples.  I know that the Mariposa Orchard was one of the very few places to grow them.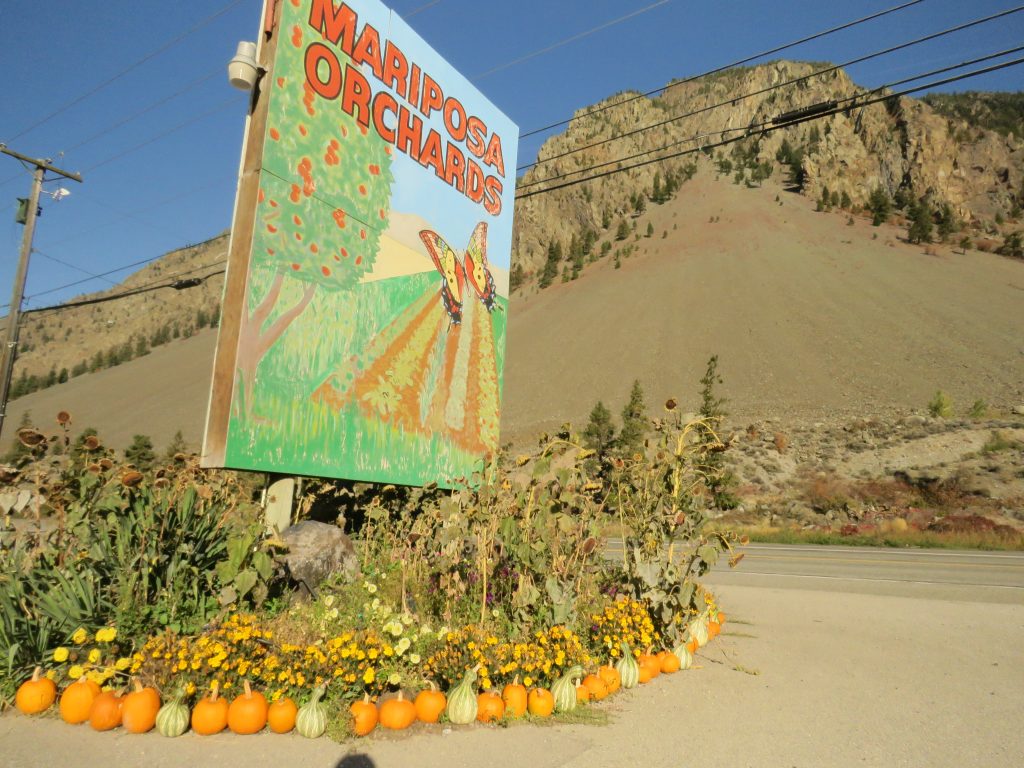 Keremeos is a tiny place and the Main Street is lined with orchard stalls.  It was sunny – but about -5C and everyone there was freezing!  Especially as their open-air booths were, of necessity, in the shade.  I asked at one place.  "Newtons? Oh they're old-fashioned!  Try these."  I took a bit out of several apples, but I find most modern varieties are too sweet and have a bitter after taste.  Few North Americans know what a real apple should taste like.  So finally I ended up at the Mariposa orchard.  "Newtons?  Oh, there old fashioned.  Try these Salish!"  But the owner did allow that they had 2 trees of Newtons – however, they weren't picked yet.  If I waited half an hour, I could have some.  Most orchard owners there seem to be South Asian, but her helpers looked Mexican – what I could see of them.  They were dressed for the North Pole and so swaddled in clothes only their noses and eyes were visible.  But off they went in a side by side and came back with several bags of apples.  Newtons are excellent keepers and I bought 120 lbs.  "Can't you take any more?" the owner asked wistfully.  But I simply had no room.  I was fortunate to be able to store them in Burnaby in the hopes that my containers would be empty enough of books to find room for them before I came home.
The fall colours had been insipid at home, but throughout the rest of my travels they were quite attractive in a damp, Lower Mainland kind of way.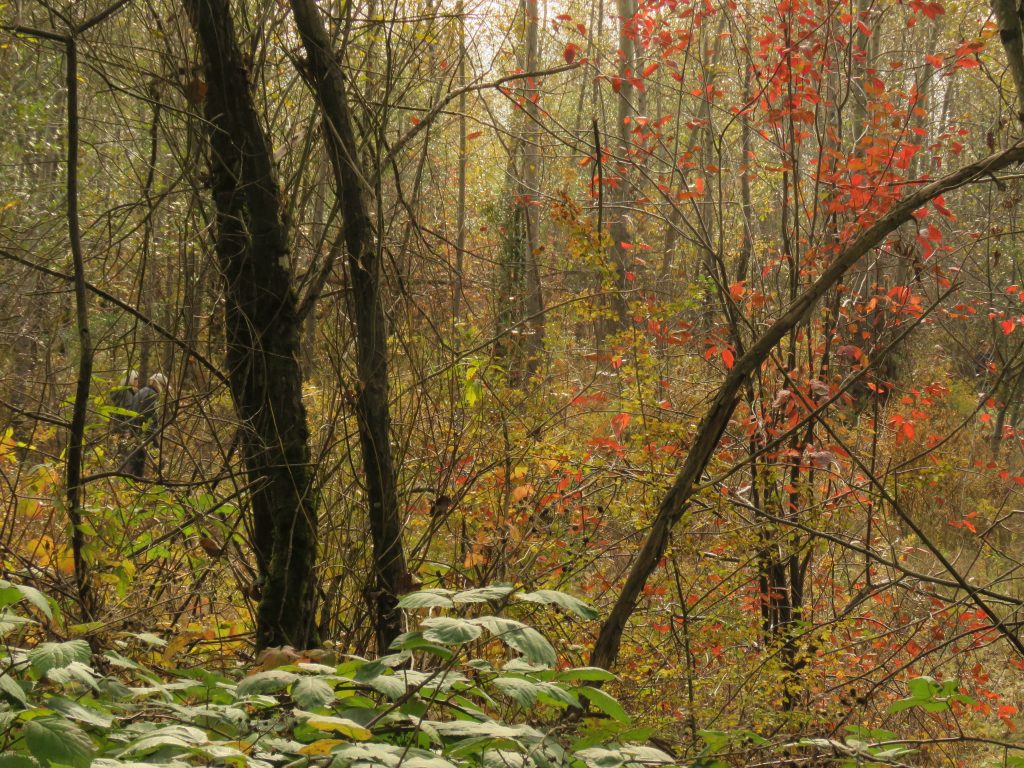 This was taken on a walk around Maplewood Flats, a bird sanctuary in North Vancouver.  I know this place well because, years ago, I spent a lot of hours cutting out unwanted alders and that monster Himalayan blackberry – one can only appreciate the grossness of this plant when hacking at liberally-spined, wrist-thick stems far beneath the canopy.  Some of those stems must have been six metres long.  There were several birds along the shore and in the wet areas, including this drizzle-damp heron who did not look too happy.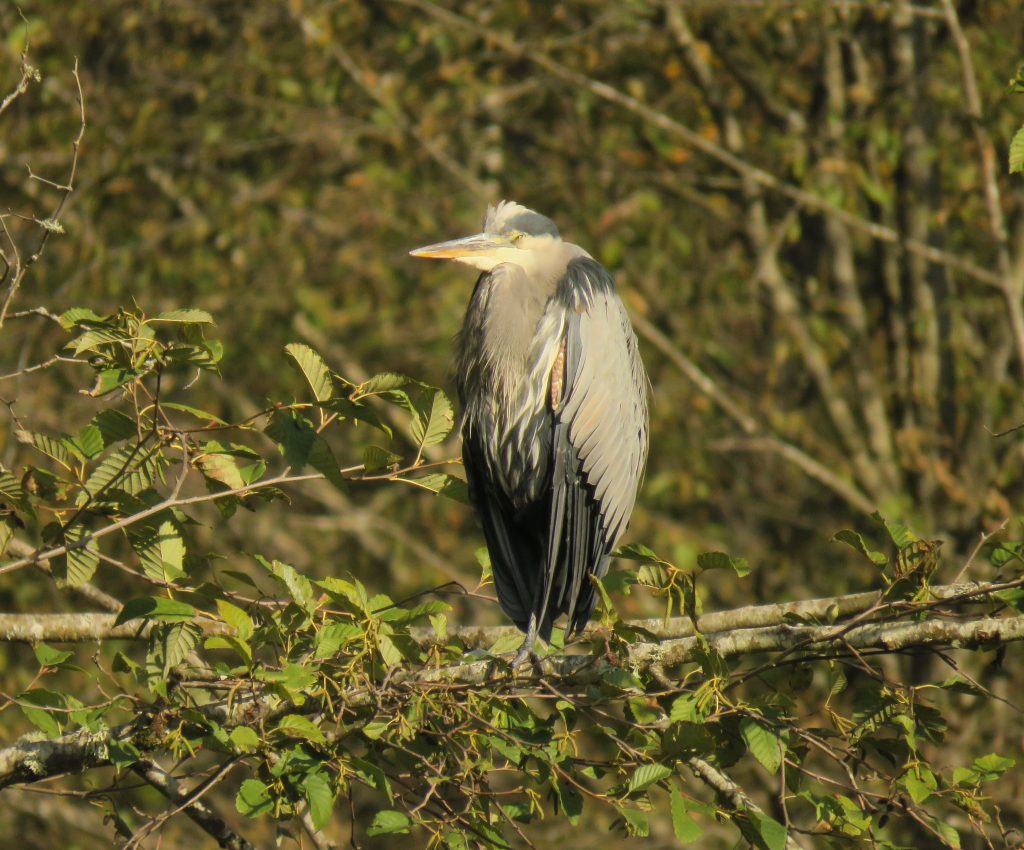 After Thanksgiving Weekend I crossed to Vancouver Island.  The weather was taking a turn for the worse.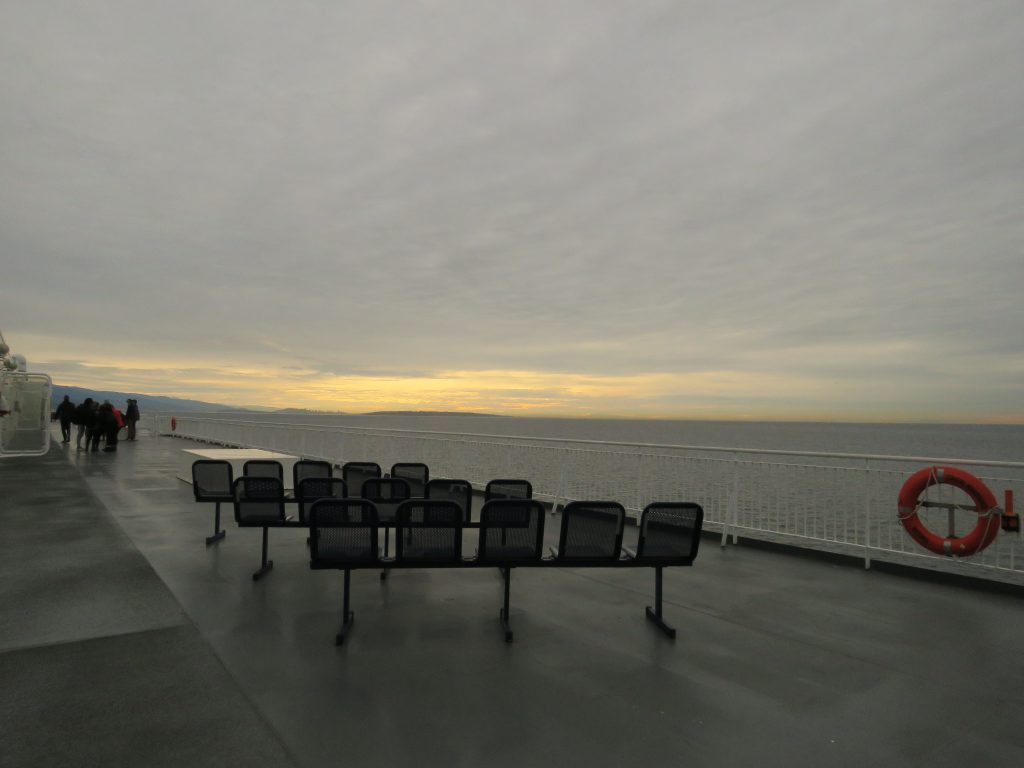 The crossing was calm, but by the afternoon when I arrived at Union Bay near Courtenay, a full blown Southeast Storm was blowing, the first, I was told, of the winter.  They happen when it is cold in the Interior: the sea is warmer; the air above it rises, and the interior air flows down through mountain passes, gaining speed, until it smashes into the east coast of Vancouver Island.  Heavy rain usually accompanies these storms.
Three slide shows on the Island, and then the short ferry ride to Gabriola Island, where Fred and I were to speak on the Saturday afternoon.  It was good to stay with long-time friends Dave and Rosemary Needs, who lived for many years at the Precipice, and who have featured in several of my books.  They have a book coming out this spring on Precipice stories – I will be looking forward to that.  The publishers don't seem to have posted their spring catalogue yet so I can't give a link.  The wind on Gabriola wasn't so bad but it was gloomy and drizzly most of the time.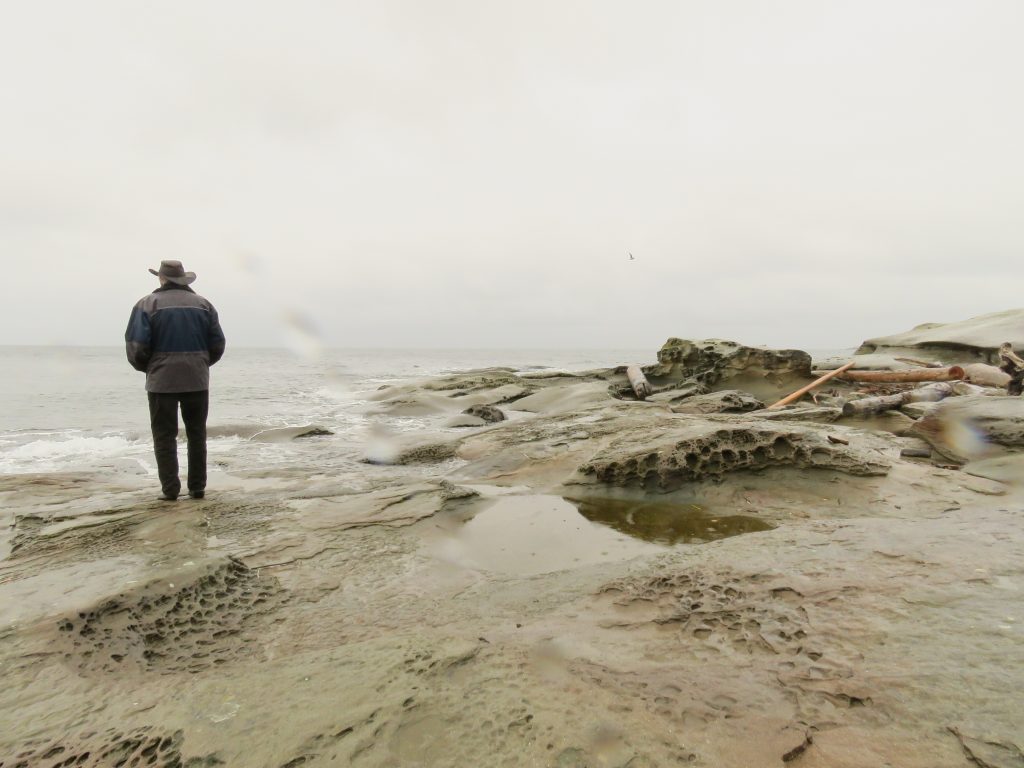 Herons seem to be a theme of this post, but they are everywhere on the coast.  Normally they simply stand, hunched, or fly away, but this one entertained us with his fishing methods.  The angle of his neck was, at times, extraordinary.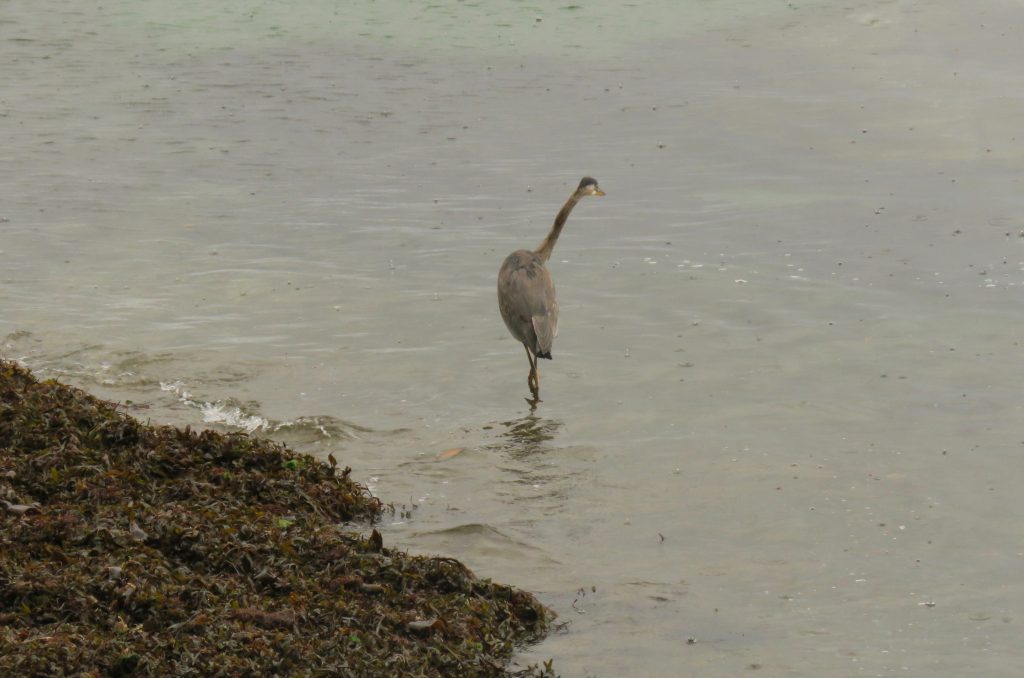 Then he would dive….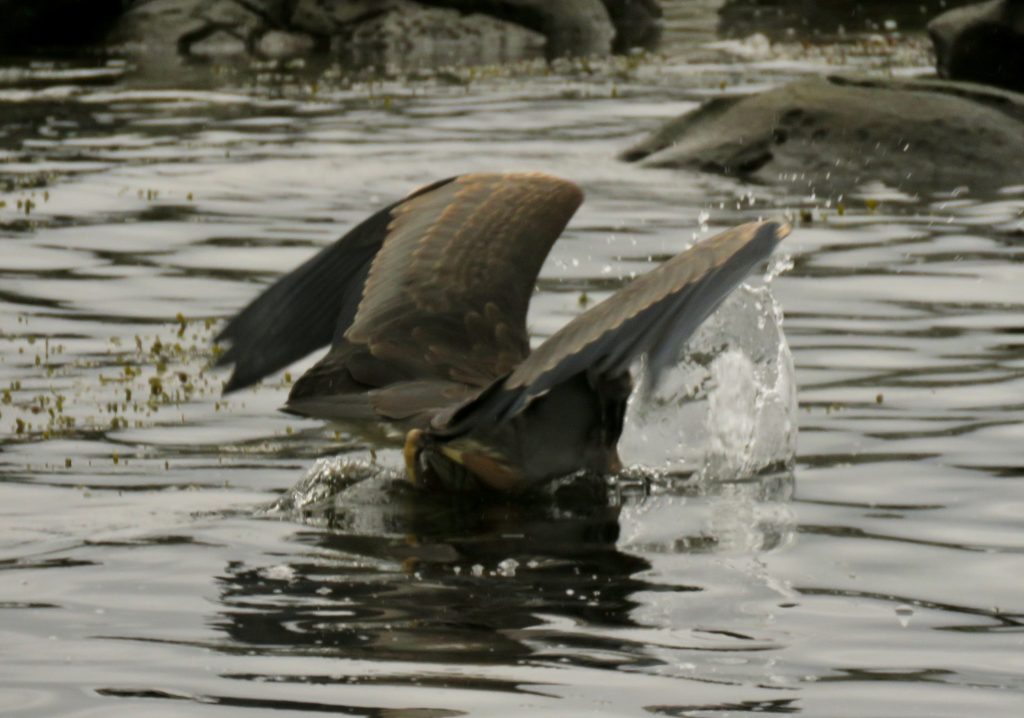 And often had success!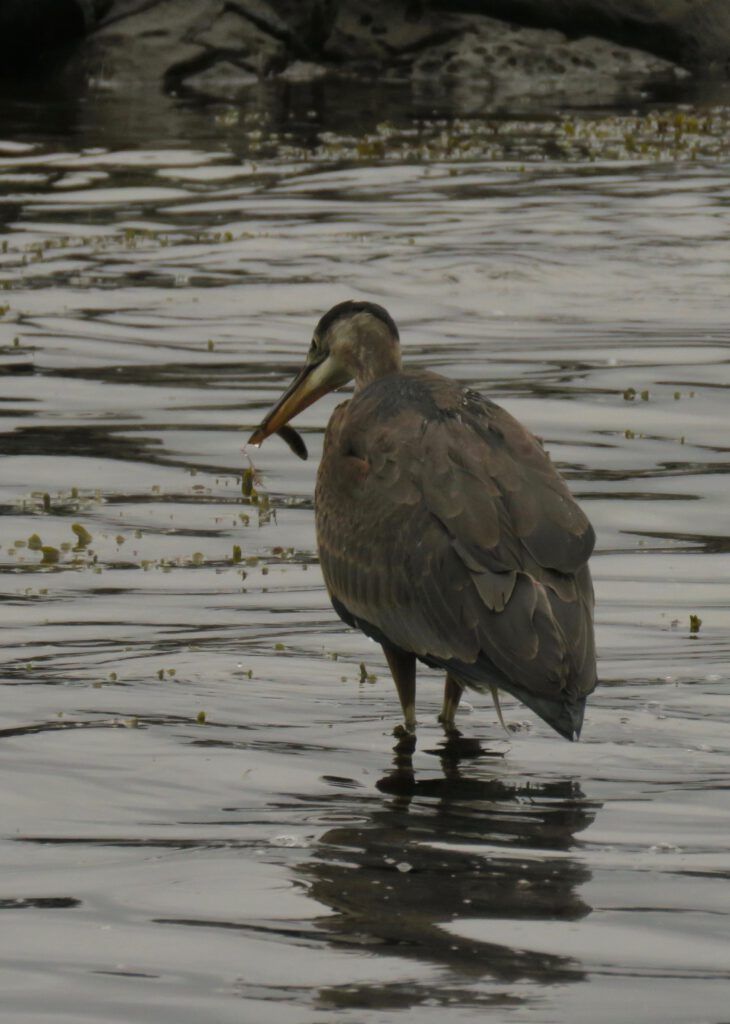 While perusing Gabriola Island's community blog, Rosemary noticed that a ride to Campbell River was needed for – (wait for it) – two roosters.  Without thinking too much about it, I said: "sure."  We would not think twice about accepting such a task at home.  However, space had to be made in my jammed-full vehicle.  The box would have to sit on the passenger seat, and have nothing around the sides or the top.  Apparently chickens can get very hot and stressed in a box and easily die.
The roosters were siblings – I was told that, as they had grown up together, they would not fight.  They arrived the evening before – chickens are quiet in the dark so they would be fine overnight.  The following morning was cold and rainy – as Gabriola is a bedroom community for Nanaimo, the ferry line-up would be long on this day after Thanksgiving Weekend, so it was wise to get there an hour early.  There was the odd cluck, peck and scratch from the box, but all was otherwise quiet.
The ferry dock was sheltered from what was obviously going to become another Southeast storm, but the rain poured down.  The wind hit me on the exposed coast as I drove north with the window down and cold air blasting from the heater.  Windshield wipers swung furiously.  Sheets of water rolled across the highway – warnings of hydroplaning were everywhere.
I had spoken to the recipient of the roosters by phone.  She was actually on Quadra Island and due to arrive in Campbell River at 11.20:am – she hoped to walk on, grab the roosters, and catch the same ferry back.  I got there just as the ferry was unloading.  Howling wind and pouring rain.  What with the noise and the storm I had not heard a peep out of the birds for a while.  A finger stuck in one of the box holes showed it was pretty warm in there.
There did not appear to be any foot passengers.  I found a little car park close by.  A sign said: "No ferry traffic."  But what to do?  Wait for the next ferry?  Were the birds still alive?
I had described my truck to the roosters' new Mom, and suddenly a large pick drew alongside.  A woman jumped out, wrenched open my passenger door, seized the box, yelled "Gotta catch the ferry!" and was gone.  It was not until several days later that I learned the birds had made it OK.
Homeless people were everywhere we travelled.  Libraries (where we usually spoke) were favourite places for them as they could be warm and dry for a few hours.  The howling wind and drenching rain in Campbell River made them look particularly wretched.  To go to the washroom in the library, one had to pick up a key tied to a big plate from the desk.  No chance of slipping that into your pocket.  In each stall was a sign stating that this was not a good place to overdose.  If you wanted to shoot up, please go to …..  where people could help you if necessary.  It was one of the saddest things I have ever seen.  The librarian told me they monitor the time people took in the washroom.  After 20 minutes they went in to check on people.
That night I stayed in the first of 2 motels on my trip (the rest of the time I was lucky enough to have friends as hosts.) The Edgewater Motel was comparatively cheap and close to the inland highway, so noisy with traffic during the day, but actually quite quiet at night.  Not that you could hear the traffic much due to the storm.  It was a small motel right by the sea.  Very basic but perfectly clean – but I did not realize until too late, that it had steps down to a beach on which you could walk for miles.  As long as you don't want luxury facilities, I would recommend this place to anyone.
Southeast storms can cause the ferries to stop running, and we were due to cross back to the Mainland the following day.  Someone must have flicked a heavenly switch  – the next morning was stunningly calm and beautiful.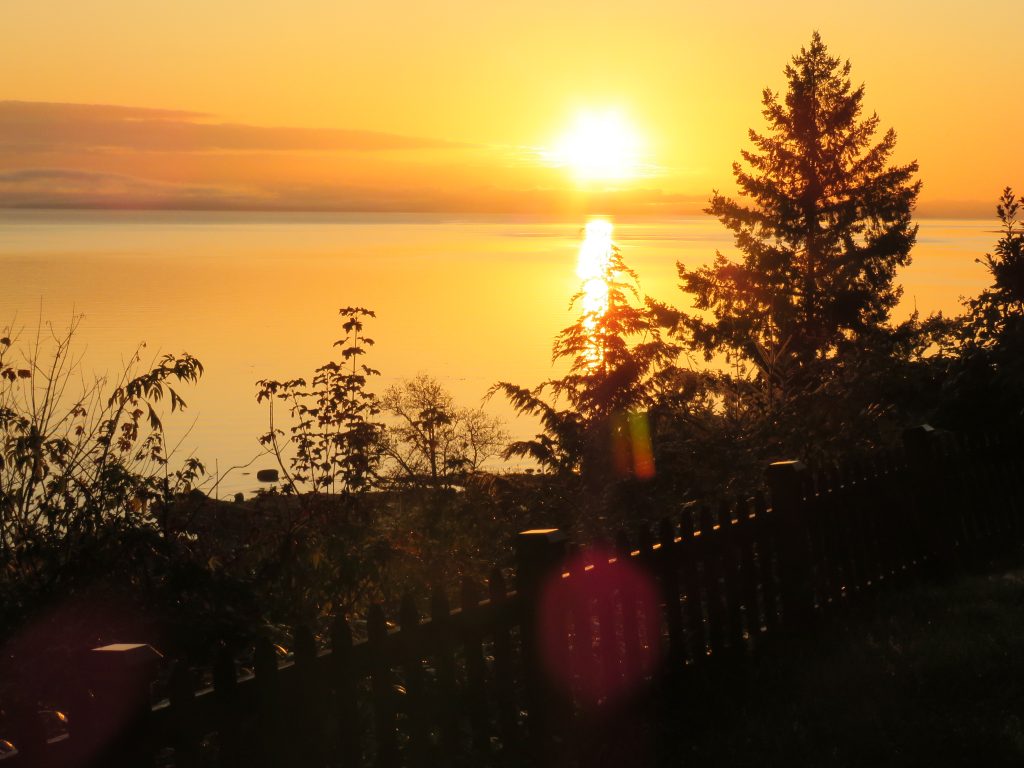 Sunlight poured into the ferry dining room, and soon we were on deck – without even a coat.  A couple of musicians were playing – just for fun.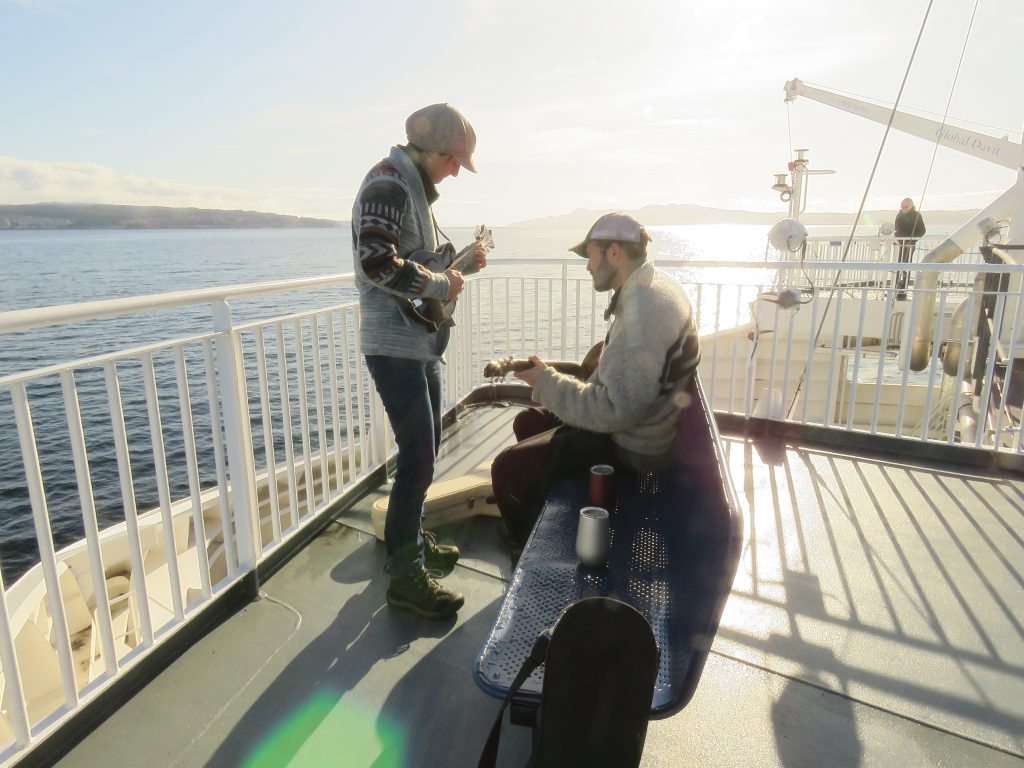 What a contrast to the previous day!  Then whales spouted in the distance – and to cap it all, we saw about 40 Pacific White-sided dolphins.  Very hard to take a meaningful photograph.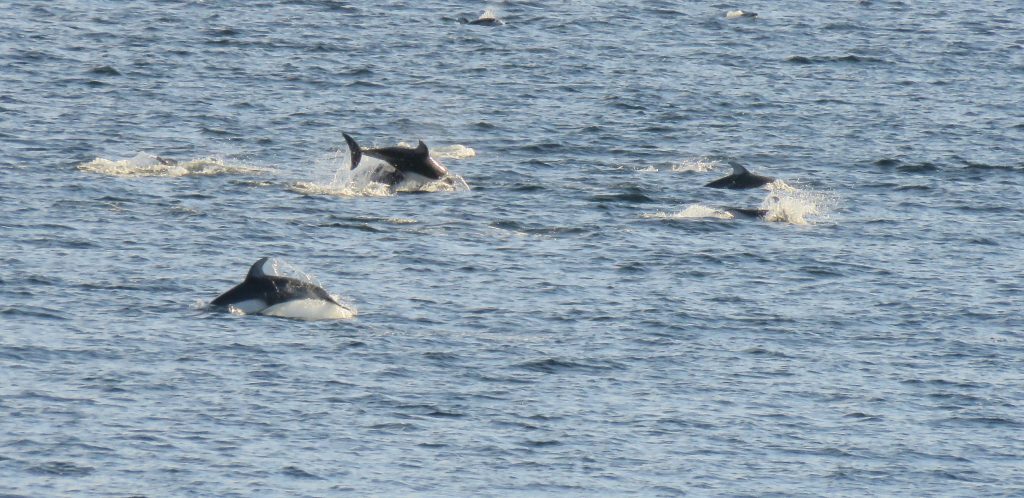 They came right up to the boat, and the ferry had to slow down.  As you see the dolphins slice through the water they look perfectly clear, but the photos show them only as splashes and blobs!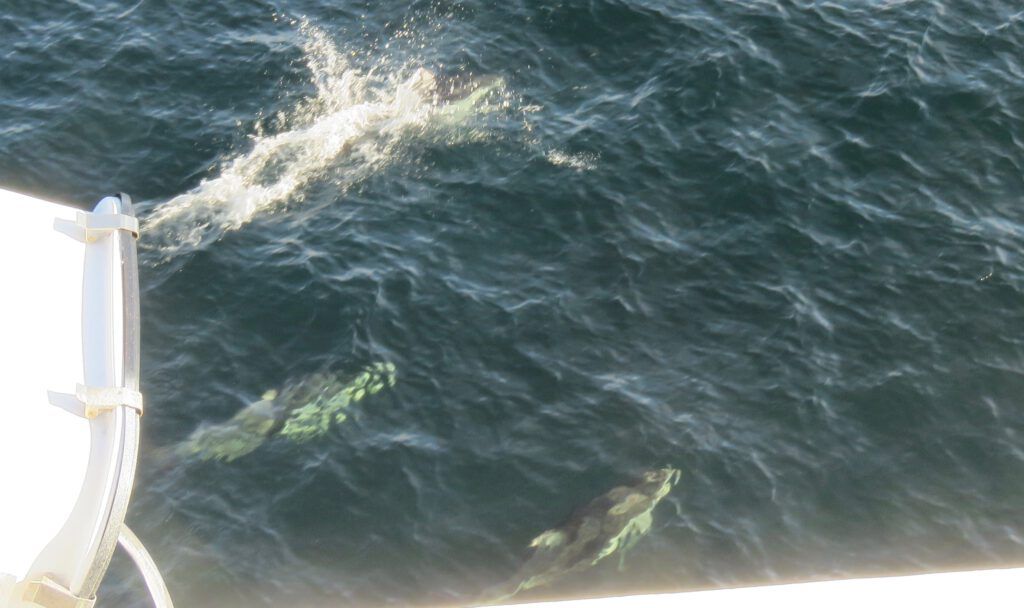 We were now on the Sunshine Coast – although it is the Mainland, it is accessible only by two ferries.  The first is one of the prettier journeys of the coast, but the weather had deteriorated again.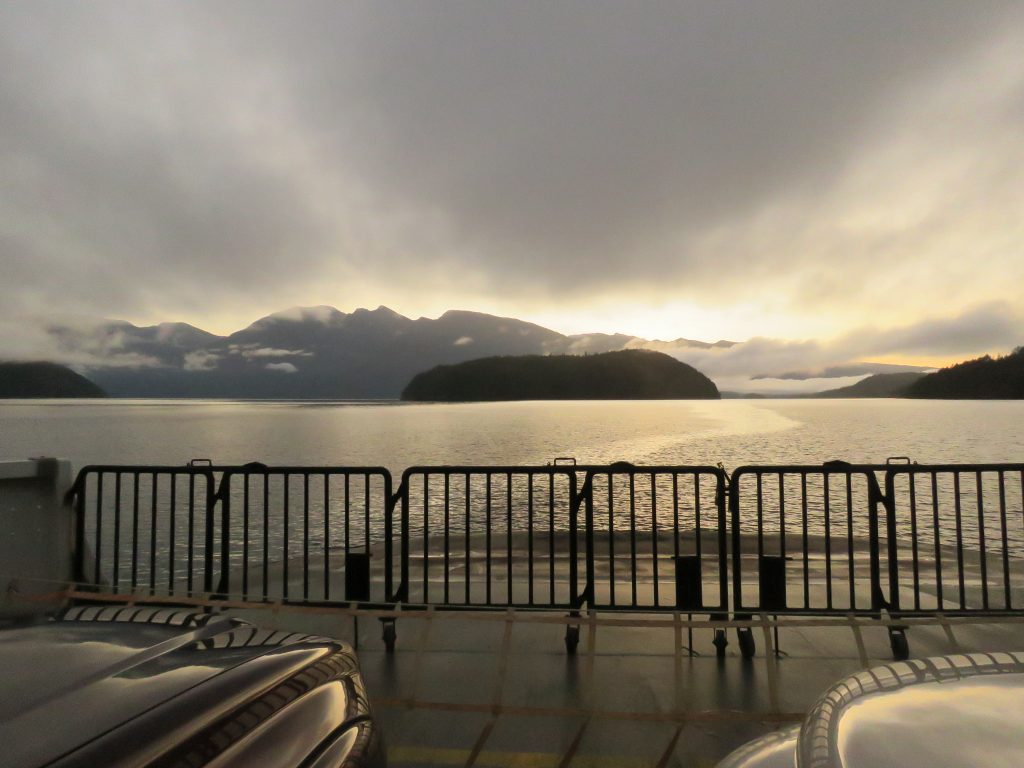 And finally the last ferry to Horseshoe Bay near Vancouver.  This crow looked perfectly at home in the line-up.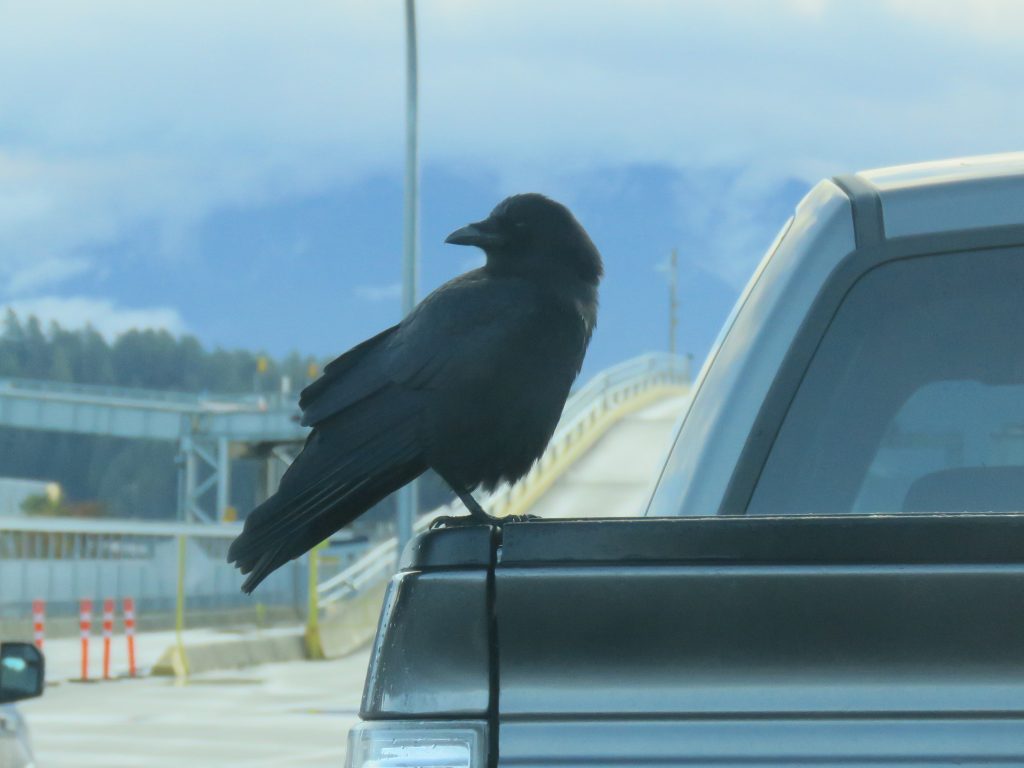 I toured the Sea to Sky area (Squamish and Whistler) alone,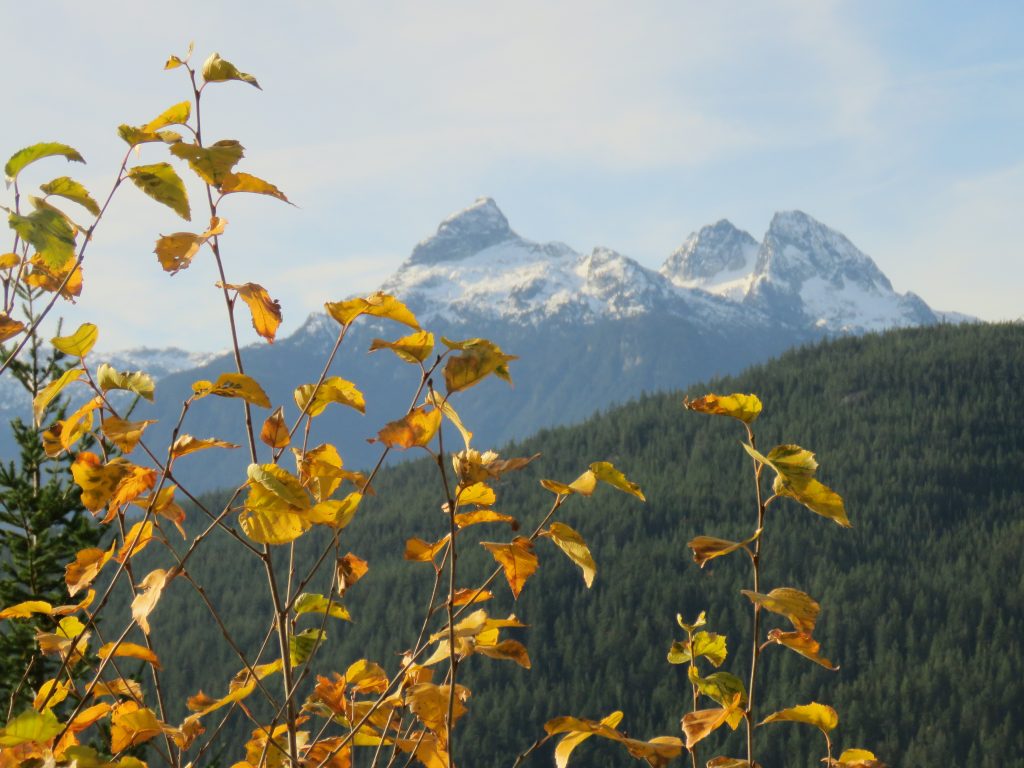 enjoying the last fall colours I would see this year.  Fred and I joined again at New Westminster before I headed home.  Fred continues to the Kootenays and will have his last slide show in Kamloops on 13th November.
This was not the most lucrative book tour I have ever been on.  I used to rely on honoraria from the libraries to make some income, but these are now few and far between.  One staff member did not even know what the word meant.  Fred and I arranged the slide shows like the book – first I would speak, then Fred, then back to me, and so on.  Everyone seemed to enjoy how we'd put it together.  In Courtenay and Campbell River we met a lot of Fred's firefighters who helped so much at the Precipice. It was particularly useful to have firefighters along who could give their points of view.  We could write another book on what everyone had to say.
Otherwise, audiences were thinner than usual, but everyone was very interested in our story.    Both Fred and I feel that this is a book which is going places.