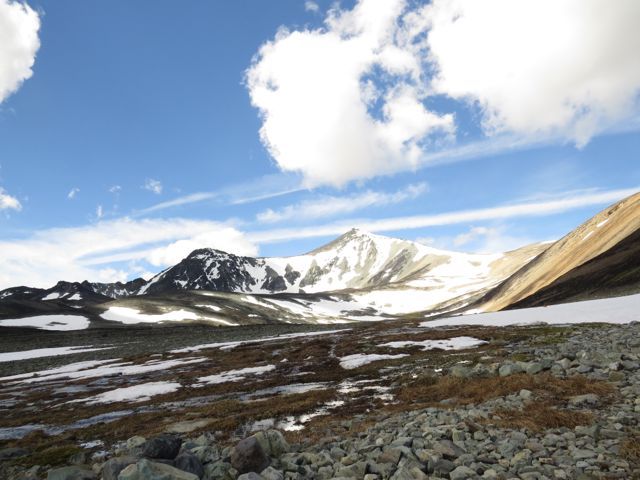 I decided not to try and climb to the top of Perkins Peak as I had already spent such a long time photographing flowers.  Instead, a walk along the almost horizontal ridge between me and the mountain itself seemed to be the way to go.  The rock and lichen colours were fantastic.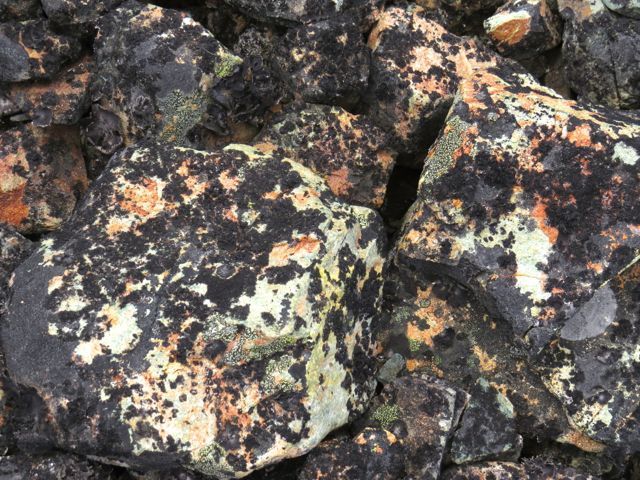 American pipits and horned larks flitted about and gave little peeping noises as they are wont to do in this environment.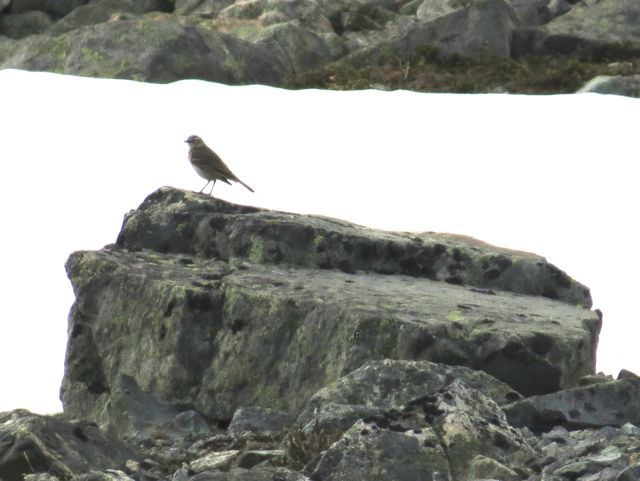 The walking was easy.  The top of the ridge gave me a nice view to the east.  (A willow species along with the potentilla in the foreground.)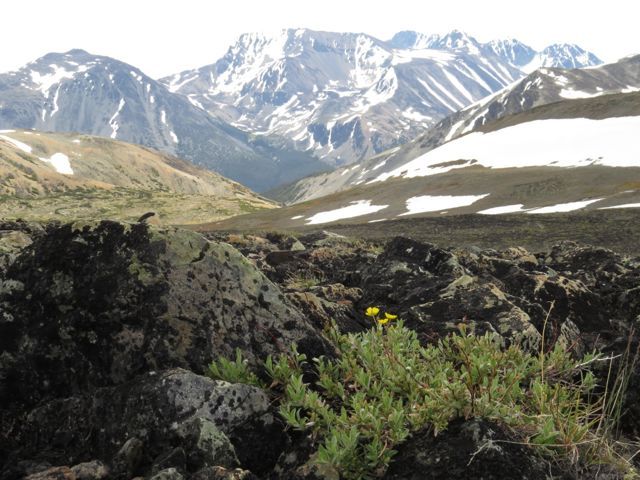 Now I started seeing a delight that I was familiar with from Nuk Tessli.  A cabbage relative: payson's draba.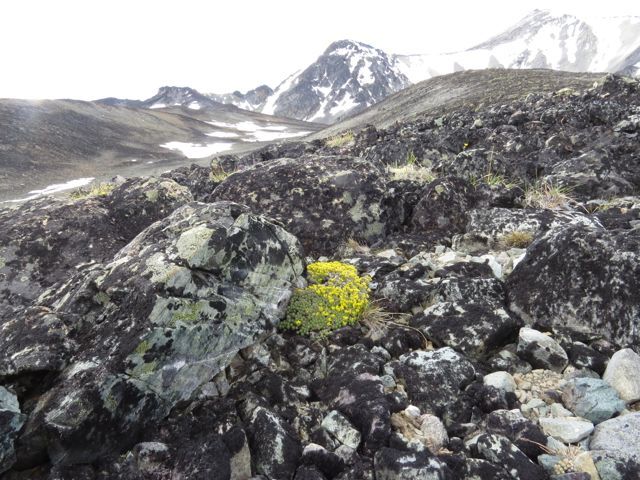 Lots more Jacob's ladder.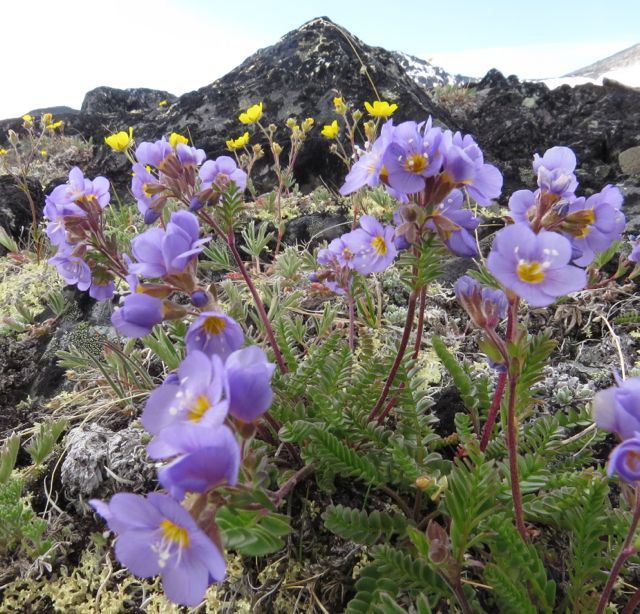 And a very much dwarfed cut-leaf anemone.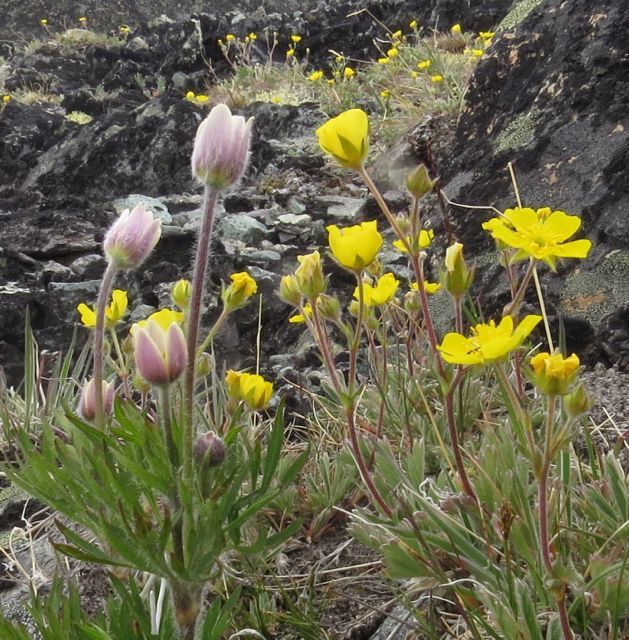 The shining chickweed is a pretty little thing.  So precious amongst the stark rocks.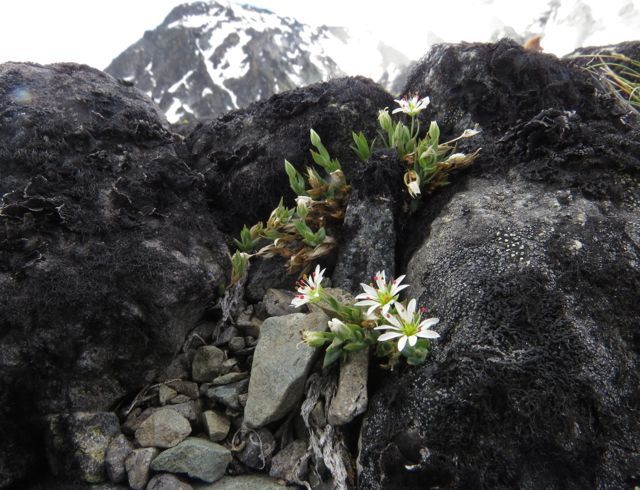 At the top of the ridge, Badger was beginning to flag.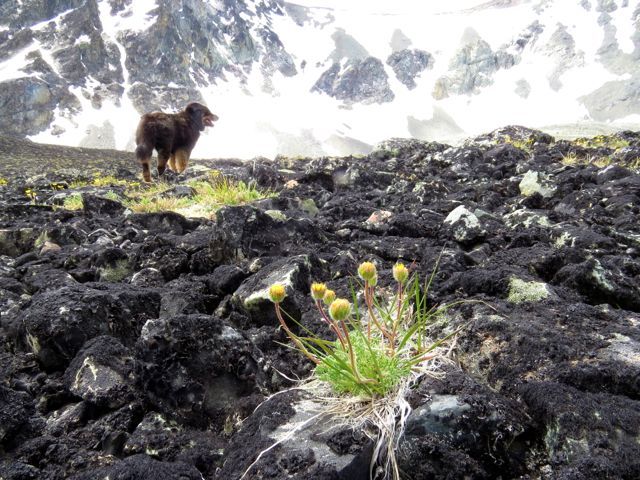 Every time I stopped to photograph, he would plop down, and it was getting hard to make him move again.  Harry, however, was bored.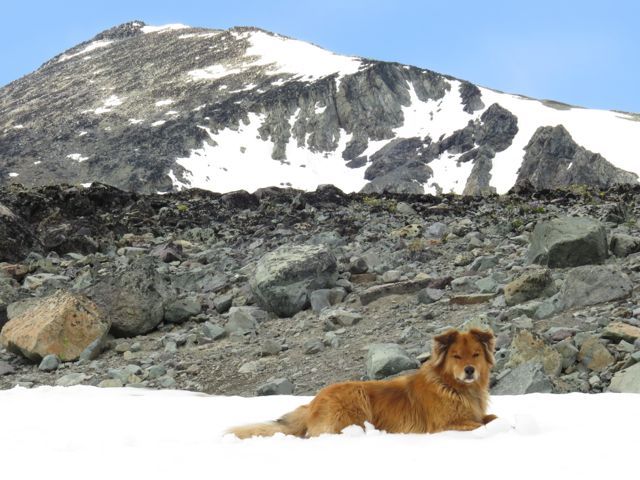 As said earlier, potentillas are hard to identify, but here are one, possibly two other species.  At least one is probably P. uniflora.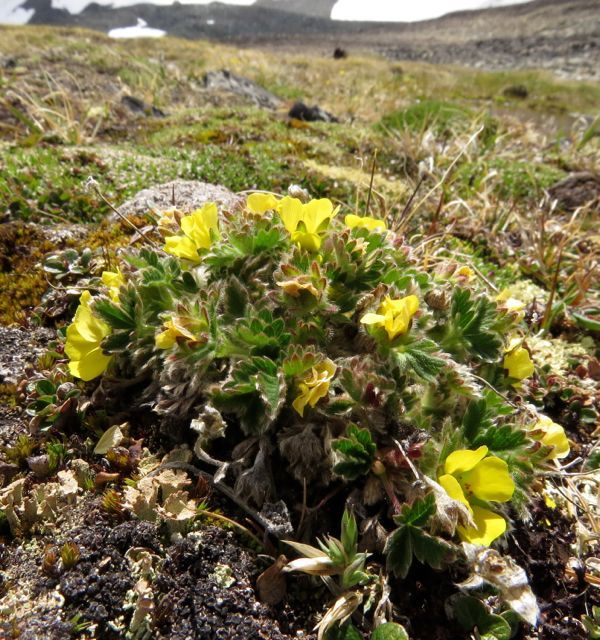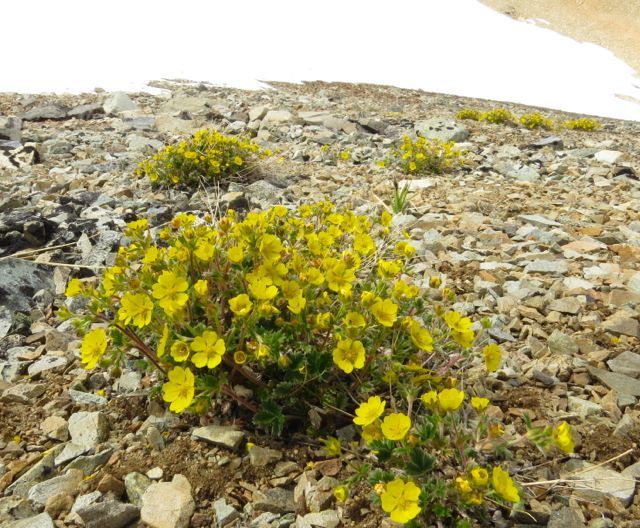 Thunder had been forecast, so I was keeping a sharp eye on the sky, but this little mini storm came to nothing.  The thundery clouds made for spectacular lighting effects, though.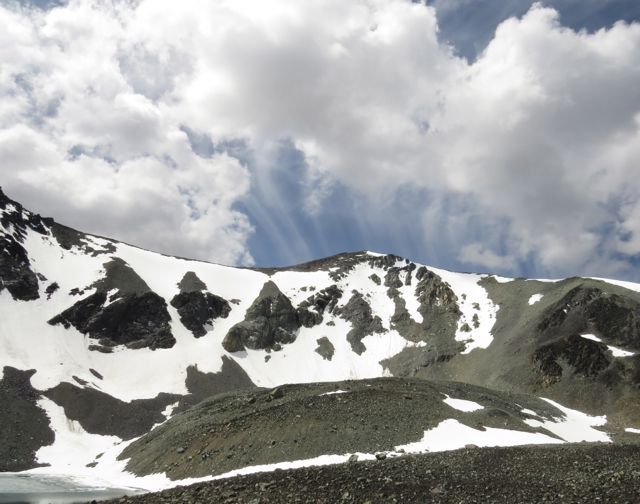 Roseroot is common at Nuk Tessli, but quite rare up here so it was a treat to find this splash of colour.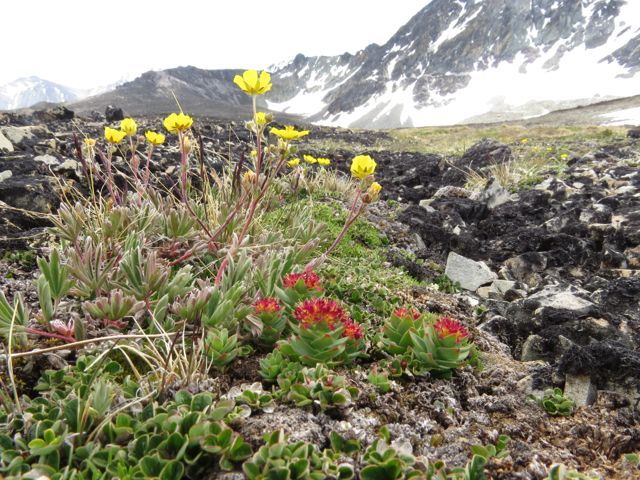 From the western end of the ridge, I had a fine view down to the lake and the Chilcotin beyond.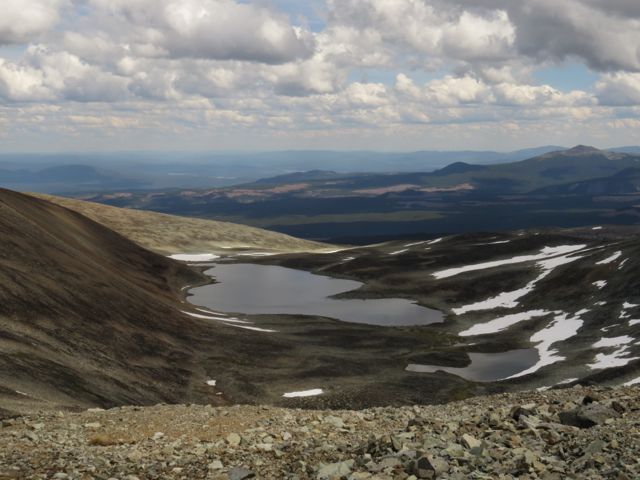 I had to get down there.  Fortunately, I found a long snow slope that was easy on my knees.  Insects become stranded on the snow and unable to move due to the cold.  This one was as big as a dollar – it is not a mosquito.  I wonder what the purpose is of the two tiny horizontal "horns" are behind its head.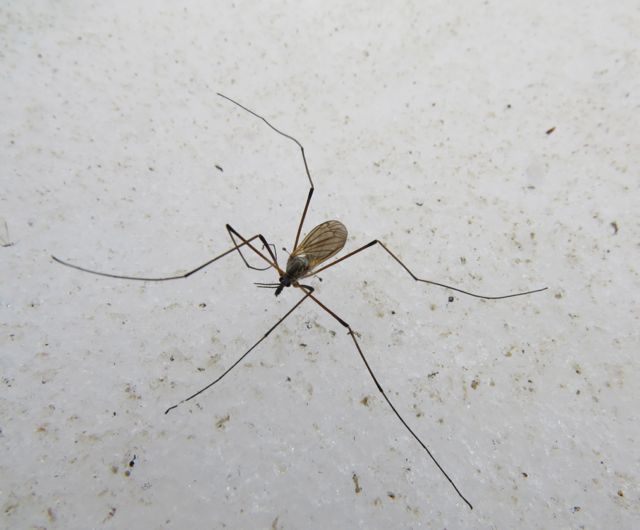 Below the snowbank I ran into another lovely creek.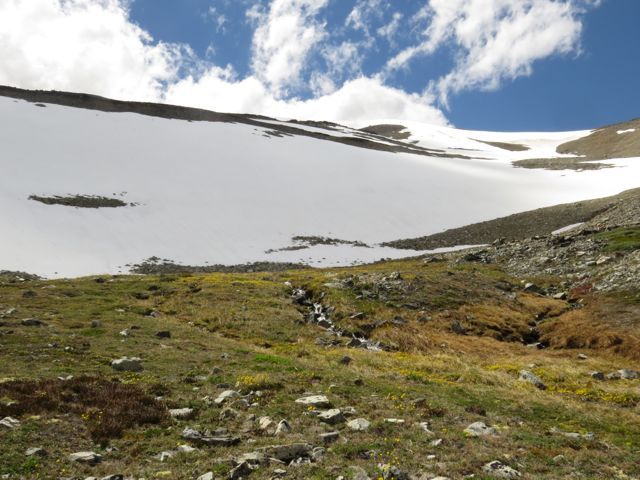 Sibbaldia procumbens.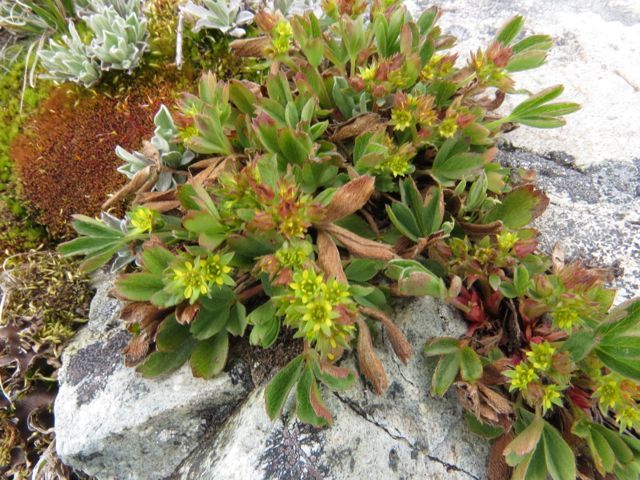 Moss Campions are like sunsets.  You've gotta keep taking pictures!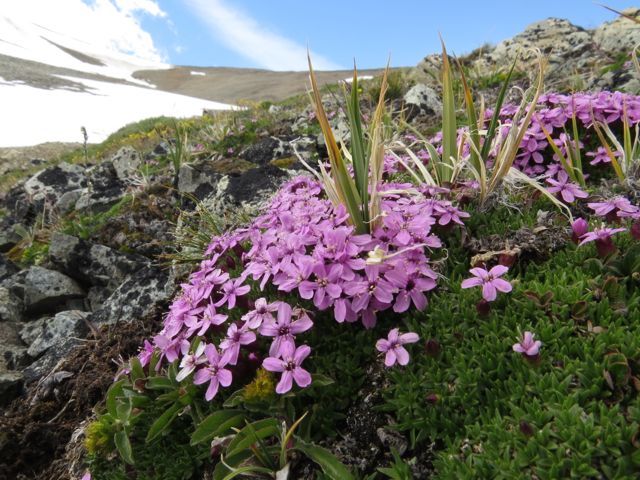 Finally, a great favourite from Nuk Tessli, bog laurel.  The white heather, abundant at Nuk Tessli, is not so common here.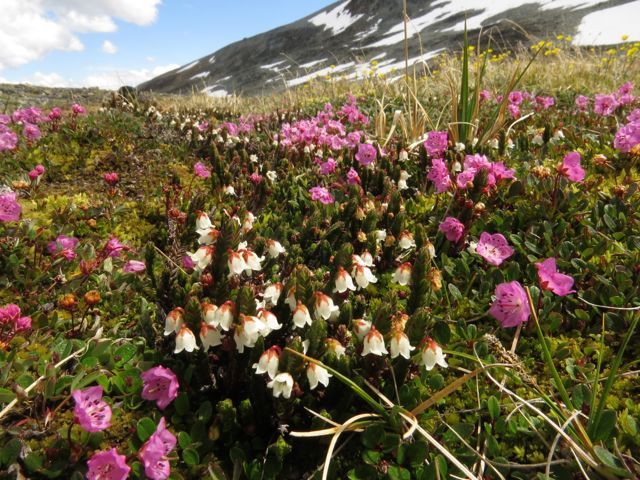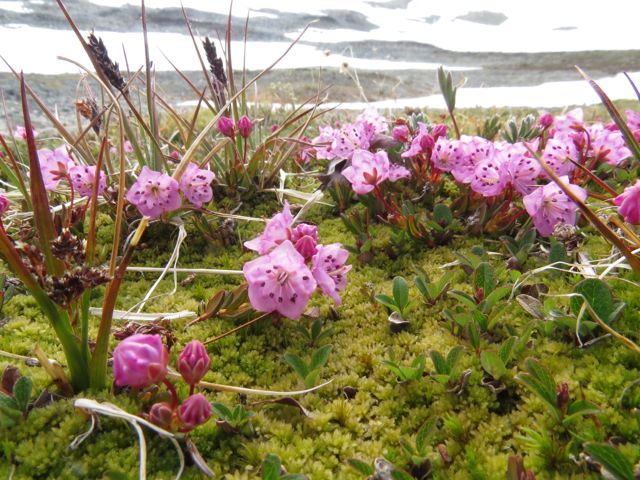 Amongst the bog laurel, a few of the peculiar inky gentians were blooming.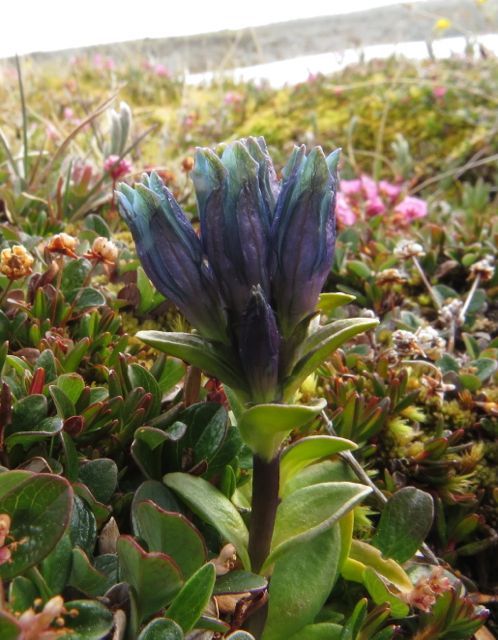 More 8-petalled avens were scattered in drier areas.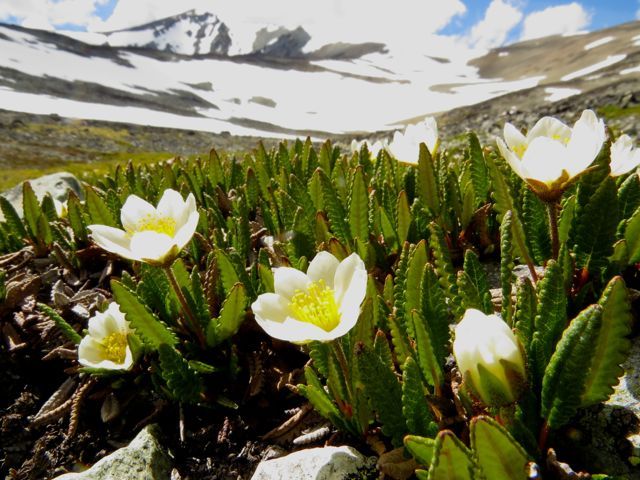 And as I approached the lake, the potentilla sp. became even more abundant.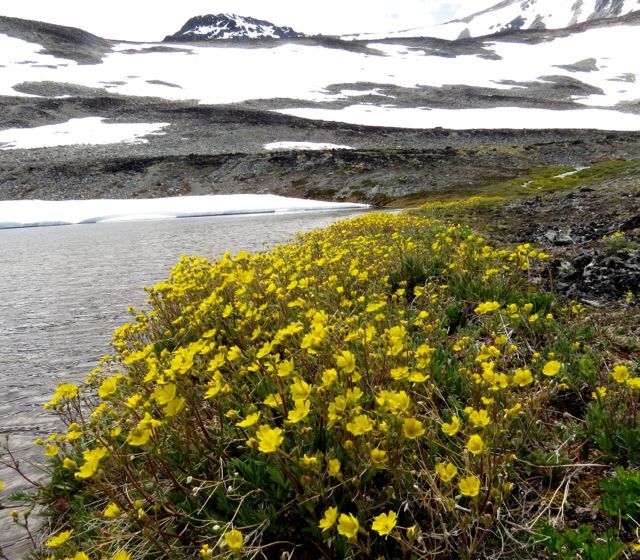 And alongside the lake was yet another treat, creeping azalea.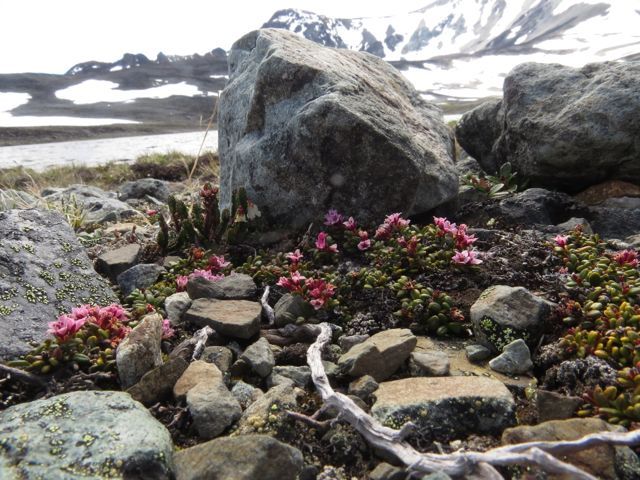 What an incredibly perfect day.  And to think that this alpine playground is only an hour and a half's drive from home.  Sure enough, the road means that there will be plenty of other users driving machines, especially at weekends, but I now have a new alpine back yard to call my own.