In a word:  RAIN!  This was supposed to be a nice view.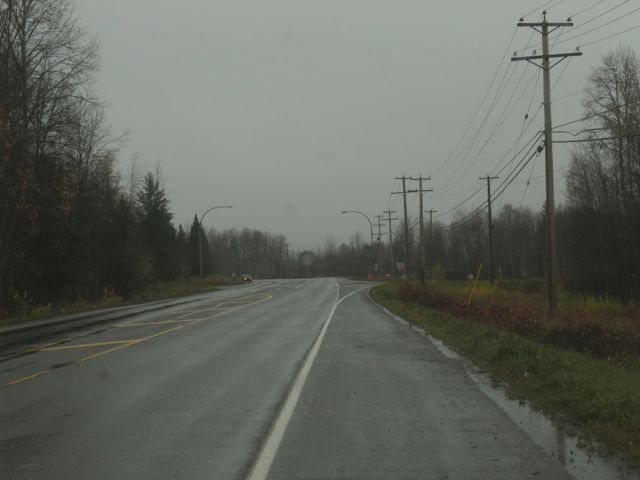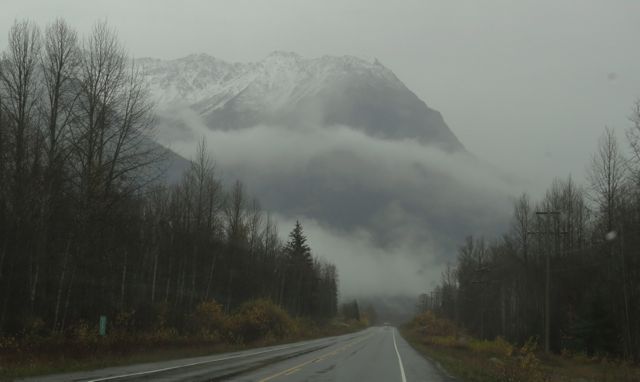 The road drops steadily alongside the Skeena River.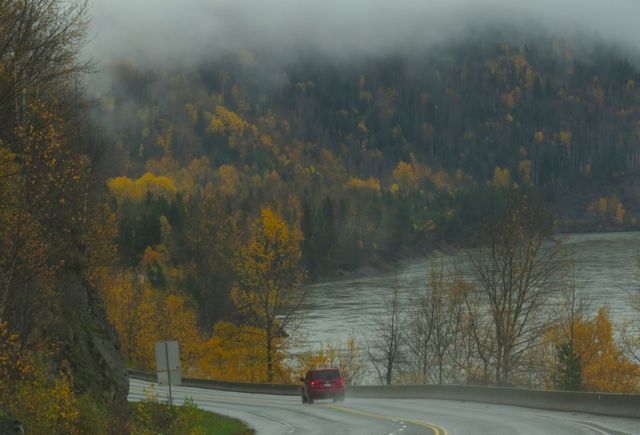 It is a fairly well-travelled, but very long road.  It is not long after Terrace before one sees this sign.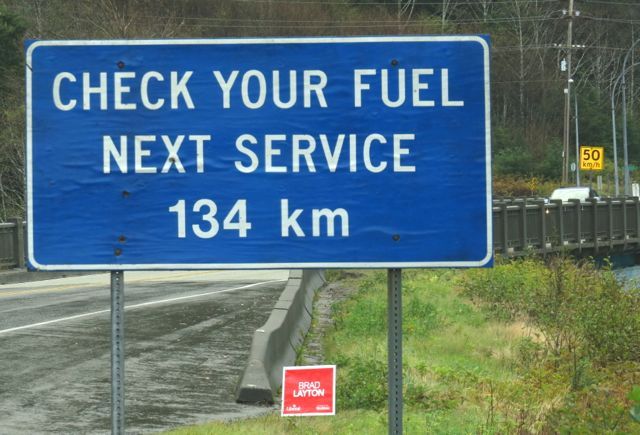 There are a lot of big trucks, but few passing lanes and very few places to pull off and see the view.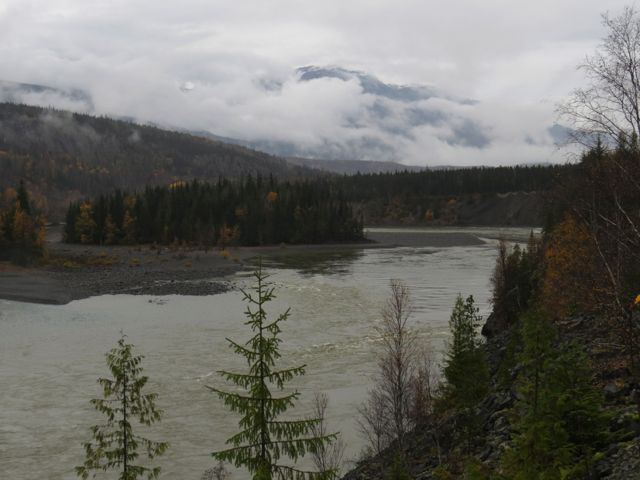 There is just enough traffic that, even if you get a straight stretch, it is impossible to overtake a slow truck throwing up mud because something is always coming the other way.
This road is totally unlike the Bella Coola Highway.  There is no high pass or steep drop.  (It is also paved all the way.  The road simply goes down and down, so gradually, it is barely noticeable.  There is also no vestige of ranch or farm land beside the road.  A railway accompanies the road all the way.  At last, the rain eased a bit.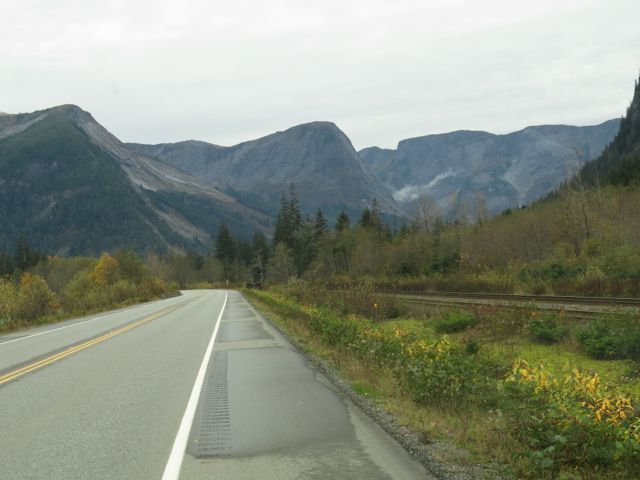 I found my host in Prince Rupert.  She is a Light Keeper, at present working on Triple Island, not far out of the town.  No one wants to work there because it is nothing but a rock.  Fortunately my friend (who has visited at Kleena Kleene) had time off when I arrived.
After the somewhat poorly attended slide show, I had a couple of days there.  Early in the morning we hiked a very good trail to the Butze rapids – a narrow part of the river that makes rapids when the tide goes in or out.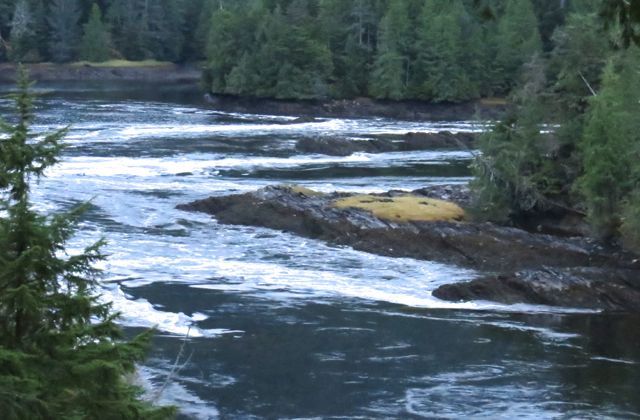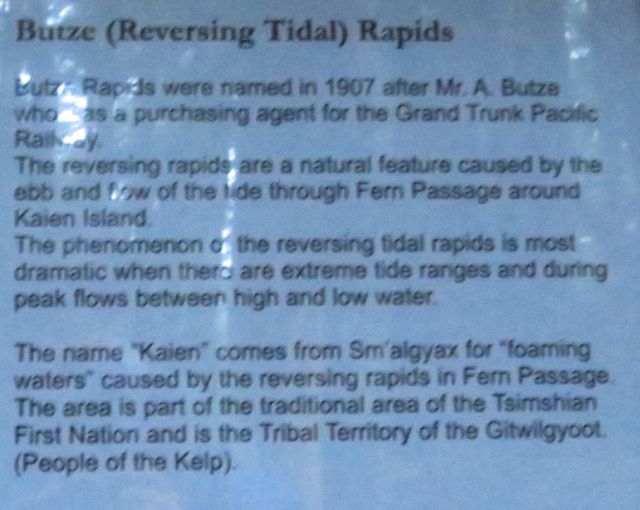 We started our hike when it was still almost dark. We were entertained with a somewhat gory sunrise.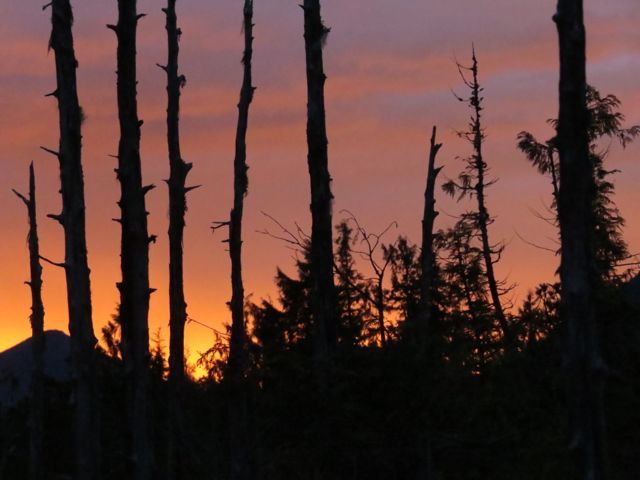 We had a good view of it because, although the hike goes through coastal forest for most of the way, there are some very interesting bogs along it, unlike any other bog I have seen.  Unfortunately, there was no time to explore them properly.  They support a very dwarfed forest.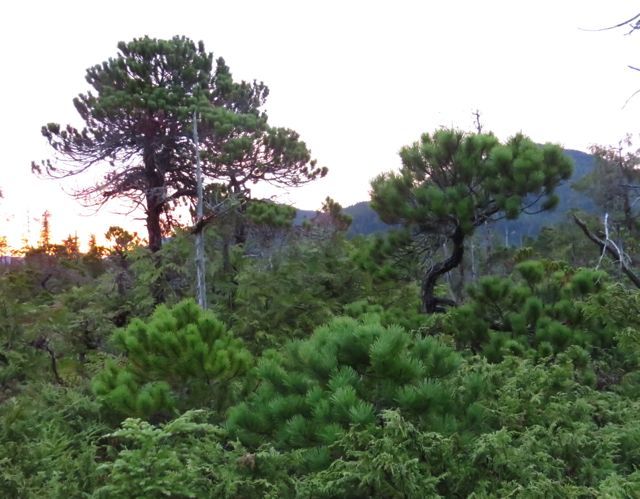 An information sign calls these "Shore Pines," but the latin name shows that they are the same species of lodgepole that grows around my home.  It is a very diverse tree, adapting to a great variety of environments.
The majority of the forest was coastal.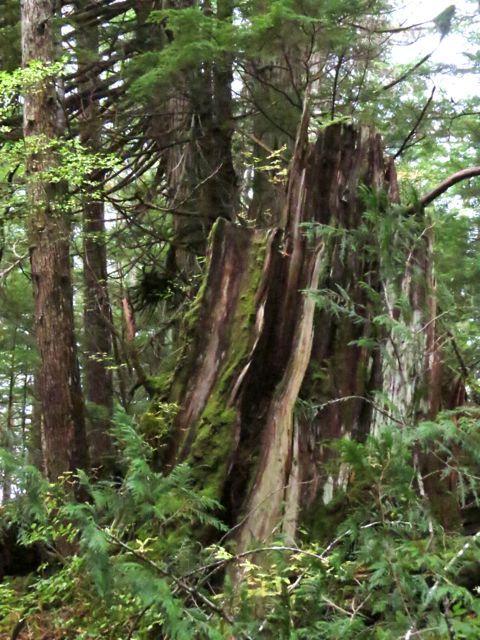 Beached roots lay beside the tidal riverbank.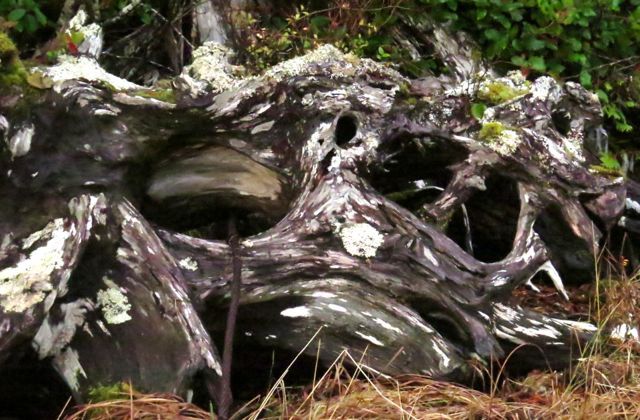 Kelp bobbed in a backwater.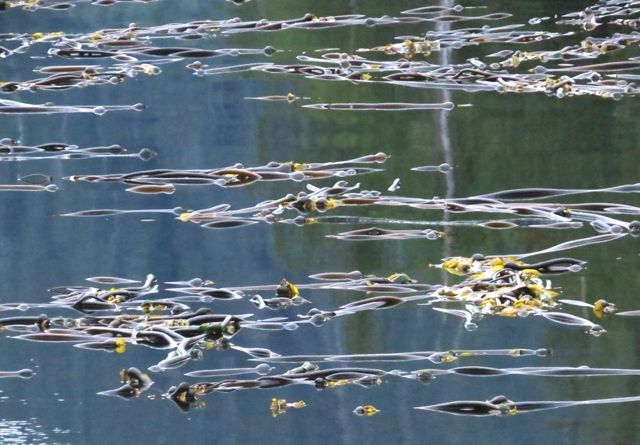 In the afternoon, we visited the town – which looked very run down and dreary to me.  An effort had been made to make the Town Hall distinctive.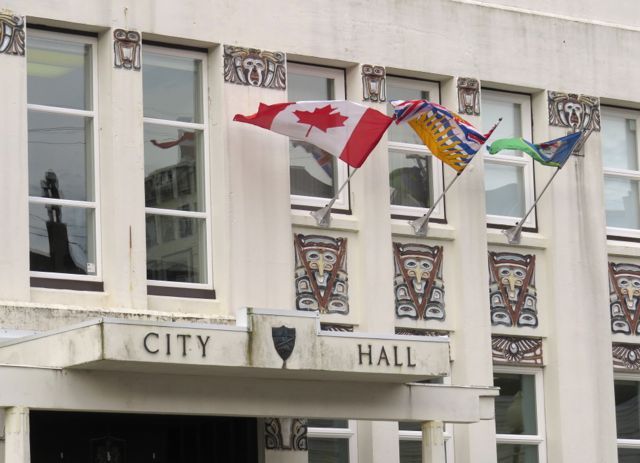 The Museum of Northern BC was very well done and interesting.
There was a hideous sculpture on the waterfront.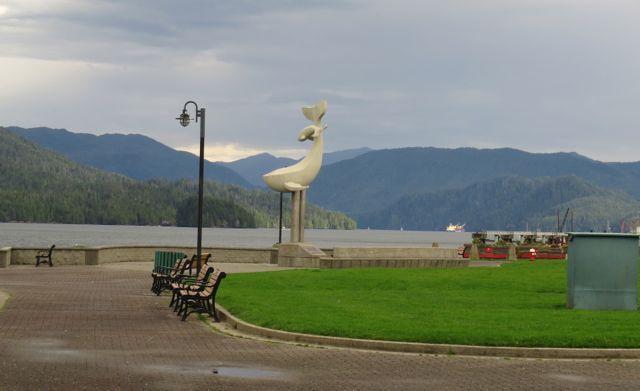 The fish boats provided some photographic interest.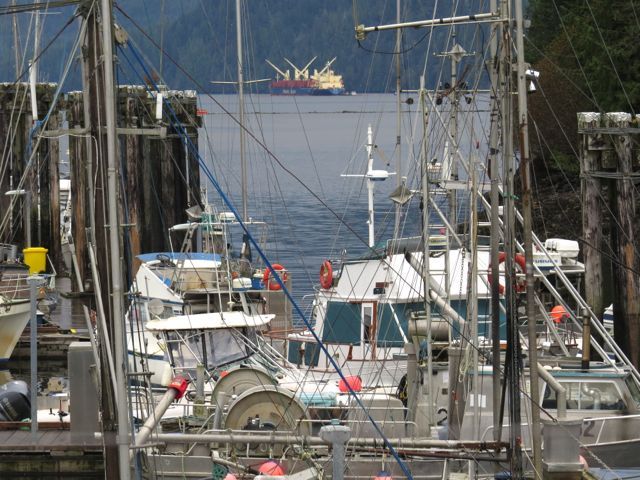 One very wet heron.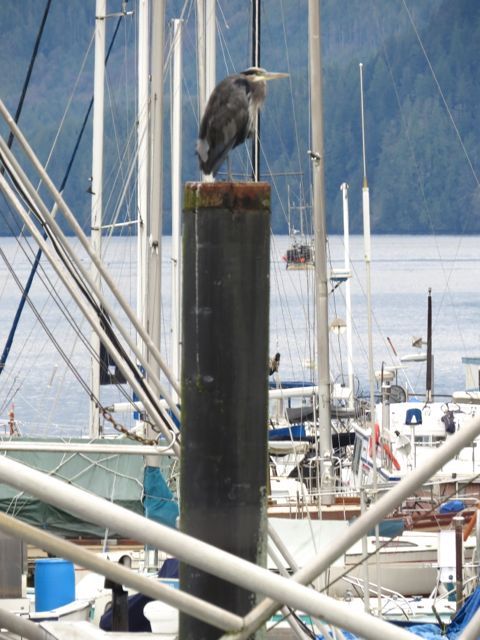 The next day I set off east, destined for Terrace, where I would stay the weekend and speak at the library.  The road was  (you've guessed it) wet.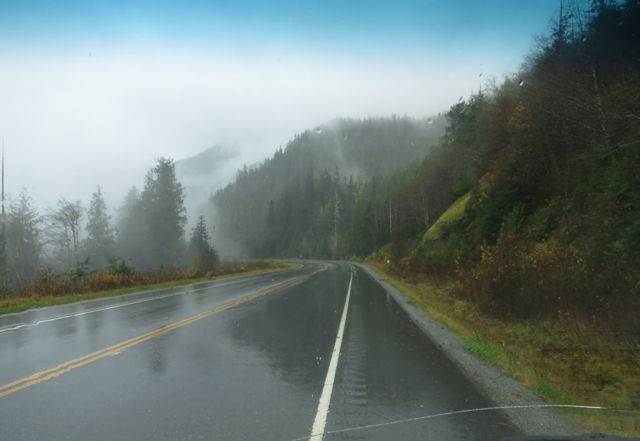 The rain eased a little at this viewpoint.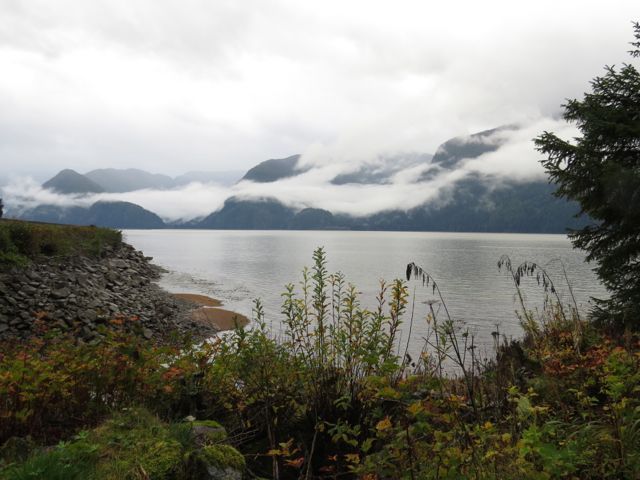 But when I pulled onto a logging road for a break, the rain poured down.