Yesterday, August 8, I made an excursion back into the fire area. This year I have learned a new use for the word "excursion." It is used by the wildfire service to describe a break-out from the established perimeter of a fire, which is what happened on August 4.
The weather cooled and a bit of rain was forecast. Google Earth fire map squares became yellow (this on Aug 5)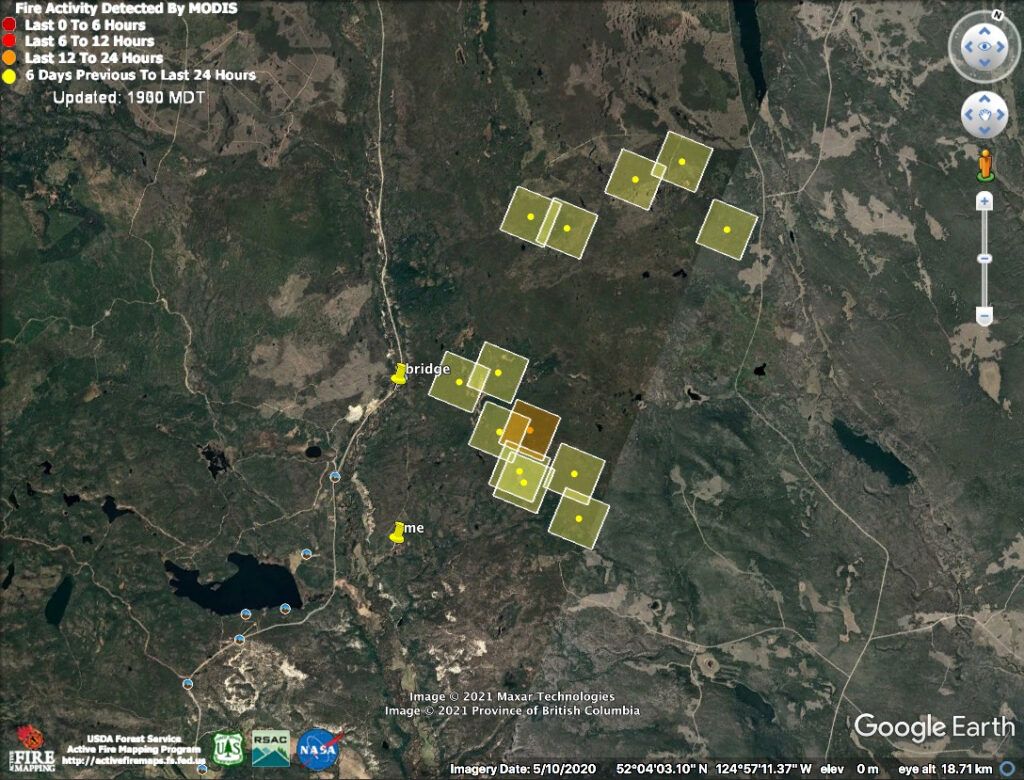 On August 6, BCWFS site remarked:
The fire received rain and was under overcast skies for most of the day yesterday which resulted in low fire activity. Heavy equipment completed a containment line around the excursion that happened a few days ago on the south flank of the fire. Crews are working along the south flank, patrolling and actioning hotspots. 
That same day, the panic evacuation order was reduced to alert in most areas. Only the core of the fire is still on order. My place is the uppermost square. Looks as though I am at the edge of the danger zone, but in fact no one lives to the right of my place for at least 100km.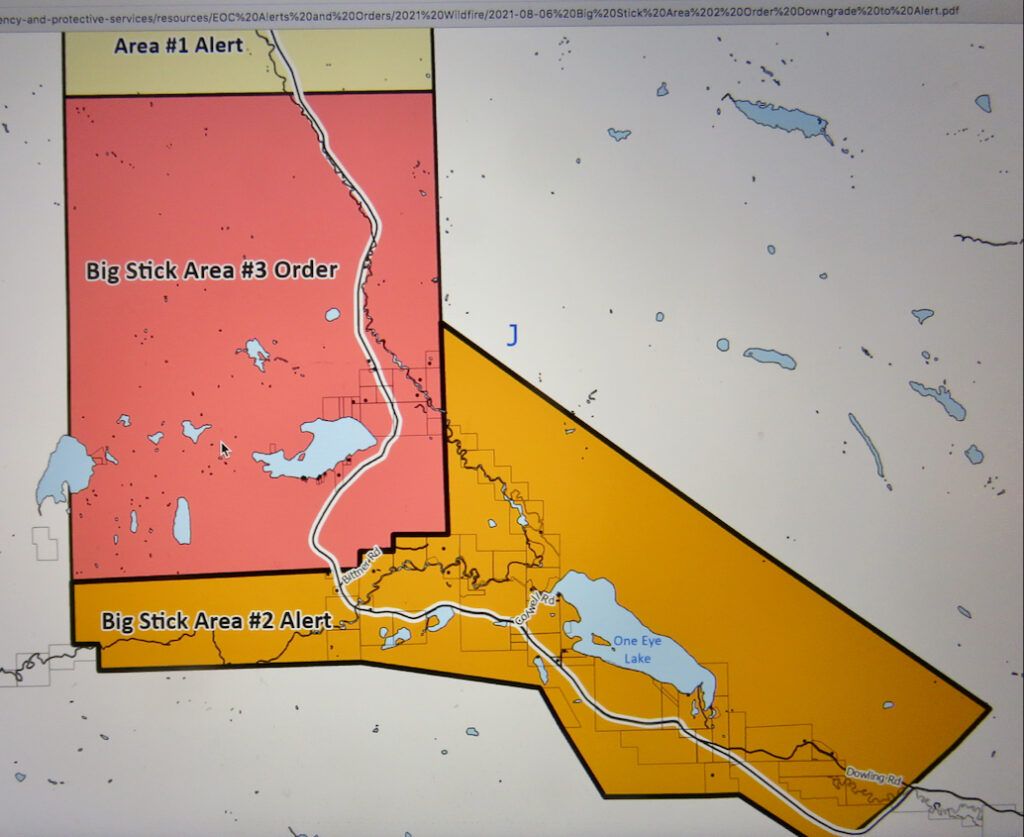 On Aug 7, BCWFS wrote:
Crews have been making good progress in a spruce stand on the north flank and continue to mop up along the south flank. 
On the 8th:
The fire received rain and was under overcast skies for most of the day yesterday which resulted in low fire activity. East of highway 20, firefighters and heavy equipment are continuing to wrap and contain the excursion on the south flank. Crews have been making good progress in a spruce stand on the north flank with the assistance of aviation resources.
I didn't read this latest entry until after I returned home yesterday. At first I though there must have been rain for as I turned onto my road, the surface seemed dust free. But it was still barely light, and when I drove out later, I could see that a water tanker had been used to keep the surface more manageable for the fire vehicles. On the unburned road close to home, there was still a lot of dust.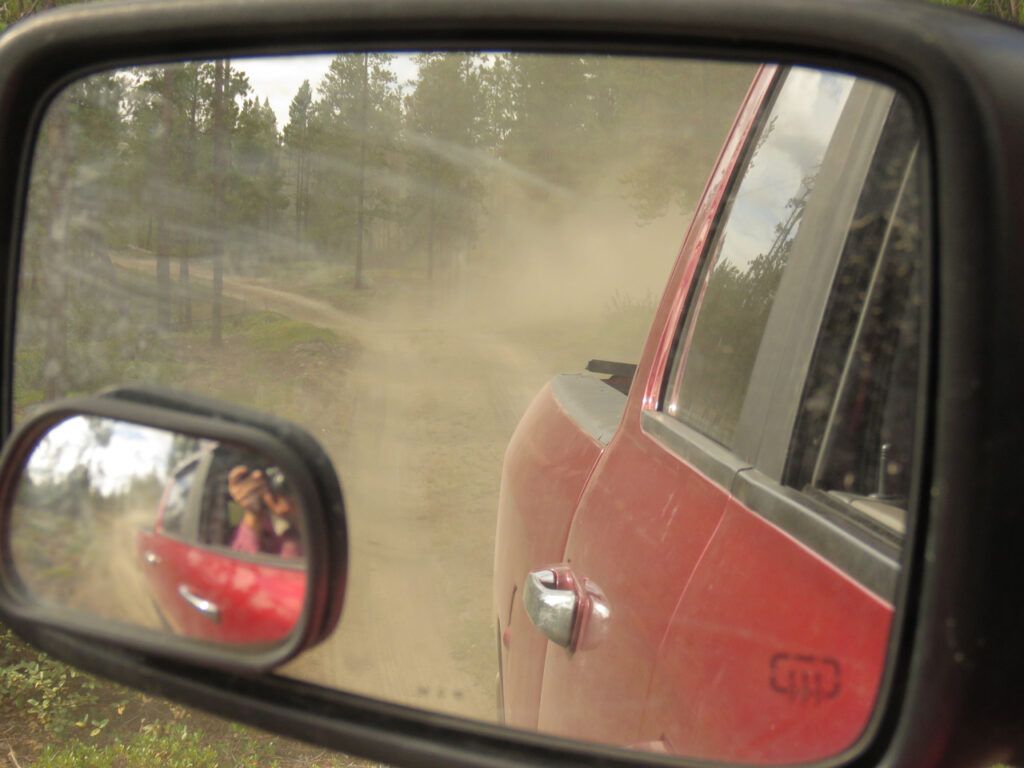 The first thing I noticed was a hose extension to the yurt.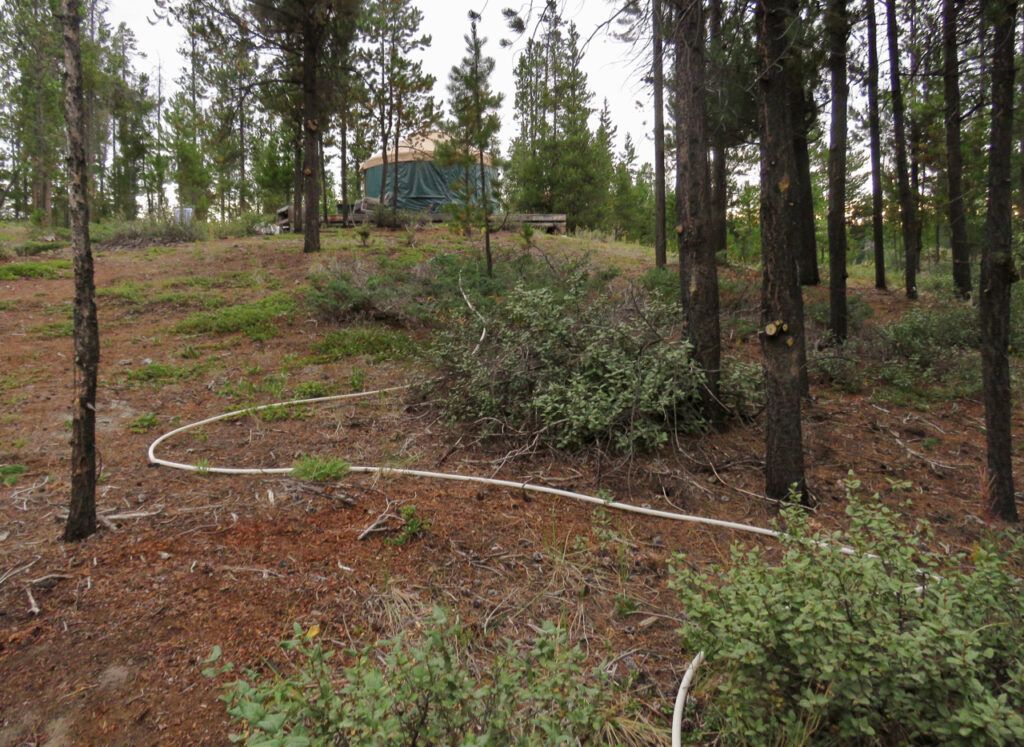 The water level in the pond, however, is now a cause for concern. I left a note describing the deepest hole, and also a drivable access to the river should they need to ferry water to a bladder, as they did in 2017.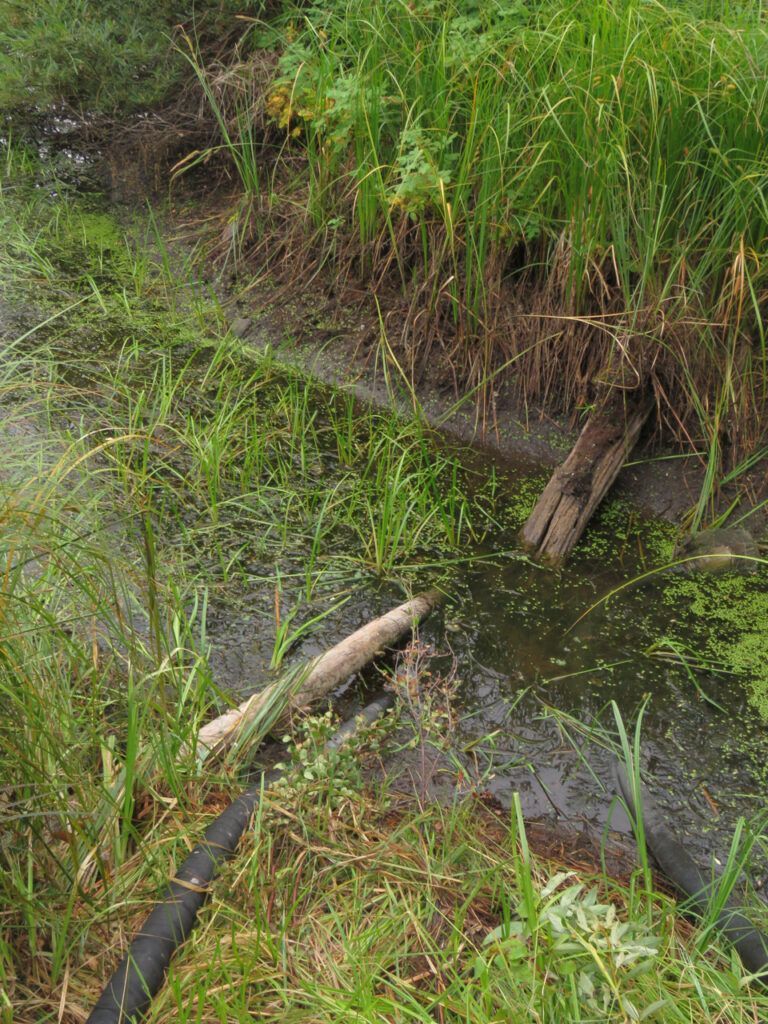 It was cool, partially cloudy, windless, bulges – in fact a perfect morning. I sat for a while enjoying the absolute peace and calm. No road traffic (it was Sunday, so no logging trucks); no fridge noise; not even any fire machinery at first. It was a really beautiful day – these pictures taken on the way out illustrate the clarity.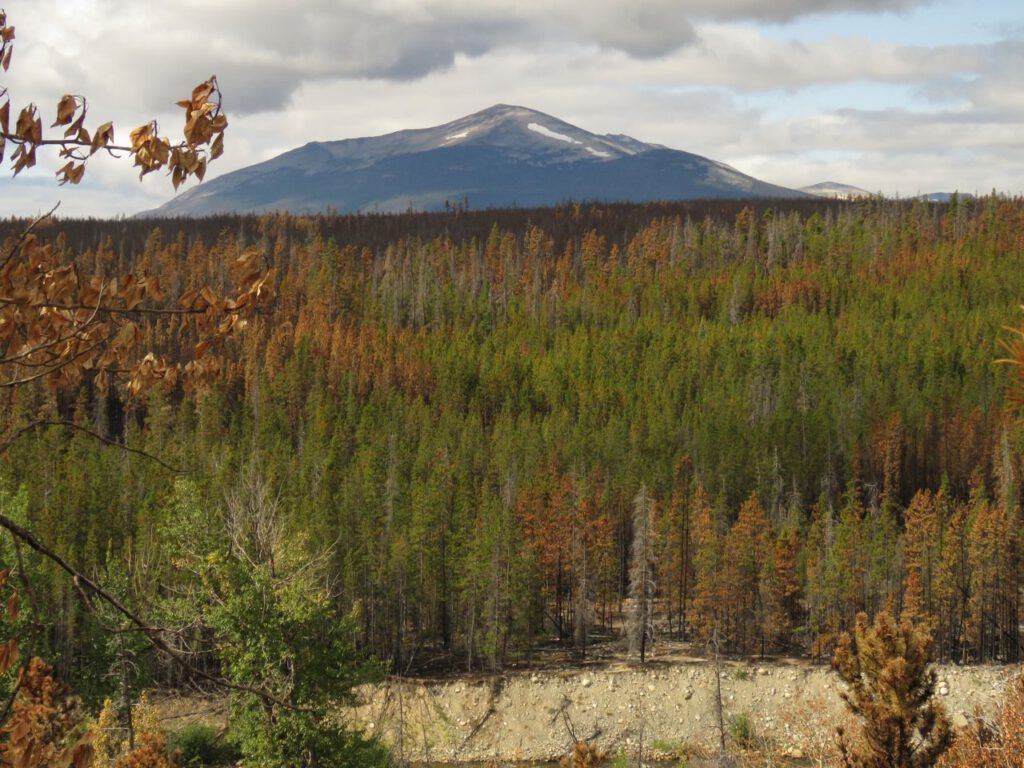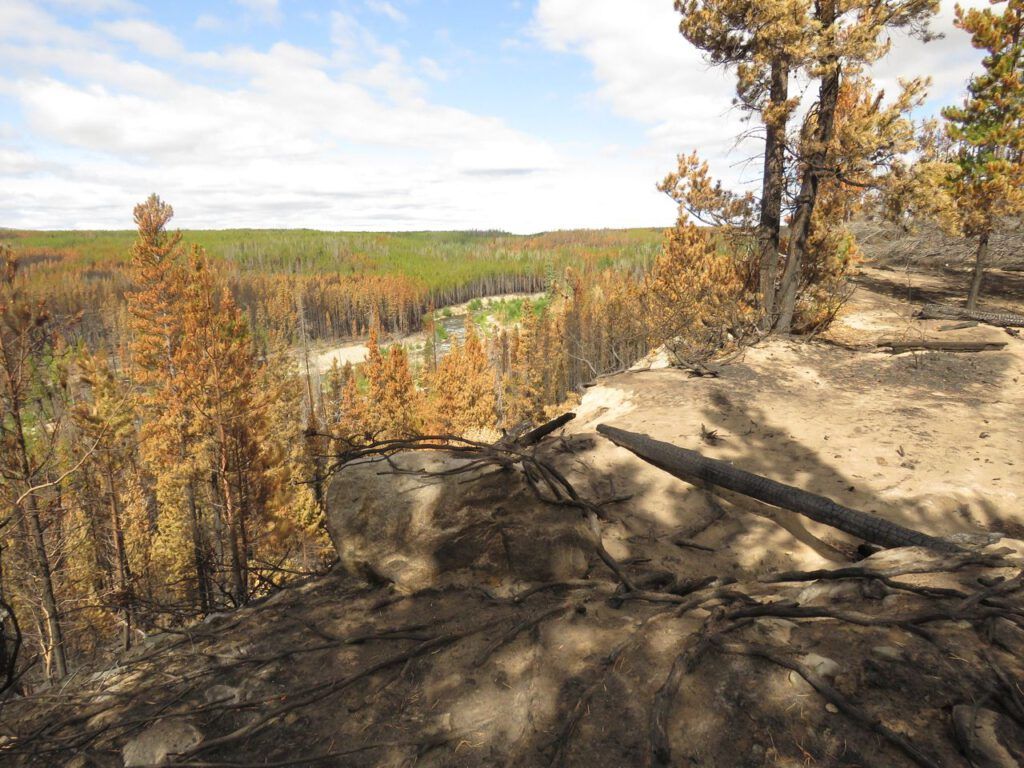 The first helicopter rattled around at about 10.00:AM, and soon I could hear a distant chain saw from the direction of the fire "excursion." Time to leave. But it seemed so ideal I could be fooled into thinking that it would be safe to stay. However, the wether forecasts for the coming week are daunting.
Environment Canada shows that by tomorrow, Tuesday, it will be hot again. (This for Puntzi Mountain, 90 km east, but our closest weather station geographically and regarding climate.). Saturday, it might reach 34C. We are entering the extremely dangerous 30 – 30 – 30 phase: 30C or over, 30% humidity or under, 30 kph winds.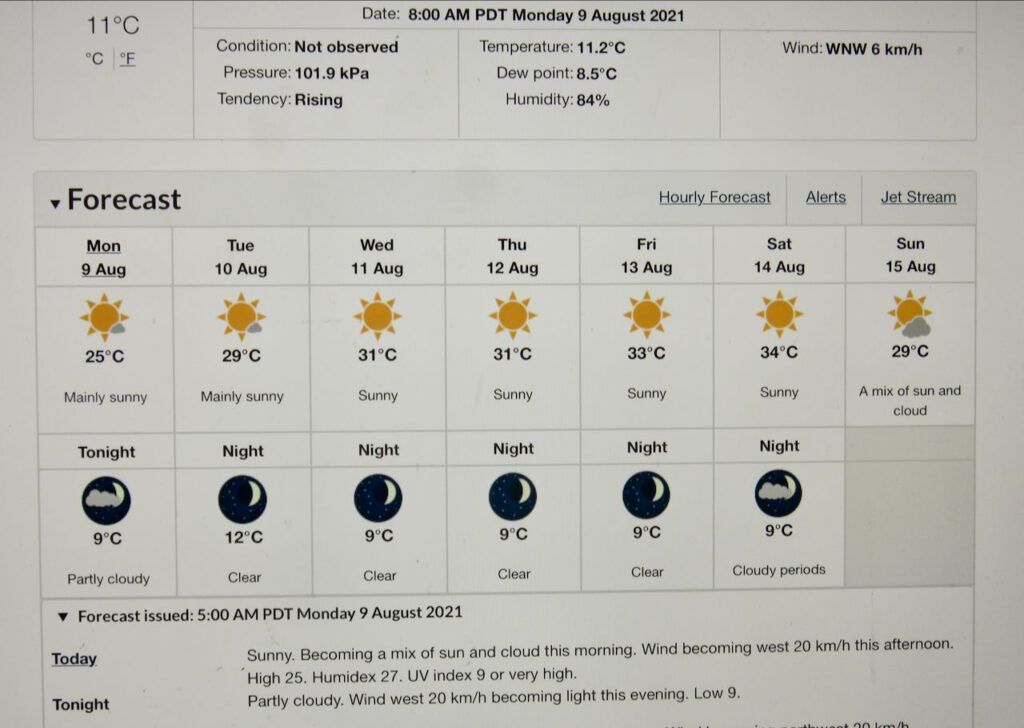 YR.NO, a Norwegian site, boasts of being able to pinpoint tiny places like Kleena Kleene. It says Friday is the hottest day, not Saturday.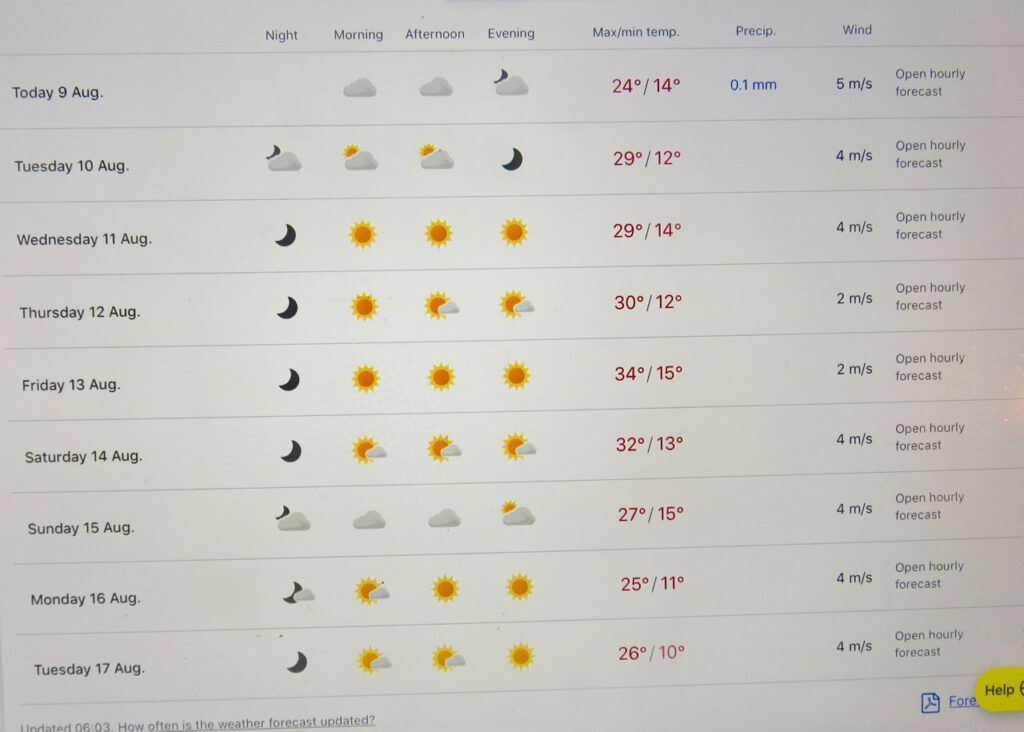 The Weather Net is forecasting even hotter temperatures.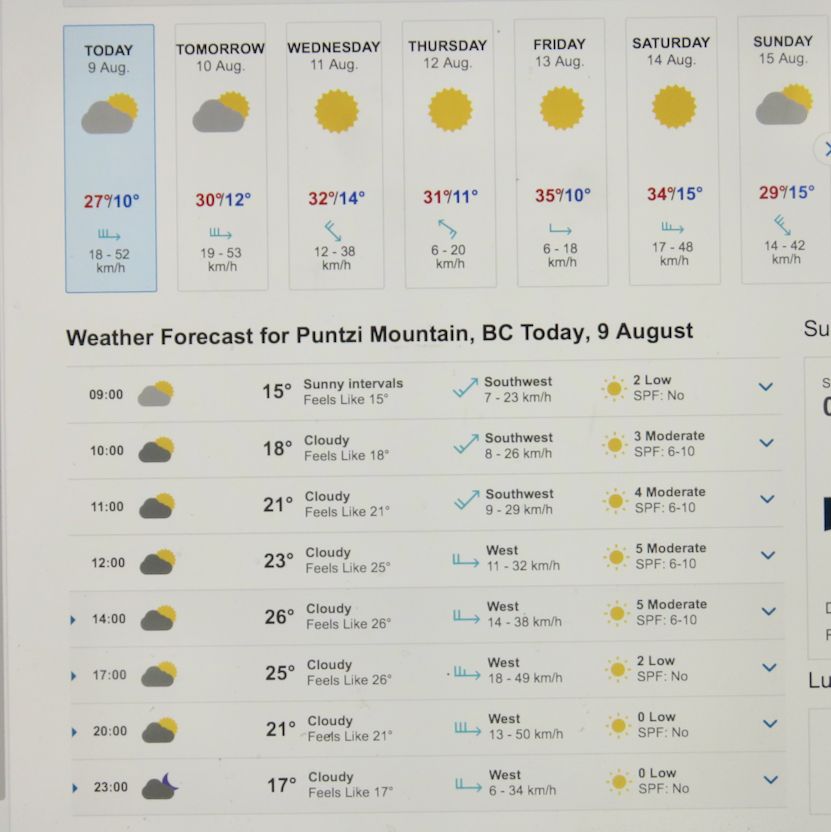 But no matter how hot it is, it is the wind that will be the decisive factor.
Wednesday is alarming. A fairly strong northwest wind, which is unusual. Windfinder echoes this. I always check out 17.00hours, about 5 in the afternoon, as that is usually when the wind is strongest. (My place is under the little hand.)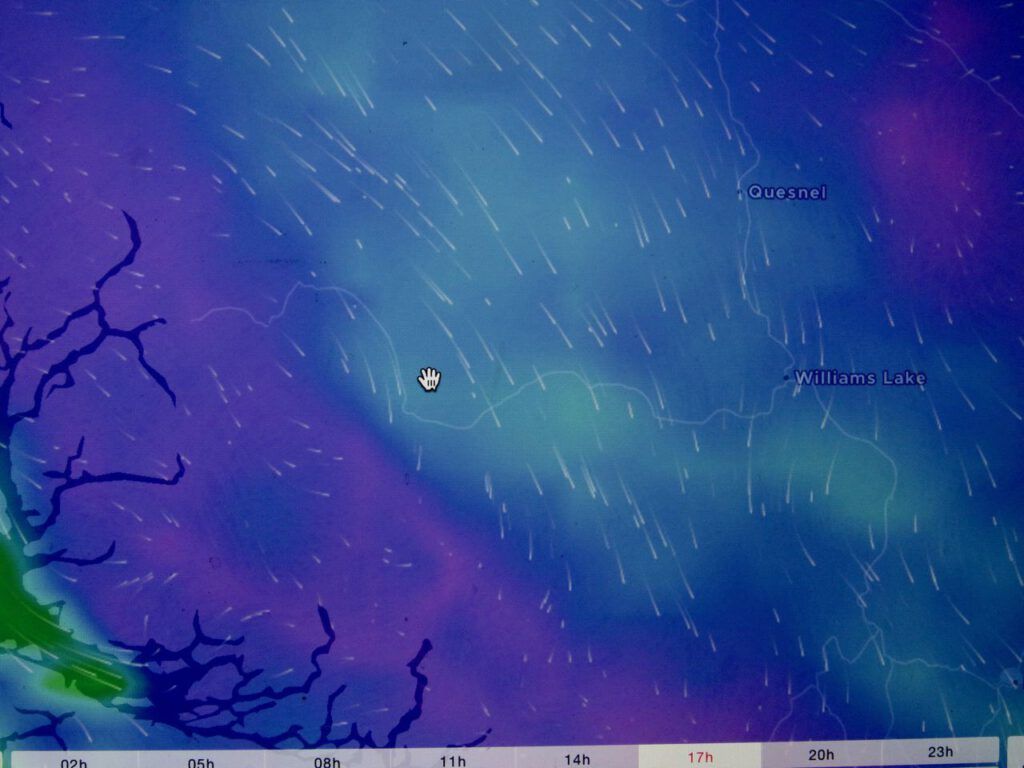 Friday shows the usual southwest wind, and Saturday a strong one.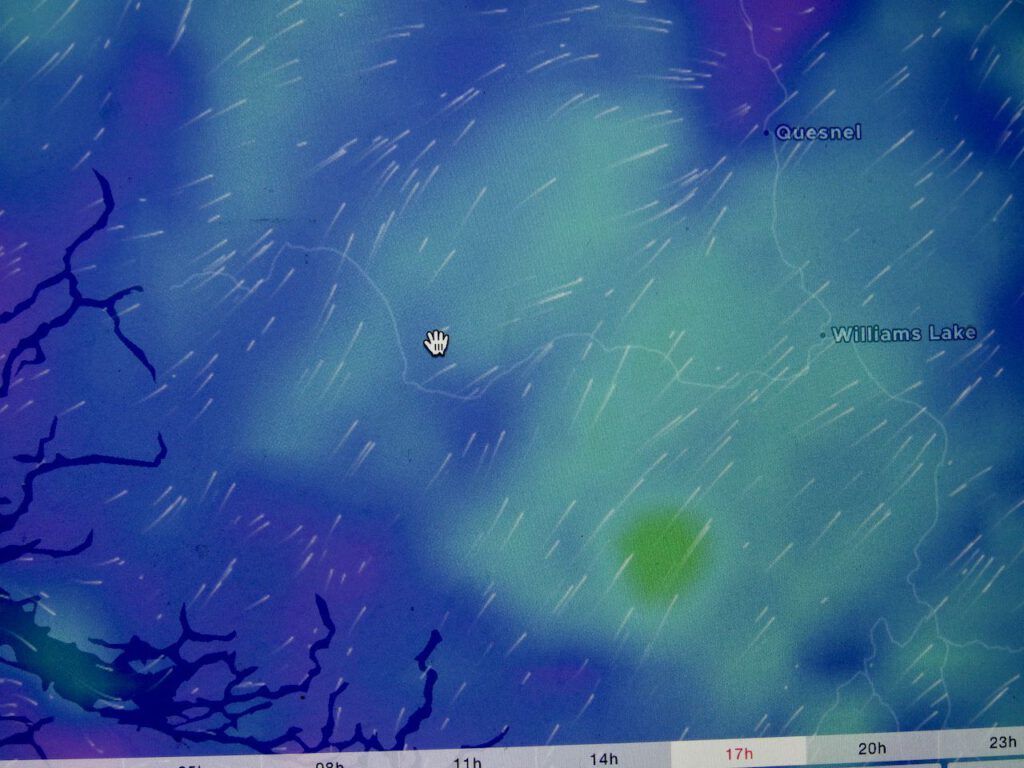 Strong, sometimes violent SW winds sometimes occur as a cold front moves in. Which is exactly what happened on Aug 18, 2017.
A couple of days ago, the 14-day forecast, described on The Weather Net, showed 30C temperatures would continue, but now they are indicating a cooling trend. Fingers crossed that this new information is more correct, as that is what will save us. In the mean time, I will be watching all these sites several times a day to see how things go.
When I went home a week ago, I set up a trail camera on my road. Naturally, I caught the structural protection crew going in and out – usually someone was in there every day. The ground around the buildings – and the garden! – is beautifully soaked.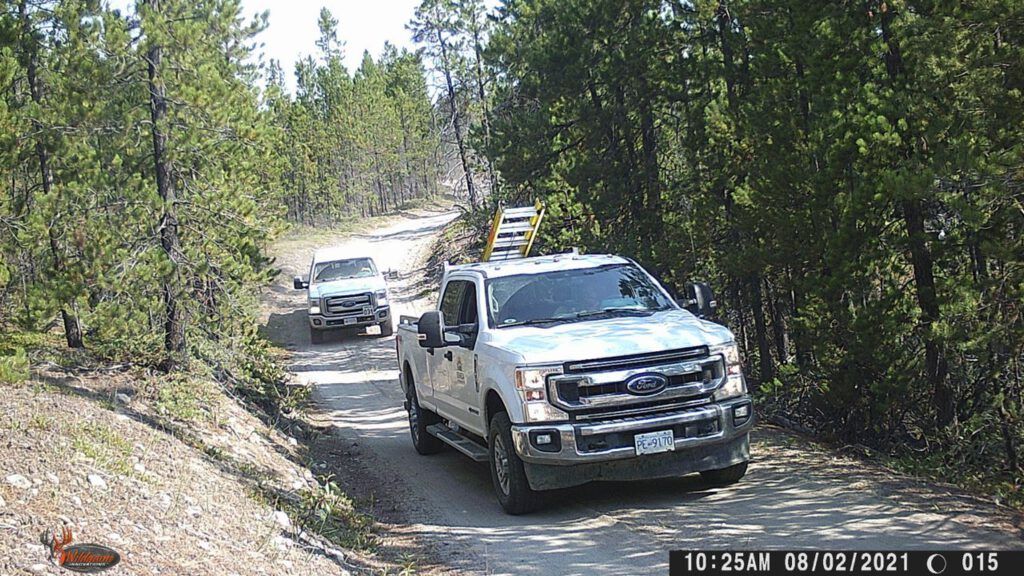 There is even a little fire truck.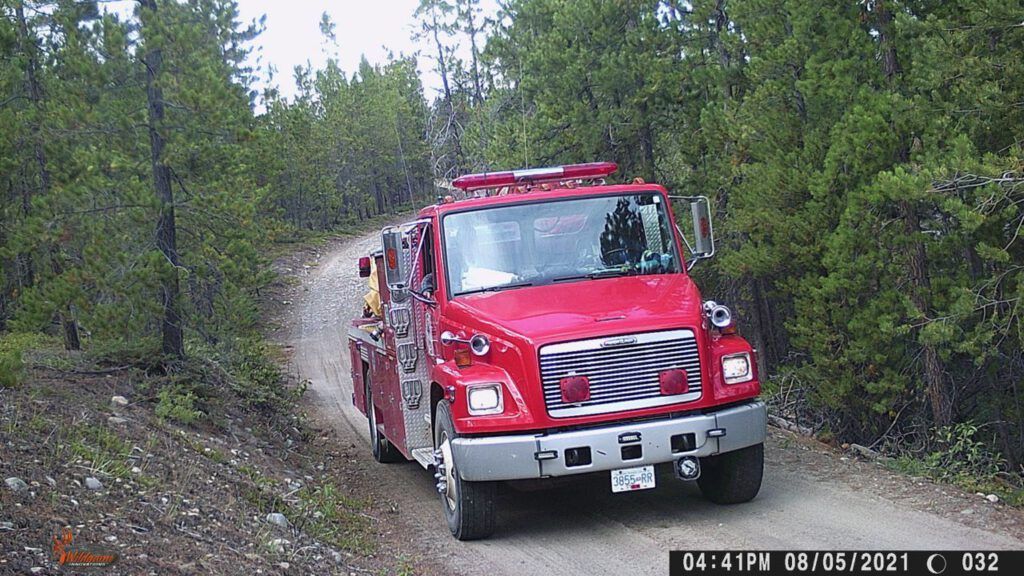 Judging by the name on the back, it was one that came into my place in 2017.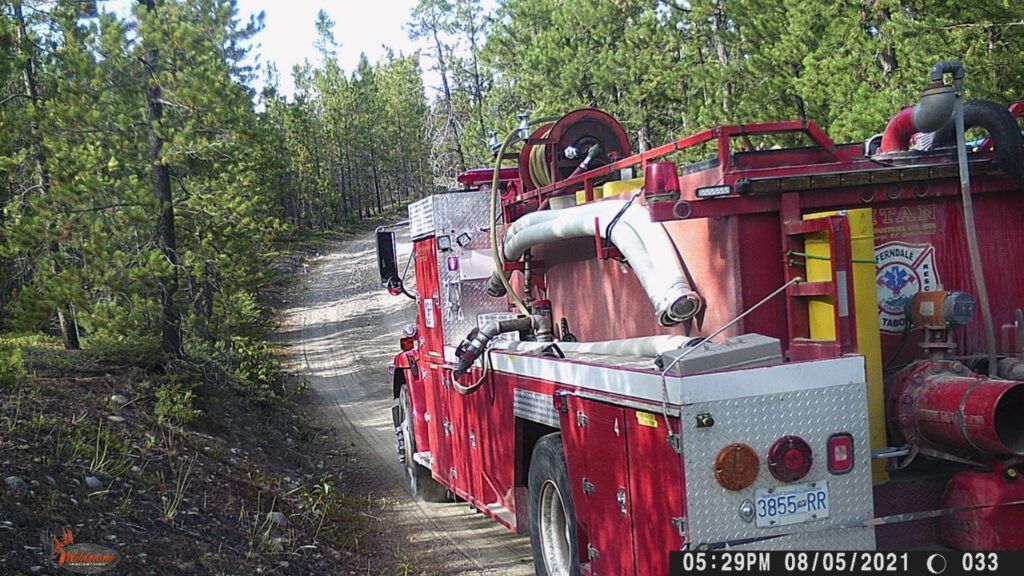 It seems incredible that so much time and effort and money is spent on our small fire. I am so lucky. So far my house is OK, and I have a fantastic place to stay while waiting out this ordeal. (I will be posting about my adventures here at some other time.)
South central BC, however, is a disaster. Thousand of people evacuated, homes destroyed, and the tremendous fear of the upcoming 30 – 30 – 30 phase. Kelowna, too, is in the throes of a big surge in covid 19 cases. Fires and all, I'm sure glad I live where I do.