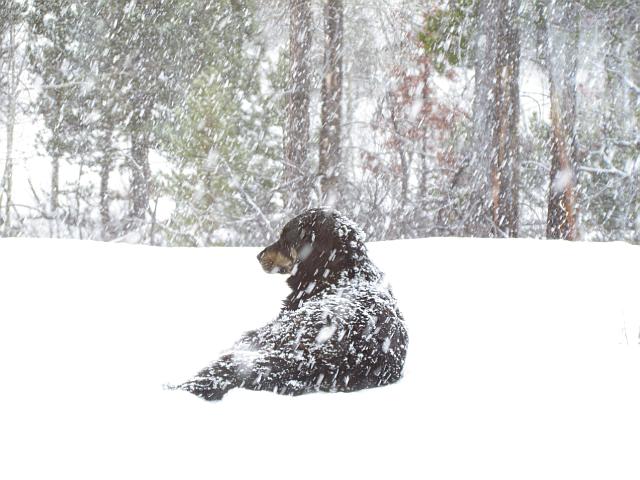 We've had the most terrible thaw.
When I went to pick up mail and groceries last Wednesday, I was surprised how little snow there was at Nimpo Lake.  But when I arrived home I found the snow around my house had been dramatically reduced as well.  That night a hot wind banged and bumped around the house.  At first light, which is usually the coldest part of the night, the thermometre outside the back door registered plus 7 degrees Centigrade. The Puntzi weather station was getting its promised freeze: it was -13C there.
We often get thaws in January – sometimes they last for weeks.  But this was a bad one. The yard was a horrible mess of slick, packed ice and mud.  The surface of the snow was littered with pine needles and other debris blown about by the winds.  At least one tree was blown down.
The temperature remained the same all that day.  Chickadees were singing their spring songs.  The wind continued to batter and roar; there was sun as well in between clouds and this created a real meltdown.  Two feet of snow was reduced to 8 inches.  I should have waited before I got the road ploughed.  I might have been able to drive out without it.
The next night was calmer and the temperature dropped to just below freezing.  It snowed a couple of inches so at least it hid the mess.  It was supposed to be sunny yesterday but although it wasn't cold, a lid of freezing fog clamped down all day.  A tiny window opened behind Finger Peak at sundown.

During the night, the sky became diamond clear.
At sunrise, the mountains turned pink.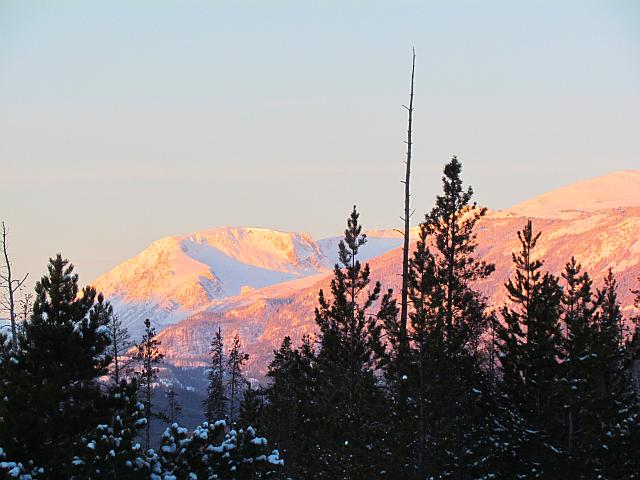 The temperature was -27C .  Puntzi boasted -34C.